November DIY: Colloidal Oatmeal Mask
Easy, soothing DIY face mask and body mask recipes
Posted on November 3, 2021
Written by: 100% PURE ®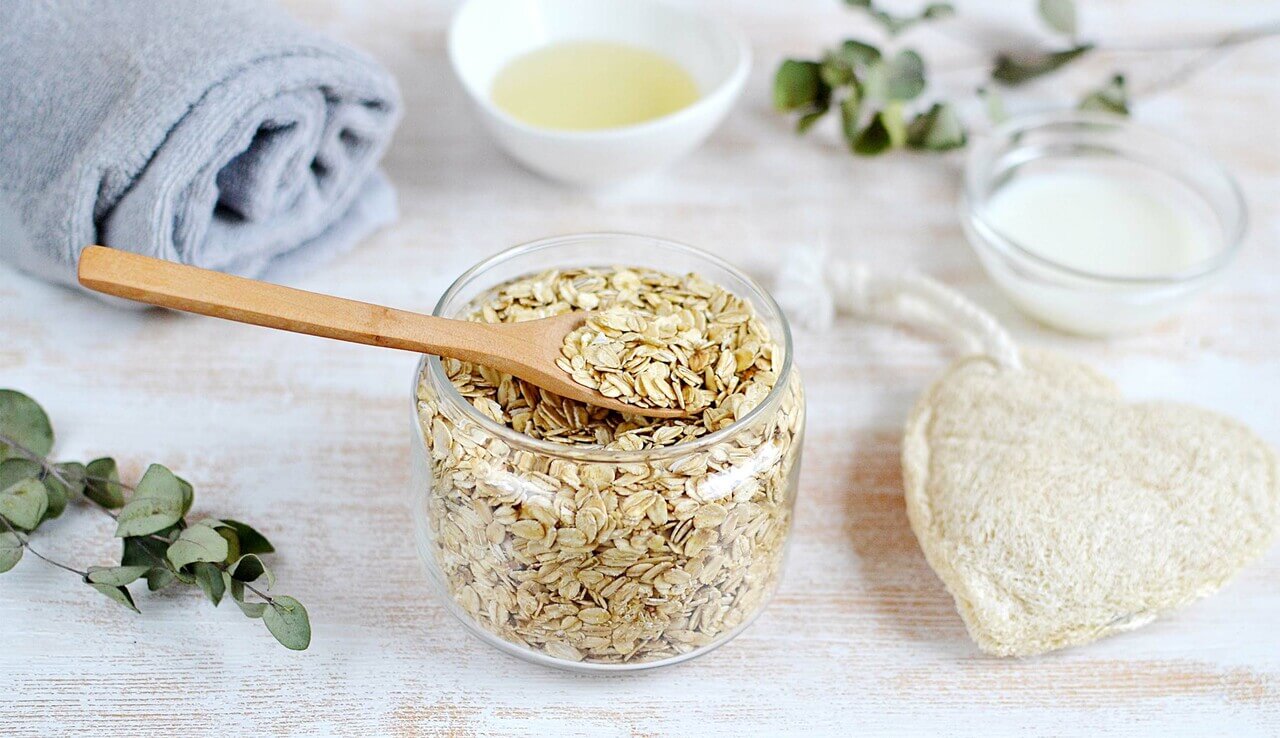 With new research developing every day, it seems like there's always something new in the world of skin care. A few years ago, hyaluronic acid shook brands everywhere. Then, CBD dominated 2018 and bakuchiol took over 2019. Centella Asiatica took the stage in 2020, and in 2021, exfoliants like AHAs have been especially trendy.
And yet, there are also those ingredients that have always been beloved. Natural, tried-and-true ingredients that have been saving our skin for decades–even centuries. For us, colloidal oatmeal is one of the first to come to mind.
Known for its soothing, gentle properties, colloidal oatmeal has become a favorite among those with eczema and psoriasis. In fact, it's often recommended by the National Eczema Association.
Colloidal oatmeal is also documented in ancient skin care. As early as 2000 B.C.E. in Egypt, it was considered an effective ingredient for irritated, inflamed skin. This powerful grain was also recorded in Dioscorides' Materia Medica, where its benefits are described at length.
Colloidal oatmeal is a beautiful ingredient that can work wonders for the skin, offering benefits such as the following:
Hydrates the skin

Soothes itchiness

Gently exfoliates

Locks in moisture

Evens out skin texture
We've already done an in-depth exploration about the benefits of colloidal oatmeal. Today, we're putting those benefits to use with these DIY face mask recipes, which make a great addition to your wintertime regimen.
Newsletter
Subscribe
for more blog updates and exclusive discounts
Colloidal Oatmeal DIY Face Mask Recipe
If the cold weather is leaving your skin in need of a drink, an oatmeal face mask can work some seriously soothing magic. With nutrients like beta-glucan, phenols, and saponins, colloidal oats can gently cleanse the skin while keeping it nourished and hydrated.
On top of that, oats have exfoliating properties. They can help gently slough off dead skin cells while delivering moisture to the skin. And with oatmeal's mild pH balance, it can help give red, inflamed skin some cooling relief. Oats may have a soothing effect on acne, as well, due to its naturally high levels of zinc.
In this DIY face mask recipe, we use agave nectar to help it adhere to the skin and lend some extra moisturizing properties.
Ingredients:
1 serving oatmeal

2 tablespoons blue agave nectar
Directions:
Following the directions on your oatmeal's packaging, cook one serving of oatmeal in water. Once the oatmeal completely cools, add two tablespoons of agave nectar and then apply to the face. Leave on for 10-15 minutes, then rinse with tepid water.
Colloidal Oatmeal Body Mask Recipe
Colloidal oatmeal is gentle enough for the skin on our faces, but it makes a great body treatment, too! If you tend to spend the colder seasons with cracked hands, dry, itchy limbs, and roughness on your elbows and knees, this colloidal oatmeal can effectively soften the skin and replenish moisture.
This body mask uses agave nectar once again to bind the oats, with the added addition of a nourishing, occlusive oil. We recommend oils like sunflower, which can help rebalance the skin barrier, coconut oil, which possesses antibacterial properties, or argan oil, which is rich in antioxidants and essential nutrients.
For a little natural fragrance, you can also add a few drops of essential oil. Some especially soothing options include lavender, eucalyptus, sage, or chamomile.
Ingredients:
1 tbsp. cooked oatmeal

1 tsp. agave nectar

1 tbsp. oil

3-5 drops essential oil (optional)
Directions:
Cook oatmeal and allow it to cool before combining with agave and oil. Apply the mixture to clean arms, legs, or joints and leave on for 10-20 minutes. Rinse thoroughly with lukewarm water and finish with your favorite moisturizer or body oil.
And if you're looking for a full-body oatmeal treatment that will help you (and your skin) relax and unwind, check out our recipe for a colloidal oatmeal bath!
We carefully hand-select products based on strict purity standards, and only recommend products we feel meet this criteria. 100% PURE™ may earn a small commission for products purchased through affiliate links.
The information in this article is for educational use, and not intended to substitute professional medical advice, diagnosis, or treatment and should not be used as such.
Sign up to our email newsletter for more blog updates and exclusive discounts.
< Older Post | Newer Post >