Eucalyptus Benefits for Skin, Hair, and More
How to use this refreshing botanical in your daily beauty routine
Posted on January 21, 2022
Written by: 100% PURE ®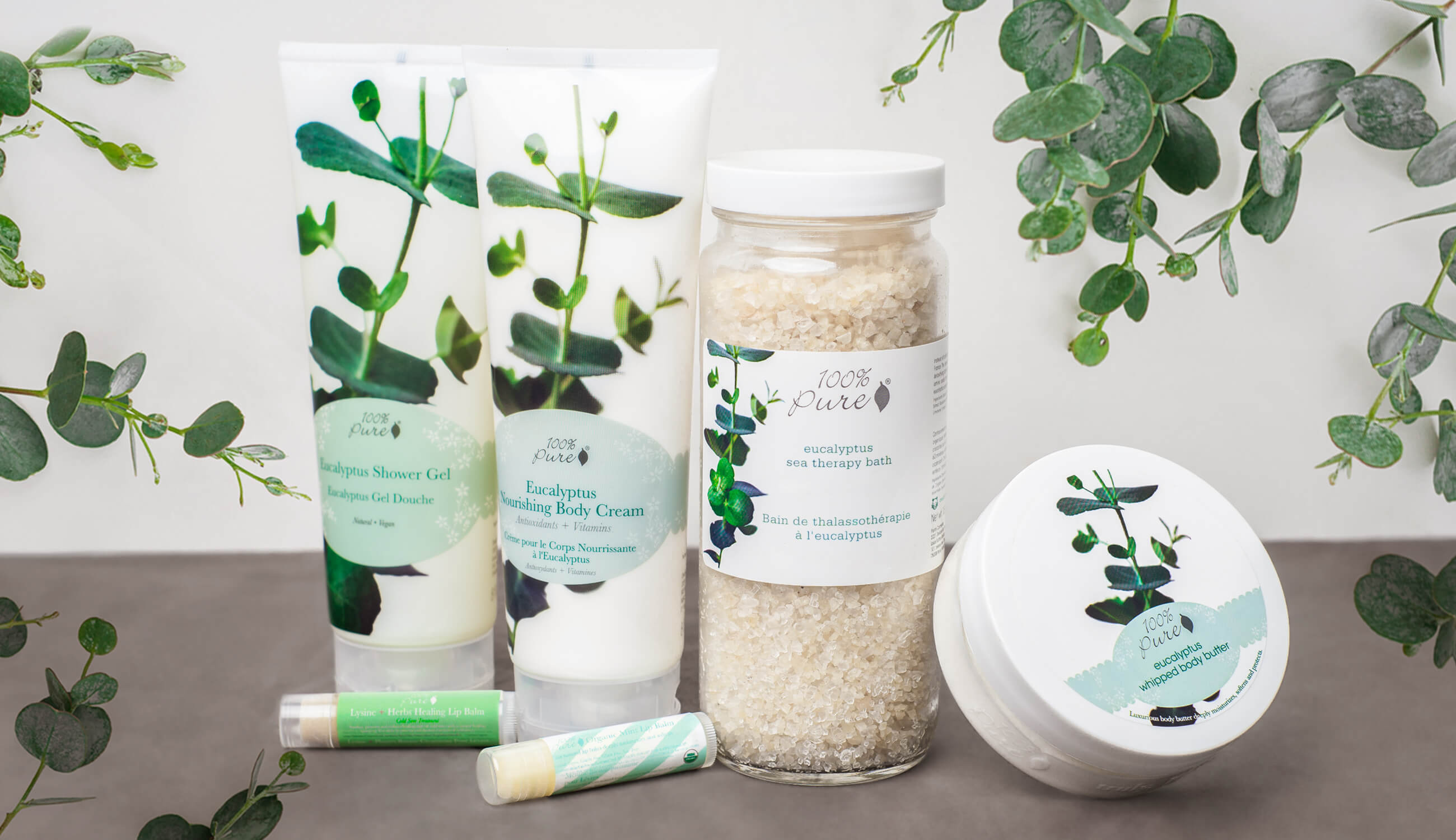 For those of us living in California, the scent of eucalyptus is a familiar one: it's the sweet, crisp aroma of San Francisco's lush Golden Gate Park. It's refreshing, uplifting, and camphorous. The scent is often used in spas and meditation centers for a deeply relaxing, aromatherapeutic experience.
Native to Australia, the Eucalyptus globulus tree (known locally as the Tasmanian blue gum tree) was brought to California during the Gold Rush days. Leaves from the eucalyptus tree aren't just refreshing; their extracts and oils are also popular forms of alternative medicine with anti-inflammatory and antibacterial benefits.
In short, this ingredient is a wonder for the skin, hair, lips, and more – follow along as we guide you through the therapeutic and sensory world of eucalyptus!
What Is Eucalyptus?
Eucalyptus essential oil comes from steam distilling eucalyptus leaves. The leaves come from the myrtle family of trees, which can grow up to 200 feet tall. These fast growing trees produce an oil combination that is released into the air, sometimes so strong that a blue haze is visible in the air (see Australian Blue Mountains).
Diffusing the oil, especially during cold and flu season, is a great home remedy for battling common cold symptoms. Adding a few drops of eucalyptus essential oil to your massage oil makes a for a cooling, soothing experience while easing congestion. In fact, eucalyptus is where many popular topical analgesics (like Vicks VapoRub) get their inspiration!
During the middle of summer when insects are abuzz, diffusing eucalyptus with lavender, lemongrass, and peppermint essential oils will help ward off mosquitoes. In a first aid kit, eucalyptus is also helpful as a disinfectant or for skin irritation.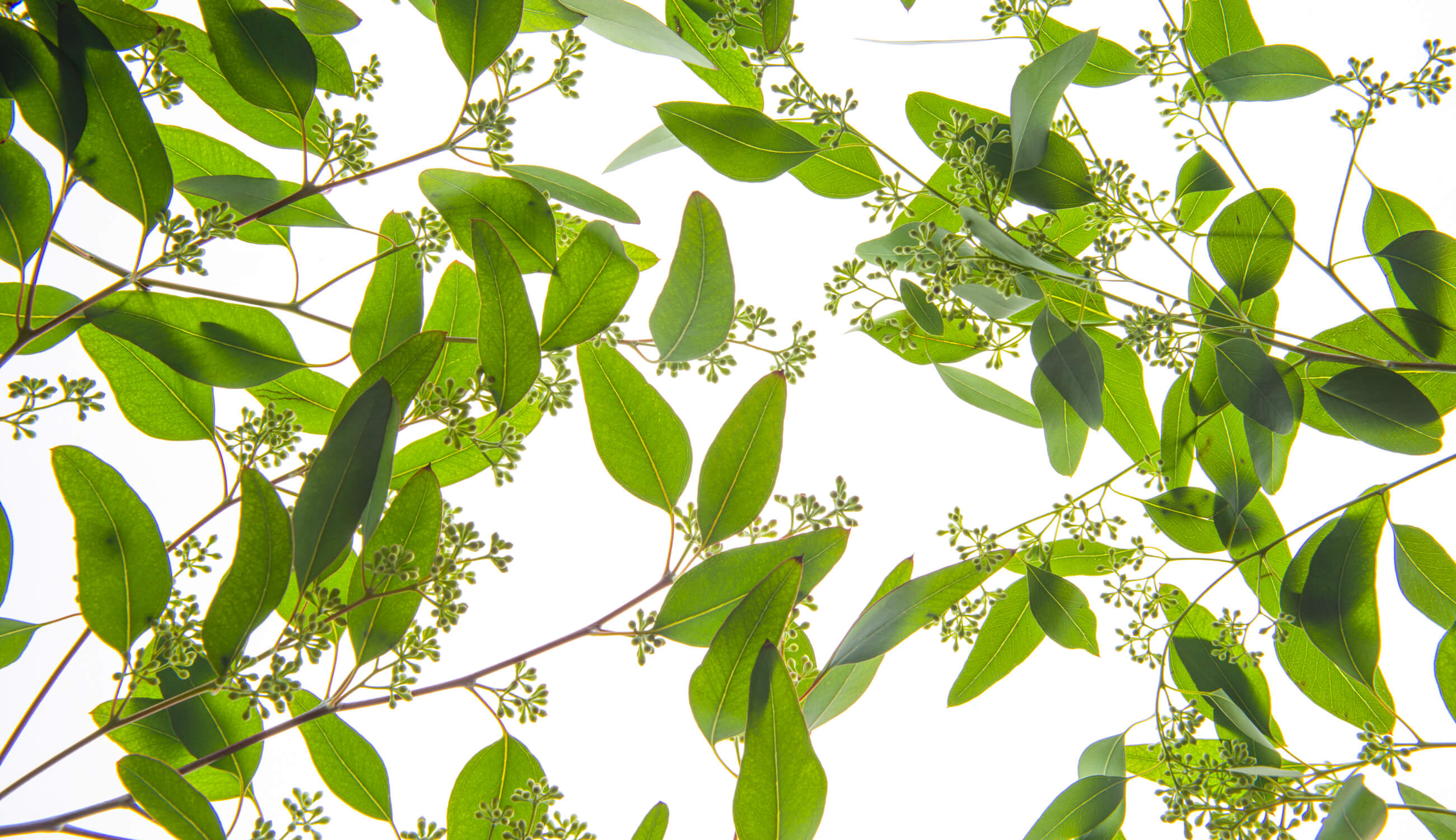 Key Eucalyptus Health Benefits
Eucalyptus benefits don't stop at warding off colds and bug bites; this plant has got some major beauty benefits, too! Eucalyptus is most famous for helping to treat and prevent acne. Eucalyptus also boosts circulation, a critical element for healthy vibrance and glow. Anti-inflammatory properties reduce redness and other inflammatory conditions, making the oil a super skin soother.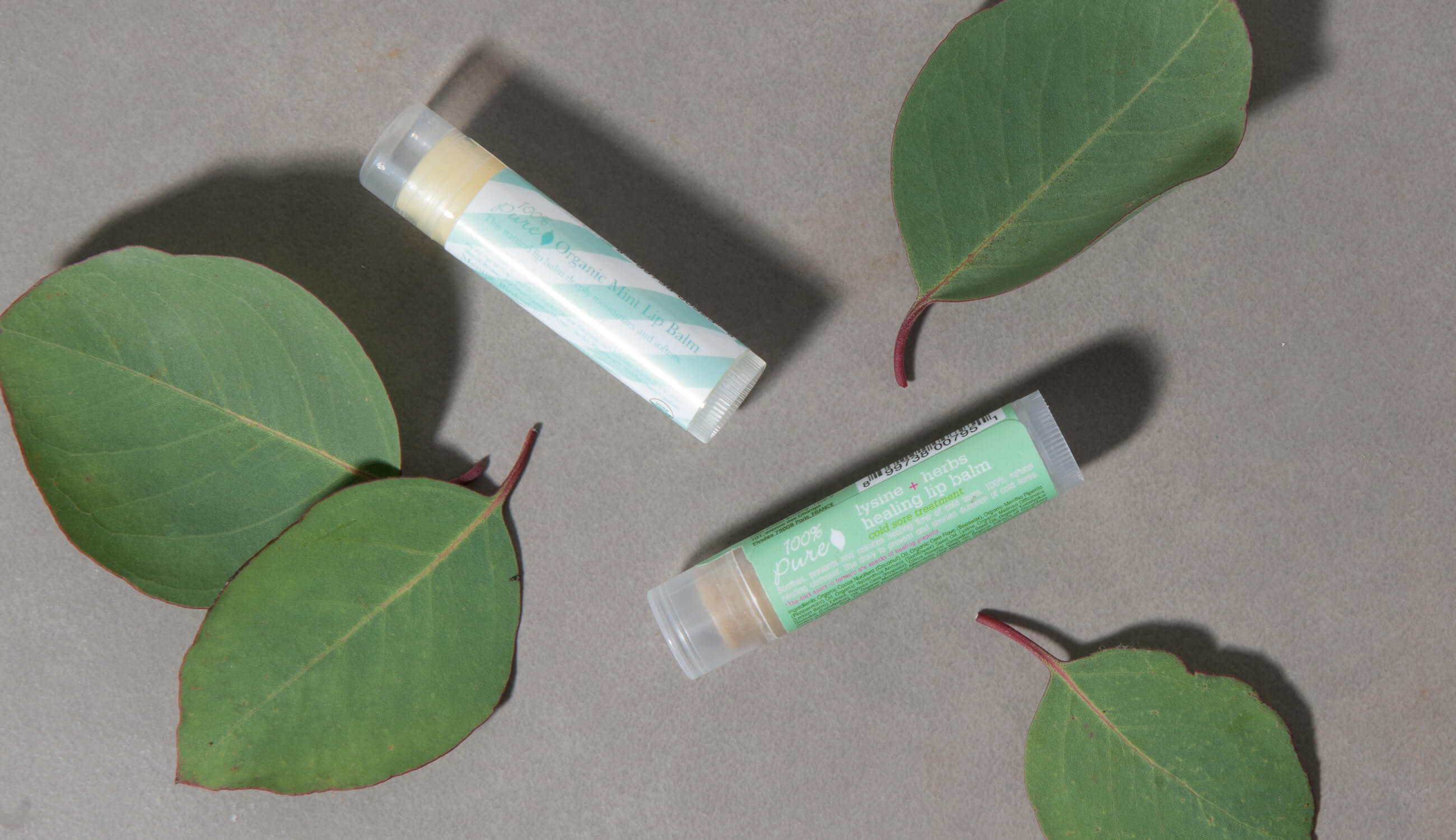 If you're looking to use eucalyptus in your beauty routine, always make sure to dilute the essential oil before applying it to skin. We use our Argan Oil as a carrier oil that will simultaneously nourish and soothe the skin, cuticles, and hair.
Eucalyptus benefits extend to helping keep the lips healthy from cold sores, thanks to its natural antibacterial and antiviral properties. With a combination of lysine, peppermint, lemon balm, licorice, propolis and eucalyptus essential oil, our Lysine + Herb Lip Balm will soothe, protect and provide healing for lips.
Using body care products with eucalyptus is also a great way to squeeze some aromatherapeutic stress relief into your daily skin routine. The invigorating feel of eucalyptus and peppermint on skin can also help to stimulate circulation and purify pores.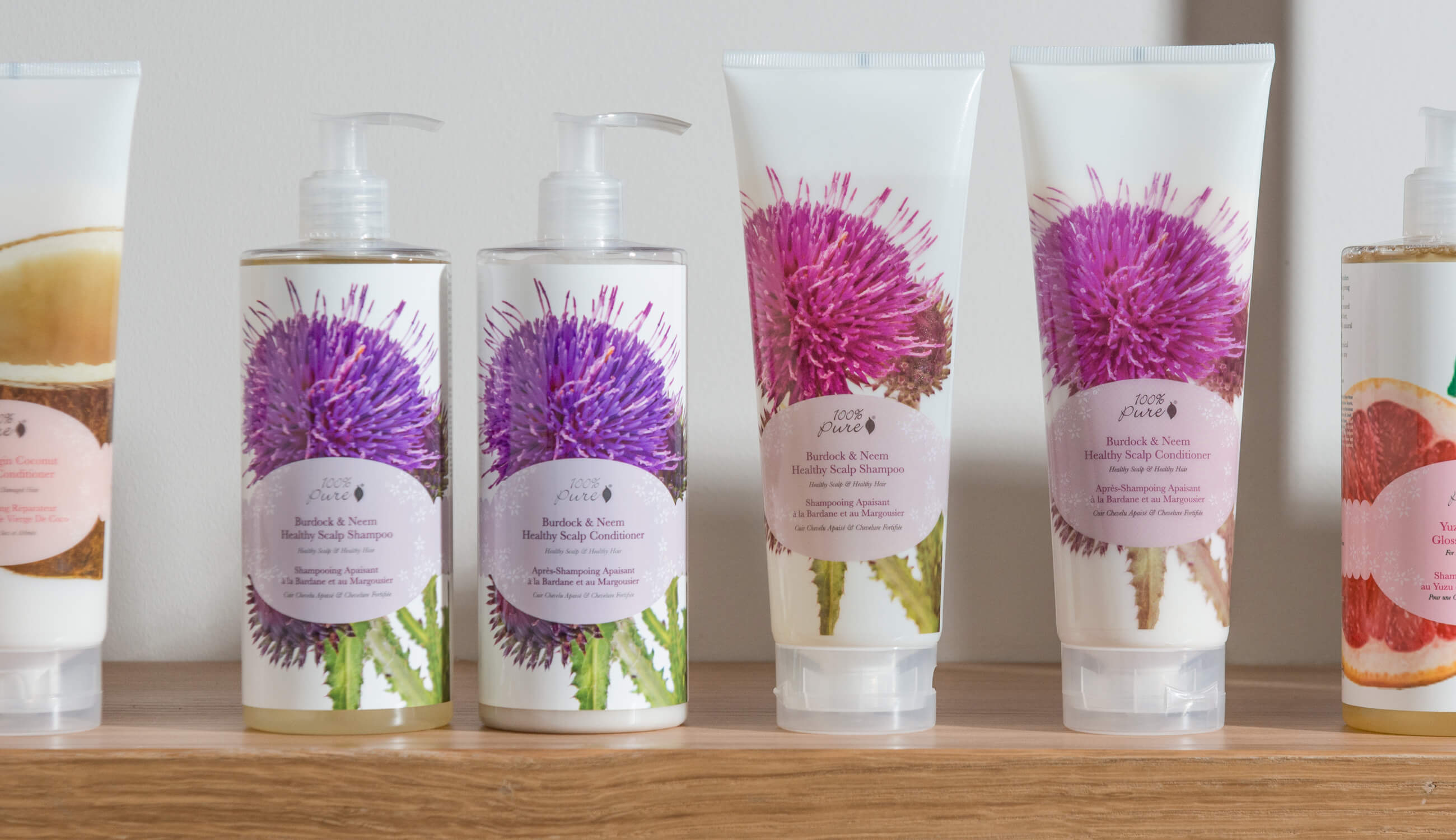 Eucalyptus Benefits for Hair
Eucalyptus benefits for the hair include strengthening, boosting shine, and follicle stimulation for healthier hair growth. From a healthy scalp grows healthy hair, and eucalyptus is a potent botanical scalp treatment.
Using the right concentration of eucalyptus oil for the scalp is important, as too much can strip hair of beneficial oils. The sulfate-free Burdock & Neem Healthy Scalp Shampoo and Conditioner duo has been expertly formulated with both herbal and eucalyptus benefits, to promote daily maintenance hair and scalp health.
Neem, an antifungal and antimicrobial plant, helps protect the scalp. Burdock helps to soothe and detoxify the scalp. Nettle helps fortify the hair, while peppermint and eucalyptus help stimulate hair growth. The result is a newly nourished, clean scalp that helps support stronger hair.
Eucalyptus Benefits for Body
Shower
There's nothing quite like the refreshing, uplifting aroma of eucalyptus. It's the perfect addition while showering, bathing, and moisturizing to invigorate the body and mind.
The Eucalyptus Shower Gel starts with soothing aloe, rose hydrosol, and antioxidant rich green tea to tone and hydrate dry, thirsty skin. Humectant red algae is added to detoxify and moisturize the skin. Invigorating, circulation boosting herbs like eucalyptus, rosemary, thyme, and oregano are included for purifying and skin-soothing benefits.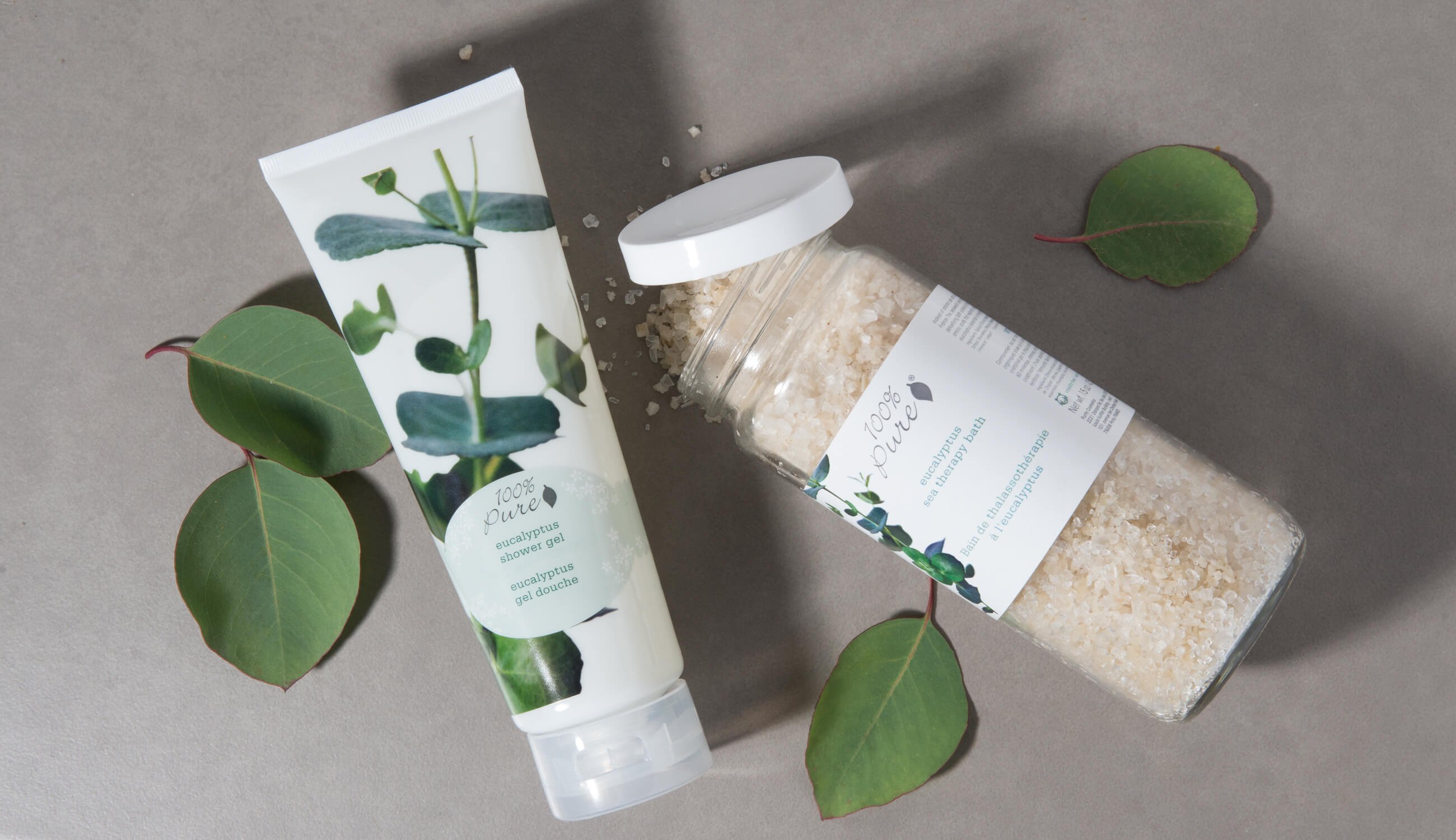 Bath
For a luxurious spa bath at home, implement eucalyptus-infused salts into your nighttime decompression routine. The salts in our Eucalyptus Sea Therapy Bath aren't really 'salts' at all; they're nutrient rich, crystallized sea kelp from the Brittany Coast of France.
This herbal-infused, kelp bath soak contains over 60 different trace minerals, vitamins, and antioxidants. These trace minerals from the sea can deeply nourish and detoxify the body while revitalizing the mind. This bathtime blend also contains plants like ginger and rosemary, with energizing oils of peppermint and eucalyptus for a refreshing pick-me-up.
Odor Control
Once you're all fresh and clean after your soothing shower or bath, eucalyptus is a smart choice for odor control, too. Keep the freshness going until your next shower with a deodorant that features eucalyptus as a key ingredient.
One popular choice is Salt & Stone Eucalyptus & Cedarwood – Formula Nº 1 Deodorant. This natural deodorant is free of parabens, aluminum, alcohol, and synthetic fragrances and dyes – while having a super refreshing scent. It features hyaluronic acid to moisturize and probiotics, which help to neutralize odor for two days.
Many eucalyptus fans also opt for Briogeo B. Well Tea Tree Eucalyptus Clean Deodorant. This plant-based, clean choice features tea tree oil and eucalyptus oil to fight bacteria and neutralize odor. Coconut water helps to soothe underarms and keep skin soft.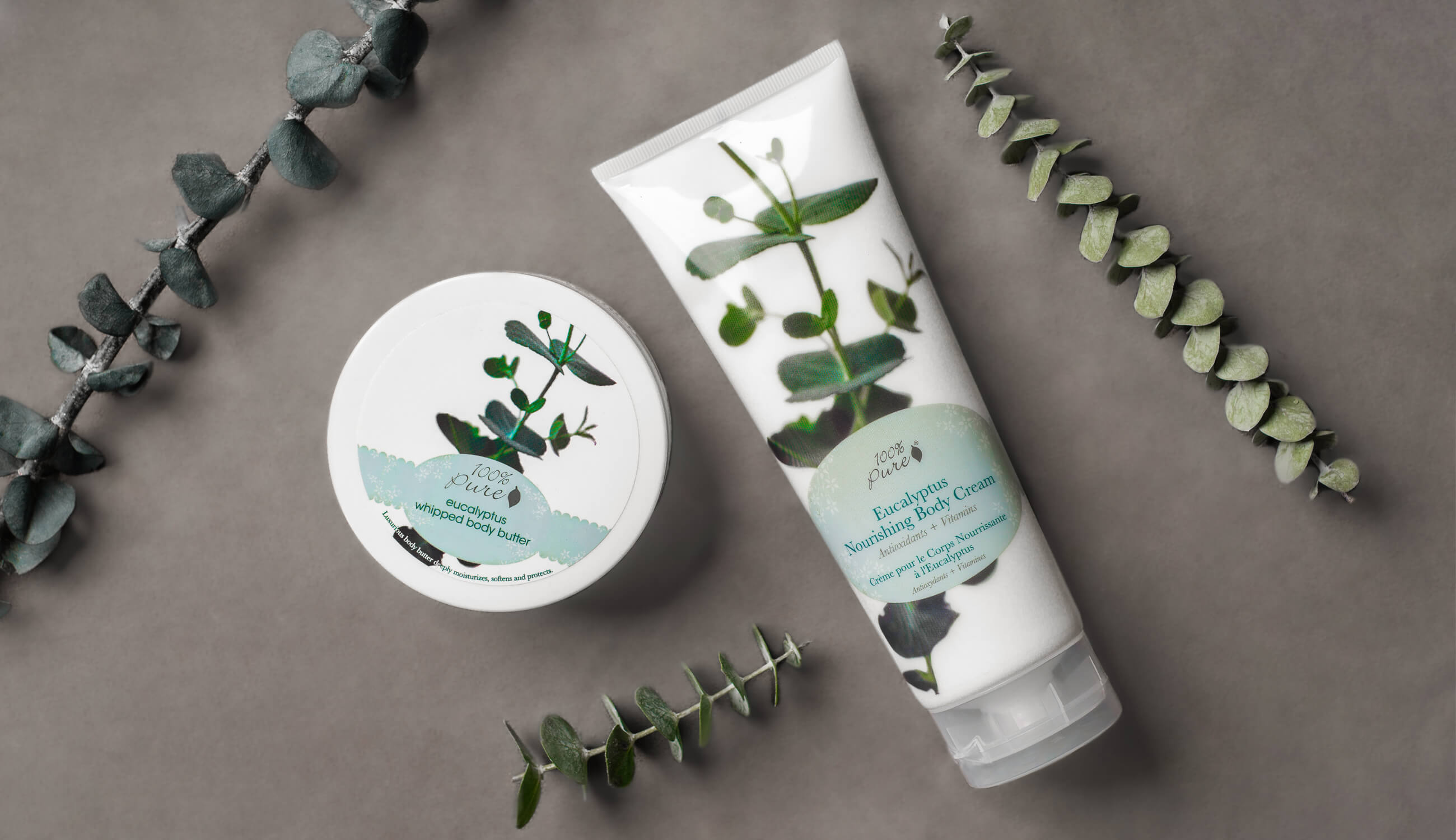 Moisture
For your after-bath routine, look for a skin-softening body cream that offers tangible eucalyptus benefits. Soften and protect super dry skin with cocoa and avocado butters in our mega rich Eucalyptus Whipped Body Butter. This thick, emollient butter is ideal for extra rough or dry areas, like the elbows and knees. Rich with antioxidants from acai, vitamin E, and goji berries, it will deeply nourish while providing anti-aging benefits to the skin.
For a light, easily spreadable daily body lotion with an invigorating scent and cooling feel, our go-to is the Eucalyptus Nourishing Body Cream. Calming peppermint and eucalyptus benefits soothe tired hands and feet; this is especially helpful after moisture-sapping activities like washing dishes or going barefoot at the beach. Age protective antioxidants and comforting botanical oils in both body moisturizers will nourish and uplift while you wear.
Eucalyptus is an all around healing, soothing, and uplifting ingredient – which is why we couldn't resist giving it the spotlight! It's a scent that's suitable for anyone, and bound to soothe both the mind and body. Formulated by natural ingredient experts, these formulas will nourish the body without being overly stipping or harsh on the skin.
100% PURE never uses any artificial fragrances, fillers, or synthetic chemicals. We use only the highest quality nutrients for your skin and body. Enjoy this Australian wonder, in your favorite way, and let us know your favorite tips and eucalyptus tricks by tagging us at #100percentpure or #nodirtybeauty.
For more information about essential oils, check out our picks for the 6 Best Plant Oils and Essential Oils for Skin.
We carefully hand-select products based on strict purity standards, and only recommend products we feel meet this criteria. 100% PURE™ may earn a small commission for products purchased through affiliate links.
The information in this article is for educational use, and not intended to substitute professional medical advice, diagnosis, or treatment and should not be used as such.
Sign up to our email newsletter for more blog updates and exclusive discounts.
< Older Post | Newer Post >