Ice Facial Treatments: Do They Work?
If you have questions about cryo facials, we have answers
Posted on December 16, 2021
Written by: 100% PURE ®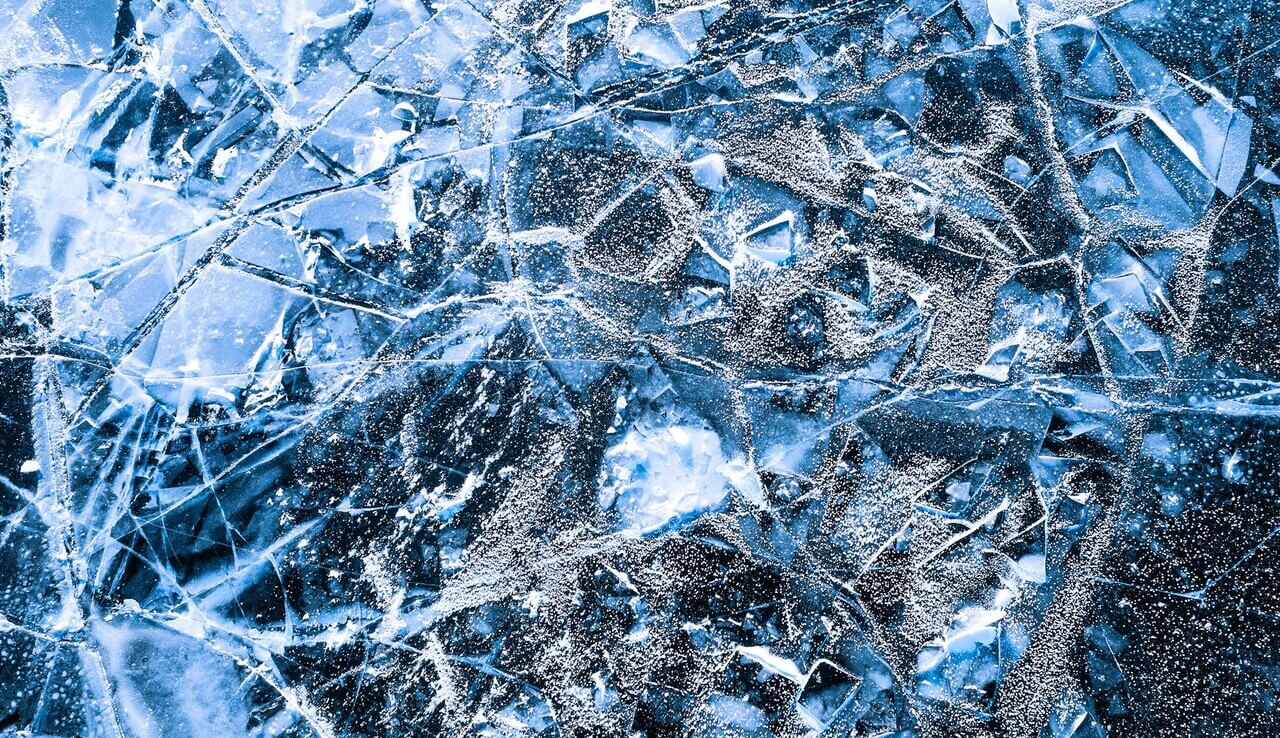 If you've spent any amount of time on TikTok, you're bound to stumble across the beauty trends, like multicolor eyeliner and daisy manicures. But one skin care trend has been especially on the radar lately: ice facials.
Ice facials, also known as "skin icing", involve the gentle rubbing of ice onto the skin. It's become a central step in countless influencers' "get ready with me" routines, known to create that glassy, dewy look with just a tinge of rosiness.
While ice facials have existed for centuries, they've made a resurgence on TikTok as the key to tighter pores and clearer skin. On top of that, it's often viewed as an at-home version of a cryo facial. But are ice facials really the same, and do they really work for skin? First, let's break down how a cryo facial works.
Cryo Facial Vs. Ice Facial Treatments
A cryo facial is based on the theory behind cryotherapy, which literally means "cold therapy". When it comes to comprehensive health, cryotherapy is nothing new. When you bump your leg, you put ice on it! When you burn your hand, you run it under cold water.
And as it turns out, there's some interesting evidence supporting its benefits. Such studies have observed that cryotherapy can help numb pain, manage migraine symptoms, help treat mood disorders, and even be one of the acne treatments by helping soothe skin conditions like acne and eczema.
A cryo facial takes this concept and streamlines it just for your skin, with an almost sci-fi approach. A cryo facial is typically administered by estheticians, and it involves a machine that blasts vaporized nitrogen all over the skin. Typically, the session takes about 12 minutes, and supposedly, it can render nearly instant results.
Cryo facials as a procedure have not been as heavily researched, though there are proponents who swear by it. Practitioners of a cryo facial claim that this jolt of cold to the skin helps tighten the pores and reduce sebum for a more radiant, youthful appearance.
But for those who don't have the means to make that spa trip, there are ice facials. Ice facials are really nothing new, but this skin care trend has been making a comeback on TikTok. Also known as "skin icing", ice facials involve taking an ice cube and running it all over your face, paying extra attention to the under-eye area to de-puff.
Ice facials work by bringing blood in the skin to the surface, creating both a tightening effect and a rosy glow.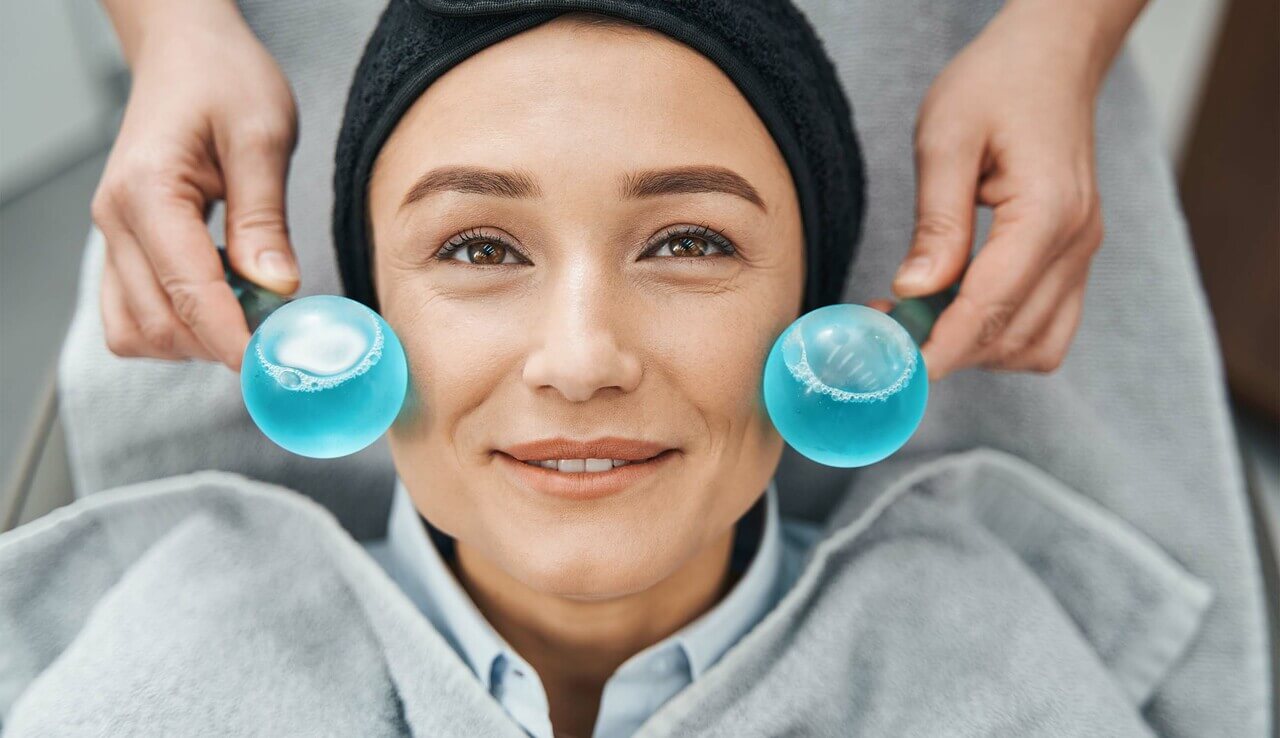 Benefits of Cryo Facials As Acne Treatments
As we briefly touched on a moment ago, there has been evidence that cryotherapy could serve as one of the acne treatments to benefit your skin, particularly in cases with inflamed and acne-prone skin. In one study, it was observed that cryotherapy has a unique way of targeting sebaceous glands, which can help purify the skin.
Do ice facials at home provide the same effect? Not necessarily. In the grand scheme of things, an ice cube on the skin is not going to garner the same instant results you might get from a professional facial with concentrated nitrogen.
That being said, ice facials at home can offer their own benefits. When we apply something cool to the skin, it can help bring down the swelling for a quick eye depuff. You might also notice your skin feeling a bit tighter and fresher. And, if done during a skin care routine, it may help products absorb into the skin more effectively.
Finally, a burst of coolness to the skin just feels nice, especially in the morning when your skin is still puffy from sleep and creased from your pillow. And if you enjoy ice facials for the feeling, more power to you! We all deserve to make our self-care as enjoyable as possible. However, ice facials may pose some problems for the skin, which we make note of next.
The Not-So-Cool Side of This Skin Care Trend
While cryotherapy and a cryo facial have their own benefits, they can do more harm than good if not done correctly. In more extreme cases, ice on the skin has the potential to lead to burns, frostbite, and nerve damage, not to mention discoloration and redness.
Ice facials are not recommended for those with dry or damaged skin, either. Ice can lead to further damage to the capillaries.
3 Ways to Safely Follow This Skin Care Trend
While there are some who swear by ice facials, they're not for everyone and should be done with caution. But if you enjoy that cooling sensation on your skin, and you like your skin care routine to offer a sensorial experience, there are some ways to incorporate it safely.
#1: Wrap Your Ice
If you can't live without that extra-cold sensation brought on by the ice, consider wrapping it up in a cloth first. This minimizes the risk of too much exposure. Plus, it'll keep the ice from melting for longer!
#2: Stick a Sheet Mask In The Fridge
Few things scream "self-care" quite like a sheet mask, so why not turn up the luxe factor? Sticking a sheet mask or hydrogel mask in your fridge 10 minutes before using it will give a refreshing, cooling effect. Wait for your skin to drink in the mask's ingredients like a cool beverage!
#3: Use The Old Cold Spoon Trick
Though quick and simple, this old trick never fails. If you need some instant de-puffing, stick a spoon in the freezer overnight and press it against your under-eye area.
We carefully hand-select products based on strict purity standards, and only recommend products we feel meet this criteria. 100% PURE™ may earn a small commission for products purchased through affiliate links.
The information in this article is for educational use, and not intended to substitute professional medical advice, diagnosis, or treatment and should not be used as such.
Sign up to our email newsletter for more blog updates and exclusive discounts.
< Older Post | Newer Post >