Clear Skin Makeup Removing Routine
How to ensure a deep clean, clear pores, and softer skin after makeup removal
Postedthen August 11, 2020
Written by: 100% PURE ®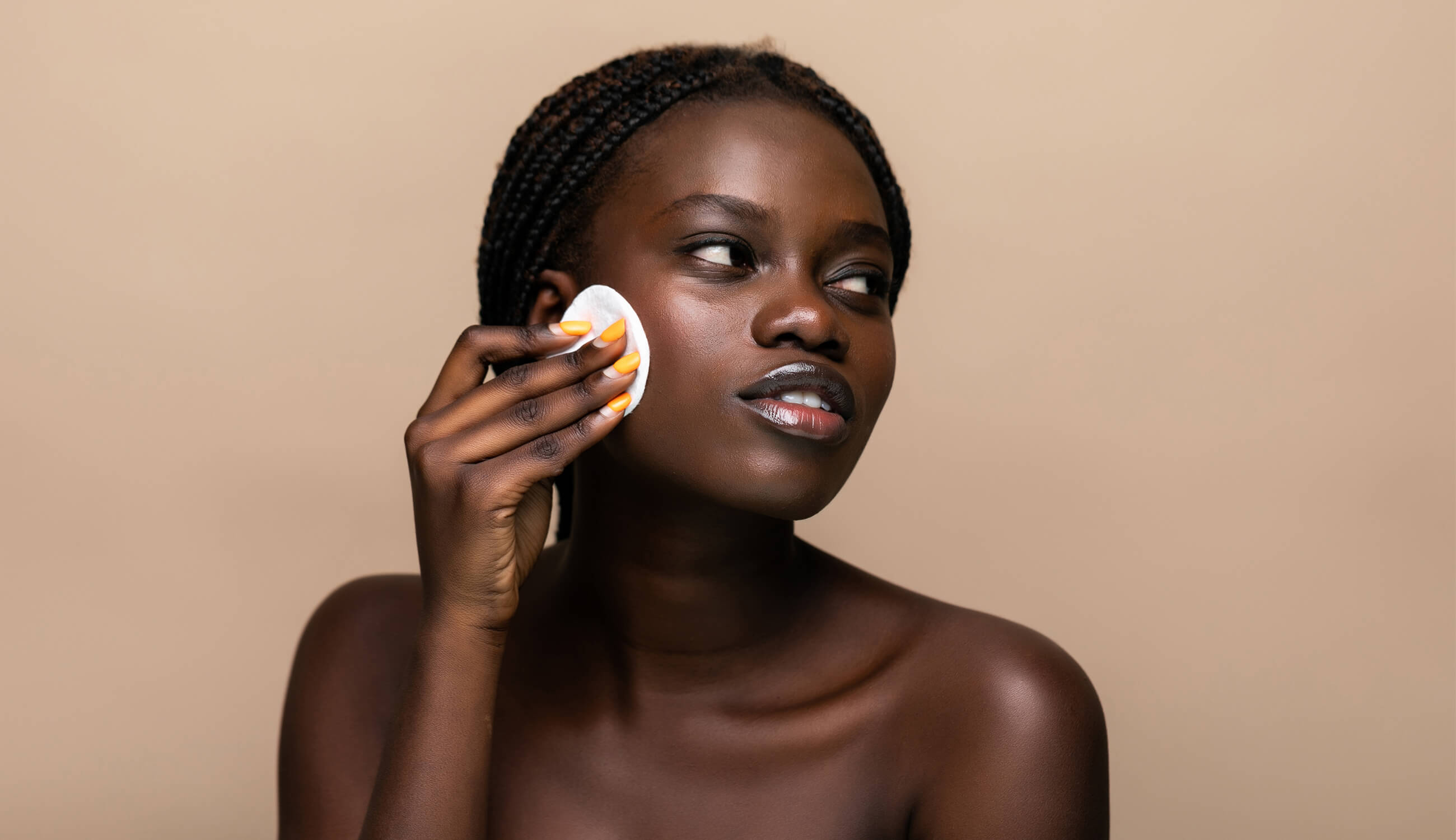 Good skin is clean skin, right?
When it comes to makeup, what goes on must come off. Removing the debris, makeup, and excess oil is part of what gives us that pre-bedtime, baby smooth skin. The trick is using a blend of gentle ingredients and effective products – namely, clean and natural makeup removers.
Let's fast forward to our evening makeup removing routine, to learn just what it takes to promote a clear, super soft complexion.
Does sleeping in makeup cause breakouts?
Short answer, yes. When we sleep in makeup, we're trapping dirt and debris in our pores and giving them a chance to thrive. Changes in internal temperature – like night sweats – can also worsen chances of clogged pores. Even if you aren't up for a full skin care regimen before bed, quick use of a natural makeup remover can rewrite the script on potential breakouts.
What happens when I sleep in my makeup?
Makeup mixes with oils from our bed linens, hair, hands, you name it – and builds a breeding ground for bacteria. Throughout the day microscopic debris, pollutants, and bacteria have been accumulating in our makeup. When you don't wash away that soiled makeup, the bacteria spreads to your pillowcase and gets busy clogging pores.
Is coconut oil a good option for a natural makeup remover?
Yes…and, no. Coconut oil works great for loosening long wearing eye liners and water resistant mascaras, or even long-lasting liquid lipsticks.
Unfortunately on its own, coconut oil isn't cleansing enough, and doesn't feed our skin with a wide enough array of nutrients to fully support it. Feel free to use coconut oil as step one in your makeup removing routine, but follow up with a micellar water or mild exfoliant to hit all the cleansing bases.
Does plain water remove makeup?
Here's a big NO for you. Water simply doesn't break down most makeup ingredients, and can't bond to or remove oils or waxes that are common in most cosmetic products.
What's the best way to remove waterproof makeup?
Stubborn makeup truly needs some kind of balm or oil to totally remove it from the skin. Go in with an oil-based makeup remover first, then finish with a warm washcloth or cleansing pad for a one-two punch that even the longest wearing makeup can't beat.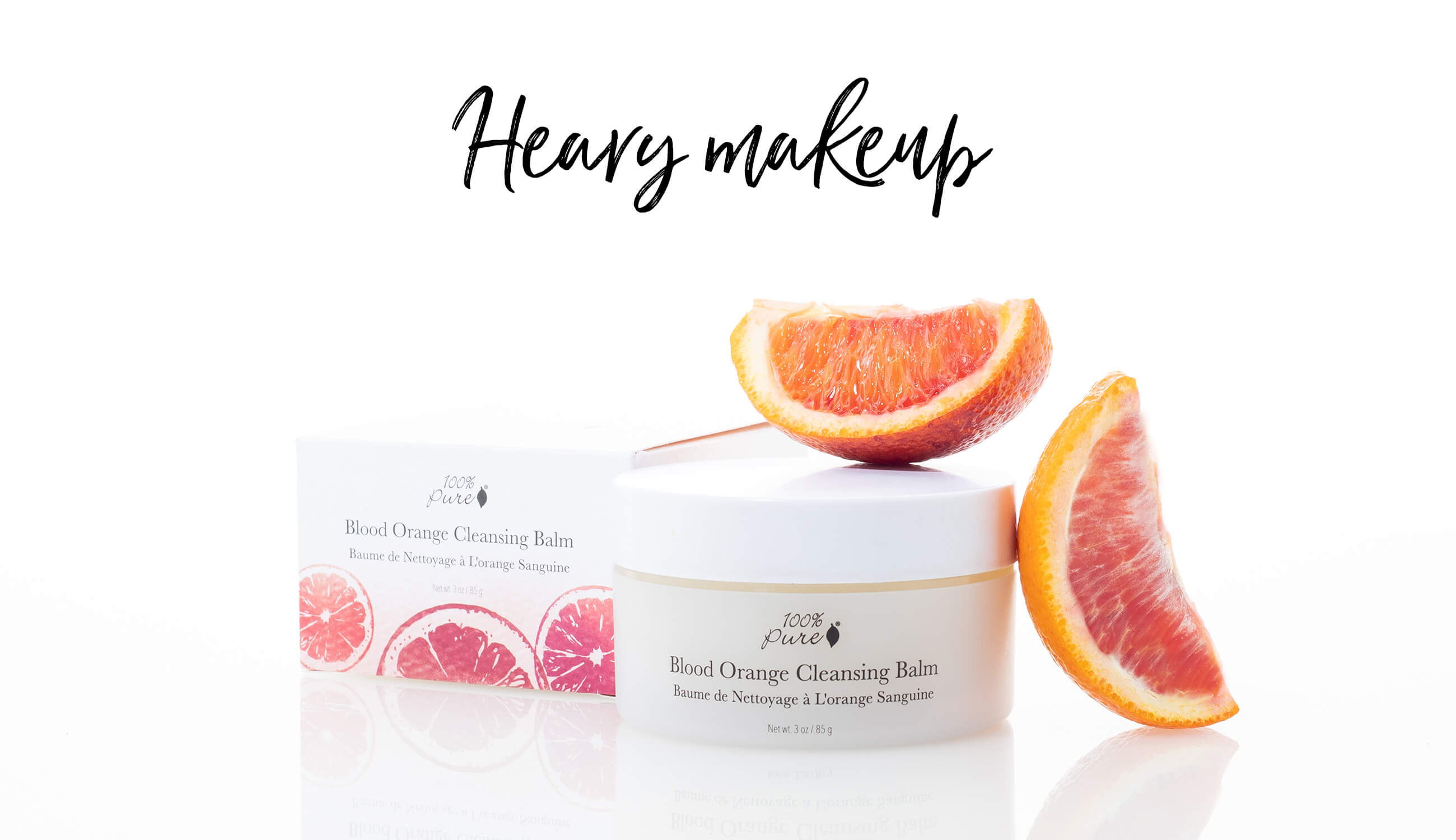 Have you tried a cleansing balm before? It only took us a single use to realize how well our Blood Orange Cleansing Balm works. Balms need to be warmed between dry hands, then smoothed gently onto dry skin. They're worked into the skin to loosen dirt and debris, until the balm has created a nice slippery texture. With warm water and a facial sponge, you can easily rinse away makeup to leave skin feeling squeaky clean.
Cleansing balms work beautifully on made up and makeup-free skin, dry skin, or even oily skin. Yes, that's right: an oil-based cleanser works wonders on oily skin. Those of us with oily and combination skin types tend to shy away from anything with "butter" or "oil" in the formula, but when it comes to natural makeup remover, a balm has an amazing effect on our skin.
First there's the namesake ingredient, blood orange. This vibrant fruit helps to fight off age-enhancing free radicals, turn our skin inflammation way down, and support healthy collagen production. What's more is it gives our Blood Orange Cleansing Balm the hit of acid needed to degrease and clarify the complexion.
Use this natural makeup remover on high (to very high) coverage days, and leave your worries about leftover lash glue behind. This luscious formulation has an avocado and coconut oil base that feels irresistibly silky on the skin. The creaminess of this duo has the power to lift away debris – even stubborn waterproof makeup. Avocado and coconut leave behind conditioning vitamin E and fatty acids for healthier, softer skin. Even glitter doesn't stand a chance!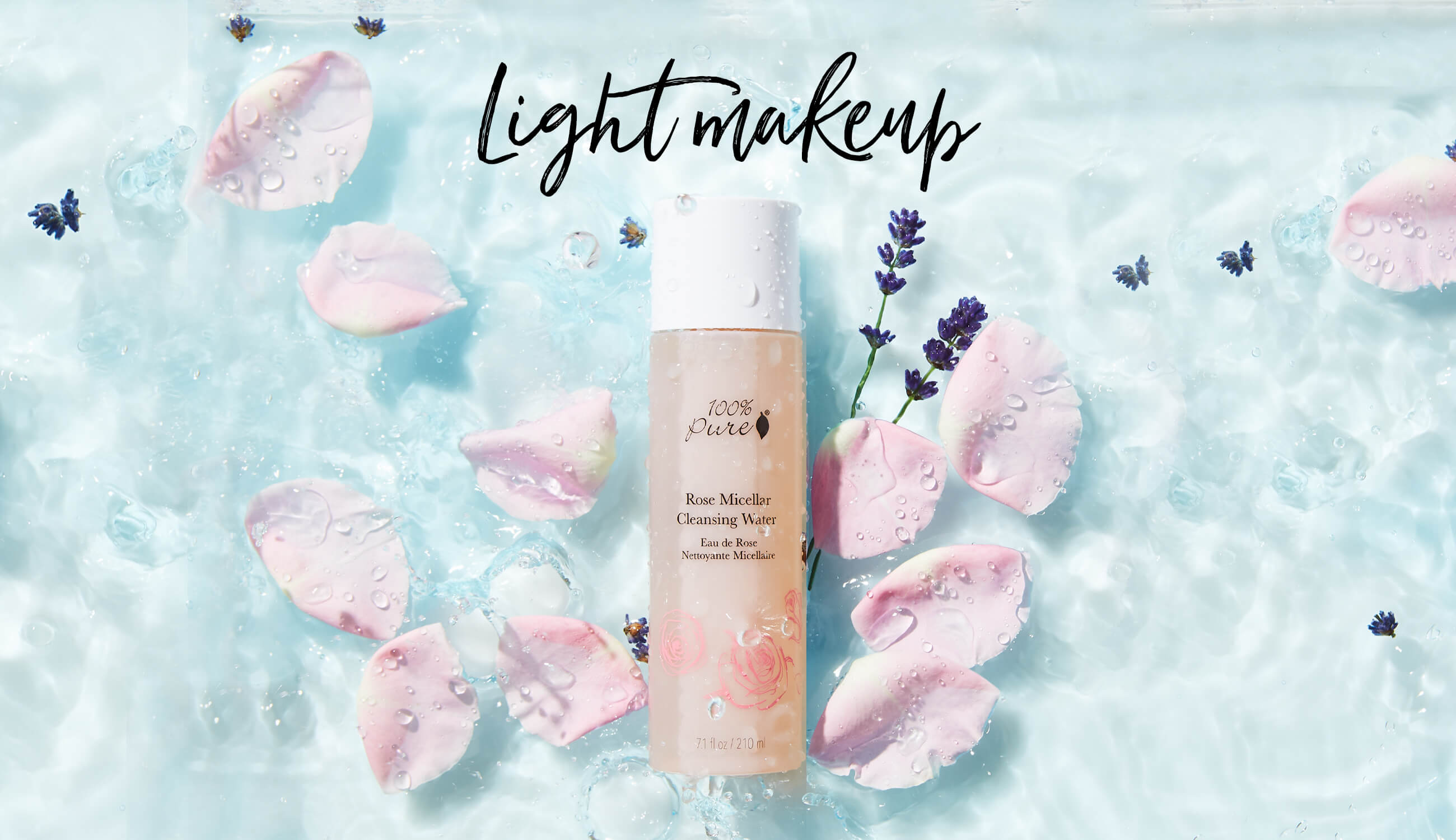 These beautiful blooms make you want to "stop and smell the roses" – or in this case, stop and cleanse with roses.
For our no-makeup and lightweight makeup days, our light and refreshing Rose Micellar Cleansing Water makes quick work of makeup removal. Natural, vegan, and gentle on sensitive skin, the tiny molecules in this floral rinse effectively sweep away dirt and oil. Simply squirt a bit onto a cotton round before smoothing over the face in gentle upward motions, starting from the center out.
Looking for something to wash away light makeup without stripping the skin? This makeup remover joins the calming power of roses with the brightening, toning power of lemons and cornflower. A simple formula like this one can be deceiving, but each ingredient packs a potent punch. In just seconds we can totally refresh the skin, calm redness and inflammation, and set our skin up for a night of sweet dreams. Minimalists rejoice!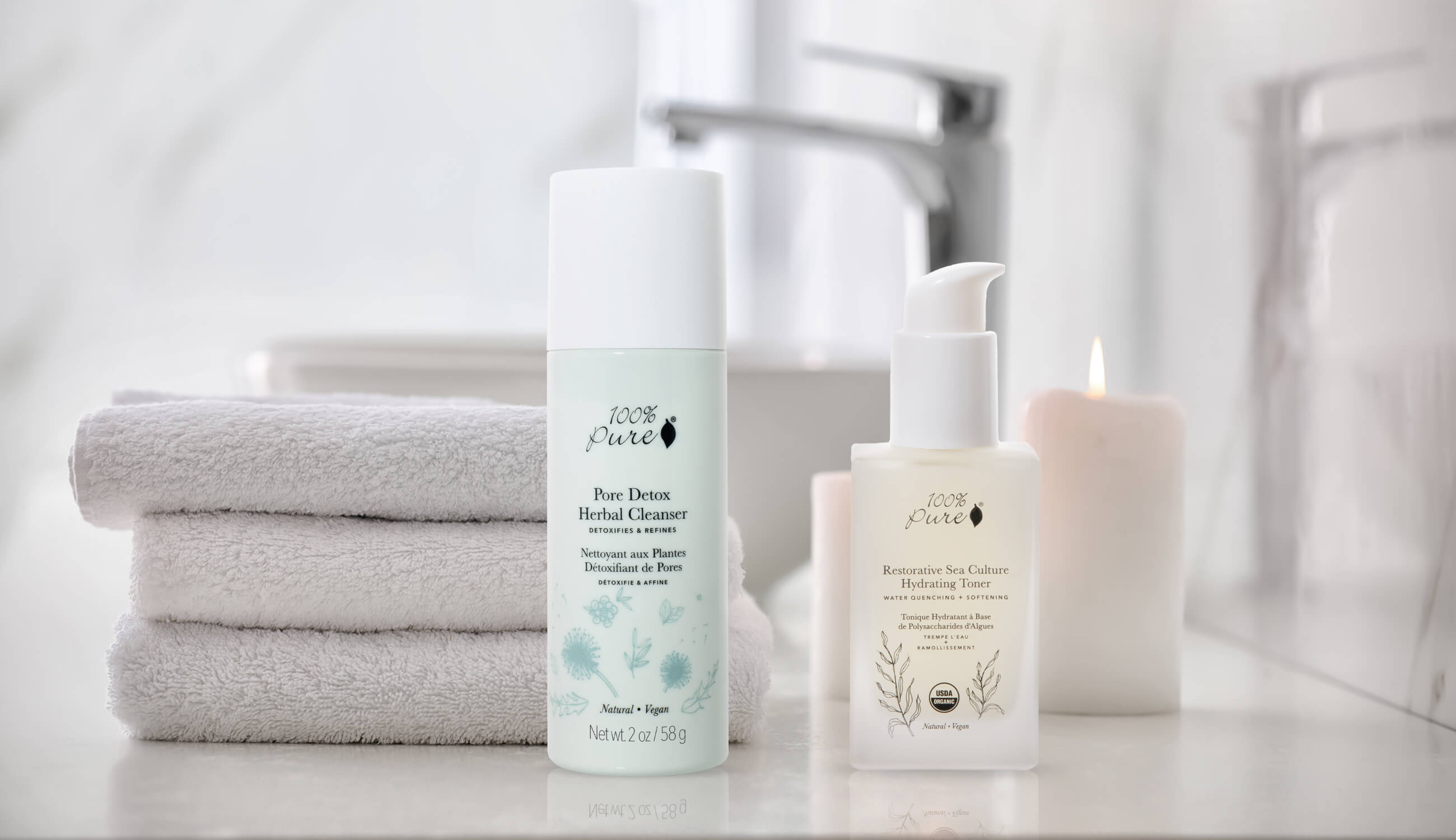 A skin care regimen is like a fingerprint; it is uniquely ours. Your unique routine is also suggestive of how our skin will look and behave. That means sometimes using products in unconventional ways, or pairing peculiar products to make a routine that suits us best. That's how our best-selling powder cleanser snuck its way into the makeup removing game!
This cleanser works great on its own, used once or twice weekly for normal skin types (or more frequently for oily and combo skin). But one of the things we love most about this clay-based cleanser and exfoliant is how well it plays with others – more on our favorite makeup removing combo below!
Acne-prone, combination, or oily skin types who feel congested can benefit from the purifying power of green clay, employed as this cleanser's base. Green clay helps sweep away dead skin lingering on the surface, promoting healthy skin repair and enhancing elasticity without leaving the skin feeling tight or uncomfortable.
The Pore Detox Cleanser uses a touch of oats for a satisfying scrub: a key second step when removing heavy makeup. Combined with cooling additions of peppermint and tea tree, this mildly exfoliating cleanser feels like a breath of fresh air on congested skin. It's especially adept at targeting active breakouts and inflammation below the surface.
Time to spill our secrets: we use this cleanser-scrub combo after our cleansing balm when things are feeling seriously clogged. This combo can remove every last stitch of heavy duty makeup while softening and soothing breakouts for a fresh, clarified complexion. This duo goes deep into pores and visibly transforms the surface – it's unstoppable, even against the heaviest makeup.
Post-cleanse is the perfect time to restore the skin with a big boost of hydration. Here's our go-to choice: a hyaluronic acid elevated toner complete with nutrient-rich algae and sea kelp to feed the skin.
For dry, normal and combo skin, try following up after makeup removal with a refreshing splash of Restorative Sea Culture Toner. Chia seed water deeply hydrates, and provides the skin with healthy proteins for a smooth, supple surface. The perfect close to a natural makeup removing routine, this toner primes skin for bed with all the nutrients your skin needs.
Goodbye until tomorrow, makeup!
We carefully hand-select products based on strict purity standards, and only recommend products we feel meet this criteria. 100% PURE™ may earn a small commission for products purchased through affiliate links.
The information in this article is for educational use, and not intended to substitute professional medical advice, diagnosis, or treatment and should not be used as such.
Sign up to our email newsletter for more blog updates and exclusive discounts.
< Older Post | Newer Post >