How to Get Multiple Looks from One Palette
Tips for creating a variety of makeup looks and finishes with a single makeup palette
Posted on July 30, 2019
Written by: 100% PURE®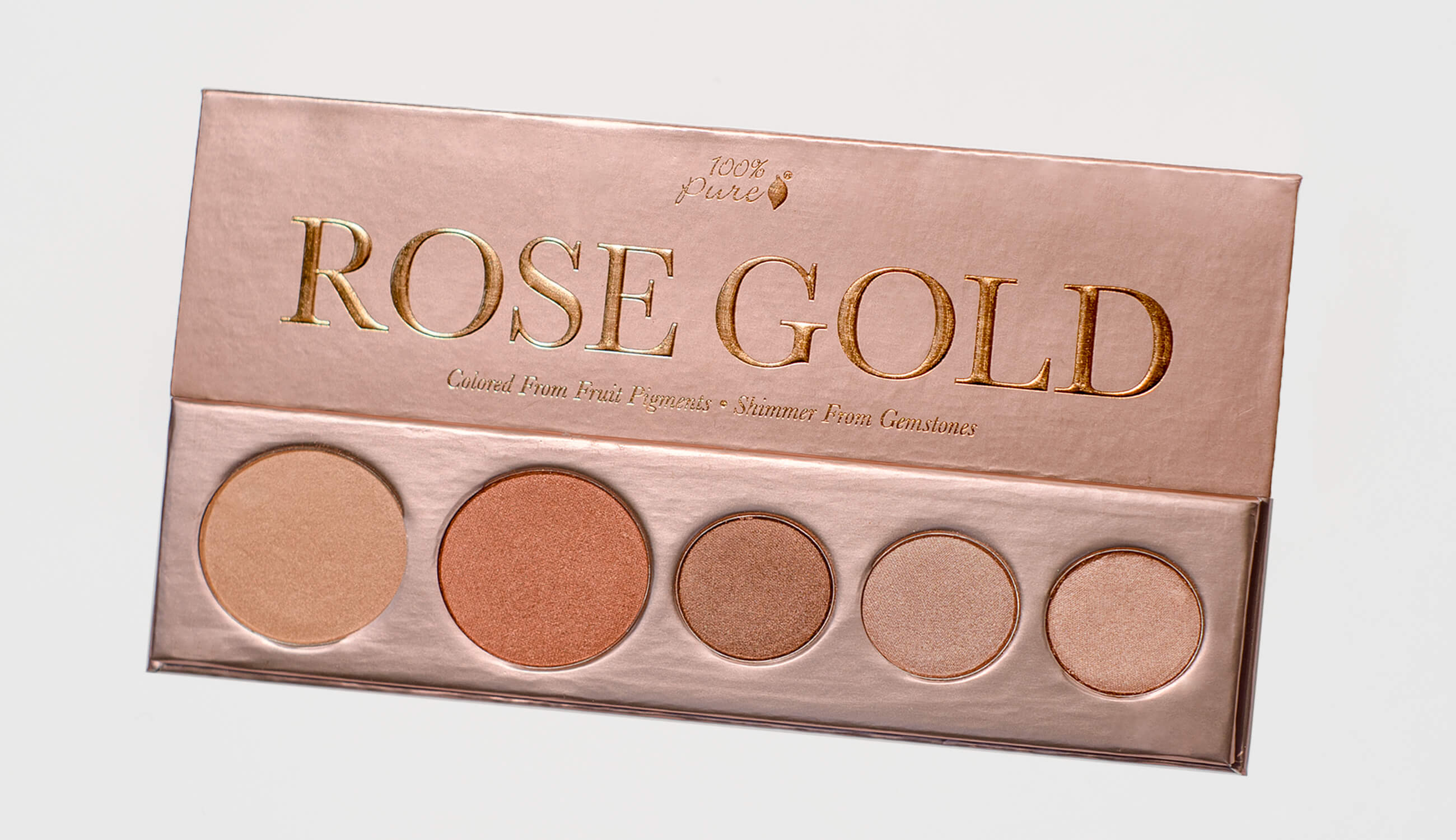 We're all about our makeup working smarter, not harder. That's why we're huge proponents of using just a single makeup palette to complete one look – or two, or three. The colors are designed to 'go' together, which takes the guesswork out of matching your blush to your highlighter to your eye shadow, and so on.
But what if you took your basic makeup palette and made it something more? Instead of feeling restricted to 3 eye shadows, one highlighter, and one blush, what if you let your shades swap places for a while? We'll get into our favorite multitasking tips below, along with the top tools needed to execute a flawless makeup application with your palette.
Perfect Partners for Your Makeup Palette
Before you begin, make sure you've got the proper tools for priming, blending, and buffing your cosmetic masterpiece into the record books. Our preference is to use natural pigments (no iron oxides or coal tar), vegan tools, and stay cruelty-free across the board.
Face Primer
Before you go anywhere near your makeup palette of choice, let's make sure you're primed and ready to go. Using a natural face primer locks in essential moisture from your skin care, instills anti-aging vitamins into your skin, and creates a smooth canvas for your makeup. Did we mention that it also boosts the pigment and opacity of your eye shadow and blush?
Since it's summertime, we prefer the radiance enhancing Luminous Primer, which is packed with sustainably sourced mineral mica. The shimmery essence of this primer is ideal for amping up your highlighter, to give your complexion a glow that simply cannot be stopped!
Blush Brush
To give cheeks the natural flush of color they deserve, you'll need a super soft, fine-bristled vegan blush brush. The gentle bulb shape of our cruelty-free F20 blush brush is designed for blush, but can also deliver a wide sweep of highlighter to cheekbones, browbones, and the bridge of your nose. Opt for a blush brush with a rounded bulb shape, as opposed to an elongated bulb – the 'fatter' your blush brush, the more control you'll have during application.
Flat Shader Brush
Sure, finger painting with makeup can be fun – but if you're looking for precision and clean color payoff, using a brush is your best bet. When it comes to dipping into eye shadow palettes, the small and flat bristle head of our E30 makeup brush controls both coverage and color payoff like none other. Use this eye shadow detailer to lay down color, apply packed color to the lower lash line, and even apply precise swipes of shimmery highlighter.
Palette of Your Choice
Color us enamored, because we're still in love with the romance of our Rose Gold Palette. This collection of soft pinks, corals, and multifaceted metallics is ideal for bringing a smolder to warmer complexions, and for complimenting cool complexions with pink undertones. The equal complexity and subtlety of this makeup palette's 5 shades makes it our tried-and-true choice for creating multiple looks within a single color story.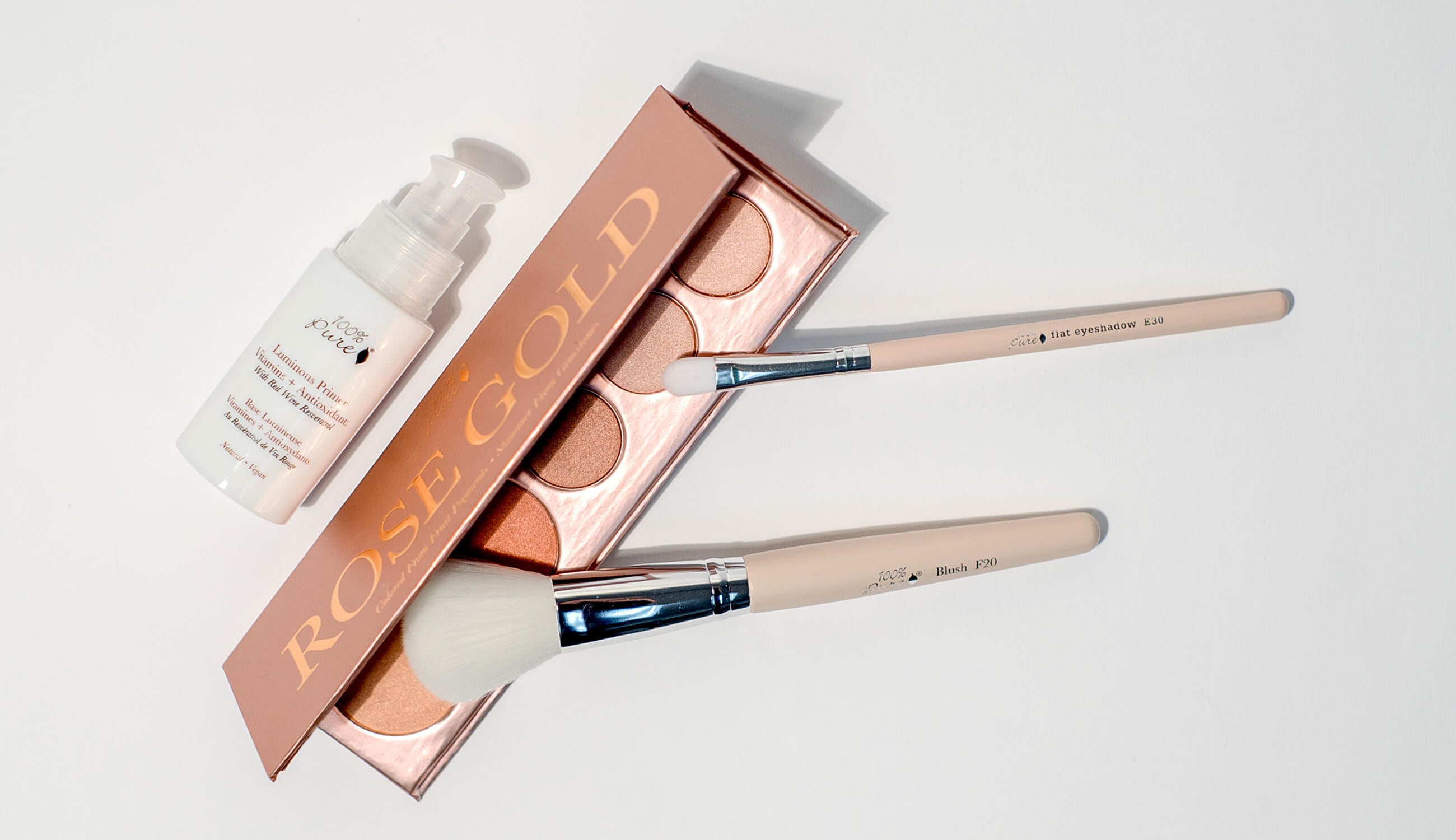 5 Tips for Creating Multiple Looks with One Makeup Palette
While it's easy to dive into your makeup palette and create a look the straightforward way, there are some secret multi-tasking opportunities you could be missing. Riffing it can be half the fun, especially when you enjoy being the trendsetter amongst your makeup-loving friends – they'll all be asking where you bought your newest highlighter (which is actually an eye shadow). Check out our top 5 tips for creating multiple looks with one makeup palette, starring the Fruit Pigmented® Rose Gold Palette!
#1: Use Blush as Eye Shadow
To be honest, some of our favorite eye shadow shades are actually blushes in disguise. Case in point: the rosy copper dream otherwise known as Primp. It reflects the trending summer shade du jour that's a blend of copper, pink, and coral – the last of which is actually the 2019 color of the year.
Primp blush ticks all the boxes for pink, orange-infused warmth and adds a touch of gold shimmer for a bronzed underglow. Using this shade as an eye shadow will instantly enliven blue and green eyes, imbue a natural warmth onto skin, and will keep you looking both beautiful and trendy this summer.
#2: Multi-Task with Your Eye Shadow
Luster, Gleam, and Glimmer eye shadows will take your beauty look to new heights by moonlighting as highlighters for both your cheeks and lips. Choose from warm bronze-plum, rosey nude, or pure rose gold to highlight in places you'd normally choose to illuminate with pearly-rose Prism (another solid, albeit predictable option).
If you aren't sure which Rose Gold makeup palette eye shadow you should use as a highlighter, consider your complexion. For deeper skin tones, opt for the mauvey bronze of Luster for a touch of bronze-plum highlight. For medium skin tones, the rosey nude of Gleam will perfectly highlight and compliment their tan complexions. Finally, fair skin tones will love the illumination that rose gold Glimmer gives their skin – and the same pairings go for highlighting your lips, too!
#3: Use Primer + Eye Shadow or Highlighter as Eyeliner
For those of you who follow our makeup blogs, you know where we're going with this tip! For those of you who are new to eye shadow as eyeliner, don't be alarmed – this method is a lot easier than it sounds.
To brighten and illuminate the eyes, we like using either Gleam eye shadow or Prism highlighter as a soft, subtle eyeliner on the top lid. We start with a tiny dab of Luminous Primer on the back of the hand; just enough to moisten the pressed powder pigments from your palette. Next, use an ultra fine, angled eyeliner brush to pick up either Gleam or Prism and mix it gently with your primer.
Continue to add more powder until you've got a pigmented paste, then apply along your upper lash line as you would a liquid liner. Set gently with either a natural setting spray or a translucent powder (take heed: setting with a powder may compromise the shimmer factor of your liner).
#4: Use Lighter Colors on the Inner Corner
Just because you've got a full palette of eye shadows doesn't mean you need to create a full-on 'look'. In the case of Rose Gold Palette's pale metallic shades, you could be better off using them simply as accents to a bare, dewy face. We're thinking glowing, mega hydrated skin, full brows, faux freckles and just a hint of shimmer around the eyes to brighten your gaze.
Dab on your selected shade (we recommend the same colors from step #4) with a small brush, focusing on the inner corner. Smudge the shade lightly beneath your lower lash line near the bridge of your nose, then finish by lightly sweeping anything left on the brush to your brow bone for a hint of illumination.
#5: Experiment with the Lower Lashline
This area is a veritable "no man's land" when it comes to what should go there, and how it should be applied. Since it's disconnected from your larger top lid, this lower lid area has the potential to create a true focal point or accent piece to your entire look.
Say you're going with pearly, neutral tones on your upper lid – instead of staying safe on the lower lash, try making a statement with a smokey pink or bold, warm copper. Mixing up your color palette on this little strip of skin can add an edge to your look, without looking too outlandish beside its 'sister' makeup palette colors on your lid.
We carefully hand-select products based on strict purity standards, and only recommend products we feel meet this criteria. 100% PURE™ may earn a small commission for products purchased through affiliate links.
The information in this article is for educational use, and not intended to substitute professional medical advice, diagnosis, or treatment and should not be used as such.
Sign up to our email newsletter for more blog updates and exclusive discounts.
< Older Post | Newer Post >