Does your body wash pass the test?
Posted on October 26, 2018
Written by: 100% PURE®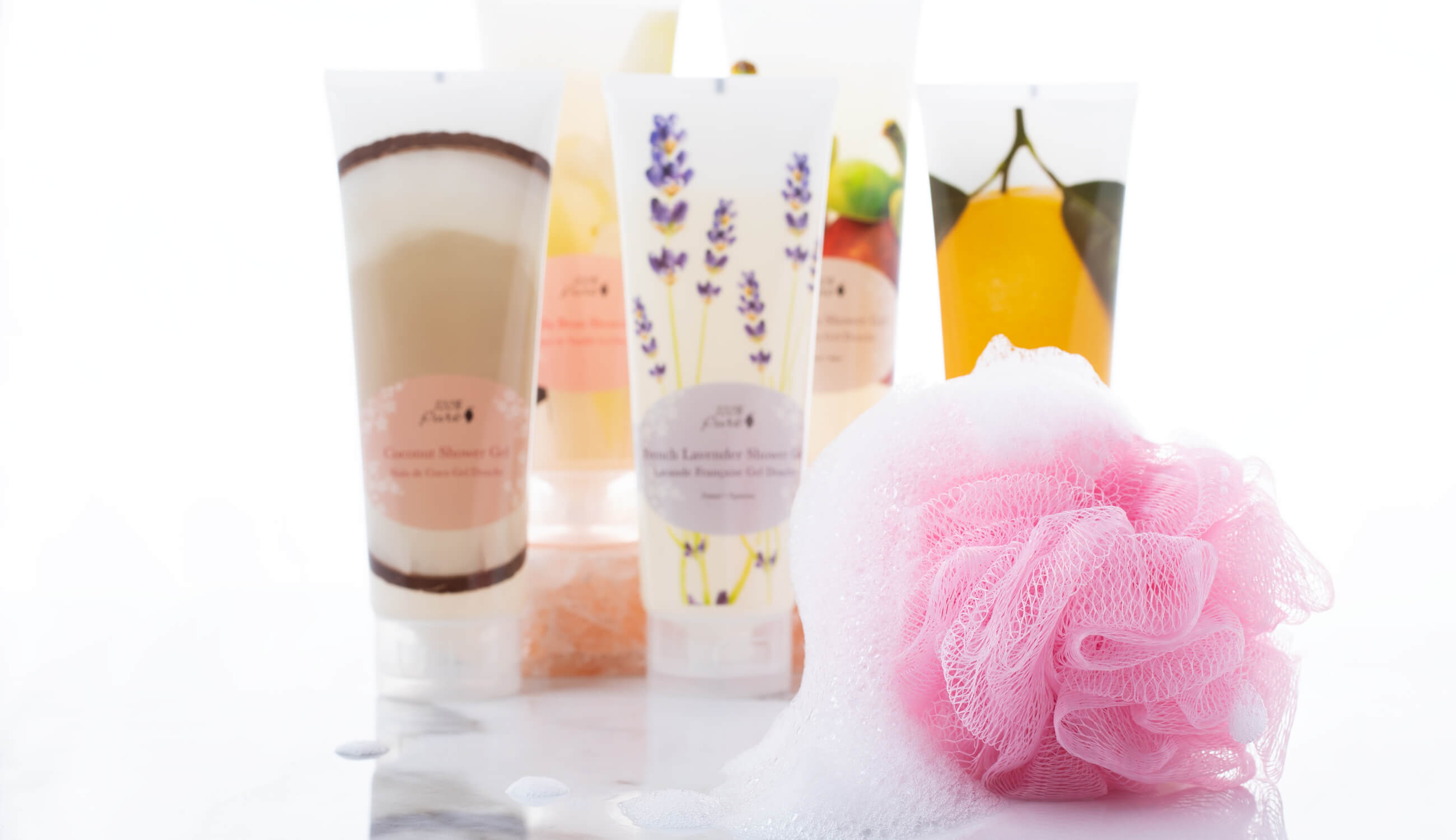 What does it mean to use healthy body wash? To us it means caring for our bodies the best we can, inside and out. We think so much about what goes in our bodies that we can sometimes forget about what goes on the outside. At 100% PURE we uphold the philosophy that our skin functions as our biggest organ. To properly care for it, healthy body wash is the best option to lather and luxuriate the skin in supportive vitamins and nutrients. It's hard to believe, but there are *real dangers* to using some of the body cleansers out there. Harsh toxins, synthetic colors and fragrances and fillers galore, at their mildest these products can dry out and irritate the skin. Treat yourself to some top shelf self-care with our line of shower gels, body creams and sponges to keep your fall and winter skin as soft as can be.
Common Body Wash Ingredients
When you check out the ingredient label of a standard body wash or shower gel, what do you see? It's usually complicated mumbo jumbo and most of it, the average person can't even identify. Of what we can decipher, nothing on the formula label looks particularly nutritious or healthy for us. Rarely do we see vitamin E or organic or 'enriched' anywhere on the labels of shower products outside of our own brand. We all know that the skin needs nutrients to stay soft, elastic and smooth – why don't cleansers and creams automatically include those ingredients, if it's what's best for our skin?
Water
More often than not, the first ingredient in common body wash is water. In the shower, we're already getting plenty of water from the shower spray – we don't need more from our cleanser, too. In high quantities water dilutes the formula and acts as a breeding ground for bacteria in our products. Worse, when water is a major ingredient in the product it's a sure thing that the formula also includes extra preservatives to balance that out. In many cases, the preservatives used can be harmful, irritating and toxic. That sounds more like skin scare rather than skin care, if you ask us. Here's what you're really being exposed to:
Surfactants
These are widely used in detergents, cleansers and many household cleansing products. In high concentrations they negatively impact aquatic life, the ecosystem and the human body. Algae and microorganisms may seem like a tiny part of the ocean, but the domino effect of surfactants polluting the oceans can eventually have catastrophic consequences. Studies show that not only can surfactants be irritating on the skin, but that they can actually be absorbed into the body. Over time, surfactants actually build up in our bodies and can disrupt regular bodily functions and damage the liver. Some types of surfactants are actually carcinogenic; who would think that our daily scrub-a-dub-dub could lead to cancer?
Synthetic Dyes and Fragrances
As much as we all love the smell of pumpkin pie, it's best left out of skin care. Most synthetic fragrances are actually derived from crude oil and are – you guessed it – also carcinogenic. Continued use and exposure can cause asthma, birth defects for our little ones, major allergic reactions and issues with the nervous system. Did you know that synthetic dyes often contain harsh and poisonous chemical compounds? Your cool blue ocean scented body wash comes complete with toluene, formaldehyde, lead and mercury. Not exactly the spa-like, right? Some of the common risks of continued, regular exposure to toxic synthetic dyes include lung malfunction, impacted hormone levels and reproductive issues. It's so scary to read about (and experience) the real chemical danger associated with using these unsafe products.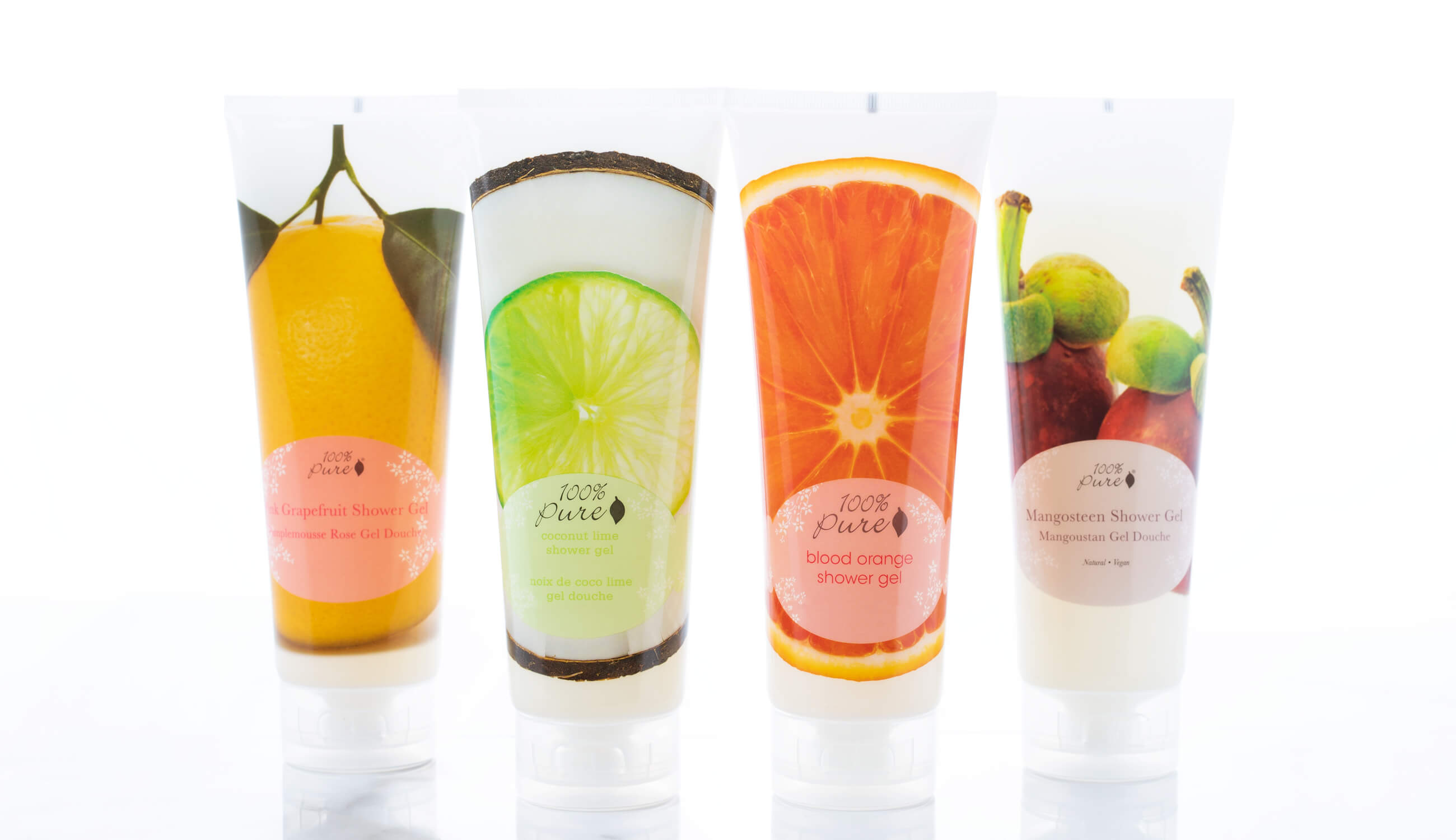 A Better Body Wash
Looking for some healthy alternatives to replace the bad stuff lining your shower stall? Here is the full lineup of 100% PURE Shower Gels (with matching creams!) to make your shower experience relaxing and luxurious.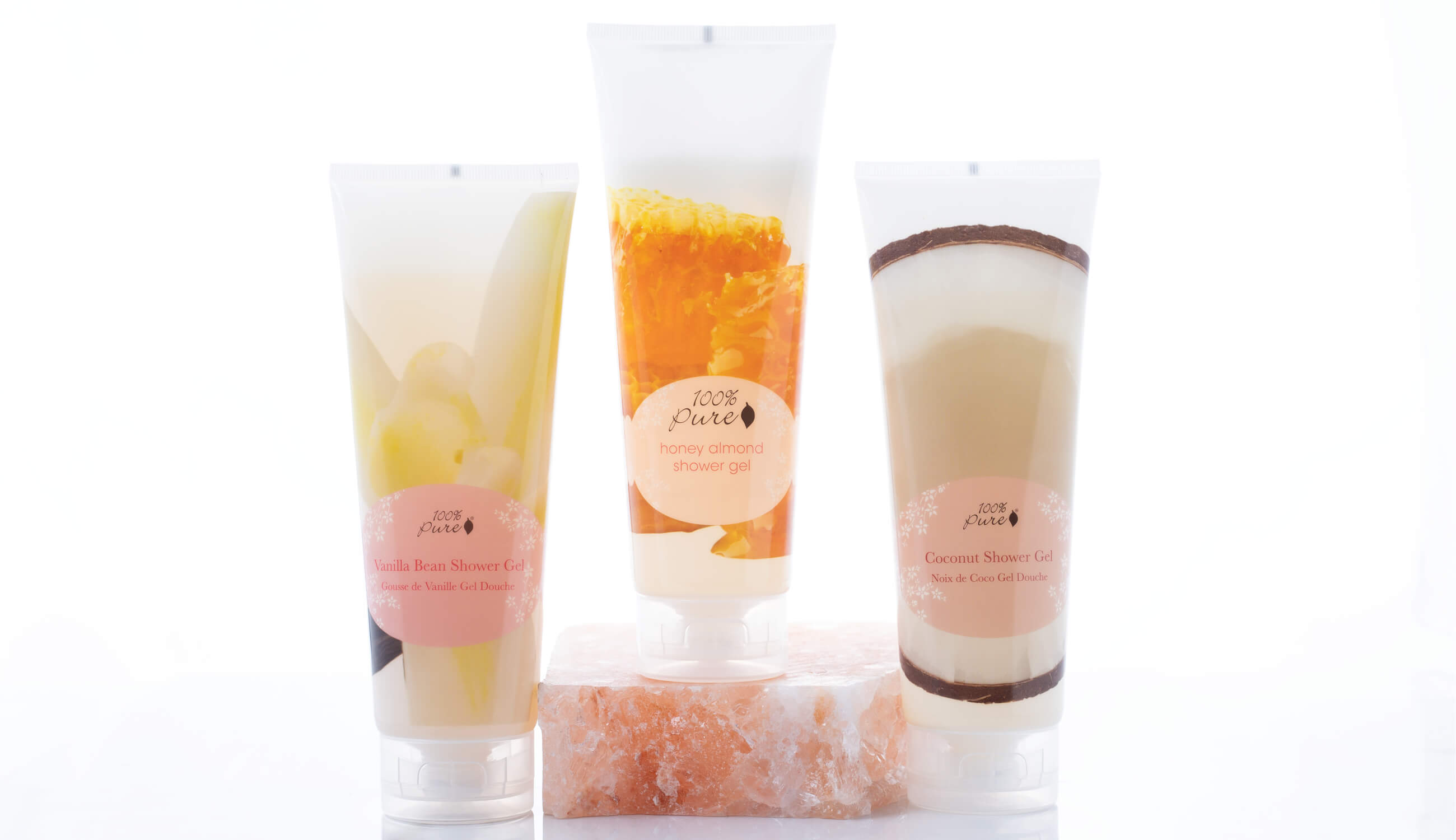 If you haven't fallen in love with coconut for your skin, you must not have tried this shower gel. Our saponified coconut oil base means all the richness of coconut oil with a lightweight non-greasy feel and the moisture component our skin needs to thrive. Our matching Nourishing Coconut Body Cream features real fruits, blackberry, pomegranate and cherry in the blend. Use the two together to treat dryness, cracks, and itchiness.
Soft, calming and soothing, this fragrance combo is perfect for anyone, anytime. Almond comes complete with vitamin E, enriching for the skin, and the honey inside is naturally antibacterial. Don't forget the matching whip so truly comfort the skin with all the goodness this combination has to offer.
Nothing sounds better than sinking into a fluffy, warm bed after a hot shower enveloped in the comforting scent of vanilla. Our Vanilla Bean Shower Gel has the creamy texture you want with loads of natural fragrance thanks to vanilla fruit, vanilla absolute and natural honey. Comfort the skin with a light layer of Vanilla Body Butter to protect the skin during these long, colder months!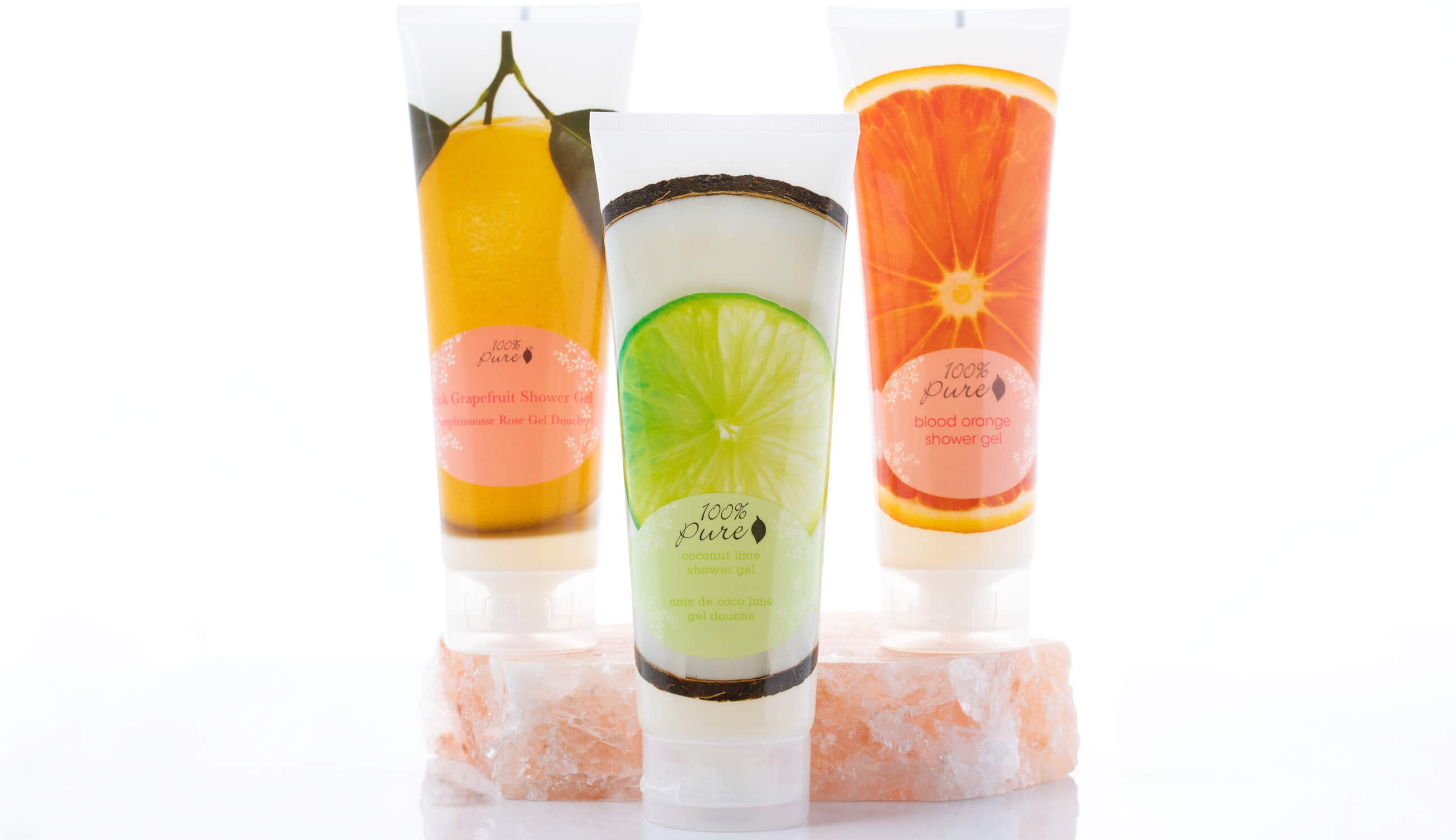 Made with aloe leaf juice in place of water, this bubbly cleanser includes green tea extract and a blend of soothing herbs to help with dry winter skin. Look forward to an unstoppable glow thanks to the blood orange, and the rich creamy saponified coconut oil base. Finish up with a healthy dollop of matching Whipped Body Butter – mm, we can't get enough of that juicy scent!
Escape to the tropics (even in the midst of chilly autumn) with dynamic duo, coconut and lime. Tone the skin and uplift the senses in the shower, then follow up with incredible moisture with the matching Body Butter.
It doesn't get better than this vegan shower gel, complete with the sweet tart scent of real lemon peel and pink grapefruit. Super brightening and cleansing for the skin, this shower gel goes perfectly with our Pink Grapefruit Whipped Body Butter for a scent experience that lasts all day.
Have you tried our Mangosteen Body Cream? It is a crowd pleaser, and definitely our favorite gym bag body lotion. When we're busy lathering up instead, we look to our vegan Mangosteen Shower Gel. Fruity and refreshing with rose and honeysuckle, you'll feel happy, soft and clean after a shower in this.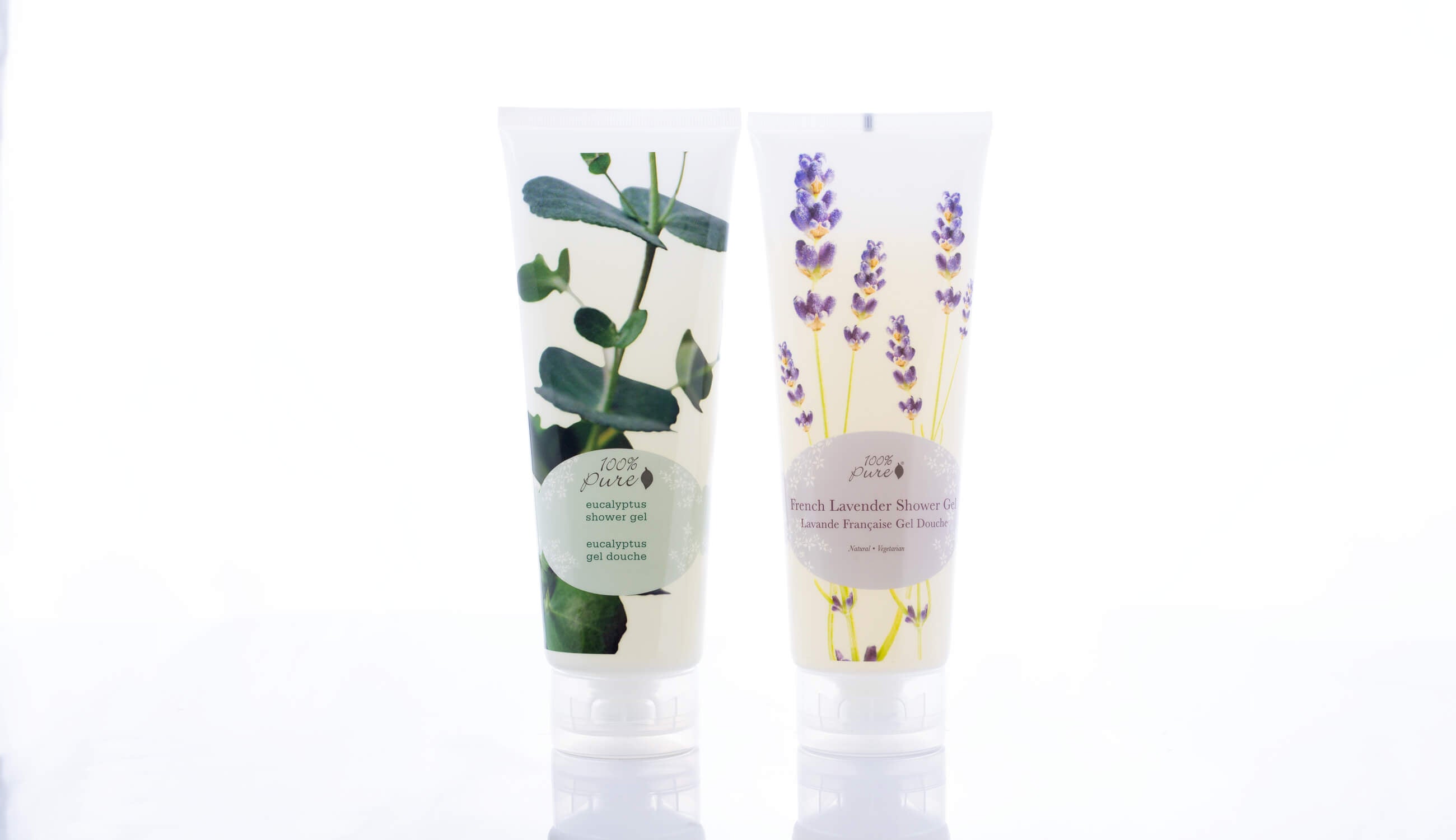 There's something so transporting about eucalyptus that makes a shower with this seaweed and green tea infused gel (especially after a hardcore gym session) incredibly relaxing. Then when we add on the Nourishing Body Cream, we feel like we've mastered adulting – even if for just a moment.
Probably the most classic, classy scent of all for a soothing shower experience: French Lavender. Therapeutic and calming on the skin, the gel in this pair can help treat dirty, itchy skin while the Nourishing Body Butter treats eczema and dryness for calmed, balanced skin.
We carefully hand-select products based on strict purity standards, and only recommend products we feel meet this criteria. 100% PURE™ may earn a small commission for products purchased through affiliate links.
The information in this article is for educational use, and not intended to substitute professional medical advice, diagnosis, or treatment and should not be used as such.
Sign up to our email newsletter for more blog updates and exclusive discounts.
< Older Post | Newer Post >