Hair Repair Rules for Winter
Find relief from frizz, brittleness, and lackluster locks
Posted on November 30, 2020
Written by: 100% PURE ®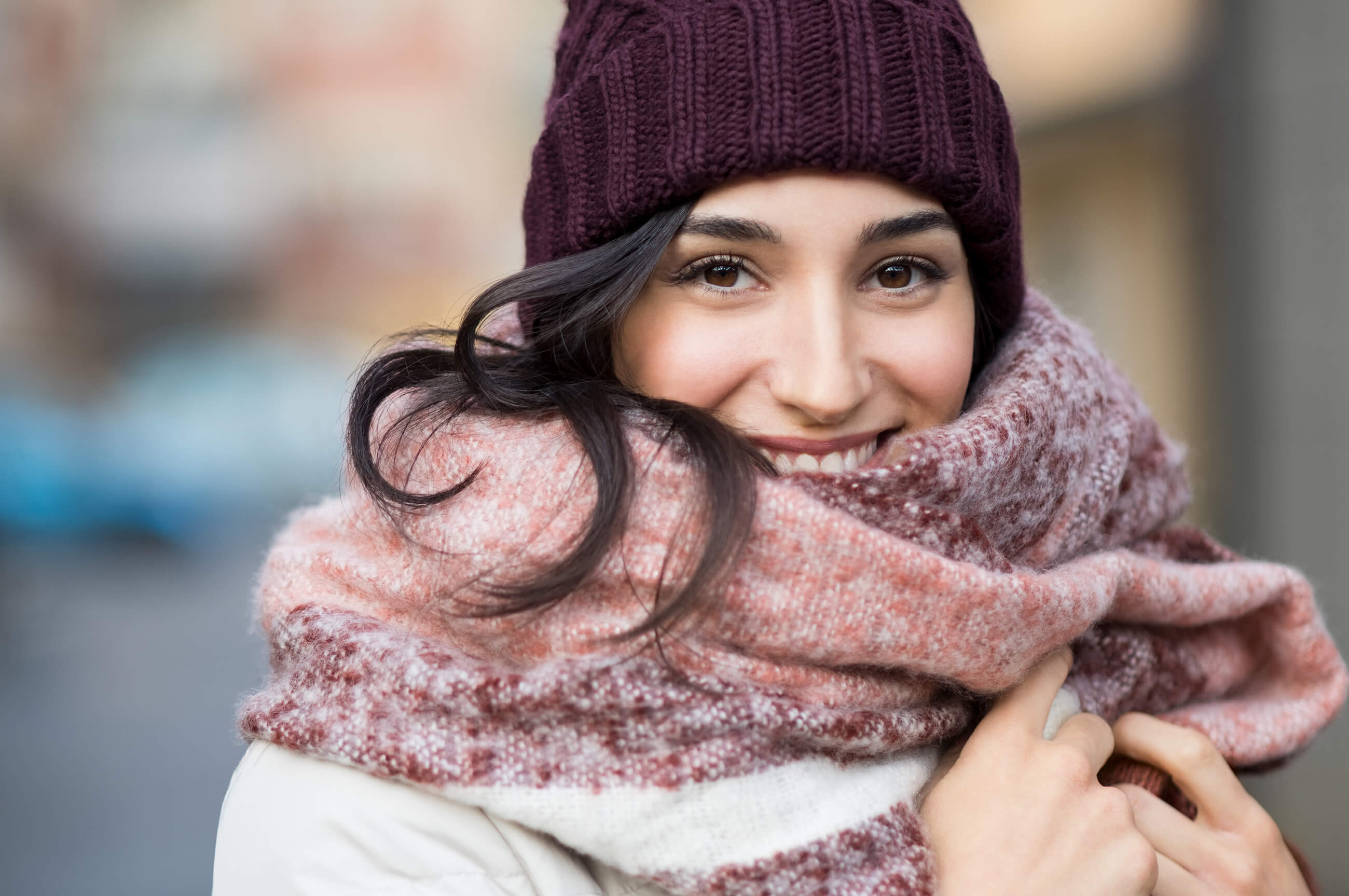 Winter weather can be tough on your locks, thanks to a combination of super drying outdoor elements and heated indoor environments. We often find ourselves left with breakage, brutal split ends, the dreaded frizz halo, and overall lackluster texture.
A bad hair day will put you on the fast track to winter blues. It's a seasonal beauty woe dealt with by all hair types, textures, and lengths. We've rounded up a few pro tips for winter hair repair to keep your strands healthy and happy.
Daily Hair Repair
First, let's talk about lifestyle choices. Nourishing natural hair products are key, but there are also a few simple everyday hacks that will reduce your chances of hair damage and lifeless strands in the winter.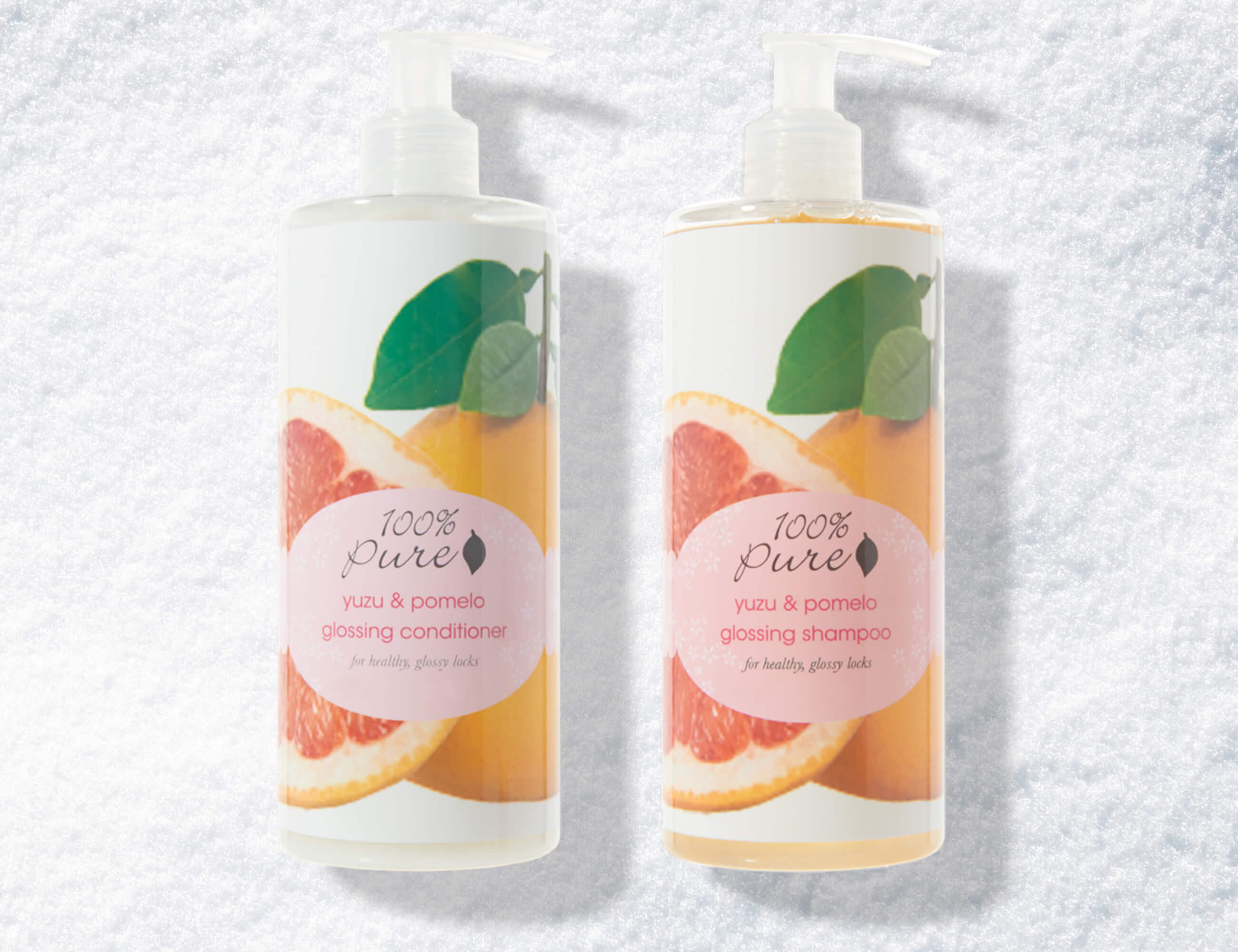 Shampoo Habits
You've probably heard that shampooing too often isn't the greatest for your hair health. But hair and scalp cleansing are just as important as skin cleansing, especially when you use a nutrient-packed shampoo and conditioner.
Here are a few ways in which you can practice hair repair with a regular wash!
Shampoo for Silkier Strands
For detangling and hair repair, our Glossing collection comes in big: a collection of ultra nutritious and beneficial formulas designed to treat everything, from brittle and thirsty hair prone to damage and frizz.
Our Glossing Shampoo is formulated with seaweed collagen for rejuvenation and strengthening. Rose hydrosol provides moisture and pH balance to help banish flaking and irritation that can crop up in winter. Our Glossing Conditioner boasts a similarly stellar resume, with an ultra hydrating base of aloe water and rose hydrosol. Avocado butter and virgin coconut oil add intensely rich moisture and detangling action.
When it comes to hair repair for especially damaged locks, the issue may lie in tangled strands caused by a damaged hair cuticle. When we're talking about hair, the cuticle refers to the outermost layer surrounding the hair shaft, built up mostly of proteins that form together – almost like scales of armor.
The cuticle can become damaged, however, when it's exposed to friction, heat, or chemical treatments. This causes the cuticle to become porous and depleted in proteins.
Luckily, there are ways to help strengthen the cuticle for natural hair repair. Our Yuzu & Pomelo Glossing Shampoo incorporates not only the exquisite, rejuvenating aroma of fresh citrus, but also the benefits of kelp extract. Kelp contains a wealth of amino acids, which act as the building blocks of proteins. And when the hair cuticle is split or damaged, amino acids help fill in these gaps to strengthen hair.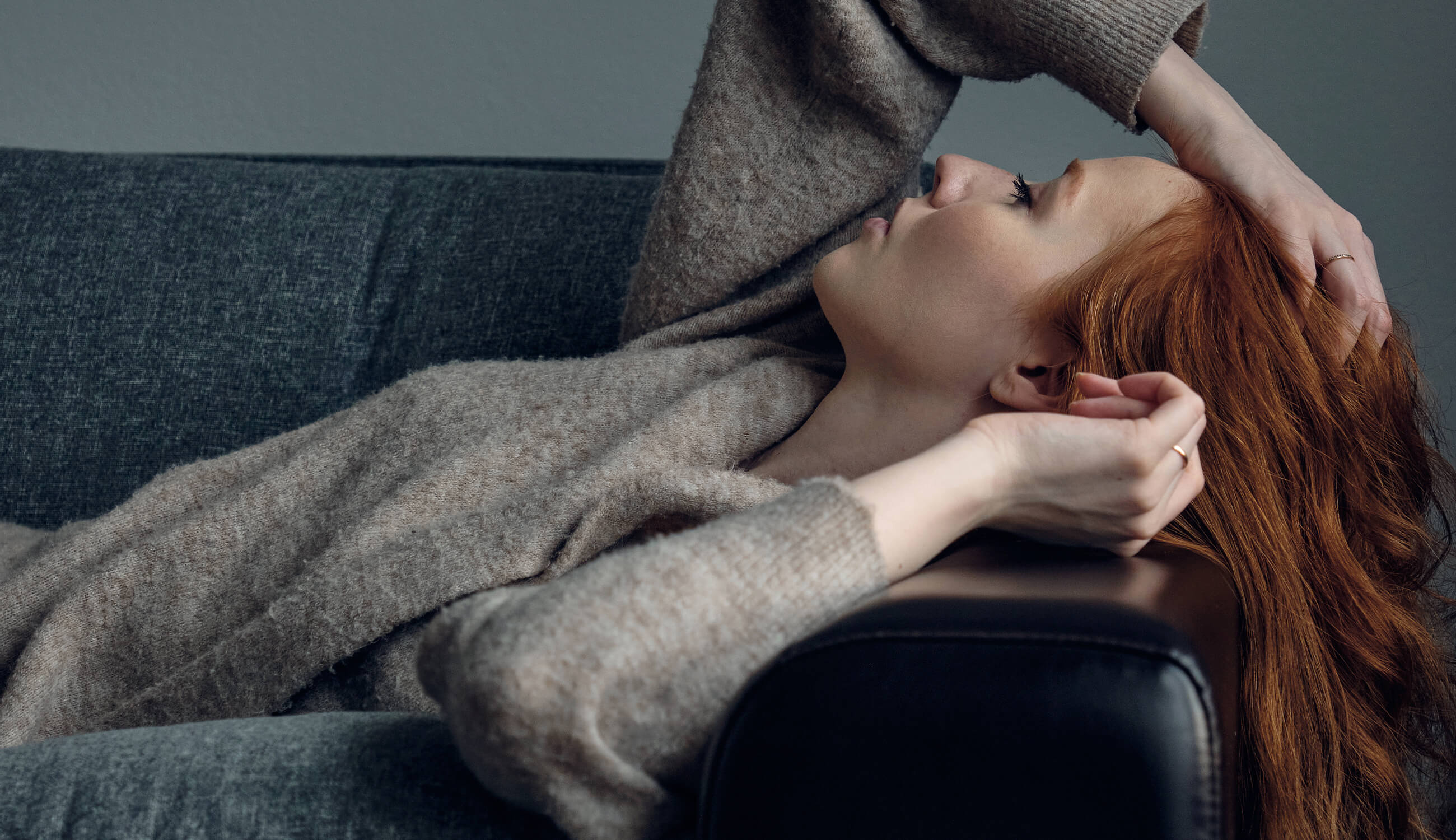 Shampoo for Daily Scalp Care
While we see most hair damage in the strands, issues often start at the scalp. A healthy scalp is essential for winter hair repair, and one of the best ways to reset and restore the scalp is through scalp exfoliation. This can help slough away dead skin cells that have been impeding hair growth and shiny strands.
One of the easiest ways is to incorporate scalp exfoliation is by using a clarifying shampoo, like our Burdock & Neem formula. Burdock is excellent for purifying the pores and purging sebum, while neem helps with dandruff and soothing the scalp. But you can take your hair repair via scalp care even further.
When combined with scalp conditioning, scalp exfoliation can be especially effective. We know this isn't what your hairstylist or your mom taught you about using conditioner, but hear us out!
While conditioners do a lot of direct hair repair on the strands, applying them straight to your scalp can do wonders for those who take a hit after using a clarifying or exfoliating shampoo, especially for those with fine hair or oily scalps.
When you apply conditioner directly to your roots, this can help the scalp recover more efficiently from sudden moisture loss, while encouraging hair repair.
All of our vegan, sulfate-free conditioners are nourishing on the scalp, but we especially enjoy our Moisture Drench Conditioner. This formula uses comfrey to revitalize and soften the scalp tissue, as well as avocado butter and aloe vera to nourish the hair follicles.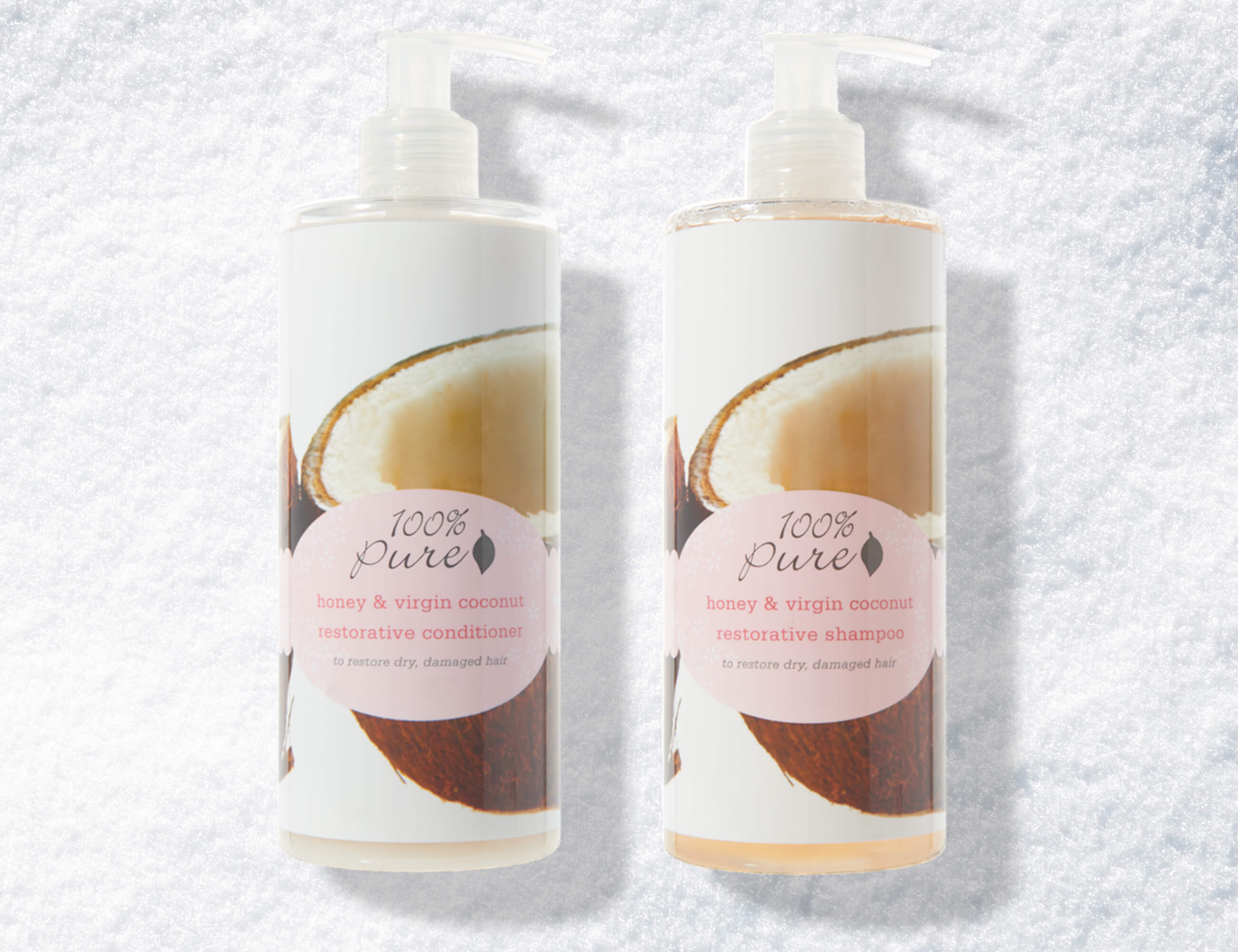 Shampoo for Hydrating Hair Repair
In the depths of winter, your hair might become dehydrated more easily than it would in summer. Heaters, low humidity, and heavier use of hot tools can contribute to lost hair hydration. This is where our Moisture Drench Shampoo can help out with hair repair.
This hair-saving hero uses argan oil, which is a favorite for strengthening and protecting your hair from the elements, along with biotin, which is a water-soluble B-vitamin that's vital for healthy hair and may even promote hair growth.
Another lux alternative for hair repair is our Honey and Virgin Coconut Shampoo and Honey and Virgin Coconut Conditioner. Both feature aloe vera juice, rose hydrosol, and plant cellulose for hair restructuring, strengthening, and moisture enhancement.
Doesn't that sound much more delectable than artificial fragrances, chemical preservatives, sulfates, and detergents found in conventional hair products?
PRO TIP: If you're battling seriously dry locks, try opting out of shampoo every other shower. Sometimes even the most nourishing formulas are best used sparingly on super dry hair, which can become further oil-depleted if you over-wash.
Hair Accessories for a Healthier Mane
Wearing hats or beanies adds to a multi-layered winter outfit, and can also protect your scalp from exposure to cold and wind. This means less dryness and breakage – and can be a great way to hide frizz.
Another intuitive switch-up you can make relates to your hair elastics. Instead of using super-grippy plastic bands, try going with a no-tangle cloth hair tie, which will avoid breakage and weakening of hair strands.
Also key: never go outside with soaking wet hair. Freezing your locks will put them on the fast track to breakage, and will damage your hair shaft and make color fade faster.
Maybe this one is a no brainer: hold off on harsh hair bleaches, relaxing treatments, and everyday heat styling in the winter. These hair rituals are tough on your locks in the best of times, and cold winter weather can exacerbate their negative side effects – damage, dryness and overly porous locks prone to splitting.
DIY Hair Mask
With these low maintenance lifestyle switchups, you'll be primed for winter-ready hair. For intense moisture therapy, try adding a hair mask into your weekly routine.
Regular use of a moisture-rich hair mask will help normalize moisture production in your scalp, preserve beneficials oils, and add bounce and shine. Hair health is directly related to scalp health, so make sure you're giving love to both.
For a low-maintenance DIY mask, try combining kelp powder, aloe vera, honey, and coconut oil. Apply the mixture to the roots and give yourself a scalp massage; say hello to stimulated hair follicles and an exfoliated scalp. A hair mask is key in the winter months for hair repair!
Not up for a hair mask, but still want similar results? Reap the full benefits of nourishing seaweed in our Kelp & Mint Volumizing Shampoo and Conditioner.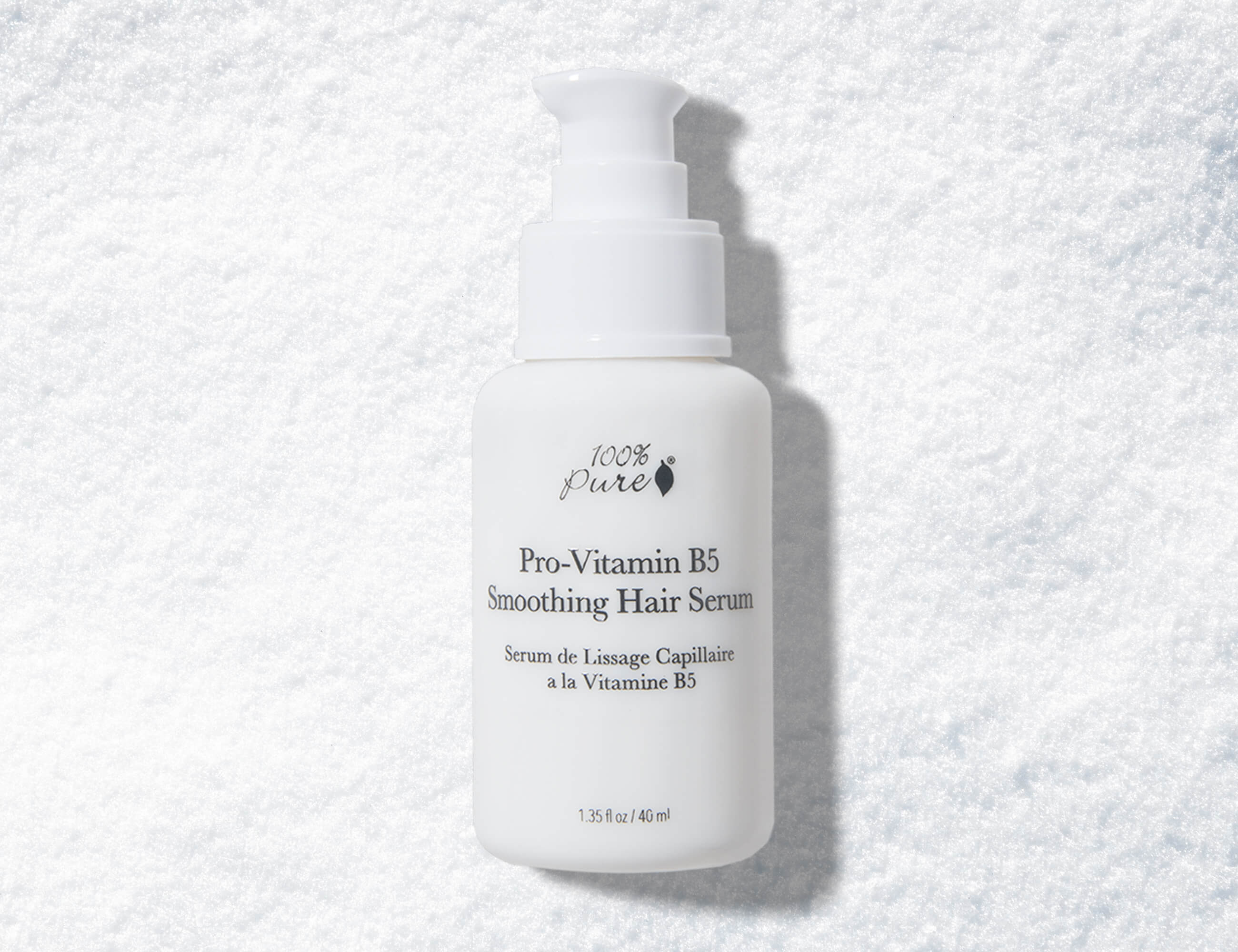 Repair with a Hair Serum
Our Pro-Vitamin B5 Smoothing Hair Serum features wheat protein to fortify hair shafts, and vitamin B5 to strengthen hair structure and stimulate growth. Vitamin E rebuilds damaged hair follicles and promotes moisture levels.
After towel-drying freshly washed hair, pump hair serum onto your hands. Rub hands together to warm the serum before working it through your hair, beginning from the ends and working your way up. Fine hair types should stop at the ears, while coarser hair can carry it all the way to the root.
Remember, when in doubt: throw on a hat, make moisture your best friend, and stick to natural ingredients that won't irritate your hair or scalp. These are our best-kept secrets for healthy winter hair!
We carefully hand-select products based on strict purity standards, and only recommend products we feel meet this criteria. 100% PURE™ may earn a small commission for products purchased through affiliate links.
The information in this article is for educational use, and not intended to substitute professional medical advice, diagnosis, or treatment and should not be used as such.
Sign up to our email newsletter for more blog updates and exclusive discounts.
< Older Post | Newer Post >