Do's and don'ts of using your favorite hot hair tools, plus natural hair care products and styling tips for minimizing damage
Posted on January 25, 2019
Written by: 100% PURE®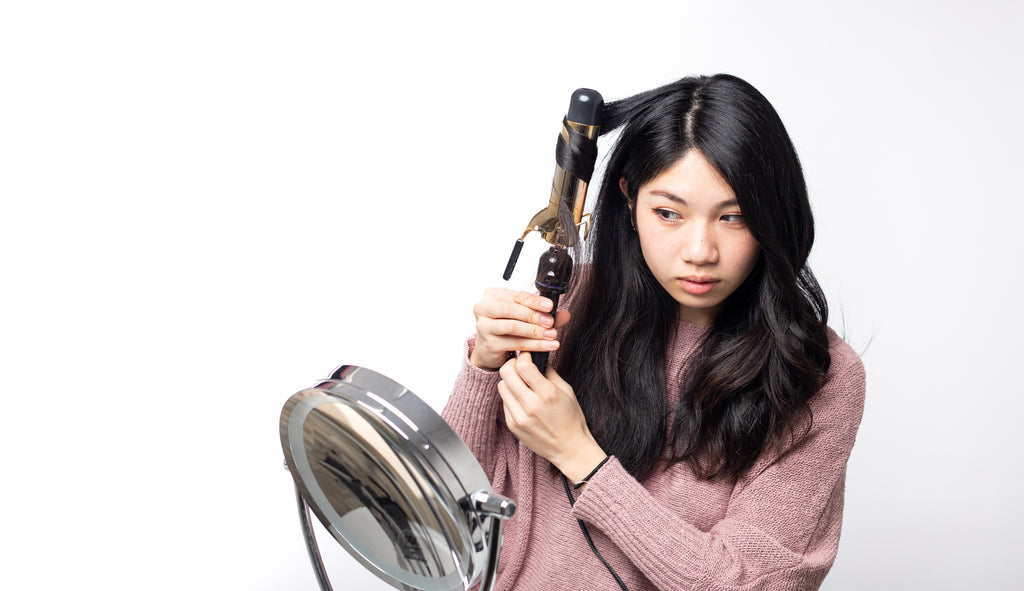 It may be the dead of winter, but we're feeling the heat – at least, our hair is. What are some of the hot tools you use to style your hair? Most of us have at least one that's our go-to - whether it's a weekly blowout or the occasional curls - but some of us use multiple tools to get that perfectly manicured mane.
How often we style our hair and the hair products we use to protect it are critical to our hair health. Below is a deep dive into common tools we use, different hair styles, and ways that we can use natural hair care products to achieve or maintain healthy hair – even when using heat.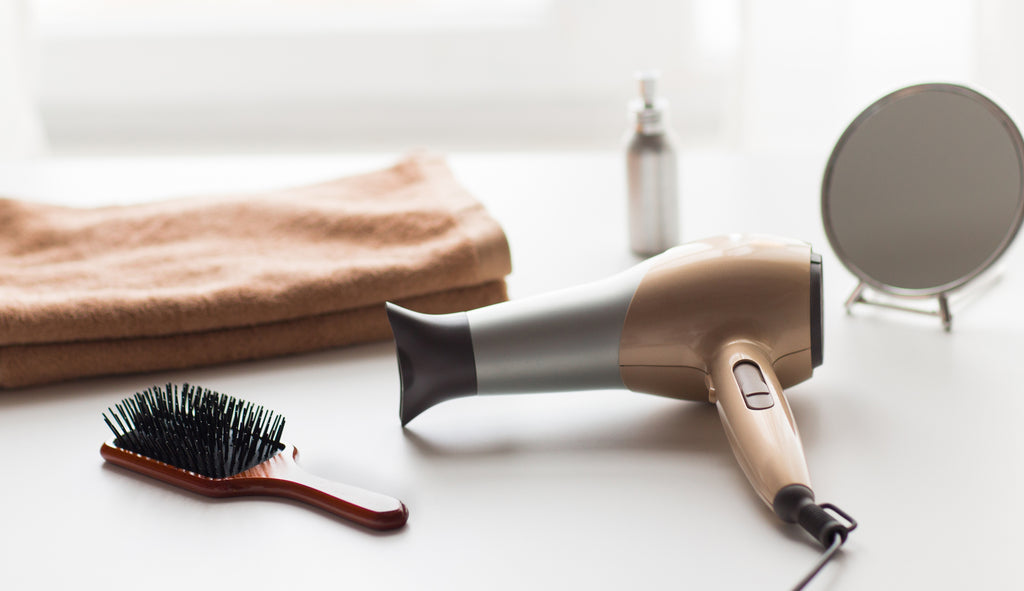 Blow Dryer | All Hair Types
Of all the heat styling tools, the blow dryer might be the most essential. It helps with a variety of styles, from drying freshly washed hair to blasting our hair with heat to lock in a curl or color change. What's great about this tool is that this one is the easiest to control in terms of damage. Most blow dryers have multiple heat and pressure settings, plus a cold option for those of us looking to avoid heat damage.
So far we've painted this tool in a pretty fair light, but despite its benefits, blow dryers can still cause damage. Most commonly, regular use of a blow dryer can cause dry hair, dry and itchy scalp, split ends, thinning ends, and breakage. Try switching over to the cool setting more often, or limiting your dryer use to only 2-3 times a week, and even less in summer (when hair is already getting heat damage from the sun).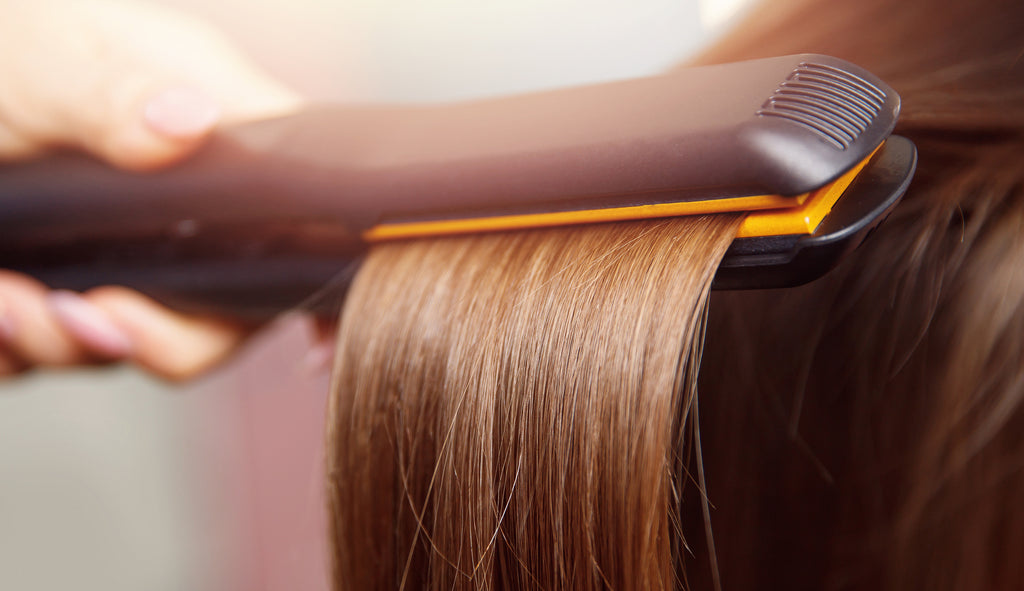 Flat Iron | All Hair Types
When we think about heat styling tools, this is often the first one that comes to mind. Essential for creating smooth, sleek styles, the flat iron has a love-hate place in our hearts. No matter which way you slice it, and even with all the heat protectants on the planet, a flat iron is just going to cause damage. Depending on the type of hair you have, how frequently an iron is used to style it, and the heat setting that your hair is exposed to, this may cause a range of damage. We've seen hair thinning and split ends as the most common results, but hair and scalp burns aren't uncommon either. Dullness to color treated hair and severe breakage are also some of the pitfalls of repetitive use of this hot tool. To limit damage, make sure to use a heat protecting product before straightening, and give yourself a weekly limit for overall use.
Hot Rollers | Straight & Wavy Hair
This tool can often go unnoticed, mostly because it isn't as universal for different hair lengths and types. Hot rollers are super convenient for adding texture and body to mid or long length hair, but hot roller users are often addicted to this styling technique. After even only a week of use, hair can show signs of dullness and split ends. To save your hair from constant use, try old fashioned methods like tying your curls overnight or even try some creative no-heat braiding and styling techniques!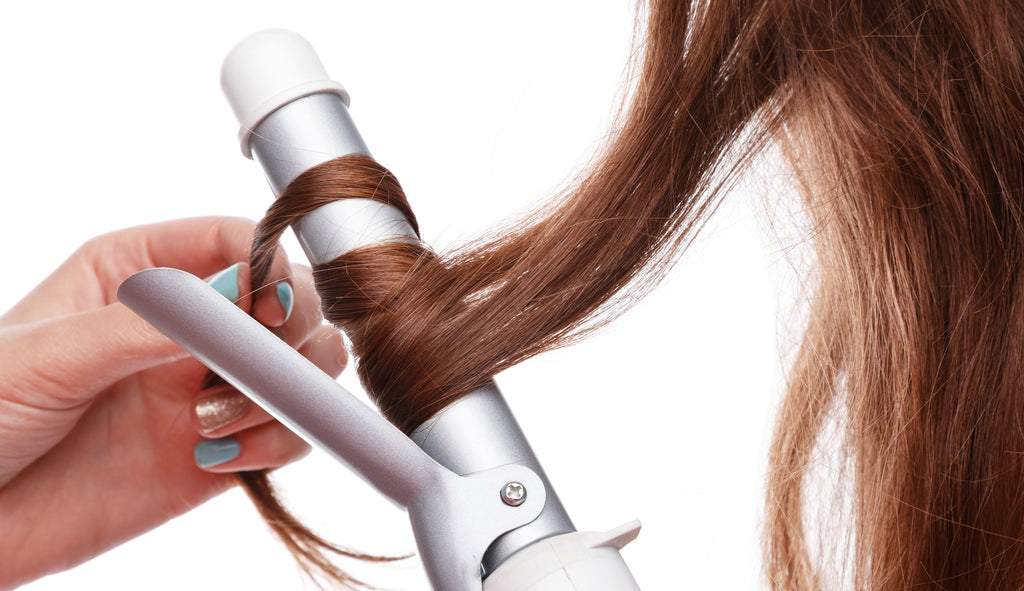 Curling Iron | Most Hair Types
From creating elegant waves to uniform ringlets, a curling iron is something that most of us have seen or used before. We can't deny that some of our prettiest hair looks were made possible by the use of this tool (*ahem* having flashbacks of prom curls, anyone?) but we can't deny that this tool can cause some immediate damage. Right away a curling iron can make our hair feel dry and crunchy, and that's just with occasional use. Be careful using hair spray or styling products when you're using a curling iron, as the combo of heat + chemicals can be super stressful for your strands.
Curling Wand | Most Hair Types
Not to be confused with the curling iron, a wand is a tube-like tool without a clamp to secure the hair to the barrel. While we love the fun and bouncy effect of using this tool to style our hair, it isn't impossible to burn an entire chunk off altogether after prolonged exposure (we've all seen the videos…) and to be honest, using this tool can be tricky at first. The curly result is usually gorgeous and can often last for days. With less potential damage than a clamping hair iron we certainly see the appeal here, but with the amount of work required, this tool is easiest used for curly girls who want to enhance definition.
Tips for Protecting Hair from Styling Damage
Do you regularly use one or more of the tools above, but want to avoid hair damage? Beauty hasn't come all this way without developing hair remedies to make our healthy hair goals a reality - even with the occasional hot tool use! Here are some best practices when heat styling utilizing natural hair care products:
:
Always use a heat protectant! The goal is to coat the hair in an oil or serum that burns at a higher temperature than hair. Try coconut or almond oil to give great shine, and vitamin E to help protect the hair from heat.

The thinner/ shorter your hair, the lower the heat setting should be. Fine and light hair stay on the lowest end of the spectrum while thick, long hair can go much higher depending on the style.

Wash your hair with cool water! This is soothing for the scalp and helps maintain the hair cuticle, for preserving natural oils and incredible shine while still getting the hair clean.

Try wet styles when you can. Wrapping your damp hair into loose twists and buns or working into French braids and allowing it to dry overnight results in beautiful waves without the heat damage. Switch up your hot tool use for some of these hassle-free styles!

We can't stress this enough: deep condition. Try a weekly hot oil treatment or alternate deep conditioners and masks every (1-2) washes. You'll notice the difference in softness and shine immediately.
Want more hair care tips? Check out our top hair do's and don'ts, a guide to identifying your hair type, and keep up with our bath, body, and hair care blog feed!
We carefully hand-select products based on strict purity standards, and only recommend products we feel meet this criteria. 100% PURE™ may earn a small commission for products purchased through affiliate links.
The information in this article is for educational use, and not intended to substitute professional medical advice, diagnosis, or treatment and should not be used as such.
Sign up to our email newsletter for more blog updates and exclusive discounts.
< Older Post | Newer Post >