Body Butter or Body Lotion - Which Do You Need?
Both help combat dry, rough skin – but which body care product is best for you?
Posted on April 2, 2023
Written by: 100% PURE®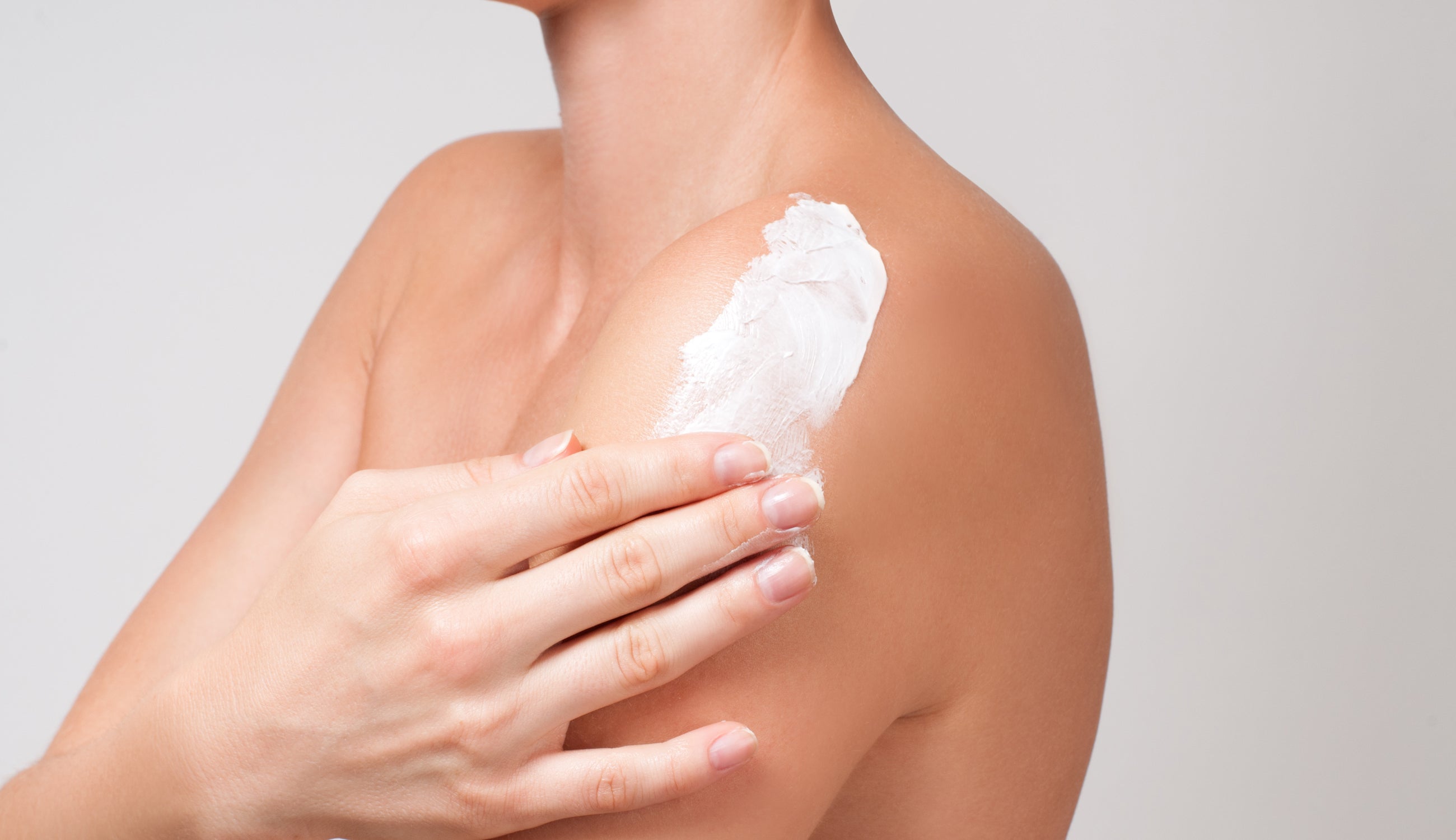 It doesn't matter if it's the dead of winter, or full summer meltdown – our delicate skin NEEDS a little tender love and care. And when we say "care", slathering on some body butter or body lotion to treat our dry, parched skin will do just fine. It's not a matter of whether I should moisturize my skin – it's an important choice of what do I use to properly moisturize my skin?
While many go straight for body butter as their standard body treatment, you might not be grabbing the proper skin care product to get the job done right. It's a hot debate, but we're ready to tackle it: body butter vs. body lotion – who will reign supreme in our body moisturizer head-to-head?
Follow along below, while we cover when you should be using body butter, vs. when you should be using body lotion.
What Is Body Butter?
Body butter is the creme de la creme of natural body products. Our thick, luxurious body butter is on-call for the times when your skin is yearning for intense hydration. Body butter is specifically designed to replenish much-needed moisture back into parched, desert-esque skin.
The key to deeply moisturizing and softening your skin is the healing base of natural butters. We've whipped avocado, shea, and cocoa butter into a thich, luxurious spread; think of these three body butter ingredients as the skin healing trifecta. Additional lifesavers are vitamin-rich argan oil, anti-aging rosehip seed oil, and to top it off, we've included skin-restorative vitamin E.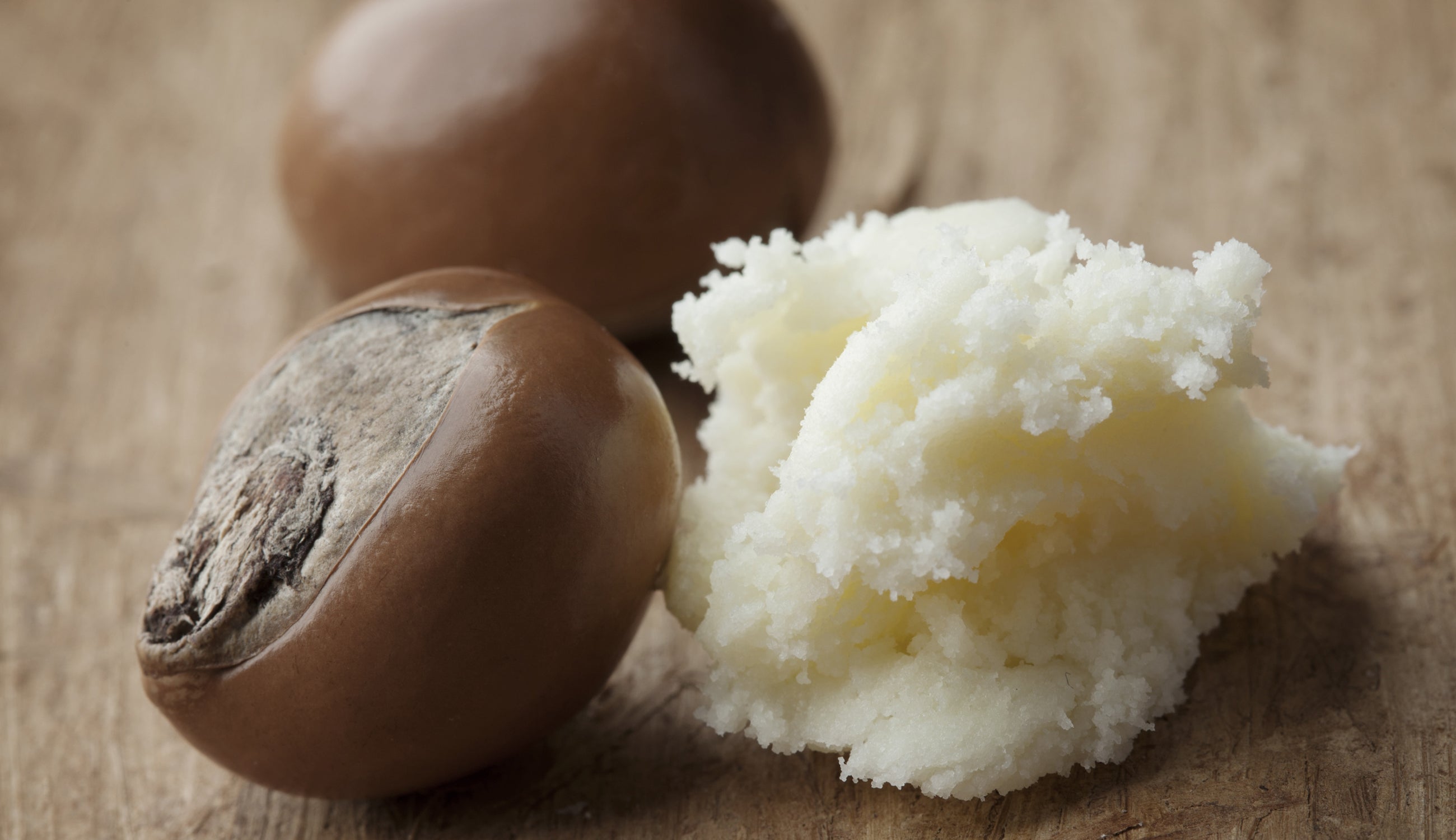 Top 5 Body Butter Ingredients
What makes our body butters so special? The short answer: a lot. Our body butter is made with the highest quality natural ingredients, which are super beneficial for all dry skin woes. We've mixed, whipped, and lovingly blended ten special body butter scents to please everyone in the crowd; from spa-worthy Honey Almond Whipped Body Butter to the tropical getaway in a tub, coconut body butter.
Our natural body butters are packed with an amazing assortment of skin healing ingredients that will help heal, soften, and replenish dry skin types in need of a serious water and oil infusion. Check out these top 5 body butter hero ingredients:
Cocoa Butter
Cocoa butter was a no-brainer base for our body butter formula because of its high amount of fatty acids. This ingredient provides deep hydration and nourishing fat to help improve skin elasticity, while creating a protective barrier on top of your skin to seal in moisture.
Avocado Butter
Did you know that avocado butter can help our resistance to ultraviolet rays? It's a low-grade natural sunscreen as well as a top moisturizing tool. Joining the trifecta of fatty acids, avocado butter is an excellent source of vitamin e, potassium, and lecithin, which all work together to nourish and moisturize the skin.
Shea Butter
Rounding out the butter trio, shea butter also joins the list of highly concentrated fatty acids that work to soften and heal parched skin. Shea butter is packed full of vitamins and is prized for its anti-inflammatory and skin healing properties.
Argan Oil
Who's packed with skin beneficial omega fatty acids, vitamin e, and linoleic acids? Argan oil is! This feather-light moisturizer is essential for restoring moisture and hydration to tough, dry skin patches.
Vitamin E
Known for its skin healing properties, vitamin e was included as another star body butter ingredient. Not only can vitamin e help to reduce the appearance of scars but it doubles down to deeply moisturize thirsty skin.
Newsletter
Subscribe
for more blog updates and exclusive discounts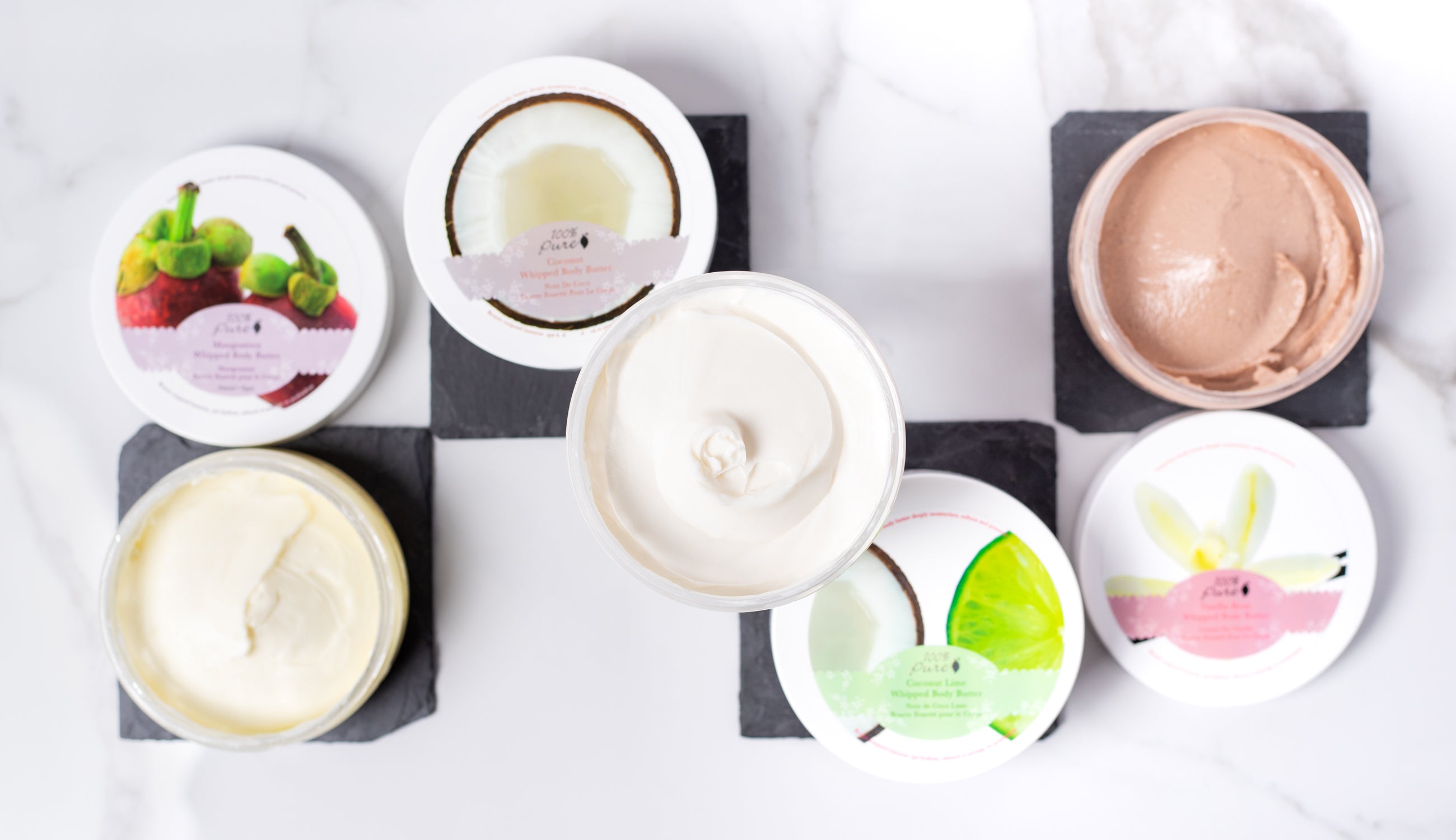 Body Butter Vs. Body Lotion: Key Differences
A little unsure which body healing product you should be using for your dry skin? We've compiled a quick cheat sheet to what you should be using: body butter or body lotion.
Body Butter:

Deep, intensive moisturizing
Ideal for rough or extremely dry skin
Can be used all over the body with a concentration on hands, feet, elbows, and legs
Thicker formula, packed with butter and oils
Low water content
Body Lotion:

Lightweight moisturizing
Ideal for slightly dry skin
Can be used all over the body with a concentration on arms, stomach, and thighs
Lighter formula, easily spreadable
Higher water content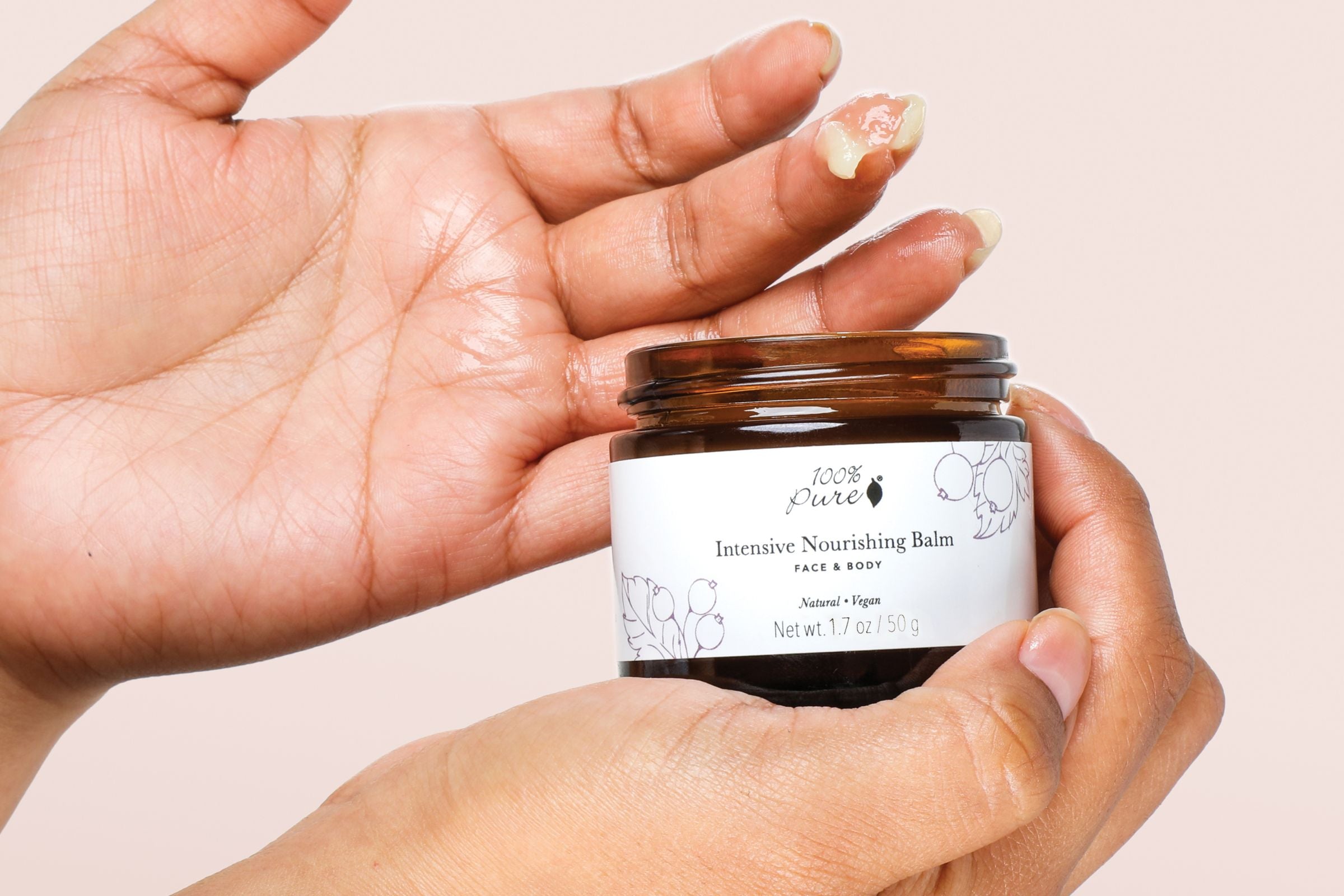 What Is a Body Balm?
So, now we have a better understanding of body butter vs lotion, what body lotion is, and how it's distinguished from body butter. But lately, you might have noticed another body product that's designed to nourish, protect, and help repair the skin.
A body balm is made from a combination of butters and oils, and it's usually a little bit thicker than a body butter. Thanks to the oils, however, body balms are typically quick to absorb into the skin, especially when you use one with lightweight oils like acai, pomegranate, and goji berry. You'll find these super beneficial ingredients in our Super Fruit Balm.
In essence, body balms are considered a step above body butters: with their extra-emollient & occlusive properties, they form an extra protective layer around the skin while trapping all those skin-nourishing oils underneath.
And because of these extra-nurturing, protective abilities, body balms are excellent for skin that's especially damaged and in need of some TLC, whether it's from cold dry weather, using cleaning products without gloves, or a skin condition like psoriasis or contact dermatitis.
Additionally, body balms are great for those parts of the body that always seem to be dry, especially the elbows and knees. If your go-to lotion or butter isn't doing the job, apply some balm after bathing, before going to bed.
Body balms are also lovely for preventing dryness, as well – one of the most effective ways to do this is by "slugging". That's when you finish off your skin care routine with an extra thick, occlusive product (like a balm) to help lock everything in as you rest while preventing moisture loss in the night hours.
If you decide to use a body balm for slugging, just make sure you're using one that's suitable for the face, as well, like our Intensive Nourishing Balm. This rich balm can be used on both the face and body.
Body Butter vs Lotion: What's Best for My Skin?
The simplest answer all depends on your skin concerns. If you're looking for a deeper cure to dry, rough skin, body butter is your answer. Because body butter is thicker, it tends to stay on top of your skin longer and work to reduce the loss of moisture from your skin. This protective barrier will keep you more moisturized, for longer.
If you need a light, daily moisturizing for the usual suspects – like your arms and legs – you'll want to reach for body lotion. This lighter formula is perfect for larger area applications too, because it tends to spread more easily and absorb faster, so it won't sit on the skin or leave you with greasy or slippery residue.
The main cause of dry skin can be from a variety of factors such as weather, nutrition, the frequency of washing and dehydration. When the natural oils and water are lost or sapped from our skin, our precious epidermis becomes rough and dry. In order to protect the skin's moisture levels, you'll need to apply a deeply moisturizing body butter for super dry skin, or slather on a lighter fighter for daily use: body lotion.
Whether you're reaching for a body butter or body lotion, make sure you're putting on the healthiest body care you can find, and scouring those ingredient labels for suspicious characters. Never compromise health for beauty, and always choose a natural body butter or body lotion that's free from parabens, phthalates, artificial fragrances, synthetic chemicals, silicones, and toxic preservatives. You've only got one body, so take the best care you can!
We carefully hand-select products based on strict purity standards, and only recommend products we feel meet this criteria. 100% PURE™ may earn a small commission for products purchased through affiliate links.
The information in this article is for educational use, and not intended to substitute professional medical advice, diagnosis, or treatment and should not be used as such.
Sign up to our email newsletter for more blog updates and exclusive discounts.
< Older Post | Newer Post >