Effortless Definition: Mastering the Art of Natural Eyeliner
Your guide to natural eyeliner, including easy eye makeup looks, and how to apply like a pro for flawless eyes
Posted on June 7, 2023
Written by: 100% PURE®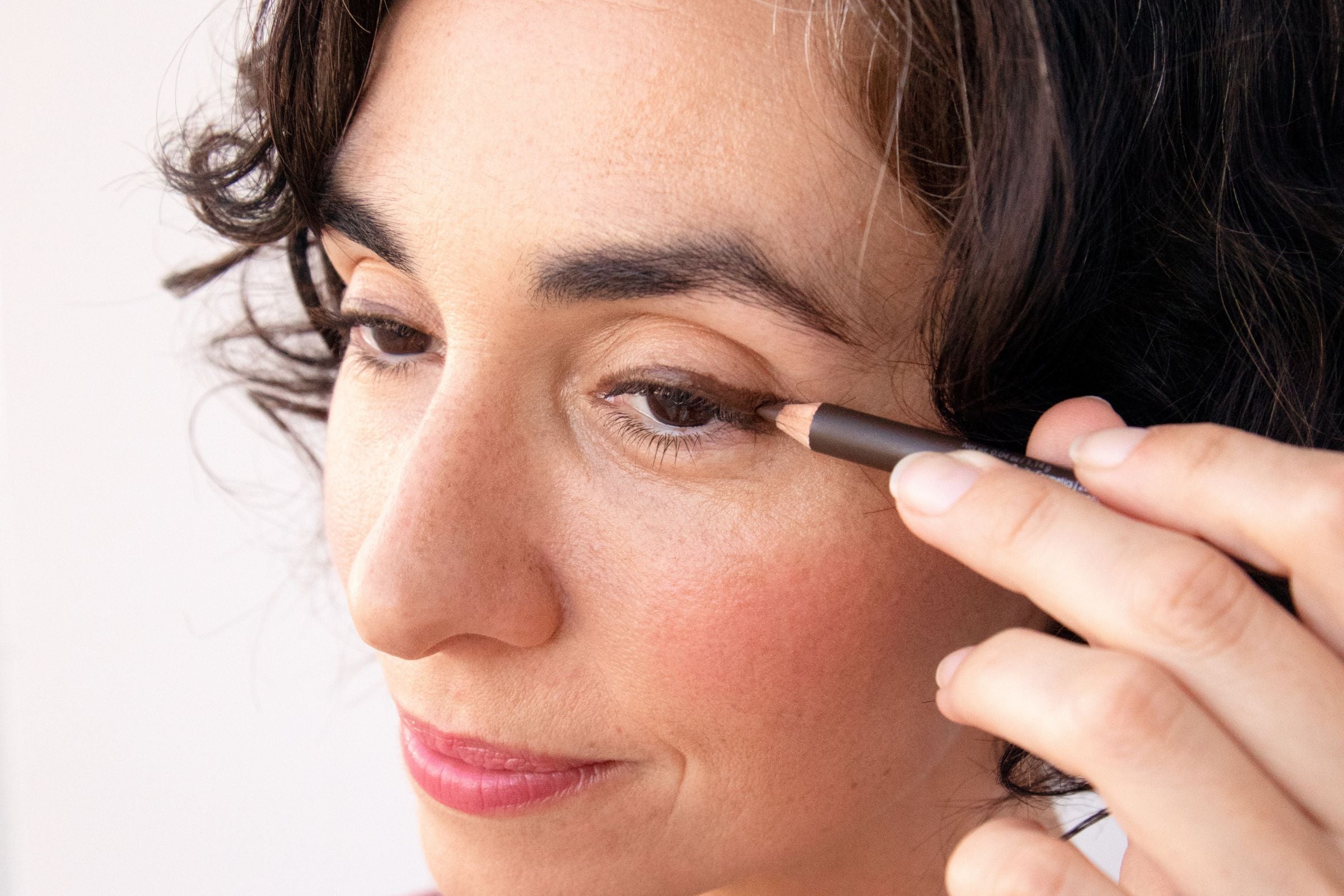 If our eyes are the windows to our souls, let's hope we have an effortless eye makeup look and flawless eyeliner application. Okay, who are we kidding? Perhaps those perfectly clear windows belong to the eye pros, while we regular folk have some cleaning and brushing up to do for squeaky application. You've come to the right place!
Harnessing the power and precision of your eyeliner is as easy as 1,2, blink! Check out the guide below for a complete eyeliner breakdown, including tips, tools, FAQs, and secrets for achieving a flawless, natural eyeliner look. It's time to bring your pretty peepers front and center to your gorgeous soul!
The Magic of Natural Eyeliner
We've all seen the dramatic eyeshadow looks. Eyes that have been transformed with the power of bold, vibrant pigments interwoven with an array of rainbow hues for a playful and fun eye makeup look. As eyeshadow's complimentary companion, eyeliner has the same magic. However, natural-looking eyeliner can enhance one's features without looking overly dramatic.
Now more than ever, we're focusing on eye makeup that enhances the natural beauty of our precious peepers. For many of us, good eyeliner is a staple in our beauty routines; especially when we're looking to make a bold and dramatic statement, but not "rainbow eyeshadow and fuchsia lipstick" bold.
Natural eyeliner has the magical powers to change the entire essence of your look with the right application. We're talking precise, clean lines that complement your eye shape. Whether it's a sweet, doe-eyed makeup look to a quick, swipe of liner to make our eyes pop, natural eyeliner has the power to transform your makeup look without all the unnecessary drama.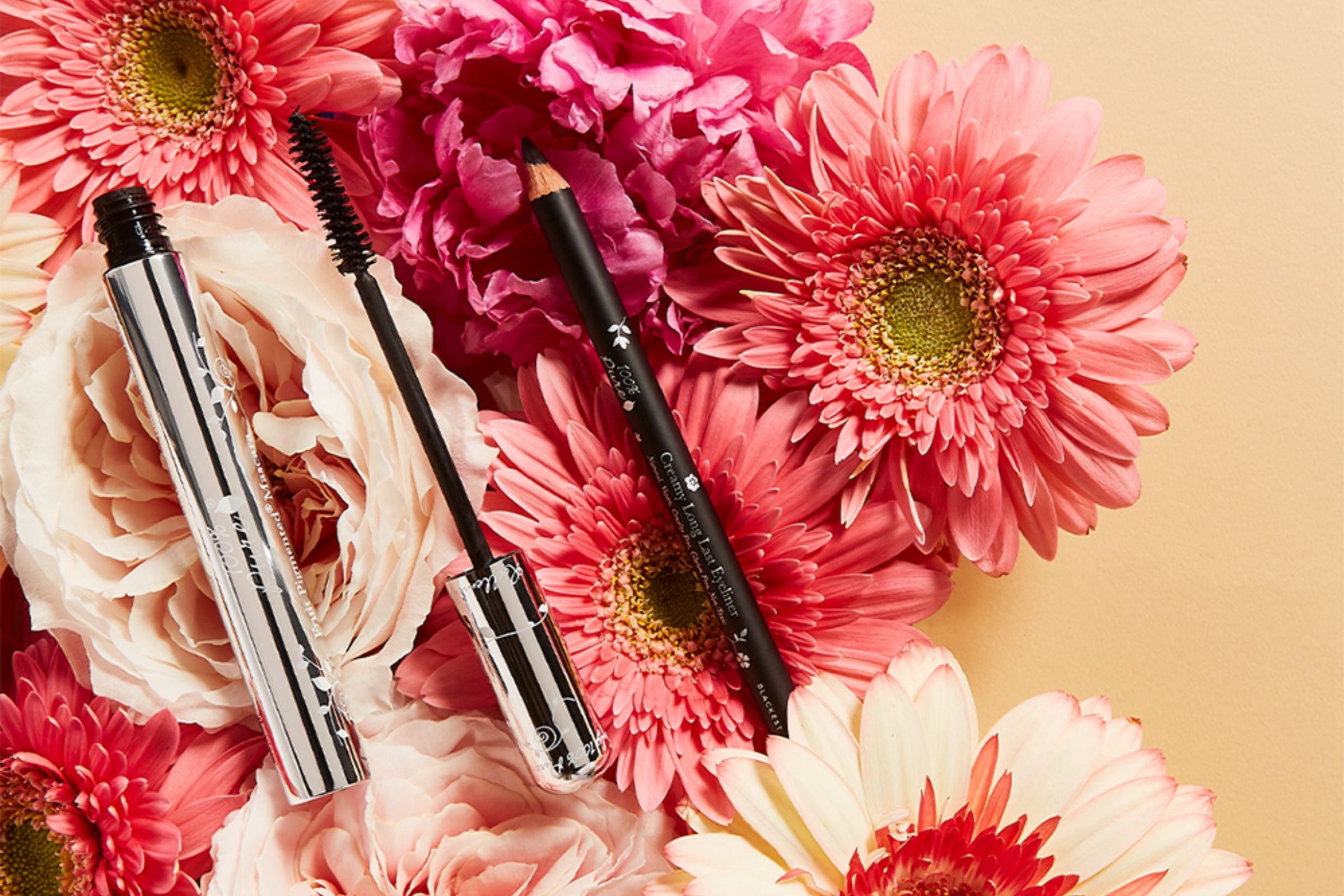 Benefits of Natural-Looking Eyeliner
Instead of piling on a thick layer (or two) of heavy eyeliner, a natural-looking liner look focuses on using just the right amount of eyeliner to enhance your natural features. You won't need to spend a small fortune on different conventional products and tools that might do more harm to your lash and eye health than good-looking peepers.
Natural-looking liner is all about championing the beauty and health benefits of natural eyeliner and keeping things simple. Made from all-natural ingredients, natural liner provides multiple benefits, including increased lash and health, reduced environmental impact, and a brighter, more defined eye shape and appearance.
Unlike traditional eyeliners that often contain harmful chemicals and synthetic additives that can irritate and damage lashes and your eyes, natural alternatives like 100% PURE formulas, are made of plant-based ingredients, and are gentler and safer for sensitive eyes. For the most eye-dilic liners, we went a giant 'leaf' forward with natural, fruit-pigmented formulas right from the fruit and plant leaves to your eyes. Not only that, natural eyeliner is eco-friendly, with fewer chemicals and recyclable materials.
You'll also save time and simplify your beauty routine with au naturel makeup than keeping up with the latest trends. From thick, double-wing, graphic arrow liners to reverse-winged, color-contrasting liner looks (say that three times), a natural-looking eyeliner is all about super low-maintenance, flattering eye looks that anyone can master once you have the right tips, which we're happy to share below!
Essential Tools for Achieving a Natural Eyeliner Look
We spy with our little eyes the different types of eyeliners that are suitable for a natural look. Within the eye wars debate discussing how to Jedi Master eyeliner, there are three main lightsabers: pencil, gel, and liquid. If you're not quite a master, don't fret! Read on for the different types of eyeliners, how to use them, and the best ones you'll be batting an eye at – plus the best formulas for your eye goals!
Pencil Eyeliner
These eyeliners resemble colored pencils but don't think about reaching for Crayola. Pencil eyeliners are the easiest to use for beginners. They can be used for a clean sweep across the lids and to line the upper and lower lash line neatly without any hassle. Simply, they don't smear easily, and they deliver a softer look for the most natural-looking eyeliner look.
You can find many types of eyeliner pencils, including retractable eyeliner pencils or wood or plastic pencils that sharpen. Going back to colored pencils, don't use a regular pencil sharpener. For the most precise liner tip, use a cosmetic pencil sharpener and choose the 3-dot technique for liquid eyeliner or a one-swoop fluid line from inner to outer eye.
Liquid Eyeliner
Liquid eyeliners dispense their product from the tip, much like a pen. The product that dispenses works like ink and dries down to either a glossy or matte finish depending on the liner type. Liquid liners are ideal for drawing precise lines, especially subtle to dramatic winged eye looks.
If you're new to liquid eyeliner, we'd recommend starting with the three dots method. Simply put, you're going to make a series of small dots (about three) along your lash line. Next, you'll slowly connect the dots. This will help you go for even, fluid connections – versus diving headfirst with one big swoop – when practicing how to do liquid eyeliner. Slow and steady wins the (perfect eyeliner) race!
PRO-TIP: If you're looking for a subtle, natural winged eyeliner look, use a smudge brush. This type of precision brush blends out and softens harsh lines and can also create smokey eye effects.
Gel Eyeliner

If you're looking for a liner that will stay put, gel eyeliner is a long-lasting eyeliner that creates a bold and noticeable effect. This style of eyeliner is often applied with an eyeliner brush, which helps to create a more precise line. Our Cruelty-Free Eyeliner Brush #6 is a vegan and cruelty-free eyeliner brush that's ideal for applying liquid, gel, or powder eye formulas with delicate precision, using an ultra-fine paintbrush tip. The finer the brush, the more control you'll have with a gel eyeliner.
PRO-TIP: While gel liner is an excellent option for application to the waterline, achieving this technique with an eyeliner brush can be tricky. An alternative solution is to dip an eye pencil into a gel liner and then use this to draw a fine line.
Newsletter
Subscribe
for more blog updates and exclusive discounts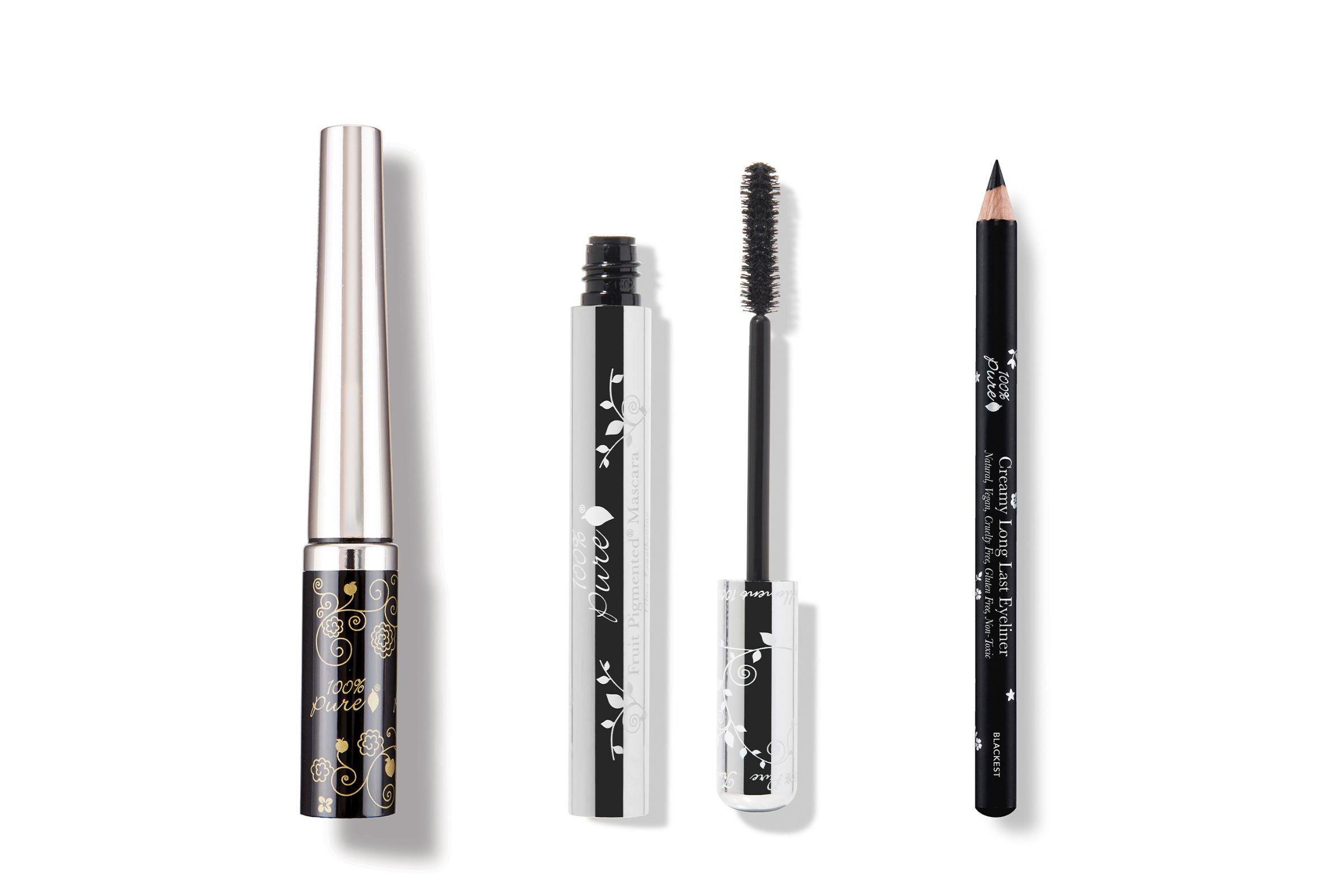 Step-by-Step Guide to Achieving the Natural Eyeliner Look
It isn't just our eye color that makes them unique; the shape of the eye is just as impactful. Sometimes we lean into our natural eye shape and swipe on a layer of natural mascara, and viola – out the door. Other times we like to transform the overall look of our eyes, and that's where eyeliner comes in!
Eyeliner can enliven our eyes, make them more awake or sultry and mysterious, and create the illusion of bigger eyes. When complementing our overall natural makeup look, we can feel our hearts expanding with a layer of inky eyeliner on our unique eye shape – and we'll show you how!
Upturned
These eyes look naturally more alert and have a seductive edge. Amplify that with Creamy Long Last Liner in Blackest or Dark Cocoa on the inner rim of the eyes. Deeper shades can pump up the intensity and create that iconic modelesque size.
Almond
Deep and expressive, almond eyes can take the weight of almost any eyeshadow look. For a doe-eyed effect, opt for a thick retro-inspired wing using our Long Last Liquid Eye Liner. This is the type of look that wears well day or night. A halo eye with Ginger eyeshadow on the inner and outer corners highlighted by Sugared shadow in the center brings drama while keeping things simple. This color duo looks great on any skin tone and eye color.
Downturned
Universally seen as kind and endearing, downturned eyes look sweet any way you dress them. For a bold lift, we suggest a long cat-eye flick. Apply our black tea-infused vegan liquid liner to draw the eye upward and outward. A thinner wing with lots of lashes is just the ticket.
Hooded
We celebrate how any eyeshadow look appears more intense and magnetic on hooded eyes. Balance the eye with smoked-out, upper and lower lids in natural eyeshadows in brown, gray, or purple hues. Make the eyes bigger and brighter with a swipe of creamy eyeliner on the lower water lines.
Monolid
These lovely eyelids have a larger surface area and can handle a wide range of soft and subtle to ultra-bold. For a softer look on monolid eyes, apply a peachy pink cream pigment to the lids with dry fingers. Buff the color out with a small fluffy brush, then feather the lashes with a volumizing mascara.
For a bolder nighttime look, bring pigment from the lash line to the top of the orbital bone, creating a metallic sheen with plum-bronze Luster. To brighten the eye, add a rosy, shimmery Gleam to the inner corner and diffuse below the lash line.
Round
The bigger the better – and round eyes have a size in spades. Add to the doe-eyed look with multiple layers of natural lengthening mascara, or create an elongated shape with a simple wing at the outer corner.
Using a long-lasting eyeliner, start the wing at the outer third of the lash line, drawing straight (towards the temples) rather than following the shape of the eye. Complete the "triangle" by drawing a line to meet the tip of the wing from the outer corner of the lower lash line. Fill in and watch as sweet Bambi's eyes transform into a seductive stare.
FAQs About Natural-Looking Eyeliner
Ready for some eye-catching facts about natural eyeliner? Yes, we've heard your questions – and we're grateful to offer you answers. Let's call this a 'Q and A' about the effortless definition and the perfect set of natural peepers.
What type of eyeliner is best for a natural look?
Answer: If you're going for a natural, barely-there look, then a matte eyeliner pencil is your best option. It's the easiest to use and either dark brown or black shades are versatile with all eye colors, shapes, and weekly plans.
Can I still use black eyeliner for a natural look?
Answer: Absolutely! Black liner is versatile, and a timeless staple in beauty regimens since the dawn of time. But if you want to give a soft dimension to your brown eyes, opt for brown eyeliner. However, if you want a sharp and sleek look, black eyeliner is always an excellent choice. Oh, and make sure it's a natural liner.
How do I make my eyeliner stay on all day?
Answer: Set, set, set! A common misconception is that only liquid eyeliner takes extra time to set; pencil eyeliner needs setting TLC time after applying, too! If you find your eyeliner trying to run away, the best fix is to use an eye primer and also pat a little translucent powder or concealer on top of your liner. It'll help dry things up right away, keep the liner from sliding off the skin, especially if it's oily, and help prevent it from shifting when you blink.
What do I do if my eyeliner smudges or runs?
Answer: Applying a makeup primer, especially an eye primer, will prep your skin for your eye makeup and help increase its lifespan. If you're in a pinch, a dab of concealer or foundation will do the trick. You can also fix smudges using a cotton swab with micellar water or makeup remover or perhaps some soap.
How can I make my eyes look bigger or smaller with eyeliner?
Answer: One simple way to get bigger eyes with natural eyeliner—especially if your eyes are naturally smaller—is to apply liner just to the outer third of your upper lid. This simple trick helps draw attention to the outer corners of your eyes, which in turn creates the illusion of wider eyes.
Making a perfectly precise, almost harsh, line along your upper lash line can make your eyes look smaller. But wearing eyeliner along your lower lashes as well is a surefire way to make your eyes look smaller, too. You can define your eyes with a thin line using liquid or pencil eyeliner, which can help to visually close off the eyes.
Mistakes to Avoid When Applying Natural-Looking Eyeliner
Curl your lashes! You can have an effortless definition to your eyes with a natural liner if you use an eyelash curler first. It will turn out to be your BFF in eye makeup application. Our eyelash curler enhances lash length and doubles the impact of mascara with a stainless-steel, beautiful rose gold design!
Don't squint! It's tempting to squint when you're bringing pointy objects toward your eyes. But if you're exercising care and caution when applying eyeliner (no applying while speeding down the highway), there's no need to squint. Rumor has it that squinting can cause wrinkles down the road! Not sure if it's scientifically proven, but we're going to play it safe!
Be careful not to pull or tug the skin around your eyes when applying eyeliner. It's easy to get caught up in your makeup routine, resulting in yanking and twisting your face around to apply products. Just like our first tip, pulling and tugging at your eye area is rumored to cause excessive wrinkles.
Clean your sharpener regularly to avoid not only cross-mixed colors but a buildup of bacteria from previous eyeliners that have been sharpened in the past. Clean your sharpener by adding rubbing alcohol to the end of a Q-tip, then swiping the mouth and blades of your sharpener.
Sharing isn't caring when it comes to eye makeup products. Has your Dr ever told you not to rub your eyes without washing your hands, especially in flu season? That's because your delicate eyes are very susceptible to germs. Keeping eye makeup to yourself, and not using anyone else's, will lower your risk of contracting eye infections and even a staph infection -- yikes!
Use toxin-free eyeliner to reduce your risk of itching, burning, and irritation in the eyes. Harsh and synthetic chemicals can make eyes water, burn, and itch. Opt for natural pigments (like fruit pigments), and natural ingredients in general.
There you have it! Now you can have smudge-proof eyeliner and effortless definition to your eyes for good! Always invest in natural eyeliner for your eye makeup. It will turn out to be your best friend in your natural beauty routine. Now rock the day from morning to night with no fear of raccoon eyes smearing!
And, you also have the eye-dilic upper eyelash line (hand), if the eyes are the windows to the soul, then you can think of natural eyeliner as the beautiful windowpane decorating the window!
We carefully hand-select products based on strict purity standards, and only recommend products we feel meet this criteria. 100% PURE™ may earn a small commission for products purchased through affiliate links.
The information in this article is for educational use, and not intended to substitute professional medical advice, diagnosis, or treatment and should not be used as such.
Sign up to our email newsletter for more blog updates and exclusive discounts.
< Older Post | Newer Post >