Effective Cleansing from Head-to-Toe
Tips for keeping hands, face, and body squeaky clean
Posted on May 22, 2020
Written by: 100% PURE ®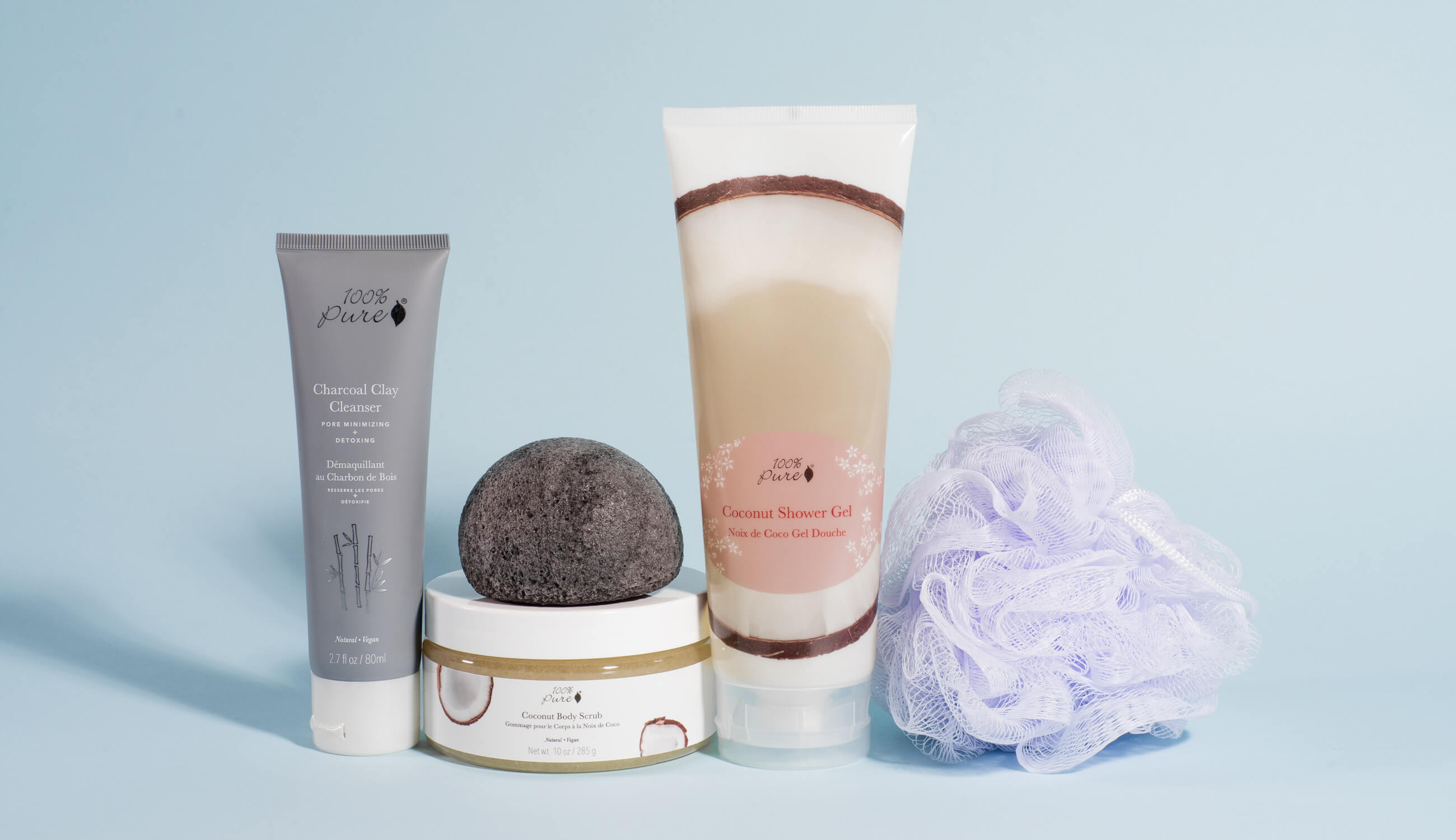 Now more than ever have we really put those hand-washing songs to use. Whether it's "Happy Birthday" or "Baby Shark", we've all been singing our way to proper hygiene.
Alas, proper cleansing doesn't just stop at washing your hands. Though we have a pretty good handle on washing these days, it may not be as clear on how to ensure you're staying squeaky clean from head-to-toe.
Grab your collection of cleansers and get ready to suds up: we've got the lowdown on how to effectively cleanse, plus top tips and tools for ensuring good hygiene. When you're done, all you'll need to do is find a longer song!
Effective Cleansing for Hands, Face, and Body
HANDS
You've probably seen those videos that show kids what germs look like, through crafty experiments and fun animations. Though children need more hands-on instruction for proper washing, the importance is even greater now for us all. It's one of the best ways to help prevent the spread of germs and bacteria from person to person.
There are key times to be mindful of practicing good hand washing techniques. Here's an effective cleansing routine for handwashing:
Step 1: Wet hands with running water – warm or cold – and apply soap.
Step 2: Lather your hands by rubbing them together. Reach the backs of your hands, between your fingers, and under your nails.
Step 3: Scrub your hands for at least 20 seconds. Remember those song choices? Hum them twice, and feel free to add pets, great aunts, and uncles to extend "Baby Shark".
Step 4: Rinse your hands thoroughly under clean, running water.
Step 5: Dry your hands using a clean towel, or air dry them. Avoid using your clean hands to turn off the faucet.
PRO-TIP: If soap and water aren't readily available, you can use an alcohol-based hand sanitizer in a pinch. Use a sanitizer that contains at least 60% alcohol, and rub it into your hands for at least 20 seconds to ensure full coverage. You can tell if the sanitizer contains at least 60% alcohol by looking at the product label.
FACE
Let's face it: staying squeaky clean these days may mean having to wash more than twice daily. Adding some non-routine washes into your regular routine can help ensure a clean, clear complexion. These extra washes are important after simple activities that could be clogging your pores without you realizing it.
Everyday things we could be doing from working up a sweat after your home workout – or homeschool work – to yard work. Depending on the activity or your skin type, you may need to adjust your wash time or use a specific tool for effective cleansing and squeaky clean skin.
Step 1: Wet face with lukewarm water – overly hot water can dry out and sensitize your skin. If using a micellar water, you can skip this step.
Step 2: Choose a natural cleanser or a micellar water based on your skin type (see below):
Dry, Sensitive Skin
You'll need a cleanser that deeply hydrates and moisturizes skin: skip foaming cleansers. Our Rose Micellar Cleansing Water is designed to feel mild yet work effectively; this hydrating cleanser is a floral fusion of calming and purifying nutrients.
PRO-TIP: Oily and combination skin types can also benefit from using a micellar water, as it's a superstar at binding to dirt, oil, and debris while keeping your skin type balanced.
Oily, Combo, Acne-Prone Skin Types
You'll need a cleanser that can regulate oil production and reinforce moisture, without stripping skin. Our Charcoal Clay Cleanser uses oil-regulating lemon water and Brazilian black kaolin clay, and helps cut down on grease while regulating oil and moisture production.
PRO-TIP: Normal skin types can also benefit from the cleansing and purifying powers of this oil-balancing cleanser.
Normal, Oily, Combo Skin Types
You'll need a cleanser that can regulate oil and reinforce moisture while keeping skin hydrated and balanced. If you also have pores you'd like to keep in check, our Pore Detox Cleanser is a superstar at detoxifying skin with dandelion and neem without stripping skin. The addition of green clay helps reduce oil and shrink the appearance of pores.
PRO-TIP: Acne-prone skin types can also benefit from this all-star cleanser, as it greatly unclogs and reduces the size of pores.
Step 3: Lather your hands by rubbing them together with warm water. Gently massage skin in circular motions. For effective cleansing or those sweaty or dirty activities we mentioned earlier, use a Charcoal Konjac Sponge. It gently exfoliates and helps freshen and brighten your skin. You can also opt for a silicone facial brush.
If you're using the rose cleansing water, saturate a cotton pad with it and gently sweep over your face, eye area, and neck. Repeat process until cotton pad is not picking up any more makeup, sunblock, or any other impurities.
Step 4: Rinse cleanser with warm water.
Step 5: Dry your face using a clean towel, or allow drier skin types to air dry.
PRO-TIP: After cleansing, follow with a toner to remove any dirt or debris that was not fully swept away by your hands or brush.
BODY
These days it seems we've become Jacks' and Jills' of all trades – from doing our own yard work to spring cleaning daily. Hauling shopping bags, exercising, or working outdoors all have sweat, dirt, and dust in common. To ensure you're staying squeaky clean, it's important to effectively cleanse after any of these activities.
Step 1: Before gently scrubbing your skin, you'll want to remove any dirt, sweat, and oil from your skin. Use a hydrating shower gel or nourishing butter soap to gently remove impurities while balancing essential moisture for soft, supple skin. Lather up those suds while gently exfoliating skin with a soft bath sponge – ours are made from 100% recycled plastic!
Step 2: Massage body scrub onto clean, wet skin. For extra dry or rough patches like the elbows, massage gel or soap in deeper using your hands or a loofah. A body scrub can also do wonders on these rough areas, and to exfoliate the skin for a youthful glow.
Step 3: Rinse thoroughly with clean, cool water and pat dry with a towel. Remember to add moisture back into those dry areas with a body lotion, body butter, or hand cream.
Now more than ever we're needing to practice good hygiene and safe, effective cleansing routines to keep ourselves and our loved ones healthy. Hopefully with these tips and tools, you'll be on your way to squeaky clean skin!
For more cleansing basics, check out our other all-star facial cleansers geared towards all skin types and needs. For more nourishing body basics, be sure to check out our tips and salt scrubs for total body exfoliation. Stay healthy, friends!
We carefully hand-select products based on strict purity standards, and only recommend products we feel meet this criteria. 100% PURE™ may earn a small commission for products purchased through affiliate links.
The information in this article is for educational use, and not intended to substitute professional medical advice, diagnosis, or treatment and should not be used as such.
Sign up to our email newsletter for more blog updates and exclusive discounts.
< Older Post | Newer Post >