2021 Hair Trends for Late Summer
Refresh your locks (and your look) in time for fall
Posted on July 20, 2021
Written by: 100% PURE ®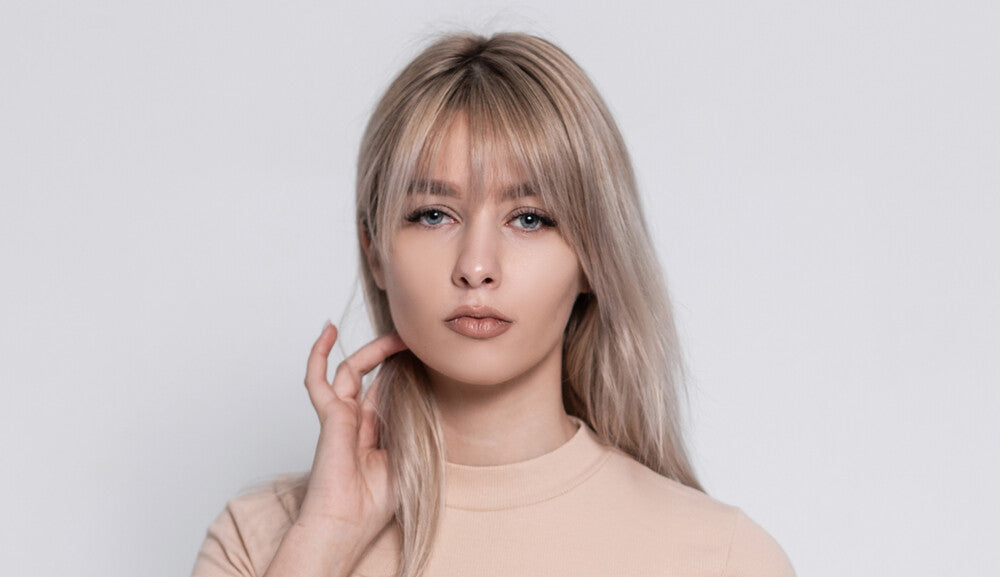 It's summer 2021, but we're still trying to shake the shadow of 2020. As a butterfly emerges from its chrysalis, so shall we emerge from our isolation – with a new hairdo! After all, nothing says 'starting over' like a good hair refresh.
We're looking at some summer 2021 hair trends, and covering everything from breezy hairstyles to low-maintenance bangs. Let's take a look!
2021 Haircut Trends
Looking for a new haircut to put 2020 behind you? These summer 2021 hair trends will stay fresh well into fall!
Modern Shag
This hair trend is making a gradual comeback from the 70s! The modern shag is a great choice if you love your long hair, but want it to feel a little lighter.
Modern shags are versatile, offering options that can suit any face shape. Some shags are more tapered, while others are bluntly chopped. Some have a uniform style, while others have more length at the top. It's like a choose-your-own adventure for your hair!
The Blunt Bob
For the ladies considering chopping their hair off… hair grows back! This 2021 hair trend is all about blunt edges and a tightly cropped coif, and celebrates the satisfaction of letting go of weighty locks.
While the bob is always a classic look, it's making some serious heat this summer and fall. Chin-length and shoulder-length bobs can be romantic and flattering for any face, and keeping the frame strands in the front just an inch longer adds a touch of elegance.
Curtain Bangs
Cutting bangs is a big decision, and often undertaken with little understanding of the commitment they require. Luckily, we have curtain bangs: similar to the way curtains frame a window, curtain bangs frame the face and can be pulled back with ease. Because curtain bangs are longer than your traditional fringe, they're going to grow out much faster. So if it's a change you regret, you won't have to put up with it for long!
2021 Hairstyle Trends
Not ready to commit to a cut? You can make a big change with your look simply by styling your hair! After all, how often did you break out the curling iron during quarantine? Don't worry – we'll cover some heat-free 2021 hair trends, too.
Soft Balayage
When the pandemic put a halt on hair salons, we suddenly had to get comfortable with our current color.
Being forced to accept the 'relaxed' appearance of our roots led to something beautiful: the soft balayage. It isn't as precise as the traditional balayage, and entails far less effort and an appreciation for your natural hues. While this balayage is far more manageable, it still provides enough dimension to leave you feeling polished.
Tight Curls
Embracing natural curls might be one of our favorite things to come from quarantine. Whether you're rocking a 3B or 4A, the curls are coming out – and we're hoping they're here to stay. Even those of us with straight hair are starting to crave a little curl (especially after Bridgerton), so it's no surprise that more are dusting off the curling iron.
Ringlet curls a la Shirley Temple can be cute for framing the face, accenting your eye makeup, or spicing up a basic braid. Instead of brushing out your curls after they've cooled, let these coiled beauties bounce their way through the day.
Loose, Heatless Waves
If the tight Bridgerton curls aren't your speed, try the alternative: loose, heat-free waves. Heatless waves are both easy and striking, creating a romantic look that gives your hair instant volume.
To create waves, you can use a number of methods like braiding your hair before bed, plopping, or adding a wave spray product. The trick is to work with hair that's damp, but not wet. Our favorite is the braiding method, as it allows you to experiment with different wave patterns based on the size of your braids.
Products to Support Your 2021 Hair Goals
No matter the trend, healthy hair is always in. Let's explore a few nourishing, cruelty-free hair care options!
Pro-Vitamin B5 Smoothing Hair Serum
We want to tame frizzy hair, not weigh it down. With our Pro-Vitamin B5 Smoothing Hair Serum your hair feels softer and smoother, while still holding its natural volume. With vitamin E to lock in moisture and provitamin B5 to reduce breakage, this serum is like a suit of armor for your tresses.
Texturizing Dry Shampoo
When you're dealing with choppy layers and tight curls, it can be a hassle to worry about styling hair that's still wet from the shower. But with our Texturizing Dry Shampoo, you can afford to skip the wash when you need to! We formulated our dry shampoo with bamboo silica to absorb oils and boost volume, >and fortified it with biotin and pro-vitamin B5 to support healthy growth.
Yuzu & Pomelo Glossing Shampoo & Conditioner
Hydration is essential for executing effective hairstyles and maintaining strands between haircuts. So no matter your 2021 hair trend of choice, just make sure you're keeping up with hydration.
With the bright, citrusy notes of yuzu and pomelo, this shampoo/conditioner duo makes the perfect summer aroma. Citrus helps gently cancel out grease for more vibrant color and shine. With coconut foam, rose hydrosol, aloe and flax, these formulas support moisture and strength.
Argan Oil
Effortless, loose waves don't need much, but extra shine and strength is going to take them to the next level! A few drops of Argan Oil gives your tresses a generous dose of vitamin E, carotenes, and essential fatty acids to keep it healthy and happy.
We carefully hand-select products based on strict purity standards, and only recommend products we feel meet this criteria. 100% PURE™ may earn a small commission for products purchased through affiliate links.
The information in this article is for educational use, and not intended to substitute professional medical advice, diagnosis, or treatment and should not be used as such.
Sign up to our email newsletter for more blog updates and exclusive discounts.
< Older Post | Newer Post >