How to Use ProVitamin B5 for Skin
Why this popular hair care ingredient became a 2021 skin care trend
Posted on May 3, 2021
Written by: 100% PURE®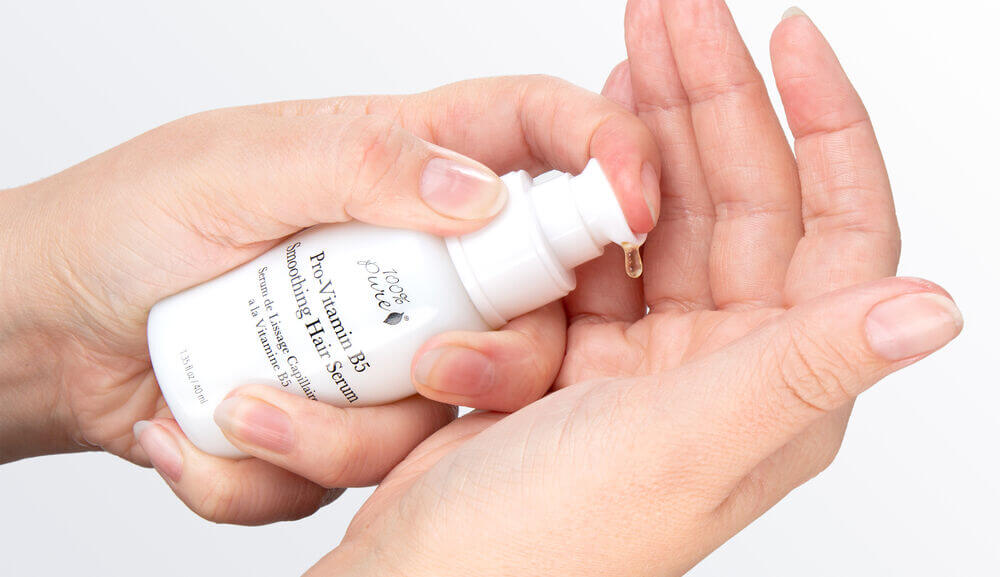 Last year it was niacinamide. The year before, it was hyaluronic acid. But this spring, there's a new skin care ingredient that everyone's raving about: provitamin B5!
Provitamin B5 is actually better known by another name: panthenol. And while you may know all about using provitamin B5 in your hair care, panthenol for skin might be somewhat of a new concept. That's where we come in: let's discuss the benefits of using provitamin B5 in your skin care routine!
What Is ProVitamin B5?
What is panthenol, or provitamin B5?
Panthenol is a substance that's naturally occurring in both plant and animal sources. In fact, "panthenol" comes from the Greek word "pantou" – which literally means "everywhere"! A few vegan sources of panthenol are whole grains, lentils, peas, and soybeans. Conventional sources include shellfish, egg yolks, liver, and pork.
Provitamin B5 is a member of the mighty B-complex vitamin family, alongside niacinamide (vitamin B-3) and folic acid (vitamin B-9). With a transparent, viscous appearance, provitamin B5 easily blends into many hair and skin care products.
Panthenol may also be referred to as dexpanthenol, D-pantothenyl alcohol, butanamide, and alcohol analog of pantothenic acid. But when it's absorbed in the body, it's called provitamin B5. That's why you'll see this term used most often in skin care products.
Vitamin B5 for Skin
So, why use vitamin B5 for skin?
For one thing, provitamin B5 is noted for its anti-inflammatory properties. Inflammation tends to play a big role in numerous skin problems including acne, dullness, and redness.
With acne, for instance, it's actually been found that systemic inflammation is common in both the primary and secondary stages of acne. When the body detects bacteria, the immune system is signaled to send white blood cells to that area. Inflammation occurs in the skin when the accumulation of these white blood cells cause the area of skin to swell, forming a blemish.
While clearing acne can require a few different strategies, one way to help alleviate it is by using ingredients with anti-inflammatory properties. Anti-inflammatory properties give provitamin B5 acne benefits, along with a soothing quality that's especially useful for those with eczema and psoriasis.
Using provitamin B5 for skin can also help with moisturizing and prolonging hydration. This is because as a powerful humectant, provitamin B5 penetrates the deeper skin layers to deliver water to the cells, promoting moisture retention. Provitamin B5 also prevents hydration loss by stimulating barrier function in the cells, thus reducing trans-epidermal water loss.
Those with sensitive skin, rejoice: provitamin B5 is a notably gentle ingredient. According to dermatologists, most individuals tolerate vitamin B5 just fine, and those with a compromised epidermal layer may benefit from its reparative abilities.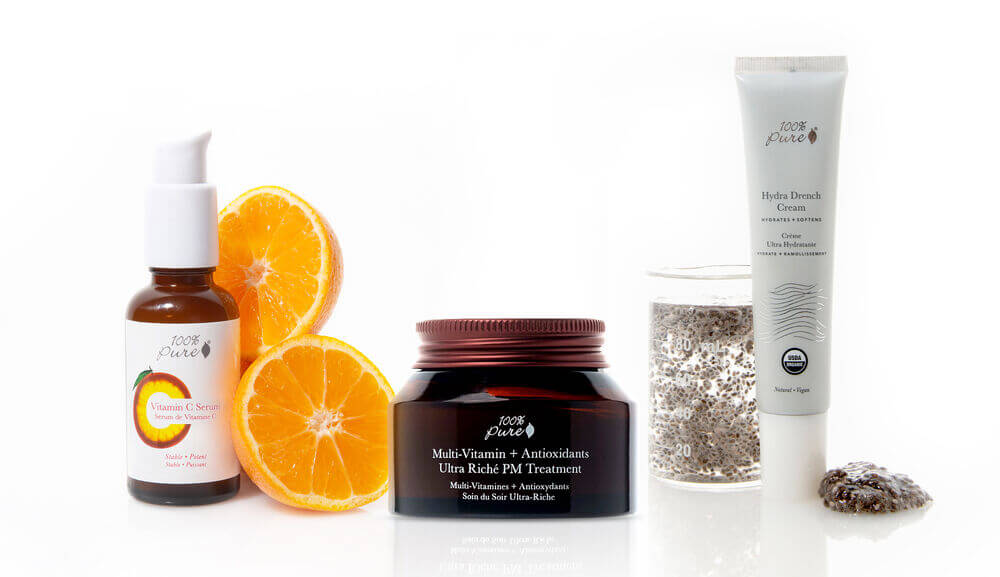 Skin Care with ProVitamin B5
While most natural sources contain relatively low concentrations of panthenol, you can find high doses in hair and skin care products.
In the case of hair care products, you're most likely to find panthenol in hair masks, conditioners, and leave-in treatments.
Meanwhile, you'll find vitamin B5 for skin in an even wider range of products including serums, moisturizers, leave-on masks, and eye creams.
Here are just a few 100% PURE™ products that contain provitamin B5.
Vitamin C Serum
When the skin is feeling especially dull or dry, vitamin C can do wonders for promoting elasticity by supporting collagen production.
This stabilized vitamin C serum also contains provitamin B5 for skin that's in need of renewing. With a flood of antioxidants brought by green apple and grape, your skin is in for a serious glow-up.
Multi-Vitamin + Antioxidants Extra Riche PM Treatment
If your skin is in need of rejuvenation, this rich and luxurious cream is here to help. With an antioxidant complex of vitamins A, C, D3 and K2, our night cream works to correct and repair damaged skin. Provitamin B5 strengthens the lipid barrier and delivers deeply penetrating moisture.
Hydra Drench Cream
All skin types deserve proper hydration, and our Hydra Drench is here to give thirsty skin a much-needed drink! Thanks to chia seed gel and its many omega fatty acids, this lightweight formula was designed to rapidly absorb into the skin for fast-acting, long-lasting moisture. Provitamin B5 works to prevent trans-epidermal water loss for lasting hydration.
Panthenol for Hair
Traditionally, panthenol is better known for its hair benefits – specifically, for treating hair loss. But as with many things, these problems start at the root. This is especially true when we talk about the scalp.
Think about it: your scalp is where the hair on your head is made. When the scalp is irritated and inflamed, it simply can't function at its best. Next thing you know, you're left with hair that's dull, dry, and lifeless.
This is where panthenol comes in.
When applied to the scalp – essentially, the skin on your head – panthenol offers up anti-inflammatory properties that can help soothe and hydrate your skin. Meanwhile, under the surface, it's absorbed into epidermal cells to rejuvenate and promote elasticity.
When panthenol is nourishing the scalp, you're more likely to experience lushness and volume from root to end – because a happy, healthy scalp means healthy hair.
Besides that, panthenol also provides protection against the elements. When panthenol is applied to the hair, it evenly coats the shafts to create a sort of seal, which shields hair from environmental damage while improving hair texture.
You can find provitamin B5 in our Smoothing Hair Serum, Honey & Virgin Coconut Restorative Conditioner, and Kelp & Mint Volumizing Conditioner – just to name a few! Explore our hair care collection for more benefits of panthenol for hair.
We carefully hand-select products based on strict purity standards, and only recommend products we feel meet this criteria. 100% PURE™ may earn a small commission for products purchased through affiliate links.
The information in this article is for educational use, and not intended to substitute professional medical advice, diagnosis, or treatment and should not be used as such.
Sign up to our email newsletter for more blog updates and exclusive discounts.
< Older Post | Newer Post >