5 Highlighter Powders to Try This Summer
Pressed powders are making a comeback – here are the best clean formulas to try!
Posted on May 4, 2021
Written by: 100% PURE®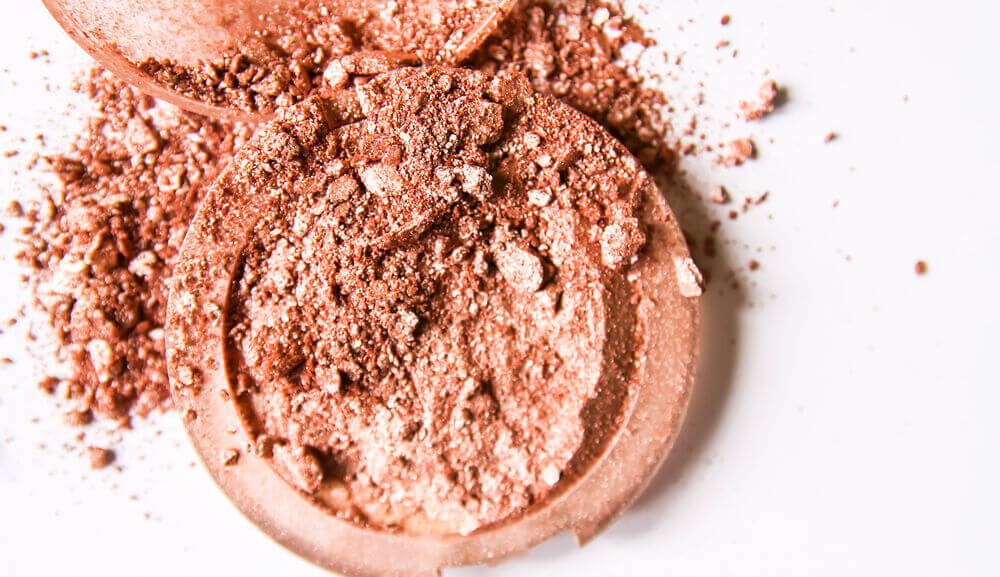 Oh, you thought powder highlighters were over? Think again! As we begin to shed our masks this summer for outdoor fun, highlighting will make a comeback in a big way.
But beauty has changed quite a bit in the year that we've been social distancing. Highlighter trends toward more natural, "your skin but better" satin finishes that deliver on an ethereal glow from within. Here's the list of every gleaming, skin-enhancing highlighter powder we're dying to apply practically everywhere.
Avoid These Highlighter Ingredients
When it comes to reading our product labels, we're usually pretty responsible. We scan every list for sulfates, parabens, perfumes and more.
Then come highlighters, blinding us with their mystical beauty and pow – the shimmery highlighter is paid for and soon to be shipped. All without taking a glance at the ingredients! But if you're looking to shop only the best highlighter powders, you'll have to know which ingredients can be harmful to your skin or the planet.
Glitter
This one may seem counterintuitive, but let us explain.
Most highlighter powders are either made from finely ground glitter or minerals. But we've found that the best highlighters use real gemstones for shine.
Glitter is often made from microplastics and aluminum, which can scratch and irritate the skin. This sparkly additive has been infamous for years in the eyes of eco-friendly experts. That's because sea life is especially vulnerable to toxic bioaccumulation from glitter, some of which can end up back in the food we eat.
Parabens
If this toxic ingredient rings a bell, that's because they've been in the ingredient hotseat for a while. This cosmetic preservative can mimic hormones, and regular exposure can result in absorption by our bodies. Since parabens are linked to skin irritation and even skin cancer, this is definitely an ingredient we want to avoid.
Heavy Metals
The "true gold" and "platinum" shades of highlighter we buy shouldn't be code for metals in makeup. The FDA accepts heavy metals in makeup, but doesn't do a great job of regulating them. Lead and aluminum are cosmetic contaminants that can build up in our bloodstream and result in anemia, brain damage, and fertility issues.
You'll often find aluminum and other heavy metals hiding under colorants listed as "lake", FD&C, or D&C dyes.
Carmine
Speaking of unsavory colorants, this blood-red dye really is true to its nature. That's because carmine – also listed as cochineal extract or crimson lake – is made from the bloody carcasses of the cochineal beetle. It takes about 75,000 crushed beetles to create just 1lb of red dye, which is still one of the most popular colorants used ro make pink, red, and purple-hued highlighter powders.
Fragrance
While some love the idea of fragrance in makeup products, it really isn't the best idea for skin health. Fragrances are infamous for causing irritation, itching, and rashes. Worse still is the fact that makeup products don't have to disclose exactly what is in their fragrance. This means pesky allergens and toxins could be hiding behind the word "fragrance" on your highlighter label.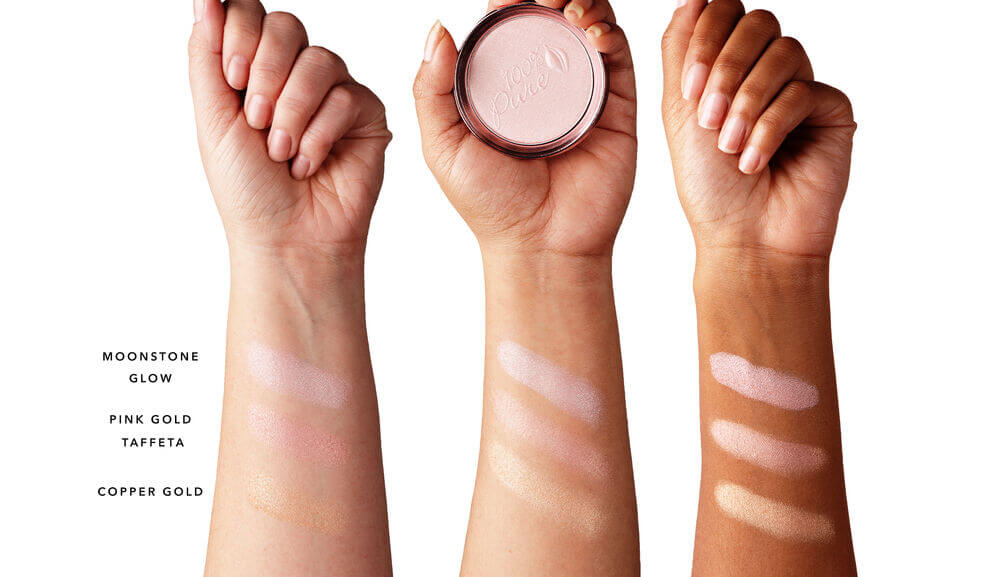 Top 5 Highlighter Powders to Try
100% PURE Gemmed Luminizers
Our trio of gem-filled shades are made with only earth minerals and gemstones.
Pearly Pink Gold Taffeta gives a rosy glow that's perfect for topping blushes or cheek highlight. Warm and summery Copper Gold gives us sun goddess vibes. Moonstone Glow defines the high points for an icy pink ethereal glow.
Each cruelty-free powder highlighter is boosted with gemstones like opal, sunstone, and pyrite. Enriching avocado and cocoa butters provide a creamy formula that glides over the skin for an undetectable application that inevitably steals the spotlight.
Ilia DayLite Highlighting Powder
The "clean, talc-free" description says it all, but we love the touch of jojoba that delivers a smooth, buttery finish. Glamour 2021 Beauty Award Winner glides weightlessly onto the skin for a beaming, nearly undetectable finish. Soft Gold, a spotlight gold, flatters fair to medium skin tones while the blushed, deeper tones of Starstruck flatter summer tans and deeper skin tones.
Jouer Powder Highlighter
A fellow beauty brand inspired by everyone's favorite gems, this collection of highlighter powder oozes luxury. These vegan, paraben-free, and cruelty-free highlighters come in (8) diverse shades from Ice (a pale lunar silver) to Tan Lines (a peachy-bronze). These soft, smooth powders provide a satin-finish glow that turns skin into a pearl-like surface.
W3ll People Bio Brightener Invisible Powder
Invisible, but effective. This cruelty-free formula blurs the skin and provides an ethereal 'lit from within' glow that makes this highlighter perfect for any occasion. This illuminating powder combines the clean approach we need with the glow we want for a natural, diffused luminosity.
Fruit Pigmented Prism Highlighter
Enter Prism: the rose gold highlighter of our dreams. A fusion of gold, copper, and pearl come together to create a transformative pink that's flattering on every skin tone. From eyes to nose to cheeks, this universally flattering highlighter can pull double duty as an eyeshadow or cheek topper.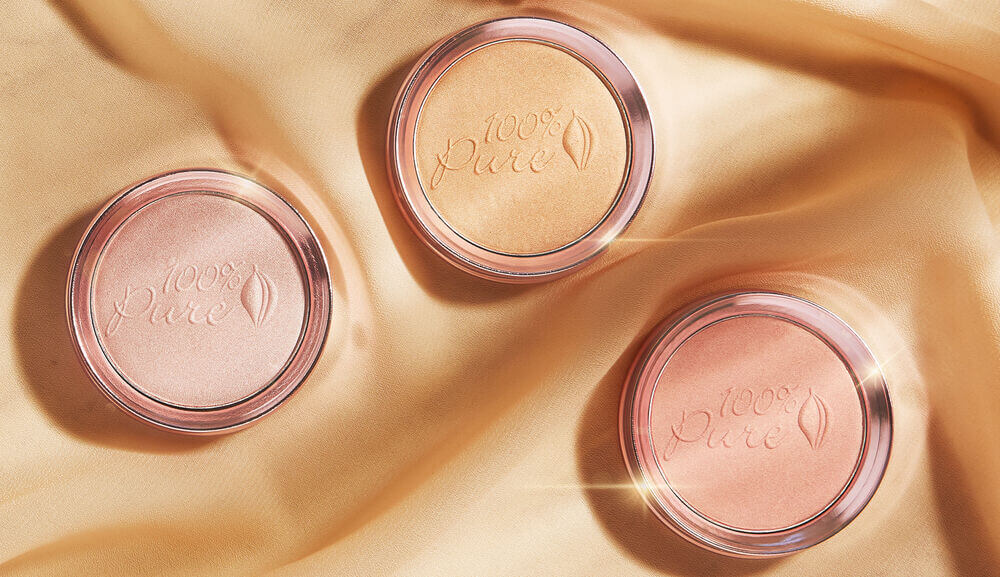 Best Application Techniques
Applying highlighter is easy, but it can also be easy to get wrong. Knowing where – and how much – to apply is based on our features and goals. Here are some easy tips for applying highlighter powder!
Less is more
Of course, makeup is for everyone and there are no hard and fast rules – but when it comes to getting that effortless, just-back-from-vacation glow, less is definitely more. Play around with a touch on the highest point of the cheeks and on the inner corners of the eyes for a bright, awakened look.
Optional spots include the center of the forehead and/or the chin for facial balance. Add a touch to the brow bones for a lifted eye, the bridge of the nose for a slimmer nose profile, and the cupid's bow for a juicier pout.
Favor brushes over fingers
Fingers might be great for applying cream and liquid highlighters, but highlighter powders require a special touch. These types of pigments should look diffused on the skin, so go for a fluffy blush brush or fan brush to achieve blurred edges rather than stark swipes.
Try different shades for different areas
Go for a peach or rosy hue over the cheeks to enhance your blush. Try something silvery or pearlescent on the tear ducts to brighten the eyes.
Match your undertone
A highlighter that matches the warmth or coolness of your skin will compliment your skin tone. A highlighter that is of a different tone will stand out more, but will look less natural and far less subtle.
Blend translucent powder over the top
This is a makeup artist's tip for creating a highlighted face that doesn't look overdone. Using a narrow yet fluffy brush, dust a touch of translucent powder over the top to absorb any oil and minimize the blinding effect that freshly applied highlighter can have. In seconds, the highlighter looks like a glow from within rather than that end of the day glow we all know is excess oil.
We carefully hand-select products based on strict purity standards, and only recommend products we feel meet this criteria. 100% PURE™ may earn a small commission for products purchased through affiliate links.
The information in this article is for educational use, and not intended to substitute professional medical advice, diagnosis, or treatment and should not be used as such.
Sign up to our email newsletter for more blog updates and exclusive discounts.
< Older Post | Newer Post >