Aloe Vera – Facial and a Margarita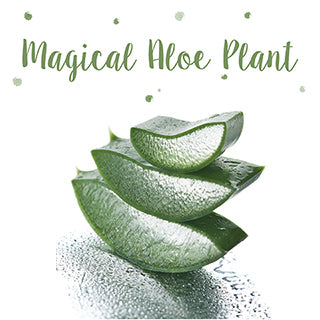 In honor of Cinco De Mayo, we want to highlight the magical Aloe plant. If you've ever read the ingredient list of any 100% Pure products, such as the Organic Coffee Bean Eye Cream, it's very likely that you'll see organic aloe juice listed at the top of the list. Instead of using water in our formulas, 100% Pure uses organic aloe juice and organic rose hydrosol as the base of most of our products.
Aloe is an anti-aging skin soother that is incredibly hydrating and wound healing. That's why the first thing doctors advise after getting sunburned is to apply aloe vera directly on your burned skin to accelerate healing.
One of the best at home facials you can do is with a large, single aloe leaf.
Step 1:
Cut the aloe in half (to expose as much of the clear flesh as possible). Be sure to cut off the prickly sides so your face doesn't get scratched.
Step 2:
Wash your face with a cleanser and exfoliate with a facial scrub so the aloe can easily absorb.
Step 3:
Massage the flesh of the aloe (the gel liquid) directly onto your face (even around eyes) in circular motions. Once your skin feels dry, it means the aloe juice has absorbed into your skin. Re-apply more of the aloe to re-hydrate.

Tip: You can cut off the top layer of the aloe to expose more of the gel liquid. Repeat as many times as you desire and then rinse off.
You'll immediately notice plumper, more hydrated, vibrant skin!
If you have any extra aloe left over, why not further your relaxation with this simple aloe vera margarita recipe:
Ingredients
-2.5 ounces Aloe Vera Juice
-2 ounces 100% Agave Tequila
-1.5 ounces lime Juice
-1 tablespoon honey syrup**
-Salt, for rimming
Instructions
In a cocktail shaker, shake the aloe vera, tequila, lime, and honey together. Strain into into a salt rimmed, ice filled glass.
**Honey syrup is simply equal parts honey and warm water. For one margarita you'll want to do 1/2 tablespoon honey with 1/2 tablespoon of warm water.
We carefully hand-select products based on strict purity standards, and only recommend products we feel meet this criteria. 100% PURE™ may earn a small commission for products purchased through affiliate links.
The information in this article is for educational use, and not intended to substitute professional medical advice, diagnosis, or treatment and should not be used as such.
Sign up to our email newsletter for more blog updates and exclusive discounts.
< Older Post | Newer Post >