Why More People Are Using Saffron for Skin
Surprising saffron benefits for skin care and makeup
Posted on October 4, 2021
Written by: 100% PURE ®
Doesn't it feel like there's a new skin care ingredient every week? It seems like one second it's bee venom, and the next it's collagen peptides and CBD!
As research expands and new, innovative formulas are created, we're seeing an emerging golden age for clean and natural beauty. Just twenty years ago, natural skin care was either found in health food stores or homemade. But today, there's an endless amount of effective, high-performance products that take natural ingredients and hone them to their ultimate potential.
We're also seeing a constant cycling of natural ingredients. Notable ones include edible herbs and botanicals like tea tree, rosemary, and sage. But a new ingredient's about to take the clean beauty stage: saffron!
What Is Saffron?
Saffron is a scarlet thread-like pistil harvested from the saffron crocus flower. It's believed to have originated in Greece before expanding across Morocco, India, and Iran.
With its light, almost hay-like fragrance and unique aroma, saffron is a popular spice throughout southwest Asia and the Mediterranean. However, it's extremely precious. This is because each crocus only produces three threads. Plus, it only blooms one week of the year.
When these flowers bloom, the threads are hand-harvested. It takes about 1,000 threads to produce one ounce. As a result, saffron is a high-value ingredient. It's typically quite expensive.
Needless to say, this is a prized spice, and it has been for ages. Consequently, this is why we mostly see saffron in high-end skin care products.
Saffron benefits the skin in many ways. However, it might not be as new and trendy as we're led to believe. So, are saffron benefits really worth the money for your skin? Or is it merely another trending product? To answer this question, let's dive into its traditional uses and possible saffron benefits!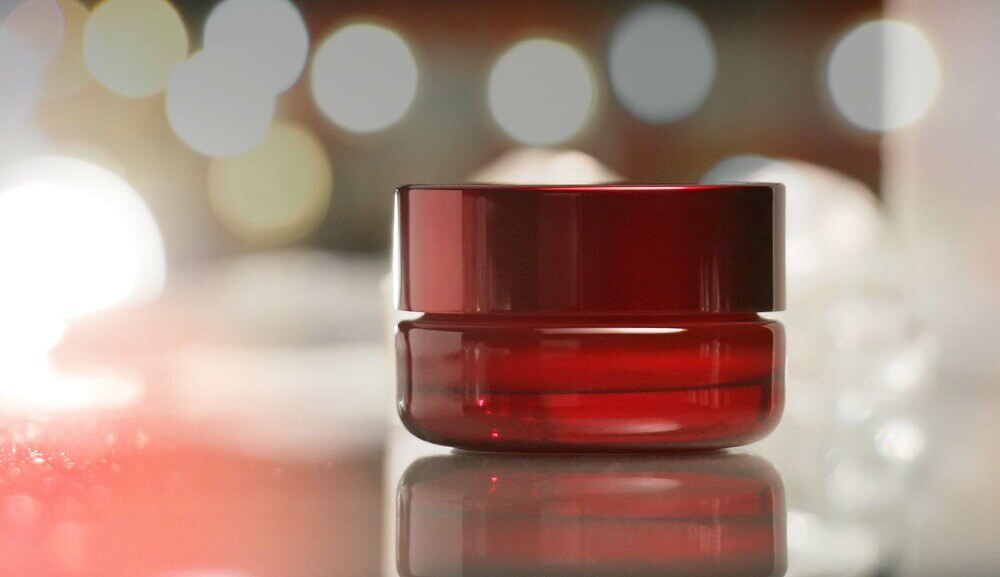 Saffron for Skin: Trend or Tried & True Tradition?
With its emerging buzz and popularity, it's easy to feel as though saffron is a trendy new ingredient. But this couldn't be further from the truth! In fact, this precious botanical has been used since ancient times. The history of saffron is quite vast: humans have been cultivating and using saffron for as long as 3,000 years.
Not only was it said to be a staple in Cleopatra's beauty regimen, but it's been frequently seen in traditional Iranian, Greek, and Indian medicine. It's especially been noted for its anti-inflammatory properties. For many centuries, people have used saffron's benefits to help clear skin, promote smoothness, and hone a healthy glow.
When you think about it, we actually see this a lot in skin care. We tend to shine the spotlight on ingredients that seem new to the market, but their benefits have been known for centuries. Great examples include green tea, Centella asiatica, and rice bran.
All of these ingredients possess unique properties. But for now, let's highlight the unique ways in which saffron benefits the skin.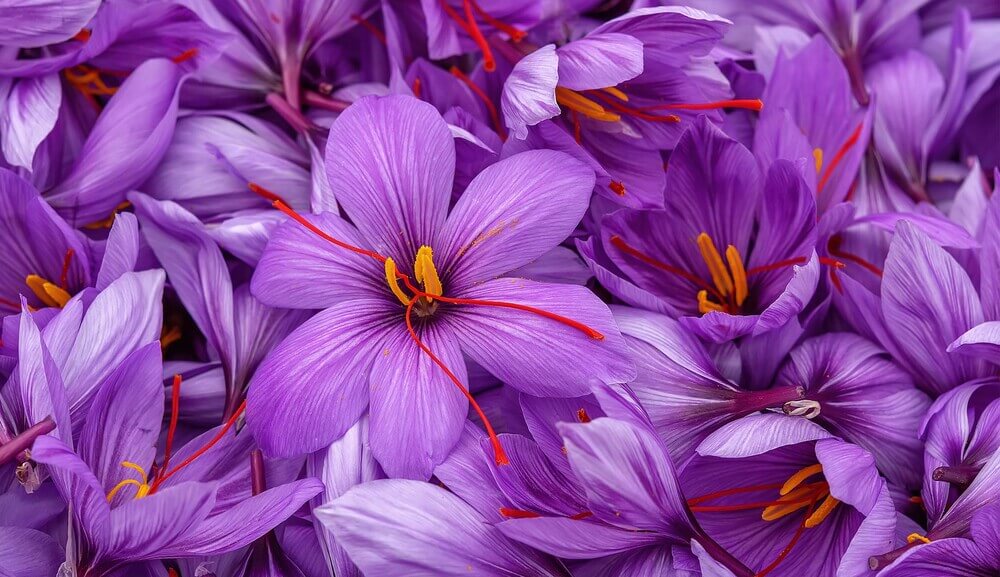 What are the Benefits of Saffron for Skin?
As we can see, saffron's nothing new. While we may be seeing saffron make a splash in the mainstream market for the first time, it's long been prevalent in traditional skin care.
But does long-time use prove an ingredient's effectiveness? Not necessarily. However, part of what makes this era of clean beauty so great is the marriage between nature and science. And in the past few years, researchers have found fascinating evidence showing how saffron benefits the skin.
Hyperpigmentation
Hyperpigmentation occurs on the skin when there's an excess of the pigment melanin. That leads to dark patches of skin. Hyperpigmentation may be caused by hormone changes, acne scarring, and photodamage. Some evidence suggests that saffron may help even out the skin's tone and brighten the complexion.
In one 2013 study, it was found that saffron's active compound crocin decreases melanin by inhibiting the enzyme tyrosinase. And with its gently exfoliating properties, saffron can help to slough away impurities to reveal luminous, glowing skin. If you're seeking out saffron's benefits for skin brightening, try a concentrated serum you can leave on the skin overnight as it repairs itself. A great option is Ranavat's Radiant Rani Illuminating Saffron Serum.
Fine Lines & Wrinkles
Saffron has also been used traditionally as an exfoliant, which can diminish the appearance of fine lines and wrinkles over time. This is particularly due to saffron's high antioxidant content, which can inhibit inflammation in the skin.
Another one of the saffron benefits is that it packs a punch of minerals. It's also known to contain crocin and crocetin. Those are two powerful carotenoids that may possess repairing properties. They can help the skin recover from environmental damage, sun damage, and stress.
When you apply those in the form of a leave-on mask, you're letting the saffron benefits gradually sink into the skin. That's why we love Ranavat's Flawless Veil Resurfacing Saffron Masque.
Sun Damage
When it comes to premature aging, sun damage is arguably the worst offender. While we always encourage the use of sunscreen, hats, and protective clothing, saffron benefits the skin because it may possess anti-sun properties. This effect may help protect our skin from harmful UV rays.
Saffron as a Natural Pigment in Cosmetics
Traditionally, humans have sourced all cosmetic ingredients from the earth. This even holds true for natural, vibrant pigments.
Nowadays, though, this isn't so common. Many beauty brands use dyes, lakes, chromium dioxides, and ultramarines. While some synthetic pigments are safe, many are potentially harmful to our bodies. Some aren't even allowed in lip products because they're too harsh for our delicate lips.
But if you're seeking makeup that's naturally rich in color, saffron benefits makeup pigment, too! Saffron has been historically used to create gorgeous shades of red and gold. With the current trend leaning toward this highly valued plant, we may actually see more saffron pigments in makeup very soon.
We carefully hand-select products based on strict purity standards, and only recommend products we feel meet this criteria. 100% PURE™ may earn a small commission for products purchased through affiliate links.
The information in this article is for educational use, and not intended to substitute professional medical advice, diagnosis, or treatment and should not be used as such.
Sign up to our email newsletter for more blog updates and exclusive discounts.
< Older Post | Newer Post >