How to Switch to Sustainable Food Containers
The best eco-friendly products and materials for food storage
Posted on October 4, 2021
Written by: 100% PURE ®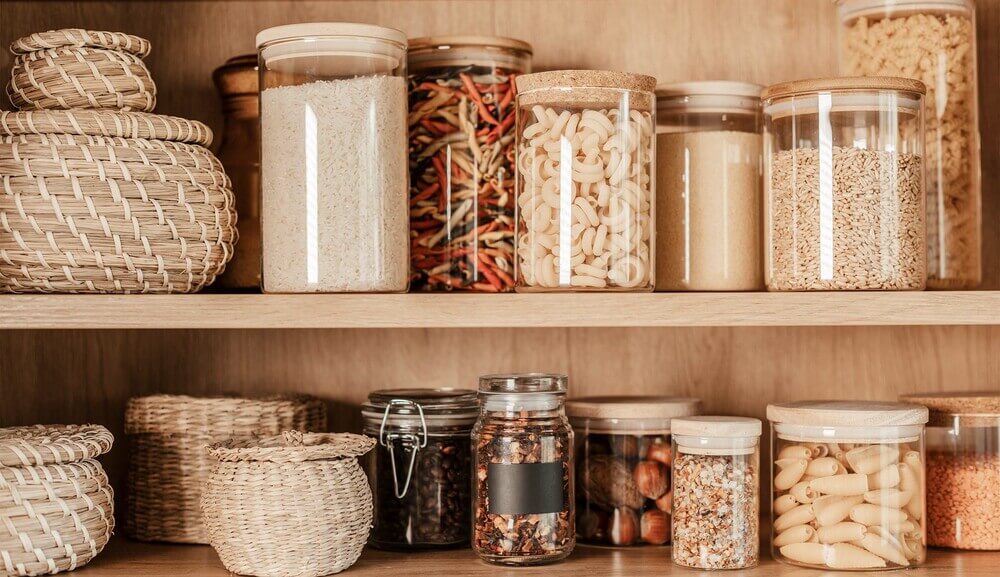 Our collective plastic addiction has had long-lasting consequences on our environment. Think about the tons of single-use plastic products used to store, wrap, freeze, and package food items that are then just tossed in the trash. The majority end up in landfills and oceans.
If you're looking to reduce your single-use plastics footprint, you've come to the right place. We're highlighting the do's and don'ts of storing your food and the best eco-friendly products for food storage to suit your sustainable needs.
The Impact of Single-Use Plastic (and What You Can Do About It)
Single-use plastics are an environmental nightmare. As if all the non-biodegradable modern plastic conveniences weren't already making our ocean life and public health unhappy campers, enter single-use plastics. The additional use of plastic food packaging or cutlery – especially with the spike in takeout during the pandemic – has even Mother Earth raising an eyebrow.
Thankfully, eco-friendly products for food packaging are on the rise. Some of them might already be in your kitchen, like glass and stainless steel storage containers. You may also own cloth bags for shopping and sacks for storage. There are also eco-friendly food packages that often use sustainable bioplastics and plant-based extracts, such as wheat, wood, and bamboo.
Food Storage Do's and Don'ts
You've gone to the trouble of ordering or shopping for food to create delicious, homemade meals. What about leftovers, and freezing food? How about packing lunches? Let's give them a healthy home with eco-friendly products that serve as alternatives to plastic. Follow these simple do's and don'ts to store your food safely and longer – sans harming the planet or your health.
DO: Use glass storage
Long accepted as a material for cookware, items made from glass are long-lasting and eco-friendly food storage options. Mason jars are great for dry goods, and they're cute!
DO: Buy in bulk
Bulk buying is more environmentally (and wallet) friendly. It has less packaging material per use than smaller items – and less waste!
DO: Invest in stainless steel storage
Yes, we said invest as stainless steel containers can be a bit pricey. But the material is long-lasting, eco-friendly, and better on your wallet in the long run. It's also perfect for packing lunches that stay fresh all day.
DO: Get some silicone containers
Speaking of lunches, if you're nervous about packing your kids' lunches in glass or don't want their sandwiches smashed in a brown bag, try silicone containers. Like glass, silicone options like a Bento Box are safe, long-lasting, and eco-friendly products. Plus, you get to pack different foods in one container.
DON'T: Microwave plastics
Plastic and microwaves are a bad match. Chemicals are often added to plastic to help it keep its shape and pliability, which could leak into food when microwaved. Heat food in glass or microwave-safe porcelain.
DON'T: Use single-use plastic storage
Switching to eco-friendly products helps with the food storage choices you make at home. Plus, you get biodegradable and reusable options that are better for the planet – and your health!
DON'T: Use single-use zip storage bags
Plastic zip storage bags can be tricky to effectively and safely clean for reuse. A good eco-friendly product substitute is reusable silicone zip storage bags. You can safely put those in the freezer, microwave, or dishwasher.
DON'T: Buy single-use picnic wear
Plastic plates and cutlery might be inexpensive and handy when having picnics. But once they're thrown away, they often end up in landfills and oceans.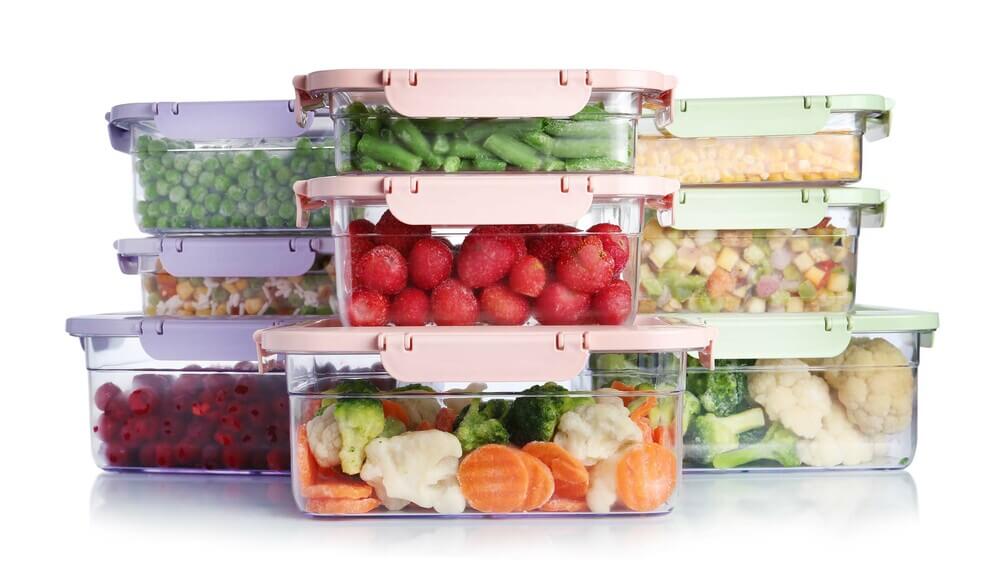 Which Materials Are the Eco-Friendliest Food Storage Options?
We understand that going completely plastic-free can take some time and practice. But cutting down on your usage, especially for food storage, can go a long way toward protecting the health of your family and of the planet. So which materials make the most (or least) eco-friendly and sustainable food containers? We've ranked them for you!
#1. Glass
Glass containers are king for food storage. This material is nonporous, meaning it won't absorb food odors or flavors.
#2. Metal/Stainless steel
If you're looking for long-lasting options, stainless steel containers might be your best bet. Made of high quality, food-grade stainless steel, and BPA-, phthalate-, PVC-, and lead-free, (all the bad stuff), this material is durable. It's also dishwasher-, freezer-, and oven-safe.
#3. Silicone
BPA-free, washable, and leak-proof, silicone options like lunch boxes and zip storage bags are great eco-friendly products. With reusable bags, you'll save money and cut down on single-use plastic waste.
#4. Bamboo
Switching to reusable palm leaf or bamboo pulp plates and utensils can be a sustainable option compared to plastics. Add utensils from home for an even more sustainable picnic!
#5. Plastic
Many conventional plastics contain additives and chemicals that are harmful to the environment and your health. Plus, they don't break down into natural substances our ecosystem can handle. And while most plastics certainly can be recycled, something like 90% of all plastic ever made has never been recycled.
Eco-Friendly Products for Food Storage
If you've been storing and heating food in plastic for years, don't panic. Switching to eco-friendly food storage containers has been easier in recent years with the rise in sustainable storage options. Check out some of the top eco-friendly products for food storage.
INKA Food Containers
If you're looking for the ultimate in sustainability, INKA creates food containers that are 70-percent stronger than traditional foodware, so you never need to buy another storage container again. Using Tritan Copolyester also used to make luxury appliances, these containers are leak-proof, microwavable, and dishwasher-safe too.
Cleancult Refillable Jars
Looking to reduce your plastic and carbon footprint? Cleancult creates refillable glass jars that are sleek and modern. They also come in different color options to fit your home aesthetic. Featuring shatter-resistant glass, these containers can easily tuck away in a small pantry or make themselves comfortable out on your counter.
EarthHero Silicone Clear Sandwich Stashers
EarthHero makes it simple for you to buy reliable, eco-friendly products that are produced using sustainable methods and materials. Whether you're looking for silicone sandwich containers or reusable storage and food bags, EarthHero has it all! They also have a huge selection of stainless steel food storage containers.
Food52 Microwavable Nested Storage Bowls
Food52 has a fresh take on food storage. They offer many options for your produce, pantry staples, and leftovers. Those include eco-friendly jars and canisters, freezer-friendly bowls and lids, and totes and containers made with lunches in mind. They also have a wide selection of stainless steel and silicone food storage options.
The more plastic we continue to use in our kitchens, the bigger toll it'll take on the ocean and wildlife – not to mention public health. By swapping plastic food storage with eco-friendly products to store food, we will be saving our wallets in the short term, and our planet in the long term.
We carefully hand-select products based on strict purity standards, and only recommend products we feel meet this criteria. 100% PURE™ may earn a small commission for products purchased through affiliate links.
The information in this article is for educational use, and not intended to substitute professional medical advice, diagnosis, or treatment and should not be used as such.
Sign up to our email newsletter for more blog updates and exclusive discounts.
< Older Post | Newer Post >