What Is a Cleansing Milk?
Dry and sensitive skin types, listen up: here's the skinny on this creamy, dreamy cleanser category
Posted on January 13, 2021
Written by: 100% PURE ®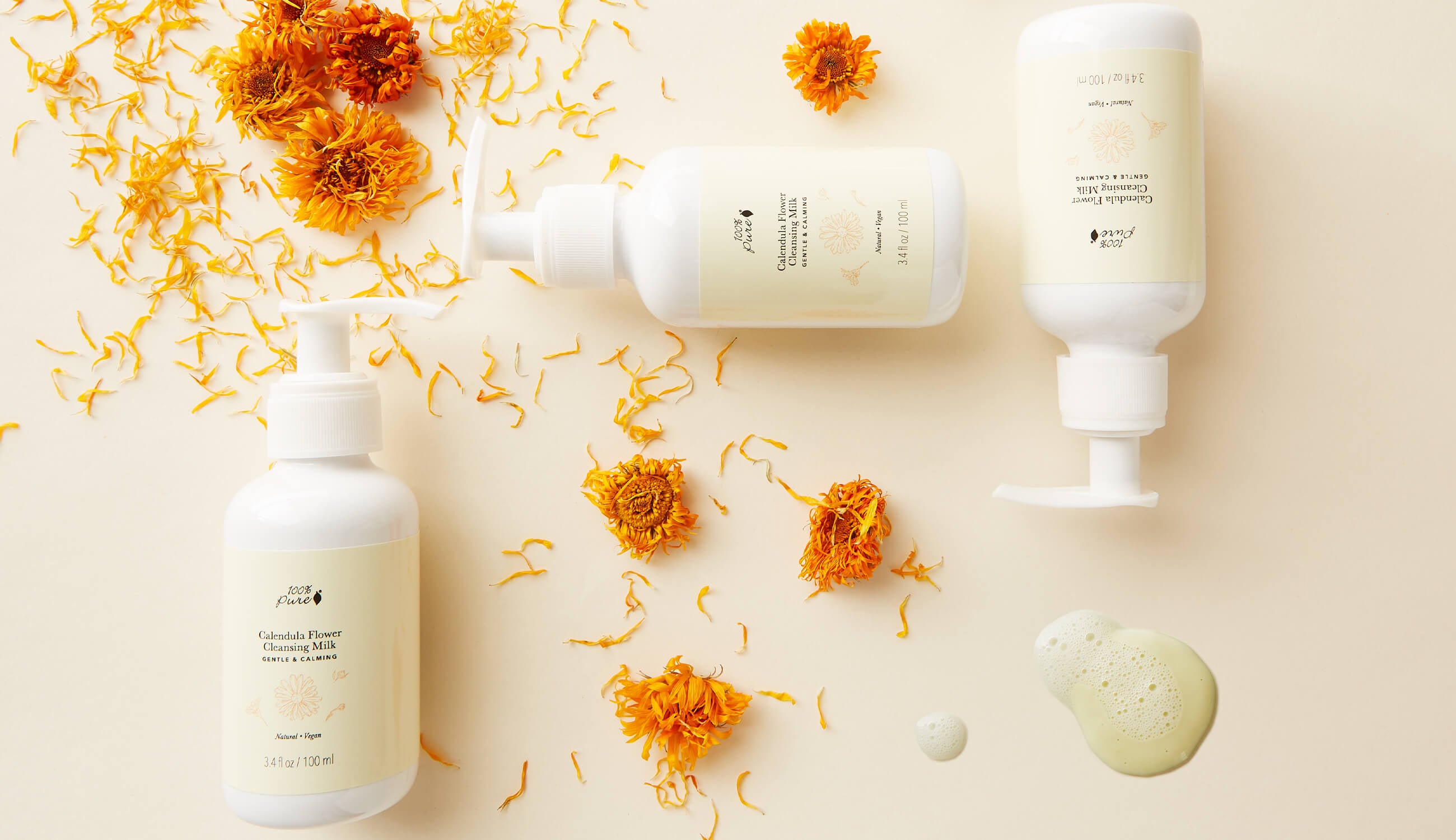 The spring thaw is on the horizon, but that winter chill is still wreaking havoc on our skin.
Did you know that changing your cleanser can help to balance your skin? If you have sensitive skin, dryness, or are looking for a more gentle cleanse, try a facial cleansing milk on for size. The balance of healthy fats and hydration in a cleansing milk could be the treatment your skin is asking for – we'll break it down for you!
Got (Cleansing) Milk?
What makes a cleansing milk different from other cleansers? Physically, cleansing your face with a cleansing milk feels like dipping your skin into a cloud – they're softer, creamier, and thinner than your average gel cleanser.
Water vs. oil content
In the world of cleansers, cleansing milk doesn't get as much attention as their scrubby counterparts. A typical skin cleanser requires water as an activator; the water creates the cleanser's final texture, be it a lather or scrub. Many prefer to apply cleansing milk directly to skin without water, since the lathering action comes from the fats in the formula itself.
What makes a cleansing milk unique is the combination of oil and water. As we mentioned, there's really no need to add water to use, meaning there's no surfactant cleansing agent at work. Water is really only needed to rinse the cleanser away after you've massaged it over your skin.
The same cleansing milk components feeding the skin supportive nutrients are also working to cleanse away dirt and debris. Multi-tasking ingredients like coconut oil in our Coconut Oil Cleansing Milk provides vitamin E support, moisturizing and softening properties, as well as antibacterial cleansing and a deep, gentle clean.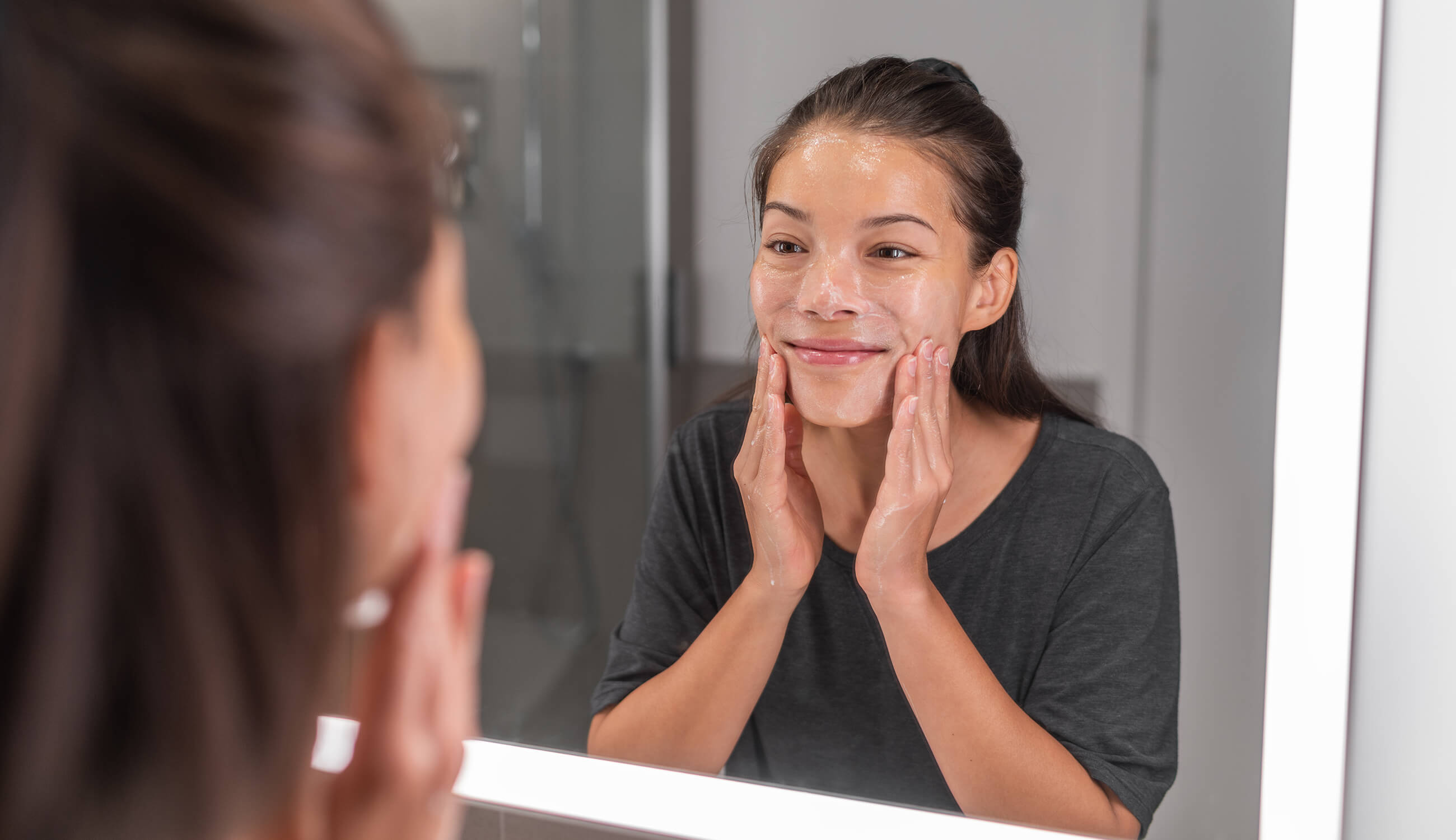 Creamy, dreamy texture
Texture is the name of the game with cleansing milks. The smooth creaminess sweeps into our pores, gently lifting away surface debris while preserving the natural moisture and softness of our skin. Some harsher cleansers can be stripping, leaving skin dry and tight. Cleansing milks are pillow-soft with emollient qualities, which is what makes these types of cleansers excellent for dry and sensitive skin types.
Two-for-one cleansing action
We stan a simple evening routine, and finding a cleanser that tackles dirt as well as makeup is like hitting the lottery. Cleansing milk makes our makeup removing and cleansing process a two-for-one experience, and allows us to keep our skin care routine as uncomplicated as possible.
Gentle enough for your morning cleanse
Rise and shine, Sleeping Beauty; it's time for your morning facial! Your skin might be a bit puffy from staying up all night with Prince Charming – uneven skin tone, dark circles, and dryness are real instances in which we #WokeUpLikeThis.
We don't want to attack our skin with astringents or super textured cleansers while it's already trying to repair, especially if your skin type is combination or dry. Instead, smoothing on a calming cleansing milk first thing in the morning sweeps away any residue from your hair, pillow, or sweat. It jump-starts the moisturization and hydration process, and allows skin a moment of recovery in an otherwise hectic morning.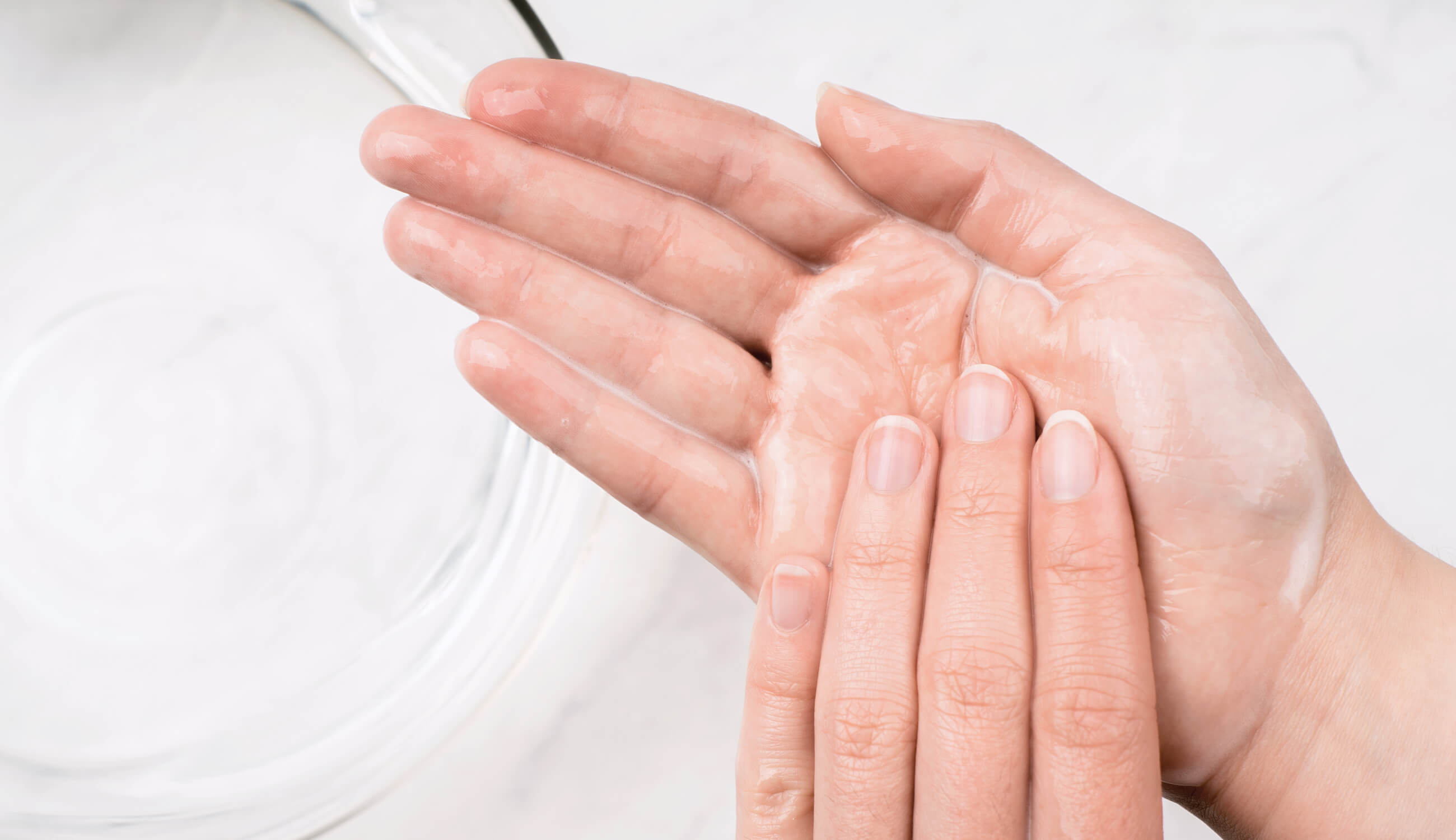 Who Shouldn't Use a Cleansing Milk?
Cleansing milks are great, but there are certain times or specific skin types that might benefit from more targeted care. For example, someone suffering from moderate to severe acne would see the most calming results from cleansers that target breakouts. Preferable ingredients might include tea tree oil, charcoal, or lavender, while oil-forward and emollient components in a cleansing milk aren't likely to have power over active breakouts.
This also means that somewhat to very oily skin types are better suited with cleansers specifically designed to balance sebum, rather than a cleansing milk.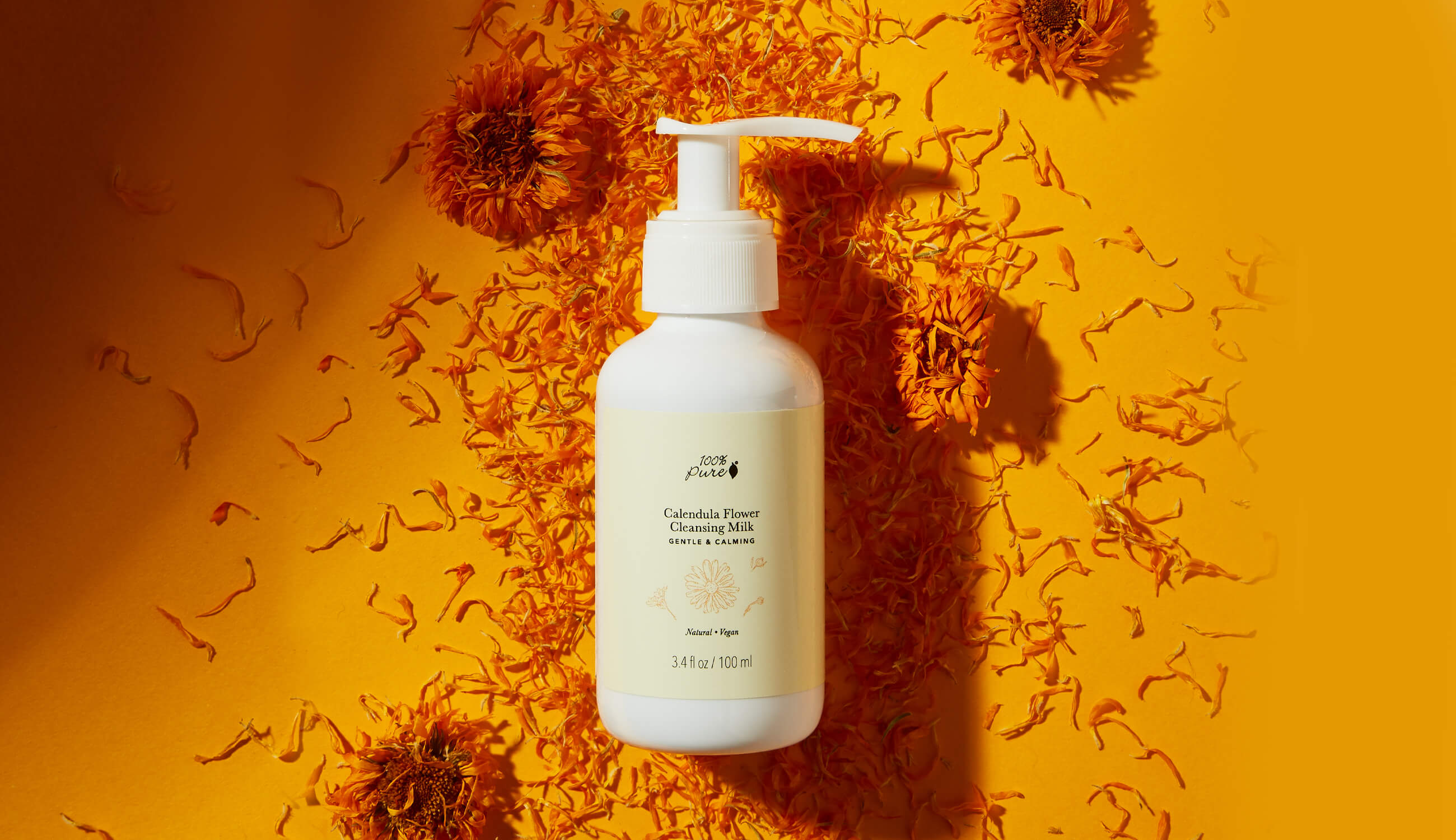 100% PURE™ Cleansing Milks
Calendula Flower Cleansing Milk
We'll never get over just how creamy and luxurious cleansing milks feel on the skin. Here's what makes our all new Calendula Flower Cleansing Milk a total crowd-pleaser!
This floral fantasy cleansing milk does wonders for the skin. A single pump delivers milky hydration that smooths over the skin like early morning mist, addressing any imbalances on the surface first. Calming natural ingredients and botanicals are what make this gentle gem a favorite skin treatment for dry or sensitive skin types.
Water Content
The type of water included in this cleansing milk is what makes it transformative for the skin:
Aloe Vera Leaf Juice: One of our favorite skin care formula bases, aloe feels like slipping into satin pajamas for our skin. This skin savior soothes active inflammation like acne and rosacea, while helping to clear the complexion and hydrate skin.

Glycerin: A humectant power player when it comes to hydration, glycerin helps boost and maintain skin's moisture levels by drawing in the hydration it needs from the environment.

Calendula Flower Water: The star of the show, this lovely floral is lesser known but effective for diminishing inflammation. Natural brightening properties deliver on a more youthful glow.

Rose Water: A favorite floral of ours, red and rosy skin take a backseat with this hydrating, super soothing ingredient.
Oil Content
As we now know, cleansing milk is a harmony of water and oil-based ingredients. This marriage makes for a unique blend of hydrating, moisturizing, and purifying abilities for the skin. Our Calendula Cleansing Milk features the following fruity and floral oils to deliver calm, cleansed skin:
Calendula Oil: To add to the list of what we love about calendula, this flower also helps preserve our skin's collagen and maintain tight, plump skin for a youthful appearance.

Sea Buckthorn Fruit Oil: This shrub extract is perfect for addressing inflammatory skin conditions but also helps with new skin cell generation for fewer lines and smoother skin.

Chamomile & Geranium Oils: A sweet blend that makes for a calming skin remedy to reduce irritation and breakouts
Just as important as what it includes, is what this natural cleansing milk leaves out. Free of surfactants and synthetic fragrances, this vegan cleansing milk makes dry skin woes, deep dirt, and surface skin debris just melt away.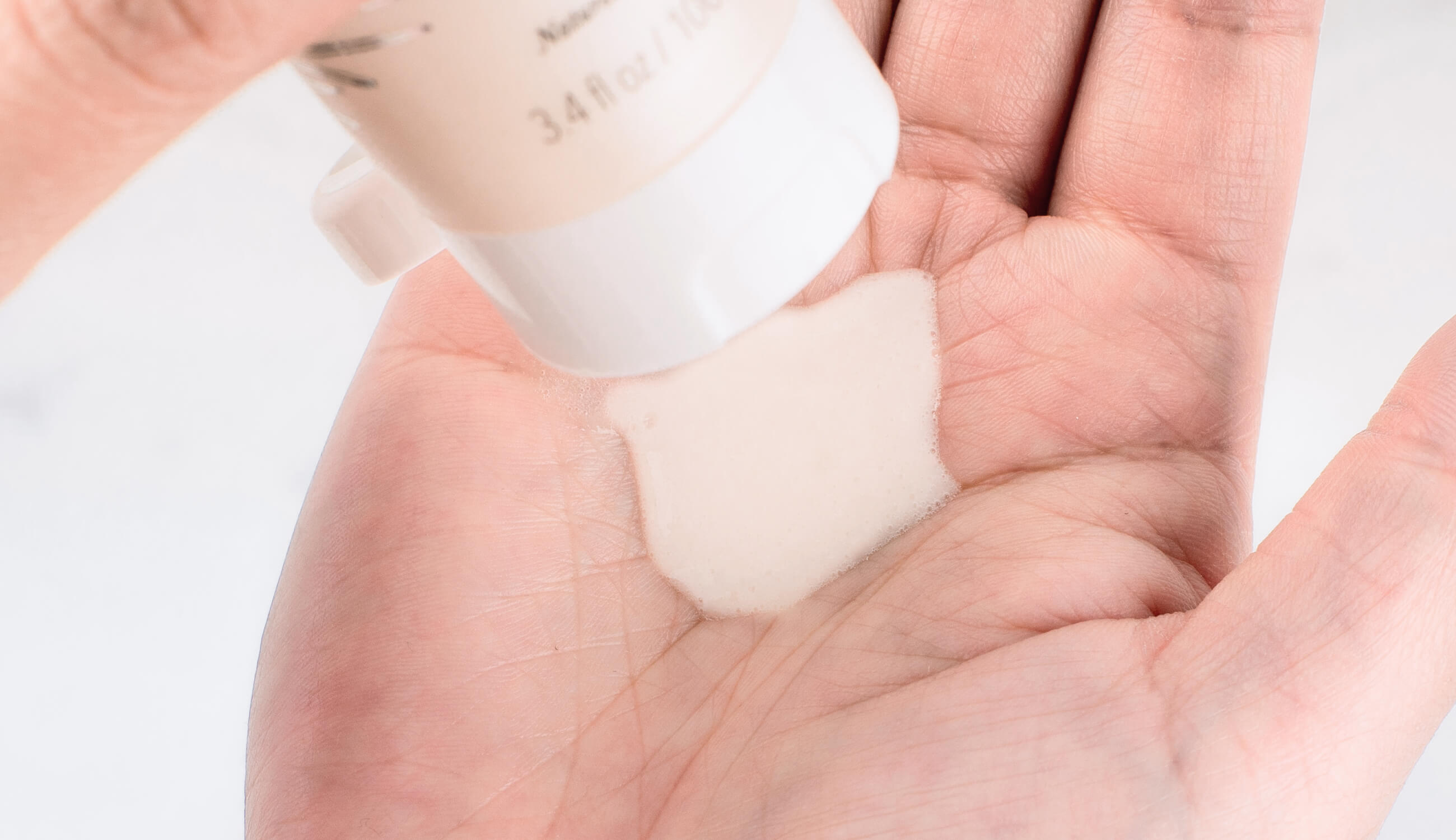 Coconut Oil Cleansing Milk
Boasting just six ingredients, sensitive skin types and dry skin alike will appreciate the simplicity of our Coconut Oil Cleansing Milk. Sink into creamy, dreamy softness as coconut milk brightens and smooths skin by working to restore elasticity.
Coconut oil delivers fatty acids right where we want them, is at work helping to pull out anything undesirable on or in our skin. Fragrant, anti-inflammatory vanilla supports skin soothing while working with coconut milk to boost suppleness. With natural humectant properties from vanilla, glycerin, and coconut, this cleanser will stay on standby to keep skin hydrated well after you rinse it off.
This formula might make you thirsty for a fresh-cut coconut on the beach – meanwhile, let your skin experience the soothing bliss of a gentle, luxurious cleansing milk made from real coconut!
We carefully hand-select products based on strict purity standards, and only recommend products we feel meet this criteria. 100% PURE™ may earn a small commission for products purchased through affiliate links.
The information in this article is for educational use, and not intended to substitute professional medical advice, diagnosis, or treatment and should not be used as such.
Sign up to our email newsletter for more blog updates and exclusive discounts.
< Older Post | Newer Post >