Vitamin C Serum for Brighter, Firmer Skin
A behind-the-scenes look at the science and benefits of a skin care phenomenon
Posted on April 4, 2022
Written by: 100% PURE®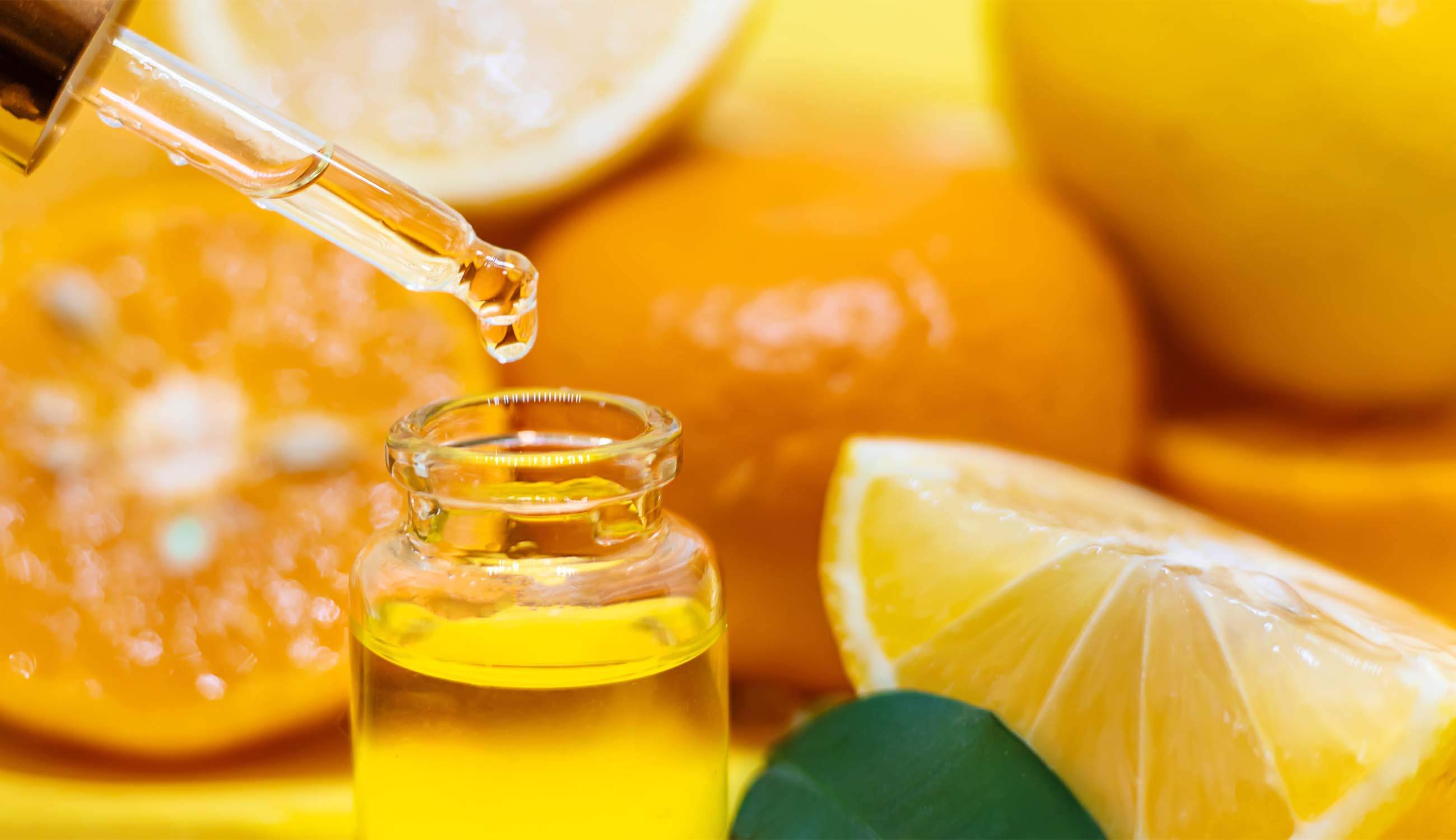 Citrus is an all-around health superstar, and that's no secret. Just try sipping an alkalizing citrus-infused water, or using a skin brightening vitamin C serum. You'll get why we're more than a little citrus obsessed!
Vitamin C has a unique status as an anti-aging superstar. It's the only collagen stimulator that also boasts powerful antioxidant properties. Skin care experts from around the world recommend vitamin C as an essential ingredient in an anti-aging regime. This vitamin is so much more than a cold-buster in winter – it's a potent topical vitamin with a multitude of benefits for your skin. It's time to give our Vitamin C Serum some much deserved airtime!
Top 3 Skin Benefits of Vitamin C
Vitamin C has a broad spectrum of benefits. They include collagen stimulation and increased cell turnover, which means brighter skin tone over time. It also provides protection against free-radical assailants (like UV rays and pollution), and reduction in hyperpigmentation. That makes vitamin C a must have for fighting dark spots, dark circles, and blemishes.
1. Promotes collagen and elastin production
Collagen is a protein that keeps your skin feeling firm and youthful. Vitamin C promotes collagen production, thus fighting against wrinkles and keeping your skin plump. Collagen production slows down when we reach about thirty years of age, but don't stress – vitamin C can help our bodies produce more.
Scared of crow's feet around your eyes? Vitamin C in our formulations is highly stable, meaning you can apply it around the delicate eye area. Our Multi-Vitamin + Antioxidants Eye Treatment is a great PM wrinkle treatment, made without that nasty sting. Vitamin C also stimulates elastin production to bring youthful bounce to your skin.
2. Prevents and diminishes dark spots
Age spots, brown spots, sun spots… we want all of them gone. Vitamin C decreases melanin formation and protects against UV damage. If you don't have any spots yet, vitamin C can help keep them away. Vitamin C is a powerful antioxidant that fights against free radical damage and related hyerpigmentation, helping to keep your skin spot-free.
3. Brightens the complexion
We all want a healthy glow that makes us look youthful and refreshed. High antioxidant potential in vitamin C means healthier skin cell function and better moisture retention for glowing skin. In addition to enlivening skin with its antioxidant properties, vitamin C also enhances a brighter complexion. It does this by working synergistically with vitamin E. The two vitamins increase protection against photoaging and cancer.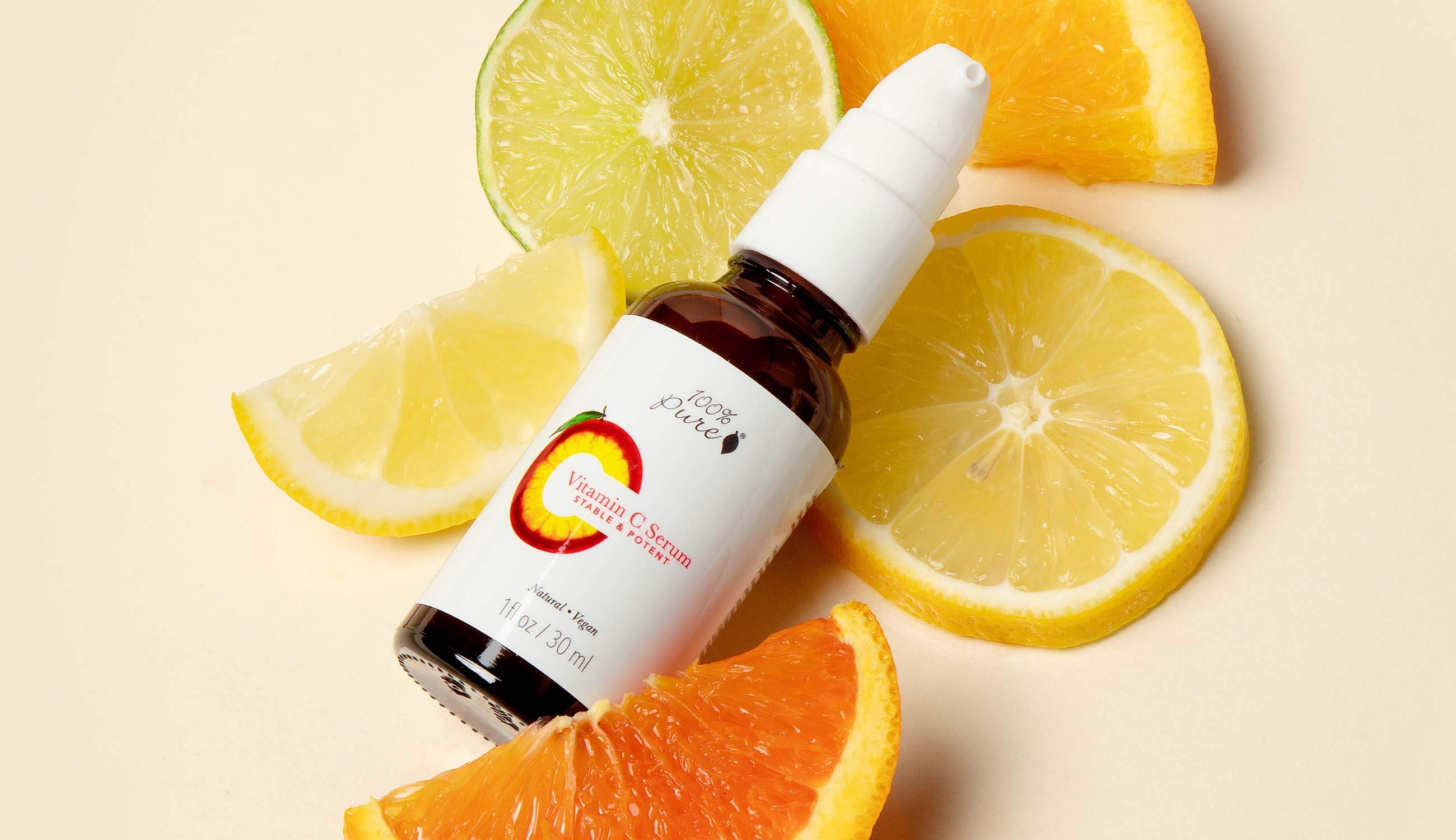 Why Use a Vitamin C Serum?
With these impressive anti-aging benefits in mind, we began incorporating naturally derived Vitamin C into our age-conscious formulas. Our Corrective Skin Care Guide takes you through the A to Z of healing and protecting mature skin cells. We've also given you the breakdown of the role vitamins play in age-corrective beauty.
Newsletter
Subscribe
for more blog updates and exclusive discounts
Vitamin C is incredibly important for skin health. It acts as a potent antioxidant, with the ability to prevent and treat UV induced photodamage. With age and cumulative exposure to the elements, our skin cells become less efficient at processing damaged skin and pollutants. Enter our age-battling Vitamin C Serum!
Our natural Vitamin C Serum is safe for all skin types (even sensitive skin). It's a must-have in the quest for reduced fine lines and wrinkles, pores, and discoloration. We've packed our serum with ingredients that work synergistically with vitamin C, to improve skin's texture and appearance. Naturally, this baby is an MVP for aging skin and younger skin alike. Whatever your deal is, we've got your back.
What Makes Our Vitamin C Serum So Special?
Today we're taking a closer look at our Vitamin C Serum formula. A critical piece of the #cleanbeauty movement is asking questions about what you're putting on your face. In the spirit of transparency, we're offering up the ins-and-outs of our beloved vitamin C formula.
Our Vitamin C Serum contains a concentrated, stabilized, and easily absorbable form of plant-derived vitamin C. This boosts the potential for better collagen production and potent antioxidant defense.
Conventional cosmetic companies use less stable forms of vitamin C, which oxidize too quickly and can spell trouble for your skin. During oxidation, vitamin C converts to skin damaging free radicals, which accelerate signs of aging and degenerative skin diseases. 100% PURE co-founder Susie Wang first discovered this when she was a freshman in college, and made it her mission to flip the script on harmful vitamin c oxidation in skin care.
Susie's years of experience and expertise resulted in a stable and potent serum with pure vitamin C content. Our fast-absorbing Vitamin C Serum contains a more stable, higher quality form of vitamin C called magnesium ascorbyl phosphate.
PRO TIP: Magnesium Ascorbyl Phosphate is so stable that it works synergistically with niacinamide, a vitamin that normally clashes with vitamin C. Thanks to expert formulations by our product development team, these two superstars join forces in our anti-aging Multi-Vitamin + Antioxidants Potent PM Serum.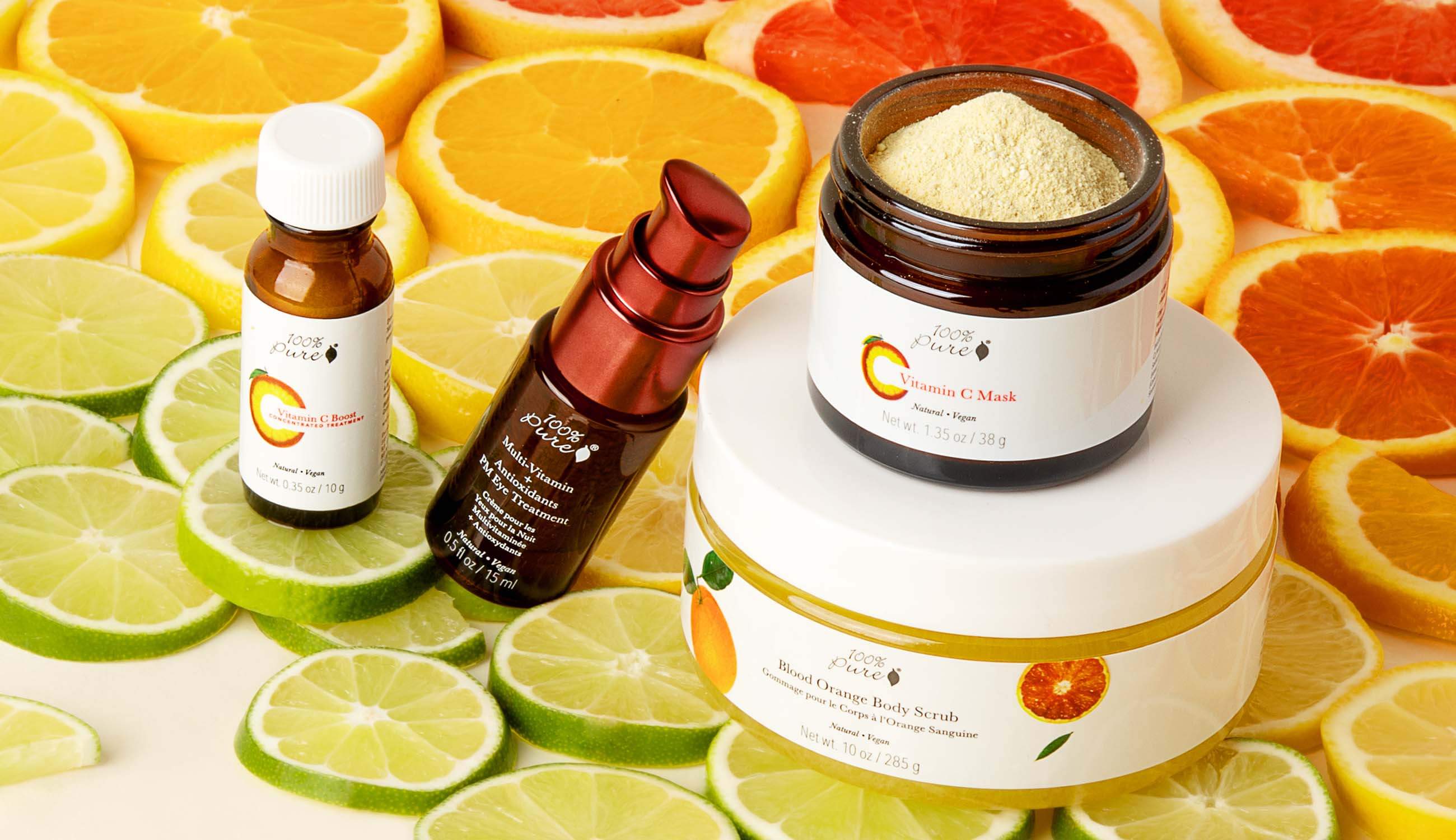 A uniquely buffered vitamin C isn't all our Vitamin C Serum has to offer! It's also crafted with a base of ultra soothing and anti-inflammatory organic aloe gel. Aloe works synergistically with vitamin E to gently fight skin damage and inflammation.
To even skin tone, we've included green apple extract. Green apple is a brightening ingredient that naturally increases the serum's Vitamin C content.
For a major antioxidant boost, the formula relies on naturally derived Superoxide Dismutase (found in broccoli), and Alpha Lipoic Acid. ALA is a powerful metabolic ingredient that's crucial for reducing inflammation and remodeling collagen in skin cells. Add a dash of witch hazel for a toning effect. As a package? Small, lightweight, and your new best friend.
Together these ingredients work to increase elasticity and firmness, and encourage a brighter complexion. With consistent use, you can expect fine lines to reduce in depth, and scarring to fade. Plus, neutralized free radicals means you'll be warding off further damage from the wear and tear of everyday life.
How to Use Vitamin C Serum
When using a vitamin C serum, day and nighttime use both have their benefits! (If you're experimenting with a multi-step PM routine, peep our Korean Skin Care Routine for some clarity.)
Before applying vitamin C serum, soften and prep your skin with a toner. We recommend one with hyaluronic acid like our Restorative Sea Culture Hydrating Toner, or the Rose Water Face Mist for calming skin hydration.
Pump a small amount of vitamin C serum onto your fingers. Gently pat and press the formula over your face and neck (even around eyes, as our formula is stable and won't irritate). For normal-to-dry skin, follow with a protective night cream like our Multi-Vitamin + Antioxidants Ultra Riché PM Treatment. This rich moisturizer will help lock the serum nutrients into your skin.
If you love vitamin C, you couldn't have come to a better place! Susie made it her mission to patent a stabilized form of vitamin C, and 100% PURE vitamin C products are a result of her success. Check out the skin care feed of our blog for more on how Susie Wang formulates the most stable (and potent) vitamin C products, how skin care is absorbed into skin, and how to find the best serum for your skin type!
We carefully hand-select products based on strict purity standards, and only recommend products we feel meet this criteria. 100% PURE™ may earn a small commission for products purchased through affiliate links.
The information in this article is for educational use, and not intended to substitute professional medical advice, diagnosis, or treatment and should not be used as such.
Sign up to our email newsletter for more blog updates and exclusive discounts.
< Older Post | Newer Post >