How to Strengthen Weak, Brittle Nails
Tips and products for the best brittle nail treatments at home
Posted on August 20, 2023
Written by: 100% PURE®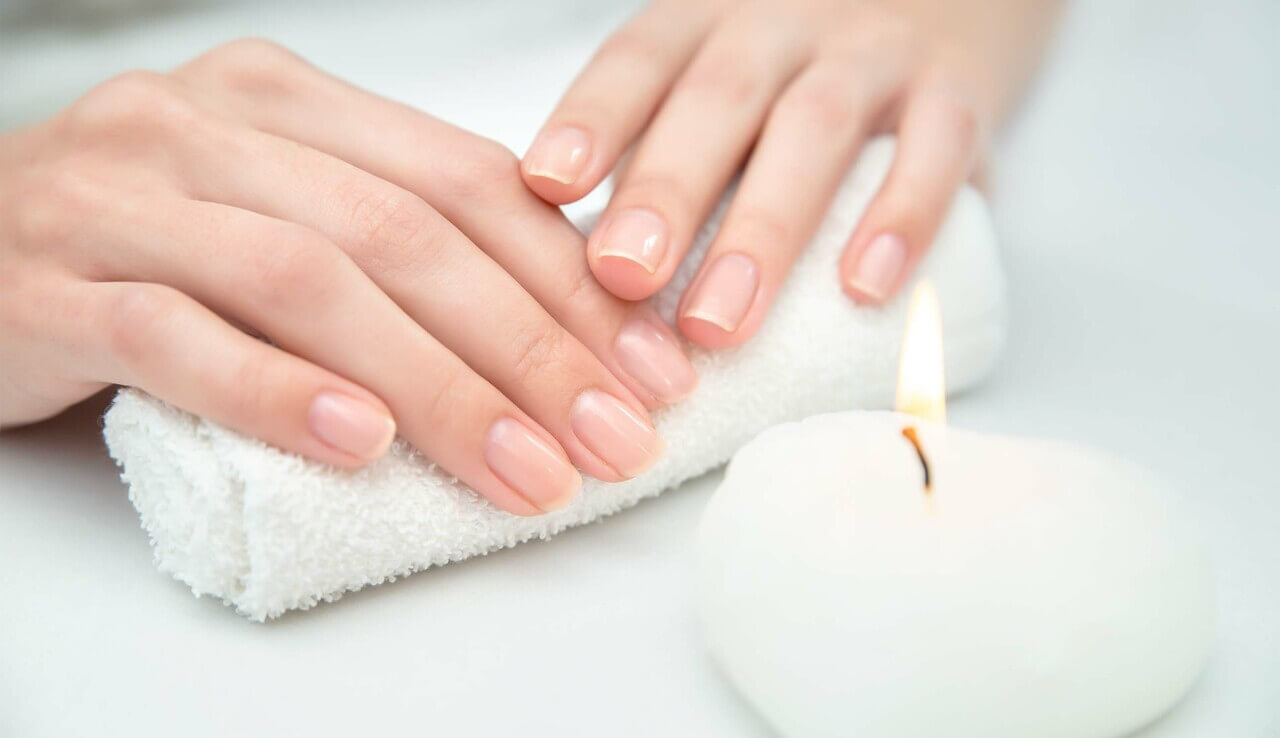 Ever notice how as soon as the weather changes, suddenly, our nails and skin start to suffer? It is not a coincidence. The colder weather is harsher on the body and can exacerbate anything going on with our largest organ – our skin. This is especially true for those of us in extreme climates.
For those of us with nails exhibiting some signs of needing a little TLC, let's take a look at the various nail conditions, what causes the different types of damage, and how to strengthen nails by practicing nail self-care this autumn and winter.
Signs of Weak Nails
The most common signs of weakened nails are pretty obvious, but a few of these might be subtle or surprising. Check your nail beds to see how healthy your fingernails (and toes!) are so far this fall. Do you notice any of these characteristics?
What are brittle nails caused by? Not surprisingly, they're often caused by a lack of moisture. This could mean dehydration, lack of moisturizing soaps, skipping lotion, or being in harsh weather conditions that are drying out the skin. Brittle nails can also be a sign of fungus, depending on how severe, or even thyroid issues.
We often expose our nails to minor trauma, and in some cases, that's the cause of lifting. Chemical exposure to some salon products for treatments like nail extensions can cause minor damage to the nails that can separate the nail from the nail bed.
Suffering from inflammatory skin conditions, like psoriasis, eczema, or dermatitis? These conditions are some of the most common causes of lifting nails. Finally, some medications, such as chemotherapy, can impact the skin and nails and cause nail separation as well.
Peeling of the nails (and skin around the nails, like the cuticles) can be caused by our nail habits (we're looking at you, pickers!) along with nail extensions, acrylic nails, and gel polish, as with nail lifting. Trendy nail treatments can dehydrate the nail and cause the outermost layers to dry out, separating similarly to dry skin.
One important note about this type of nail trauma, in particular, is that it can be a sign of underlying conditions like anemia and thyroid imbalance.
Most nail beds are a deep, warm pink or peach color, pigmented by the tissue under our skin. When the nails are showing signs of discoloration, the surface of the nail may appear gray, green, yellow-ish, or even dark purple and blue if the nail was physically damaged and bruised.
Green and yellow hues are not to be ignored, as they may speak to an active or budding infection or fungus. The darker colors indicate trapped blood. This can lead to textured or lumpy nails while the nail bed heals itself and pushes off the damaged area.
Soft or soggy nails – you guessed it – often come from increased or incessant moisture. It's like the severe wrinkling many of us experience at the end of a bath or after washing dishes. That extended exposure to moisture can be absorbed by the nail, causing the structure to weaken and bend or disintegrate.
When our nails have been banged, slammed, yanked, or experience some type of other kind of trauma, it can cause a lasting effect. That can include impacting the texture of the nail itself. Textured or ridged nails usually come as no surprise, as these types of physical trauma are almost always the cause. With age, or with certain deficiencies like anemia, the texture of our nails can morph from a smooth flat plate to a ridged, bumpy texture.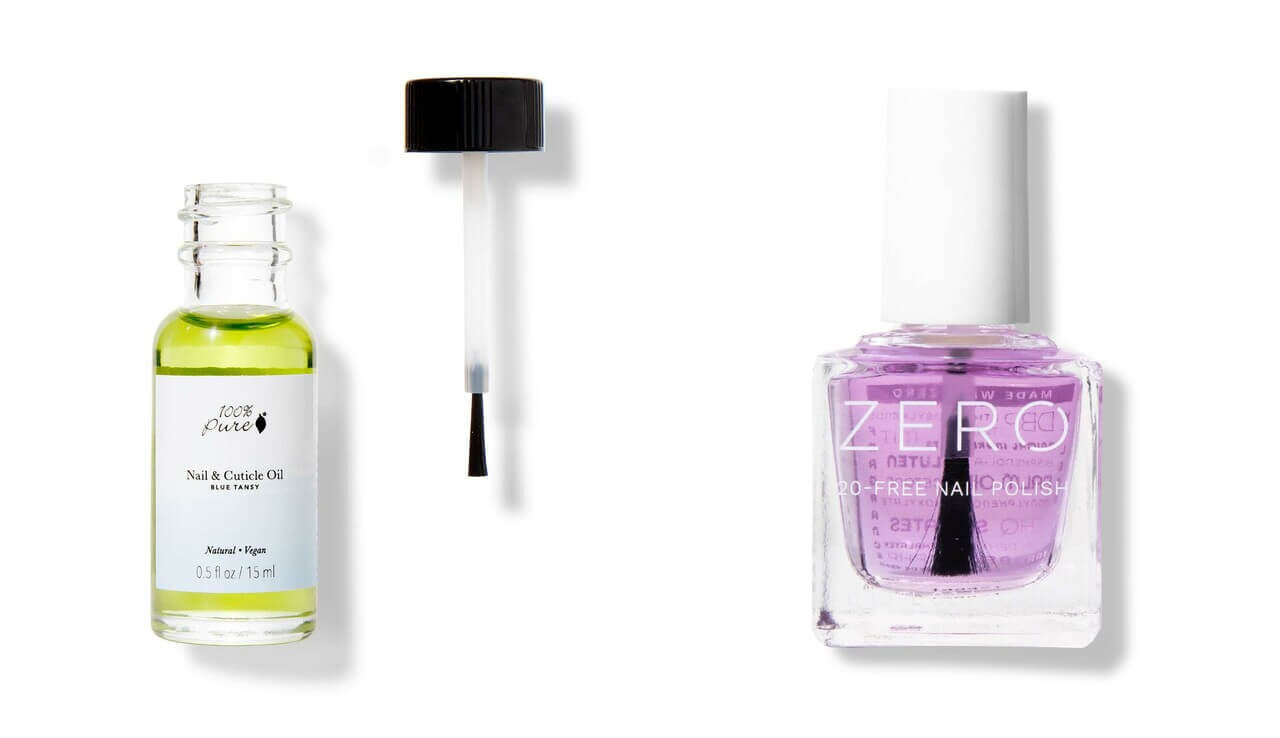 How to Strengthen Weak or Brittle Nails
While there are definitely quite a few things that can be going not quite right with our nails, fortunately, brittle nails treatment and remedies for texture, peeling, weakness, and discoloration are out there. Wondering how to strengthen nails? Here's a full self-care nail care routine that's sure to improve the strength and quality of both toe and fingernails.
Newsletter
Subscribe
for more blog updates and exclusive discounts
Daytime Nail Care Routine
Our first brittle nails treatment step starts in the shower – or just after, we should say. We always take extra time drying our hands and feet. These small spaces can hold and trap moisture, leading to soggy nails, discoloration, and nail fungus.
Just as we shower, wash our faces, and brush our teeth every morning, our hands should be cared for and addressed. As we're applying our daily SPF and moisturizer, we're sure to rub a bit of lotion or hand cream into our hands and nails as well. This ensures that the skin is kept moisturized and soft. It also helps to ward off rough skin and helps to prevent peeling and brittle nails.
Vitamins and supplements are already a part of most of our daily routines. Whether you take your vitamins in the morning or at night isn't important. However, including biotin, iron, vitamin E, and keratin can help to heal or improve the skin and nails.
If the trips for our weekly mani-pedi don't include nail trimming, nail buffing, cuticle oil, and a strengthening coat of polish, this is something we definitely make sure to take care of at home.
DIY nail treats are how to strengthen brittle nails. This helps to prevent the nails from splitting and snagging or getting painful hangnails. It also keeps the nails smooth and ridge-free, as textured nails can develop with age and lack of care. These types of treatments also help to protect from the environmental impact of harsh, cold weather.
Our DIY nail routine always starts with a trim and file. Then, we start with a strengthening nail base of 20-free Horsetail Base Coat. If you're looking for a fun fall color choice, some of our faves include Silver Screen and I'm A Little Rusty. Protect your color with our Glass Top Coat Polish, which protects color from chipping while enhancing vibrancy and giving nails a glass-like finish.
Finish up with Nail & Cuticle Oil and a generous coat of Vanilla Bean Hand Buttercream massaged into the fingers and nails. For extra dry skin, opt for our Honey Almond Hand Buttercream, which is a non-greasy hand cream made with rich cocoa, avocado, and shea butters. It's fortified with anti-aging vitamins and super fruit antioxidants for soft, supple skin.
Evening Nail Care Routine
In the evening, we're almost too tired to do anything, which is why hand masks and hand mitts make an excellent choice for a brittle nail treatment. We can apply them while we're vegging out with our favorite Netflix binge of the moment, and then wash them off or even sleep in them! This isn't something we do too often, as the moisture in these masks can weaken already weak or soft nails. But it does help with dry, lifting, brittle, and peeling nails and skin.
Our last pro tip is to keep cuticle oil in your bedside drawer or with your evening skincare stash. It takes just seconds to drop or brush on the oil and massage it in, but it makes such a difference in keeping your skin and nails hydrated through the night.
Frequently Asked Questions
How does diet influence the strength of my nails?
A healthy, well-rounded diet full of vitamins, minerals, amino acids and healthy fats will help the strength of your nails. Nails can reflect your inner health and bad dietary habits, so if we 'feed' the nail with the correct nutrients as described, they will grow stronger and be more resistant to breakage and deterioration
Can regular manicures or pedicures contribute to weak, brittle nails?
Constant use of conventional nail polish, especially with non-toxic polish with harsh ingredients, can weaken the nail. If you find that your nails have become especially fragile (and they're painted more often than not), give them a month off from nail polish to allow them to grow and strengthen.
What type of nail products should I avoid to prevent nail damage?
Wearing conventional nail polish can harm your healthy nails (although you probably should give your nails a break on the polish periodically.) Applying gel or acrylic nails requires the use of direct UV light onto your skin, which is known to cause skin cancer.
How long does it typically take to see improvements in nail strength?
Supplements include vitamins like biotin that can strengthen and nourish aging nails. With consistent use, you can see benefits for your fingernails in four to six months, toenails generally about nine months.
Can underlying health conditions cause weak, brittle nails?
Brittle nails can be a symptom of an underlying inflammatory condition, such as lichen planus or psoriasis. Alopecia areata, an autoimmune disorder, can also cause nails to be brittle. See a doctor for proper diagnosis.
We carefully hand-select products based on strict purity standards, and only recommend products we feel meet this criteria. 100% PURE™ may earn a small commission for products purchased through affiliate links.
The information in this article is for educational use, and not intended to substitute professional medical advice, diagnosis, or treatment and should not be used as such.
Sign up to our email newsletter for more blog updates and exclusive discounts.
< Older Post | Newer Post >