How to DIY Salon Services at Home
Easy tips for keeping up with hair, skin, and nail maintenance
Posted on June 5, 2020
Written by: 100% PURE ®
One unexpected benefit of being at home all the time? We're learning how to be very self-sufficient – especially when it comes to our beauty maintenance.
Rewind to three months ago, when our calendars were booked with appointments for various salon services: manicures, root touch-ups, brow threading. We looked forward to girl time with our hair stylist and alone time in the pedicure chair – but after a few months of practice, we're definitely becoming self-care pros!
If you're horrified at the thought of roots sabotaging your not-so-natural color, or if your toenails haven't seen the light of day in far too long, you're in good company. We're here to share the beauty tips we've tested on ourselves, to help you recreate salon services at home!
Manis + Pedis
By the end of March, we were yearning for our nail techs. Manis and pedis are like an addiction – and we've missed our monthly fix. From typing all day to dry skin from constant hand washing, our hands and feet deserve a little extra love. Here's what you can do about it: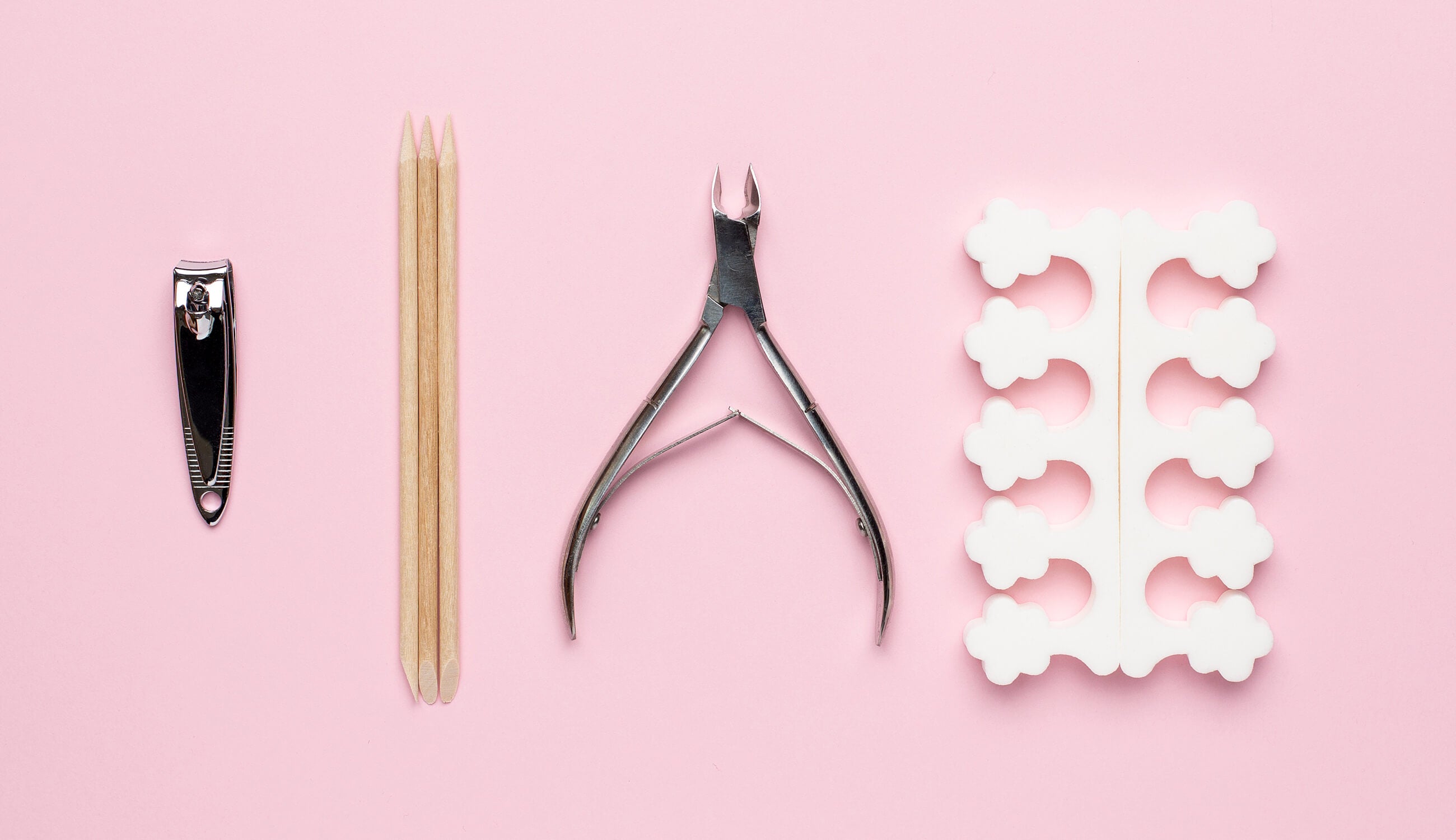 Removing salon gel polish on fingers or toes will require a bit of elbow grease. Employ the help of an emery board or buffing cube, a soy-based nail polish remover, aluminum foil and cotton balls, plus cuticle oil for nail bed rehab.
Take your file and agitate the surface of your nail polish with swift motions – do not rub back and forth, as this can damage the nail bed.

Next, soak a cotton ball in polish remover. Quickly cover your nail with the damp cotton ball before wrapping it in foil.

Leave this to process for 5-15 minutes. Once the polish is lifting and flaking off, it should be easy enough to remove with an emery board.

If you have a cuticle pusher, this may be helpful in scraping the polish off the surface of your nail.

Soak your nails in a bowl of warm water for 3 minutes, to soften the nails. Pat them dry with a clean towel.

File and trim your softened nails with sanitized nail clippers, then file the edges. Again, remember to move the file in a single direction instead of back and forth – this can cause brittleness.

Finish by rubbing a generous amount of cuticle oil onto your nails and cuticles, and allow to dry before applying a moisturizing hand lotion.
Want to replicate a full pedicure salon service? Soak your hands and feet in basins filled with warm water and bath salts. After 10 minutes, buff away rough skin on the palms, around the cuticles, heels and balls of the feet using a therapeutic body scrub.
If you're someone that likes a naked nail, then you're done – enjoy! But if you want to #treatyourself to a complete salon services experience, you'll want to finish up with nail color.
Most mainstream polishes include super toxic ingredients – like formaldehyde – in the formula. Instead, we opt for layering our 10 (toxin) free nail polishes to make it a true self-care treatment. Start with a fortifying base coat, and finish with a high-shine glass top coat.
Looking for the perfect shade? Lovers of neutrals and naturals will adore vegan nail polish Soul Mate. We also recommend the universally flattering, gold-bronze hybrid Sugar; it suits all styles from trendy to bold.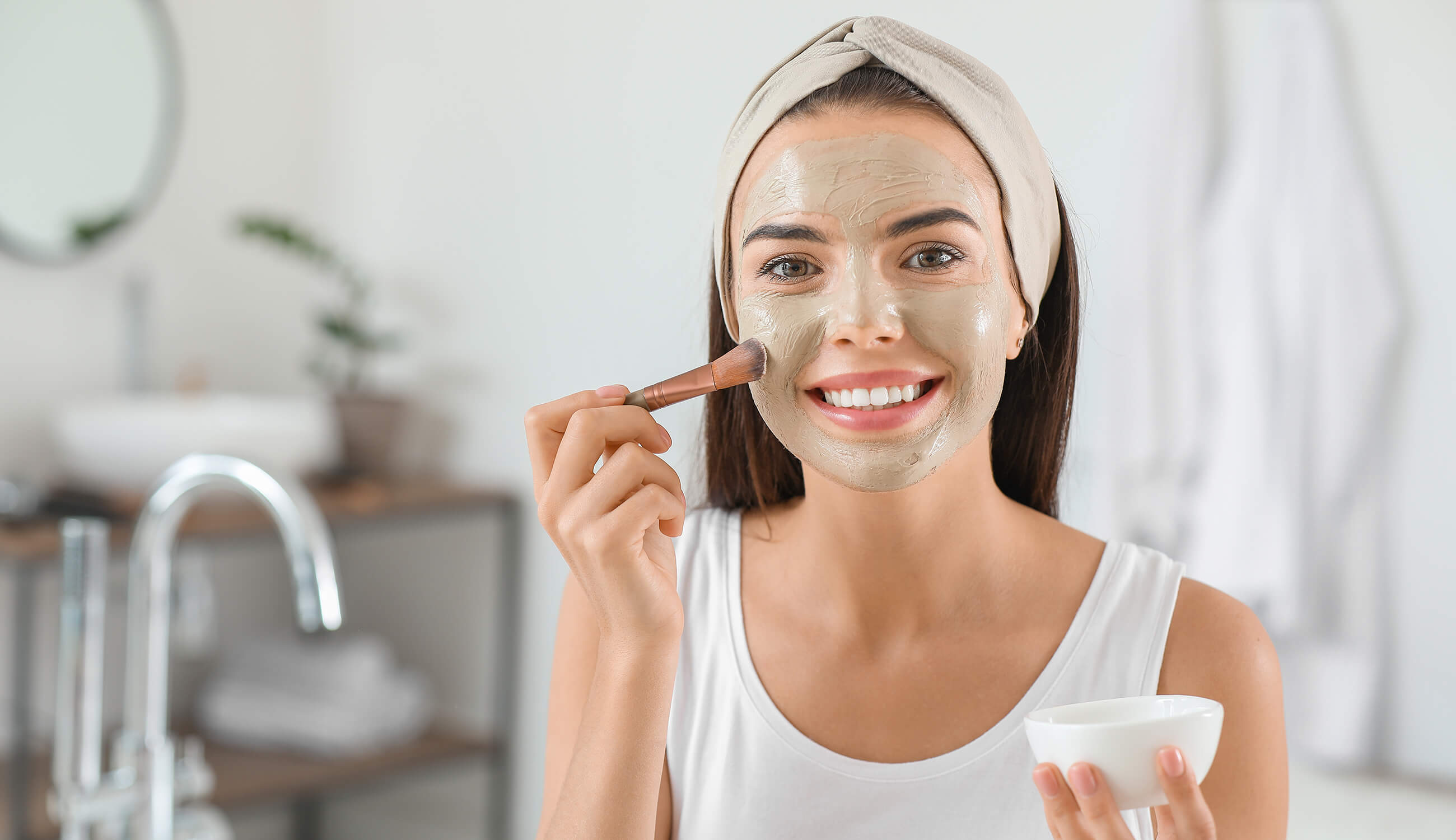 DIY Spa Facials
A facial is a sacred experience – for those who've never had one, the time is now. Typically, these salon services might feature soothing music and mood lighting, so press play on your favorite playlist and pull out your most calming candle to prepare your space.
Using a pot or kettle and large heat-safe bowl, boil water and add it to your vessel after the water is steaming hot.

Tie your hair back, and remove all makeup and sunblock. Hover over the bowl to steam the skin, maintaining a 5-10 inch distance from the water. You can drape a towel over the back of your head to concentrate the steam against your skin, helping to open the pores and prime the skin for nutrient absorption.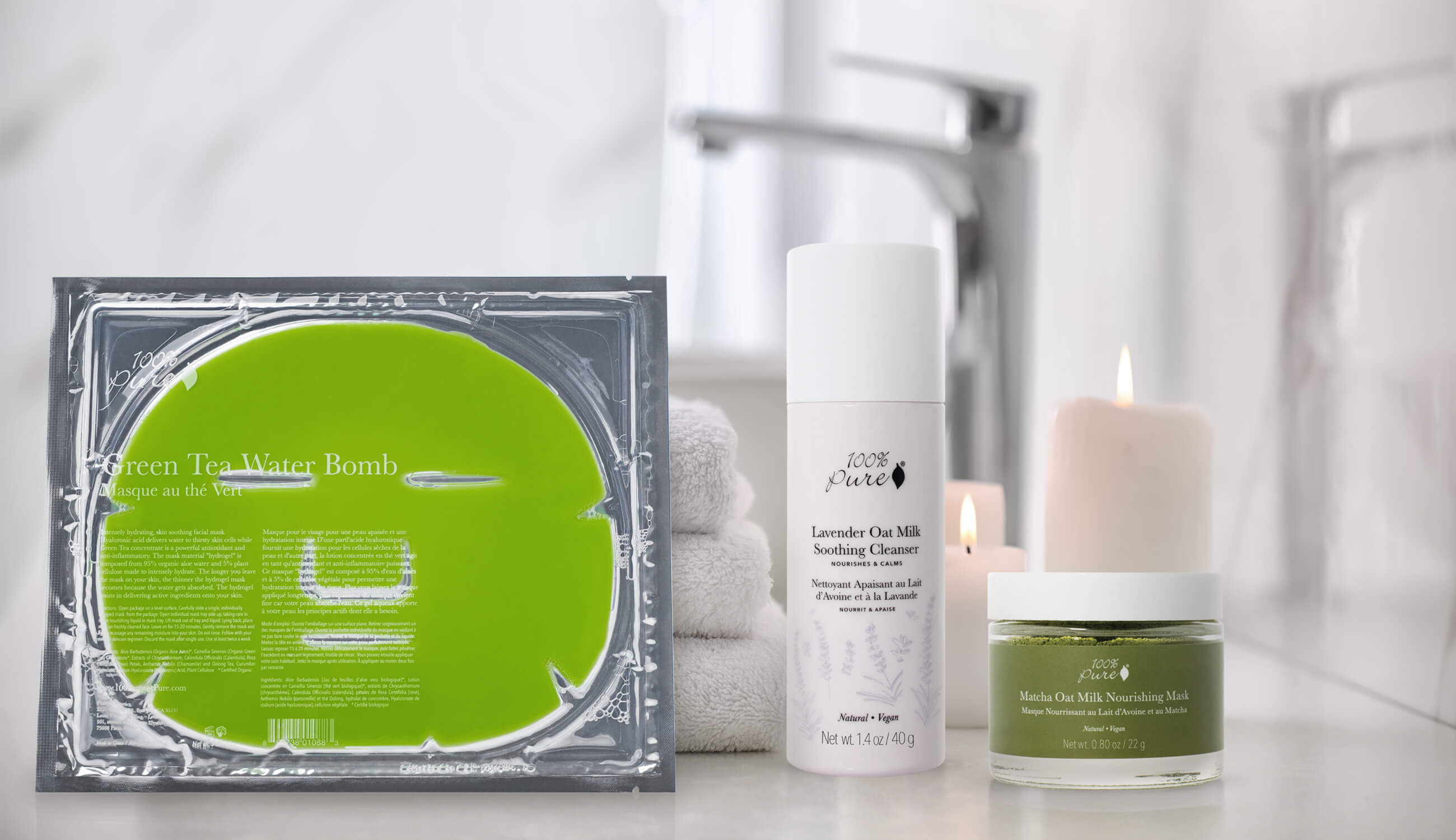 Next, gently exfoliate your skin with our Matcha Milk Nourishing Mask for 10-20 seconds. Nutrient-dense matcha meets moisturizing coconut milk and soothing, scrubby oats for a trifecta that actually convinces us we're at the spa. After the water-activated mask has been massaged into skin, allow it to set for 20 minutes.

Finish with a deeply hydrating moisturizer to deeply nourish the skin. For normal to dry skin types, layer on the cooling Green Tea Water Bomb hydrogel mask, for an intense hydration treatmeant.
PRO TIP: A fluffy towel, robe, or pair of slippers makes the experience feel even more authentic.
Eyebrow Grooming
Not only are we literally attached to our eyebrows, we're also emotionally attached to how they look. Whether you prefer thick and fluffy or slender and sculpted, all of us can easily maintain this salon service at home.
For shaping, you have to decide if you want to go for a new brow shape, or simply maintain existing shapes created by salon professionals. Rather than make things complicated, we recommend the latter! We'll link some helpful tutorials on this here and here, but to start you'll need tweezers, small straight (grooming) scissors, and a brow brush.
Start by brushing brow hair up, and pluck any new growth that looks out of place. Brush the brow hairs down and repeat this step, ensuring you are plucking in the direction of hair growth.

Brush your strands again to style them how you like them to look, then carefully take your scissors around the top and bottom and trim any hairs that are too long. It's easy to get scissor-happy here, so cut off less than you think you'll need to. If you finish and see room for improvement, go back in again.

Finish with a few swipes of brow gel for a groomed, tinted look that stays in place. Et voilà – you didn't expect brow grooming to be that easy, did you?
Are you someone that typically gets your brows tinted or microbladed for a more intense color? If so, we have the perfect solution for you. Simply stroll on over to the men's care aisle of your local drug store and snag a box of beard or mustache dye. It sounds wild, but this little kit is multi-use, is powerful but temporary, and comes with a tiny brush that works perfectly for our brow area.
You'll only want to leave this stuff on for 5-8 minutes, and be sure to outline your brow with a wax lip pencil or non-petroleum jelly to prevent color bleeding, and to make it super easy to remove.
Hair Maintenance
Who are we without a blowout? TBH, we don't even know that girl. Thanks to many tutorials and some excellent products, we don't ever have to find out. Here's how we've been trimming and styling our hair at home!
Any stylist will tell you that great hair always starts with a clean scalp and healthy strands, so we selected our most scalp-healthy shampoo and conditioner to prep your home hair salon service. These formulas contribute enriching neem oil for a balanced scalp, and provitamin B5 to strengthen strands. But before we get a-head of ourselves, it may be time to trim.
On average, women will only get a trim 2-3 times a year – and it's totally obvious when we're overdue. Rather than butchering our beloved stylists' incredible work, we're opting for a simple dry cut on the very ends, for a more polished look and healthier strands.
What's most important here is to use hair cutting scissors. Without these, we'll end up with hair damaged and uneven, so they're absolutely essential!
Start with dry, straight, and completely detangled hair.

Part down the center, pull to the front, clamp your middle and index fingers around 1-inch sections (working from the nape of the neck up to the crown) and drag down to just before the ends, ensuring the hair is taut.

Using your hair scissors, cut off dry, frizzy, split and dead ends. Use small and purposeful snips. Cutting hair can be intimidating – and fear is our biggest enemy. We don't do it when we're not feeling confident, but since this extended time at home could be great for hair rehab, we know that a little trim will make the chances of repair even better.
Now that we're ready for our blowout, we prep with a serum that's going to protect against heat damage. In this case, it's the Smoothing Hair Serum that's literally like all our favorite hair salon services in a single product. This goes on damp hair, before we apply heat.
Part the hair into three sections with two parts; one across the back of the head, then another over the top from ear to ear.

Starting with the bottom section, we'll split the hair into a left and right side. Create tension by rolling the hair into a round brush, alternating flipping the hair up and down until the hair is dry.

Repeat working up the scalp; the hair in the top section should be dried up and back for the most volume and shape.
The key with this DIY salon service is to ensure the hair is completely dry – especially the roots! This gives us the sleekest, shiniest, and longest lasting style for isolation selfies that look just as good as our throwback photos.
We carefully hand-select products based on strict purity standards, and only recommend products we feel meet this criteria. 100% PURE™ may earn a small commission for products purchased through affiliate links.
The information in this article is for educational use, and not intended to substitute professional medical advice, diagnosis, or treatment and should not be used as such.
Sign up to our email newsletter for more blog updates and exclusive discounts.
< Older Post | Newer Post >