Hold Up—Is Your Nail Polish Non Toxic?
It's Time to Get Rid of Your Conventional Nail Polish and Choose Non-Toxic Nail Polishes
Posted on October 6, 2023
Written by: 100% PURE®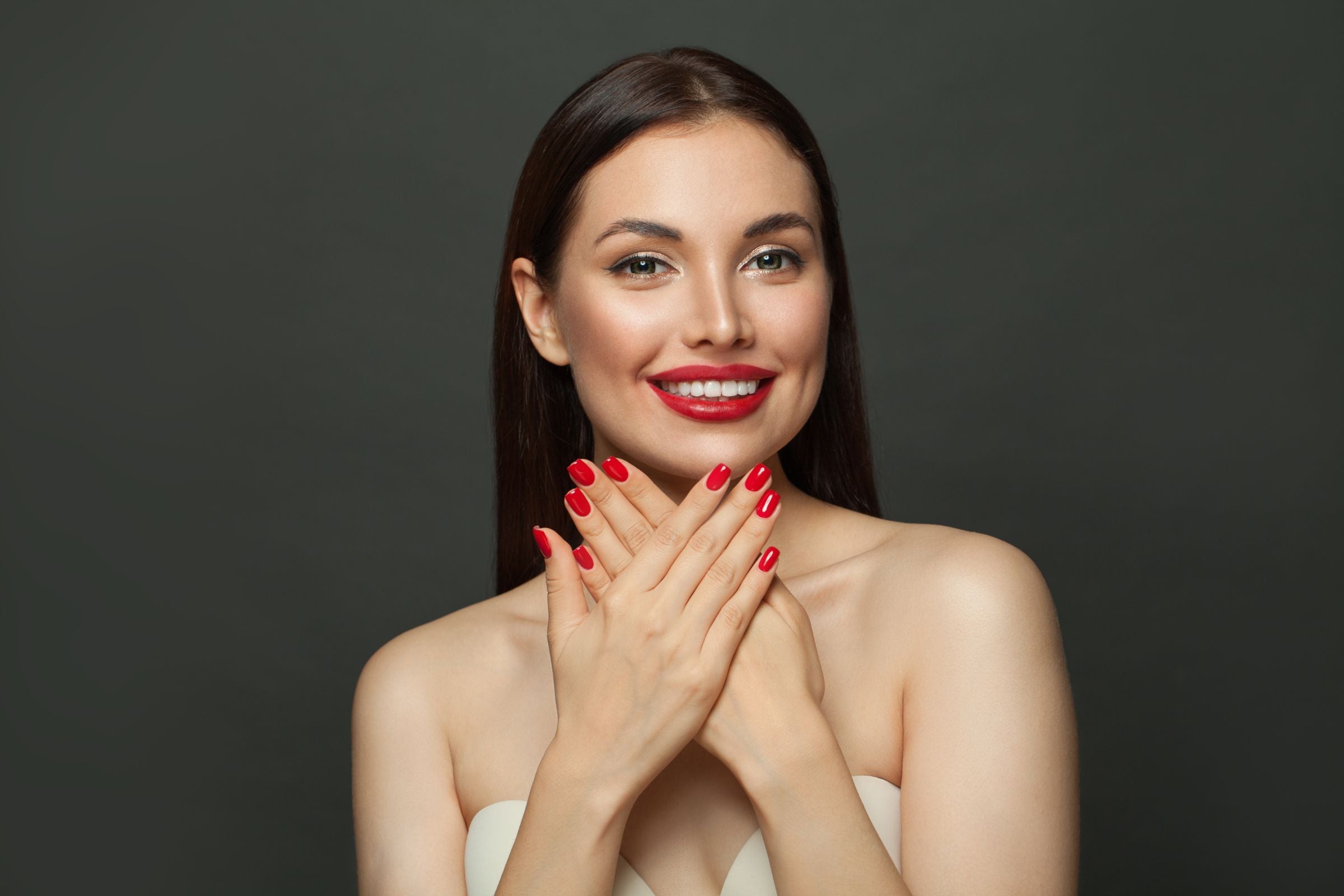 Whether you're a serial manicure wearer or opt for a painted set for special occasions, traditional nail polish comes with some nail-biting side effects. That natural nude or rosy red contains toxins that can have adverse effects on both our nails and overall health.
Thankfully, with beauty enthusiasts becoming more ingredient-conscious of the products they're using from head to toe, this attention has made its way down to the tips. That's right! We're getting hands-on with nail care, and why non-toxic alternatives are at the tip of top nail self-care.
We're always in support of our health-conscious fans – plus a beauty routine that's better for your body and the environment. We wholeheartedly encourage anyone who's in pursuit of a more natural manicure to make the switch to non-toxic nail polish. We're here to give you a hand with that!
The Toxic Trio and Beyond
As much as we love a freshly painted pair of fingers and toes, we need to point out harmful ingredients commonly found in conventional nail polish. Many standard and salon polish brands contain toxic ingredients with the top 3 culprits being formaldehyde, toluene, and dibutyl phthalate (DBP).
Let's check out why we want to avoid the "Toxic Trio" or "Big 3", plus some other harmful chemicals that are frequently present, even though they can have adverse effects on both our nails and overall health.
Formaldehyde
Known for its use in embalming processes, formaldehyde, which may be listed as "formalin" and "methylene glycol", has also found its way into many nail polishes. Acting as a preservative, formaldehyde can extend the shelf life of nail polishes, but not necessarily the life of your nails or skin. The contact dermatitis that often follows the application of formaldehyde-laden polish can leave you scratching your head and body. Skin irritation, redness, and even watery, burning, and/or itchy eyes are potential reactions that underscore the expense of your comfort.
Toluene
Toluene, a chemical also found in tar, is also commonly found in many nail polishes, and has a strong odor, like fresh paint. But beneath that not-so-fresh scent lies a potential threat to respiratory health. Regular exposure to toluene fumes can result in respiratory issues, irritating the eyes, nose, and throat. Even more concerning is with higher inhalation of toluene fumes, the negative side effects could impact the nervous and immune systems.
Dibutyl Phthalate
Dibutyl phthalate (DBP), a member of the phthalate family of chemicals, is used in most nail polish formulations to ensure they glide on smoothly and increase the 'wear time' by making the nails less brittle. The potentially harmful effects of DBP include eye and skin irritations, and worse, it has been suspected to interfere with hormonal balance, potentially leading to disruption of the endocrine system.
Other Nail Polish Offenders
Other major chemical culprits lurking in conventional nail polish formulas and their health implications include:
Xylene has not been verified as a carcinogen yet but has an immediate impact on the body. Side effects include headache, dizziness, nausea, and more.
Parabens are the umbrella term for several preservatives used in hair and cosmetics products. The most dangerous side effect of parabens is their ability to mimic the hormone estrogen in the body. But while additional estrogen doesn't initially sound serious, it can disrupt normal bodily functions, create harmful imbalances, and ultimately lead to tumors and cancerous cells.
Camphor is one of the ingredients responsible for nail polish's sharp, bitter odor, but it can also cause nails to become chronically dry, brittle, and discolored. Ultimately, none of these ingredients are safe for pregnant or nursing mothers, and the rest of us should avoid them if possible.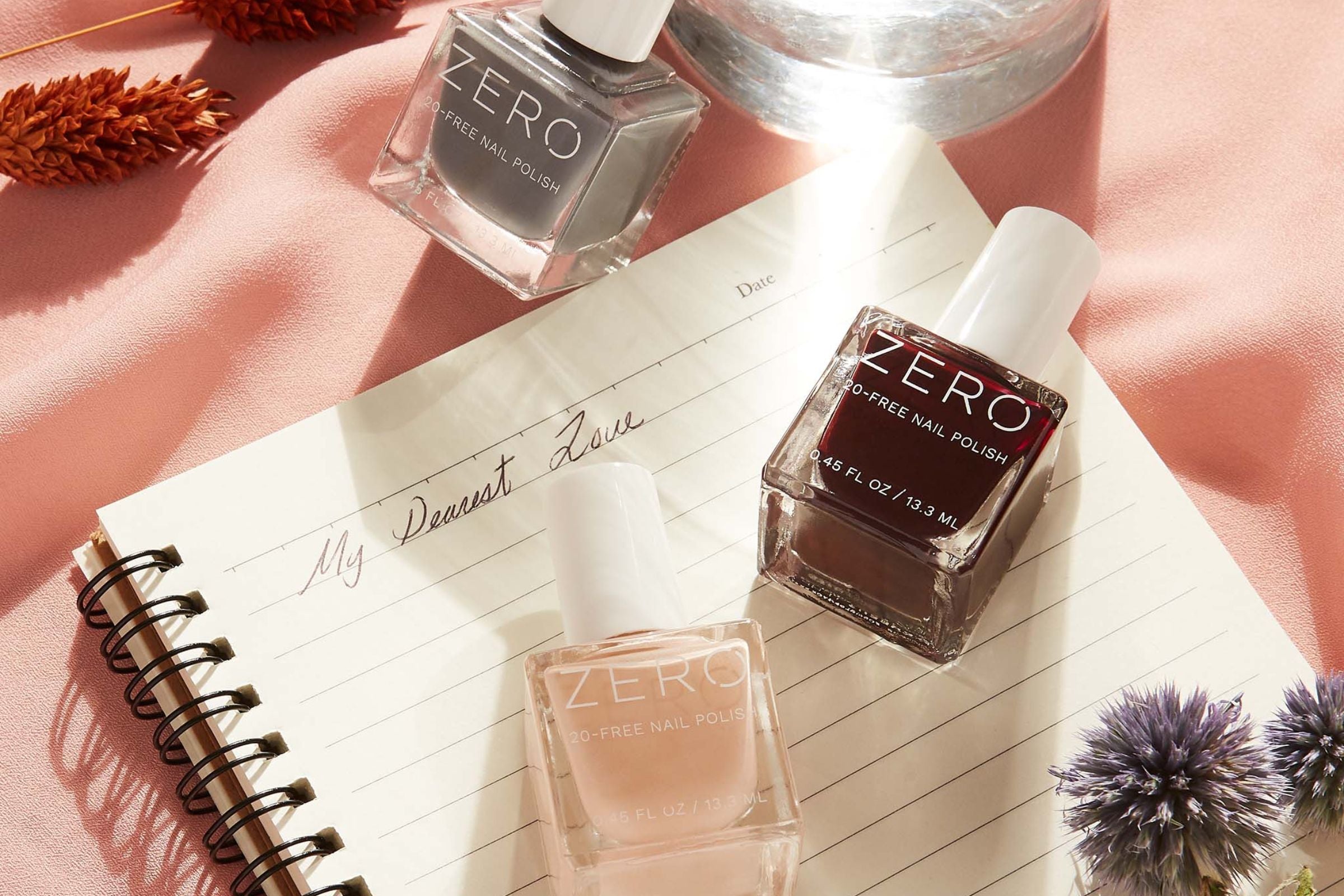 Understanding Non-Toxic Labels: 3-Free, 5-Free, 7-Free, and More
Fortunately, and as described above, we now have a greater understanding of common toxic ingredients used in conventional nail polish. This has laid the groundwork for brands to purposefully omit them during production, resulting in the "-free" standard.
When we discuss what defines clean, natural nail polish, one of the best metrics we can use is how many "free" of possible toxic ingredients are in formulas. This indicates a specific number of potentially harmful chemicals not included in the nail color formula.
These brands will typically state themselves as anywhere from "3-free", 7-free", "15-free", and more, and the lists may vary depending on the brand. Here's a breakdown of how natural nail colors avoid toxins:
3-FREE
Toluene, dibutyl phthalate (DBP), and formaldehyde
5-FREE
Formaldehyde, toluene, DBP, formaldehyde resin, camphor
7-FREE
Formaldehyde, toluene, DBP, formaldehyde resin, camphor, ethyl tosylamide, xylene
9-FREE
Formaldehyde, toluene, DBP, formaldehyde resin, camphor, ethyl tosylamide, xylene, parabens, acetone
10-FREE
Formaldehyde, toluene, DBP, formaldehyde resin, camphor, ethyl tosylamide, xylene, parabens, acetone, TPHP, TBHP, gluten
15-FREE
Formaldehyde, formaldehyde resin, DBP, toluene, camphor, ethyl tosylamide, xylene, TPHP, parabens, bismuth, MIT, MEHQ, gluten, fragrance, animal derivatives
As you can see, choosing a higher-free number of polishes ensures that your beauty routine is free from toxic chemicals that can adversely impact your health. That's precisely why at 100% PURE, we went a step further and created a 20-Free nail formula. We embody this ethos by harnessing the power of plant-based ingredients to create nail polishes that are not only vibrant in color but also safe for use.
Our 20-FREE label means NO
Formaldehyde, toluene, camphor, formaldehyde resin, xylene, parabens, fragrance, phthalates, dibutyl phthalate (DBP), ethyl tosylamide, triphenyl phosphate (TPHP), animal ingredients, methylisothiazolinone (MIT), hydroquinone monomethyl ether (MEHQ), gluten, palm oil, sulfates, bisphenol-A, acetone, nonylphenol ethoxylate
As mentioned, we've got a color guide to 20 free nail polishes in the shimmery, red, pink, or nude categories. You'd be hard-pressed to find another nail polish, even the cleanest formula, that can adhere to 100% PURE's strict purity standards. This led to the creation of our nail polish sub-brand "Zer0", which includes 0/20 of the most common nail polish toxins.
Our natural nail color brand Zer0 is a trailblazing 20-free. We've taken notice to especially exclude parabens, phthalates, formaldehyde, and toluene, which are known to cause skin irritation and potentially organ toxicity. As with every one of our products, we are committed to keeping Zer0's nail polish formula cruelty-free.
Top Picks: Non-Toxic Nail Polish Shades You'll Love
When we think of the best nail polish colors, it seems the season, skin tone, and any sassy trends dictate the palate of perfect polish choices. While summer has been all about bright nail shades, autumn calls for something on the bold side: burgundy, dark nude, deep plums, and brown nails. While these hues are flattering for any skin type, sometimes we'd like a nail refresh to pumpkin spice things up a bit.
Burgundy Nail Polish
Whether it's the deep reds intertwined in the fall foliage or the seductive dark red lipsticks that pair so well with a berry-colored, cozy scarf, the color burgundy is a fall force to be reckoned with. Think, of hues of merlot and maroon, the deep shade is a must-have color for your nails for fall for our medium to olive and dark complexions.
100% PURE Over the Maroon Nail Polish
Elegant wine and berry shades are always a fall favorite. Whether you love dinner parties or want your nail color to reflect a strong sense of elegance while you sip wine, this deep, rich burgundy shade is a go-to for those who love a hint of glamor.
Speaking of glam, this versatile color would fit with any outfit! Maroon nails would create a sophisticated look if you pair with gold jewelry for a night out, or pair with navy blue for a modern glam day at the office. You can say we're over the ma-moon!
Plum Nail Polish
As we know, trends tend to be cyclical, which explains why plum nail polish was all the rage on autumn-themed Pinterests in 2015, and it's making a huge comeback for fall of 2023. Plum has gone far beyond the vampy, gothic realm to nowadays' spectrum of pink plum, mauve plum, berry-red plum, and even blackened plum.
This comeback means that there's a berry good option for everyone. But for fair to lighter complexions with cool undertones (blueish veins on the wrists), you can particularly rock these shade ranges!
100% PURE Blackberry Woods Nail Polish
Liven up any dreary fall skies with cheerful vibes and this crisp walk in the woods for your nails. This opaque, deep berry-purple shade embodies the decadent, colorful hues of autumn plus the ever-popular foliage and jewel-tone shades of the season.
Think: Night out on the town or an evening party and dancing in a little black dress, gold accessories, and a lilac or lavender clutch bag! This polish is perfect for anyone who wants to make a statement with their mani on the dance floor. Rock that polish to the beat of your own plum.
Deep Nude Nail Polish
Not to be taken lightly, the universal 'nude' trend has stuck around for good reason. And we don't mean nude as in that redundant, stale beige-ish shade. Nude can mean different variations of beige, deep nude, pink, or brown; the beautiful thing about going nude is that you can cater to any skin tone.
Nudes are safe and reliable and can be played up for a professional or glam look. Call it the comfort nude of fall polish to go with your fall comforts of hot soup and apple cider. But for fair to light and medium complexions with warm undertones (slightly greenish veins on the wrists), you'll be in the nude for anything!
100% PURE Dune Try Me Nail Polish
Can you ever go wrong with going nude (i.e. the color)? We think not. Nudes are - you heard it here first - always the answer for complementing fall makeup and fall fashion. Not feeling the reds, pinks, or glitter?
This deep, dusty pink nude with a warm brown undertone is classy and reliable and can be played up for an important office meeting or glammed up for a night out with the ladies. Nude color nails are the epitome of understated elegance that embodies simplicity and sophistication. No matter the occasion—nude can always elevate your nude and energy!
Gray Nail Polish
Although fall often brings dreary skies, that doesn't mean you should nix gray nail polish. Gray and deeper hues of it like graphite is a soothing color – think sweater weather, cozied up with a book and hot tea in your favorite window seat. This creature comfort makes us fan favorites of this deeper gray of greatness that is graphite!
Though autumn is a good time to fall back and relax before the big family gatherings and holiday rushes, graphite instills in us calmness, confidence, and connection, while reminding us to stay grounded. While anyone could rock a fresh, graphite set with a smoky-eye look, medium to darker complexions will give off a glamorous and luxe vibe!
100% PURE Graphite Nail Polish
If you're heading to a party, all you need is the best graphite nail polish to add an extra oomph to your look – something this shade doesn't disappoint. This deep gray hue complements most skin tones, especially darker complexions, and is what you need to slay the look.
Our holographic nail polish glides on smoothly and delivers a glossy shine to nails, providing the finishing touches to your fall party-ready look. This long-lasting polish is perfect for anyone who wants to make a statement with their mani-pedi on the dance floor. Try it with your favorite silver jewelry for a trendy, monochromatic metal effect.
Newsletter
Subscribe
for more blog updates and exclusive discounts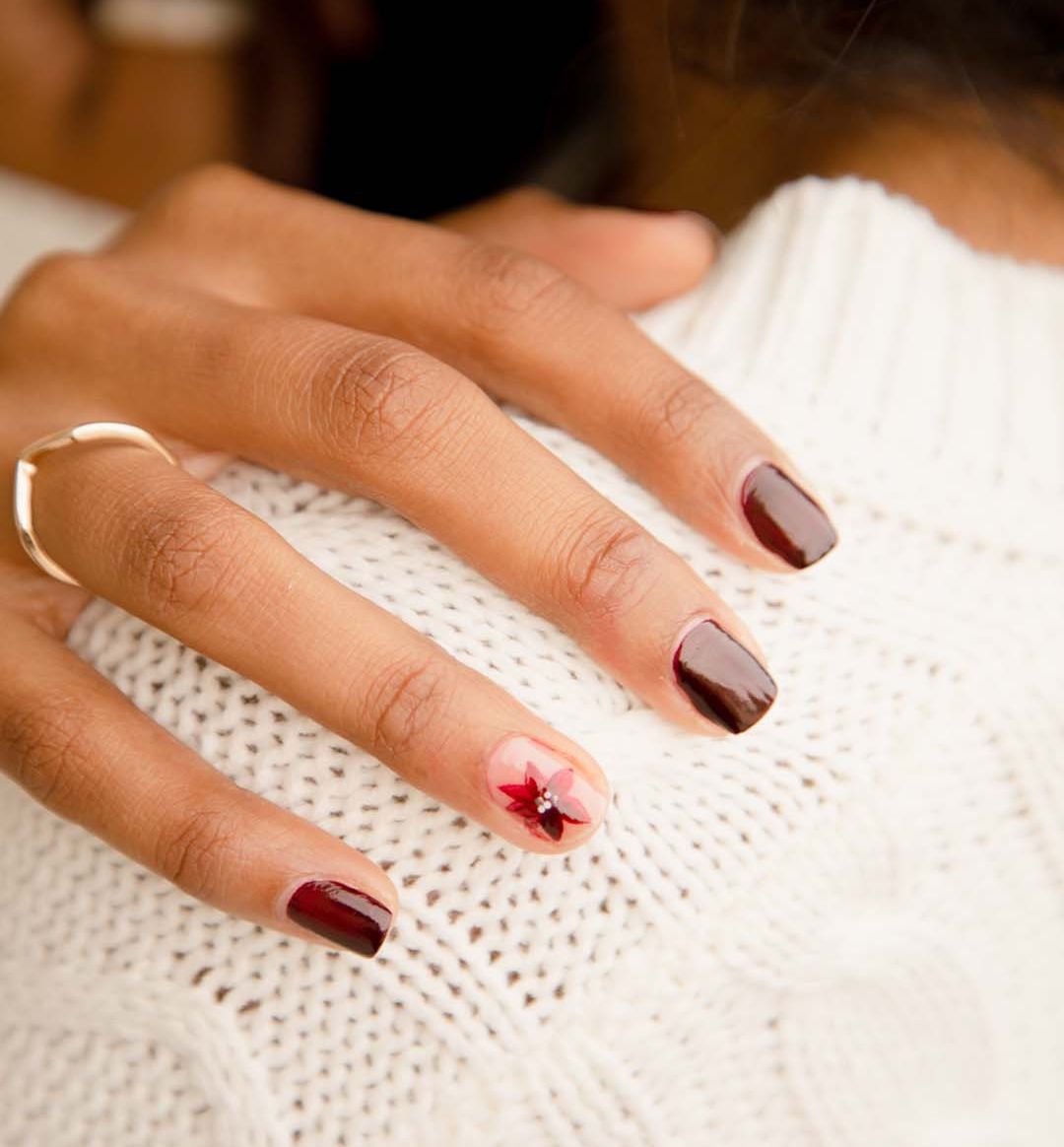 How to Spot a Truly Non-Toxic Nail Polish
Embarking on the journey towards non-toxic nail polish can be an exciting endeavor. To make the transition smoother, consider a few key tips to help you:
First, familiarize yourself with common toxic ingredients to avoid, like the Toxic Trio being formaldehyde, toluene, and dibutyl phthalate (DBP).
Instead, look for polish brands with "5-Free," "10-Free" or, as described above, "20-Free" formulas. It's also important to be patient when adjusting to non-toxic polish formulas, as some may have a slightly different consistency or drying time than conventional formulas.
It's also a good idea to pair your non-toxic nail polish with a similar base and top coat, ensuring that your entire manicure process remains free of harmful chemicals. More on those natural goodies below!
Lastly, as you declutter your old traditional polishes, consider donating them to local beauty schools or recycling programs that handle hazardous waste, so that they don't end up in landfills or affecting our oceans and aquatic life. Embrace the change knowing that you're making a positive impact on both your health and the environment.
Beyond the health benefits, non-toxic nail polishes also offer a kinder approach to nail care. They're less likely to cause brittleness, dryness, and yellowing of the nails, preserving their natural strength and appearance, making it easier to spot a truly non-toxic set of natural, fabulous nails!
Embracing a Non-Toxic Nail Care Regime
While a gorgeous 20-free shade is the undeniable star of any mani-pedi, you'll need some non-toxic nail care products to make it truly shine. Check out these tips for making your gel manicure last and keeping your natural nails beautiful and healthy in the process – and the non-toxic way!
#1: Trim & File
Be sure to shape your nails before beginning your polish application. Start by trimming, then file to perfect the shape – we love a classic almond or square shape, but coffin, tapered square, and stiletto are all super trendy right now.
#2: Base Coat
The best way to maintain smooth, strong nails throughout dozens of mani-pedis is with a base coat. Our Ridge Filler Base Coat fills natural ridges in the nail's surface to deliver a smooth, more uniform canvas for nail color.
#3: Top Coat
Eyeing Silver Screen Nail Polish for your mani and date with your beau and the big screen? Great choice! Shake polish thoroughly before applying to ensure even color distribution. Be sure to seal it with the Glass Top Coat Polish to ensure a long-lasting, chip-resistant shine. Let this layer thoroughly dry, then apply a second coat for a more opaque or intense color.
PRO TIP: Two coats will usually be the perfect opacity. Don't be tempted to speed up the drying process with a hair dryer. The heat will hinder the setting process.
#4: Nail & Cuticle Oil
Want that glossy Instagram nail glow? Massage a nourishing cuticle oil on cuticles and nails after your top coat is dry. The skin around your nails will look supple and shiny, and your nails will look 100% Insta-worthy.
#5: Moisturize
Don't lie: your favorite part of a spa manicure is the hand massage! Us too, of course. Give yourself a relaxing hand and forearm massage with a rich, buttery hand cream to keep the skin around your nails (and your mood) healthy. Even better if you could recruit someone else to do this step!
Frequently Asked Questions
What are the primary toxic ingredients to avoid in nail polish?
Many conventional and salon polish brands contain toxic ingredients with the top 3 culprits being formaldehyde, toluene, and dibutyl phthalate (DBP). Other toxic biggies to avoid are xylene, parabens, camphor, and formaldehyde resin.
Are non-toxic nail polishes long-lasting?
Yes, if you stick with quality organic polish brands (hint, hint)! The result is high-quality organic nail polish formulas that are long-lasting and look just as amazing as traditional formulas without health risks.
Where can I buy non-toxic nail polishes?
Choose a quality, natural brand with transparent ingredients. Look for higher-Free labels that exclude as many toxic ingredients as possible. Non-toxic nail polish labeled as 20-Free (hint, hint) has the purest and strictest standards for polish.
Can non-toxic nail polishes be removed with regular nail polish remover?
While acetone is known to remove days-old polishes seamlessly, it can have adverse effects. The good news is that there are several acetone-free formulas on the market, many of which are infused with nourishing plant-based extracts and vitamins that moisturize nails.
Are there non-toxic nail strengthening treatments available?
Yes! Since there are more natural ingredients in non-toxic nail polish, your nails will benefit from growth and strength. Use a Nail and cuticle Oil that can help repair dry cuticles and strengthen brittle nails. Base Coat and Top Coat polishes over your organic polish will also help strengthen nails.
In a world where health and wellness take center stage, your beauty routine should never come at the cost of your health. There's an empowerment in making informed, health-conscious choices in beauty products.
We've been witnessing the exciting shift from conventional skin, hair, and body care laden with harsh chemicals to natural and organic alternatives with far more health, wellness, and beauty benefits. Thankfully, that movement has extended to nail care and peace of mind with non-toxic nail polish
When it comes to making the switch to non-toxic polish, you probably can tell that we're all in – tooth and nail! The hidden dangers of conventional nail polishes underscore the importance of choosing a safer self-care practice, like switching to 20-Free nail polishes from 100% PURE. It's a choice that reflects your commitment to a happier and healthier you and that set of the best nails!
We carefully hand-select products based on strict purity standards, and only recommend products we feel meet this criteria. 100% PURE™ may earn a small commission for products purchased through affiliate links.
The information in this article is for educational use, and not intended to substitute professional medical advice, diagnosis, or treatment and should not be used as such.
Sign up to our email newsletter for more blog updates and exclusive discounts.
< Older Post | Newer Post >