Everyday Rose Gold Makeup Looks
Get your glow-up going with a flattering palette suited for any skin tone
Posted on January 17, 2020
Written by: 100% PURE ®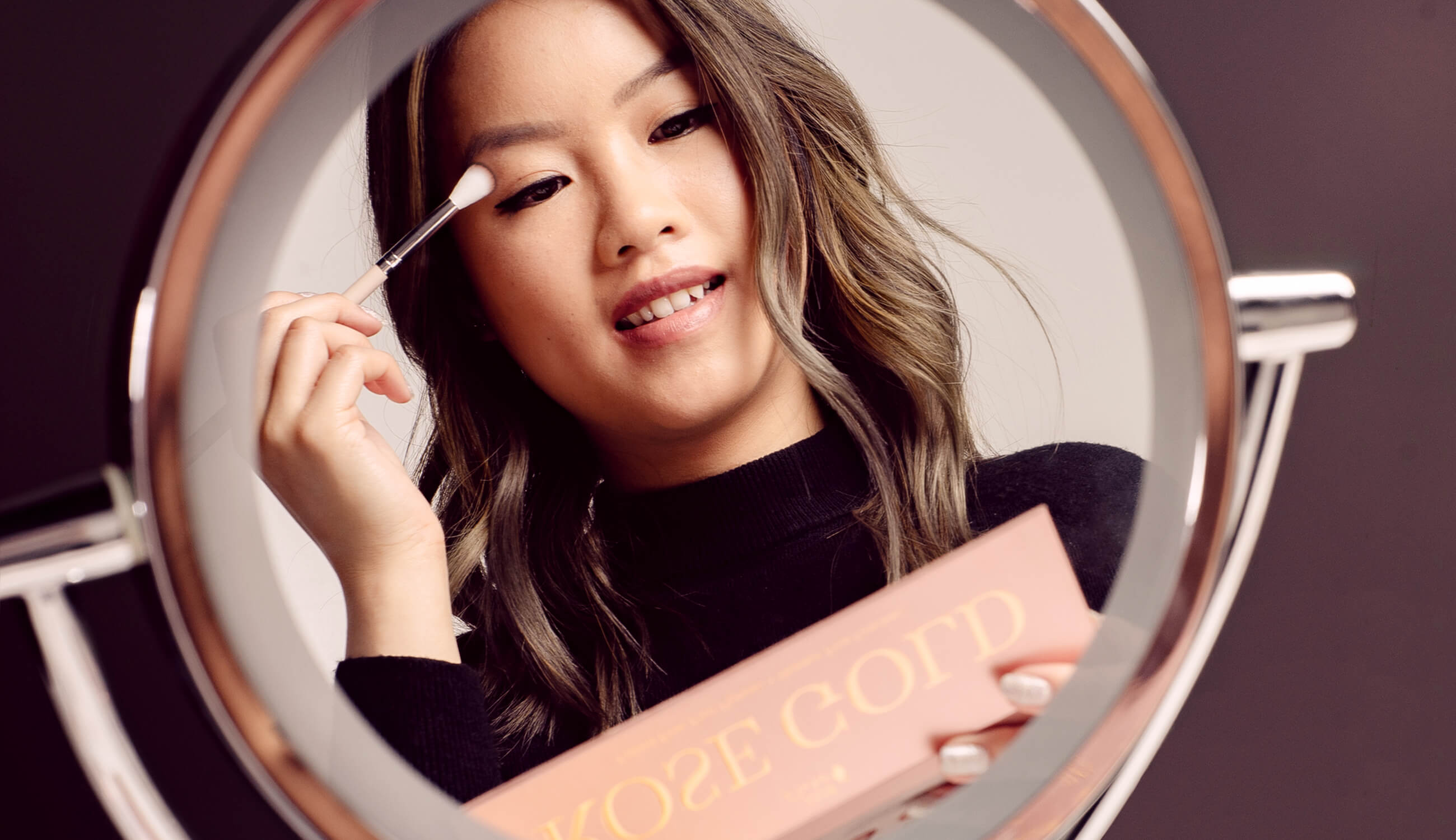 All that glitters is not gold – it's rose gold! This unique copper-gold hue has been gracing us with its presence via bangles to Birkenstocks, but makeup is where she really shines. From luminescent lids to luscious lips, rose gold is a wearable tone for any daily look.
Rose gold compliments a wide range of skin tones, as it embodies both warm and cool qualities. Here's how to achieve a natural yet eye-catching rose gold makeup look, and multiple ways to incorporate it into your routine to shimmer and shine anytime.
Meet the Rose Gold Palette
Our Rose Gold Palette is hailed as a true beauty treasure trove because you can create multiple makeup looks from a single palette! Featuring five universally flattering shades, there's a color story here for anyone to create a full makeup look: a highlighter, a blush, and three versatile eyeshadow shades. We also practice what we preach, mixing and matching these shades to expand the color possibilities.
PRISM
The enchanting Prism highlighter is nothing short of illuminating for your best features, with its mystical pearly-rose hue. Prism is a pale, rose gold highlighter with pearl, halo-like shimmer. This skin-warming metallic shade also moonlights as an eye shadow or as a soft, subtle natural eyeliner on the top lid.
PRO-TIP: Use a blush brush to apply highlighter (and blush) to cheekbones, browbones, bridge of nose, and anywhere else you want to glow. For applying color to the lower lash line, or precise swipes of shimmery highlighter, use a flat shader brush.>
PRIMP
Nothing makes cheekbones more pronounced than a pop of color to enhance dimension. Primp is a coppery blush with hints of rosy pink and gold shimmer. Whether your complexion is pale or deep, this neutral shade with a golden sheen is sure to make you dazzle. We love this shade for both cheeks and eyes, because it brings out skin's natural glow!
PRO-TIP: Mix it up by using this blush shade on your eyelids for dramatic smolder.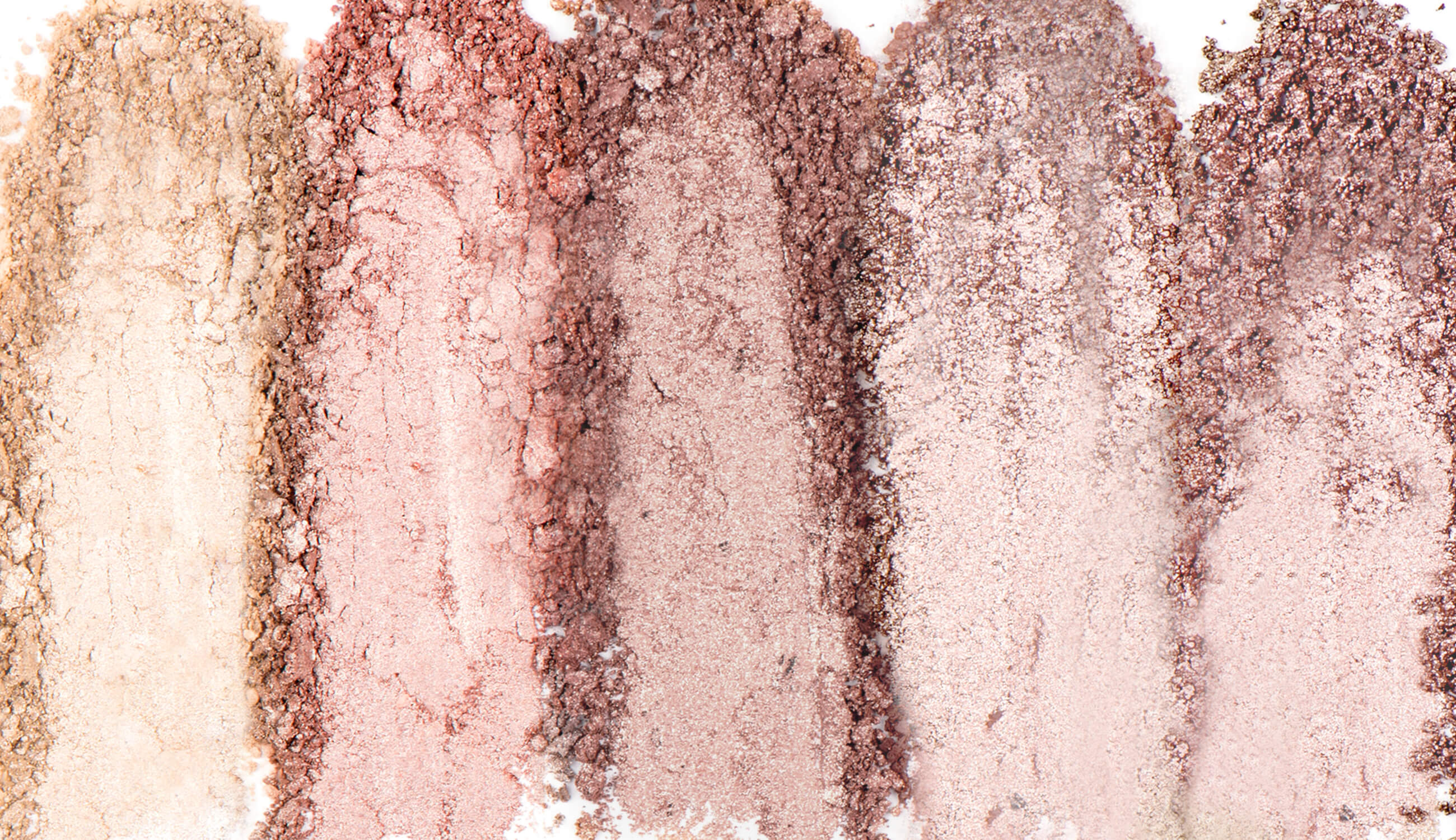 LUSTER
What's more dazzling than a pop of plum to brighten your eyes? Luster is a warm bronze-plum eyeshadow, with a shimmer that enhances any eye color. It can also moonlight as a highlighter for your cheeks and lips, and is the perfect hue for deeper skin tones.
GLEAM
Gleam is a pale, nude eyeshadow with pink undertone and shimmer, and works for a wide range of looks – from polished work attire to laid-back boho beach days. For tan-medium skin tones, the rosey nude of Gleam will perfectly highlight and suit your complexion.
GLIMMER
A romantic color story where radiant rose meets glistening gold, Glimmer makes any eye color dazzle and suits all skin tones. Fair skin tones will love the illumination Glimmer gives their cheeks – and the same goes for highlighting lips, too!
PRO-TIP: Use an eye shadow brush for a more precise application. Build and blend onto eyelid, tear duct, crease, brow bone, and lash lines.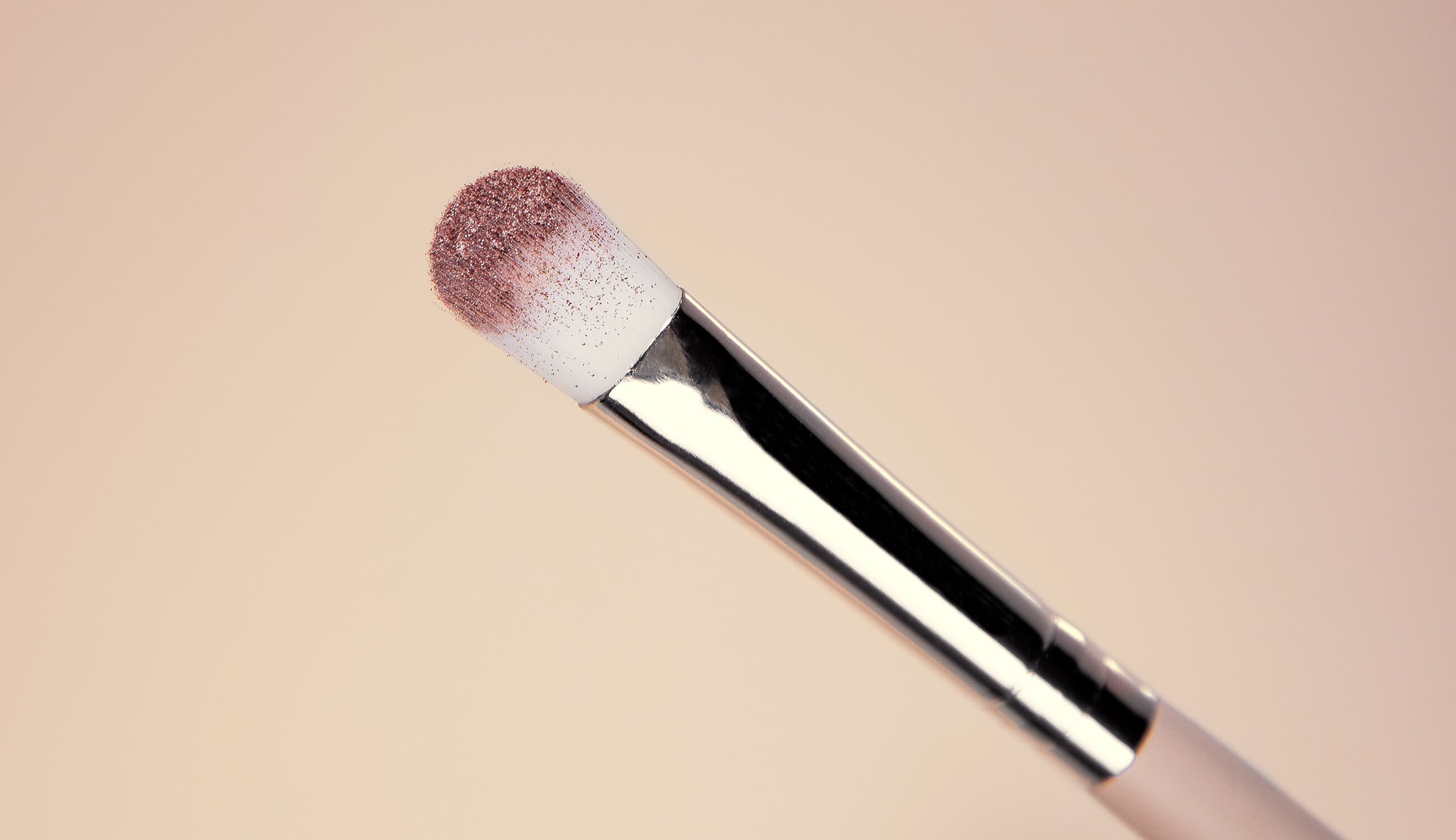 Finishing Eye Touches
As if all eyes won't already be drawn to your stunning lids, we're going to enhance them even more. Using an eye pencil not only makes lashes look lush, but also draws attention to the eye while enhancing or even altering the eye's shape.
Using a Dark Cacao pencil eyeliner is perfect for adding depth and structure to nude, natural, and soft metallic eye makeup looks. For more impact, you can easily blend below the waterline or on your lash line for a smudged natural smokey eye.
Finish your eyeshadow look with a lengthening and separating mascara. Using a mascara will not only coat and make your lashes fuller, but it will help to widen and brighten the eyes.
How to Get Luscious Lips
There's no grander finale to a luminous makeup look than a pop of gorgeous color on your pout. These shades will not only condition and protect your lips, they pair perfectly with a rose gold makeup look.
Nothing will let your natural beauty shine more than Naked lip gloss: a sheer, warm peachy nude. Layer this over natural lipstick for a custom finish or try it over bare lips for subtle, dewy shine.
For a fresh-face makeup look, what better way to feel more mauve-lous than with our Mauvely lip gloss? Shimmering, high gloss, and oh-so deeply hydrating on the lips, this neutral rosy mauve toes the alluring line between class and sass.
Want sweet and sultry lips? Look no further than our Agave matte lipstick. This warm, chocolatey nude color will leave your pout nourished all day while providing vibrant, long-lasting color.
Is pink your signature color? Our Cassia matte lipstick is the hue that is associated with you! With an ultra-moisturizing blend of cocoa and shea butters, this neutral, deep antique pink masterpiece will leave your lips looking like one-of-a-kind. Hues of soft pink are ideal for enhancing the metallic hues of a rose gold makeup look.
When You Just Can't Get Enough Gold
Can we ever have enough gold – or rose gold? Not on our sparkly watches! Whether you want to razzle and dazzle on your night out or rock a dewy glimmer in your daily makeup look, a luminizer will do the trick! We know your love for shimmer and shine, so we created a luminizer that is safe for your skin and infused with the grounding power of real gemstones!
Our Rose Gold Gemmed Luminizer is a warm, peachy gold luminizer with golden yellow shimmer. It contains natural gemstones labradorite, moonstone, Australian opal, pyrite, sunstone for an out-of-this-world shimmer!
PRO-TIP: Apply some of our Gemmed Luminizer in Rose Gold right below your brows for a warm-toned highlight. You can also dot a little just outside your eyes (toward the bridge of your nose) for a warm "golden glow" look. as an extra special gift set. So, gift yourself – we won't tell your delicious lip secret if you don't!
Looking to learn more about our fruit pigmented® palettes? How about a few more makeup looks with our Rose Gold Palette? Be sure to check back on our blog for hair, body, skin care, and beauty articles posted daily!
We carefully hand-select products based on strict purity standards, and only recommend products we feel meet this criteria. 100% PURE™ may earn a small commission for products purchased through affiliate links.
The information in this article is for educational use, and not intended to substitute professional medical advice, diagnosis, or treatment and should not be used as such.
Sign up to our email newsletter for more blog updates and exclusive discounts.
< Older Post | Newer Post >