Tips for Bold, Bright Eyes
How to achieve beautiful, bright eyes and fake a full night's rest with both skin care and makeup!
Posted on February 10, 2019
Written by: 100% PURE®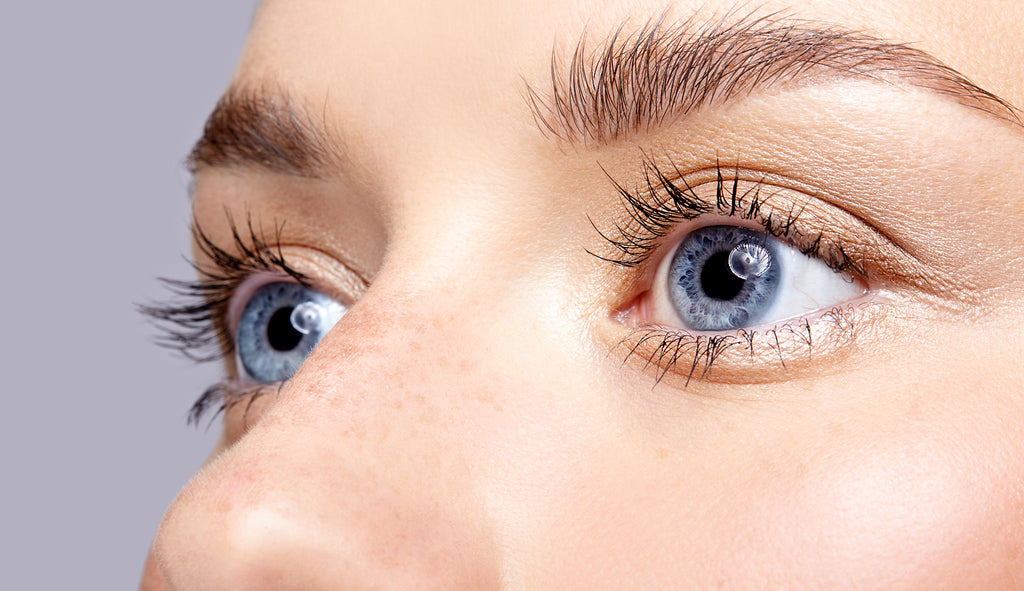 Want to make the object of your affections melt this Valentine's Day? Step 1: smile, and step 2: eye contact! It's all about bright eyes, fluttery lashes, and confidence — but the latter step might be a bit easier when you're feeling like your eyes look and feel their best. What are you currently doing to preserve your eye youth? Perhaps the better question is: is it working?Wake those eyes up with natural skin care and beauty products that tighten, brighten, and support your flirty eye contact goals with the tips below.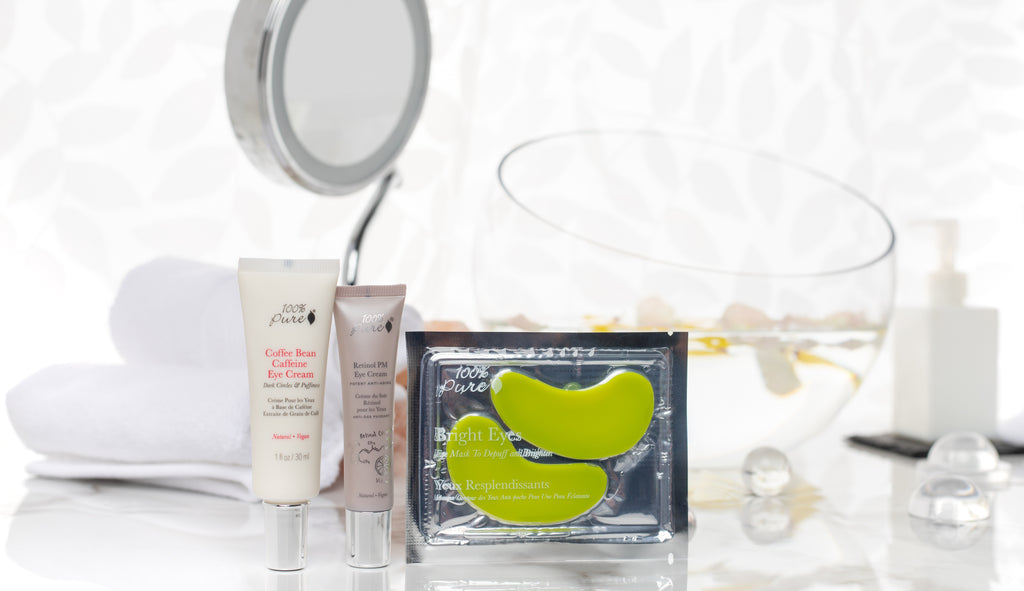 Skin Care for Brightening Your Eye Area
There are many myths swirling about Sleeping Beauty, but girlfriend had one thing right – sleeping is the key to putting our skin care to work for improved skin in the morning. Add to your current beauty arsenal with the following eye care products to get your PM-pretty on.
Before you even think about going to town with the makeup remover wipes, just think about all the damage that pressure and friction does to the thin and delicate eye area. Instead, melt makeup off with this light, moisturizing balm that protects the skin, while easily lifting away any makeup residue. Avocado and coconut oils in this cleanser will restore suppleness and softness, too!
After a long day, your eyes are probably dry, tired, and plagued with dark, sunken skin. Treat your skin to a little slice (or two) of soothing aloe eye masks. Enriched with hyaluronic acid for mega moisture as well as cucumber and green tea for toned, tightened skin, use these masks as a weekly pick me up that supports your eyes in all the ways you need with none of the post-pamper guilt.
Retinol – what is it and why is it so important? Retinol is an anti-aging derivative of vitamin A that is glorious for eye care. This nutrient comes with the ability to boost collagen thereby filling in those micro lines that form around our eye areas. In addition, retinol improves clarity and tone of the skin (so say goodbye to those dark under eyes). Our Retinol PM Eye Cream contains soothing aids rose and chamomile for calming dryness, itchiness, and redness. Power-packed with moisture, look to hyaluronic acid, jojoba, and vitamin E in this PM eye cream for well-moisturized skin with increased softness and glow. See and feel instant results as this cream hydrates and revives the eyes, while you sleep away any worries about wrinkles or eye bags.
Now you're awake and your eyes are revived, but need a little boost to ensure your two-step seduction goes as planned. Our tips for bright eyes don't stop at evening skin care; here's what we recommend for a clear, starry-eyed gaze in the daytime.
Coffee Bean Caffeine Eye Cream
Not quite as tasty as your morning latte, but just as effective! This coffee-boosted cream instantly invigorates the skin around the eyes for a noticeably tightened effect. Destroy sleepy eyes, wrinkles, and puffiness thanks to the antioxidant toning power of green tea and coffee cherry extract. The lightweight cream absorbs easily and hydrates eye skin while the coffee extract works double time to ensure your eyes are vibrant and alluring.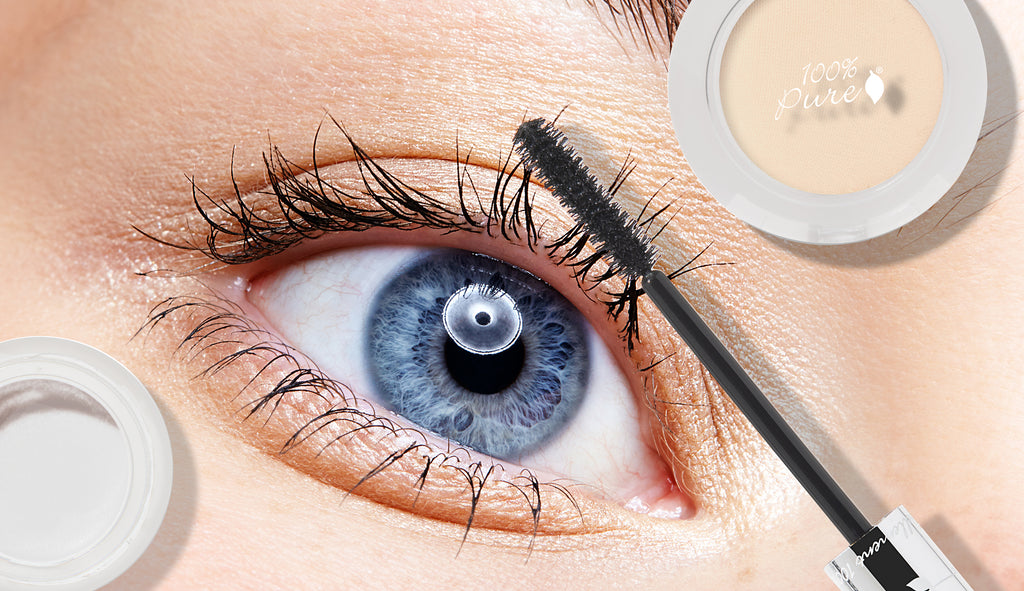 Essential Makeup Products for Achieving Bold, Bright Eyes
Bright Eyes Creamy Long Last Liner
This tool for bright eyes might seem simple, but is more influential than you might think. A neutral, bright white liner mimics the whites of our eyes. When added to the water line of our peepers (the inner rim of our lower lash line), white liner gives the illusion of a wider, more open 'white' of our eye — effectively creating a pow of bright, awake vibrancy with very minimal effort.
Fruit Pigmented® Long Last Concealer
Before there was anything else in our makeup collection, there was concealer! Let your skin shine (without any of those pesky imperfections) by smoothing on a little concealing beauty cream in the form of our Long Last Concealer with Super Fruits. Pigmented with real fruits like apricot and peach, this creamy, full coverage concealer feels like a rich moisturizer, and will instantly make you look bright-eyed and well-rested.
PRO TIP: We never want to apply eye makeup with any tools that cause too much pressure. If using your fingers, lightly pat in product with the pad of your ring finger until well blended; otherwise use the pointed end of a very soft, dampened makeup sponge to get your desired coverage.
You didn't think we'd forget eye bling, did you? Even if eye shadow isn't your thing, a pop of brightness at the inner corner or tear duct of your eye totally completes a bright and shiny eye look. Select from a range of matte and shimmer shades like Vanille, Star Bright,or Vanilla Sugar — or for a more creamy, satin finish try Halo or Star. Tap on the inner corner with a tiny eye shadow brush or just use the tip of your pinky finger and... ta-da! Your eyes are ready to shine bright, with banished dark circles and a faux-full night's rest!
We carefully hand-select products based on strict purity standards, and only recommend products we feel meet this criteria. 100% PURE™ may earn a small commission for products purchased through affiliate links.
The information in this article is for educational use, and not intended to substitute professional medical advice, diagnosis, or treatment and should not be used as such.
Sign up to our email newsletter for more blog updates and exclusive discounts.
< Older Post | Newer Post >