We've crafted a routine for dry skin types, complete with ultra hydrating and moisturizing ingredients.
Posted on March 20, 2018
Written by: 100% PURE®
We've all experienced dry skin at one point, especially during the colder weather that sucks precious moisture away from our skin cells. Sometimes we're born with it too. Dry skin not only feels itchy and overall uncomfortable, it's also a primary cause for dull skin. That's because flaky skin doesn't reflect light as well as a smooth surface, resulting in a drab complexion. Enough on why dry skin happens, you want to know if that dry flaky mess is fixable, right? Yes! We've curated a special dry skin treatment that you can use as your daily skin care routine. Moisturizing coconut oil, hydrating seaweed, and nourishing superfruits are here to save your skin care disaster and groom your skin into a goddess worthy complexion.
First of all, what are the common dry skin symptoms? You might experience itchiness, irritation, and even notice your makeup "catching" on your dry skin and flaking off! That may not always be the fault of your makeup product (although some chemicals in conventional cosmetics DO cause skin irritation). In addition to the extra bumps and flakes, your complexion might be more dull than usual. The key to our dry skin treatment relies on a one-two punch: hydration and moisturization (yes, there's a difference between the two). You can pump your skin all you want with water - that's what hydration is - but what's going to lock that precious H2O into your skin and prevent it from evaporating? That's where moisturization comes in. Water needs a humectant to reinforce your skin's natural lipid barrier to keep water in and the baddies out. Moisturization involves adding oil to protect your skin from losing water. If you have dry skin, you definitely need a good amount of both! Without further ado, here's our dry skin treatment with the best of our natural skin care products.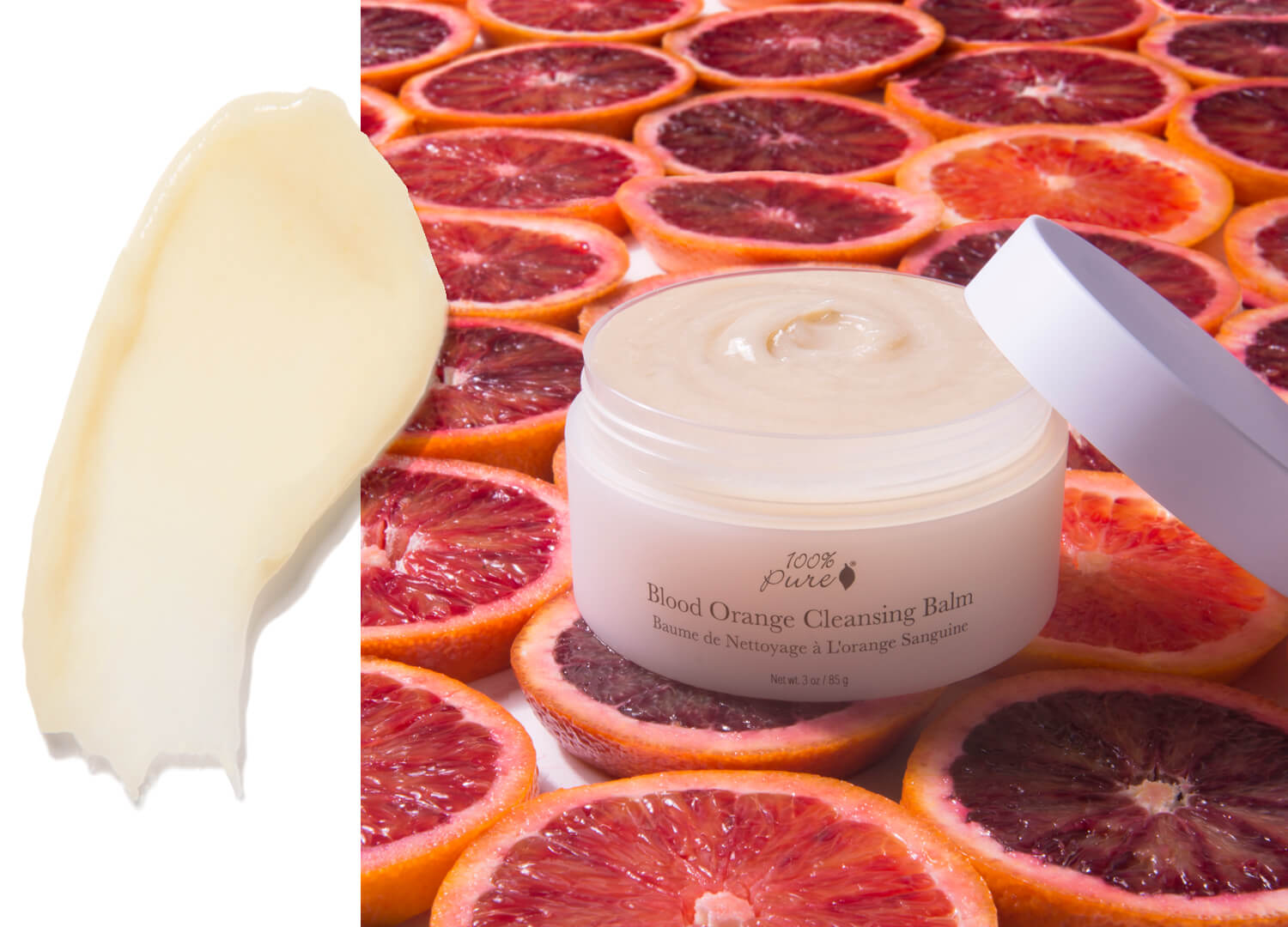 Dry Skin Treatment
Step 1: Blood Orange Cleansing Balm
Massage this luxe balm into your skin to melt away makeup and sunblock. Cleansing doesn't have to strip your skin of precious water. Yes it's true, this cleansing balm has all the characteristics of a rich, creamy balm that moisturizes and softens skin with organic avocado oil, coconut oil, and beeswax. It's great at removing eye makeup too. So massage away and bask in the uplifting scent of blood orange essential oil!
Step 2: Coconut Oil Moisturize Cleansing Milk
Purify and deeply cleanse with this indulgent facial cleanser as you enjoy the scent of coconut and vanilla bean. Remember how we lectured you on the importance of both hydration and moisturization? Well, this cleanser does both! Skin softening coconut milk hydrates skin, while coconut oil moisturizes to lock hydration in. This rich cleanser only has a handful of ingredients, making it extra nourishing and suitable for dry or sensitive skin.
Step 3: Restorative Sea Culture Hydrating Toner
Pat this water-drenching elixir all over face, eyelids, and neck with clean hands or cotton pad. Toner is essential for hydrating and prepping your skin for the next power players in your routine. You might have heard of the heavy lifter hyaluronic acid that can hold 1000 times its weight in water. What would a dry skin treatment be without it? We're also partnering this skin care miracle with chia water for extra hydrating action. Another mighty little gem from Mother Nature is seaweed. Think about how much dried seaweed expands when you add it to your soup. Seaweed is excellent at trapping moisture into your skin, which is exactly why we tapped into its skin loving minerals and nutrients.
Step 4: Restorative Sea Hydrate Serum
Apply a pea-sized amount of serum onto fingertips and gently massage into skin. Our founder Susie Wang had people with dry skin in mind when formulating this serum, and had to include hyaluronic acid for that extra hydrating boost. As we age, the natural production of lubricating hyaluronic acid decreases in our body - a major culprit for aging skin - so we didn't want you to miss out on another opportunity to pump your skin cells with it! The seaweed extracts in this serum have been fermented for extra potency. Combined with the hundreds of beneficial sea nutrients, gelatinous chia and algin work to hydrate your skin off the charts for more plump, glowing skin.
Step 5: Super Fruit Oil Nourishing Eye Cream
Apply quarter sized amount to ring fingers and gently apply to your eye area, including upper and lower lids. Remember to be extra gentle as the skin around your eye area is more sensitive. We chose the most nourishing superfruit oils to help moisturize your skin. These oils have been cold pressed to retain their nutrient rich properties. Organic acai oil is rich in vitamins A, C, and E for skin strengthening; goji berry, acerola, and elderberry contain a range of potent antioxidants to protect and repair skin.
Step 6: Green Tea EGCG Concentrate Cream
Don't forget this final step and let your dry skin treatment efforts go in vain! Apply a quarter sized amount of this rich moisturizer to your face and neck while gently massaging. A high performing moisturizer is crucial for maintaining your skin's moisture barrier. We understand that dry skin can result from environmental damage too (like the sun!), so we've packed this cream with the best skin repairing ingredient we could find. EGCG from green tea is a mighty cancer-fighting antioxidant. It not only neutralizes harmful free radical cells that cause your skin to dry and age, but also enhances DNA repair for stronger, healthier skin. EGCG also helps soothe inflammation and fight dull skin - all symptoms that come with dry skin, making it one of your best friends for dry skin treatment.
We carefully hand-select products based on strict purity standards, and only recommend products we feel meet this criteria. 100% PURE™ may earn a small commission for products purchased through affiliate links.
The information in this article is for educational use, and not intended to substitute professional medical advice, diagnosis, or treatment and should not be used as such.
Sign up to our email newsletter for more blog updates and exclusive discounts.
< Older Post | Newer Post >