Design a Look That's All About the Eyes
Enhance the color and shape with easy eye makeup looks – plus the best natural eyeshadow palettes!
Posted on February 5, 2020
Written by: 100% PURE ®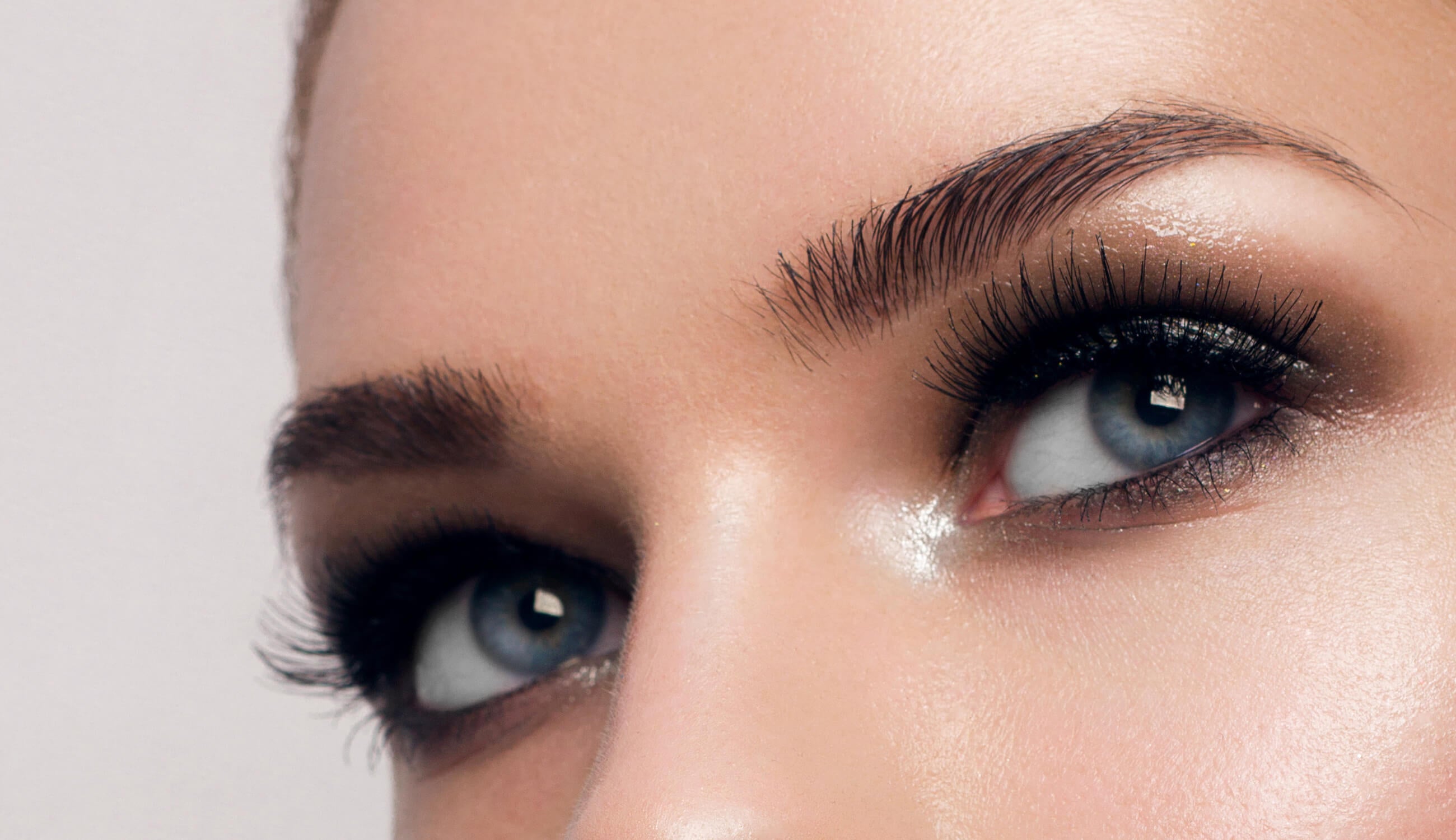 The eyes have it! Now more than ever, we're focusing on makeup that enhances the natural beauty of our eyes. But some eye looks and techniques can be intimidating! As opposed to a quick, simple swipe of color on the lids, more complex eye looks are needing brushes and blending strokes to create something magical.
But no need to fret! If you're a newbie at applying on-trend eyeshadow, you're in good company! In this post, our natural eyeshadows palettes are sure to master any trending eye makeup look – plus our mascaras and eyeliner play up the look! Stand by for tips for every eye color and shape, suited to your style to bring your gorgeous eyes front and center.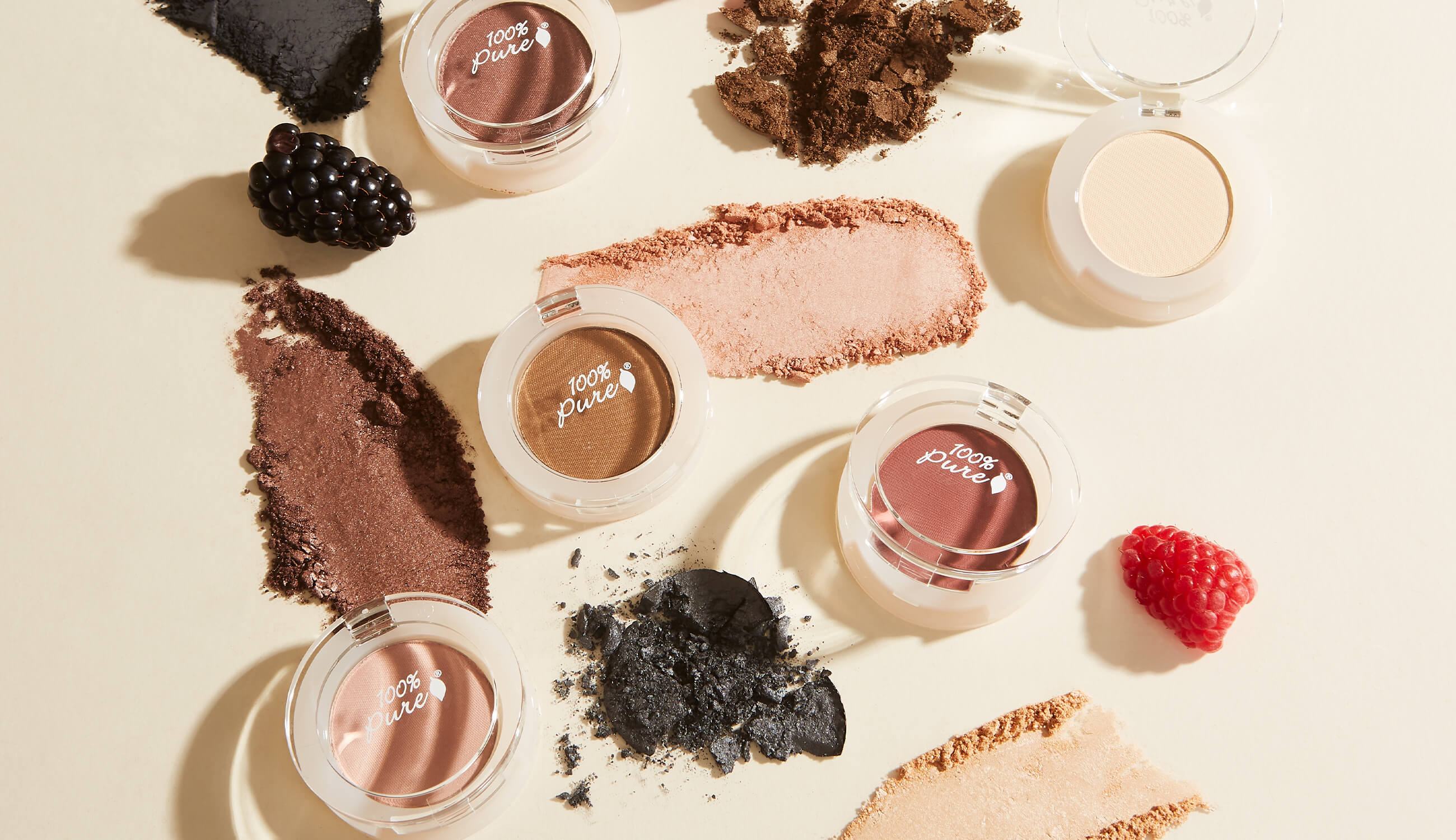 Color Story
Want a fool-proof way to make your peepers eye-catching and eye-dyllic? Play up your eye color with complementary or contrasting shades, using natural eyeshadows in satin or shimmer finishes. Reference the guide below for the shade that will fit your eye color best!
Brown
Since brown eyes are such a grounding color, they're able to pull off just about any shade! Royal and navy blues along with vibrant purples are the best duos. Try Fruit Pigmented® Eyeshadow in shades Mink (warm plum purple) or Bamboo Charcoal (seductive pewter gray with blue).
Hazel
Golds or purples bring out the complex hues in hazel eyes, boosting their ethereal nature. Gilded is a warm, glittery true gold that can be blended out or intensified for day-to-night looks.
Green
Rare and daring, green eyes vary in tone and depth. But no matter the shade, natural eyeshadow in Quartz is a sparkly copper brown mauve that creates the perfect warming contrast.
Blue
Baby blues have never looked sweeter than with a touch of shimmer to bring out your depth. Rose gold natural eyeshadow in Cinnaban makes for a flawless touch. Warm, shimmery, and buildable copper pigment draws mega attention to the eyes.
HOW TO:
#1. Start with clean, dry eyelids. You can also prep using your favorite concealer to enhance pigment and stretch the wear of your eyeshadow.
#2. Take a flat shader brush packed with color and press it onto the mobile lid of the eye until fully covered.
#3. Using a fluffy blending brush, sweep the same shade into the crease until you create a smooth transition.
#4. You can repeat these steps on the lower lid for a smoked-out look, or keep things soft and sweet with eyeshadow on the upper lid only.
#5. Finish off the look with as much mascara as your heart desires, and a defined brow using the Green Tea Fiber Brow Builder.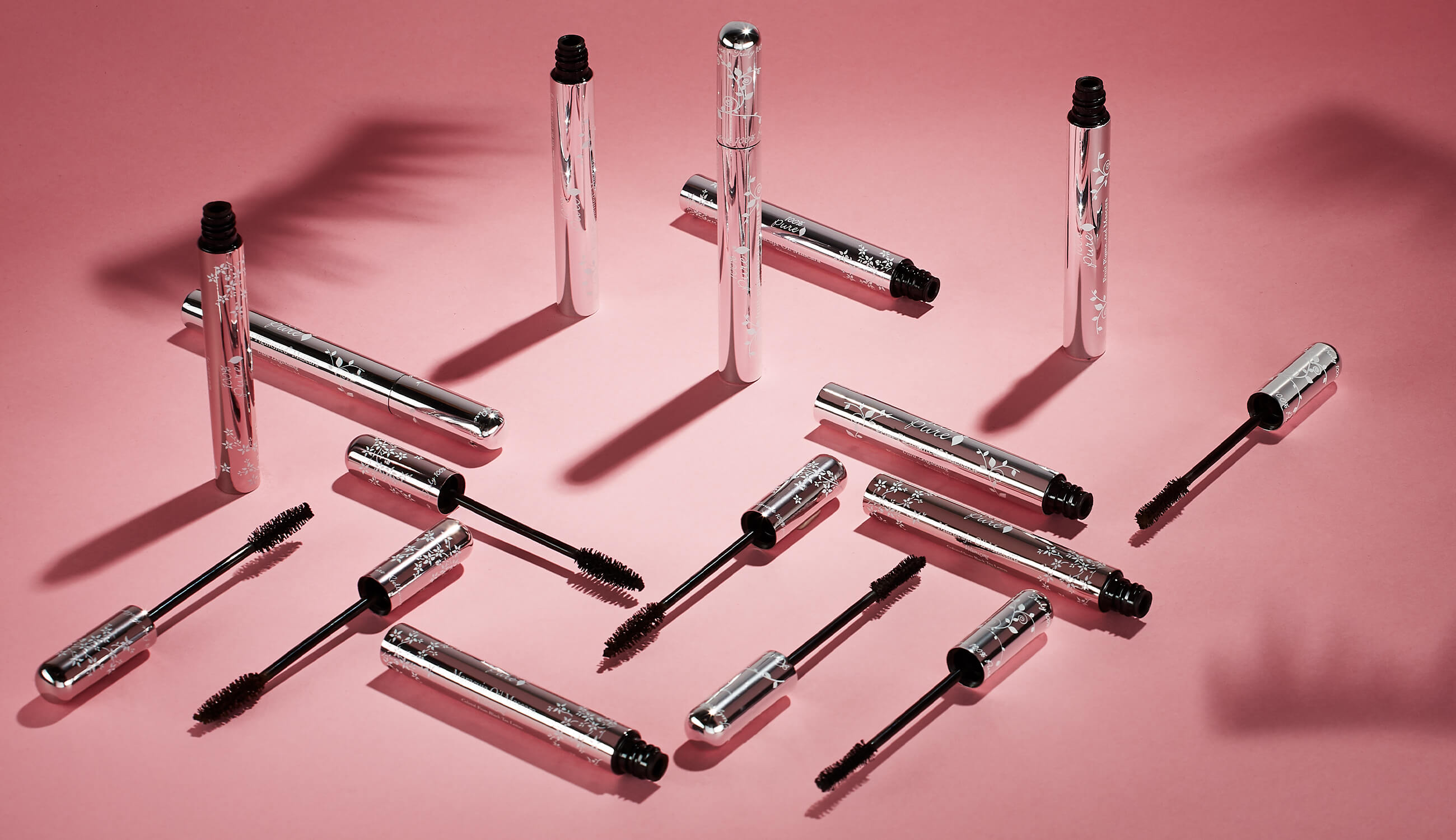 Eye Shape
It isn't just the color of our eyes that makes them unique; the shape of the eye is just as impactful. Sometimes we lean into our natural eye shape, and other times we like to transform it – we'll show you how!
Upturned
These eyes look naturally more alert and have a seductive edge. Amplify that with Creamy Long Last Liner in Blackberry or Dark Chocolate on the inner rim of the eyes. Deeper shades can pump up the intensity and create that iconic modelesque smize.
Almond
Deep and expressive, almond eyes can take the weight of almost any eyeshadow look. For a doe-eyed effect, opt for a thick retro-inspired wing using a long-lasting liquid liner. This is the type of look that wears well day or night. A halo eye with Ginger on the inner and outer corners highlighted by Sugared in the center brings drama while keeping things simple. This color duo looks great on any skin tone and eye color.
Downturned
Universally seen as kind and endearing, downturned eyes look sweet any way you dress them. For a bold lift, we suggest a long cat-eye flick. Apply our black tea-infused vegan liquid liner to draw the eye upward and outward. A thinner wing with lots of lashes is just the ticket.
Hooded
We celebrate how any eyeshadow look appears more intense and magnetic on hooded eyes. Balance the eye with a smoked-out upper and lower lids in brown, gray, or purple hues. Make the eyes bigger and brighter with a swipe of vegan eyeliner in white on the upper and lower water lines.
Monolid
These lovely eyelids have a larger surface area and can handle a wide range of soft and subtle to ultra-bold. For a softer look on monolid eyes, apply a peachy pink cream pigment to the lids with dry fingers. Buff the color out with a small fluffy brush, then feather the lashes with a volumizing mascara.
For a bolder nighttime look, bring pigment from the lash line to the top of the orbital bone, creating a metallic sheen with plum-bronze Luster. To brighten the eye, add a rosy, shimmery Gleam to the inner corner and diffuse below the lash line.
Round
The bigger the better – and round eyes have a size in spades. Add to the doe-eyed look with multiple layers of natural lengthening mascara, or create an elongated shape with a simple wing at the outer corner.
Using a long-lasting eyeliner, start the wing at the outer third of the lash line, drawing straight (towards the temples) rather than following the shape of the eye. Complete the "triangle" by drawing a line to meet the tip of the wing from the outer corner of the lower lash line. Fill in and watch as sweet Bambi's eyes transform into a seductive stare.
Natural & Neutral Eye Makeup Looks
Nothing can ever take away our love of neutrals, so we decided to combine two of our favorite things: natural eyeshadows and neutral tones.
Topping the list of product picks is our Fruit Pigmented Eyeshadow, best known for winning both the Allure Readers' Choice and Best in Beauty awards in both 2019 and 2020. This award-winning eyeshadow features real fruit pigments and ingredients like vitamin E, avocado butter, papaya, and coffee rather than toxic fillers like talc and silica.
Here are the wholesome beauty looks for our neutral lovers out there:
Newsletter
Subscribe
for more blog updates and exclusive discounts
#1: Satin Smoke
Bamboo Charcoal doesn't get enough shine as a neutral, so make it the star of the show by draping it all over the lid. Dust Vanille from the brow down to the crease, then combine the two just above the crease for a seamless smoky blend.
#2: 3-Step Eye
We start with a neutral mid-toned shade all over the lid; in this case, we're using Petal Tip. Add depth into the outer third of the crease using a tapered blending brush and shade Mink. Finally, highlight the brow bone and tear duct with Vanilla Sugar for a plush, soft pink eye that hits the tone trifecta.
For the finishing touch, add the Ultra Lengthening Mascara in Dark Chocolate or Black Tea. Paired with a sexy nude lip or a creamy gloss, this eye look never fails to stun.
#3: Lash Blast
One of our favorite go-to looks is the simplest of all. It's a full eyelid of Gilded blended up to the brow bone, with our miracle Maracuja Mascara layered on for the ultimate volume. The contrast of gold and black draws attention to the eyes and adds a glamorous intensity without being extreme.
Perfect Eye Shadow Palettes for the Ultimate Makeup Look
We're all about our makeup working smarter, not harder. That's why we're huge proponents of using just a single makeup palette to complete one look – or two, or three. The colors are designed to 'go' together, which takes the guesswork out of matching your blush to your highlighter to your eye shadow, and so on.
So, what if you're caught between Pretty Naked and Better Naked? Can't decide if you're feeling more Berry Naked or Rose Gold? If you've been eyeing our Palettes for months and just aren't sure the shades are for you, today's your day!
Here's an up-close and personal breakdown for navigating our fruit pigmented® makeup palettes, so that you can choose the right one (or all) that is perfect for you!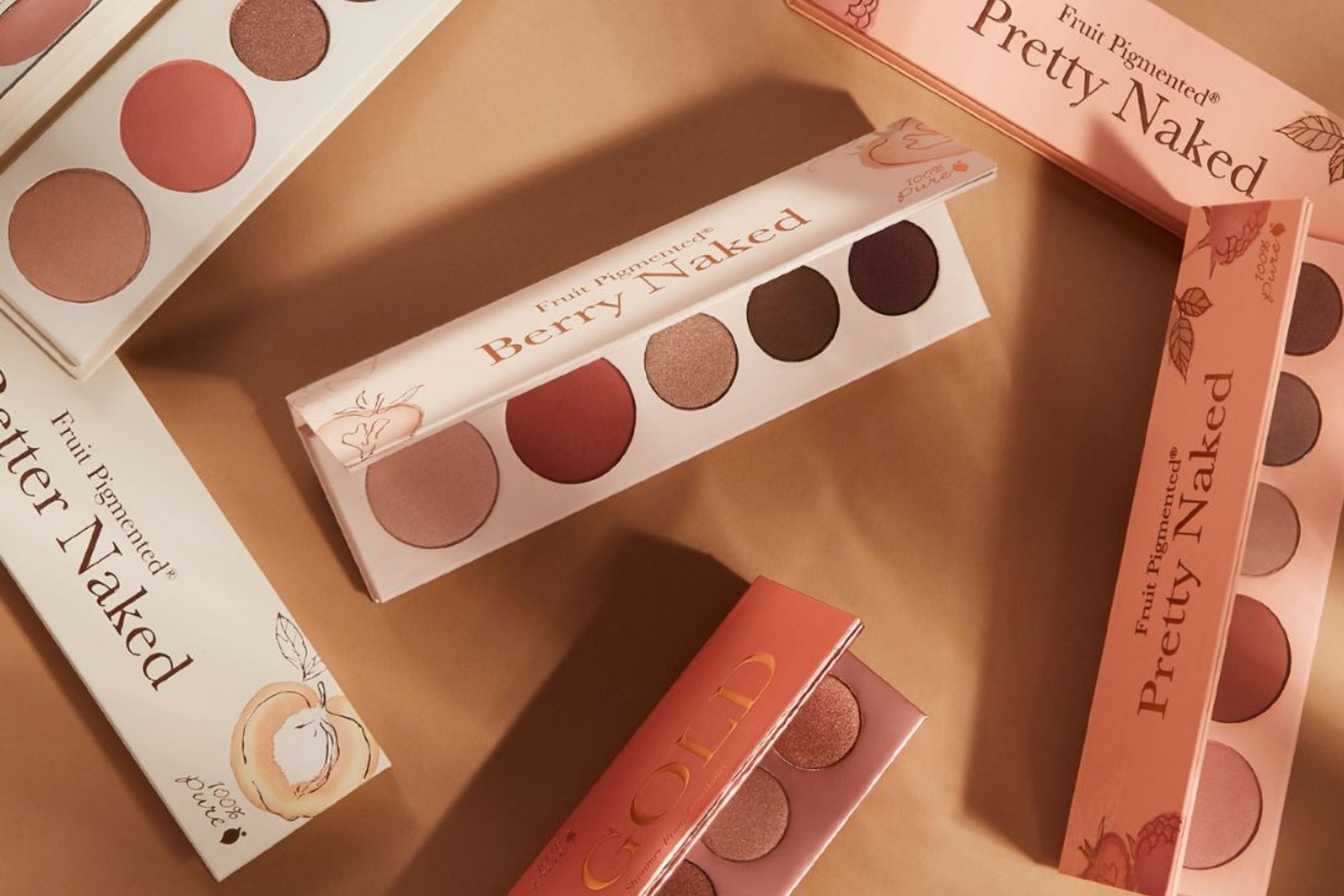 Fruit Pigmented® Makeup Palettes: Color Breakdown
Our original Pretty Naked Palette is a beloved 100% PURE beauty staple and is an unbeatable asset in creating natural makeup looks. This fruit pigmented® palette celebrates soft, neutral tones to enhance and beautify without looking too made-up. This is our classic 'everyday' makeup palette and includes eyeshadows, blush, and luminizer colored from vitamin-rich fruit and vegetable pigments -- not synthetic dyes.
The benefits of the Pretty Naked Palette:
Great for fair to medium complexions, or as a pale neutral palette for deeper skin tones
Ideal starter palette for practicing versatile nude, neutral, or natural makeup
Luminizer is best for fair to medium skin tones with pink to neutral undertones
Palette of neutrals, metallic nudes, and soft pinks
Pretty Naked Palette Includes:
Pink Champagne LUMINIZER:
Pink luminescent powder with pearly-gold shimmer
Pretty Naked BLUSH:
Peachy nude blush
Flax Seed eyeshadow:
Pale pink-nude eye shadow with a taupe undertone
Toffee eyeshadow:
Taupe-gray eyeshadow with a silver undertone
Chestnut eyeshadow:
Rich, bronze-chocolate eyeshadow with a rosy undertone
Berry Naked is a collection of classically flattering nude, blush, and metallic tones. The timeless romance and classic beauty of this color palette are versatile enough for day or night and features eyeshadows, blush, and luminizer colored from vitamin-rich fruit and vegetable pigments -- not synthetic dyes.
The benefits of the Berry Naked Palette:
Great for all complexions
A perfect palette for practicing versatile day or night neutral looks, with color options for amplifying the drama
Luminizer is best for cool to neutral undertones
Palette of nudes rose, and smokey neutrals
Berry Naked Palette Includes:
Illume LUMINIZER:
Pale, dusty pink luminescent powder with a pearly shimmer
Afterglow BLUSH:
Rustic peach-pink blush
Beam eyeshadow:
Nude gold eyeshadow with soft flecks of gold sparkle
Splendor eyeshadow:
Deep, taupe-brown eyeshadow with charcoal undertone and bronze shimmer
Vivid eyeshadow:
Deep, charcoal-purple eyeshadow with flecks of ruby sparkle
Our Better Naked Palette amplifies rosy, taupe, and beige-toned nudes alongside shimmery, gilded metallics. Pigmented from antioxidant-rich fruits, vegetables, tea, and other skin-beneficial plants. This palette features 3 eyeshadows, a blush, and a highlighter. Each signature shade is colored from vitamin-rich fruit and vegetable pigments – not synthetic dyes.
The benefits of the Berry Naked Palette include:
Great for all complexions
The ideal everyday palette
Luminizer is best for cool to neutral undertones
A palette of rosy, taupe, and nude neutrals
Better Naked Palette includes:
Fox LUMINIZER
Beige luminescent powder with pearly-gold shimmer
Bunni BLUSH:
Rosy nude blush with warm undertones
Kitty eyeshadow:
Golden eyeshadow with a warm shimmer
Bear eyeshadow:
Milk chocolate brown eyeshadow with rosy undertones
Butterfly eyeshadow:
Rich taupe eyeshadow with charcoal undertones
Look and feel luxurious with this treasure trove of ultra-flattering rose gold, complete with warm metallics and a stunning shimmer from genuine gemstones. With pigments made from antioxidant-rich fruits, vegetables, and other skin-beneficial plants, this premium rose gold makeup palette features a highlighter, blush, and 3 eyeshadows all made with skin-nourishing ingredients.
The benefits of the Rose Gold Palette:
Great for all complexions
Perfect for everyday casual & evening glamor
Luminizer is best for warm to neutral undertones, or any skin tone wanting a warm, golden shimmer
Blend of pearl, pinks, and gold
Rose Gold Palette includes:
Prism LUMINIZER
Pale, rose gold highlighter with pearly shimmer.
Primp BLUSH:
Coppery rosy blush with a slight golden shimmer.
Luster SHADOW:
Warm bronze eyeshadow with plum undertone and shimmer.
Gleam eyeshadow:
Pale, rose nude eyeshadow with pink undertone and shimmer.
Glimmer eyeshadow:
Rose gold eyeshadow with shimmer.
Follow our foolproof user's manual to help choose non-toxic natural makeup palettes, snag the best cruelty-free brushes for the job, and give you an up-close and personal breakdown of every single color in each fruit pigmented® makeup palette!
We carefully hand-select products based on strict purity standards, and only recommend products we feel meet this criteria. 100% PURE™ may earn a small commission for products purchased through affiliate links.
The information in this article is for educational use, and not intended to substitute professional medical advice, diagnosis, or treatment and should not be used as such.
Sign up to our email newsletter for more blog updates and exclusive discounts.
< Older Post | Newer Post >