Beyond Your Morning Cup: The Incredible Skin Benefits of Green Tea!
Learn How Green Tea Transforms Your Skin from the Inside Out.
Posted on September 21, 2023
Written by: 100% PURE®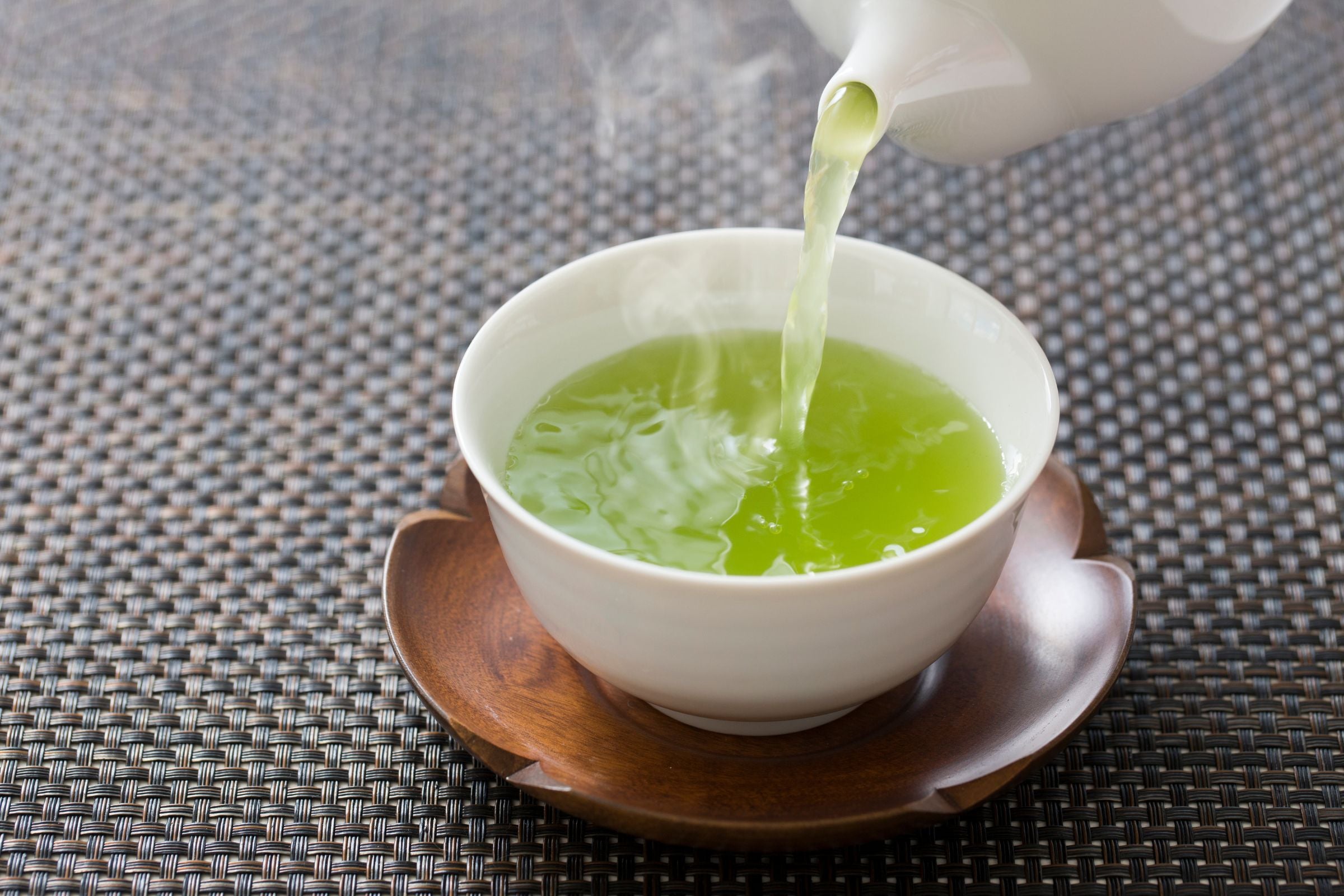 While it's true "beauty is only skin deep", you could punch holes in the expression with the external and internal benefits of green tea. History tells us that green tea isn't just a little health potion dating back a few millennia. The lovely, little leaf boosts a mighty brew-tiful tonic of skin and wellness perks!
Fast-forward a few centuries, and this super leaf has gained a modern revival in skincare. From combatting acne and premature aging to healing sun damage and restoring skin, green tea has surged in popularity in the beauty realm as the leaf of life, bright, and radiant skin.
Let's spill the tea on the multifaceted skin benefits of green tea and why it's the ultimate secret weapon for both health and beauty. Imagine a single potion that can boost your skin's glow, fight those pesky signs of aging, and even make your hair shine like never before – that's the magic of green tea!
Green Tea: Not Just a Healthy Drink
Turns out that green tea has way more to offer than just being one of the healthiest drink options enjoyed hot or cold. Along with its ancient and modern origins as a health booster, green tea offers a plethora of benefits for your skin.
Antioxidant Powerhouse:
Antioxidants are A-plus at brightening, clearing, or smoothing skin. But above all else, antioxidants help protect the skin from impurities in our environment. Free radical damage is one of the key contributors to signs of premature aging.
When free radical damage happens, the stress leads to collagen in the skin breaking down. This breakdown of collagen impairs the skin's natural repair response and prompts inflammation. This is a major factor that can lead to wrinkles, fine lines, and loose, sagging skin.
So, what makes green tea an antioxidant powerhouse? The most abundant and powerful antioxidant in green tea is epigallocatechin gallate or EGCG. Research has shown that EGCG can reduce cellular damage caused by free radicals, and can also help to promote healthy cellular life cycles. That means green tea for the skin is also a potent anti-aging ingredient that combats signs of premature aging and keeps skin looking radiant and youthful.
Soothing Sensation:
Green tea isn't just a defender; it's a healer too. Green tea has powerful anti-inflammatory properties, thanks to its high content of polyphenols called catechins, which are antioxidants in nature. The catechins' soothing powers calm inflammation like a gentle breeze, giving your skin that peaceful Zen feeling.
Thanks to its soothing sensational powers, green tea can help calm redness and irritation, making it suitable for sensitive or acne-prone skin. More recent studies have shown that green tea increases benzoic acid levels – a key compound used to treat skin irritation caused by sunburns or conditions like eczema.
By reducing inflammation, green tea can promote a more even skin tone. The super leaf aid can also aid in maintaining the skin's natural barrier preventing moisture loss and promoting skin hydration. This can be particularly beneficial for individuals with dry skin or for those with oily skin that's been stripped of essential moisture, creating an overcompensation of oil, which can lead to breakouts. That's next!
Oil Balancing Act
Those skin warriors who battle with oily or acneic skin know the tiring juggling act to keep skin clear, balanced, and happy. One of the key ingredients in green tea that helps in the management of oily skin is tannins. These biomolecules have dual-purpose benefits for the skin
Green tea's tannins possess astringent properties, which can constrict blood vessels, tighten pores, and even out skin tone. Tannins act as a natural skin toner, helping to even out the skin's appearance by tightening the skin and reducing the size of pores. This action can help prevent the pores from becoming clogged with oil and dirt, a common issue for those with oily skin that often leads to breakouts.
Acne is commonly caused by factors such as excess oil production, clogged pores, bacteria, and inflammation. Green tea exhibits anti-inflammatory and antimicrobial properties, which make it a total hero for acne-prone skin. These antioxidants help to reduce inflammation, control oil production, and combat bacteria on the skin, all of which are beneficial in fighting acne.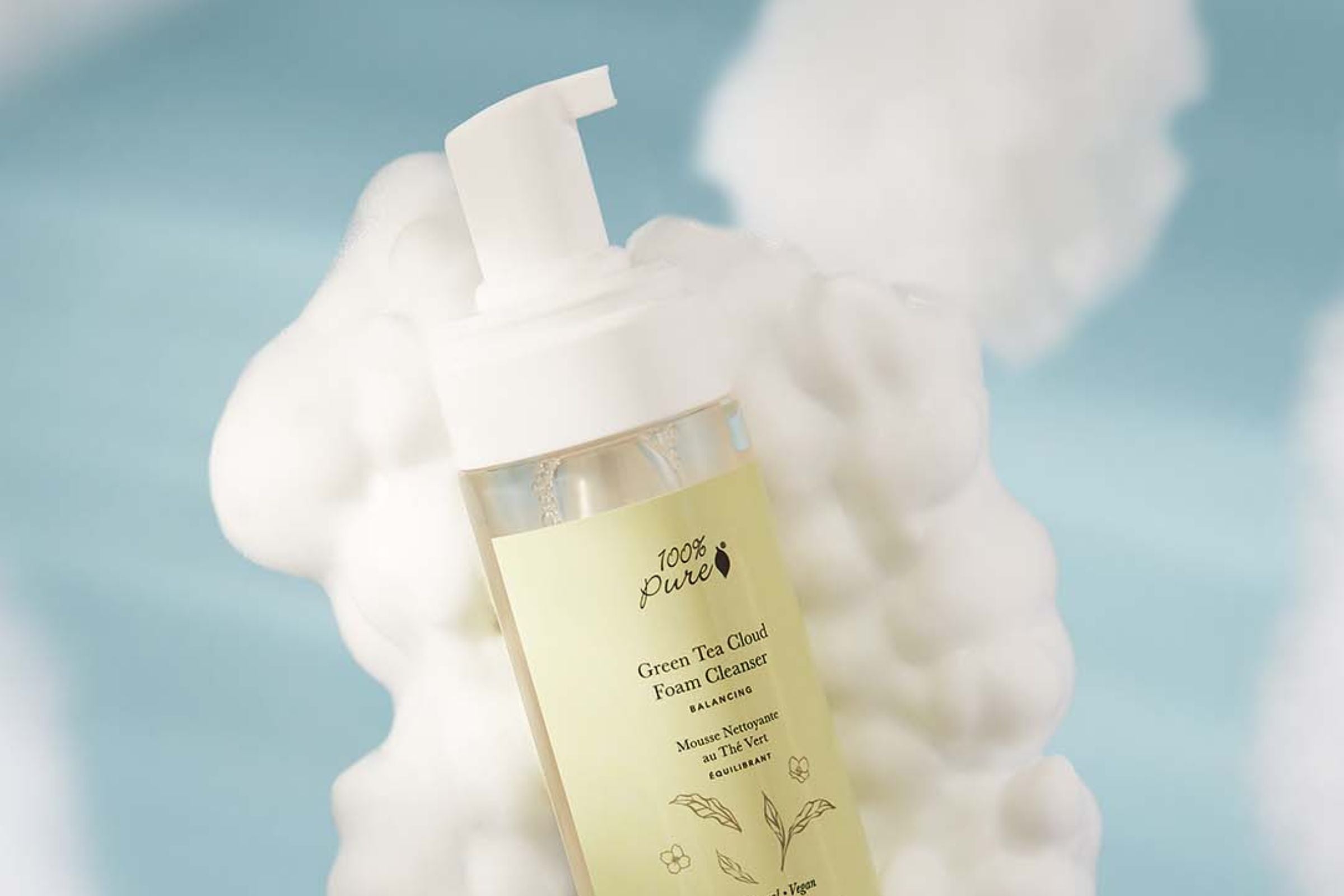 Transforming Your Skincare Routine with Green Tea
Elevate your beauty game with the power of green tea-infused products from 100% PURE. These natural wonders can transform your skincare routine, one drop at a time. Let's dive into the lush world of green tea goodness and see how these products can be your new beauty BFFs!
#1. Begin with Cleansing
When it comes to cleansing with green tea, you have lots of options. The key benefit from them all is a blend of redness control, toning power, and removal of environmental impurities. Check out your options for green tea cleansers:
Get a fresh start to your day with a green tea-infused freshness. Our Green Tea Cloud Foam Cleanser provides a spa-like cleanse as you wash away impurities with this gentle foam. Packed with soothing green tea and calming chamomile, it leaves your skin feeling refreshed and oh-so-happy. Use it daily to start your beauty routine on a radiant note.
If you awoke to a less than creamy, dreamy complexion, let's perk the skin up in the softest way possible with our Matcha Cleansing Balm. This sensational, creamy treat for the skin comes in the form of a pale green pleasure. Six simple yet wholesome ingredients, such as avocado and anti-inflammatory matcha, give the skin a mini at-home spa makeover. Wake to luscious suppleness and softness!
2#. Mask It – In a Good Way
To keep the spa grove going, what lush makeover is complete without another quali-tea product that can pamper skin to the skies? With a mask, skin can instantly drink in nutrients directly where we need them, yielding what seems like instantly noticeable results.
Give your skin a treat and a tall drink of green tea with our Matcha Oat Milk Nourishing Mask. Made with ultra-fine matcha green tea powder, this nourishing concoction is easily the most potent green tea mask you'll find. Oats combine to pamper dry or sensitive skin, while coconut milk adds a luxurious touch. This mask is a matcha made in heaven for your skin.
Tired, dull, or puffy skin that needs a spa treatment but without leaving the comfort of home? Throw on a Green Tea Water Bomb Mask for a pampering way to enjoy the benefits of green tea for the skin. Enriched with a super green leaf, this intensely hydrating face mask can reduce redness and soothe the skin. Skin-loving hyaluronic acid quenches and plumps skin to liven any dull or tired complexion. Slather it on, kick back, and let the spa magic happen.
Get ready to experience a truly transformative skin treatment. Our Tea Tree Deep Detox Mask is here to help you purify even the oiliest and most acnegenic of complexions with its selection of curative herbs, French green clay, salicylic and lactic acid, turmeric, peppermint, and eucalyptus oils. Balance excess oils for clear, impurity-free pores, while reducing the appearance of scarring. Your skin is left refreshed and glowing with a calmness like never before!
While green tea has its stores of caffeine, don't be afraid to double down with coffee or other teas in your skincare lineup. The hydrogel Caffeine Mask is made to battle signs of sun damage, with anti-inflammatories and three sources of natural caffeine. Caffeine acts as a vasoconstrictor, helping to reduce surface redness in skin that is often caused by excessive exposure to the sun. The bonus is refreshing and soothing aloe (a popular after-sun savior), making up 95% of the gel mask material.
Don't forget that our delicate eye area needs just as much – if not more – green tea TLC! The eyes tend to be a hotspot for issues: fine lines creeping, dry skin, and darkness from tossing and turning all night – keeping the eyes looking flawless can be stressful. Worry less with just 15 minutes and a pair of Bright Eyes Masks!
This ultimate de-puffing eye treatment is made with three kinds of caffeine: green coffee, yerba mate, and green tea. Topical caffeine can stimulate healthy blood flow to brighten dark circles, while also discouraging fluid retention that causes puffiness and eye bags.
#3. Serums & Moisturizers
Now it's time for deep penetration of our star ingredient green tea to lock in hydration and essential nutrients. Give your skin a little extra sip with another layer of hydration courtesy of a concentrated serum treatment! Finish your full green tea for your skincare routine with a kiss of moisture.
Our nutrient-dense Green Tea EGCG Concentrate Serum was designed to soften skin while defending against environmental damage. This mega-moisture serum uses green tea and avocado oil to enhance radiance, protection, and healing. We're sure you didn't need more convincing, but this serum works overtime to target and neutralize free radicals and pollutants, which can damage the skin over time.
Finish your full green tea regimen with some replenishing, soothing moisture. Our Green Tea EGCG Concentrate Cream employs green tea oil, yerba mate, olive squalane, and potent rooibos. It's a deeply nourishing treatment designed to counteract sun damage, dark spots, and free radicals. This nutrient-rich moisturizer softens and fortifies skin with key phytonutrients. EGCG, the potent antioxidant from green tea, protects against environmental damage.
Green Tea and Sun Protection
Harmful ultraviolet (UV) rays from the sun, particularly UVA and UVB, can damage the skin by causing premature aging, sunburn, and an increased risk of skin cancer. UVA rays penetrate deeply into the skin, leading to long-term damage, while UVB rays cause immediate sunburn.
Green tea contains powerful antioxidants, including EGCG, that help neutralize free radicals generated by UV exposure. By mitigating oxidative stress, green tea aids in reducing sun-induced skin damage, inflammation, and photoaging as well as premature aging from sun-damaged skin.
Enhance your SPF routine using Green Tea SPF 30 sunscreen, a protective and nourishing product that combines the benefits of green tea extracts with effective sun-blocking agents. This sunscreen offers broad-spectrum protection while keeping the skin hydrated and shielded from harmful sun rays.
FAQs about Green Tea in Skincare
Can I apply brewed green tea directly to my skin?
While it's been said that you can simply brew up a mug of green tea, wait for the soaked tea bags to cool, and apply them to your face to reduce redness under-eye puffiness, or darkness, the best way to incorporate this rich antioxidant into your routine is through topical use of green tea products that come from nature for the most gentle and safest way to reap its super-leaf properties.
Is there a best time of day to use green tea skincare products?
Yes, green tea is safe and beneficial for daily use in skincare products. Its antioxidant properties can help protect the skin from free radicals, reducing premature aging and promoting a healthy complexion. Regular application morning and night can enhance skin hydration, soothe inflammation, and improve overall skin health.
Can green tea products cause allergies or skin reactions?
Green tea is generally considered safe for use in skincare and is unlikely to cause significant side effects. However, some sensitive and reactive skin types might experience skin irritation when applying products containing green tea extract, which makes patch testing an important part of integrating green tea into your daily routine.
How does green tea compare to other trending skincare ingredients?
Green tea has scientific and historical relevance dating back a few millennia. It's a beloved super leaf in the health and wellness spaces, and it has surged in popularity in skincare. Green tea is a gentle ingredient, safe for all skin types, and can be paired with pretty much anything - unless your skin is super sensitive.
Green tea's anti-inflammatory and antimicrobial properties can aid in managing various skin conditions. It helps reduce acne and blemishes, soothes redness in rosacea-prone skin, and alleviates symptoms of conditions like eczema and psoriasis. From anti-aging to acne, green tea is an all-around all-star among other trending ingredients for any skin concern.
Is there a difference between green tea, black tea, and white tea in skincare?
Yes, there are some differences between these three teas in skincare. The one you choose depends on your skin concerns. Green tea has impressive anti-inflammatory and antimicrobial properties. So, if you're somebody who suffers from acne-prone, sensitive skin, look out for green tea-infused products. But it's also great for soothing and protecting skin, thanks to its incredible antioxidant benefits.
Black tea contains the highest levels of caffeine, which is why you're most likely to find it in products targeted to the eye area. So, if you're suffering from deep under-eye bags, seeking a black-tea-infused eye product could help your eye woes. It's also packed with antioxidants to help with free radical damage.
White tea for its natural antioxidant, anti-inflammatory, anti-aging, and protective abilities. If you have mature skin, incorporating white tea – or green tea – products into your skincare routine can help you treat wrinkles and fine lines.
Newsletter
Subscribe
for more blog updates and exclusive discounts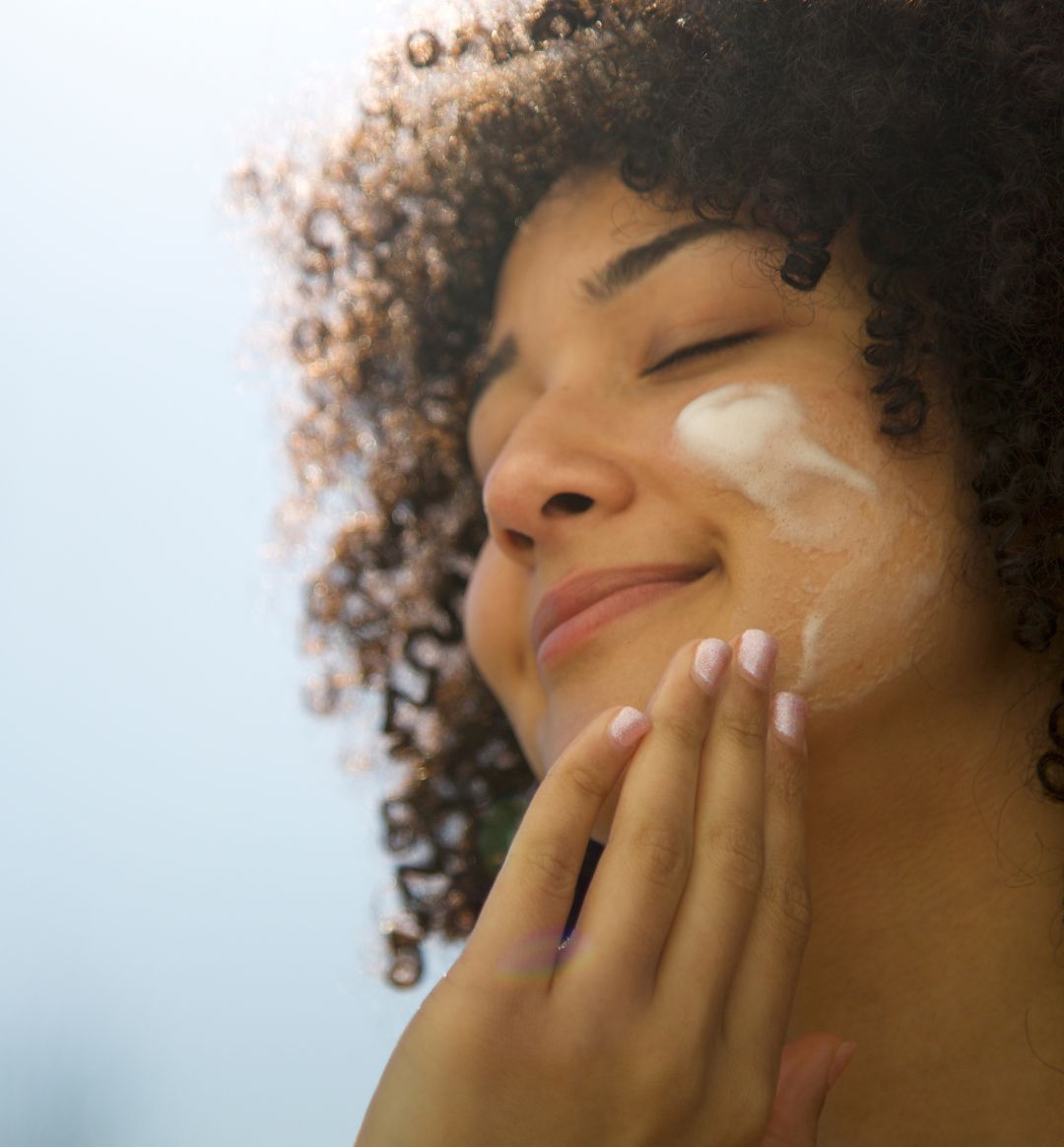 Combining Green Tea with Other Natural Ingredients
One big beauty benefit of green tea is the ease of combining it with other natural skincare ingredients that can heighten its effectiveness and help target skin concerns. When it comes to extra Tea-LC for your complexion, our fave cup of (green) tea ingredients that can perfectly pair with this lovely leaf are honey, rice water, and lemon.
Honey
The sweet kitchen staple with stellar health and wellness benefits. Some of its dual-purpose benefits include adding extra moisturization for dry skin or acne-prone or irritated skin, Honey has huge antibacterial properties that can zap breakouts.
Our revolutionary Ginseng Collagen Boost Mask provides intense nourishment! This ultra-hydrating hydrogel mask features a unique blend of anti-aging ginseng root, collagen production boosters, and 95% organic aloe juice. As the advanced "hydrogel" mask material thins on your face, it transfers its powerful ingredients into the skin for maximum absorption. Supply yourself with youthful firmness—discover softer, more supple skin in no time!
Rice Water
It's helpful to understand that while rice water might be just one ingredient, it's made up of a plethora of beneficial nutrients. Thanks to its abundance of vitamins, amino acids, and minerals, rice water is known to soothe and tone skin while offering relief to those with skin sensitivities. It also brightens skin for a smooth, radiant complexion.
Our Fermented Rice Water Cleanser washes away makeup and other impurities without stripping or dehydrating the skin. This facial cleanser brightens and refreshes dull skin for a more youthful glow. This cleanser is packed with natural skin care lighteners like licorice, sake (fermented rice water), mulberry, papaya, and pineapple. Skin that has lost its luster due to dryness, diet, age, or environmental damage will benefit from this rejuvenating formula.
Our Fermented Rice Water Toner features fermented rice water (Sake), which is rich in enzymes, amino acids, malic acid, minerals, and vitamins to deeply soften, nourish, and give your skin a healthier glow.
A concentration of white mulberry, shiitake mushroom, licorice, and citrus balances skin tone, lessens the appearance of dark spots and brightens. This brightening toner also includes hyaluronic acid, sodium PCA, and vegetable glycerin to promote skin hydration and plumping.
Our Fermented Rice Water Serum is formulated to encourage a healthy glow, nourish the skin, and help it recover from exposure to the sun. While it does contain protective antioxidants, this daytime serum is not the same as a proper SPF – which is your best bet for preventing UV damage.
If we're getting specific, this serum is made with 'fermented' rice water: also known as sake. Sake can take your skincare routine even further by fading blemishes, reducing sun spots, and diminishing signs of aging.
Lemon
It's been said "When life gives you lemons, make lemonade" – or natural skincare products! Some juicy benefits of lemons are its antibacterial and antifungal properties, making it a superstar for acne-prone or irritated skin. These delightful yellow squirts are also a well-known natural remedy used for soothing spots and helping to ward off blackheads.
A double – but gentle – dose of brightening power from fermented rice and lemon? Yes, please! Our Fermented Rice Water Cleanser is a skin-softening and brightening powerhouse featuring fermented rice water (Sake), amino acids, malic acid, minerals, and vitamins to brighten, gently exfoliate, and deeply soften skin.
Our Apple Enzyme Resurfacing Serum is an innovative serum that facilitates skin renewal and brightening. It features licorice and kojic acid to lighten and brighten your skin. Sugar alpha hydroxy acid offers exfoliation, while beet lactic acid hydrates. Fruit enzymes, sourced from pineapple, green apple, lemon, citrus, and papaya, gently remove dead skin cells.
Our Strawberry Brightening Scrub is a gentle facial scrub that uses all-natural berries to exfoliate the skin. The AHA Fruit Acids blend including lemon juice also works to exfoliate, brighten, and soften the skin, while papain helps to soothe and reduce inflammation.
PRO-TIP: Use caution when using lemon, especially if you have sensitive or dry skin. Lemon is acidic, which can irritate your skin. You might experience: excessive dryness.
Conclusion
From a refreshing, energizing, and iced green beverage to a super skin elixir, the bountiful and brew-tiful skin benefits of green tea are practically unmatched among trending skincare ingredients. The queen of green leaves proves to be a true skincare powerhouse, offering a wide range of benefits for your skin.
Its natural antioxidants, especially EGCG, work wonders in combating acne by reducing inflammation and controlling sebum production. For those looking to defy the signs of aging, green tea's ability to stimulate collagen production and fight free radicals makes it an excellent anti-aging ally.
With its shining reputation as a complexion game changer, it's no wonder that the impressive benefits of green tea have other teas green with envy. Embrace green tea-infused products and unlock the potential of this potent ingredient to transform your skin from the inside out.
We carefully hand-select products based on strict purity standards, and only recommend products we feel meet this criteria. 100% PURE™ may earn a small commission for products purchased through affiliate links.
The information in this article is for educational use, and not intended to substitute professional medical advice, diagnosis, or treatment and should not be used as such.
Sign up to our email newsletter for more blog updates and exclusive discounts.
< Older Post | Newer Post >