5 Tips for a Brighter Complexion
How a simple color corrector and natural skin care can build a beautiful, glowing complexion
Posted on September 3, 2019
Written by: 100% PURE®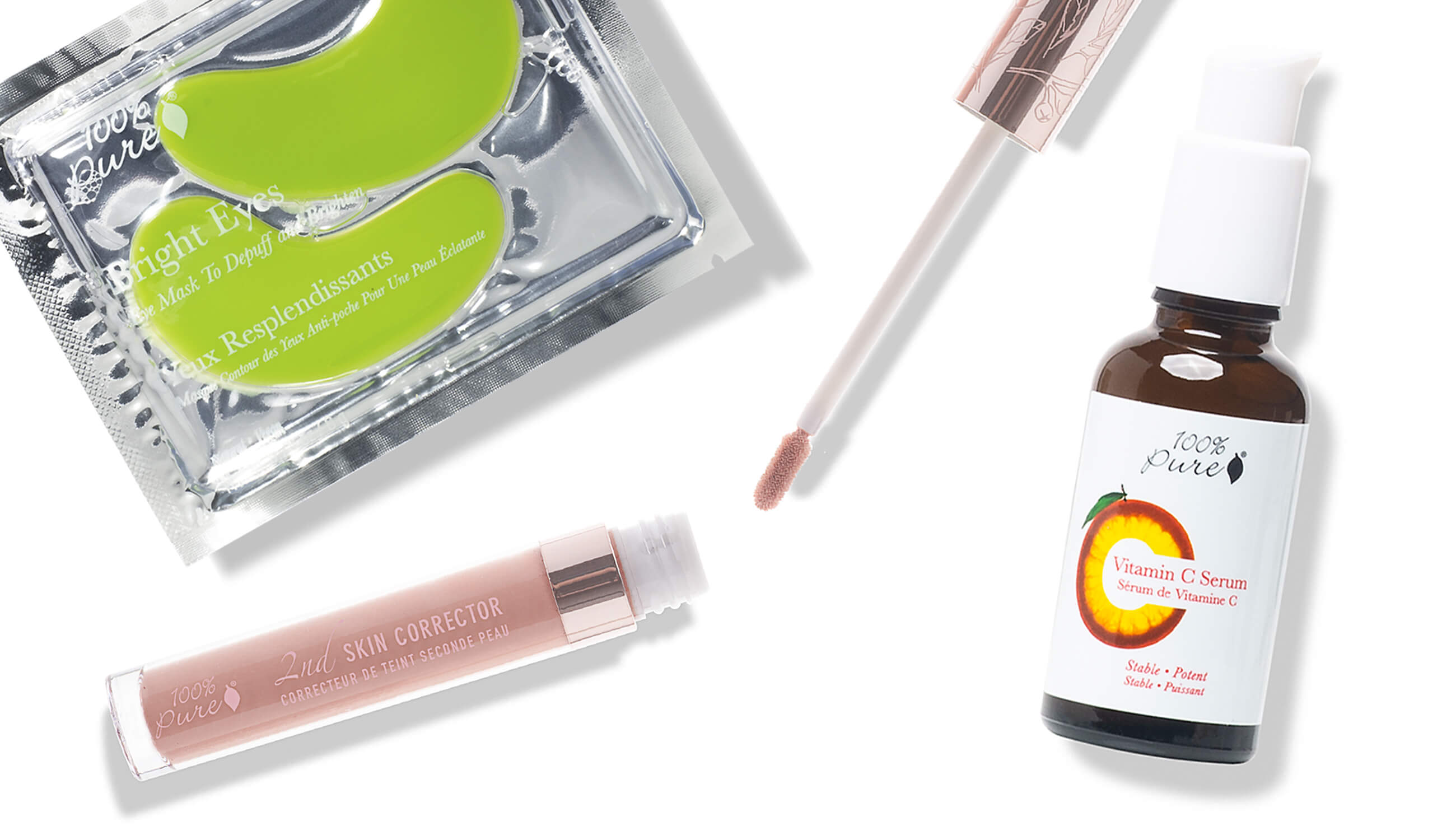 Humans are naturally drawn to brightness and illumination, as opposed to shadows and dullness. It's how we can easily spot a shiny penny amongst a bunch of stones, or how we're able to find car keys at the bottom of a dark purse – at night! Both our attention and awareness are more drawn to brightness as opposed to dullness – and it's no different with our complexion.
Bright skin is a marker of health, youthfulness, and vitality. It's why we want to bottle up that pregnancy or post-spa-facial glow, and why brightening skin care products are some of the most popular. If your complexion is looking a tad dull these days, don't despair! Start with a color corrector and end with skin that shines bright like a diamond – here are our top tips for boosting brightness!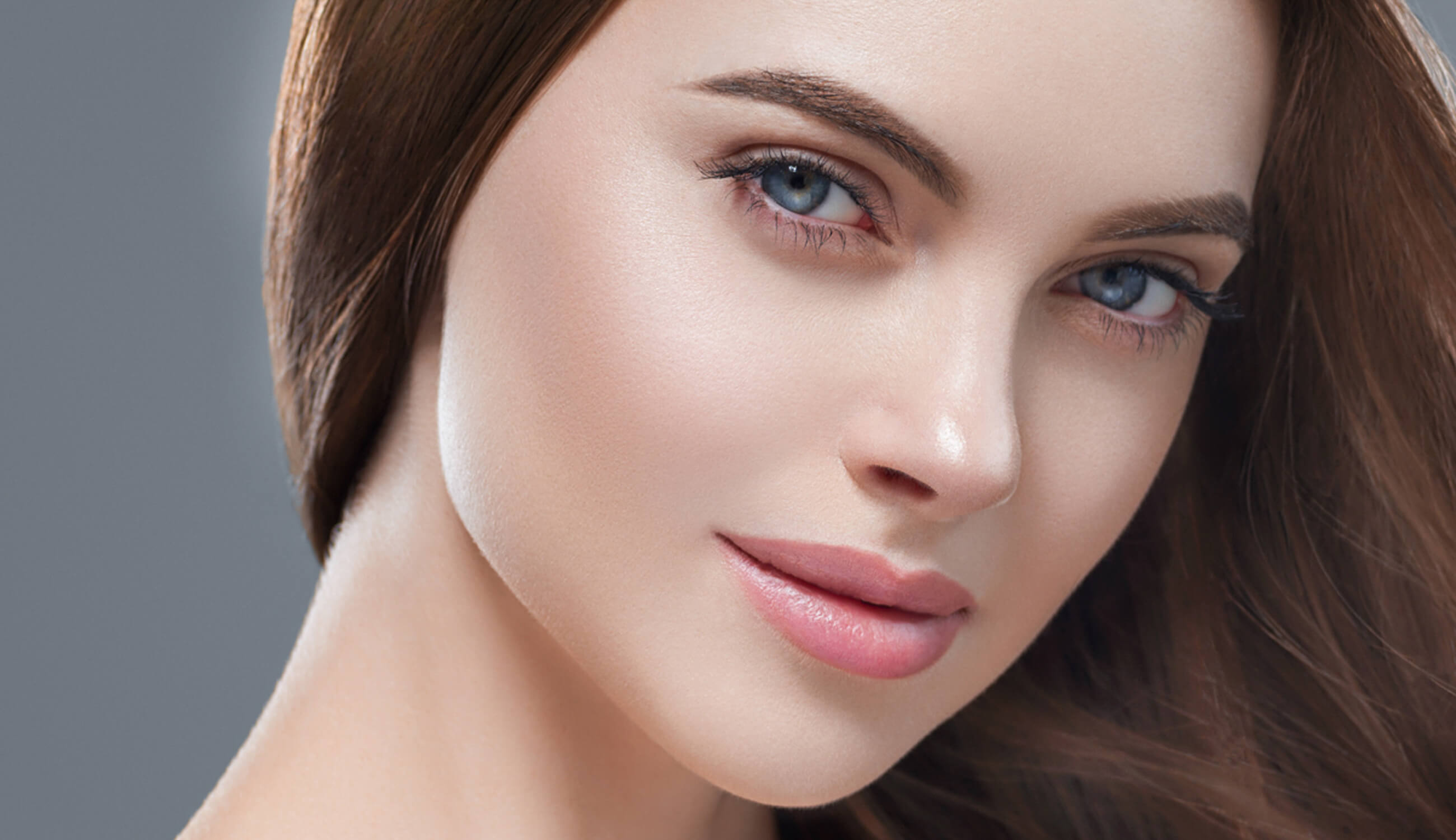 How To Build A Brighter Complexion
Tip #1: Color Correct Dullness
Color correcting concealers are a multitasking makeup bag essential. Use a color corrector to brighten, reduce redness, and banish imperfections while bringing out your best features. If you're struggling with dull skin, look on the bright side – there's a perfect color corrector for you! Our peach concealer will do just the trick and combat overall dullness.
Solution: Check out the 2nd Skin Color Corrector in Peach. Made with real fruit pigments like peach and apricot, this concealer quite literally wears like a second skin. Lightweight and seamless, this olive squalene based concealer blends easily, offers medium to full coverage, and enhances brightness in your complexion.
How to Use: Applying a color corrector can be intimidating, but don't worry – the basics are easy to grasp. Before foundation, apply your color corrector to dark spots, areas of dullness, and imperfections. Draw directly under the eyes in an upside triangle, to conceal any darkness and brighten your under-eye area. Gently blend into skin with cruelty-free kabuki brush or clean fingers.
Tip #2: Brighten the Eye Area
If the eyes are the windows to the soul, then we're going to do anything to keep them looking their best. After all, eyes are one of the first things people notice about us - even be our claim to fame! Take Audrey Hepburn's notoriety from her deep-set doe eyes, which would never be caught looking dull, puffy, or tired. There are easy ways to make eyes look bigger and brighter – even when you're tired.
Solution: Before you begin with a color corrector, get an eye mask on board to prep that delicate eye area. Treat tired peepers to our Bright Eyes Mask, for a daily pick me up to boost brightness and minimize dark circles. Enriched with hyaluronic acid for mega moisture, these masks also contain refreshing cucumber and stimulating green tea for toned, tightened skin.
How to use: Place masks on freshly cleaned face. Leave on for 15-20 minutes. Gently remove the mask and lightly massage any remaining moisture into your skin. Do not rinse.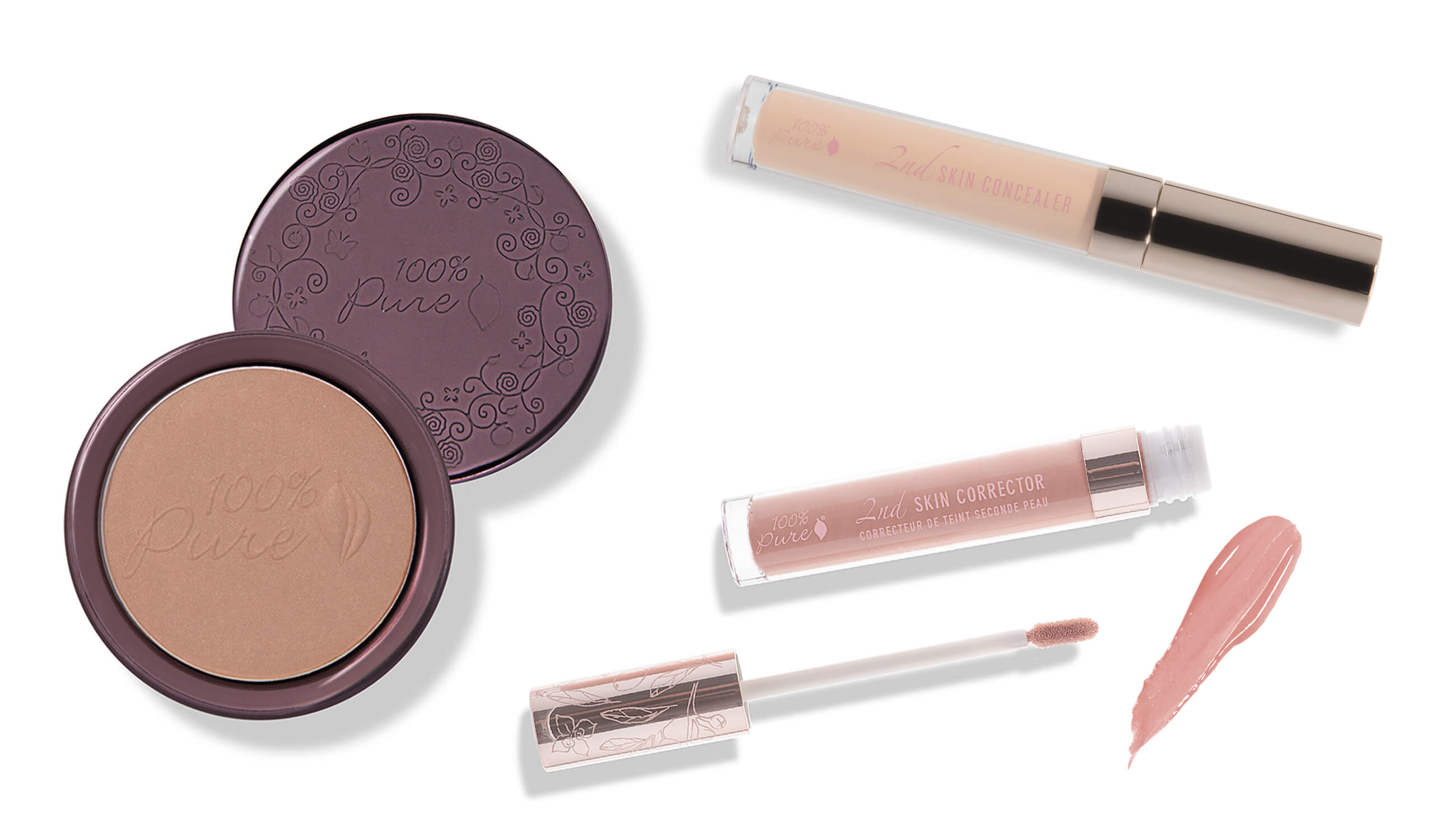 Tip #3: Shine and Outline – or Disguise!
Although the techniques are about as old as makeup, contouring and highlighting became popularized by the Kardashians. The corrective makeup trends exploded from there – and show no signs of slowing. Contouring is using makeup to define or reshape your facial structure and features. On the other hand, highlighting is where you lighten your face to emphasize features, such as your eyes or cheekbones.
Solution: To create a sculpted, defined look, try the user-friendly Cocoa Pigmented Bronzers. These little gems will warm any complexion with vitamin-rich fruit and cocoa pigments, and are laced with luminescent minerals for a sun-kissed glow. To bring out your best (and brightest) features, you can also try the 2nd Skin Concealers, which come in a variety of ultra-blendable shades.
How to Use: For a sun-kissed glow, apply bronzer to areas where the sun would naturally hit your face. This includes the upper forehead, hairline, cheekbones, and bridge of the nose. You can also blend bronzer under your jawline to contour. You'll want to choose a color that is one or two shades darker than your skin, to create a slimming shadow effect. On the other hand, using a concealer to bring light to the high points of your face will illuminate the features you'd like to accentuate.
Need help? We get it – color correcting, contouring, and highlighting don't come naturally to everyone. If you'd like help, check out our post where we teach you how to contour your face, apply highlighter, and contour and highlight for your face shape.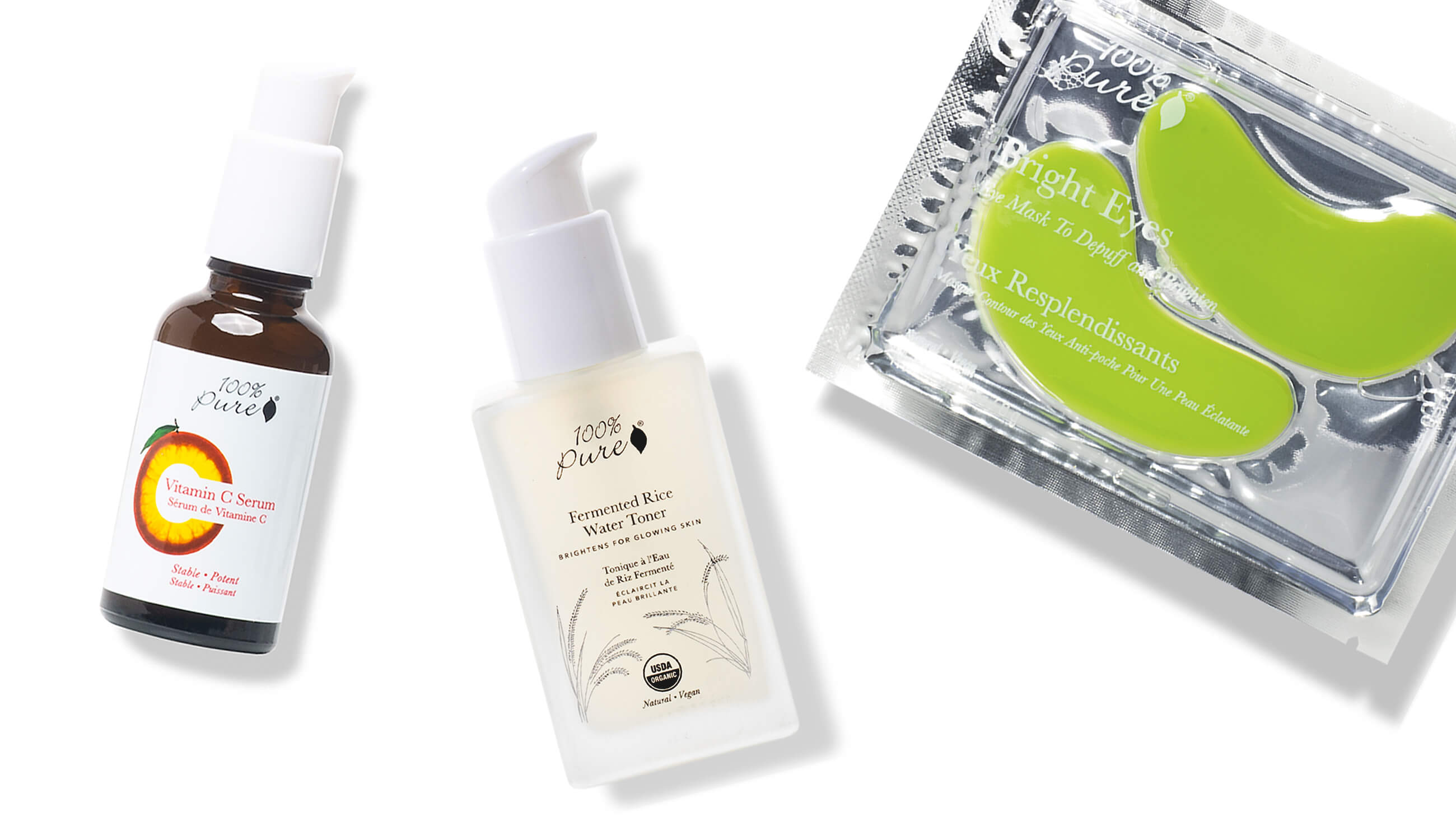 Tip #4: Use a Serum (or Two)
The best ways to brighten your complexion and enhance radiance start in your skin care routine. Incorporating brightening, exfoliating, and gently resurfacing skin care products can safely give you a more natural, lit-from-within glow. If you're not already using them, start by adding both a day and night serum to your skin care routine.
Solution: A glow-worthy daily serum will replenish lost moisture, while enhancing skin vibrancy. Our Fermented Rice Water Serum is designed to brighten, soften, and hydrate your skin. This formula pairs enzymes and amino acids from fermented rice water (sake) with concentrations of natural fruit acids and citrus. These ingredients lessen the appearance of dark spots and dullness for a balanced, more radiant complexion.
A lot of changes can happen overnight with the right skin care, so adding a nighttime serum is a must. We recommend the lightweight 100% PURE™ Vitamin C Serum, made in a base of hydrating and soothing aloe gel. This serum helps to firm and brighten skin tone, while also promoting collagen production for a supple, dewy glow.
How to Use: After cleansing and toning, gently pat a quarter sized amount of serum onto your face and neck.
Tip #5: Try a DIY Face Mask
Glowing skin is always in – and a thorough skin care routine will keep things looking luminous. You don't need to visit a spa to find the cruelty-free or vegan face treatments – you can prepare them at home with food right out of your kitchen!
Solution: This DIY Ultimate Avocado Mask has the best of all worlds. It will brighten, soften, and hydrate your skin – and it's edible! For this quick, easy recipe you'll need:
1 ripe organic avocado
1 ripe organic banana
1 tsp extra virgin olive oil or jojoba oil
1 tsp of orange juice or lemon juice
How to Use: Combine all ingredients and mash everything in a food processor or by hand. Apply to clean, dry skin, and leave on for 10-15 minutes. Rinse off and pat skin dry. Proceed with your daily serum or moisturizer.
If you're suffering from dull skin – or want to learn more on brightening your complexion – we've got you covered! Check out our post covering the top skin symptoms and concerns, and how to treat them with natural skin care products.
We carefully hand-select products based on strict purity standards, and only recommend products we feel meet this criteria. 100% PURE™ may earn a small commission for products purchased through affiliate links.
The information in this article is for educational use, and not intended to substitute professional medical advice, diagnosis, or treatment and should not be used as such.
Sign up to our email newsletter for more blog updates and exclusive discounts.
< Older Post | Newer Post >