https://purity-res.cloudinary.com/image/fetch/q_auto:best,f_auto,fl_lossy,w_auto,c_limit,dpr_auto/https://cdn.shopify.com/s/files/1/0648/1955/products/Kl2GbVesRaWlRAHTOaST_83fbe164-01da-443f-a4ff-18def9280b9d.png?v=1537463943
https://purity-res.cloudinary.com/image/fetch/q_auto:best,f_auto,fl_lossy,w_auto,c_limit,dpr_auto/https://cdn.shopify.com/s/files/1/0648/1955/products/rvnLVWoTpzbV7KZG51zA_a586b336-ebaf-479d-821c-1024544263b2.png?v=1537463943
https://purity-res.cloudinary.com/image/fetch/q_auto:best,f_auto,fl_lossy,w_auto,c_limit,dpr_auto/https://cdn.shopify.com/s/files/1/0648/1955/products/3Sq7kSOkSeiGm9o4UA8d_fc5797a2-9a69-412c-b3f7-546b967f4c0f.png?v=1537463943
https://purity-res.cloudinary.com/image/fetch/q_auto:best,f_auto,fl_lossy,w_auto,c_limit,dpr_auto/https://cdn.shopify.com/s/files/1/0648/1955/products/UV4gkqrXQ4q1v65DIEh3_6c11795e-0885-4671-934c-2876f10e6e42.png?v=1537463943
https://purity-res.cloudinary.com/image/fetch/q_auto:best,f_auto,fl_lossy,w_auto,c_limit,dpr_auto/https://cdn.shopify.com/s/files/1/0648/1955/products/C3IbNDYSvOHA7JuA7Jk1_d6e807e2-6e8b-41c9-9d03-b5229c0ce57a.png?v=1537463943
https://purity-res.cloudinary.com/image/fetch/q_auto:best,f_auto,fl_lossy,w_auto,c_limit,dpr_auto/https://cdn.shopify.com/s/files/1/0648/1955/products/UHclmM5oTXSTxUCWRCy4_06546363-357c-4d93-b3f5-84821c0acdce.png?v=1537463943
https://purity-res.cloudinary.com/image/fetch/q_auto:best,f_auto,fl_lossy,w_auto,c_limit,dpr_auto/https://cdn.shopify.com/s/files/1/0648/1955/products/M8mVnXAqRkqwxfK6d0GT_aefad2da-8921-495e-9515-59e92a6daa16.png?v=1537463943
https://purity-res.cloudinary.com/image/fetch/q_auto:best,f_auto,fl_lossy,w_auto,c_limit,dpr_auto/https://cdn.shopify.com/s/files/1/0648/1955/products/D59UFh7gSzqvSAYZXkY1_964d9c1c-044f-4c70-93c8-87bb263bb0eb.png?v=1537463943
https://purity-res.cloudinary.com/image/fetch/q_auto:best,f_auto,fl_lossy,w_auto,c_limit,dpr_auto/https://cdn.shopify.com/s/files/1/0648/1955/products/C9vujtPNTK8BIfZzQAZg_7bc7326d-8bdb-4477-9c31-d8ed5ecd0743.png?v=1537463943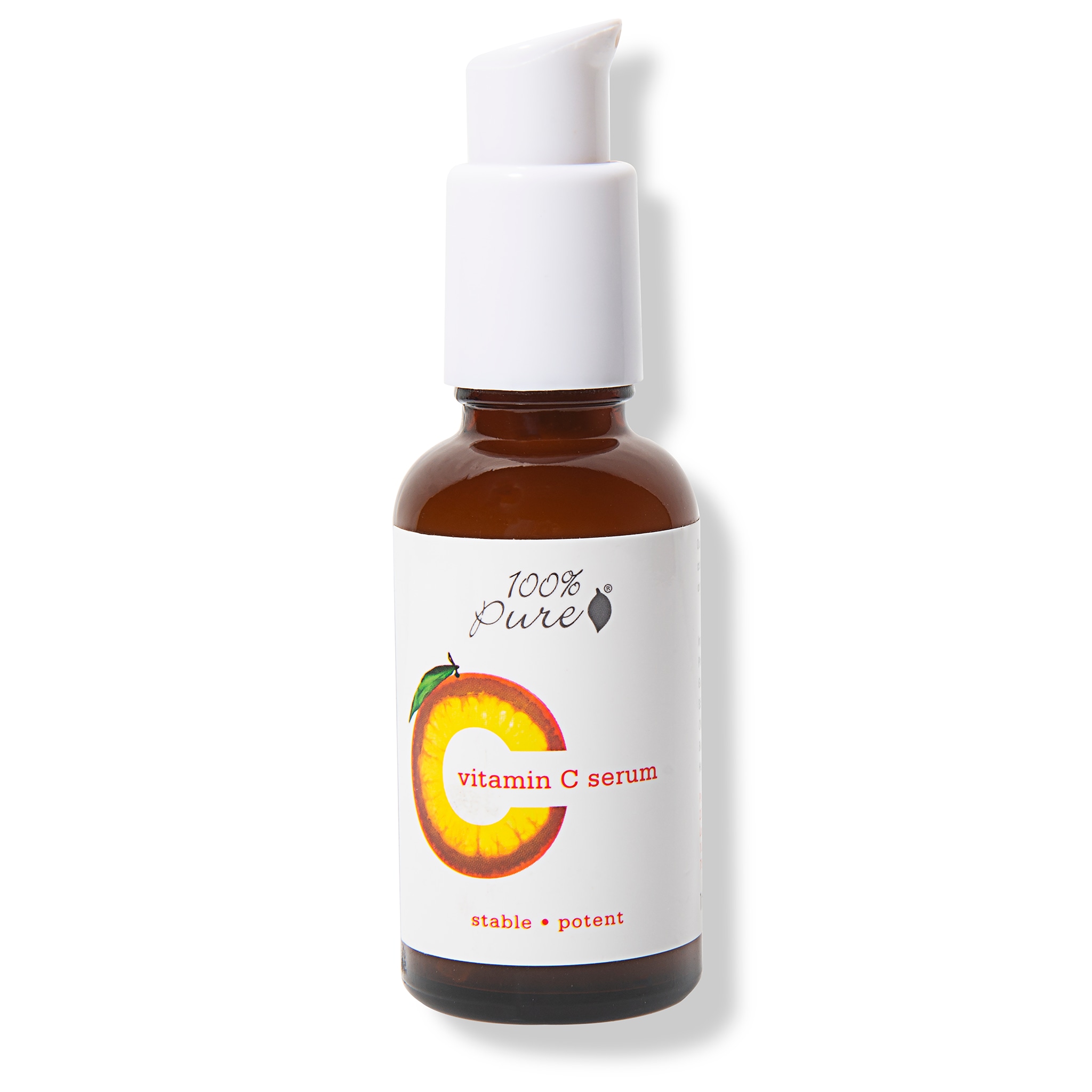 Vitamin C Serum
Natural

Vegan

Cruelty Free

Gluten Free
Lightweight, stabilized vitamin C serum helps firm and brighten skin tone while promoting collagen production, and deeply hydrating skin with soothing aloe.
Lightweight, stabilized vitamin C serum made in a base of hydrating and soothing aloe gel. This serum also helps to firm and brighten skin tone, while promoting collagen production. Includes radiance-boosting green apple and grape, plus alpha lipoic acid (ALA) for fighting oxidative damage that can prematurely age or darken the skin.

Directions

Apply a small amount after cleansing, before moisturizing on slightly damp skin. Most effective when used in PM.

Every ingredient we use is beneficial, here are a few:

Alpha Lipoic Acid

Alpha Lipoic Acid lessens signs of aging.

SOD

SOD promotes strong skin cell health.

Green Apple

Green Apple evens skin tone and texture.

Vitamin E (Tocopherol)

Vitamin E restores and protects from free radical damage.

Vitamin C

Vitamin C brightens, boosts collagen and elastin production.

Complete list of ingredients:

Aloe Barbadensis Leaf (Organic Aloe Gel)*, Vitamin C (Magnesium Ascorbyl Phosphate), Loofah Cylindrica (Vegetable Cellulose), Vitamin E (Tocopherol), Xanthan Gum, Pyrus Malus Fruit (Green Apple) Extract, Vitis Vinifera Fruit (Grape) Extract, Vitamin B5 (Panthenol), Superoxide Dismutase (Antioxidant), Alpha Lipoic Acid, Brassica Oleracea Italica (Broccoli) Seed Oil, Linum Usitatissimum (Flax Seed) Oil, Oenothera Biennis (Evening Primrose) Oil, Canadian Salix Alba Bark (Willow Bark) Extract, Hamamelis Virginiana Water (Witch Hazel), Ethyl Hexyl Glycerin * Certified Organic
Customer Reviews
one
products
acne scars
skin
serum
bottle
face
lot
way
results
Best C I've used
This C didn't irritate my skin....only been using a short while (less than 3 weeks) but my skin does seem to feel softer, and look more hydrated.
Acne scars
I used this every night after being on Accutane to get rid of my acne scars. It may have taken awhile but I definitely think it did the trick!
More Please
I picked this as a sample free with my purchase and it is amazing. I managed to make my sample last over a month and during that time I got multiple complements from people about my bright skin complexion. I was in heaven. I like everything about this product.
Love this serum
I absolutely love this serum! I'm on my second bottle and noticed significant improvement on my skin. It's clearer, brighter and looks so healthy. I'll be sure to get a new bottle when it's time to stock up!
Wow
I've been using vitamin C on my face for years. I've tried OLEHENDRIKSEN and a few other brands, but this is the first time I have actually felt the serum doing it's work right away. I got this as a sample with another order, and I am definitely going to be repurchasing it full size. Definitely recommend.
Complete the Package
Continue Shopping →