https://purity-res.cloudinary.com/image/fetch/q_auto:best,f_auto,fl_lossy,w_auto,c_limit,dpr_auto/https://cdn.shopify.com/s/files/1/0648/1955/products/Wr8LO1AqTW6QjN7a0pGe.jpg?v=1561163673
https://purity-res.cloudinary.com/image/fetch/q_auto:best,f_auto,fl_lossy,w_auto,c_limit,dpr_auto/https://cdn.shopify.com/s/files/1/0648/1955/products/vVhJoGmSf6Df2gMMSplg_78b5c2cd-a5ba-41d6-b412-4c8b40c8d6b8.jpg?v=1561163673
https://purity-res.cloudinary.com/image/fetch/q_auto:best,f_auto,fl_lossy,w_auto,c_limit,dpr_auto/https://cdn.shopify.com/s/files/1/0648/1955/products/xmKMtCUlRmFMuPykV5jl_dccfafca-fe6a-4f83-8b91-f558a10fc466.jpg?v=1561163673
https://purity-res.cloudinary.com/image/fetch/q_auto:best,f_auto,fl_lossy,w_auto,c_limit,dpr_auto/https://cdn.shopify.com/s/files/1/0648/1955/products/zwEpfcGSBmicOSL9ERs0_a61999a0-cd03-41d1-a8e6-c10b7edf613f.jpg?v=1561163673
https://purity-res.cloudinary.com/image/fetch/q_auto:best,f_auto,fl_lossy,w_auto,c_limit,dpr_auto/https://cdn.shopify.com/s/files/1/0648/1955/products/8eI2NsdaSj6OYZ9Equt6_6120ea0d-ec85-4c83-b7f9-536e5d05f354.jpg?v=1561163673
https://purity-res.cloudinary.com/image/fetch/q_auto:best,f_auto,fl_lossy,w_auto,c_limit,dpr_auto/https://cdn.shopify.com/s/files/1/0648/1955/products/4MIMP09FTM2s1bAEqJmE_0b1e2564-ffda-4722-8dd0-fe7ccd38272e.jpg?v=1561163673
https://purity-res.cloudinary.com/image/fetch/q_auto:best,f_auto,fl_lossy,w_auto,c_limit,dpr_auto/https://cdn.shopify.com/s/files/1/0648/1955/products/OxPqVj7gQle0lWjqRewA_4eb7e661-8f62-4db8-9d53-91abf84d1ffc.jpg?v=1561163673
https://purity-res.cloudinary.com/image/fetch/q_auto:best,f_auto,fl_lossy,w_auto,c_limit,dpr_auto/https://cdn.shopify.com/s/files/1/0648/1955/products/BqCIEgf2SeC531nFXxmO_ff8b785b-bfec-4139-9047-2a0584278a57.jpg?v=1561163673
https://purity-res.cloudinary.com/image/fetch/q_auto:best,f_auto,fl_lossy,w_auto,c_limit,dpr_auto/https://cdn.shopify.com/s/files/1/0648/1955/products/A9j09aeoTkCA0azXl5kX_909b0fd5-c8b5-4437-b3e3-e006a0e2d3f8.jpg?v=1561163673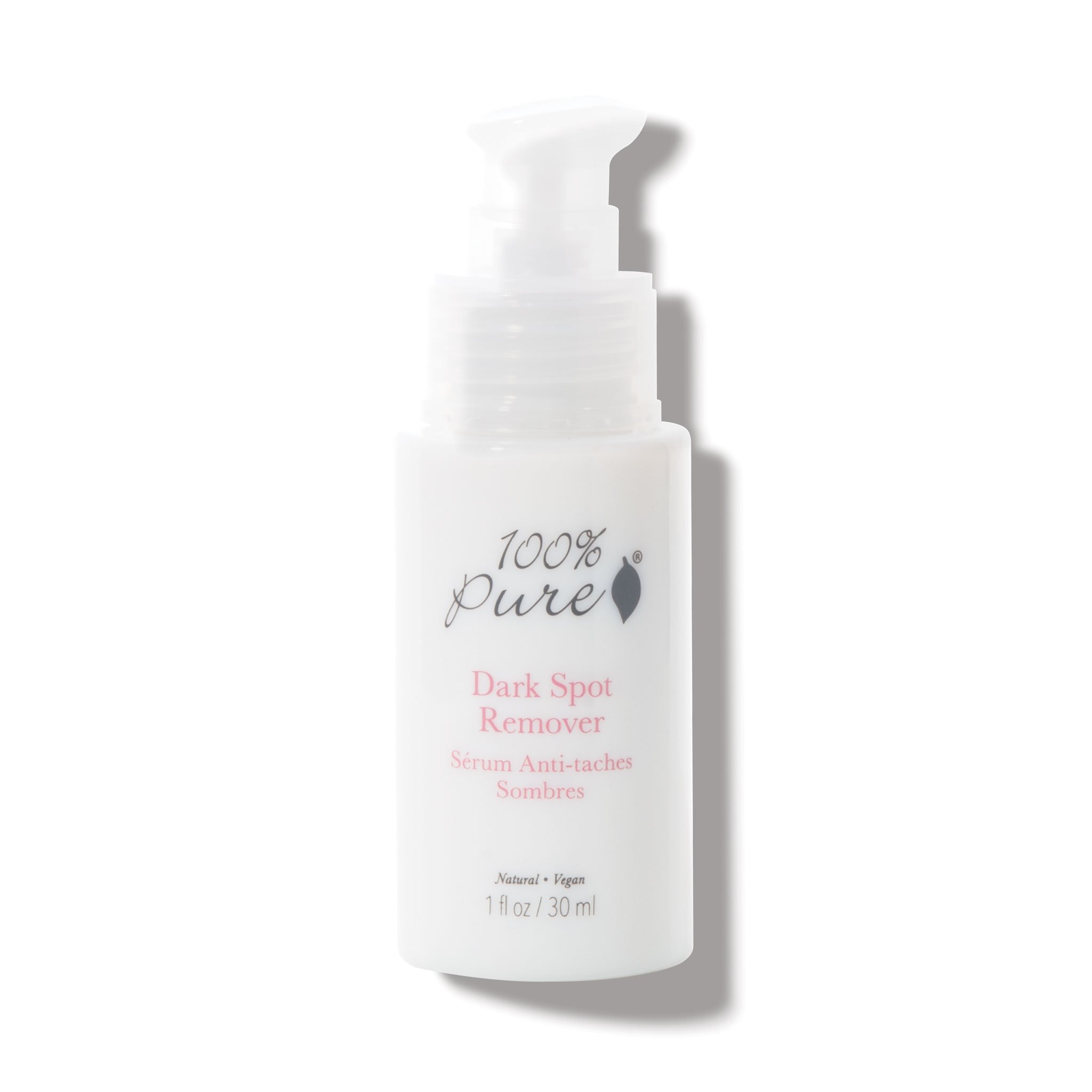 Dark Spot Remover
Natural

Vegan

Cruelty Free

Gluten Free
A dark spot remover that visibly reduces hyperpigmentation, scars, and dark spots. Made with gentle, natural ingredients and free of chemical bleaching agents.
An effective serum for visibly reducing dark spots and age spots, without the use of chemical lighteners or bleaching agents. Evens skin tone with highly effective, safe and natural ingredients like sake, matsutake mushroom, lime, and papaya. Includes hydrating aloe juice and moisturizing, restorative rosehip oil.

Directions

Apply on cleansed skin all over face, underneath moisturizer. Although it can be used for spot treatment, apply all over skin for best results.

Every ingredient we use is beneficial, here are a few:

Bearberry

Bearberry protects against sun spots and free radical damage.

Red Algae

Red Algae moisturizes and brightens dark spots.

Papaya

Papaya promotes skin renewal.

Lime

Lime reduces acne scars.

Matsutake Mushroom Extract

Matsutake Mushroom Extract lessens hyperpigmentation.

Complete list of ingredients:

Aloe Barbadensis (Aloe Juice) Leaf Extract, Rice Ferment Filtrate (Sake), Myrica Cerifera (Bayberry) Fruit Extract, Tricholoma Matsutake (Matsutake Mushroom) Extract, Loofah Cylindrica (Vegetable Cellulose), Citrus Aurantifolia (Lime) Fruit Extract, Ascorbyl Palmitate (Vitamin C), Glycyrrhiza Glabra (Licorice) Root Extract, Papain (Papaya Papain) Extract, Carrageenan (Chondrus Crispus), Asparagopsis Armata (Red Algae) Extract, Rosa Canina (Rosehip) Seed Oil, Xanthan Gum, Lonicera Caprifolium (Japanese Honeysuckle) Extract
Customer Reviews
products
anyone
acne scars
skin
company
face
lot
way
little
try
Love this product!
This dark spot remover is so soft and smooth. I only need one pump and my skin feels nourished
So far so good
Love the way it smells. Almost coconuty! Very creamy and goes on smooth! Hope it works in the long run!
Great!
Probably will take a bit longer to see more results but I use this all over and it really seems to help with old acne scars. Would definitely recommend!
great product!
This has greatly improved my old acne spots! So happy I got to try it with a promotion because I have discovered a new product that I love! :)
Glowing skin
I so glad I bought this! It gives my face a young glow!
Complete the Package
Continue Shopping →