What Fruit Dyed Make Up Can Do for You
When you're as obsessed with ingredients and labels as we are, you start to notice the number of horrifying chemicals major makeup brands use in health and beauty products meant for the most delicate areas of your body. How do they get away with it? Usually by adding dyes and perfumes to cover up the unpleasant - and distinctive - aroma of industrial chemicals. If you spend good time - and money - to apply brand-name makeup every day, you deserve to have the safest and most luxurious ingredients available.
Here's everything you need to know about fruit-dyed makeup, from the benefits of an all-natural color palette to embracing a chemical-free morning routine: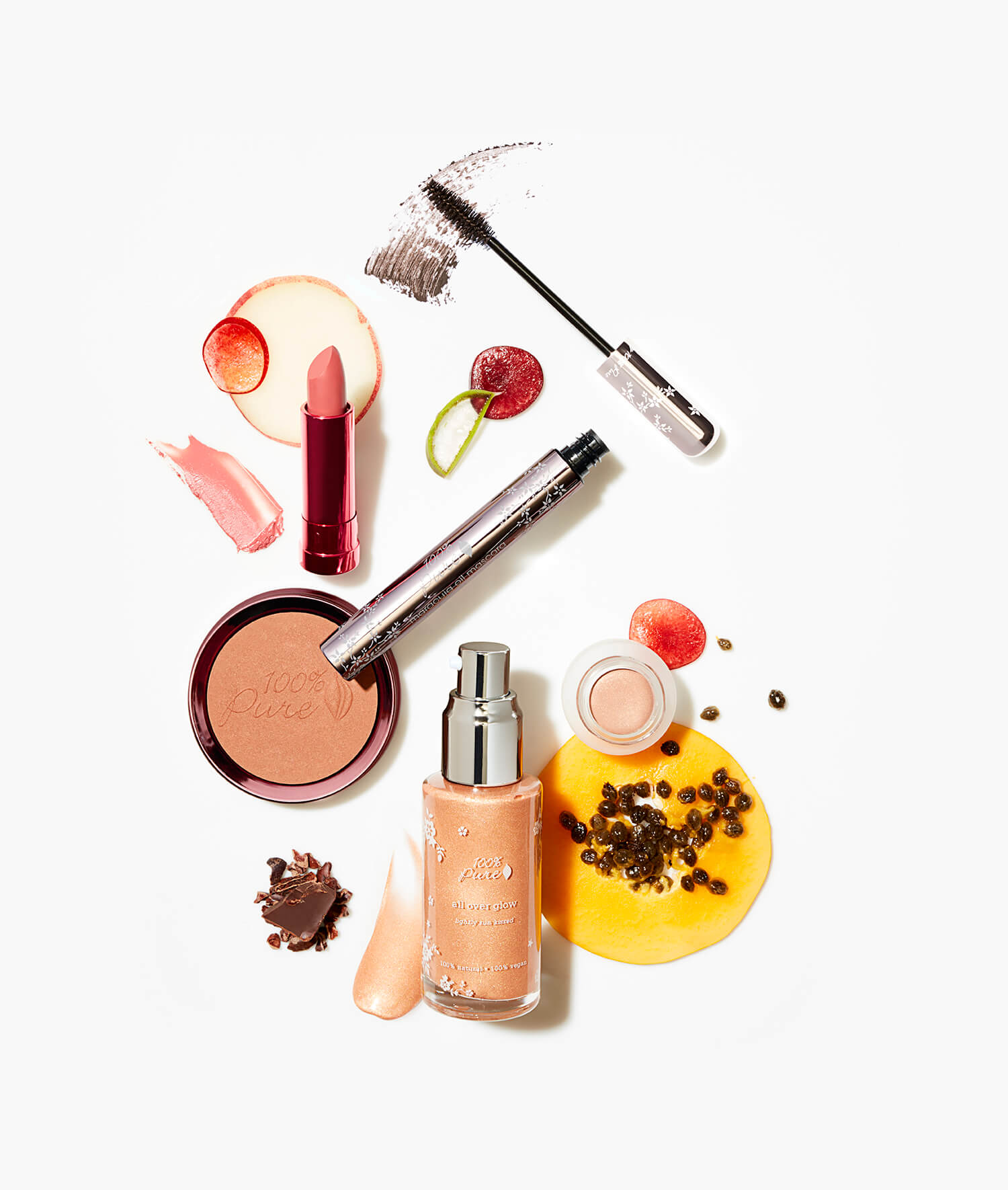 5 Fruit Oils That Will Transform Your Face
Tired of the allergic reactions, random break-outs, and suspicious perfumes lurking in the bottom of your makeup bag? At 100% Pure, we only use nourishing fruit pigments and oils in our carefully crafted lines of foundation, lip butters, and eye shadows. Not only are these organic ingredients safe to use, but each fruit oil we add to pigment and perfume our products will transform the health and vitality of your complexion. We carefully choose each of the ingredients in our fruit-pigmented makeups for their powerful nourishing properties, an ability to stop wrinkles in their tracks, and the vitamins and antioxidants that make skin stronger and healthier. These are the five fruits and fruit oils we depend on the most - and so should you:
1. Blackberry
Packed with antioxidants, blackberries help limit cancer-causing free radicals, while eliminating fine lines and wrinkles. That's part of why we use blackberry to pigment our eyeshadow - not only will blackberry pigment give you the rich color you're looking for in a smoky eye, but you'll also see the benefit of reduced fine lines in and around the creases of your eyes. Want to harness the power of blackberries for your skin? At Bustle, Kristin Collins Jackson shares the recipe for a DIY hydrating face mask made from blackberries and coconut milk. "Blackberries are rich in vitamins A, C, and K which are a great way to heal wounds and lift acne scars," writes Jackson. "[Due] to the astringent properties of blackberries, they are also a great ingredient [for keeping] your breakouts few and far between."
From our catalogue: Fruit Pigmented Petal Tip Eye Shadow
2. Cranberry
Like blackberries, cranberries are chock-full of vitamins A and C, which helps boost collagen production - the protein that helps keep your skin looking firm and vibrant. Looking for a face mask that'll help your skin turn back the clock? Try this DIY anti-aging face mask from SheKnows, which combines the collagen-boosting properties of cranberry with the gentle acidity of grapes for a cleansing effect. At 100% Pure, we like cranberry for its bright pink pigmentation, as well as its moisturizing vitamins. That's why you'll see it featured in our lip butters - along with luxurious avocado, shea, and cocoa butters for extra moisture.
From our catalogue: Fruit Pigmented Lip Butter in Cranberry
3. Peach
Everyone's favorite summer fruit is prized for its juicy, sweet, and tender flesh - it's also packed with vitamin C, which can help reduce the effect of wrinkles and fine lines, and powerful antioxidants. "The antioxidant vitamin C, when eaten...in whole foods such as peaches or applied topically, can reduce wrinkles, improve overall skin texture, and help to fight skin damage caused by the sun and pollution," explains Megan Ware at Medical News Today. These peachy-keen superpowers make peach the perfect addition to our cream foundations and concealers. You'll feel the full benefits of peach as a natural source of hydration and antioxidants, while getting the full coverage and effortless blending of a serious foundation.
From our catalogue: Fruit Pigmented Cream Foundation in White Peach
4. Goji Berry
A wonderful source of antioxidants, goji berries have been all the rage in the health and beauty world over the past five to ten years. And while this expensive berry can certainly give your immune system a boost, we're after their all-natural pigment, beta-carotene. "Similar to the benefits you get from eating other berries, goji berries are loaded with beta-carotene (a pigment found in plants and fruits) which helps promote healthy skin," writes Arti Patel at Huffington Post Canada. That's why you'll find goji berries in our fruit-pigmented blushes and luminizers - their lasting reddish pigment helps give your cheeks a flush of healthy color, all while moisturizing delicate skin.
From our catalogue: Fruit Pigmented Healthy Blush and Fruit Pigmented Luminizer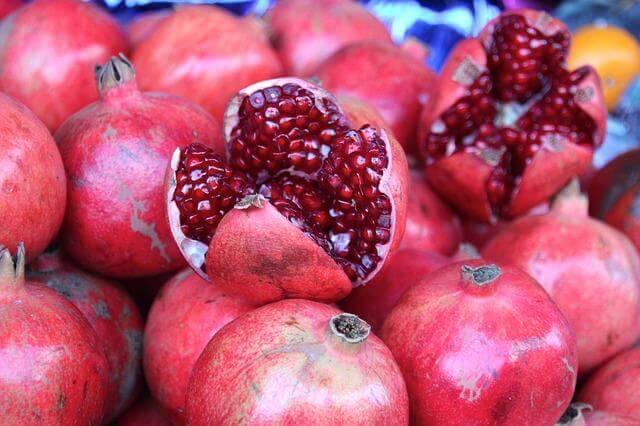 5. Pomegranate Oil
"When compared to green tea, board-certified dermatologist Dr. Ellen Marmur tells us that pomegranate juice is actually better at replenishing dry, dull skin," writes Huffington Post Fashion and Beauty Editor Dana Oliver. "It is also a great plant-derived source of vitamin C, which studies have shown can decrease skin roughness when applied topically," Oliver adds. Say goodbye to dry, cracked lips, and hello to a plump, firm, and well-moisturized pout with our line of anti-aging lipsticks. With the power of pomegranate oil and shea butter, your lips will look super soft and youthful.
From our catalogue: Fruit Pigmented Pomegranate Oil Anti-Aging Lipstick in Narcissus
---
Going Organic: More Benefits of Natural Beauty
Once you start to feel the benefits of all-natural beauty products, you'll never want to go back to guessing at what's behind that lengthy chemical name on your mascara label. Here's what we love about going all-out organic from head to toe: All-Natural Makeup is Hypoallergenic "Many people have sensitive skin, and harsh chemicals can cause all sorts of irritation like redness, swelling, itching, and blistering," writes Neal Thanedar at Labdoor. "However, organic products are often formulated differently to exclude many key allergens and irritants." Unless you have a specific food allergy, you can trust that 100% Pure's products are allergen-free - and there are certainly no mysterious chemicals! Because we only use all-natural, organic ingredients that you can pronounce, our makeups are easy on your delicate skin. Promise. We've Got Nothing to Hide According to the Campaign for Safe Cosmetics, the term "fragrance" is often used as a catch-all in the health and beauty industries. What's more, companies don't have to disclose the ingredients hiding behind the term "fragrance," some of which have been linked to cancer, reproductive problems, and allergies. All of the fruits and fruit oils in our pigmented makeups have familiar, natural scents - because they're what you smell everyday in the supermarket and your kitchen. There's no need for mysterious "fragrances" to mask the smell of chemicals that could be harmful to you - because (you know it) we don't use chemicals! Cruelty-Free If you're as worried about the treatment of animals as we are, you'll be happy to know that absolutely none of our products are animal-tested. That's the beauty of using all-natural ingredients - you know, right from the get-go, that they're safe for humans to use. Interested in learning more about cruelty-free health and beauty products? The Humane Society has a great guide for finding beauty products that don't use animal testing, as well as the best ways to advocate for our furry friends. Whether you're an eco-warrior, or simply want to experience the benefit of an all-natural makeup routine, 100% Pure has plenty of fruit-pigmented beauty products that will transform your complexion, ease sensitive skin, and soothe your conscience. With all-natural pigments and moisturizers from exotic fruits like goji berry and pomegranate, our cream foundations, luminizers, and lip butters will give you the sun-kissed look you crave without drying out your skin. Put our vitamin-rich makeup makeup to work for you and enjoy the benefits of all-natural, collagen-boosting powerhouses like blackberries and cranberries. Pretty soon the question you'll be asking is not "What can fruit do for you?" but "What can't fruit do?" We're still looking for an answer.
Do you incorporate fruit into your diet or beauty routine to help your complexion? Tell us your favorite beauty secrets in the comments below:
We carefully hand-select products based on strict purity standards, and only recommend products we feel meet this criteria. 100% PURE™ may earn a small commission for products purchased through affiliate links.
The information in this article is for educational use, and not intended to substitute professional medical advice, diagnosis, or treatment and should not be used as such.
Sign up to our email newsletter for more blog updates and exclusive discounts.
< Older Post | Newer Post >