What are the Benefits of Caffeine in Skincare?
The marvelous benefits of coffee cherry for skin, an inside scoop on how coffee is made, and how you can use it in your skin care routine
Posted on February 25, 2023
Written by: 100% Pure®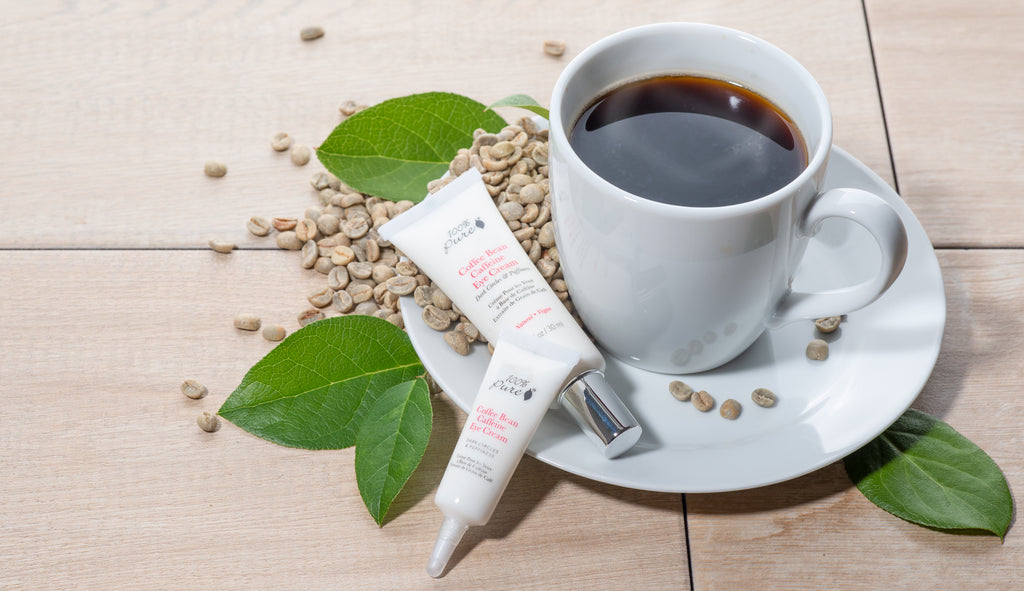 Are you a coffee lover? Or maybe even fall under the category of coffee addict? We're right there with you! It's an off-the-books office policy to not start any morning work talk before a co-worker's first sip of java. Coffee is not just for your morning go-go juice, it's also an amazing skincare ingredient (and used in our most iconic product: Coffee Bean Caffeine Eye Cream).
Come along while we go in for a deep-dive into coffee (and its caffeine powers) at an organic coffee farm, Good Land Organics, right in our backyard of Goleta, California. We'll be touring the coffee tree farm, stopping in for a delicious coffee tasting and hopefully walking out of there with our feet on the ground versus buzzing out.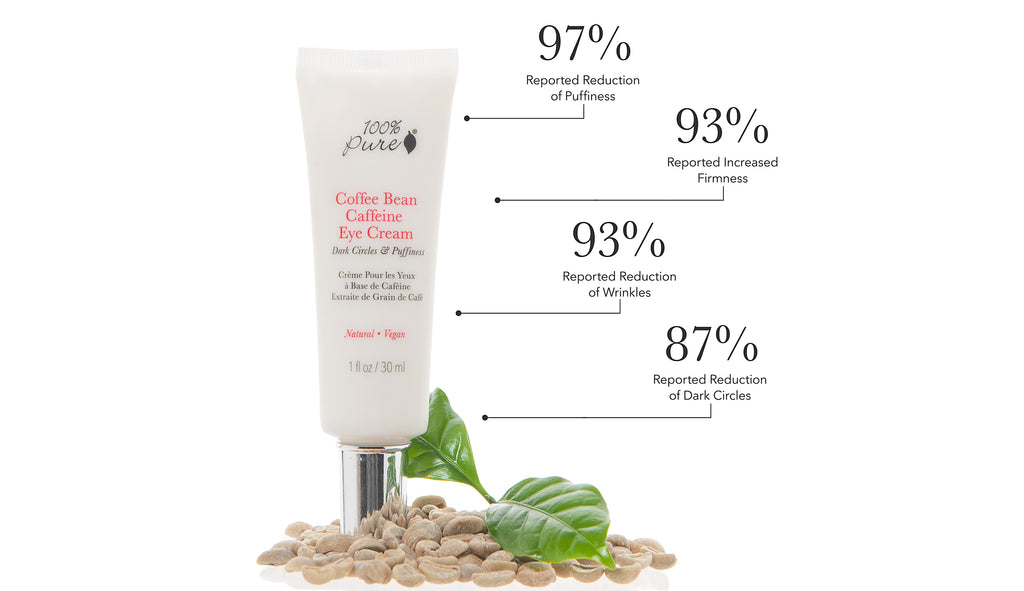 The proof is in the numbers--not to mention the clinical studies. Our #1 hero skincare product, Coffee Bean Caffeine Eye Cream, is in a skincare category by itself. The cult-like following of our natural eye cream product is not to be taken lightly. There's a reason fans keep buying tube after tube: They've seen how powerfully it brightens and rejuvenates the under-eye area. But, as every smart beauty buyer knows, anecdotal evidence isn't enough to demonstrate how well a product works. To understand exactly what affects our Coffee Bean Eye Cream has on the skin, we put this cult favorite product through a four week, independent, clinical study--and we're more than proud of the results.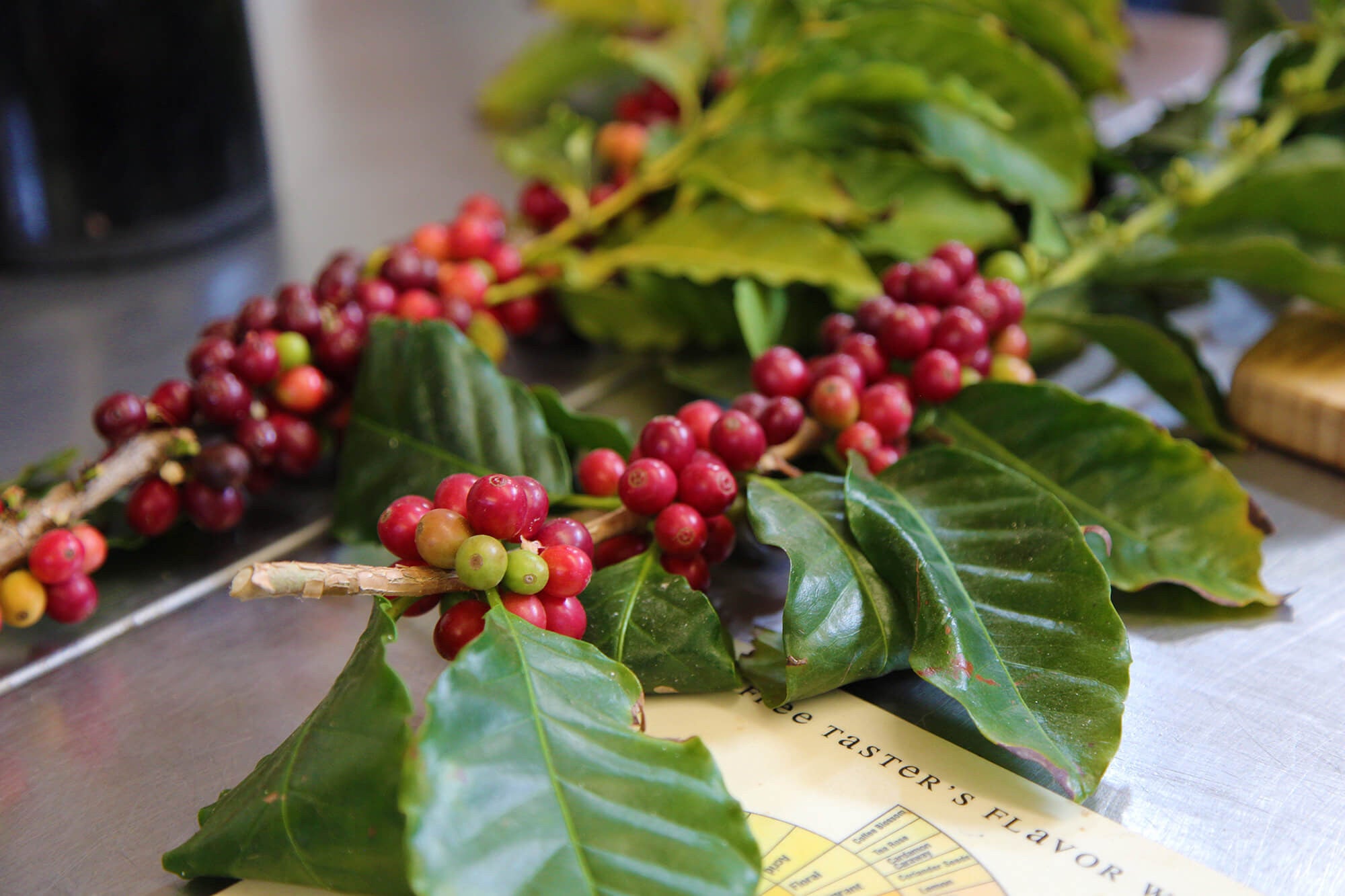 There are so many natural eye creams to choose from out there in the daunting skincare world. But the question is: Which natural eye cream is the best? We're going to have to humble brag here and say it's our Coffee Bean Caffeine Eye Cream, which can benefit beauty lovers of all skin types. To get an accurate, unbiased idea of our eye cream's results, let's look at the clinical results. Of the participants who used our eye cream
83% saw immediate reduction of puffiness
97% saw reduction of puffiness with continued use**
73% saw an immediate reduction of dark circles
87% saw reduction of dark circles with continued use**
** Results of an independent clinical 4 week study
It may seem hard to believe that a clean beauty product could achieve such dazzling results--but we're confident that natural ingredients can achieve better long-term results than conventional products that contain chemical additives. Of course, it's always wise to be skeptical of exaggerated claims that aren't supported by research or clinical trials. But at 100% PURE, we believe that beauty buyers deserve the facts about their purchases, which is why we've worked to confirm the efficacy of our Coffee Bean Caffeine Eye Cream using scientific practices.
Gentle, hydrating, and effective, our eye cream is an excellent option for beauty buyers of all skin types. Even if you're just starting to get your feet wet in the world of natural skincare, our eye cream can be a great product with which to start your clean beauty transformation. It'll deliver both short- and long-term results for dull, tired-looking under-eyes--while helping to stave off future skin damage by delivering essential antioxidants to your skin. You can even take it for a test spin by trying out our Coffee Bean Caffeine Eye Cream 0.3 oz, a smaller-sized tube of the same, potent product. And once you've tried out the product for a few weeks, we'd love to receive your thoughts and feedback in the form of a review!
While our eye cream has powerful benefits for the skin, it's important to remember that--as with any skincare product--it may take some time to start seeing full results. When we do something healthy for our bodies, like eating a salad or drinking a collagen smoothie, we don't tend to see instant results. Taking care of your body, including your skin, usually requires a sustained, long-term effort. That being said, the right, clean beauty products can definitely make it easier for you to take care of your skin.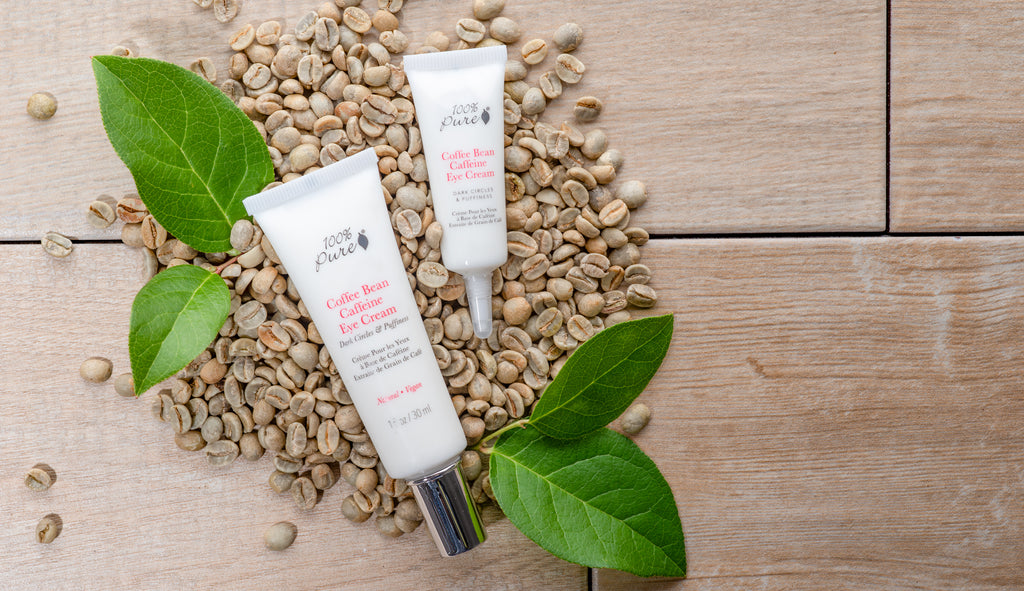 Key Ingredients:
Rose Hydrosol
Delivers hydration to thirsty skin cells. This ingredient also has anti-inflammatory properties, making it an excellent defense against inflammation, puffiness, and redness.
Aloe Juice
Aloe juice keeps your skin cells hydrated, and can also help to reduce the appearance of skin damage. It's also rich in antioxidants, which can help to mitigate the signs of skin damage, and defend your skin against future damage.
Green Coffee Extract
Green coffee extract aids in the reduction of free radicals. This natural extract contains potent antioxidants, and has anti-inflammatory properties.
How To Use Coffee Bean Caffeine Eye Cream
Dot the eye cream around your eyes. With your ring finger, gently pat around the eye area. Don't tug! The skin around your eyes is extremely delicate. This natural eye cream can be used day or night, and is intended for all skin types.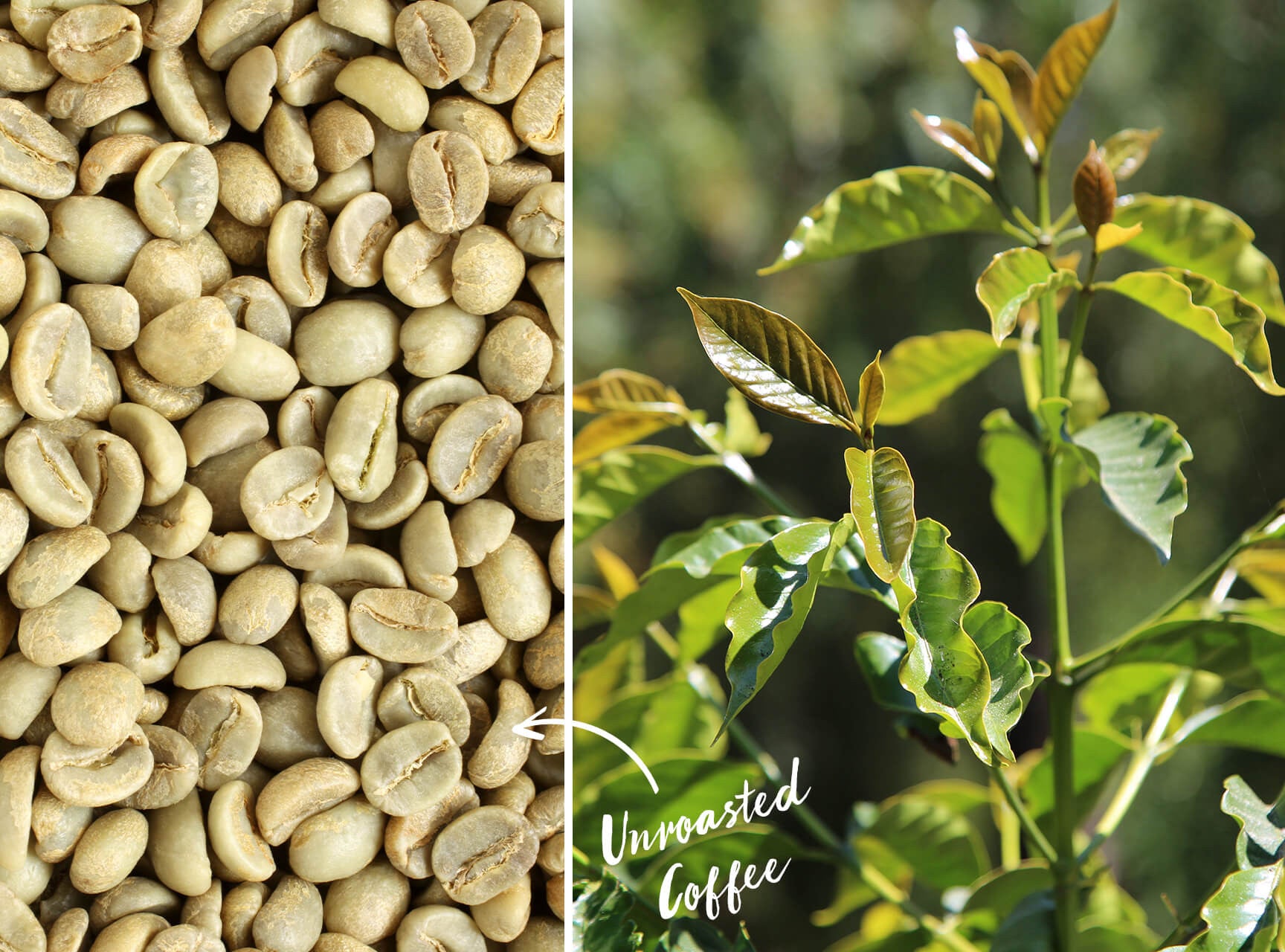 Benefits of Caffeine for Skin
There are numerous studies touting the benefits of actually drinking a cup of coffee, but did you know that coffee is also amazing for your skin? When applied topically, the caffeine in coffee can help to mitigate some of the effects of inflammation--such as puffiness and redness. A natural concealer can temporarily hide dark circles or puffy eyes, but a natural, coffee-based skin care product can target the root cause of the problem, making a more meaningful difference for your skin.
Coffee Stimulates Circulation
Research has shown that the caffeine in coffee can help to improve circulation when it's applied topically to the skin. By improving circulation to the skin around your eyes, caffeine increases the flow of nutrients (carried by your blood) to your skin tissue, which in turn results in healthier-looking, more vibrant skin. If you've ever spent time in a sauna, caught your reflection in a mirror a few hours later, and wondered why you seemed to be glowing--the answer is probably that saunas stimulate circulation.
Healthy circulation is especially important when it comes to the appearance of your eye area. It can help to prevent dark circles, a common skin woe. By boosting your circulation, caffeine forces the blood to move around through your skin tissue--instead of just "pooling" under your eye, where it can cause that mottled, dark circle look.
Staying hydrated and getting enough exercise can help to promote circulation throughout your body, which is vital to overall health. As with any of our products, we recommend using our caffeine eye cream as a supplement to a healthy lifestyle.
Coffee Fights Skin Damage
Did you know that coffee is rich in powerful antioxidants? Antioxidants help to repair skin damage caused by UV rays by fighting free radicals--electric charges that can cause significant skin damage when they accumulate in the skin. When left unchecked, free radicals can contribute to the formation of wrinkles, the loss of elasticity, and the diminishment of healthy vibrance. Luckily, the antioxidants can make a big difference--research even supports the idea that the caffeine in coffee can slow down the photoaging process.
In our Coffee Bean Caffeine Eye Cream, we've paired coffee with several other antioxidant-rich ingredients--including rosehip oil, organic aloe juice, and vitamin E--to create a powerhouse natural formula. You'll experience the full benefits of coffee for skin, while also enjoying the healing properties of these other, antioxidant-rich ingredients.
Alternately, our Coffee Bean Face Serum is designed to reverse sun damage for a softer, smoother complexion. It also helps to brighten and tighten your skin for an immediate healthy, vibrant glow. With its potent blend of reparative ingredients mirrored from our best-selling Coffee Bean Caffeine Eye Cream, our face serum will protect and repair damaged skin while locking in natural moisture. Enjoy the benefits of healthier looking skin with this luxurious hydrating serum!
Research also supports the idea that coffee has chemopreventive properties: The caffeine in coffee has been linked with a reduced risk of skin damage from sun exposure. This means that coffee can work to prevent future skin damage while it fights those pesky free radicals. Of course, we still recommend that you protect your skin with a natural sunscreen--no matter how much coffee you drink, or put on your skin.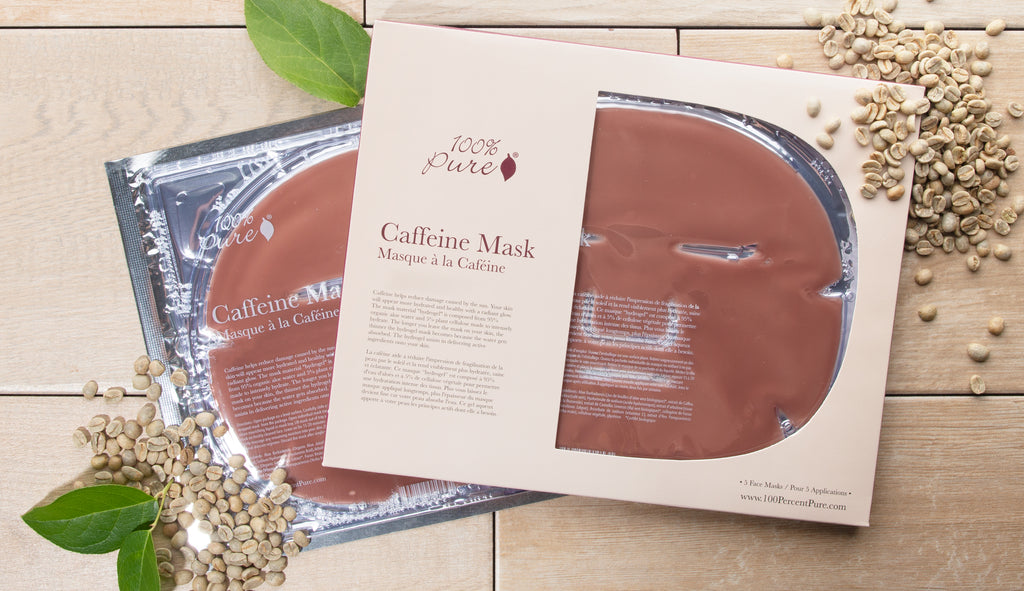 Coffee Is Anti-Inflammatory
Another benefit to coffee in skincare is its amazing anti-inflammatory properties. This is a key ingredient in helping to reduce redness and swelling in your delicate eye area. Caffeine works as a diuretic, helping to flush out toxins and reduce redness and irritation.
Looking for a multi-tasking natural product that is perfect for Sunday #selfcare? Try our Caffeine Mask that was specifically developed to deliver moisture deep into your skin. Take a moment to take care of yourself, while the natural hydrogel mask does the work to help repair your skin. We developed this face mask with green coffee extract to stimulate skin rejuvenation while the high caffeine content helps hydrate and boost skin's elasticity. Did you know that the color of the mask is the natural color from coffee? The added base of aloe vera juice, seaweed collagen and hyaluronic acid deeply hydrate while you Netflix and chill.
You can also enjoy the benefits of coffee for skin by trying our Cocoa Pigmented Bronzer.This groundbreaking makeup essentially uses natural pigments to give your skin a gorgeous yet subtle glow. Moisturizing, nourishing, and gently shimmering, this bronzer is sure to become a stand-by for any beauty lover who wants to get all the dramatic effects of a normal bronzer, while taking care of their skin.
For a punch of hydration, we recommend our Coffee Bean Face Cream. This all-in-one cream uses coffee bean extracts, antioxidants and essential vitamins to repair UV cell damage while instantly brightening and invigorating your skin. With this face cream, you can have a healthy, vibrant complexion in no time.
Newsletter
Subscribe
for more blog updates and exclusive discounts
Natural Skincare Ingredients with Caffeine
Now that we've discussed the benefits of caffeine for skin, let's take a look at some of the caffeine-rich ingredients that you'll find in 100% PURE's products:
GREEN COFFEE
Green coffee beans are used to create an ingredient called coffee arabica seed oil, which is often used in skincare. Coffee arabica seed oil has been scientifically shown to increase your skin's elastin and collagen production, resulting in firmer, more youthful skin.
COFFEE CHERRY
Coffee cherry is another skincare ingredient that's sourced from the coffee plant. Like green coffee, its antioxidant and caffeine content help to support skin health, soothe inflammation, and boost the skin's radiance.
GREEN TEA
Like coffee, green tea contains caffeine; however, green tea also has unique benefits for the skin. It's extremely rich in antioxidants--including polyphenols, which have anti-inflammatory properties and can help to defend the skin against chemical carcinogens. Green tea is often used to brighten complexions, clear up acne, and bolster the skin's defenses.
YERBA MATE
In addition to caffeine, yerba mate contains polyphenols and other healthy antioxidants. It works to stimulate circulation, fight free radicals, and moisturize and tone your skin.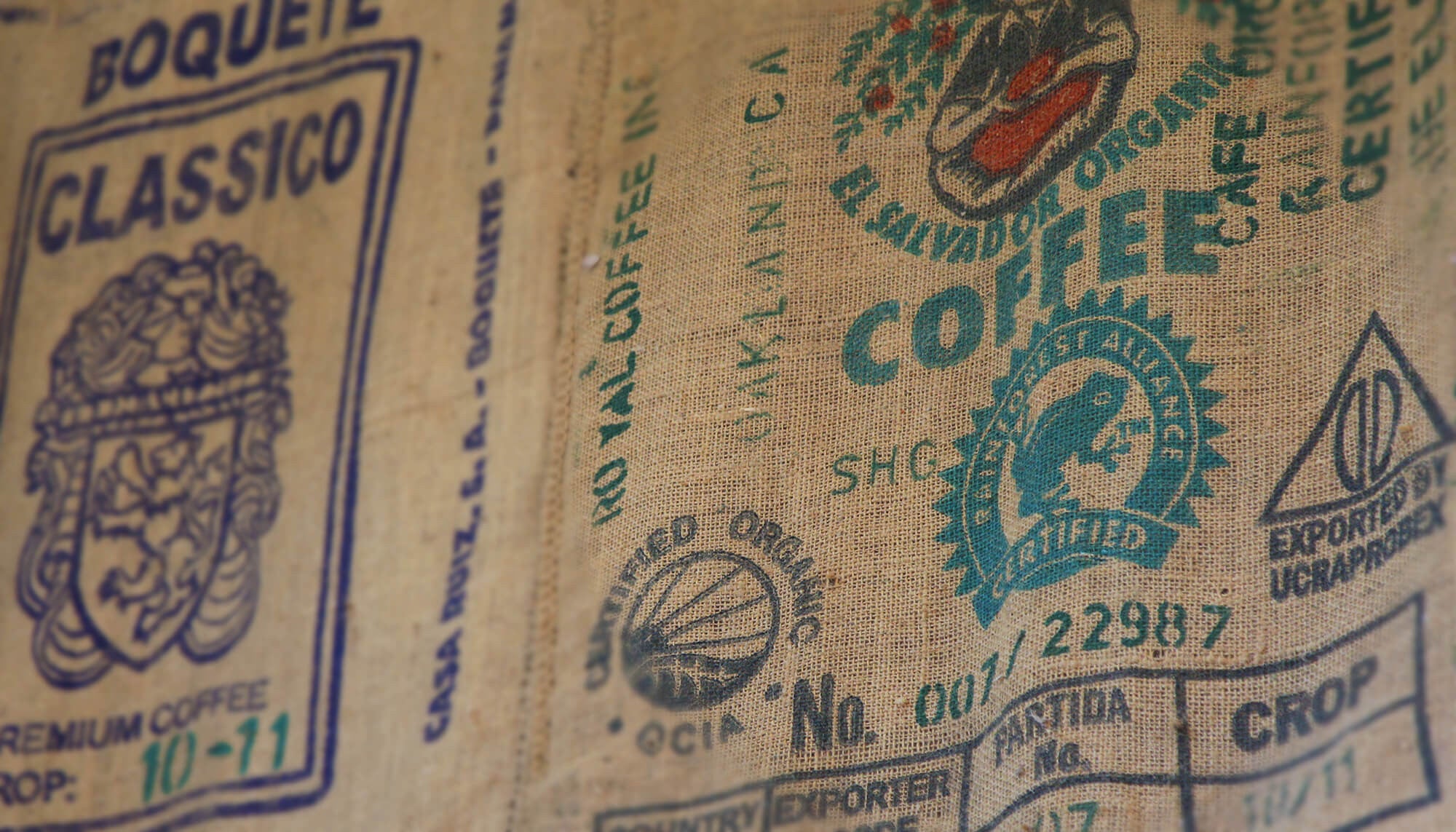 Quick 1-Minute History Lesson on Coffee
You might love it, you might just deal with the taste solely for the energy boost. Either way coffee is deeply ingrained in our life. Did you know it's the second largest traded commodity on earth? The exact time coffee entered into the history books is a little murky, but legend pins it to around 800 A.D. in Ethiopia. Coffee made its way over to America during the mid 1600's and didn't really take off until after the infamous Boston Tea Party.
But coffee wasn't always well-received when introduced to new areas around the world. People were oddly suspicious of this devil drink that seemed to give you superhuman energy. Did you know certain places around the world came close, 5 times to be exact, to having coffee completely banned? Did you know that because shipping routes (from coffee countries to the new world) took extremely long, mold would develop on the beans? When the coffee was offloaded roasters would opt for a "dark roast" to mask any mold flavor or residue that grew during the journey. Thankfully, coffee survived its rocky start and now you can get it 87,000 different ways at your favorite green mermaid coffee shop.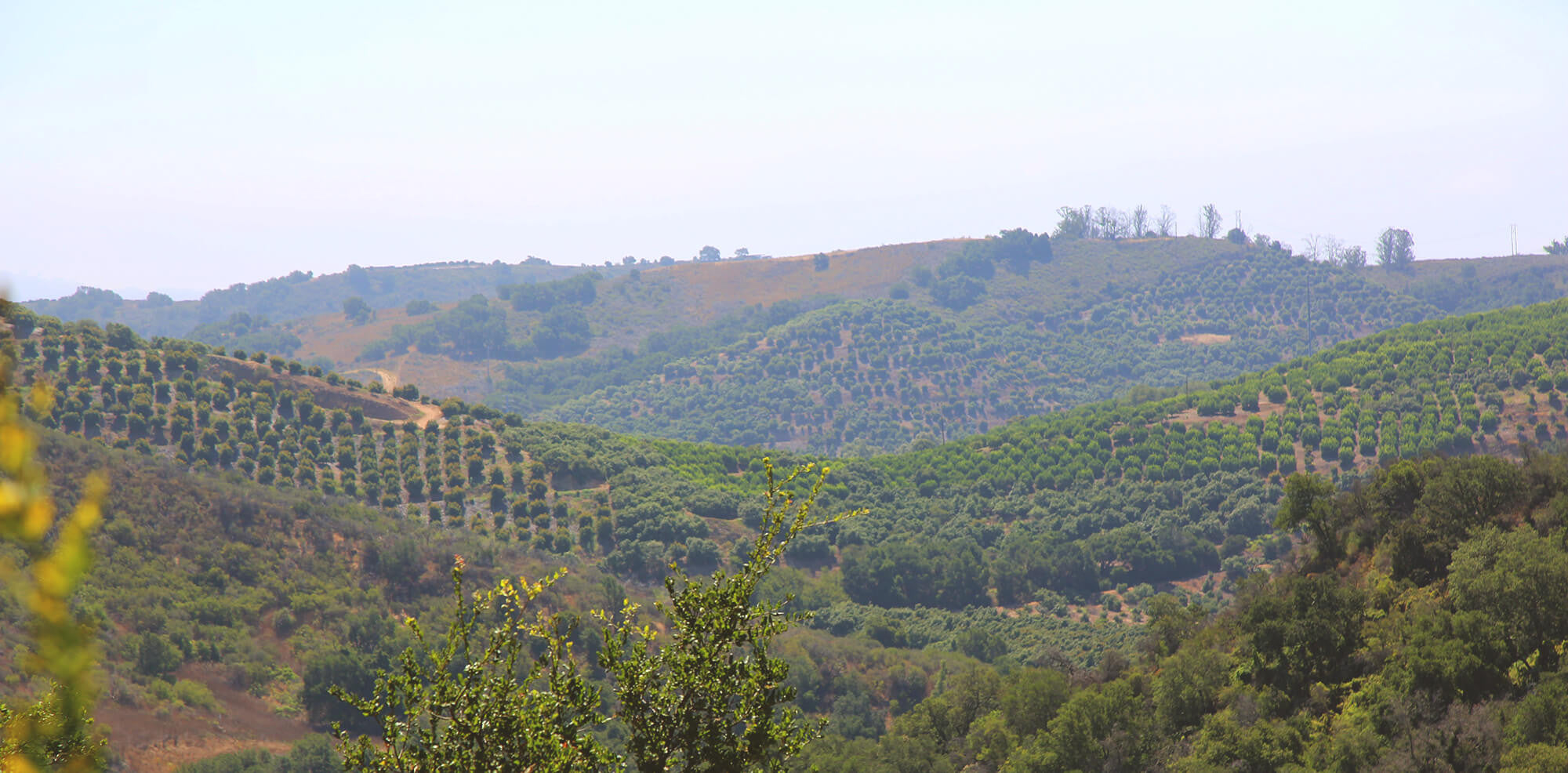 How Coffee is Grown, Harvested and Made: From the Seed to Your Cup
Good Land Organics is a small, family run farm, located in the coastal foothills of Santa Barbara, California. Jay Ruskey, the owner, puts the farm at 650 feet elevation with a comfortable warm, southern orientation. The weather combined with innovative organic growing techniques allows the farm to cultivate a wide range of coffee varieties, twelve at the moment. The soil is rich clay which is farmed without pesticides. Organic farming requires extensive hand labor and experimentation.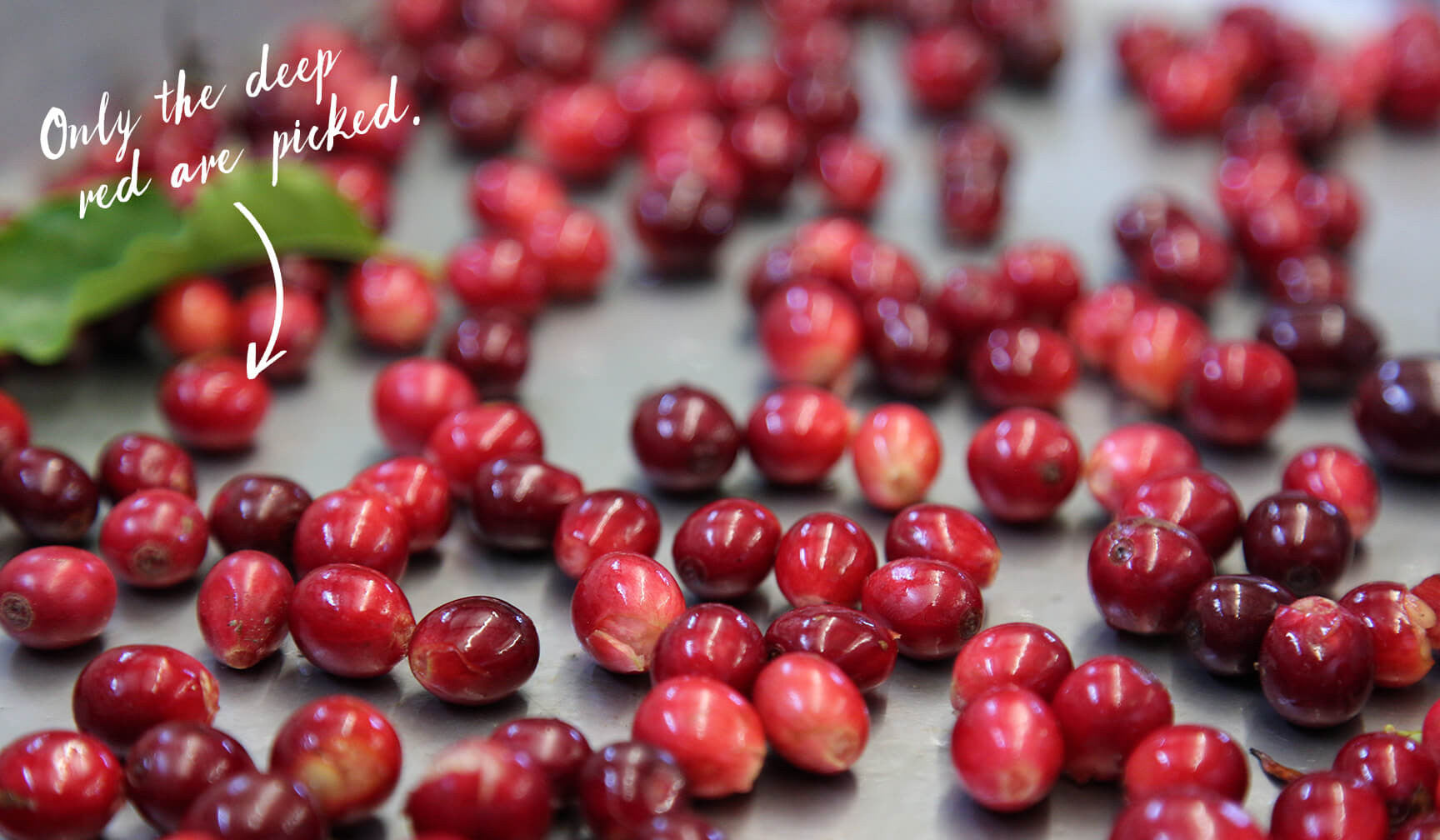 HARVEST
It can take 3-4 years for a coffee plant to fully mature. That's a lot of upfront commitment, so when it's time to harvest the coffee fruit, usually only once a year, every ripe coffee cherry makes it in the bucket. The process is mostly done by hand because each fruit needs to be perfectly red before removing and workers come back in cycles to harvest newly ripened fruit.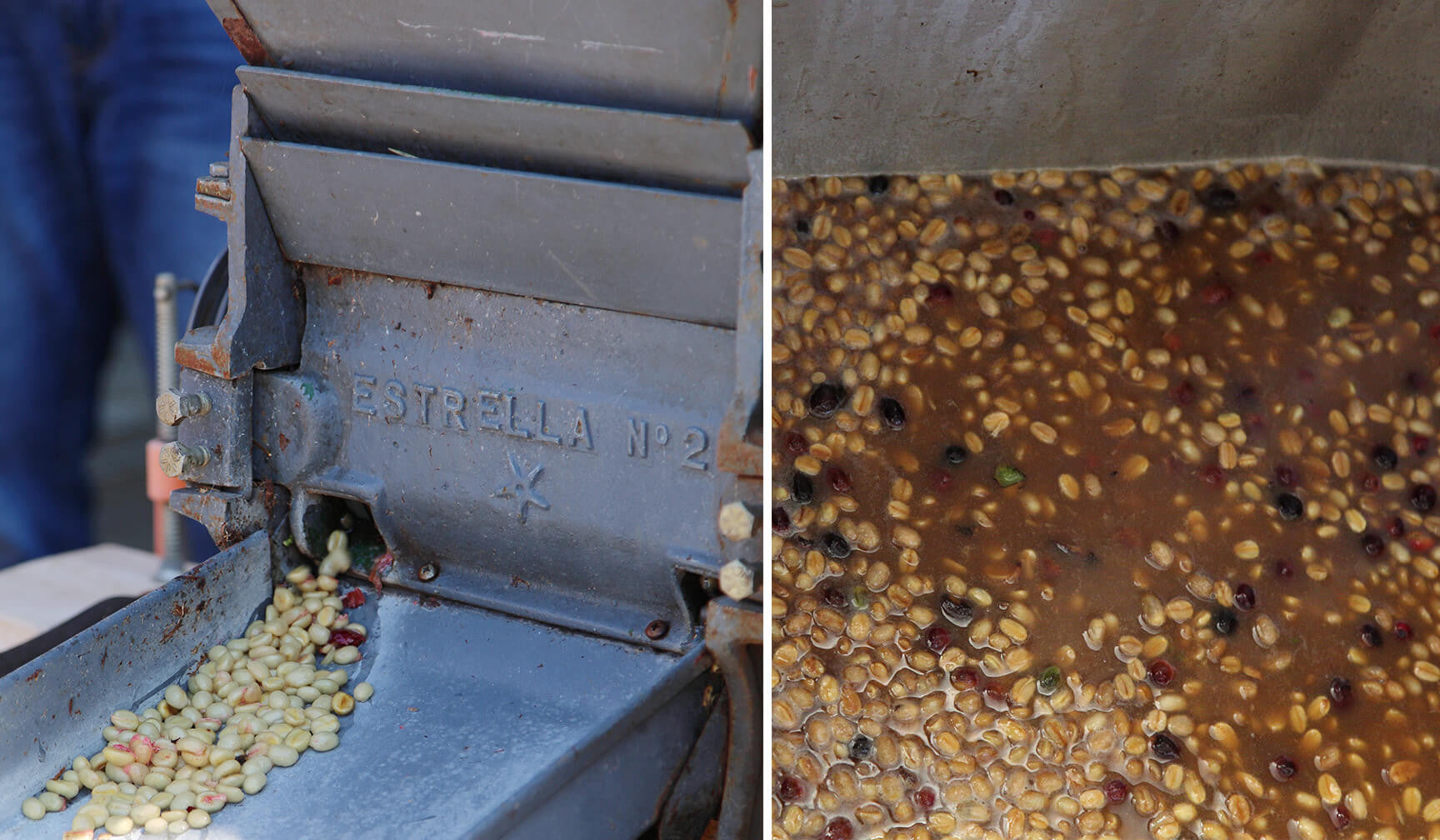 PROCESSING
There are two methods for processing coffee cherries and no matter what option you go with, the process must happen fast so the fruit doesn't spoil.
The Dry Method: this processing method is preferred when water is limited. The beans are spread out and the sun does the majority of the work, while workers turn the coffee cherries periodically.
The Wet Method: this processing method is when the coffee cherries are run through a machine that separates the bean from the fruit. The beans are separated and categorized by size through water chambers. The beans then ferment in a large tank until they lose their slick outer coating.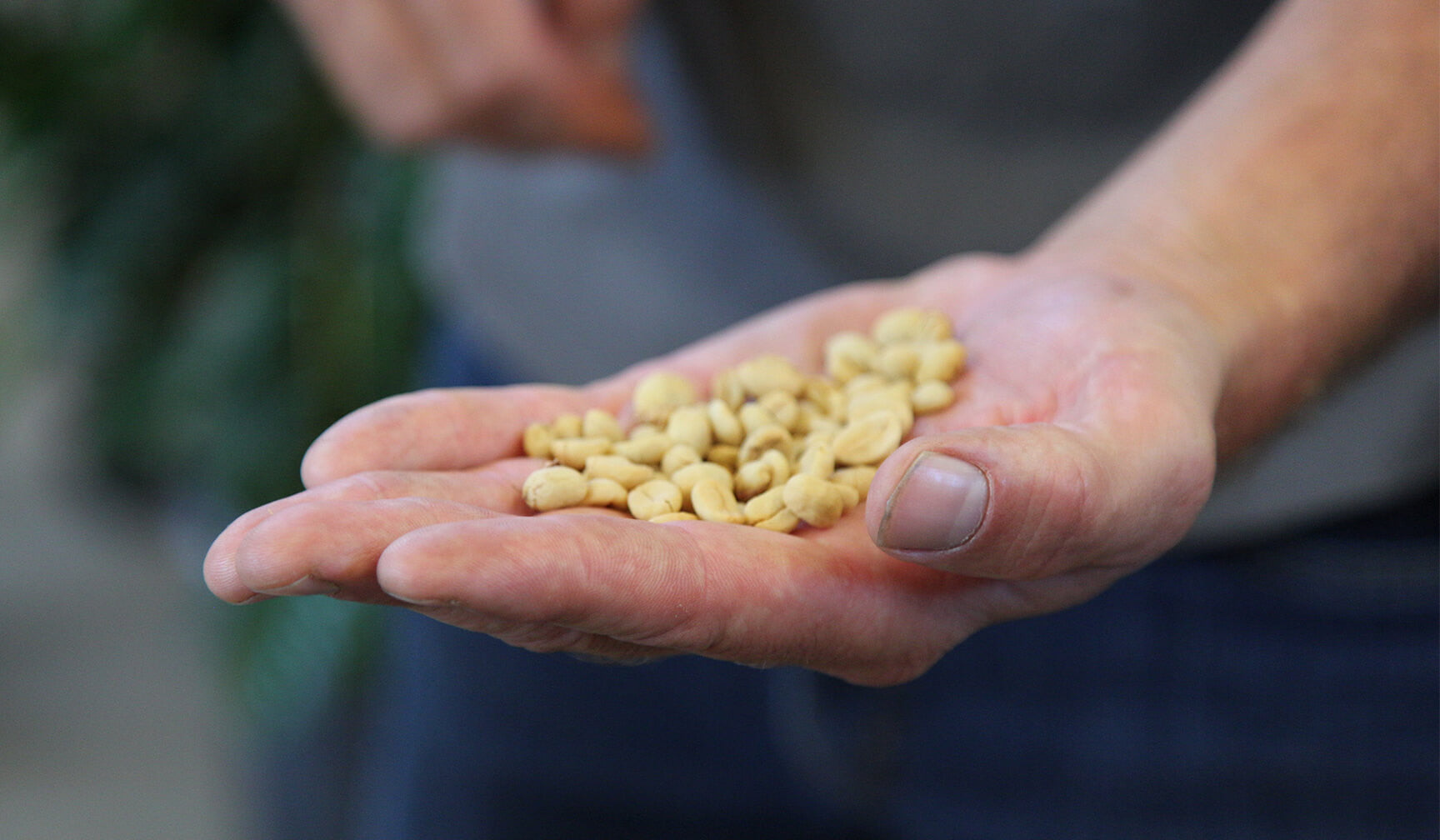 DRYING
If the beans went through the "wet method," they'll need their time in the sun to dry out, too. They'll bask in the sun (or machine dryers) until they reach the perfect moisture content of 12.5%.
MILLING
The beans are again separated out by size, color, and imperfections. They'll pass through a series of screens and fall into their correct bins.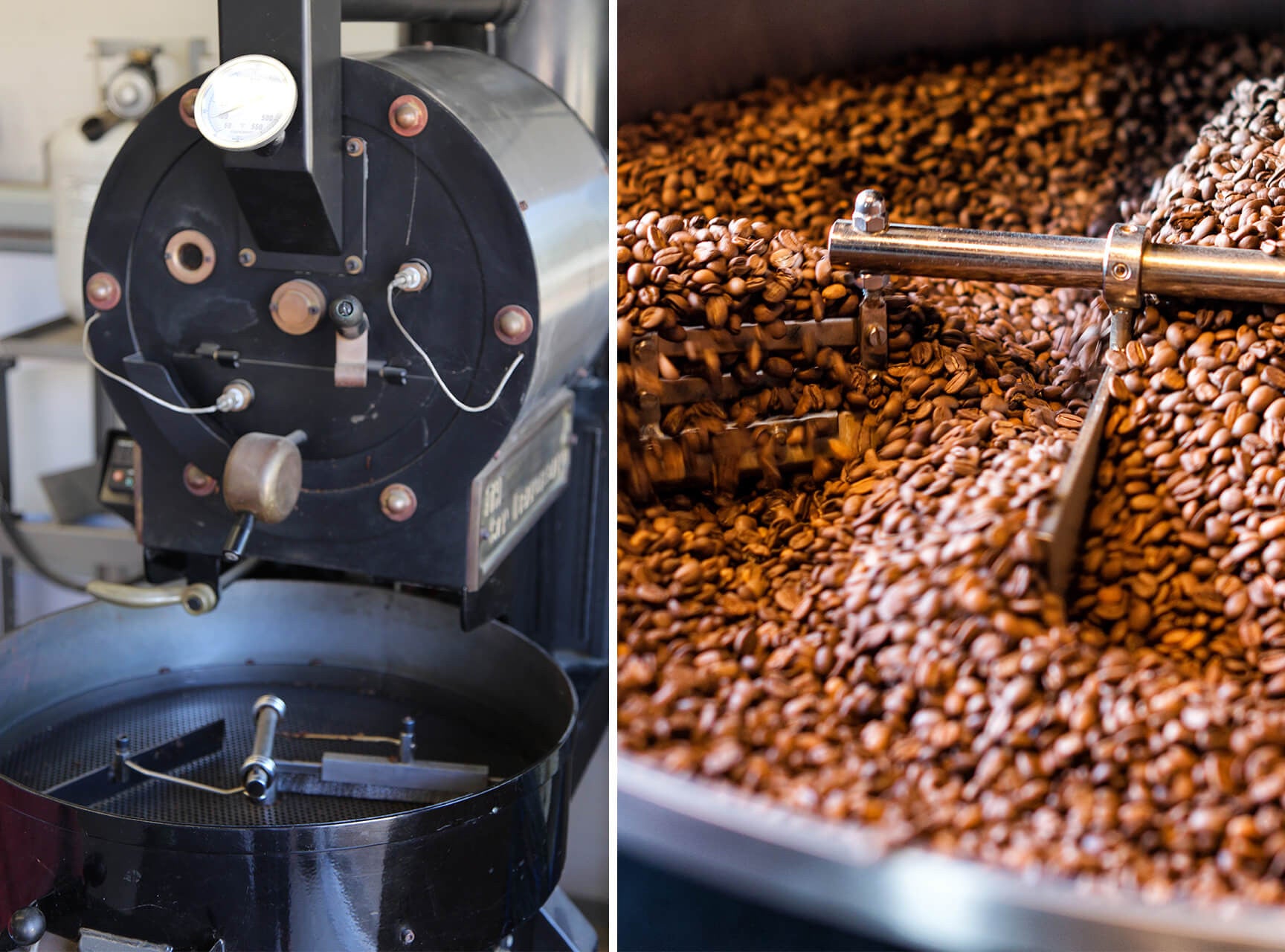 ROASTING
Unroasted coffee is referred to as green beans because well, they're green. Gentle roasting turns them into a deep caramel color we're all more likely used to seeing. The ideal roasting temperature is 550 degrees so the internal temperature of the bean can reach a perfect 400 degrees. The roasting imparts each grower's distinct flavor and style, bringing out the caffeol; the fragrant oil inside the bean.
GRINDING
Purists believe in buying whole beans, to grind as needed. The size of the grind, coarse or fine, all depends on the brewing method. The golden rule of grinding is the length of time the grounds will be immersed in water determines the grade of the grind. If you're brewing in an auto-drip, we'd recommend leaning towards a coarser grade. If you're brewing up a strong cup of espresso, a finer grind is key.
Did you know that coffee production is one of the most hands-on processes? There are an estimated 20-26 sets of hands being a part of each step from bean to cup. If you step back to think about a bean's journey, it makes more sense why high-end, small batch coffee can be so expensive.
Coffee Tasting Cheat Sheet
Are you a little nervous on how to dive into so many cups of coffee and still walk away? Well, we have your back with a coffee tasting cheat sheet to guide you through the process and how to experience multiple delicious cups. Let's start with the very basics: the process of tasting multiple cups of coffee is called cupping and most likely will happen in a special room or area. While sipping our cup of joe at Good Land Organics we were in their test kitchen slash open-air barn.
Three samples were tried and we were guided by owners, husband and wife team, Jay and Kristen, who broke us down on each step of the coffee tasting. The reason for cupping coffee is to analyze the unique characteristics and also imperfections of each bean crop. This important process will help make the best decisions for the final process of roasting the entire harvest. Beans might be blended with other types, or adjusting the roast time based on these cupping sessions. An expert level copper will be able to sip hundreds of samples in a single day and still be able to report on each cup's subtle differences.
FIRST STEP:
Beans will be evaluated visually for quality; noting the color, size and aroma (a key factor). The beans will be roasted on the spot in a small roaster, ground and brewed with the perfect temperature of hot water.
SECOND STEP:
The brewed coffee will rest for a few minutes. Aroma is again noted before the actual tasting.
THREE STEP:
It sounds rude, but the proper etiquette is to slurp spoonfuls of coffee. The quick pull of air mixed with coffee sets off the taste buds. The coffee should sit in your mouth, gently swirling then spit out. (We're going for an optional on the spitting part, it's too delicious!)
The crowd favorite hands-down was the cold brewed serving of Geisha (or Gesha). This particular bean was discovered and exposed to the world market at an auction in Panama. It is named after its origin, Geisha, Ethiopia. This brew is well known for a unique flavor profile, with tea and jasmine notes.
PRO TIP: If you're prone to the coffee jitters, we'd recommend sipping only small amounts at the coffee tasting or following step three with spitting after each sample tasting
2 Ingredient DIY Coffee Scrub How-To
This wouldn't be a sustainable road trip without some reducing, reusing and recycling going on. If you're brewing your own cups at home, or even on the road, save your coffee grinds. Organic coffee grinds are the perfect skin exfoliator and better yet, it gives them one more good go before they make their way into the compost bin. We're making this recipe super easy, so there's no excuse not to try it!
Ingredients Needed:
1 Cup of Used Organic Coffee Grounds
6 Tablespoons of Coconut Oil
Directions:
Gently mix warmed coconut oil together with the organic coffee grounds. Store in a sealed jar. Scrub down with your simple coffee scrub one to two times a week to help remove dead skin cells and improved circulation.
We're back on the road again, headed towards our next stop. Wondering what the full Sustainable Road Trip Series itinerary has in store? Head over to our first announcement post to get the full breakdown. Join us and give us a shout if we're headed your way! We'd love to know about hidden gems and under-the-radar spots that are in your town. Are you on the edge of your seat for the next installment? Curb your appetite with a few past blogs we know you'll enjoy:
We carefully hand-select products based on strict purity standards, and only recommend products we feel meet this criteria. 100% PURE™ may earn a small commission for products purchased through affiliate links.
The information in this article is for educational use, and not intended to substitute professional medical advice, diagnosis, or treatment and should not be used as such.
Sign up to our email newsletter for more blog updates and exclusive discounts.
< Older Post | Newer Post >