Top 5 Best Natural Shampoos for Every Hair Type in 2023
Cleanse, nourish, and shine on your way to luxurious locks!
Posted on September 3, 2023
Written by: 100% PURE®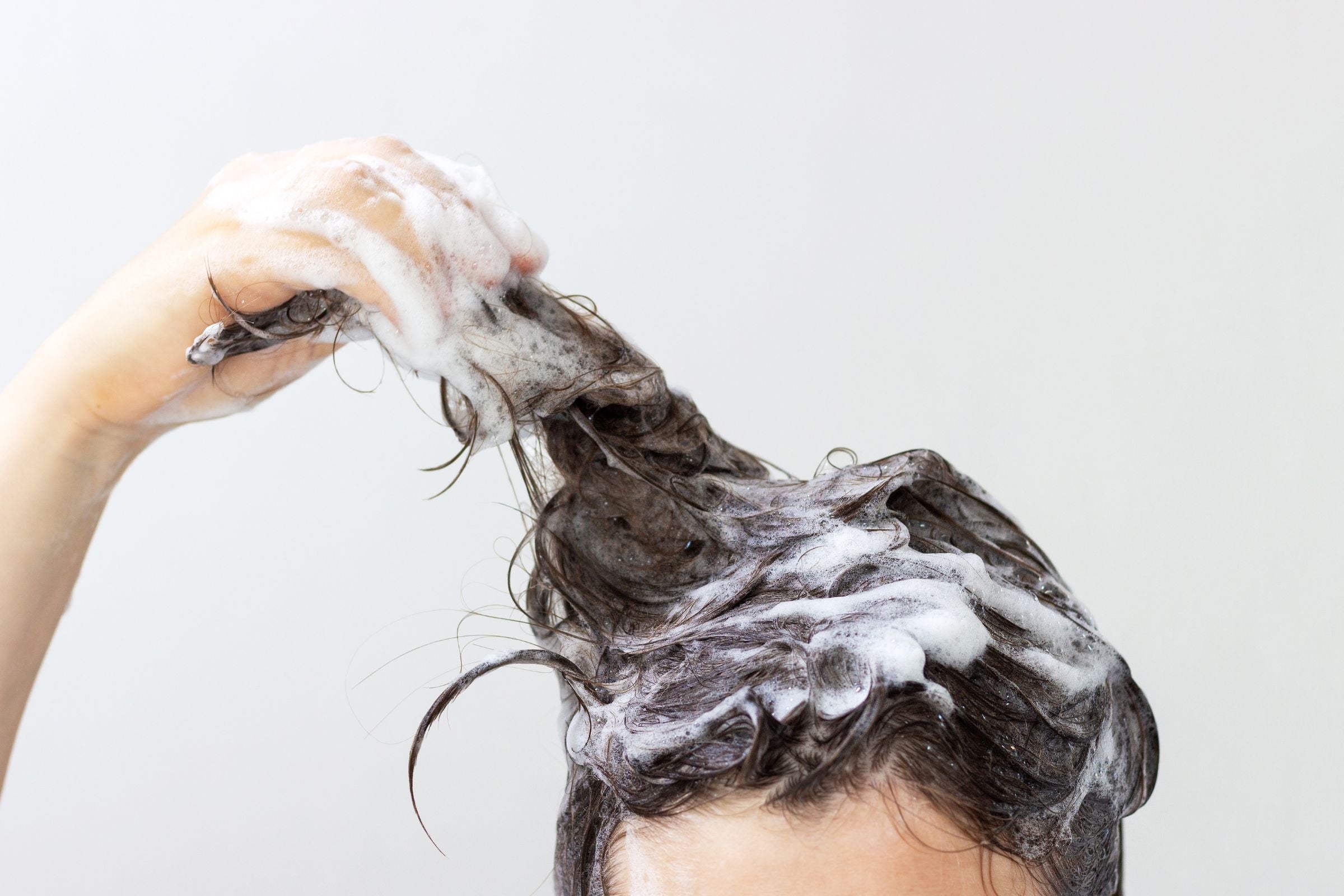 It can be a hairy situation to find the best shampoo, especially considering there are so many different types of shampoos on the market. With increasing concerns about the harsh chemicals found in conventional hair formulas, many people are turning to natural shampoo as a healthier and more sustainable alternative.
But with formulas derived from the land, like plants, herbs, and oils to the sea-weed products, we're often left scratching our heads trying to find the perfect natural shampoo that ticks all the boxes. Just as skin type matters when picking a moisturizer, hair type matters when picking a shampoo.
Let's dive into the benefits of natural shampoos and how to find the perfect formula for your hair type. Plus, we'll go into the ring to find the top contenders in the battle of natural shampoos and discuss which one might be best for your unique needs. Ding, ding!
The Allure of Natural Shampoo
Is it the pureness from natural ingredients, the peace of mind with healthy formulas, ingredient transparency, or eco-friendly practices that draw us to a natural shampoo? How about all the above – and that's the tip of the strand! Once you start to unravel the harsh, tongue-twisting ingredients and understand what's really in your shampoo, you'll just call a time-out in that hair ring.
The unsatisfactory and, at times, unhealthy results of using chemical-based hair products have been a big contender for people to run to the ropes. Once you learn the health and hair hazards, call your exit strategy safe deemed the real winner.
Studies have shown that frequent use of traditional shampoos can lead to various skin and hair problems. Some of the commonly used chemicals like parabens, sulfates, and phthalates can damage hair and scalp, leading to dryness, frizziness, and even hair loss. These harmful chemicals can also disrupt the natural balance of the scalp, leading to excess oil production and dandruff.
On the winner side, natural shampoos have fewer irritants and focus on plant infusions and wholesome floral and nut oils that create hair-tastic results you can see and feel. These pure formulas typically have fewer foaming agents, which means they won't strip your hair of its natural oils, making it softer, shinier, and healthier. Additionally, natural shampoos are environmentally friendly and cruelty-free, making them the perfect choice for those wanting to reduce their carbon footprint.
By making the switch, you can reach hair and health Zen between wellness and natural beauty products. While it's just as important to ensure our beauty products with the pureness and purity of nature, natural beauty also focuses on nurturing the body, mind, and soul for total enlightenment.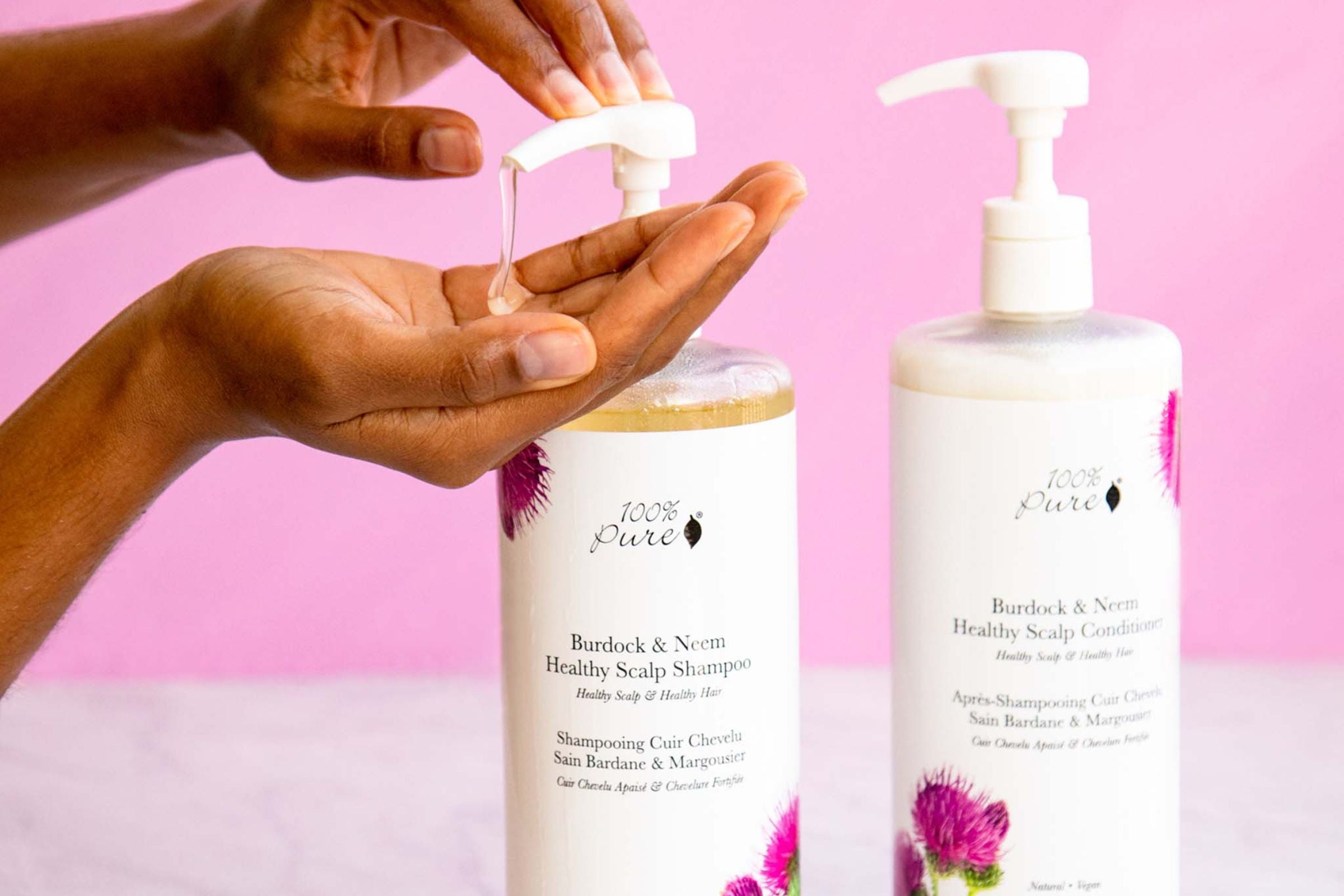 Criteria for Choosing Our Top 5
We've worked hard with health and hair goals at full center to harness the power of Mother Nature to create the best natural shampoos. When choosing our top five shampoos of 2023, we adhered to a few criteria to ensure your locks were getting the perfect, pure formula for your hair type. At 100% PURE, we go above and beyond to make sure your hair will stay beautiful, shiny, and healthy.
Ingredient transparency:
Remember the unpronounceable, tongue-twisting ingredients we mentioned earlier in conventional formulas? You won't need to be an ingredient detective with a magical decoder to decipher our ingredient labels. But a well-informed skincare enthusiast, we'll take – and help along the way!
Conventional products are labeled with a mumbo jumbo of unpronounceable and misleading words. There's also a lot of green-washing out there where companies falsely label their products as "all-natural" when the ingredients' lists say otherwise. Tsk, tsk! 100% PURE stands against greenwashing in cosmetics, skincare, and, in general.
We stand for ingredient transparency in our formulas, so health and environmentally-conscious customers are not being misled into purchasing harmful products. 100% PURE has taken steps to rigorously define "natural" to make sure our skin, hair, and beauty care are truly natural and healthful for you. When we label our cosmetics as natural, you can rest assured that we are adhering to the highest standards possible.
At 100% PURE we take pride in our testing practices to ensure that we are producing the healthiest and most toxic-free formulas for our customers. Our formulas are 100% natural, biodegradable, and contain organic, vegan ingredients. We source our pigments from fruits and vegetables instead of synthetic FD&C colorants and heavy metal dyes.
Sustainable packaging and eco-friendly practices
Our commitment to non-toxic products expands to crafting environmentally sustainable packaging adhering to eco-friendly practices.
Our packaging is BPA and phthalate-free. Each one of our formulas (not just our cosmetics) is fully biodegradable. We use recycled or recyclable packaging. For packaging, we print using eco-friendly, non-toxic, and soy inks. When we pack and ship orders, we use biodegradable cornstarch packing peanuts. They disintegrate in water, making them environmentally friendly. We pack all orders in recycled cardboard boxes
Our commitment to eco-friendly practices and animal welfare means that we will never test on animals – and that our products will always be certified cruelty-free. When it comes to our ingredients we go through a painstaking process to avoid animal-sourced ingredients and opt for vegan, cruelty-free alternatives.
The list goes on for the lengthy steps we've taken to ensure you only receive the best natural beauty products to help you make a positive impact on your health and the environment. As we continue to push for formulation transparency, non-carcinogenic beauty, long-term testing, and precautionary regulation, we're likely to not only achieve reform in the industry but also help to spread more wholesome options.
User reviews and hair type versatility
When it came to our top natural shampoos for this year, user reviews are an essential criterion for our decisions. The gap in communication means product users rely on the experience of others to inform them. Ratings and reviews give people the confidence to make beauty choices with the stroke of a key.
User reviews are also an asset when people are trying to figure out if a formula will work for their type and needs. Based on customer reviews and feedback, users can be better informed of a brand's integrity and a product's quality.
Top 5 Natural Shampoos of 2023: A Detailed Dive
Knowing your hair type and individual needs and goals is the right step to finding the best natural shampoo for the healthiest, most luscious locks of your dreams. Luckily, we're here to give you the top contenders that made it into the ring and the final round of 2023.
Your best offense is a good defense, and it starts with learning how to read labels for questionable ingredients and familiarizing yourself with common toxic ingredients, and top-offending culprits. Members of this dirty dozen include silicones, parabens, drying alcohols, sodium lauryl sulfate (SLS), chemical sunscreens, fragrances, and dyes.
For Oily Hair
Burdock and Neem Healthy Scalp Shampoo
Key Ingredients: Nettle, burdock, neem
Do you suffer from a dry or itchy scalp, dandruff, product build-up, or a combination of all? You have our deepest sympathies, and we're here to tell you that better days lay ahead! If you get to the root of the problem (unhealthy scalp), happier and healthier hair waits for you. The best natural shampoo for your hair should purify and unclog pores, while also stimulating circulation to the scalp.
This purifying formula clears pores, stimulates blood circulation to the scalp for new hair growth, and alleviates any scalp woes while adding hydration for a healthier scalp and hair. Key ingredients like burdock and neem will alleviate dryness, itching, and flaking, and will have you 'back in black' in no time!
For additional dryness relief, this formula includes vitamin E and pro-vitamin B5 to enhance hair softness and tensile strength. This sulfate-free natural shampoo is safe and gentle enough for color-treated hair. All in all, it's a warrior for warding off excess oil and dandruff flakes once and for all.
"My scalp doesn't itch any longer, my shedding has decreased a lot, my hair feels light and much cleaner than with the other products I had been using. It did take my scalp a little while to adjust...after about a week or so my scalp adjusted to all the natural products and I can go 2-3 days without needing to wash my hair (I have fine hair)."
- Erin H., Verified Buyer
For Dry Hair
Glossy Locks Repair Shampoo
Key Ingredients: Biotin, acai, argan oil
For those with dry hair, natural shampoos can provide gentle cleansing without stripping the hair of its natural oils. This richly foaming shampoo deeply cleanses and clarifies strands without stripping the scalp or dehydrating hair of essential moisture.
This sulfate-free shampoo also keeps color-treated strands safe, hydrated, and strong, while restoring dry locks with essential vitamins and nutrients. The super fruit antioxidants, like acai, nourish and revitalize strands. Ingredients like argan oil, biotin, and honey replenish hydration and restore vibrant shine and softness.
This hair-loving formula also features a concentrated dose of moisturizing oils and vitamins that your thirsty locks will drink up in no time. You'll be back to smooth, healthy, and moisturized locks in no time.
"This shampoo does exactly what it says. It repairs dry and damaged hair. It works and works quickly. My hair is bouncy and healthy. It doesn't weigh your hair down. Will purchase again!"
- Kathy D., Verified Buyer
For Curly Hair
Glossy Locks Moisture Drench Shampoo
Key Ingredients: Seaweed collagen, biotin, rose hydrosol
Choosing the right shampoo is not only crucial for maintaining healthy hair, but it's also essential when you have unique characteristics to your strands. Enter curly hair types! Your best natural shampoo will be free from harsh chemicals and sulfates that are gentle on your hair and your curls while restoring essential nutrients and hydration to your bouncy locks.
This deeply moisturizing shampoo minimizes damage and preserves your curl's natural oils. It's enriched with nourishing ingredients that hydrate and moisturize your hair, leaving it soft, shiny, and manageable. It's also formulated to restore and strengthen your locks, promoting healthier and more resilient hair.
This luxurious formula is made with supremely hydrating aloe vera, rose hydrosol, and cucumber to quench thirsty strands. Coconut oil and seaweed collagen lock in essential moisture to restore healthy bounce and shine. This natural shampoo formula also includes horsetail plant to restore hair strength, and nourishing biotin to support healthy growth and volume. This sulfate-free shampoo is safe and gentle enough for color-treated hair.
"Very nice shampoo! I love that it is hydrating, and helps maintain my hair's health, while also cleansing. LOVE it!!!
- Aurora., Verified Buyer
Newsletter
Subscribe
for more blog updates and exclusive discounts
For Color-Treated Hair
Multi-Vitamin Healthy Hair Shampoo
Key Ingredients: Vitamin C, biotin, pro-vitamin B5
Hair is primarily made up of a protein called keratin. Keratin is responsible for providing structure, strength, and elasticity to hair strands. Your hair's elasticity determines its overall strength. If your locks have weak, brittle strands or are prone to hair breakage, especially from color treatments, you need a keratin-infused shampoo. Allow us:
This reparative shampoo is fortified with beneficial multivitamins, like vegan keratin, biotin, pro-vitamin B5, and vitamin E, and it's designed to replenish hydration, restore vibrancy, and leave your hair looking and feeling softer and healthier than ever. Plus, it's safe for color or chemically-treated hair and can be used daily to keep your locks looking their best.
Best of all, this pH-balanced formula is free of many of the toxins commonly found in traditional hair care products, making it a great choice for anyone looking to prioritize their hair's health and well-being.
"I highly recommend it!"
- Ivonne., Verified Buyer
For Fine Hair
Kelp & Mint Volumizing Shampoo
Key Ingredients: Neem, kelp, vitamin E
Even if you don't have fine hair, all hair types can benefit from a volumizing shampoo. Limp or sparse appearing strands are usually the cause of using the wrong shampoo. While many mainstream shampoos tout luscious, voluminous locks, most don't deliver due to heavy shampooing agents and product buildup weighing your hair down.
Enter our best natural volumizing shampoo! Formulated with kelp extract and seaweed collagen for luster and volume, this shampoo is great for those with dry hair or fine hair. Kelp and peppermint essential oil help soothe and balance for a happier scalp and longer-lasting blowouts. The light rose water and mint infusion help to soothe any dryness or itchiness on the scalp.
Hydrating ingredients like aloe juice and coconut oil provide nourishment where it is desperately needed. Our nourishing natural formula is not only cleansing your hair, but it's also building a better foundation for healthier, stronger, and glossier hair over time.
"This is really one of my favorite products! I have really fine hair so I can't have a product that weighs it downs or leaves residue in my hair - this is lightweight and fresh! I love the clean scent!"
- Gigi R., Verified Buyer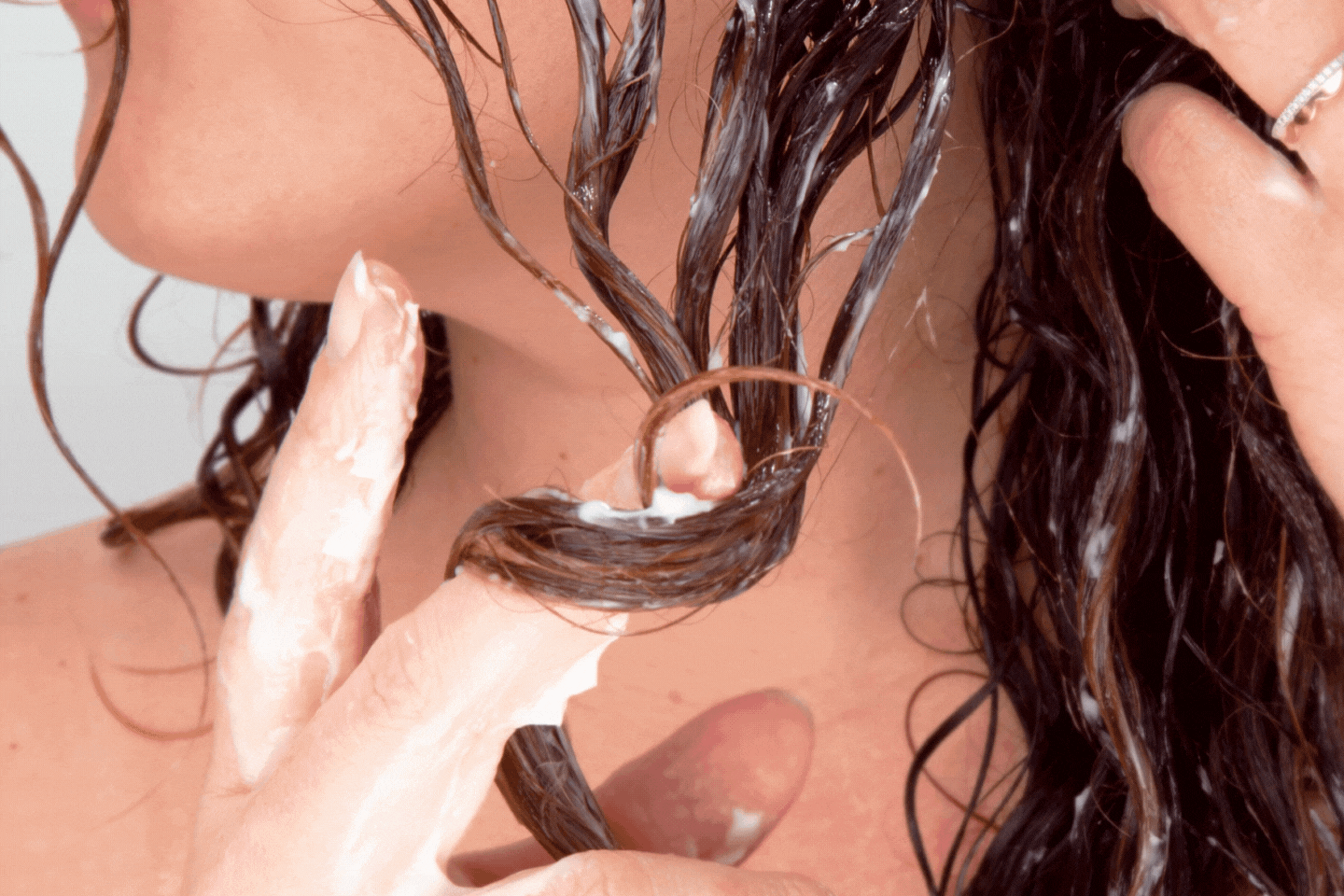 Why Natural Doesn't Always Mean Safer
Every individual has a unique hair type with its specific needs and characteristics. It's crucial to understand your hair type to ensure your locks are healthy and vibrant. Traditional hair care products often prioritize one hair type over others, resulting in damaged and unmanageable hair. But even natural shampoos and products can come with some hair woes for certain types or conditions.
Natural hair products, on the other hand, do not contain harmful irritants, promoting healthy and defined hair. However, clean beauty products cater to every hair type and texture. With a focus on natural and organic ingredients, they are gentle on your scalp and hair. This leads to less breakage, less hair fall, and a more defined hair texture.
If you have a sensitive scalp that is prone to boils and itchiness, stay away from potential irritants. Since natural products have so many chemical compounds, it's hard to know what will react with your scalp. Not only that, but many of these contain volatile essential oils and inflame the skin and scalp.
Frequently Asked Questions About Natural Shampoo
Why should I switch to a natural shampoo?
Using natural shampoo can provide a variety of benefits for different hair types. For instance, those with oily hair can benefit from natural shampoos that contain ingredients such as tea tree oil and peppermint, which help to balance the scalp's natural oils. Natural shampoos can also be a good option for those with sensitive skin or allergies as they tend to contain fewer harsh chemicals.
Are natural shampoos sulfate-free?
Firstly, natural shampoos contain ingredients that are derived from natural sources such as plants, herbs, and essential oils, while traditional shampoos may contain synthetic ingredients that are harsh on hair and scalp. Secondly, natural shampoos are often free from harmful chemicals such as sulfates, parabens, and synthetic fragrances that can cause irritation, dryness, and damage to hair and scalp.
How often should I shampoo with natural products?
Natural shampoos are suitable for all hair types because they don't have any potential irritants. However, you will have to pick the shampoo that has a specific formulation and is well-suited for your hair type. Also, it's always a good idea to consult with a hair care professional or dermatologist. That way they can guide you about the natural ingredients that are best for you.
Can I use natural shampoos if I have a scalp condition like dandruff?
Yes, natural shampoo can make a major difference in your hair's appearance. They are typically free from harsh chemicals that can strip the hair of its natural oils, which can lead to dryness, breakage, and other issues. Instead, organic shampoos have ingredients that are nourishing and beneficial for the hair. These ingredients can help to soothe and moisturize the scalp, promote healthy hair growth, and enhance the hair's natural shine and texture.
Do natural shampoos have a shorter shelf life?
Conventional hair care formulas don't stand a chance when going head-to-head with our natural hair care products, but sorry -- we couldn't resist! 100% PURE's shampoo and conditioner formulas don't contain any petrochemicals, silicone, artificial fragrances, synthetic chemicals, toxic preservatives, parabens, or any other unsafe ingredients.
And, as you can see from our pure ingredients and easy-to-read ingredient lists, 100% PURE makes hair care simple. Hair care doesn't have to be a foreign language. Our ingredients are healthy and natural (often things you can eat) because we know that the best natural hair products and healthier ingredients mean a healthier you.
The benefits of using natural hair care products cannot be overstated. From promoting a healthy scalp and strands to preserving the environment, natural beauty has it all. So, make the switch today and see the difference for yourself. Say goodbye to harmful chemicals and hello to beautiful, healthy hair. And that's a hair-ray!
We carefully hand-select products based on strict purity standards, and only recommend products we feel meet this criteria. 100% PURE™ may earn a small commission for products purchased through affiliate links.
The information in this article is for educational use, and not intended to substitute professional medical advice, diagnosis, or treatment and should not be used as such.
Sign up to our email newsletter for more blog updates and exclusive discounts.
< Older Post | Newer Post >