The Post-Workout Skin Routine
Important tips for avoiding breakouts, rashes, and dryness after a workout - and which skin care products you should keep in your gym bag
Posted on January 18, 2019
Written by: 100% PURE®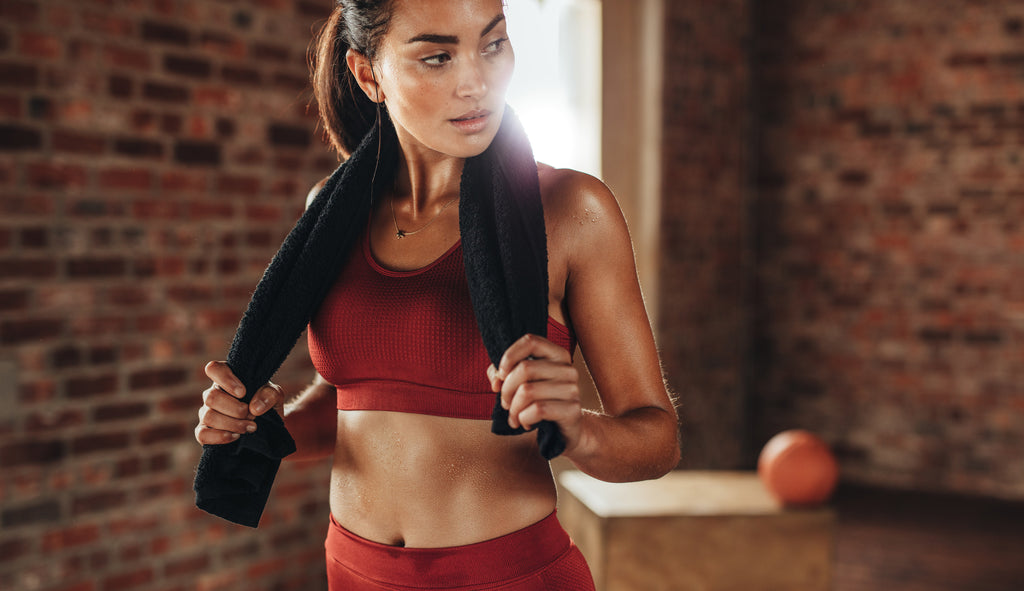 It's the beginning of a new year, which means that gyms, yoga studios, and cycling classes across the country are packed to the brim. Whether you're just getting back into the exercise groove or you're a year-round gym fanatic, it's important to follow a practical skin care routine after exercising - for the sake of your skin! In this post, we'll discuss some measures you can take to keep your skin clean and healthy, along with some of the best skin care products to use after a workout.
Exercise and Your Skin
At 100% Pure, we believe that the skin care products you use daily should only make up one part of your skin care regimen. To help your products have the best possible impact for your skin, it's important to live a healthy lifestyle. This means eating a balanced diet and - you guessed it - getting the right amount of exercise (at least 70 minutes per week). Getting the right amount of exercise helps to keep your circulatory system and lymphatic system healthy. This boosts the delivery of nutrients to your skin and the drainage of impure, lymphatic fluid from your tissue. Exercise can also help to keep your hormones balanced, reducing the severity of some forms of acne.
While exercising can benefit your skin in many ways, the sweat that your body produces when you work hard can also irritate your skin if it's left there to dry, potentially causing breakouts and inflammation. This is why it's important to follow up your workout with the right skin care steps!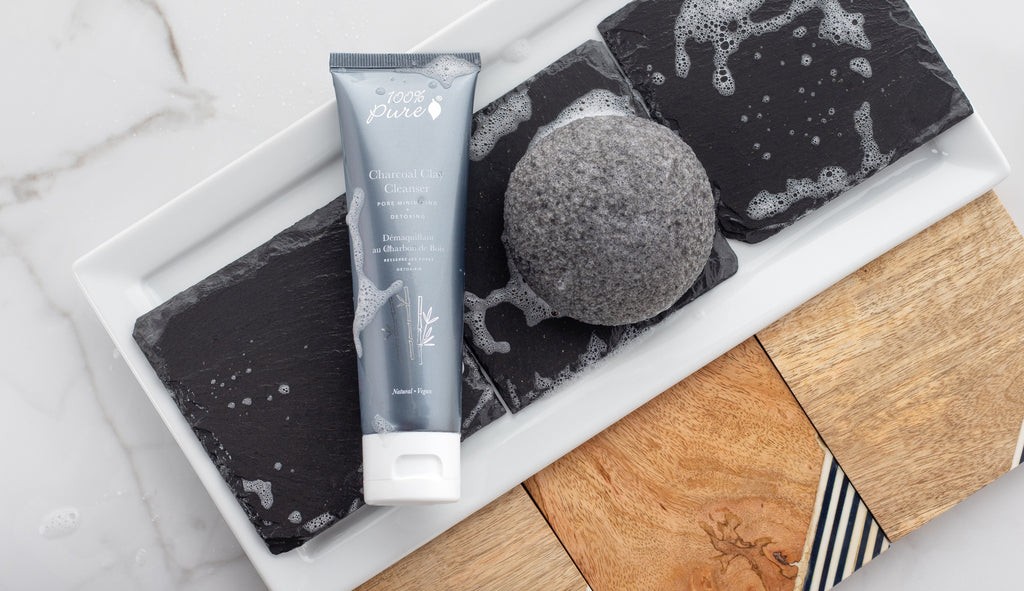 Step One: Cleansing
The first step in your post-workout skin care routine should be to remove any makeup and/or sunscreen you may be wearing, and cleanse your skin with an antibacterial cleanser. Thoroughly rinse your face (and your neck, shoulders, chest, and back, if desired) with warm water, and then use a cleanser suited to your skin type. This cleansing step will remove sweat from the surface of your skin, and will also help to clear away dirt and other impurities, prepping your skin for the next step.
For your post-workout cleansing step, we recommend using the Tea Tree & Willow Acne Clear Cleanser or Charcoal Clay Cleanser. Tea tree in our Acne Clear Cleanser has antibacterial properties to help prevent acne and skin infections. Meanwhile, willow bark improves the appearance of pores and fine lines; parsley calms and tones; and algae delivers vital nutrients for healthy, glowing skin. The Charcoal Clay cleanser is especially beneficial for normal to oily skin types. It features bamboo charcoal and kaolin clay to absorb excess oil from your skin, clearing up blocked pores and helping to ease acne breakouts.
Step Two: Exfoliating
Now that you've cleaned away sweat and dirt from the surface of your skin, you're ready to exfoliate. Exfoliating after a workout helps to keep your pores free of oil and dead skin cells that might otherwise build up and cause blemishes. To exfoliate your skin, dispense a small amount of product onto clean fingertips, and gently roll it over your skin in small, upward motions. You can exfoliate your face, neck, back, shoulders, and chest to prevent breakouts and reveal soft, glowing skin!
Keep in mind that you shouldn't exfoliate your skin more than three times per week, unless you're using an extremely gentle exfoliant such as our Konjac Sponge, with a standard cleanser. Over-exfoliating the skin can lead to inflammation and long-term skin damage.
To exfoliate your skin after a workout, we recommend using our Acai Pulp Facial Scrub. This gentle, fine-grained exfoliant sloughs away dead skin cells without being too abrasive on your delicate skin. Along with antioxidant-rich acai, our formula contains coffee to reinvigorate and brighten your skin, and mangosteen and sweet orange to replenish your skin with essential vitamins.
Step Three: Toning
Right after you've rinsed away your exfoliant with lukewarm water, your pores will be clear and opened, ready to drink up whatever product you apply to your skin. That makes this the perfect time to apply a light layer of hydrating, clarifying toner to your skin. We're especially attached to our Restorative Sea Culture Hydrating Toner, which is packed with vital nutrients to replenish any skin type. While chia seed water moisturizes your skin and heals damage, sea kelp fortifies your skin with vitamins and antioxidants, and hyaluronic acid helps to promote and collagen production and hydration. Swiping toner over your skin after exfoliating and cleansing also helps to pick up dead skin cells that have been sloughed away, and any other formula you missed when rinsing.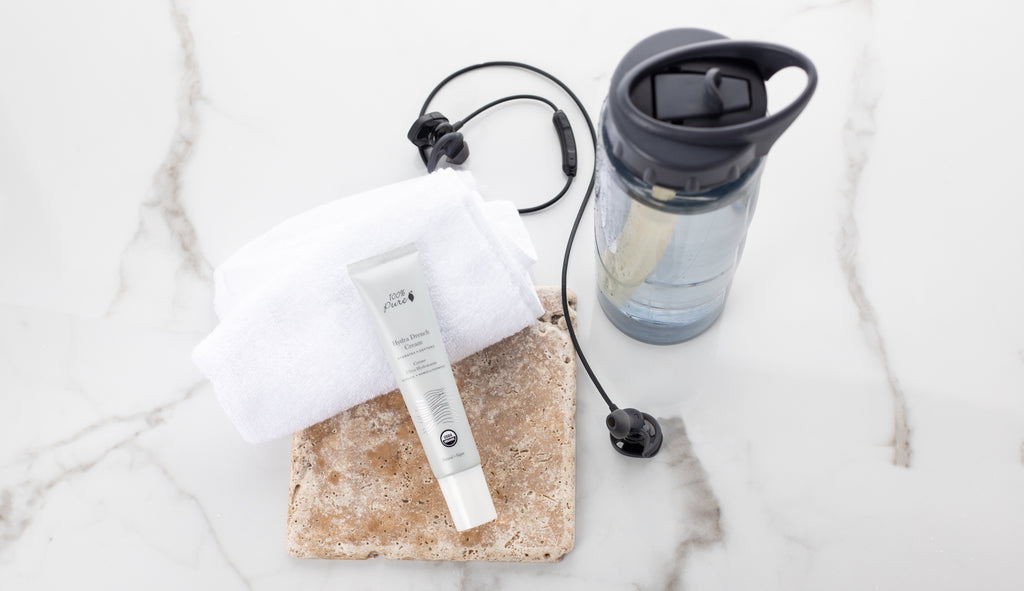 Step Four: Moisturizing
After allowing your skin to soak up that hydrating toner, follow up with a moisturizing day or night cream to lock in all of the goodness. If you like to work out in the morning, try using a layer of our Green Tea EGCG Concentrate Cream after your workout. This cutting-edge skin care product leverages the antioxidant power of EGCG, one of the beneficial components of green tea, to tone your skin and fight damage. Meanwhile, this day cream moisturizes your skin with antioxidant-rich acai butter, and tones down post-workout redness and flushing with caffeine.
Our Hydra Drench Cream is another go-to for a soothing boost of hydration. It's great for restoring both water and oil from chia seed gel, hyaluronic acid, and coconut oil. Hydration and moisture are key for bringing skin back into balance after a dehydrating hot yoga class or moisture-sapping, cold morning run.
If you prefer to work out in the evening, we recommend following up with our Multi-Vitamin + Antioxidants Ultra Riche PM Treatment. This luxurious, velvety cream features a base of moisturizing avocado butter, shea butter, olive oil, and coconut oil. It's also packed with vitamins to nourish your skin, such as rosehip seed oil and evening primrose oil. The rich, delectable scent of orange oil will lull you (and your sore muscles) off to dreamland while the night cream works its potent anti-aging magic.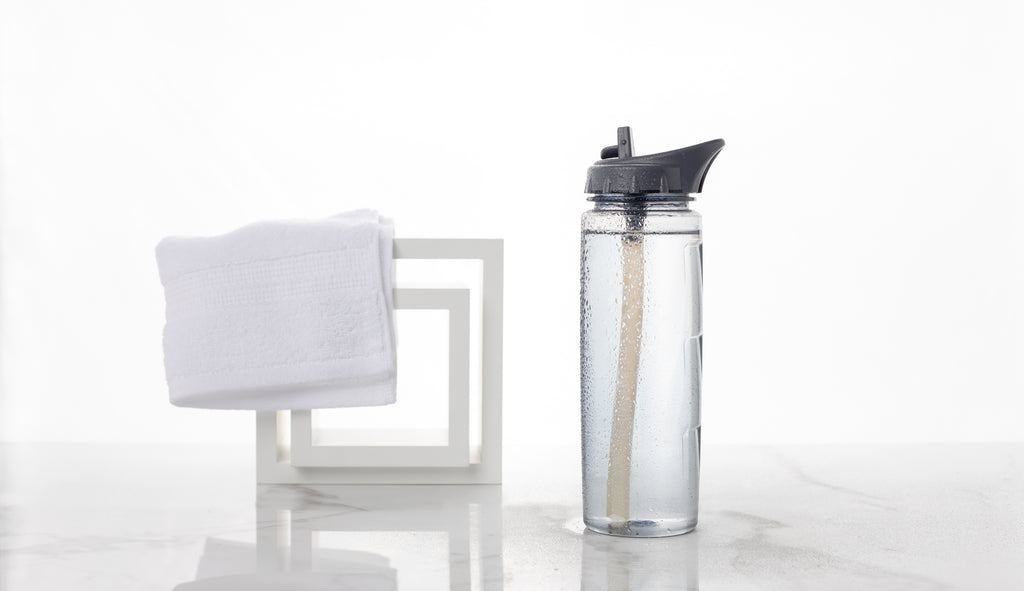 More Tips for Avoiding Breakouts After Your Workout
Always remove makeup before you exercise! This will allow your skin to breathe and sweat properly. It will also reduce your risk of a post-workout breakout, caused by pores clogged by a dastardly combo of makeup and sweat.

Don't fancy spending another second at the gym, to perform your skin care routine? Consider cleansing only, then finishing the rest at home. You should at least remove the top layer of sweat and oil from your face, neck, chest, and shoulders to prevent fast-acting breakouts.

If you wear a hat or headband during exercise, make sure to wash your forehead extra carefully after your workout. Head garments can trap sweat and bacteria against your skin, increasing your risk of a breakout.

Make sure to drink lots of water after working out. Sweating can deplete your body's hydration levels, leading to dyrness, loss of glow, and even breakouts. It's simple: hydrated skin is healthy skin!
We carefully hand-select products based on strict purity standards, and only recommend products we feel meet this criteria. 100% PURE™ may earn a small commission for products purchased through affiliate links.
The information in this article is for educational use, and not intended to substitute professional medical advice, diagnosis, or treatment and should not be used as such.
Sign up to our email newsletter for more blog updates and exclusive discounts.
< Older Post | Newer Post >