The Best Skin Care Products for Men
How to keep a men's skin care routine simple, and still get real results
Posted on June 1, 2018
Written by: 100% PURE®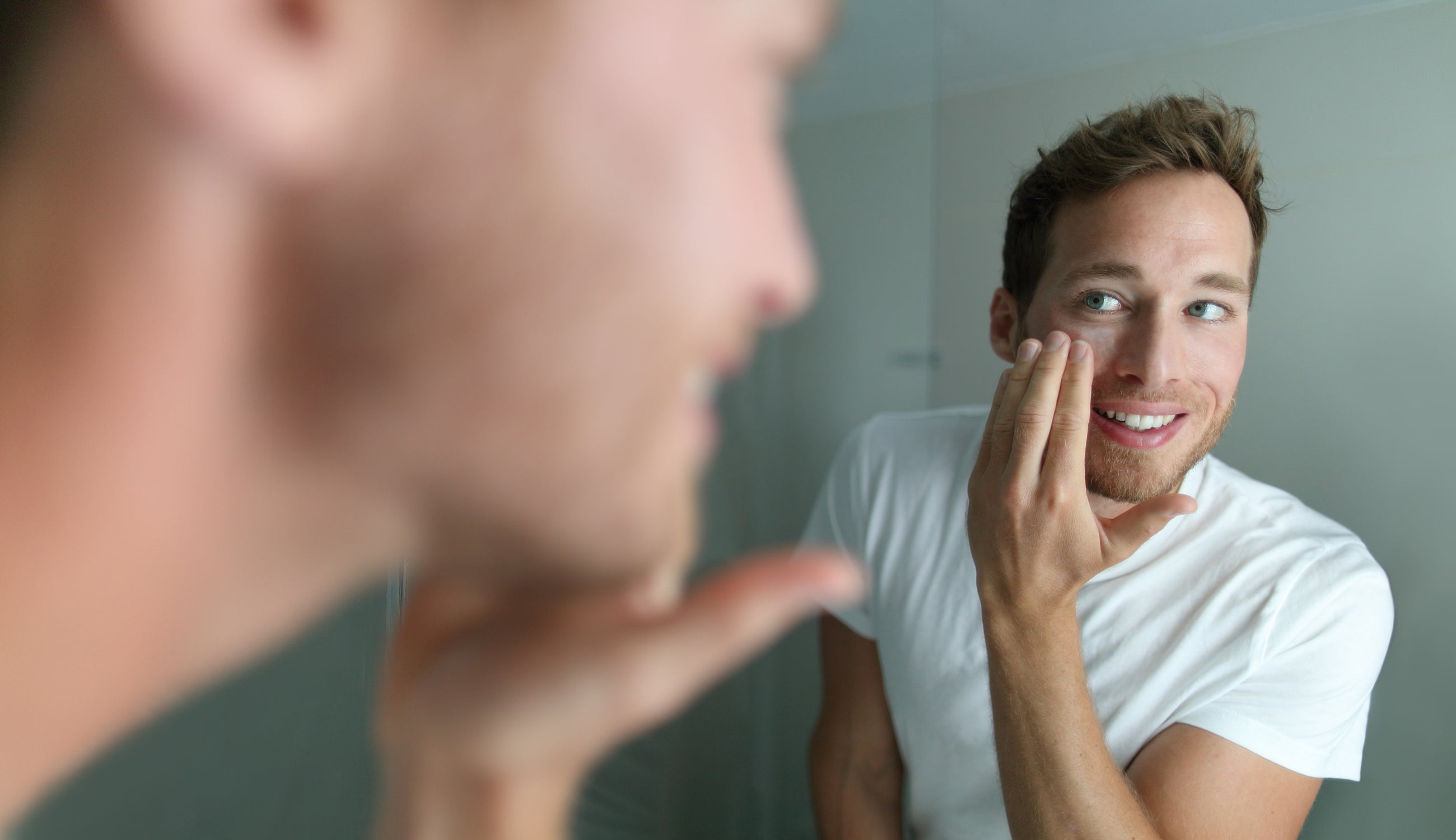 Men may not obsess over skin care, but they certainly don't like to look old, dry, or pimply either. To prevent "old-face", guys will try anything once. Getting them to use anything on a regular basis? Now that's another story.
If men can try even a few natural skin care products, once a day for 2 weeks (a steep order, we know), glorious things can happen to their skin. As with any routine, it's easier to start small, then build on it over time. We've picked our favorite men's skin care products that are simple and serve a purpose. Guys, trust us on this. We kinda know what we're talking about.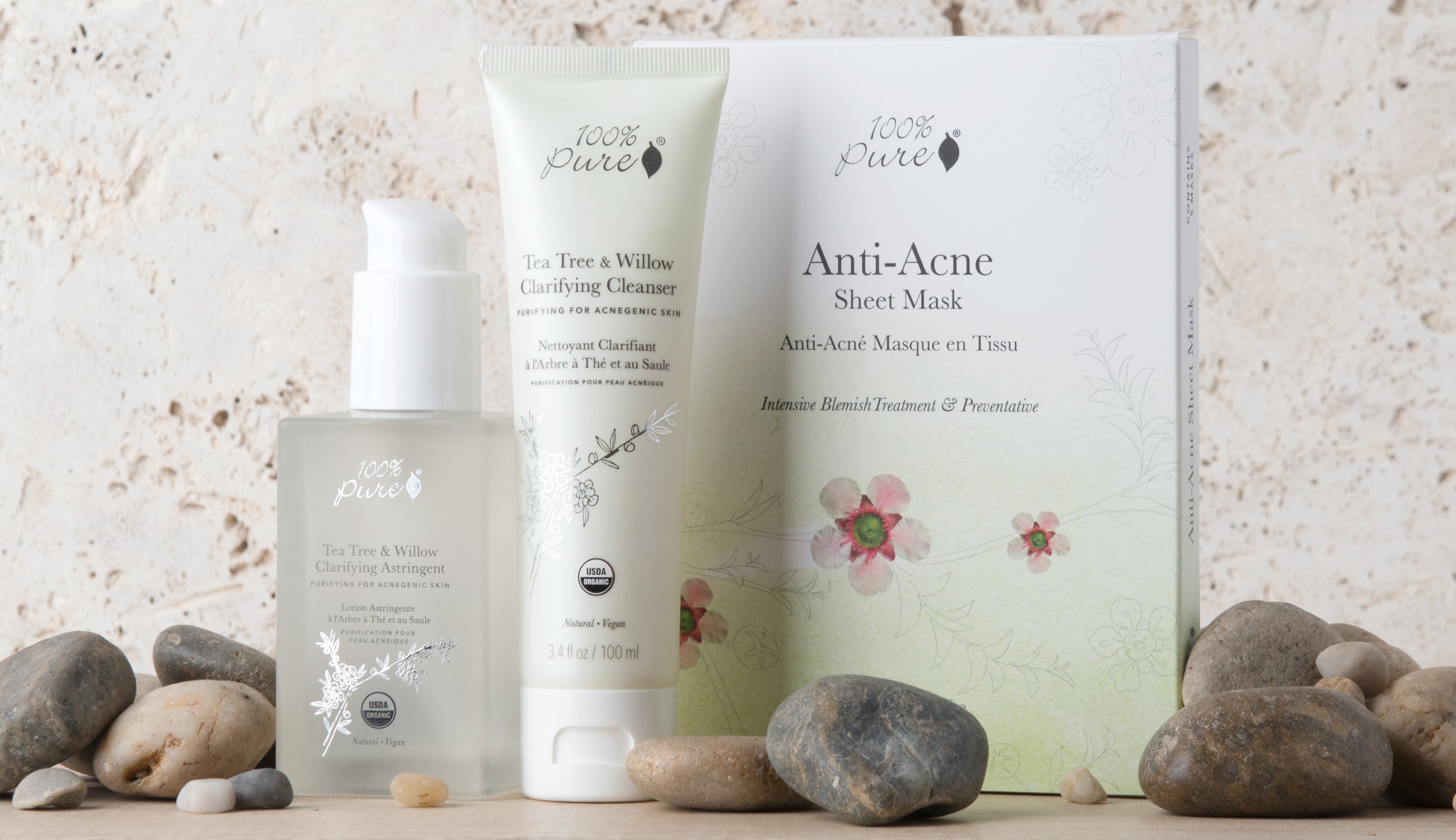 Why Men's Skin Care?
While the skin care industry tends to focus on women, we can't forget that guys can need skin care even more than women. We want to help your skin look healthier and younger, for longer, without all the harsh, skin stripping chemicals. And because men's skin tends to be thicker and more environmentally damaged than women's, it's important they aren't left out of the loop.
We use nature-sourced ingredients in our skin care, so you can take out the guesswork of wondering if you're using the good stuff or not. Hint: you are! We believe we make the best skin care products for men because of the ingredients we use. Charcoal, virgin coconut oil, avocado butter, green tea, aloe vera, tea tree -- the list goes on and on. We handpick natural ingredients that will create sustainable skin health, meaning your hard work getting into a routine won't go to waste. We'll help with acne, excess oil, wrinkles, dryness, and even sun damage. Just read on!
The Best Skin Care Products for Men
Truth be told, we already know which products you're going to like best. We've lined up our favorite natural and organic, multi-tasking products in an easy-to-follow men's skin care routine. You can thank us later!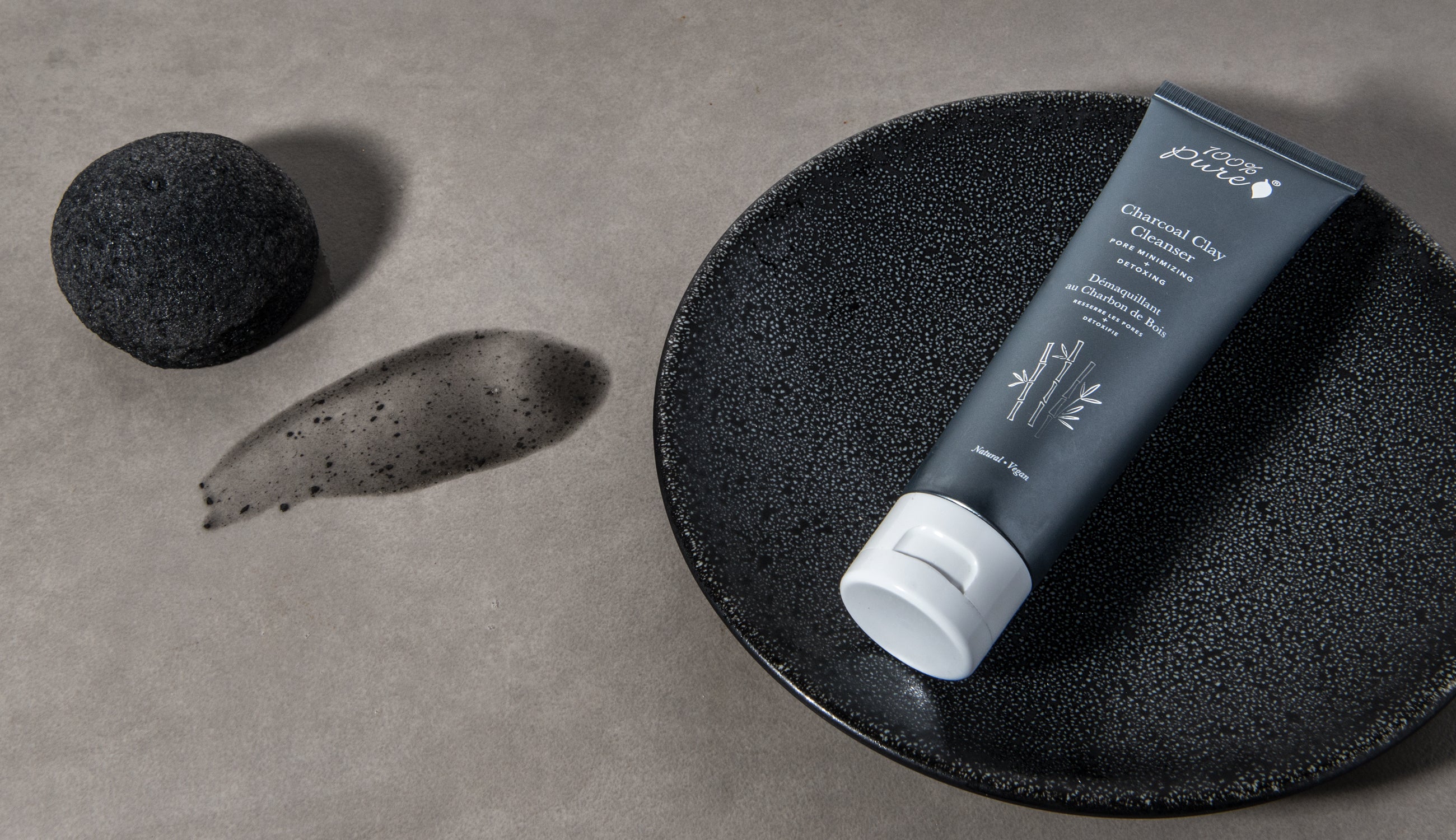 Step 1: CLEANSER
Nobody likes to feel greasy and grimy, especially if it leads to clogged pores, blackheads, and unsightly breakouts. The Charcoal Clay Cleanser acts as a magnet for dirt, oil, and environmental debris, in addition to looking awesome (it's black like volcanic rock).
This cleanser is a must if you're into multi-tasking men's skin care. Activated charcoal, bamboo charcoal, and black Brazilian clay are capable of purging even the most stubborn buildup from skin, while zapping skin-aging free radicals. The base of lemon water balances excess oil, another helpful factor in preventing breakouts. This cleanser can deeply cleanse and detoxify your skin, while still managing to leave skin feeling moisturized when you're done.
How Do I Use It?
Use a facial cleanser at least once a day, ideally after you're done with strenuous or outdoor activities. Use clean fingers, konjac sponge, or facial brush to massage cleanser into skin. Rinse with warm water.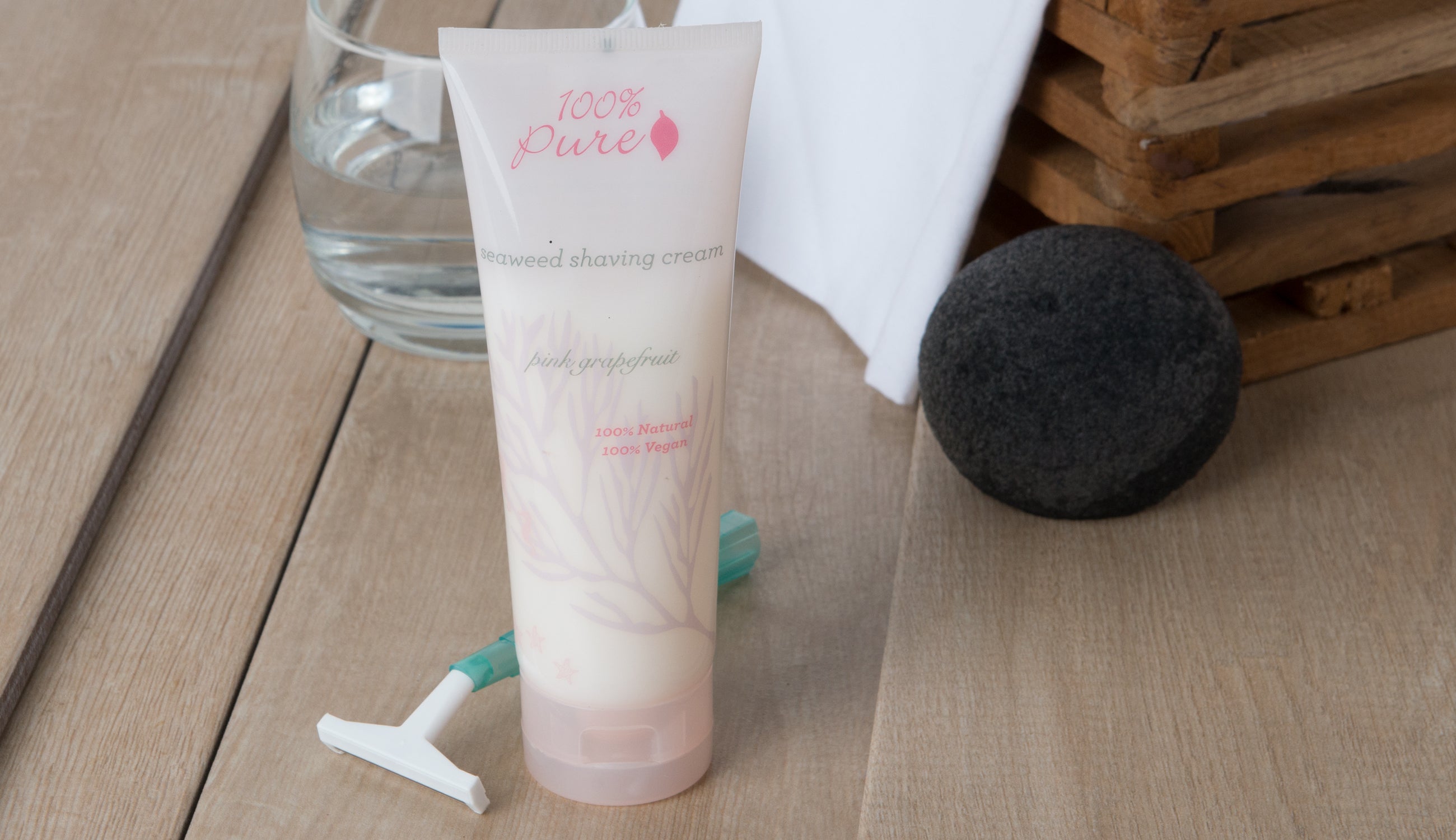 Step 2: SHAVING CREAM
OK, so the Pink Grapefruit Seaweed Shaving Cream comes in a pink bottle. While it may not look like your typical men's skin care product, the pink bottle is just a minor detail when you feel what it does to your skin. This super emollient, water locking shaving cream allows for an insanely close shave, while leaving skin soft as a baby's bum. You have seaweed, argan oil, sea buckthorn oil, and virgin coconut oil to thank for that.
How Do I Use It?
Apply a generous amount of shaving cream to fingertips, then apply to areas you wish to shave.
PRO TIP: Make sure to cleanse before you shave, to add extra water and oil into skin. This will help keep skin hydrated before shaving, and will make your shaving cream nutrients better absorb into skin. Cleansing also washes away bacteria, dirt, and debris that could infiltrate your pores during shaving.
Step 3: SERUM
This step is a must for those with extreme skin types. Serums are made with smaller molecules, meaning serum nutrients can get deeper into your skin when you apply them. So if you've got some serious work to do on your skin, including a serum in your routine is a smart play.
If you're not ready to commit to using serum every day, that's fine. Start with once or twice a week. Not sure how to pick a serum? Check below:
How Do I Use It?
Massage a quarter sized amount onto clean skin. Before applying anything else, be sure to let your serum absorb into skin for a minute or two.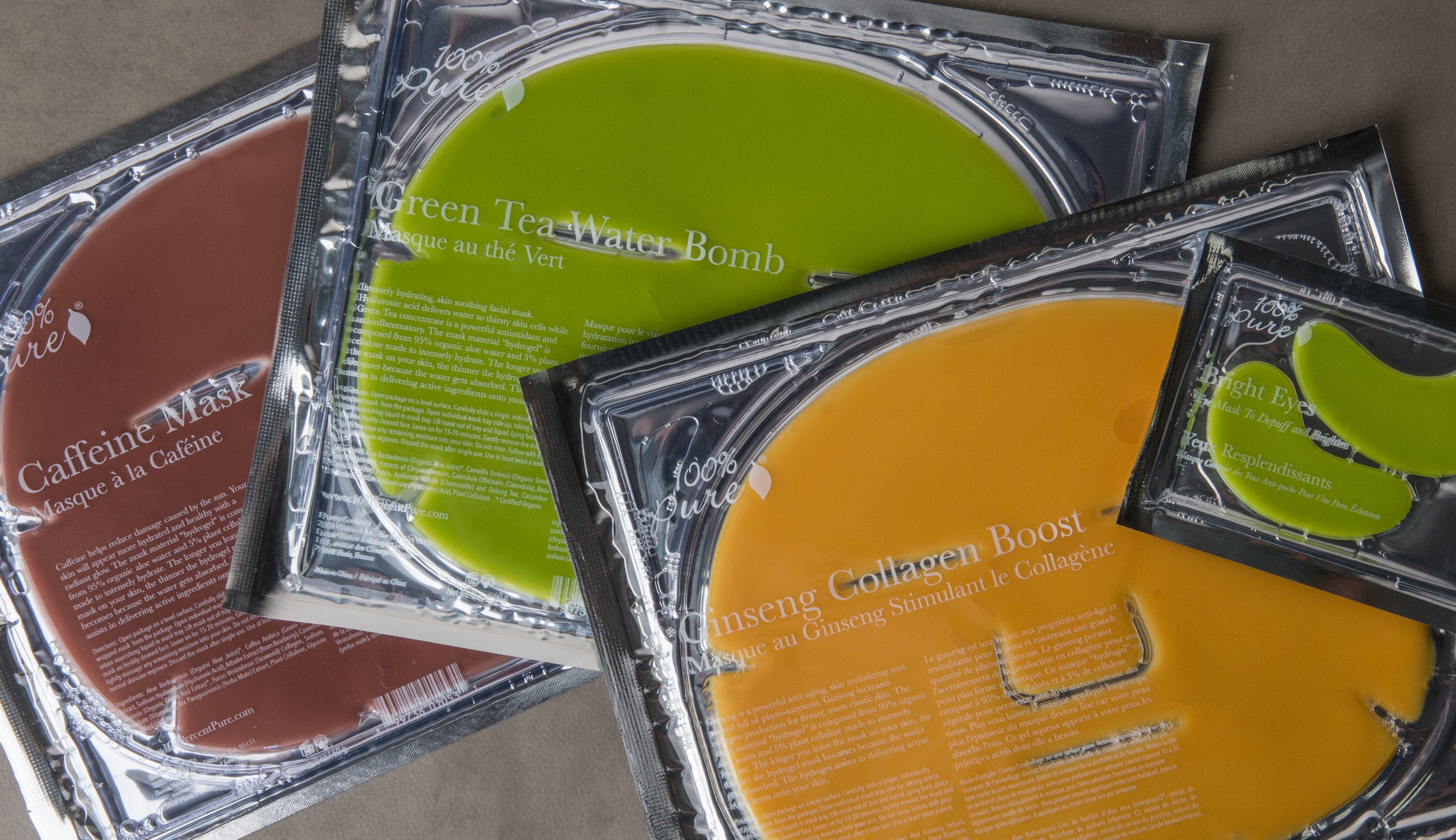 Step 4: MASK
If you feel like skipping the serum, at least throw a hydrating mask into the mix. A men's skin care routine needs a hefty dose of hydration, no matter your skin type. These masks are made from aloe vera juice and vegetable cellulose, meaning your skin sucks up the mask's water content while you wear it. They're easy to throw on, and have a no-mess cleanup. They're also useful for creeping out girlfriends, pets, and roommates. Not sure which mask is right for you? Check below:
How Do I Use It?
Gently stretch open the mask, then apply to face. Press with clean fingers to ensure mask sticks to contours of the chin, eyes, nostrils, and at the hairline. Remove after 15-30 minutes, then discard.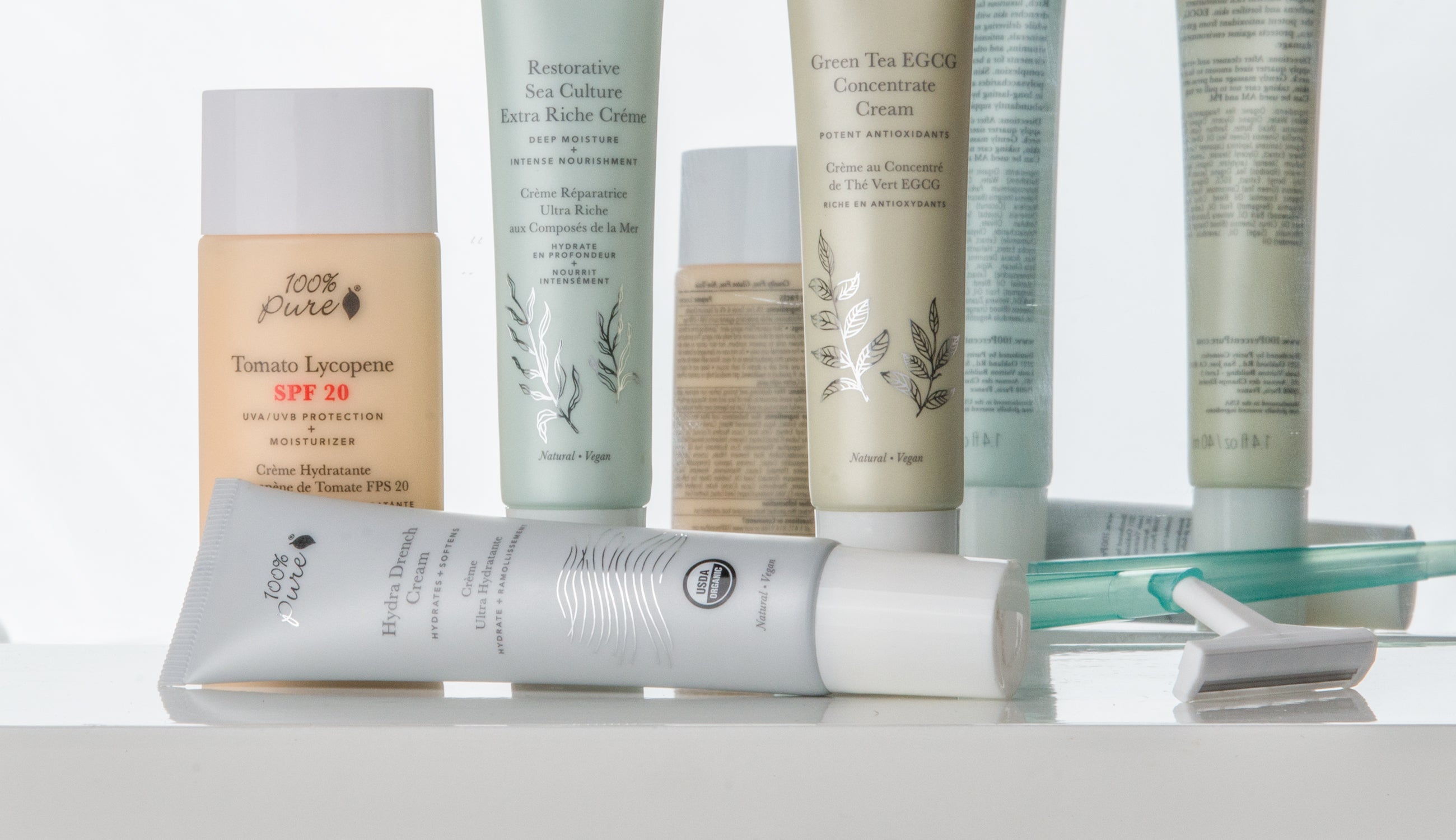 Step 5: MOISTURIZER/SPF
These two products should never be skipped, not even by the lowest of low maintenance men. Dry skin can be seen from a mile away, let alone by anyone getting up close and personal. If you're self conscious about your dry skin, or are simply suffering with an itchy, flakey face, why suffer? A moisturizer is the single most powerful piece of men's skin care, and couldn't be easier to use.
As for SPF, we know we aren't the first ones to tell you to wear it. You should be wearing an SPF every day -- yes, even if you're wearing a moisturizer, too. But if you're adamant about keeping your skin care routine minimal, you're in luck! Tomato Lycopene SPF 20 Moisturizer is a 2-in-1 SPF and facial moisturizer. Don't celebrate too fast -- depending on your skin type, you still shouldn't scrape by without a moisturizer. Not sure which moisturizer to use? Check below:
How Do I Use It?
Make sure fingers are clean, then apply moisturizer to cleansed face. Massage into skin and go!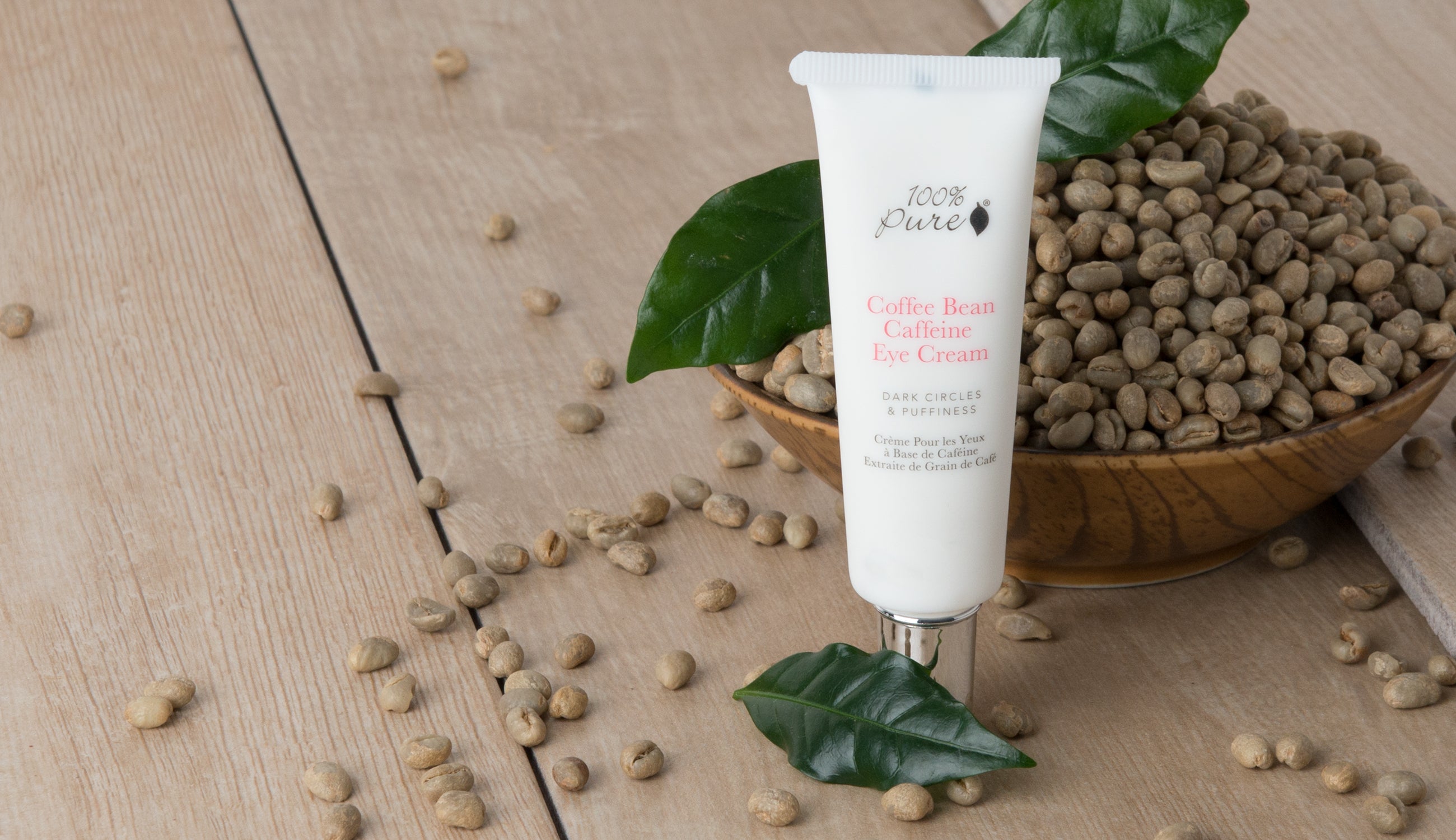 Step 6: EYE CREAM
A pair of tired, puffy eyes is a universal struggle of our species. If you're a guy who suffers from lack of sleep, late hours at work, or even your run-of-the-mill hangover, Coffee Bean Caffeine Eye Cream is a necessity for de-zombifying eyes. This anti-inflammatory eye cream is packed with natural sources of caffeine like coffee cherry, green coffee, and green tea. Caffeine will stimulate circulation to depuff and minimize dark circles. We threw in some major hydration from rose hydrosol, aloe, and collagen boosting vitamin C.
How Do I Use It?
Apply a large dot of eye cream to your ring finger. Gently dab under and around the eye area, without pulling or tugging. You're done!
Men's Skin Care Tips
We're thrilled that you're considering expanding your men's skin care arsenal! Now before you ride off into the sunset with your new skin care, there are a few things to remember. A user manual to men's skin care, if you will. We know guys, you'd rather dive in head-first than read a manual, but hear us out. These quick tips will help men's skin care work better, extend its effects, and keep skin happy and healthy.
NEVER Hot Water
There's nothing like a hot shower to relax those muscles after a hard day. But super hot water can actually suck the water right out of your skin, reversing any hard work done by hydrating men's skin care. Opt for warm water, or lukewarm if you can stand it, especially on your face. If you can't resist a hot shower, just double up on that body lotion and facial moisturizer when you're done, and try not to make it a habit!
Gym Ritual
After you're done getting in reps at the gym, make sure to get in cleansing time in the locker room. Using a natural facial cleanser that suits your skin type will be a big help in washing away the dirt, oil, and gym grime that are poised to clog up your pores. If you prefer to skip the locker room and shower at home, rinse your face with water before leaving the gym. Cleanse right when you get home.
Gently, Now
It's great that you're excited to cleanse your skin, and even exfoliate if you're feeling bold. But you'll need to reign in those muscles when you apply your facial cleanser, or else you'll be left with overly dry, irritated skin. A gentle, circular massage for about 30 seconds is all you need before rinsing.
Don't Skip the SPF
We know you're outside a lot, so this one is a must-remember. Forgetting to wear a natural sunscreen when you're manning the grill, riding the bike, or walking the dog can be a make-or-break for your skin's long term health. Sun damage won't only age your skin at alarming rate, it'll also rev up your risk for skin cancer and make those wrinkles and dark spots that much more noticable.
If you're still reading, congratulations! That means you're a guy who's at least somewhat sold on the benefits of skin care! If we've gotten you pumped up on skin care and how to use it, check out our mega skin care guide How to Use Skin Care. It'll help clarify a full skin care routine, and answer any burning questions you have about how to use not only men's skin care, but any type of skin care!
We carefully hand-select products based on strict purity standards, and only recommend products we feel meet this criteria. 100% PURE™ may earn a small commission for products purchased through affiliate links.
The information in this article is for educational use, and not intended to substitute professional medical advice, diagnosis, or treatment and should not be used as such.
Sign up to our email newsletter for more blog updates and exclusive discounts.
< Older Post | Newer Post >