Haircare Revolution: Unlock the Benefits of Natural Hair Products for All Hair Types
Revitalize and strengthen any type of strands with natural hair care
Posted on May 21, 2023
Written by: 100% PURE®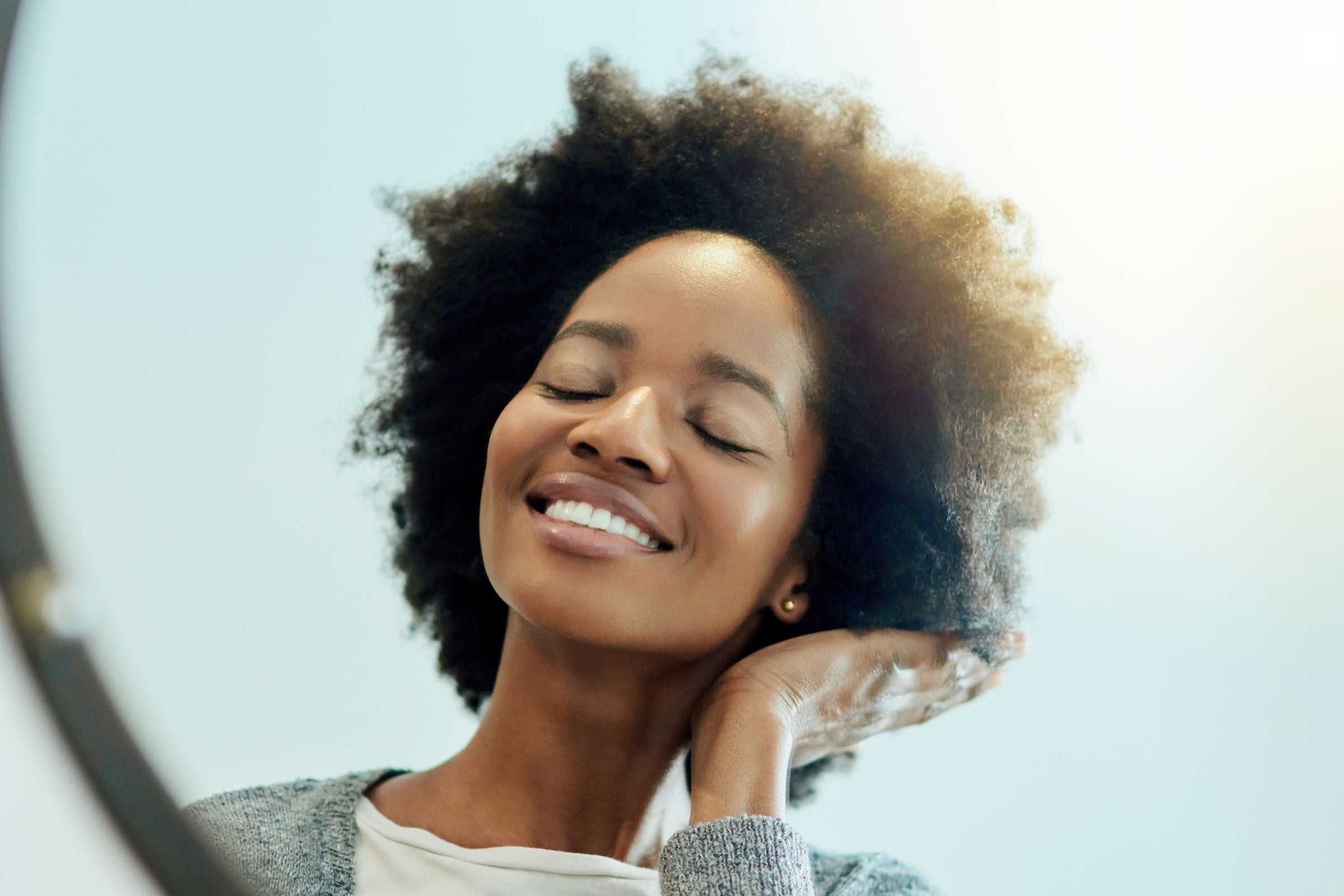 Navigating the market of traditional hair products can be daunting if you're committed to the lifestyle of natural beauty. It's a minefield loaded with parabens, toxic dyes, and synthetic fragrances. With increasing concerns about the harsh chemicals lurking in these formulas, many people are turning to natural hair care as a healthier and more sustainable alternative.
From adding more strength to transforming hair damage, natural hair products can do wonders in unlocking your strand's full potential. Read on to learn the benefits of natural care and what to look for when shopping for your hair type - plus the best natural formulas to revolutionize your locks!
What are Natural Hair Products?
When you're shopping for mainstream hair care that claims to be natural, it's easy to go down the rabbit hole of ambiguous labels and daunting ingredient lists. Truth is, you're largely in the dark and in for a free-fall with brands you thought were natural.
Brands that claim to be 'natural' put a major emphasis on healthy ingredients, like argan oil, coconut milk, and keratin. Buyer beware: their versions of argan oil and coconut milk are diluted by drying alcohols, toxic chemicals, and synthetic fragrances. Their keratin? Not often from a vegetable source, but from boiled animal fibers, like horse hooves.
Reputable brands with true natural hair products don't have rabbits, as they're cruelty-free, and have no dark holes – they are transparent – a 'looking glass' if you will - about listing what's actually in their products. Natural hair care is made from ingredients that are derived from natural sources such as plants, herbs, and essential oils, and avoids toxic chemicals and unsafe synthetic ingredients.
This au naturel movement is at its peak with consumers turning to natural hair care as the best way to protect their locks and scalp as well as their health, and environment. We're pretty sure it's even enough to deter Alice from the unnatural path.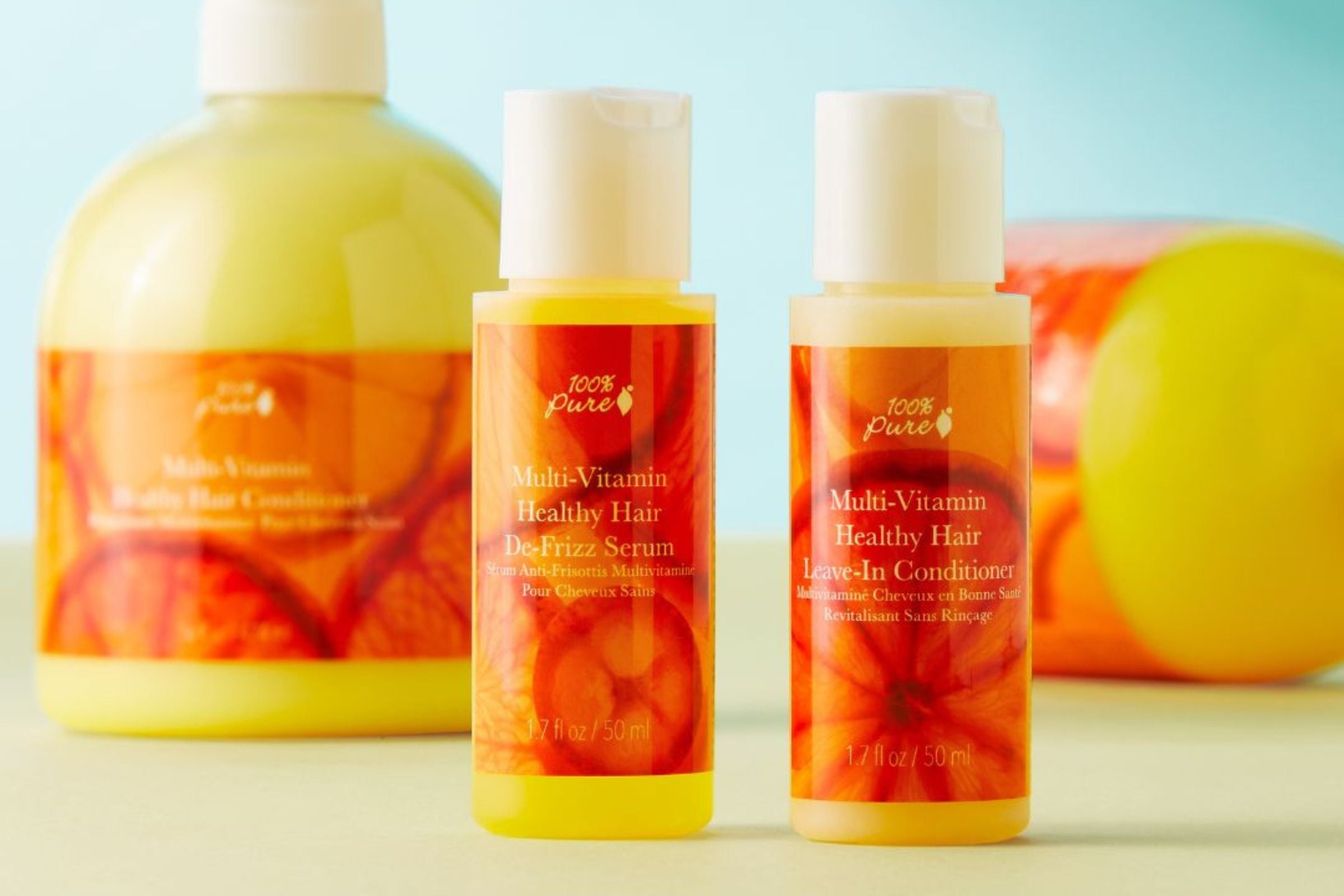 Benefits of Using Natural Hair Products for All Hair Types
A healthy scalp is to luscious locks as the handy pocket watch was to the time-sensitive White Rabbit. They need to have a means to an end. Natural hair products can achieve your ultimate hair goals; like the watch keeps peace between the frenzied bunny and the demanding Queen.
Free of pillowy white fluff for maximum potency is just the tip of hair wonderland! Let's snuggle up to more bountiful benefits of using natural hair products that will leave your dryer sheets jealous:
#1. No Harsh Ingredients

Natural hair products do not contain any synthetic chemicals, toxic silicones, sulfates, artificial fragrances, toxic preservatives, parabens, or any other unsafe synthetic ingredients. With a focus on natural formulations, they infuse safe and healthy ingredients into your scalp and strands, promoting healthy growth and glam-bam, shiny strands.
#2. Gentle on Hair and Scalp

A scalp is to hair as the soil is to plants; so naturally, the scalp is where we often make or break our biggest hair goals. Natural hair products use safe, gentle, nature-approved ingredients, like plant infusions and wholesome floral and nut oils. These formulas will deliver only TLC to your scalp and strands, creating hair-tastic results you can see and feel.
#3. Perfect for All Hair Types

Traditional hair care products often prioritize one hair type over others, resulting in damaged and unmanageable hair. But natural hair care doesn't mind any hair type. Since these formulas are made from natural ingredients, they are gentle on all strands and hair textures. Psst…there's a formula for your hair type below.
How Natural Hair Products Differ from Traditional Hair Products
We have clung to the side of the rabbit hole long enough to know that traditional hair products differ greatly from natural hair care. If not for the unsafe, chemical formulations laden with synthetic culprits, then it has to be the endocrine-disrupting parabens and cancer-causing heavy metals that fling out safely back on land.
Let's look at the 4 major areas that natural hair care is different (and better) from conventional hair products:
Natural Hair Products
Ingredients are plant-based with essential oils and natural surfactants
Sulfate-free to treat the scalp with nourishing, all-natural essential oils
Low environmental impact with eco-friendly packaging and cruelty-free measures
Safe, non-foaming texture purposely cleans without stripping oils
Traditional Hair Care
Ingredients? are diluted with drying alcohols and synthetic perfumes, sulfates, parabens, and dyes
Sulfates strip the scalp with drying, chemical culprits, and harsh ingredients
Huge environmental impact with non-recyclable packaging and inorganic formulas
Unsafe foaming texture purposely provides a false sense of clean
How to Use Natural Hair Products for Best Results
Now that we've addressed the benefits of natural hair care, it's time to move on to finding the perfect formula for your hair type. It's no secret that different hair types require different formulas, but all strands benefit from one MAJOR thing; natural ingredients! Let's check out the 4 common hair types!
Type 1: Straight Hair

Straight hair is considered the most resilient of the hair types and often reflects the most shine. But a downside, a less-resilient trait to this hair type can be that it's super repellent to curling, making it difficult to style; a hair-rowing roadblock when all you want are those full, bouncy waves!
Since the strands hang straight down from the root, this hair type also tends to get oily faster. This category includes fine and thin, medium, and coarse variations of straight hair.
Newsletter
Subscribe
for more blog updates and exclusive discounts
Type 2: Wavy Hair

Wavy hair is defined by its "S" shaped strands - essentially a very elongated version of a curl. This category includes fine and thin, medium, and coarse variations of wavy hair. Fine and thin wavy hair has the longest "S" shape and is generally easy to style.
Medium wavy hair can be more finicky, with a tendency to frizz at the crown of the head. Coarse, wavy hair will boast a tighter "S" wave that isn't quite a curl but comes pretty close. Wavy hair lacks volume or rising off your head due to it having a greater capacity for water retention at the ends.
Type 3: Curly hair

Curly hair includes two variations: loose and tight. These strands can range from loose, semi-wavy curls to tight and bouncy corkscrew curls. The former boasts more loopy "S" strands and tends to get frizzy more easily.
The corkscrew variety is tightly wound and tends to be thicker or coarser and more voluminous. Curly hair types are pretty sensitive to changes in climate, meaning conditions like humidity will make them frizz up and more difficult to style. Curly hair is also more prone to damage.
Type 4: Kinky Hair

The kinky hair type is a level-up from curly, flaunting tightly wound coils and "Z" patterns in the strand. Varieties of this hair type include soft, and two types of wiry. Soft kinky hair is more susceptible to breakage, with tight coils.
There are two types of wiry, kinky hair: one with a bit of curl pattern, and another without - this type follows a stronger "Z" wave rather than a circular coil. Kinky hair shrinks up when wet, then expands when dry. Much like curly hair, kinky locks need plenty of nourishment to battle breakage.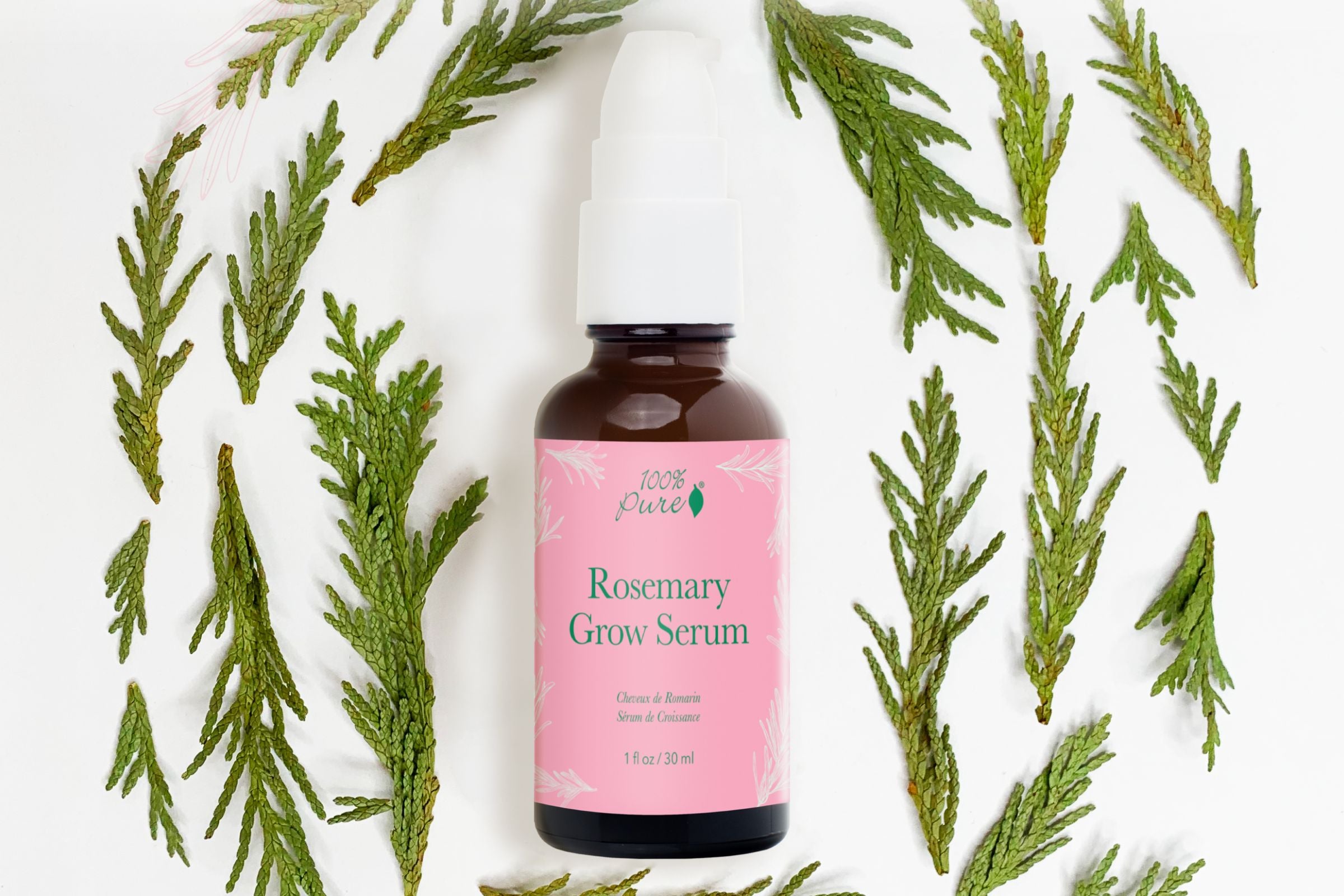 The Best Natural Hair Products for Healthy, Luscious Hair
Knowing your hair type and individual strand traits is the right step to finding the perfect natural hair products for your hair goals. Luckily, we're here to give you the best natural hair products for your hair type so you have can the healthiest, most luscious locks of your dreams.
#1. Rosemary Grow Serum

It's no secret that different hair types require different hair treatments, but all scalps benefit from some stimulation. And our favorite ingredient for promoting hair growth is rosemary oil. This essential oil is rich in antioxidants and anti-inflammatory properties that can help stimulate hair growth by improving blood circulation in the scalp, promoting nutrient delivery to hair follicles, and strengthening hair strands.
#2. Multi-Vitamin Healthy Hair De-Frizz Serum

Did you know frizz tends to show up at the crown of your hair first? Spot treating is great, but to truly prevent frizz, you need a serum that can tame starting from the root (literally) of the problem. This serum banishes frizz and flyaways with a hydrating, yet lightweight formula fortified with nourishing vitamin E and other hair and scalp beneficial vitamins like nourishing vegan keratin, biotin, and pro-vitamin B5 to repair and protect.
#3. Multi-Vitamin Healthy Hair Shampoo

Hair is primarily made up of a protein called keratin. Keratin is responsible for providing structure, strength, and elasticity to hair strands. Your hair's elasticity determines its overall strength. If your locks have weak, brittle strands or are prone to hair breakage, you need a keratin-infused shampoo. Allow us:
This reparative shampoo is fortified with beneficial multivitamins, like vegan keratin, biotin, pro-vitamin B5, and vitamin E, and it's designed to replenish hydration, restore vibrancy, and leave your hair looking and feeling softer and healthier than ever. Plus, it's safe for color or chemically-treated hair and can be used daily to keep your locks looking their best.
#4. Burdock & Neem Healthy Scalp Shampoo

Each follicle on your scalp is attached to an oil gland. Those with fine hair will have more hairs on their scalp than people with coarse hair, and will frequently find that their scalps get greasy quite quickly. If you have a dry scalp, itchy scalp, dandruff, or a combination of all, the best natural hair products should purify and unclog pores, while also stimulating circulation to the scalp.
This purifying formula clears pores, stimulates blood circulation for new hair growth to the scalp, and alleviates any scalp woes while adding hydration for healthier strands Key ingredients like burdock and neem will alleviate dryness, itching, and flaking, and will have you 'back in black' in no time! Plus, this formula includes vitamin E and pro-vitamin B5 to enhance hair softness and tensile strength.
#5. Kelp & Mint Volumizing Conditioner

100% PURE hair products focus on plant infusions and wholesome floral and nut oils that create results you can see and feel. This invigorating formula is great for those with dry hair or itchy scalps. Kelp and peppermint essential oil help soothe and balance for a happier scalp and longer-lasting blowouts.
The light rose water and mint infusion help to soothe any dryness or itchiness on the scalp. Hydrating ingredients like aloe juice and coconut oil provide nourishment where it is desperately needed. Our carefully crafted formula gives your locks extra glossy shine, bounce, and weightless volume with sea kelp and pro-vitamin B5.
#6. Moisture Drench Conditioner

If your hair needs heavy hydration, mix it up by combining our Grow More Shampoo with this deeply moisturizing conditioner. This is the perfect ending to a 'treat yourself' hair care moment. This conditioner is infused with seaweed collagen. This ingredient is an antioxidant that contributes to a healthier scalp. Collagen also eliminates dryness, split ends, and brittle hair by pumping hair full of the moisture it needs.
Can Natural Hair Products Really Make a Difference?
Yes, natural hair care can make a significant difference in the health and appearance of your hair. People have documented their journey after transitioning to natural hair products and see a tremendous difference in their hair condition. People with curly or wavy hair have often seen the most noticeable difference as traditional shampoos only made their hair more frizzy and difficult to manage.
Natural hair care can add the lost shine and bounce to lifeless hair, this gives people the confidence to flaunt their natural hair. Plus, there is peace of mind using natural hair care that can provide a variety of benefits for different hair types. Natural hair products are perfect for all hair types because they don't have any potential irritants.
Lastly, on your quest, research the brand and read customer reviews to ensure they have a good reputation for producing high-quality natural hair products. At 100% PURE, we have your back on the most natural, effective, and safe formulas for every hair (and skin) type.
Natural hair products can make a major difference in your hair's appearance. They are typically free from harsh chemicals that can strip the hair of its natural oils, which can lead to dryness, breakage, and other issues. These gentle formulas have ingredients that are nourishing and beneficial for the hair. These natural ingredients can help to soothe and moisturize the scalp, promote healthy hair growth, and enhance the hair's natural shine and texture.
The benefits of using natural hair products cannot be overstated. From promoting a healthy scalp and strands to preserving the environment, natural beauty has it all. So, make the switch today and see the difference for yourself. Say 'hello, goodbye, I'm not late!' and 'hello' again to beautiful, healthy hair. And that's without going down the rabbit hole!
We carefully hand-select products based on strict purity standards, and only recommend products we feel meet this criteria. 100% PURE™ may earn a small commission for products purchased through affiliate links.
The information in this article is for educational use, and not intended to substitute professional medical advice, diagnosis, or treatment and should not be used as such.
Sign up to our email newsletter for more blog updates and exclusive discounts.
< Older Post | Newer Post >