Green Tea Mask: An Antioxidant Powerhouse for Your Skin
The antioxidant powerhouse that's revolutionizing skin health and beauty
Posted on August 17, 2023
Written by: 100% PURE®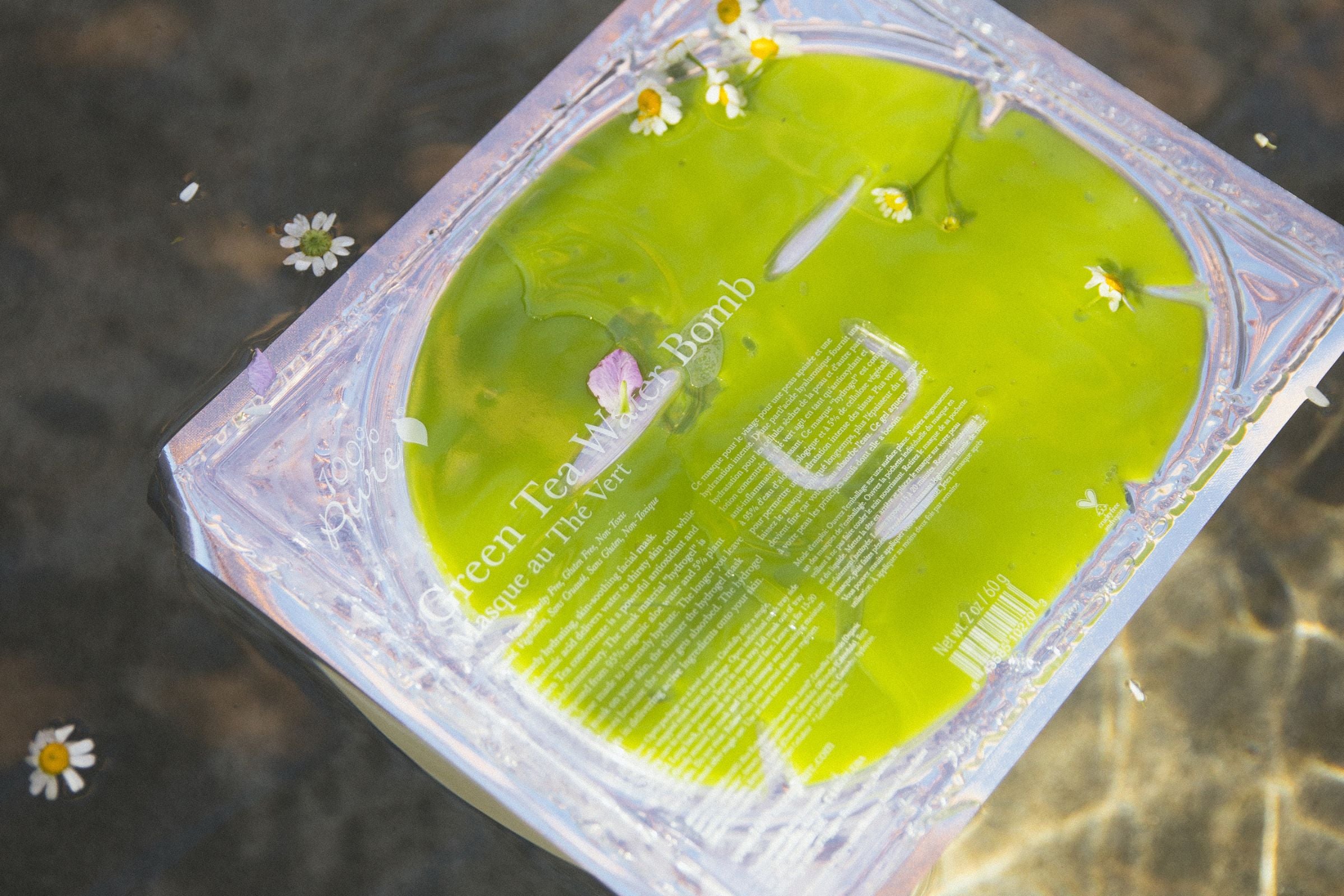 Are you feeling a bit green with envy over other people's glowy, glass-like complexions? Likely, there's a tiny yet mighty leaf behind this gorgeous goddess skin, and it's your turn to crown your complexion with glowing glory. Enter green tea on the skincare throne!
While we know the wellness benefits of drinking this earthly blend, green tea has surged in popularity in the beauty realm as the leaf of life, bright, and radiant skin. From sun-repairing to free-radical fighting, it's a crown's off from us to the bountiful skin-efits of this green queen.
We're here to spill the tea on the science behind this skin multi-tasking dream queen, and the natural benefits that green tea offers for all skin types and concerns. Plus, we'll help you find the best products with our quali-tea ingredients and why we're obsessed with making green tea masks to unveil your best skin ever – minus the envy!
The Science Behind Green Tea
First, let's talk about the origins of green tea. In the 7th century, Japanese monks visiting China to study Zen Buddhism returned home with their discovery of green tea's wonderful healing properties. In the following centuries, drinking green tea became a staple for Japanese monks, imbuing them with energy and mental focus that enhanced their meditation.
Once the wellness and healing benefits of the green tea plant were discovered, the intricate processing methods of the famed leaf were perfected and passed along to other parts of the world. As one of the most popular teas in the world, green tea is made from the leaves of the Camellia sinensis plant. Thanks to the minimal processing of Camellia sinensis leaves, green tea retains a high amount of the plant's natural components and antioxidants, which are skin (and health) superstars.
Like all ingredients, green tea has numerous components that give it a unique set of benefits. Amino acids, phytochemicals, and antioxidants are just a few elements in green tea that have been scientifically proven to be beneficial for human health. Let's focus on the key components of green tea, how they benefit the skin, and how they stack up to scientific research.
#1. Caffeine
Caffeine is an effective skin de-puffer, as it can boost circulation and constrict or shrink the blood vessels. This helps eliminate puffiness and swelling, especially around the eye area. The caffeine in green tea stimulates DNA repair in the skin, to help prevent UVB-induced skin cancer damage.
#2. Antioxidants
Green tea's antioxidant-rich ingredients are key to its skin protective and cell regenerative properties. Antioxidants serve to protect the body from harmful free radicals found in our everyday environment. Antioxidants bind to free radicals, neutralizing them before they can cause harm.
#3. Polyphenols
Green tea contains a large quantity of polyphenols, which have powerful antioxidant properties. Research has shown that these polyphenols can help to track down and isolate free radicals, and limit their potential to harm your tissue. The polyphenols in green tea also break down the bacterial membranes that cause acne.
#4. Catechins
Polyphenols also have a high content of catechins, which are antioxidants by nature. The catechins in green tea have also been shown to function as anti-inflammatory and anticancer agents. More recent studies have shown that green tea increases benzoic acid levels – a key compound used to treat skin irritation caused by sunburns or conditions like eczema. The polyphenols and catechins in green tea also stimulate hair, brow, and lash growth. That's something to bat an eye at!
#5. EGCG
The most abundant antioxidant in green tea is EGCG. Research has shown that EGCG can reduce cellular damage caused by free radicals, and can also help to promote healthy cellular life cycles. It's thought to help suppress the formation of cancerous tumors, and to improve your skin's ability to repair itself after it's damaged. In other words, EGCG works in a way like a natural sunscreen – but don't you dare stop using sunscreen!
#6. Nutrients
There are more benefits of green tea for your skin than just antioxidants! When combined with vitamin C specifically, green tea is even more effective at protecting your skin against free radical damage. Green tea naturally contains vitamin E, which hydrates cracked and dry skin (a common side effect of sunburns). Did you know that these two vitamins are besties? Research shows that they work well together to protect skin from sun damage.
#7. Minerals
Antioxidants, nutrients, and minerals – oh, my! The benefits of green tea seem endless. This superstar ingredient also contains healthy minerals, such as potassium, magnesium, calcium, and zinc. These minerals assist in maintaining the skin's balance and equilibrium, and creating a steady, radiant glow – all of which prolonged exposure to the sun can steal.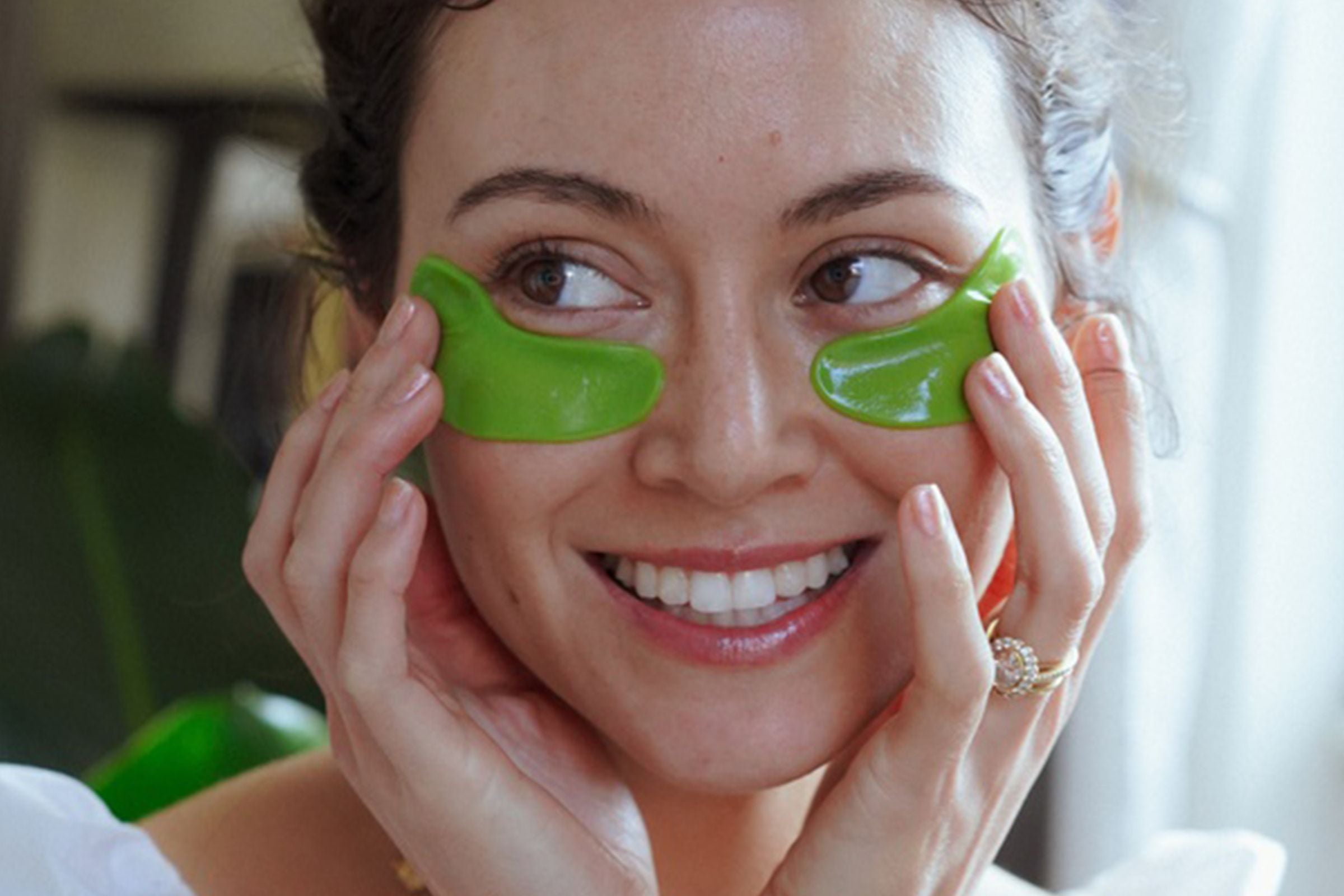 The Potent Antioxidant Profile of Green Tea
When it comes to the skin superstar powers of green tea, it's going to put its A-game first: A-ntioxidants! When we think about how green tea benefits the skin, antioxidants are often what come to mind. But what are antioxidants, and what can they do for the skin?
To answer these questions, we must first understand free radicals. Free radicals are molecules that have an unpaired electron, making them highly unstable. This makes them damaging to our skin because molecules don't like to have unpaired electrons – as a result, they'll bond to other molecules to become stable. This includes the molecules in your skin.
Due to the highly reactive nature of free radicals, they can be quite harmful to your skin. They cause oxidative stress, which results in the weakening and deterioration of skin tissue. It's kind of like metal, which rusts when faced with oxidative stress.
We encounter free radicals in our day-to-day lives: in the air we breathe, the food we eat, the water we drink, and the UV rays from the sun. One of the biggest results of oxidative stress is signs of premature aging and damaged, weakened skin.
So how do you counteract this free-radical damage? By consuming – and especially applying – antioxidants! Antioxidants are praised up and down because they will bind to free radicals before they can do damage. Think of antioxidants as a shield for your skin, working on an atomic level. With the help of their A-plus skin properties, green tea helps combat skin damage and aging. And that means staving off premature aging, fine lines, and wrinkle while boosting elasticity for smooth, supple skin.
Green Tea for Acne and Oily Skin
When life gives you inflammation, make green tea for your skin – and sure, add lemon to it. Okay, maybe not exactly, but green tea is an all-star ingredient for acne and oily skin types. The wonder tea's antioxidant properties also possess anti-inflammatory effects. This can help soothe redness and irritation, making it suitable for sensitive or acne-prone skin.
Because of green tea's A-game anti-inflammatory powers, it's a total hero for acneic skin. This is due to the mighty leaf's antimicrobial properties. It benefits the skin by neutralizing excess oil and in a one-two punch, killing off acne-causing bacteria. These antioxidants help to control sebum production and combat bacteria on the skin, all of which are beneficial in managing oily and acne-prone skin.
Its rich polyphenol content works together to calm redness and irritation. Not only that, but green tea can also help to protect the skin from environmental stressors that can trigger inflammation in the first place. By reducing inflammation, it can aid in calming various skin conditions like rosacea and promote a more even skin tone.
Green Tea for Anti-Aging and Wrinkle Prevention
Aging is a natural biological process characterized by a gradual decline in skin elasticity, collagen production, and increased appearance of fine lines, wrinkles, and age spots. External factors like those free radicals again, UV exposure and pollution also contribute to premature aging.
Unfortunately, we accumulate sun damage over time. UVA rays penetrate our dermis – the layer of skin below the epidermis – and damage collagen fibers. While our skin will attempt to rebuild that collagen, our habits can make it an uphill battle. If we keep exposing ourselves to the sun without protection, our collagen can rebuild incorrectly leading to fine lines, wrinkles, and hyperpigmentation.
The antioxidant properties of green tea are primarily attributed to its polyphenols, particularly catechins, such as epigallocatechin gallate or EGCG. These polyphenols act as powerful free-radical scavengers, neutralizing harmful molecules called reactive oxygen species (ROS) or free radicals that can damage cells and contribute to and accelerate aging concerns.
EGCG helps with aging concerns by promoting collagen synthesis and rejuvenation, leading to firmer, smoother, and more youthful-looking skin. Green tea also helps stimulate collagen synthesis, a vital protein responsible for skin firmness and elasticity. This can lead to improved skin texture and resilience, making the skin appear plumper and younger.
Evidence shows that EGCG can help mitigate the effects of free radicals. The EGCG from green tea is also considered to help suppress cancerous tumors and to aid your skin in repairing itself after sun damage. Green tea fights skin cancer by promoting DNA repair. The powerful antioxidant fights DNA damage from UV rays to prevent non-melanoma skin cancer by enhancing DNA repair. Now, that's mighty powers from such a tiny leaf!
Newsletter
Subscribe
for more blog updates and exclusive discounts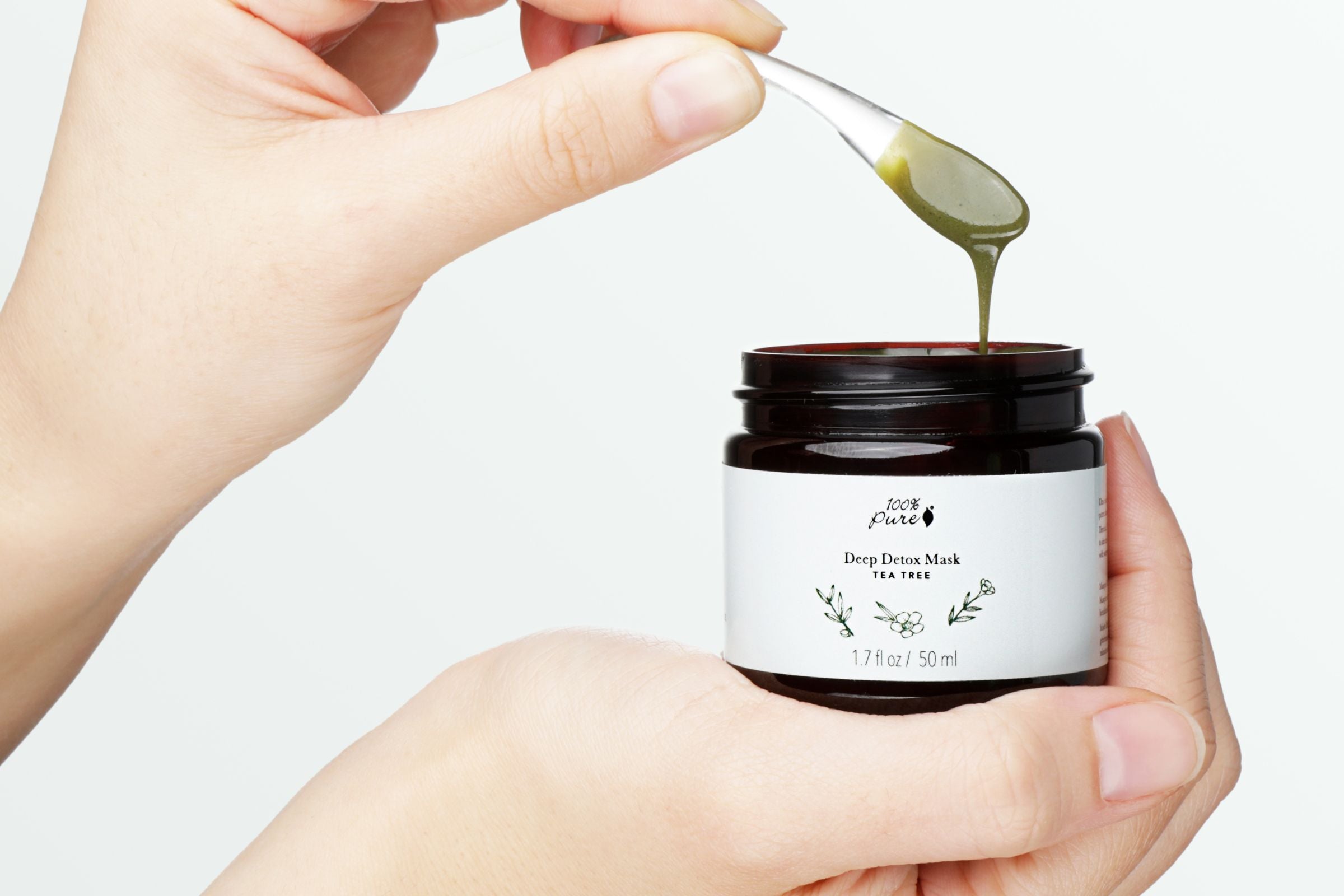 Green Tea for Skin Brightening and Tone Improvement
Green tea isn't just a warm and energizing super beverage; it's also a secret weapon for glowing, even, and moisturized skin! The antioxidants in green tea can aid in maintaining the skin's natural barrier function, preventing moisture loss, and promoting skin hydration.
Green tea also brightens your skin since it works wonders to revive dry, tired skin while also providing some serious hydration to keep you looking fab all day long. This can be particularly beneficial for individuals with dry skin.
Green tea is chock full of vitamin B2 and vitamin E, both essential for skin health. B2 plays an essential role in maintaining collagen levels for youthful skin structure and firmness. Vitamin E supports new skin cell growth and acts as an intense hydrator for dry or imbalanced skin.
Green tea extracts can help improve skin, leaving it looking radiant and refreshed, by reducing hyperpigmentation and the appearance of dark spots, leaving your complexion looking brighter and more even-toned, thanks to its natural way to stimulate collagen production, which is essential for maintaining healthy, youthful skin.
Green Tea Mask Product Recommendations
It's easy to get swept away into the self-care trend and treat yourself mentality and forget what matters – results! So now we'd like to get back to the basics for maximum skin results. Now that we covered the science behind green tea and its plethora of skin-efits, let's discuss why face masks are your best bet for reaping the benefits of green tea – and which masks to use for a potent dose of this super tea!
Matcha Oat Milk Nourishing Mask
We love treating our skin with this green dream after a long day or on a leisurely weekend day. Made with ultra-fine matcha green tea powder, this concoction is easily the most potent green tea mask you'll find.
You control the concentration of this green tea face mask by adding more or less water. Smooth mask over the skin, and allow to set for 15 minutes. To finish, rinse the skin with warm water and follow with a reparative facial oil for enhanced glow.
Coconut milk helps green tea to boost the glow of your complexion, due to its natural vitamin C content. This rich, luxurious ingredient also helps with toning and anti-aging, making the power combo of these two a matcha-made in heaven.
Green tea is known to calm red and irritated skin, and combining it with soothing oat milk spells big benefits for sensitive skin. Together they'll work to banish acne, active breakouts, and any redness lingering on your complexion.
After a mask, we love to lock in the radiance with a complementary serum or cream. Follow up with the EGCG Concentrate Cream to seal in daytime dewiness. Nourishing acai butter and olive squalane provide a rich, soothing feel on the skin that's suitable for all – even oily skin types. Brightening cedarwood, bergamot, and blood orange oils balance out the formula to brighten and balance.
Green Tea Water Bomb Hydrogel Mask
We couldn't resist creating a green tea face mask within our favorite hydrogel format! This sheet mask has an aloe base – better for the environment and your skin, too! This cooling, refreshing mask feels great on dry, thirsty skin and is packed with green tea extracts.
No more tired, dull, or puffy skin. With a high concentration of cucumber water, there's plenty of vitamin C and caffeic acid to go around. Did you know that cucumbers have the same pH as our skin? This makes it an incredibly restorative ingredient for skin that's been pushed off balance. Cucumber is high in vitamin C; brightening and reviving, cucumbers help to tone and hydrate the skin for a more youthful appearance.
We spilled the tea earlier, but here's more: there are TWO teas in this formula! While green tea soothes and protects, we've also included oolong tea for double antioxidant power. You'll experience a blend of transformative florals in this green tea face mask. These beauties include soothing chamomile, toning chrysanthemum, antiseptic calendula, and balancing rose.
Want even more moisture or need mega repair? Give your skin a little extra sip with another layer of hydration via our Green Tea EGCG Concentrate Serum. A wonderful serum to use in the morning, this serum is lightweight and provides another dose of toning and depuffing. We're sure you didn't need more convincing, but this serum uses avocado oil to enhance radiance, protection, and healing.
Get ready to experience a truly transformative skin treatment. This ultra-concentrated mask is here to help you purify even the oiliest and most acnegenic of complexions with its selection of curative herbs, French green clay, salicylic acid, lactic acid, turmeric, peppermint oil, and eucalyptus oil! Balance excess oils for clear pores free from debris or pollutants while reducing the appearance of scarring - leaving your face refreshed and glowing with a calmness like never before!
Our Caffeine Mask that was specifically developed to deliver moisture deep into your skin. Take a moment to take care of yourself, while the natural hydrogel mask does the work to help repair your skin. We developed this face mask with green coffee extract to stimulate skin rejuvenation while the high caffeine content helps hydrate and boost skin elasticity. Did you know that the color of the mask is the natural color of coffee? The added base of aloe vera juice, seaweed collagen, and hyaluronic acid deeply hydrates while you Netflix and chill.
Don't forget that our delicate eye area needs just as much – if not more – green tea TLC! The eyes tend to be a hotspot for issues: fine lines creeping, dry skin, and darkness from tossing and turning all night – keeping the eyes looking flawless can be stressful. Worry less with just 15 minutes and a pair of Bright Eyes Masks!
This ultimate de-puffing eye treatment is made with three kinds of caffeine: green coffee, yerba mate, and green tea. Topical caffeine can stimulate healthy blood flow to brighten dark circles, while also discouraging fluid retention that causes puffiness and eye bags.
Consider using Green Tea SPF 30 sunscreen, a protective and nourishing product that combines the benefits of green tea extracts with effective sun-blocking agents. This sunscreen offers broad-spectrum protection while keeping the skin hydrated and shielded from harmful sun rays.
Combine the green tea benefits for skin and SPF power in one single sunscreen lotion. Made with zinc oxide, potent Camellia sinensis (green tea) leaf extract, and vitamin E, your skin will be more than protected from harmful UV rays. The moisturizing power of green tea and aloe juice quench parched skin, and the addition of rosehip seed oil adds an extra boost of vitamin C to the mix.
Matcha oat face scrub deals for deep cleansing or double cleansing. Scrubby texture removes deep-set debris, buffs away dry patches, and maintains a toned complexion without redness. This nourishing face scrub uses matcha powder and colloidal oatmeal to calm and soften the complexion. Powerful antioxidants and caffeine from matcha green tea brighten skin, reduce redness, and neutralize environmental damage and impurities. French green clay cleanses and tightens pores, while vegetable glycerin maintains essential hydration for softer, more nourished skin.
FAQs about Green Tea and Skin Health
Can I use green tea on my skin every day?
Yes, green tea is safe and beneficial for daily use in skincare products. Its antioxidant properties can help protect the skin from free radicals, reducing premature aging and promoting a healthy complexion. Regular application can enhance skin hydration, soothe inflammation, and improve overall skin health.
Does green tea mask work for all skin types?
Yes, most green tea masks are suitable for all skin types. However, if you have oily or acne-prone skin, some masks like our Tea Tree Deep Detox Mask may be better suited for your skin type.
How long does it take to see results from a green tea mask?
The results of using green tea products in skincare can vary from person to person. In many cases, individuals may start to notice significant improvements after approximately two weeks of consistent use. For optimal results, continue using the products as part of a regular skincare routine.
Are there any potential side effects of using green tea on the skin?
Green tea is generally considered safe for use in skincare and is unlikely to cause significant side effects. However, individuals with hypersensitivity to green tea or certain components in skincare products should perform a patch test before widespread application.
Can I combine green tea with other skincare ingredients?
Absolutely! The combination of green tea and plant-based retinol, for instance, allows your skin to tolerate higher concentrations of retinol with less chance of skin irritation. This dynamic duo is powerful for fighting the signs of skin aging. Its use is limited by irritation and green tea's soothing effect can help.
Conclusion
Hopefully, you have a better understanding of how to enjoy the health benefits of green tea not just by drinking it, but by also applying it to your skin. The queen of green leaves proves to be a true skincare powerhouse, offering a wide range of benefits for various skin concerns.
Its natural antioxidants, especially EGCG, work wonders in combating acne by reducing inflammation and controlling sebum production. For those looking to defy the signs of aging, green tea's ability to stimulate collagen production and combat free radicals makes it an excellent anti-aging ally.
And remember these days, it's easier than ever to treat your skin with green tea – and masks are the best way to get the job done. With a mask, skin can instantly drink in nutrients directly where we need them, yielding what seems like instantly noticeable results. Embrace green tea-infused products and unlock the potential of this potent ingredient for healthier and more radiant skin. Don't miss out on this incredible skincare ally - explore green tea today!
We carefully hand-select products based on strict purity standards, and only recommend products we feel meet this criteria. 100% PURE™ may earn a small commission for products purchased through affiliate links.
The information in this article is for educational use, and not intended to substitute professional medical advice, diagnosis, or treatment and should not be used as such.
Sign up to our email newsletter for more blog updates and exclusive discounts.
< Older Post | Newer Post >