Get natural lipstick inspiration for fall's most memorable moments – starring your gorgeous, luscious lips!
Posted on October 15, 2019
Written by: 100% PURE®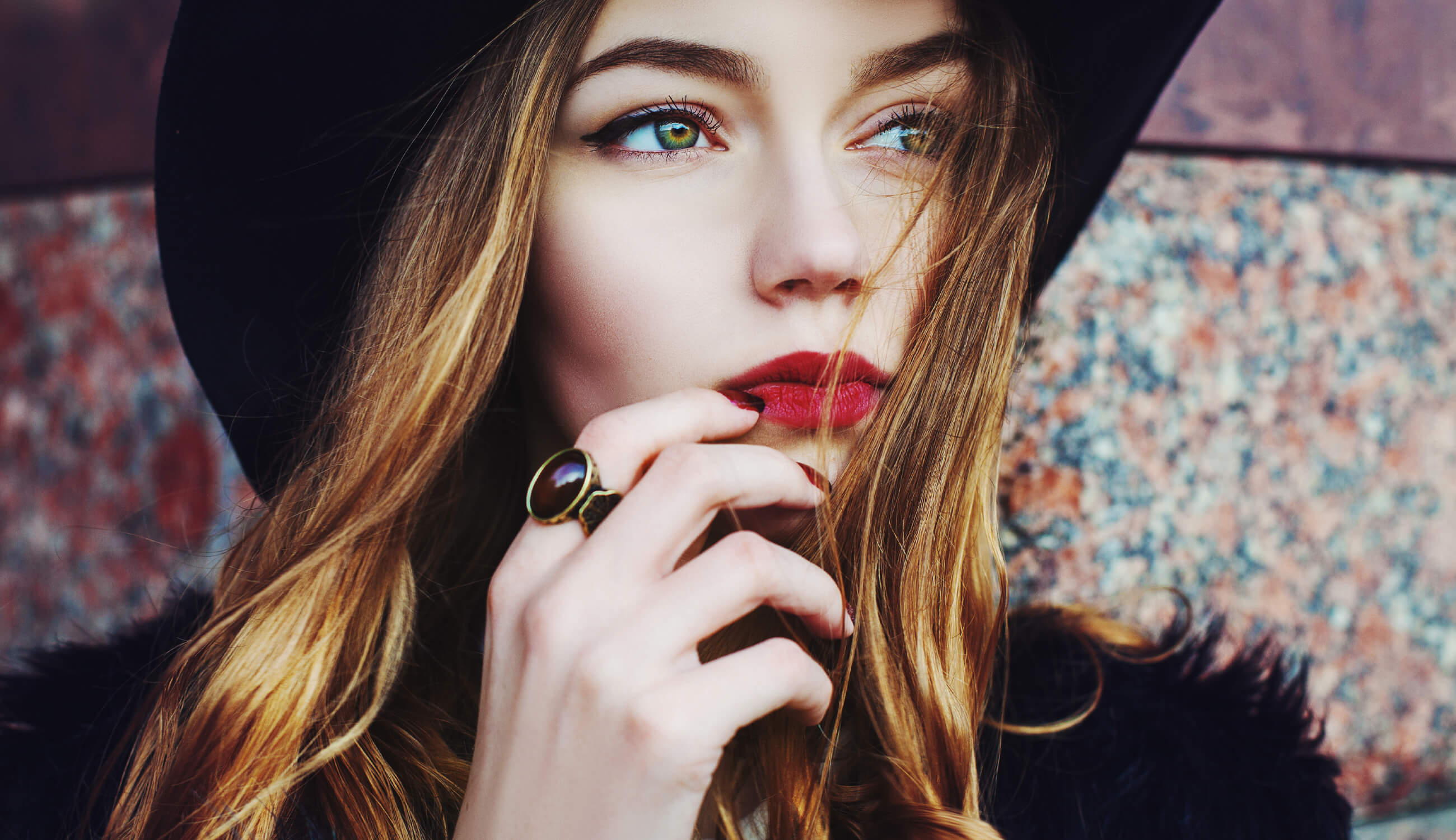 As they say, autumn shows us how beautiful it is to let things go. How fun will it feel to put down that same lipstick shade you reach for everyday, and try something fresh for fall? We're welcoming cooler days, nights by the fire, and everything in between by celebrating the season's many activities.
Here is some beauty inspo to go along with your cozy coffee dates, weekend apple picking, or pumpkin patch fun!
Our Unique Love for Lippies
Considering how much stress we put on our lips, why not focus on wearing lip colors that give a little love back? We concentrate on formulating the best lip products for dry lips; those that nourish, protect, and hydrate the lips using natural components like avocado butter, antioxidants, and vitamin E.
The next time you swipe on one of our berry glazes, satin lipsticks, or lip glosses, check the label and breathe a sigh of relief. You'll find that the color we use comes from the fruits you'd find at your local market, or from richly pigmented achiote seeds. We're so grateful to be able to include antioxidants and natural colors in our natural lipsticks and glosses – and share them all with you!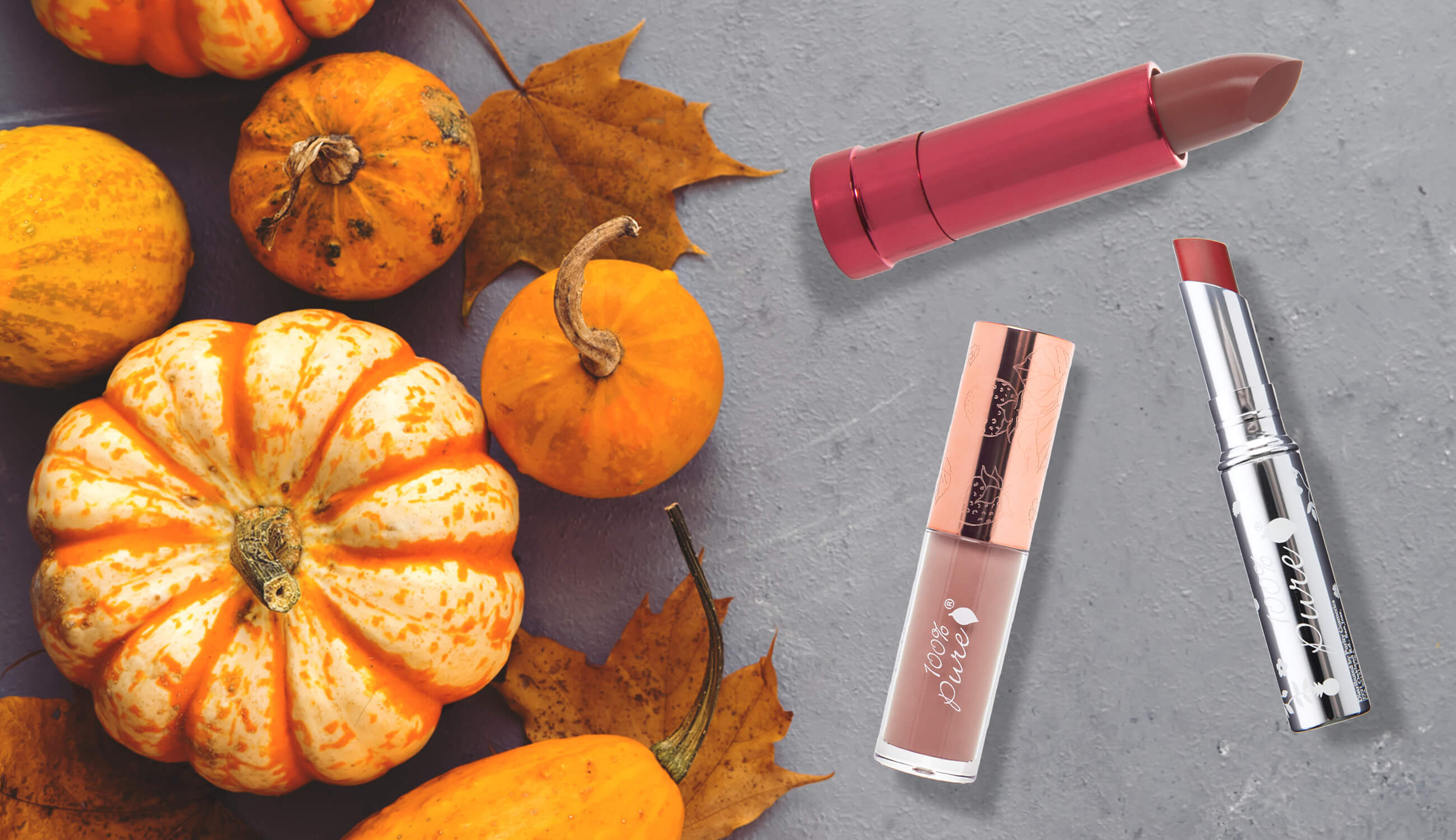 Fall Lip Look #1: Pumpkin Patch
Know how to fix a basic fall day? With a pumpkin patch, of course! No matter the weather, there's something so festive and uplifting about all those glowing gourds that inspires us to have fun. Hay ride, anyone?!
Pumpkin-spice up this festive fall outing with Coraline: a red-coral fusion enriched with stone fruits mango and plum for anti-aging support. The avocado butter base of our Lip Glaze formula gives this tinted, balmy gloss a silky feel and satin finish that sets our hearts a-flutter.
Have you experienced the silky smooth decadence of our Pomegranate Oil Anti-Aging Lipsticks? They slide on like butter, and nourish the lips with the free-radical-fighting antioxidants found in juicy pomegranate fruit. For your next visit to the patch, we recommend Thistle: a cool milk chocolate with rosy undertones that flatter cool and olive skin tones.
For some of us, dark shades are way out of our comfort zone. Try something lighter and fresher to let your natural beauty shine with our newest lip gloss, Naked: a warm, peachy-nude. Layer this over natural lipstick for a custom finish or try it over bare lips for subtle, juicy shine.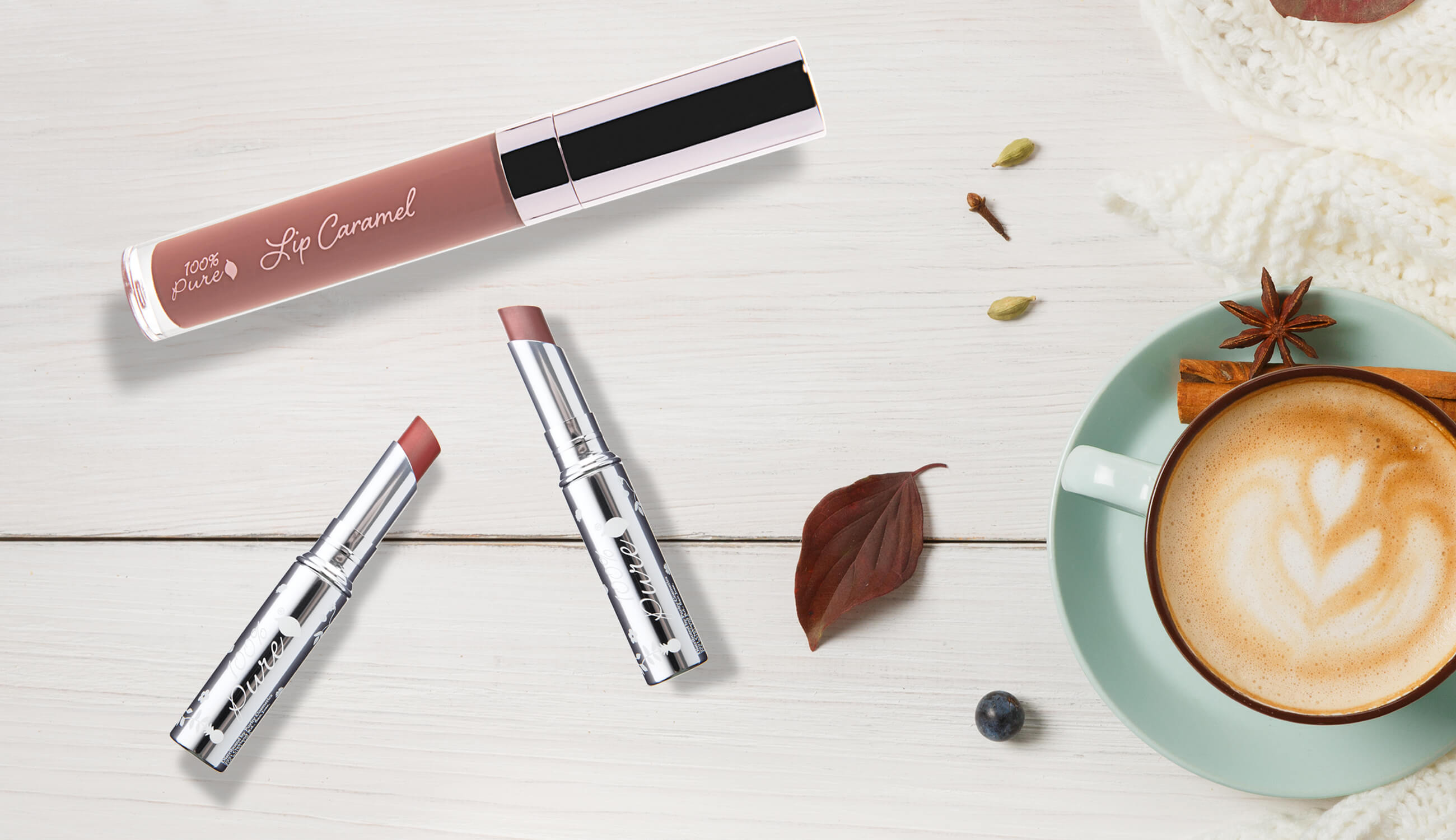 Fall Lip Look #2: But First, Coffee (Date)
Coffee meets kisses with a few sultry, satin shades in warm, festive tones. Start off with Lip Glaze in Peach, a deep nude option with pops of coral. This semi-sheer shade is perfect for smooching over croissants, or exchanging coquettish caresses over cappuccinos.
If we're having a rendezvous and there's eating involved, we often gravitate to nudes (in case of the inevitable lipstick-on-tooth occurrence). A true satin nude for plump, soft, hydrated looking lips would be Sultry: a muted warm, peachy pink. Rose petals in this formula help to soothe dry, cracking lips to make them kissable again in time for your Sunday coffee date.
Glaze your lips in a rich rose color that has staying power, without staining or drying out the lips. Our high-gloss Lip Caramel formulas serve high coverage from achiote and fruit pigments, so that anyone who smooches you may just taste a bit of blackberry fruit! The natural liquid lipstick shade that tops our list is Butterchew: butter try out this pinky brown nude before your next date!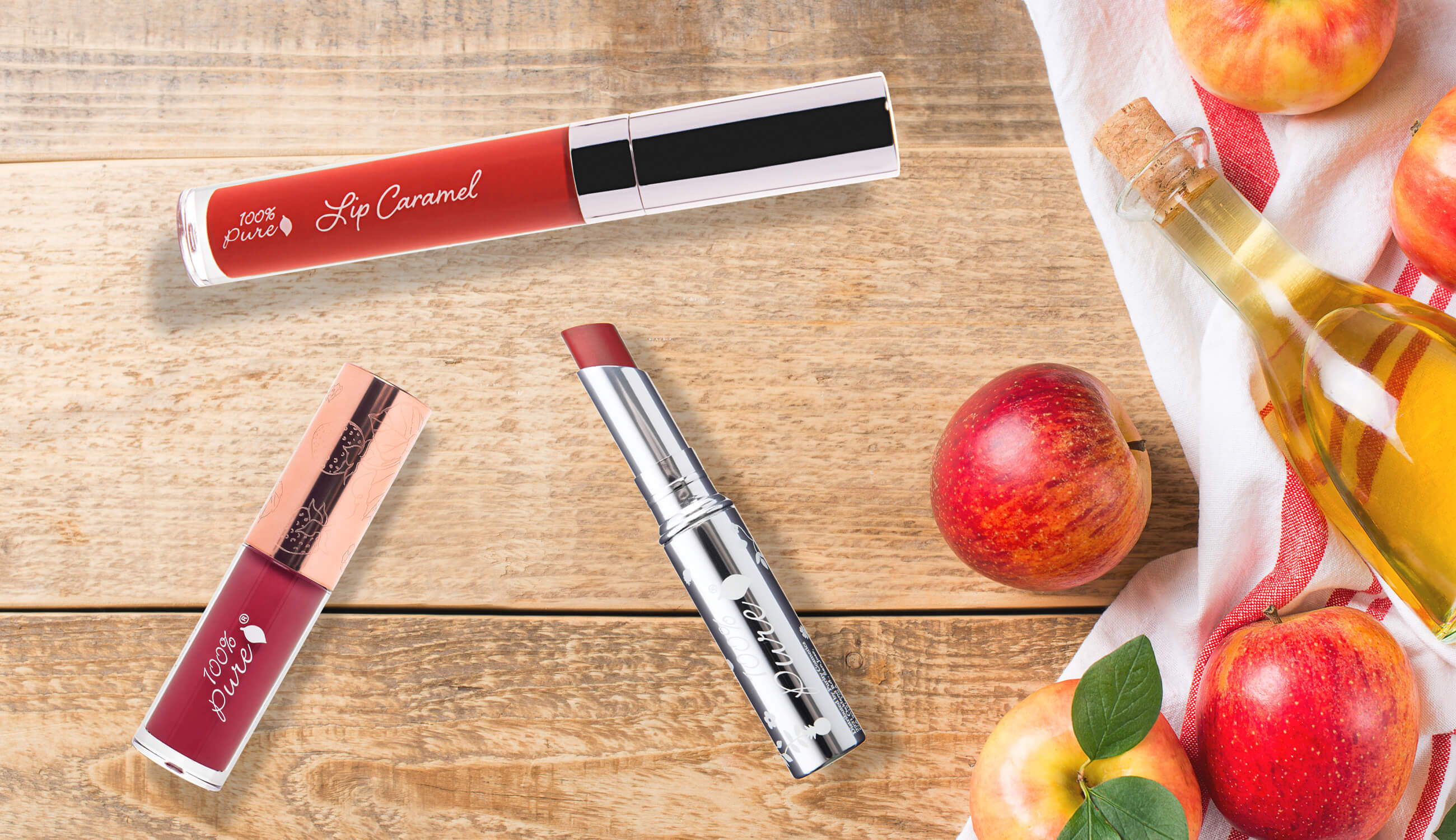 Fall Lip Look #3: Apple Picking
Feel cute and look even cuter in kissable lip shades akin to your favorite group of apples: rich red delicious, succulent rosy galas, or deep Arkansas black. Start off with Scotch Kiss: a vibrant and deeply pigmented candy apple red that burns red-orange in hue. Whether you're picking a bite or a bushel, this color is sure to slay amongst the fruity fields.
A fusion of peach, coral, rose, and honeycrisp apple come together to make an unstoppable shade, Coraline (you know, from the pumpkin patch). Our vegan lip glaze formula delivers medium coverage in a semi-gloss finish, meaning that this shade pairs well over your natural lips for an apple-tinted pout, or over a warm red lipstick for an even fruitier hue.
What's better than wine? Wine that you can wear on your lips! One of our newest gloss shades comes in an irresistible color – Pomegranate Wine – and the red-berry tint reminds us of autumn appleberry tarts. This is a semi-sheer formula, so feel free to tint your lips during the day, and layer over lipsticks at night for a touch of vampy drama.
Fall Lip Look #4: Business (or Pleasure) Meetings
Why is the pressure to pick a lip color so high for those important work or business meetings? Our thoughts: will a gloss be too casual? Will a deeper color be too dramatic? We tend to get in our heads about it, especially when we're pitching our newest project or trying to make a good impression on the boss. Here's our advice: keep it simple! Rock something that suits you best – after all, confidence is the only accessory you need to get through that meeting like a boss!
We just might be inspired to recite Shakespearean sonnets due to our love of this perfect rosy shade: Rose Petal from our Lip Glaze line. Reminiscent of the heart of fresh rose blooms, this color is neutral and nourishing with a semi-satin finish. Actually infused with soothing rose petals and toning lavender essential oil, you're probably going to be inspired to wear this natural lipstick shade to more places than just the boardroom.
Who doesn't want to feel mauve-lous when meeting up with coworkers or friends? Our newest mauve gloss called Mauvely will do just that. Sheer, high gloss, and oh-so cushiony on the lips, this semi-sheer, rosy mauve says, "spirited but sophisticated." Pair it with a bit of blush and a bolder brow, and you've got the perfect fresh-faced makeup look.
What's warm nude, mauve, and enriched with vitamin E? That would be Bee Balm, one of our fruit pigmented® Pomegranate Oil Anti-Aging Lipsticks. While you've got your pen out, check off the boxes full coverage and amazingly moisturizing, too. You can't find a bad time to wear this deep, peachy pink shade.
Fall Lip Look #5: Date Night
Remember the caramel-y shade we mentioned earlier, Thistle? We're bringing her back out for date night. Not only is she universally flattering, but she's sure to inspire closeness once you and your sweetie have broken the ice.
If you're looking for the perfect liquid lipstick in an everyday blushed-nude, Rum Nougat is your girl. She's just as sweet as she looks, and will suit your lips to a T for a cute fall date touring a museum, taking a park-side stroll, or shaping clay at a pottery class (a la Ghost).
Smooth and rich, Velveteen is a shade that's perfect for the girl who likes her lipstick glossy, subtle, and demure. This dusty nude-pink glaze is best for your evening plans – wow your date with your bright smile, sizzle in salsa class, and finish the night with (hopefully) a moonlight kiss. P.S.: don't forget to tell us about date #2!
Black cherries aren't just for eating – they make a great, deep date night lip shade. Our Lip Glaze in Cherry is dark without being vampy, and looks equally stunning on creamy, fair skin as it does rich, chocolate tones. This deep red lip can make you feel confident and flirty, and thanks to the protective cocoa seed butter in the formula, it also helps keep your lips supple and hydrated long into the night.
Fall Lip Look #6:Wine Tasting
We just realized that there's never a bad season for wine tasting – so cheers to that! – but autumn means harvests! So why not toast amongst the rows of freshly picked grape vines with a tall tube of Cabernet Lip Glaze against your kisser? This deep, brick cabernet red has almost got a hint of fuchsia that whitens your smile, even after a glass or two.
We're searching for more than the berry notes in our dark wine – we want berry lips, too! Spread on the love with another Lip Glaze in Pomegranate. The deep, purple berry color looks stunning with a wine-stained cheek, and makes wine stained lips a fashion trend.
Swoon for maroon in Dahlia: one of the most recognizable shades from our Pomegranate lipstick collection, this deep, wine red is nothing short of bold. Have we mentioned this lipstick has a satin finish, vibrant full coverage, and actual anti-aging grape pigments in the formula? These juicy fruits help fight the signs of aging, which means you can toast to younger looking lips. Salud!
We carefully hand-select products based on strict purity standards, and only recommend products we feel meet this criteria. 100% PURE™ may earn a small commission for products purchased through affiliate links.
The information in this article is for educational use, and not intended to substitute professional medical advice, diagnosis, or treatment and should not be used as such.
Sign up to our email newsletter for more blog updates and exclusive discounts.
< Older Post | Newer Post >