Lip gloss best practices, ingredient swaps for healthier lips, and a peek at our NEW Fruit Pigmented® Lip Gloss collection!
Posted on October 10, 2019
Written by: 100% PURE®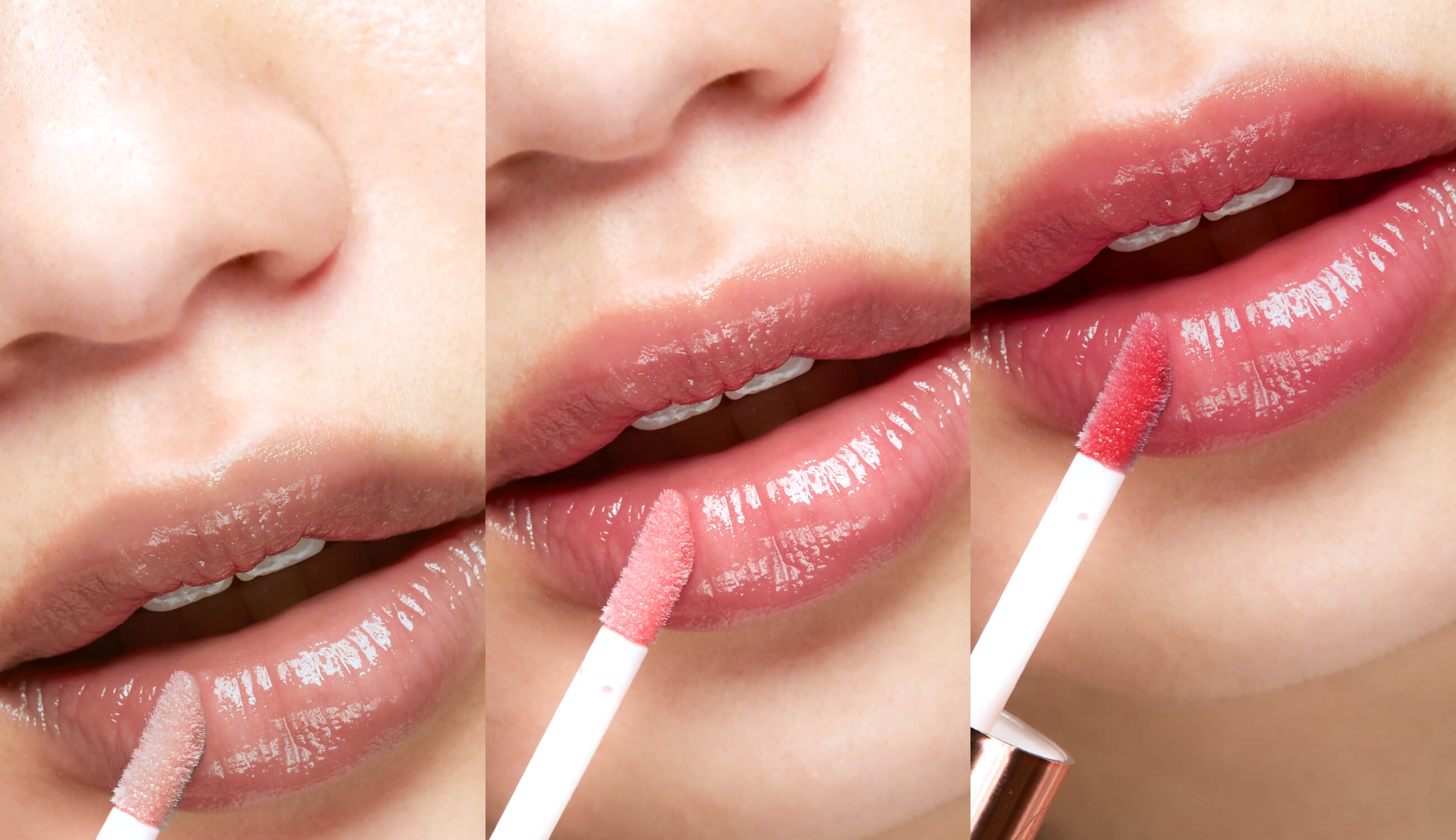 Three cheers for new lip gloss! We can't go a day – let alone a few hours – without reaching for a lip gloss, lipstick, or lip balm. Where would our lips be without them?
We're so passionate about lip gloss that we realized we had to bring back one of our original cosmetic formulas: the Fruit Pigmented® Lip Gloss. Our original collection features everything you'd ever want in a lip gloss: a non-sticky formula, high shine, deep hydration, and super smooth application.
While these babies come in all new packaging – feature a compact design and cushier sponge applicator – you'll recognize the same beloved lip gloss formula inside. The five returning shades include Strawberry, Mauvely, Pomegranate Wine, Naked, and Pink Caramel, and range from semi-sheer to sheer. They're loaded with fruity natural flavor and our world-famous fruit pigments – all without the toxic ingredients found in conventional lip color.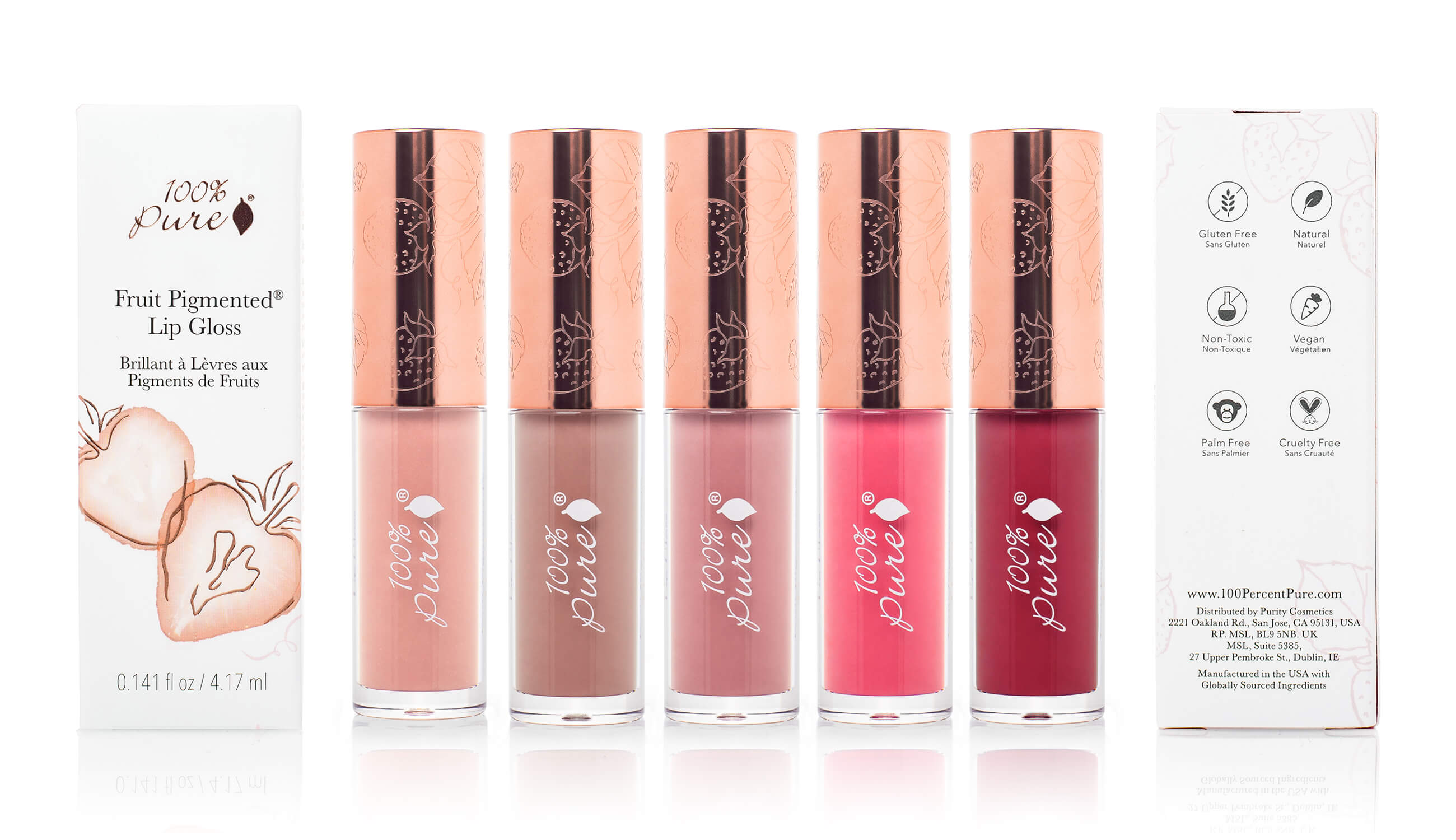 5 Fruit Pigmented® Lip Gloss Shades
These shades are far from strangers. We've re-released five signature shades of our original fruit pigmented® collection, chosen for their stunning pigment and overall versatility in your everyday makeup lineup. Never met these beauties before? Here's an introduction:
Pomegranate Wine – a semi-sheer, medium berry red
Strawberry – a semi-sheer, bright berry pink
Mauvely – a semi-sheer, neutral rosy mauve
Pink Caramel – a sheer, nude rosy brown
Naked – a sheer, warm peachy nude
How to Get Gorgeous, Glossy Lips in 3 Steps
Our favorite lip gloss perk is that these beauty staples can suit any look or style of application. They can be applied over dry lips for a juicy wash of color, or layered on top of a balm or lipstick to add some shine with a touch of shine.
Step 1
First, rep your lips for flawless shine with a sugar-based lip scrub, to clear away rough skin and promote a smooth application.
Step 2
Instead of just taking the wand out and going for a spin around your lips, we'd recommend applying the gloss to the center of your pout first. Next, rub your lips together to evenly distribute the gloss to the outer corners. This will help give you the perfect spread of lip gloss, without getting the dreaded goopy excess on either side of your lips.
Step 3
If you're looking for a little extra staying power, try pairing your lip gloss with a lip pencil to keep everything in line. By outlining the edges of your lips with a complementary color (then diffusing with a small brush), you're keeping your lip gloss in line without adding a double punch of pigment.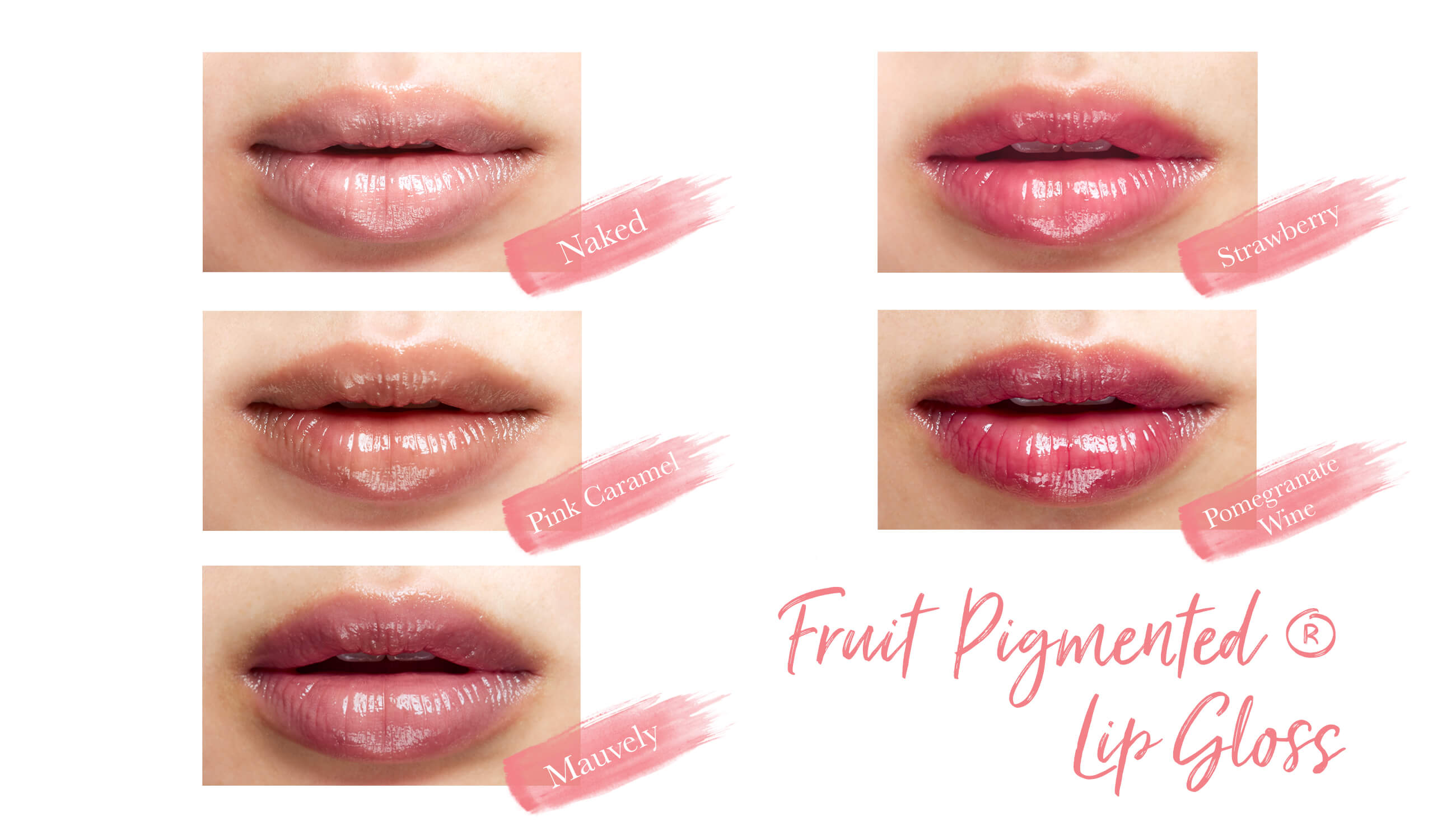 Natural Lip Gloss Ingredient Swaps
Have you ever wondered what lip gloss is made of, but stopped because you weren't sure you wanted to know? Well we're here to pull back the veil, introducing you to some of the less-than-glamorous ingredients found in lip gloss, and the natural alternatives we choose to use instead.
Ingredient Swap #1: Polybutene for Vitamin E
If you're a little stumped on what exactly polybutene is or why it's in lip gloss, you aren't alone. When you're looking at an ingredient list, isn't it so much easier to read a list of things you know (and can actually read without stumbling)? Enter our healthy ingredient swap, Vitamin E!
Count us out when it comes to using icky polymers in cosmetics, which are more commonly found in sealants for roofs or windows. It just doesn't make sense to put that on your lips when a great natural alternative is readily available! Vitamin E is a multi-beneficial ingredient: it helps to block free radicals via antioxidants, repairs and replenishes aging or damaged skin, and is also safe to use on your lips.
Ingredient Swap #2: Cera Alba for Candelilla Wax
We love all animals small, large, furry, scaly, or feathery. To keep our fuzzy friends (and bees) safe, we opted for a vegan-friendly, cruelty-free version of beeswax in our lip gloss, so that vegan-friendly beauty lovers can feel comfortable with what their lip gloss is made of. Candelilla wax is sourced from a flowering shrub, and gives the same texture and lip feel as its beeswax alternative.
Ingredient Swap #3: Swap Synthetic Dyes for Fruit Pigments
We've been doing fruit pigments since day one, and there's a reason people keep coming back time and time again. Fruit pigments are truly amazing: they're Mother Nature's gift to the beauty world! She created a vast array of shades to choose from, and we've pulled her greatest hits into our newest lipgloss release. No need to be scared of the question "what is lip gloss made of" with the easily identifiable, skin-healthy fruit pigments.
Ingredient Swap #4: Octyldodecanol for Cocoa Butter
When it comes to conventional formulas, what IS lip gloss made of, and why is something called octyldodecanol in it? We're a little perplexed, too! In conventional makeup terms, it's used often in traditional lip gloss formulas for its clear, colorless qualities. It's often added to help enhance texture, moisturize, and act as a lubricant. While we're all for that silky smooth lip feel, but as always, we wondered if there was something a bit more familiar (and pure) that could do the trick.
We kept only the best natural ingredients in our lip gloss formulas, so the inclusion of cocoa butter was a no-brainer. Cocoa butter in a lip gloss can be a miracle treatment for your lips. The cold, wind, and low humidity of fall aren't doing your precious pout any favors. With a thick body and rich fat content, cocoa butter is here to save your lips by providing a protective barrier and helping your lips to retain moisture.
Ingredient Swap #5: Synthetic Fragrance for Strawberry Extract
When you dive into the seemingly small ingredient called "fragrance", you might be surprised at how fast things can get tricky. Synthetic flavoring can be made up of thousands of teenie tiny chemicals – which aren't mandated to be included on an ingredient list – lumped up under one "flavor" call-out.
Who would want a synthetic version of strawberry fragrance, when you could have the actual taste of real strawberries on your lips? Strawberry extract does a great job of producing its own flavor, so why mess with the original? When you glide on your newest lip gloss you're going to be transported to a strawberry field with little red gems popping off around you.
We couldn't be more excited to share the latest launch of our lip glosses with you! We'd love to see them swatched, and learn how you create your own custom shade combinations. Make sure to tag your photos with #100percentpure, so that the rest of the PURE community can enjoy!
We carefully hand-select products based on strict purity standards, and only recommend products we feel meet this criteria. 100% PURE™ may earn a small commission for products purchased through affiliate links.
The information in this article is for educational use, and not intended to substitute professional medical advice, diagnosis, or treatment and should not be used as such.
Sign up to our email newsletter for more blog updates and exclusive discounts.
< Older Post | Newer Post >