Meet 2 New Multi-Vitamin Superstars
Highlighting the best vitamins for skin in our newest Multi-Vitamin + Antioxidants skin care products
Posted on October 17, 2019
Written by: 100% PURE®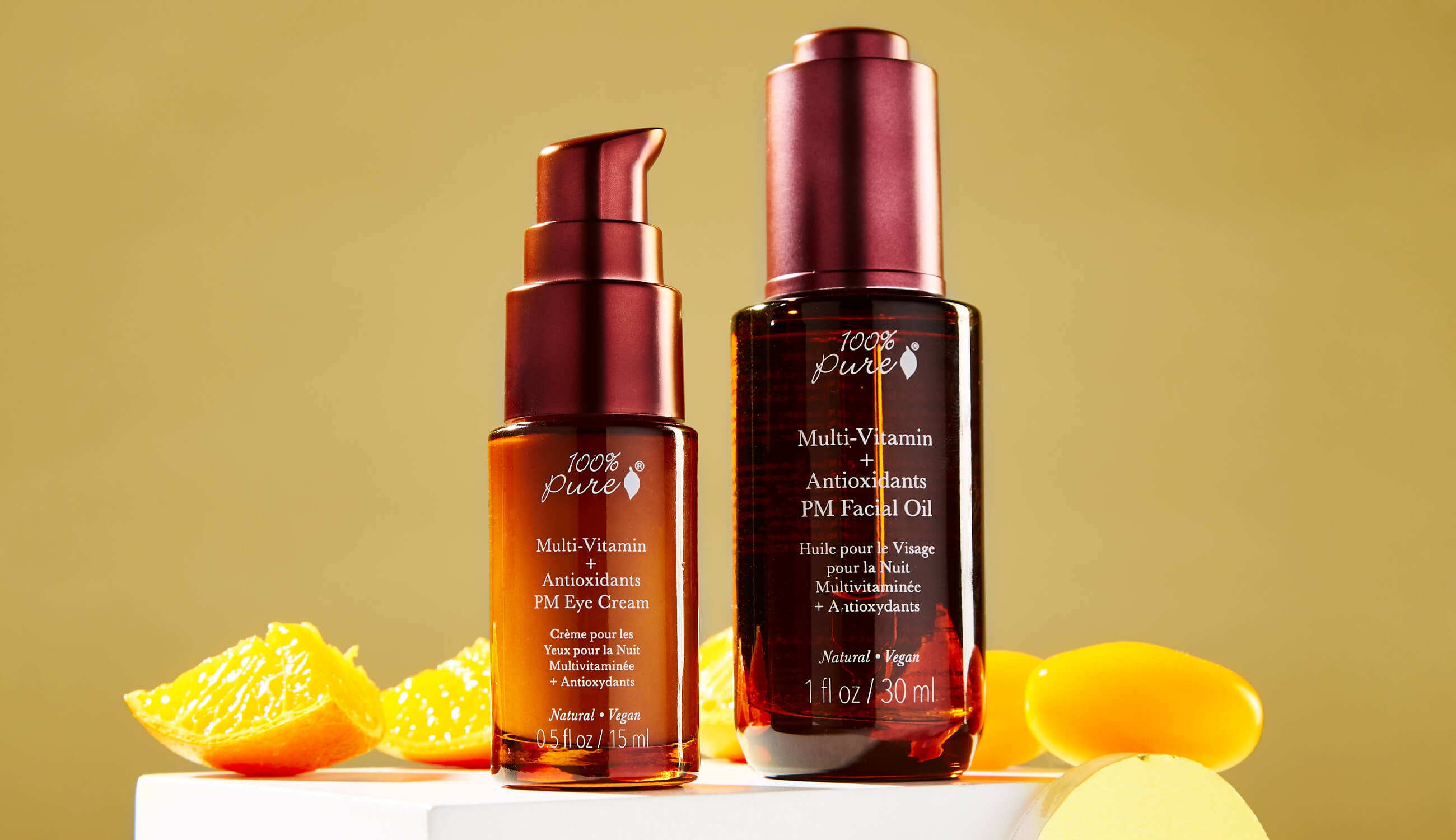 Are you good about taking your daily vitamins? If you answered 'yes', you've officially reached superstar self-care status in our eyes! Since you've got your vitamin regimen on lock, the natural next step should be supplementing your beauty routine with the best vitamins for skin.
While some of the vitamins you swallow each morning can support your long-term beauty goals, topical reinforcement is key to keeping skin youthful and healthy. Vitamin-obsessed skin care enthusiasts will know ALL about our Multi-Vitamin + Antioxidants skin care collection. Whether you vibe with our ultra rich Multi-Vitamin cream or get down with the best-selling Multi-Vitamin serum, chances are you'll be thrilled to hear that we've added two new members to this anti-aging skin care dynasty!
So slip into your pj's and get your sleeping mask ready: we're introducing you to our two newest PM skin care superstars: the Multi-Vitamin + Antioxidants PM Eye Treatment, and Multi-Vitamin + Antioxidants PM Facial Oil!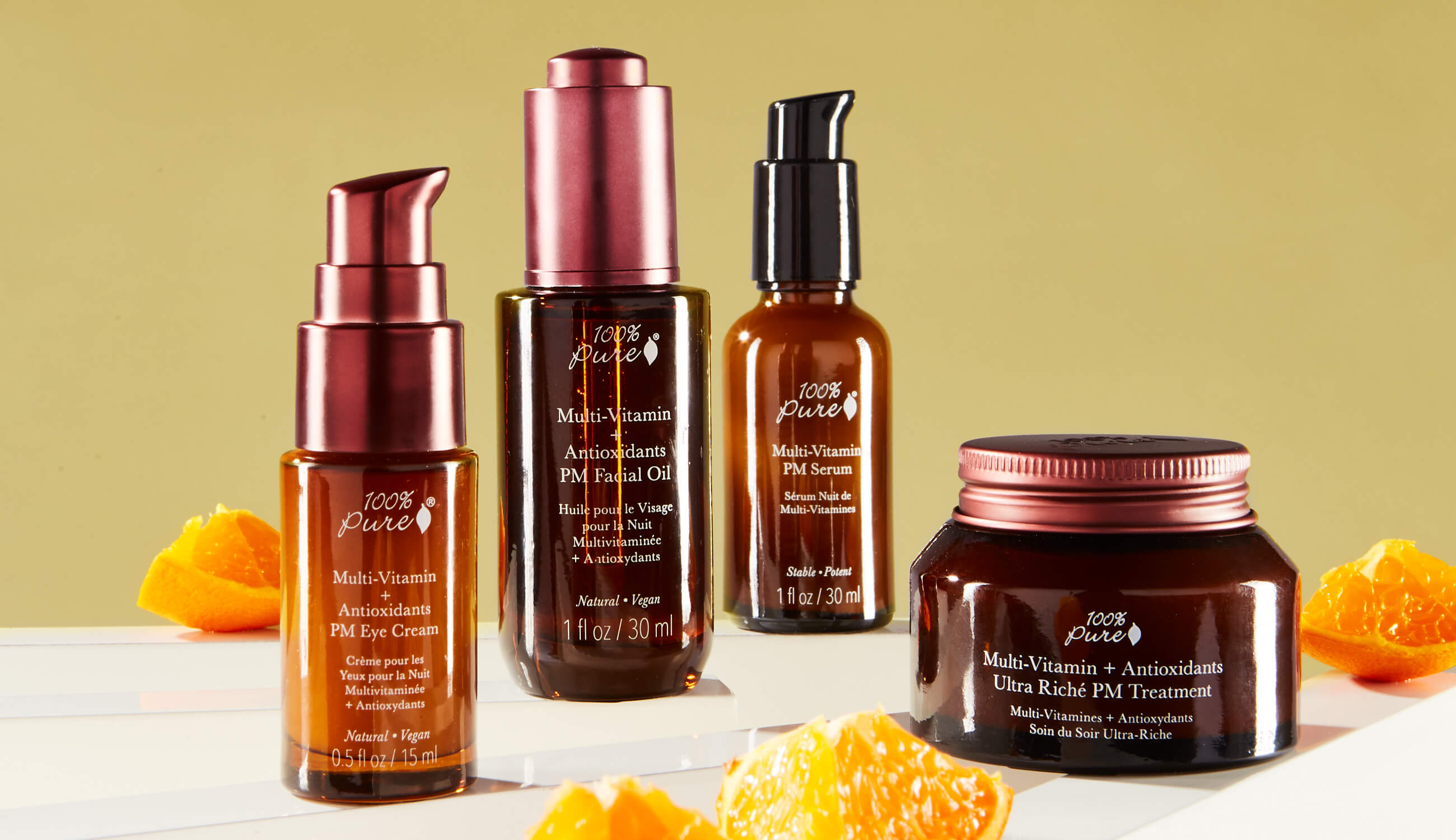 Multi-Vitamin + Antioxidants PM Eye Treatment
Best for Skin Type:
Normal, Oily, Combination, Dry, Sensitive
Concerns:
Loss of firmness and elasticity
Crepey skin
Fine lines and wrinkles
How to Use:
Pump a dime-sized amount of product to your ring fingers, then gently pat the oil onto your freshly cleansed orbital eye area. This area includes the upper and lower lids, and the sides of the eyes where crows feet tend to appear. When applying, take extra care not to tug or pull.
The extra rich formula can also be applied to damp skin, or followed with a facial mist after application. Since this is a super-rich formula, water may aid skin in absorbing vitamins and nutrients.
Our oil-rich eye treatment is for nighttime use only, and is not recommended for your daytime routine. Always follow with a broad-spectrum SPF the following day.
PRO TIP: When applying this formula, start with a very small amount. You'll want to gently press the oil onto skin – as opposed to applying with a rubbing or massaging technique. Take care to keep away from eyelashes. If you do get in contact with your eye, rinse with cool water.
More on the Multi-Vitamin + Antioxidants PM Eye Treatment:
Our latest and greatest eye treatment is a non-nonsense addition to your nighttime skin care routine. This is not like your average eye cream: this gem is formulated with skin beneficial oils and the best vitamins for skin. This revolutionary oil-based formula is packed with the best vitamins for skin, and draws upon nutrient-dense oils from jojoba, avocado, rosehip, and green tea to enhance plump suppleness in the skin.
Ultra-concentrated with multiple vitamins and antioxidants, this highly moisturizing eye treatment is designed to drastically lessen the appearance of fine lines and wrinkles. The oil-rich, high potency formula has all the best vitamins for skin rolled into one little package: vitamins A, C, D3, and E.
Vitamin A (Retinol) is beneficial for lessening the appearance of sun damage and fine lines, while promoting youthful firmness in the skin. Vitamin C promotes both collagen and elastin synthesis for more plump, elastic skin around the eye area. Vitamin D3 helps to stimulate cellular repair and regeneration, while vitamin E works to fade scarring and signs of environmental damage.
PRO TIP: Our innovative eye treatment is extremely concentrated, and is perfect for those focused on correction and repair. If you're looking to bump up prevention on the crow's feet front, we'd recommend checking out our Retinol PM Eye Cream.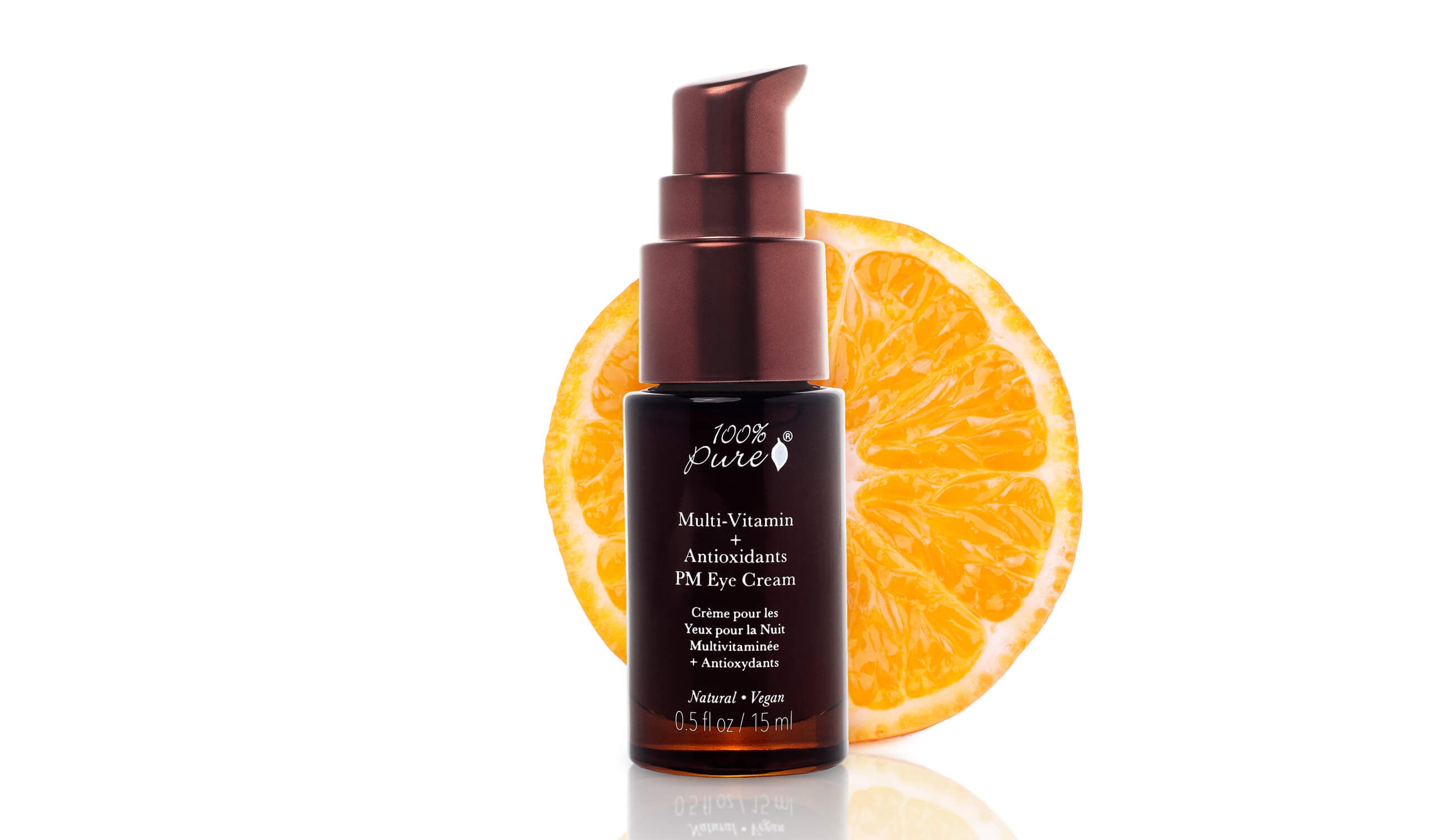 KEY INGREDIENTS
Avocado Oil
Avocados are full of fatty acids and are the best vitamins for skin, including vitamin E. You'll notice skin feeling extra moisturized and supple after using this skin-nourishing ingredient.
Rosehip Oil
Rosehip oil is essential for fighting signs of aging like age spots, fine lines, and wrinkles.
Pomegranate Oil
All hail the queen of omega 5 fatty acids! Pomegranate oil ranks high for its anti-inflammatory and anti-aging properties. It's no wonder it's another one of the best vitamins for skin, with its ability to neutralize damaging free radicals and unburden congested pores.
Green Tea Oil
Anti-aging, anti-bacterial, anti-fungal, and moisturizing: this natural oil is a true multitasker! Able to penetrate deeply and quickly, green tea oil contains powerful antioxidants that protect against free radicals, pollution, and UV radiation.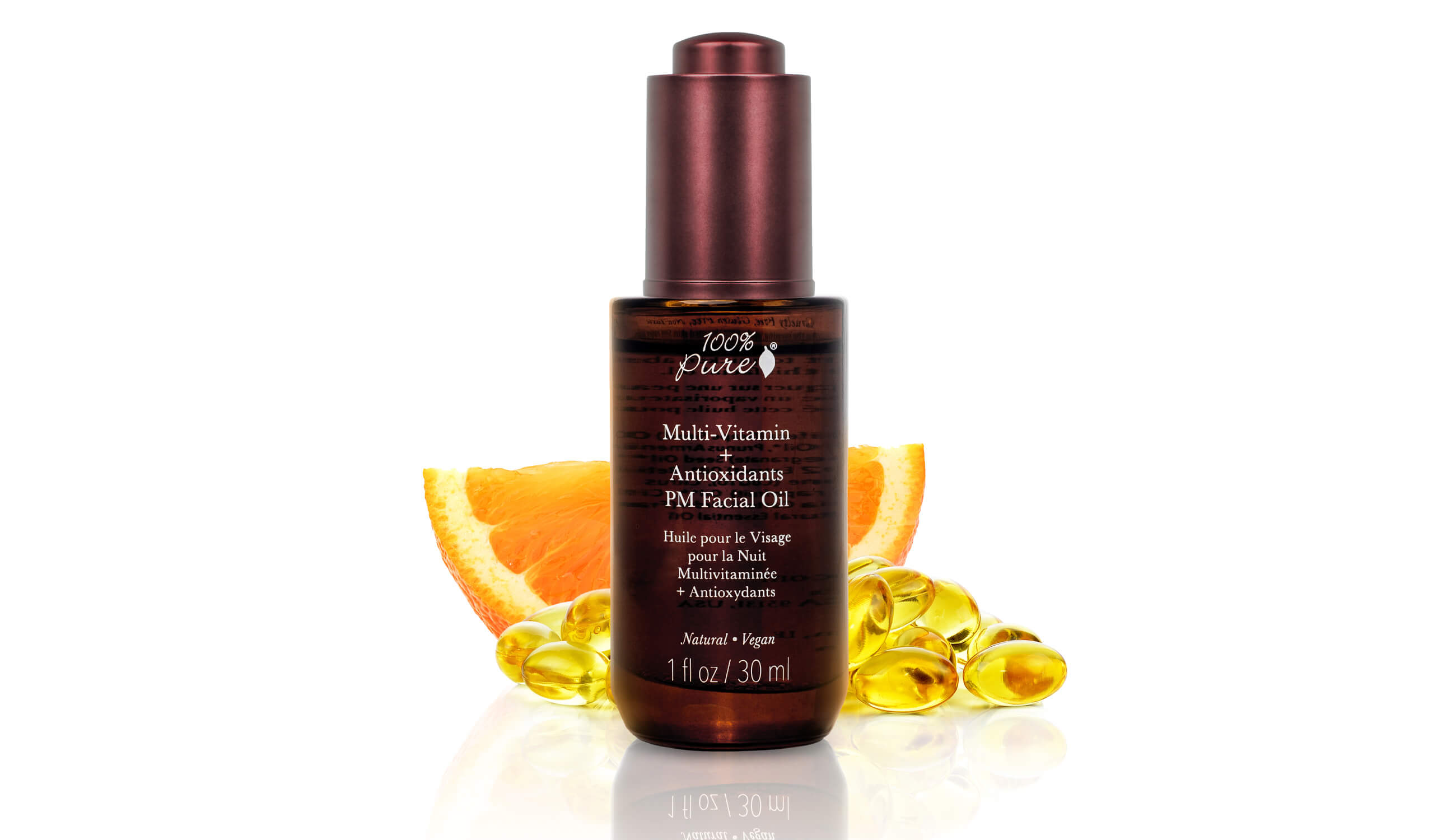 Multi-Vitamin + Antioxidants PM Facial Oil
Best for Skin Type:
Normal, Oily, Combination, Dry
Concerns:
Fine lines and Wrinkles
Dryness
Dullness
Uneven Skin Tone
How to Use:
Using the pipette, dispense 1-3 drops (depending on your preference) of facial oil into your palms. Gently pat oil into the freshly cleansed skin of face and neck. To quicken absorption, this extra rich formula can be applied to damp skin or followed by a facial mist.
This facial oil is for nighttime use only, and is not recommended for your daytime routine. Always follow with a broad-spectrum SPF the following day.
PRO TIP: Press the oil gently into your skin as opposed to using a rubbed technique. We recommend layering under a nighttime moisturizer for extra benefits if you are a dry skin type.>
More on the Multi-Vitamin + Antioxidants PM Facial Oil:
When we dreamt up our latest facial oil creation, we wouldn't settle for anything less than the best. We sourced the highest quality plant oils and concentrated vitamins – all from vegan sources. Making a facial oil with the best vitamins for skin was critical: this nighttime facial oil was made especially for anyone seeking corrective anti-aging treatment.
We stabilized the the best vitamins for skin while combining potent antioxidants, to work synergistically while providing a drastic improvement in the appearance of fine lines and wrinkles.
In addition to general anti-aging benefits, this PM facial oil is able to help balance uneven skin tone with Coenzyme CoQ10, while boosting glow with vitamin C. You'll notice enhanced skin suppleness (thanks to elastin-supporting vitamin C), as well as an overall brighter complexion (thanks again, vitamin C and CoQ10).
We've employed the best vitamins for skin to work through the overnight hours: overhauling dull, crepey, or uneven complexions. Our facial oil is a great alternative (or partner) to the Multi-Vitamin Potent PM Serum for dry skin types, and can even be layered over Argan Oil for deep hydration benefits. For dry or crepey skin seeking targeted results: use this facial oil after the serum, and before the Multi-Vitamin Cream.
KEY INGREDIENTS
Jojoba Seed Oil
This anti-inflammatory oil utilizes natural stores of vitamin E and vitamin B. Jojoba can help reduce redness, and ease inflammation in skin.
Apricot Oil
Apricot oil is rich in essential fatty acids, and is ideal for helping to naturally moisturize and nourish your skin.
Vitamin A
You can't talk about skin rejuvenation without mentioning Retinol. Vitamin A is beneficial for healthy cell production and new growth, working behind-the-scenes to stimulate cellular turnover. This spells fresh, new tissue – this means a firm, youthful, more vibrant complexion.
Vitamin C
We *heart* Vitamin C: it's a key player in healthy collagen production, and is vital for overall skin health. It comes jam-packed antioxidants that can neutralize free radicals: one of the main precursors to aging and skin damage.
There you have it: more products that deliver the best vitamins to your skin! Nourishing your skin with healthy, top-performing vitamins is a must for a natural glow. Start strengthening your skin with the best vitamins nature has to offer – need a little help? Go take a peek at the full list of the best vitamins for skin!
We carefully hand-select products based on strict purity standards, and only recommend products we feel meet this criteria. 100% PURE™ may earn a small commission for products purchased through affiliate links.
The information in this article is for educational use, and not intended to substitute professional medical advice, diagnosis, or treatment and should not be used as such.
Sign up to our email newsletter for more blog updates and exclusive discounts.
< Older Post | Newer Post >