https://purity-res.cloudinary.com/image/fetch/q_auto:best,f_auto,fl_lossy,w_auto,c_limit,dpr_auto/https://cdn.shopify.com/s/files/1/0648/1955/products/f98e5dfb93d23f05ddee293fadd6608a.png?v=1530053528
https://purity-res.cloudinary.com/image/fetch/q_auto:best,f_auto,fl_lossy,w_auto,c_limit,dpr_auto/https://cdn.shopify.com/s/files/1/0648/1955/products/X3zkMUs6QuOLbzvZdoKi.jpg?v=1544741259
https://purity-res.cloudinary.com/image/fetch/q_auto:best,f_auto,fl_lossy,w_auto,c_limit,dpr_auto/https://cdn.shopify.com/s/files/1/0648/1955/products/ty1Pm4i3QZeo3Hv3TQKu.jpg?v=1544741259
https://purity-res.cloudinary.com/image/fetch/q_auto:best,f_auto,fl_lossy,w_auto,c_limit,dpr_auto/https://cdn.shopify.com/s/files/1/0648/1955/products/Zeq8BTKJSMWtWksg4p6E.jpg?v=1544741259
https://purity-res.cloudinary.com/image/fetch/q_auto:best,f_auto,fl_lossy,w_auto,c_limit,dpr_auto/https://cdn.shopify.com/s/files/1/0648/1955/products/sRTybQ3vSYW1X2jJItwX.jpg?v=1544741259
https://purity-res.cloudinary.com/image/fetch/q_auto:best,f_auto,fl_lossy,w_auto,c_limit,dpr_auto/https://cdn.shopify.com/s/files/1/0648/1955/products/qktcZWDR9ukmgMn8fpnQ.jpg?v=1544741259
https://purity-res.cloudinary.com/image/fetch/q_auto:best,f_auto,fl_lossy,w_auto,c_limit,dpr_auto/https://cdn.shopify.com/s/files/1/0648/1955/products/yK0ZZan8STGuWKbpsJle.jpg?v=1544741260
https://purity-res.cloudinary.com/image/fetch/q_auto:best,f_auto,fl_lossy,w_auto,c_limit,dpr_auto/https://cdn.shopify.com/s/files/1/0648/1955/products/lxJxWRRsTjip9BiJNLG9.jpg?v=1544741260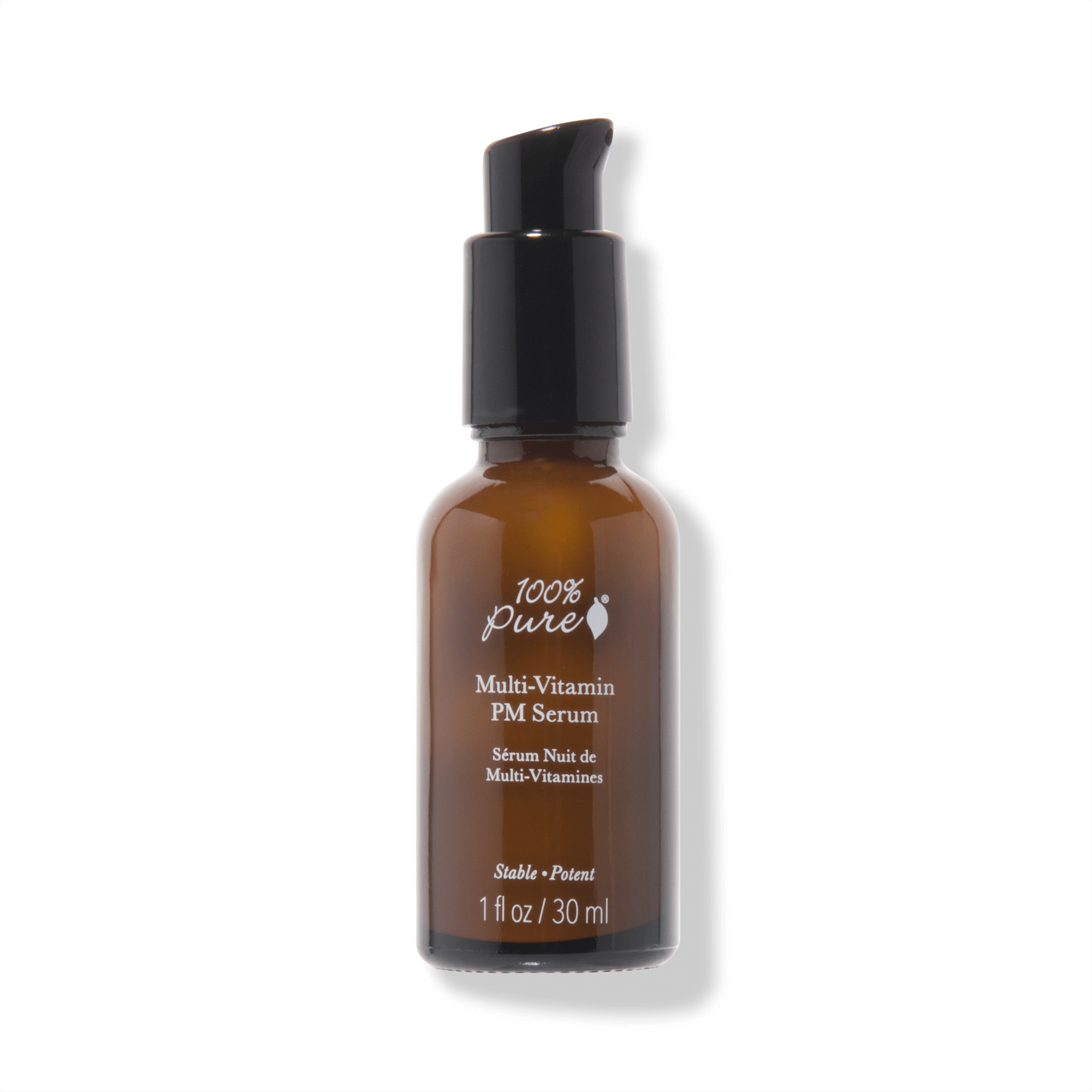 Multi-Vitamin + Antioxidants Potent PM Serum
Natural

Vegan

Cruelty Free

Gluten Free
Potent, stabilized vitamins in this PM serum work synergistically to reduce lines and wrinkles, increase firmness and elasticity, brighten and even skin tone.
For Normal, Dry, Oily, Combination Skin Types

Potent, stabilized vitamins work synergistically to lessen appearance of fine lines and wrinkles, increase firmness and elasticity, and brighten and even skin tone. Niacinamide and Vitamin C are two anti-aging superstars but not usually formulated together because of their different pH levels. However, we formulated with Magnesium Ascorbyl Phosphate: the highest quality, most stable form of Vitamin C, which has a pH balance of 6 — the same as Niacinamide. This allows the two vitamins to work harmoniously to restore a youthful, glowing complexion.

Directions

For PM use. Shake before use. After cleansing and toning, gently pat a quarter sized amount of serum onto face (including eye area) and neck. Serums may be layered. Use SPF every morning. Avoid direct sunlight, store in a cool, dry, dark space.

Every ingredient we use is beneficial, here are a few:

Coenzyme Q10

Coenzyme Q10 deeply enhances collagen production.

Retinol

Retinol diminishes fine lines and wrinkles.

Niacinamide

Niacinamide tones and firms skin.

Vitamin E (Tocopherol)

Vitamin E restores and protects from free radical damage.

Vitamin C

Vitamin C brightens, boosts collagen and elastin production.

Complete list of ingredients:

Organic Rosa Centifolia (Rose) Water, 10% Magnesium Ascorbyl Phosphate (Vitamin C), 10% Niacinamide, 10% Vitamin E, 1% Retinol, Organic Rosa Canina (Rosehip) Oil, Lonicera Japonica (Honeysuckle) Flower Extract, Algin, Hyaluronic Acid, Organic Optunia Streptacantha (Nopal Cactus), Organic Hippophae Rhamnoides (Seabuckthorn) Oil, Solanum Lycopersicum (Tomato) Powder*, Spinacia Oleracea (Spinach) Powder*, Oleracea Italica (Broccoli) Powder*, Squalane, Ubiquinone (Coenzyme Q10), Citrus Paradisi (Grapefruit) Oil, Citrus Bergamia (Bergamot) Oil, Citrus Sinensis (Sweet Orange) Oil *Natural Source of Alpha Lipoic Acid (ALA)
Customer Reviews
one
products
skin
serum
bottle
face
lot
ingredients
bit
something
Worth it!
I've only been using this serum for a few days and I already notice a huge difference on my skin. My complexion is much more even and brighter. I will continue to purchase this product because my skin looks better than ever!
Glowing skin
I had a lot of acne scars from my bout of terrible acne before I went on Accutane. I've been using this every night to hopefully combat the redness and make the scars disappear. I wasn't sure if it was working until my boyfriend's sister said that my face was glowing! I didn't expect to receive such a compliment since I've had such terrible skin for so long. But she's right, my skin looks great now, thanks to 100% Pure!
Smells great!
Love this product, in fact I'm ordering it again :) I used this in my nightly routine. Only issue is that bottle did leak when I traveled with it. But that's not stopping me from ordering again.
Thank you
Ive used the serum for over a week and im loving it. I did received a replacement bottle since my 1st one came spilled . Thank you so much Loving this natural brand
Creamy
This serum is very rich, I think I may be a bit too oily naturally for it but my skin always feels deeply nourished by this. Definitely good for a night treatment.
Complete the Package
Continue Shopping →