Embracing the Green Tea Revolution: Your Ultimate Weapon Against Acne and Aging
Unveiling the myriad benefits of this powerful ingredient for radiant, youthful skin.
Posted on August 1, 2023
Written by: 100% PURE®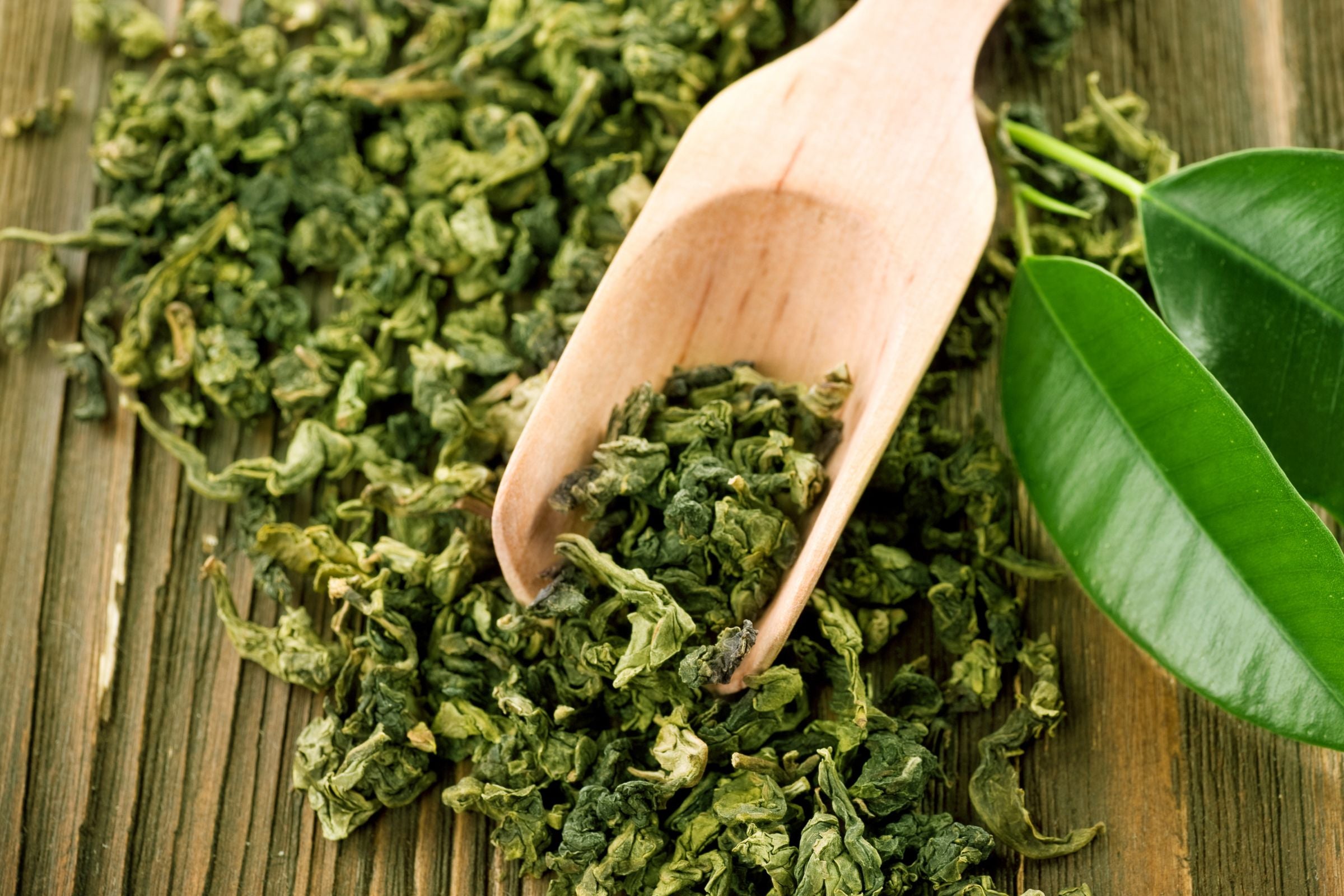 Green tea has become a popular natural ingredient, offering a plethora of benefits for your skin. In this blog, we will delve into how green tea combats acne, its anti-aging properties, its soothing effects, and its role in sun protection. Explore the world of green tea-infused skincare products and uncover the secrets to achieving a healthier, more radiant complexion. Get ready to elevate your skincare routine with the power of green tea!
The Magic of Green Tea
Let's take a trip back in time to the enchanting origins of the green tea plant! It all began in the ancient hills of East Asia, where the Camellia sinensis plant first took root. The exact details are a bit hazy, but historians believe that green tea has been cherished for over 5,000 years.
Legend has it that the discovery of tea was purely serendipitous. One fateful day, the leaves of a wild Camellia sinensis plant accidentally fell into Emperor Shen Nong's boiling water. Intrigued by the delightful aroma and flavor, he sipped the infusion and thus stumbled upon the wondrous world of green tea.
Over time, green tea became a cherished tradition in Chinese culture, finding its way into royal courts and spreading its magic across the land. Buddhist monks also played a significant role in the plant's journey, as they cultivated and shared the art of tea drinking throughout Asia.
But wait, there's more! Green tea isn't just a defender; it's a healer too. Its soothing powers calm inflammation like a gentle breeze, giving your skin that peaceful zen feeling. And guess what? It doesn't stop there! Green tea's essence works its magic in skin care products, turning them into pure enchantment. Cleansers purify like a refreshing mountain spring, toners bring balance like a cool breeze, and serums and creams nourish your skin like a warm hug from a friend.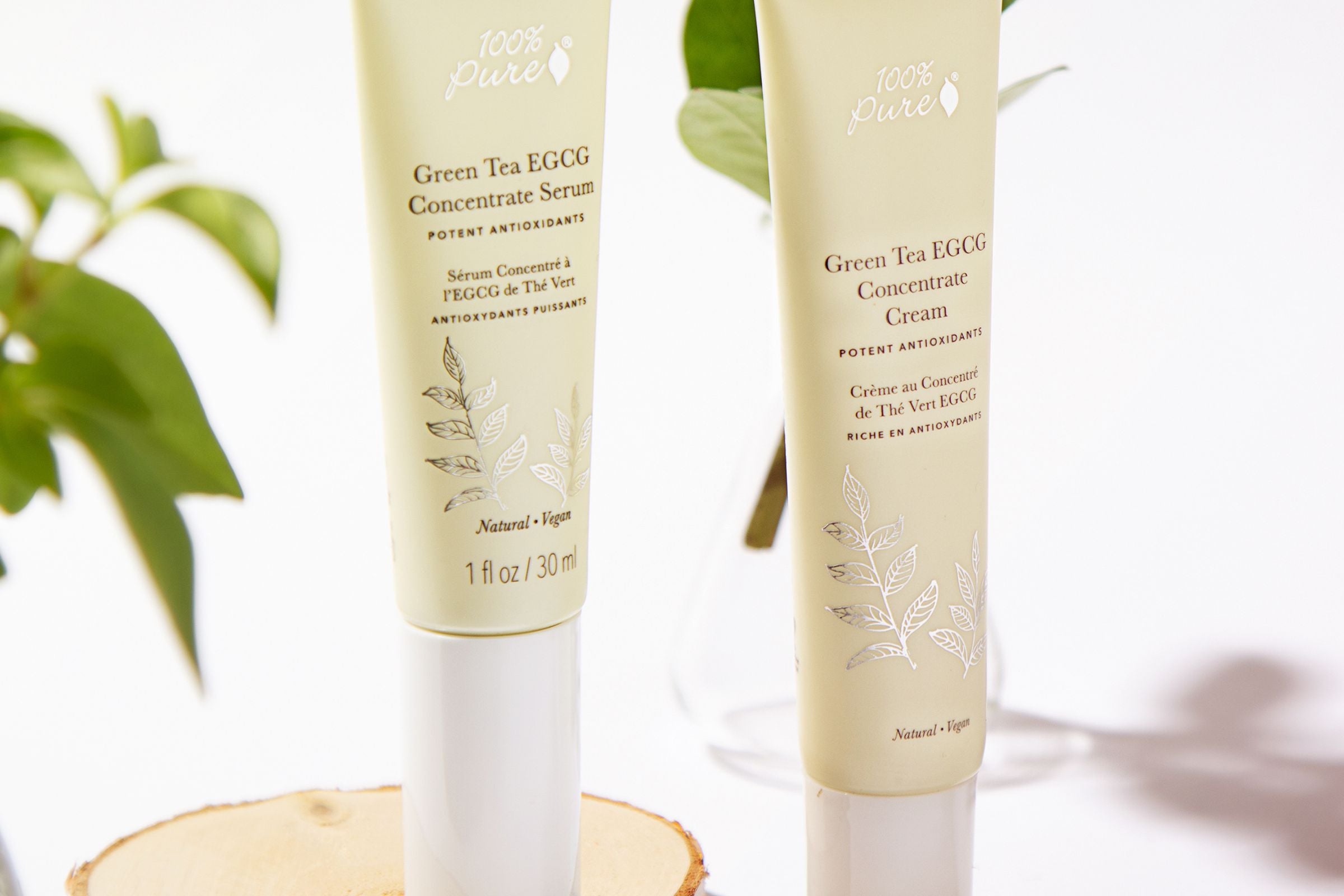 Green Tea and Its Antioxidant Properties
The antioxidant properties of green tea are primarily attributed to its polyphenols, particularly catechins, such as epigallocatechin gallate (EGCG). These polyphenols act as powerful free radical scavengers, neutralizing harmful molecules called reactive oxygen species (ROS) or free radicals that can damage cells and contribute to premature aging and various health issues.
In the context of skincare, the antioxidant benefits of green tea are highly valuable for maintaining and improving skin health. Here's how they contribute:
Neutralizing Free Radicals: Environmental factors like UV radiation, pollution, and stress can generate free radicals in the skin, leading to oxidative stress. Green tea's antioxidants counteract these free radicals, preventing oxidative damage and reducing the risk of premature aging, including fine lines, wrinkles, and age spots.
Anti-Inflammatory Effects: Green tea's antioxidant properties also possess anti-inflammatory effects. This can help soothe redness and irritation, making it suitable for sensitive or acne-prone skin. By reducing inflammation, it can aid in calming various skin conditions and promote a more even skin tone.
Promoting Collagen Production: Green tea may help stimulate collagen synthesis, a vital protein responsible for skin firmness and elasticity. This can lead to improved skin texture and resilience, making the skin appear plumper and younger.
Sun Damage Protection: While green tea cannot replace traditional sunscreen, some studies suggest that its antioxidants can offer a certain degree of protection against UV-induced damage. However, it is essential to combine green tea with proper sun protection for optimal results.
Hydration and Moisture Retention: The antioxidants in green tea can aid in maintaining the skin's natural barrier function, preventing moisture loss, and promoting skin hydration. This can be particularly beneficial for individuals with dry skin.
Skin Repair and Healing: Green tea's antioxidant properties may aid in the skin's natural repair processes. It can help speed up recovery from damage caused by environmental stressors, supporting overall skin health.
Green Tea for Acne Management
Acne is commonly caused by factors such as excess oil production, clogged pores, bacteria, and inflammation. Hormonal changes and genetics can also play a role in its development.
Green tea exhibits anti-inflammatory and antimicrobial properties. These antioxidants help to reduce inflammation, control sebum production, and combat bacteria on the skin, all of which are beneficial in managing acne.
Recommended Product: One effective solution is the Green Tea EGCG Concentrate Cream. This cream harnesses the power of green tea's EGCG to soothe inflammation, unclog pores, and promote healthier skin.
Newsletter
Subscribe
for more blog updates and exclusive discounts
Green Tea for Anti-Aging
Aging is a natural biological process characterized by a gradual decline in skin elasticity, collagen production, and increased appearance of fine lines, wrinkles, and age spots. External factors like UV exposure and pollution also contribute to premature aging.
Green tea contains EGCG, which helps combat free radicals that accelerate skin aging. EGCG promotes collagen synthesis and skin rejuvenation, leading to firmer, smoother, and more youthful-looking skin.
Recommended Product: Consider using the Green Tea EGCG Concentrate Serum. This potent serum harnesses green tea's antioxidants to minimize fine lines, restore elasticity, and improve overall skin texture, providing a rejuvenated and youthful appearance.
Green Tea for Skin Soothing
Skin irritation and inflammation can result from various factors, such as allergic reactions, exposure to environmental aggressors, or harsh skincare products. These conditions can cause redness, itchiness, and discomfort, leading to an imbalanced and sensitive complexion.
Green tea contains calming compounds like polyphenols and catechins that possess anti-inflammatory and antioxidant properties. When applied to the skin, these components can help reduce redness, soothe irritation, and restore the skin's natural barrier, promoting a more balanced and healthier complexion.
Recommended Product: Try the Green Tea Water Bomb Mask, a refreshing sheet mask infused with green tea extracts. This mask delivers instant hydration and calming benefits, making it ideal for soothing irritated skin and restoring its vitality.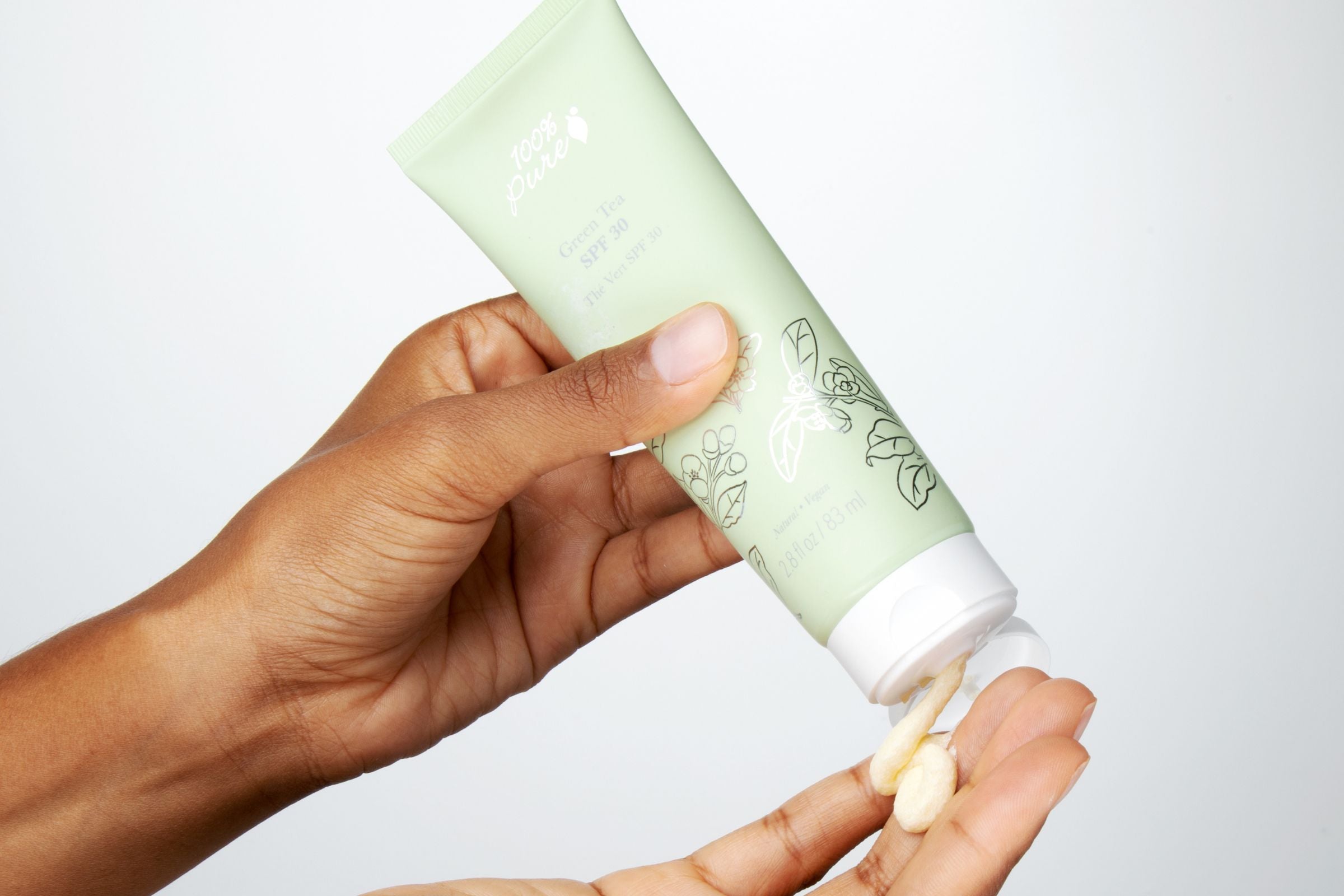 Green Tea for Sun Protection
Harmful ultraviolet (UV) rays from the sun, particularly UVA and UVB, can damage the skin by causing premature aging, sunburn, and an increased risk of skin cancer. UVA rays penetrate deeply into the skin, leading to long-term damage, while UVB rays cause immediate sunburn.
Green tea contains powerful antioxidants, including EGCG, that help neutralize free radicals generated by UV exposure. By mitigating oxidative stress, green tea aids in reducing sun-induced skin damage, inflammation, and photoaging.
Recommended Product: Consider using Green Tea SPF 30 sunscreen, a protective and nourishing product that combines the benefits of green tea extracts with effective sun-blocking agents. This sunscreen offers broad-spectrum protection while keeping the skin hydrated and shielded from harmful sun rays.
Frequently Asked Questions (FAQs)
Can green tea be used daily?
Yes, green tea is safe and beneficial for daily use in skincare products. Its antioxidant properties can help protect the skin from free radicals, reducing premature aging and promoting a healthy complexion. Regular application can enhance skin hydration, soothe inflammation, and improve overall skin health.
Are there any side effects of using green tea in skincare?
Green tea is generally considered safe for use in skincare and is unlikely to cause significant side effects. However, individuals with hypersensitivity to green tea or certain components in skincare products should perform a patch test before widespread application.
Can green tea help with other skin conditions?
Yes, green tea's anti-inflammatory and antimicrobial properties can aid in managing various skin conditions. It may help reduce acne and blemishes, soothe redness in rosacea-prone skin, and alleviate symptoms of conditions like eczema and psoriasis.
How soon will I see results from using green tea products?
The results of using green tea products in skincare can vary from person to person. In many cases, individuals may start to notice significant improvements after approximately two weeks of consistent use. For optimal results, continue using the products as part of a regular skincare routine.
Conclusion
In conclusion, green tea proves to be a true skincare powerhouse, offering a wide range of benefits for various skin concerns. Its natural antioxidants, especially EGCG, work wonders in combating acne by reducing inflammation and controlling sebum production. For those looking to defy the signs of aging, green tea's ability to stimulate collagen production and combat free radicals makes it an excellent anti-aging ally. Embrace green tea-infused products and unlock the potential of this potent ingredient for healthier and more radiant skin. Don't miss out on this incredible skincare ally - explore green tea today!
We carefully hand-select products based on strict purity standards, and only recommend products we feel meet this criteria. 100% PURE™ may earn a small commission for products purchased through affiliate links.
The information in this article is for educational use, and not intended to substitute professional medical advice, diagnosis, or treatment and should not be used as such.
Sign up to our email newsletter for more blog updates and exclusive discounts.
< Older Post | Newer Post >