Shower Gel vs Body Wash - What's the Real Difference?
Decoding Your Bathing Essentials: The Nuances of Shower Gel and Body Wash
Posted on August 2, 2023
Written by: 100% PURE®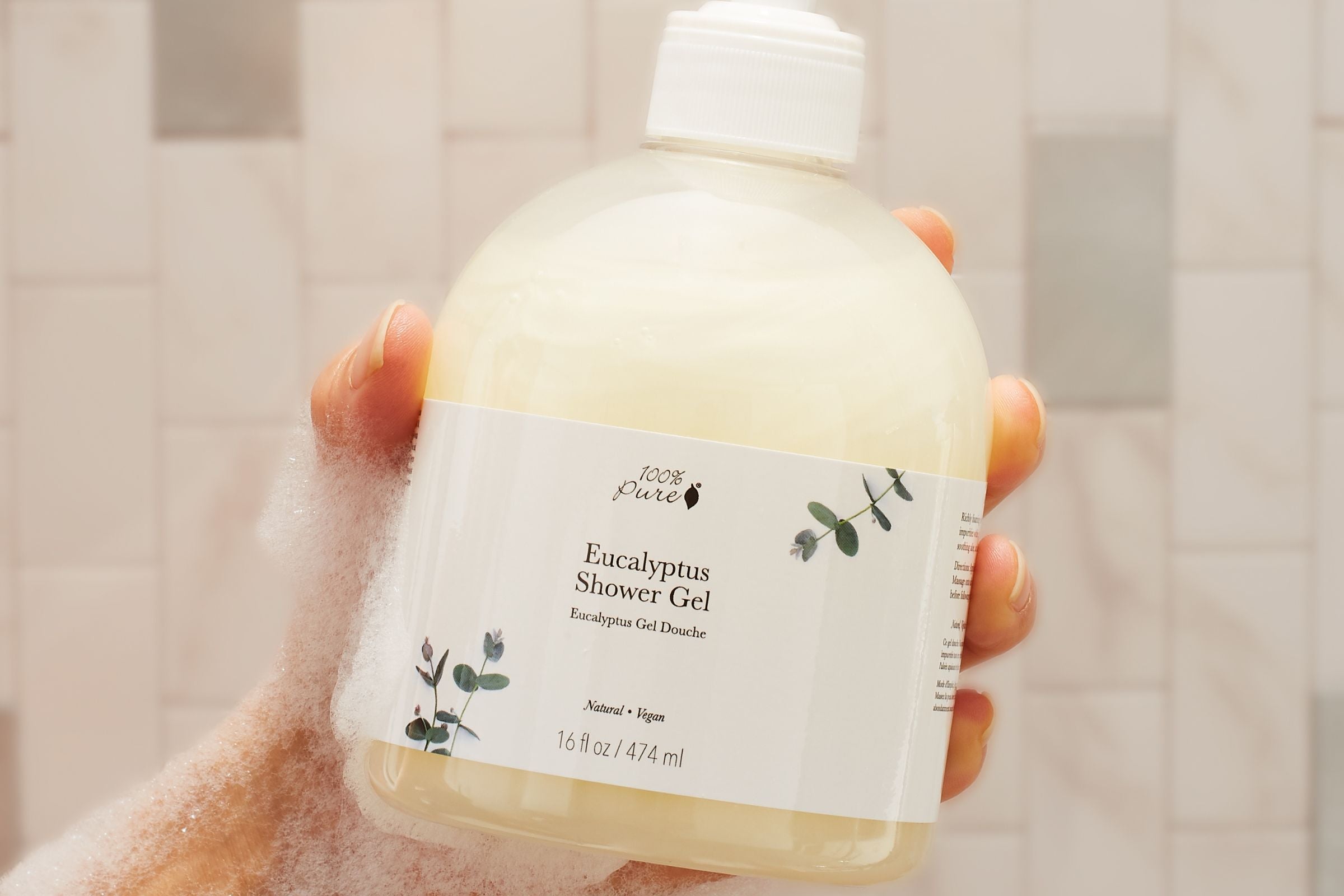 With a plethora of personal hygiene products available in today's market, it can be challenging to understand the specificities of each one.
Shower gels and body washes, two similar yet distinct products, often raise such confusion. The need to understand the difference between these two products stems from the fact that our skin's health largely depends on the type of products we use. This blog post will delve deep into the details, defining both products, highlighting their differences, and guiding you to make an informed decision.
What Is Shower Gel?
Shower gel, often confused with body wash, is a viscous liquid designed to clean the body. Introduced in the late 20th century as an alternative to traditional bar soaps, shower gels quickly became a go-to for many due to their convenient and hygienic use.
Shower gels possess a thick, gel-like consistency that comes from a combination of water, surfactants, and a variety of other ingredients. Such additional ingredients can include humectants, which help retain moisture, to preservatives that increase shelf life. Many shower gels also incorporate natural extracts or essential oils for additional skin benefits.
Using a shower gel typically involves applying a product to a loofah, sponge, or directly onto the skin and lathering with water. The generated foam is then used to cleanse the body before being rinsed off.
In terms of skin stability, shower gels can be designed for all skin types, from dry to oily to sensitive, depending on their specific formulation.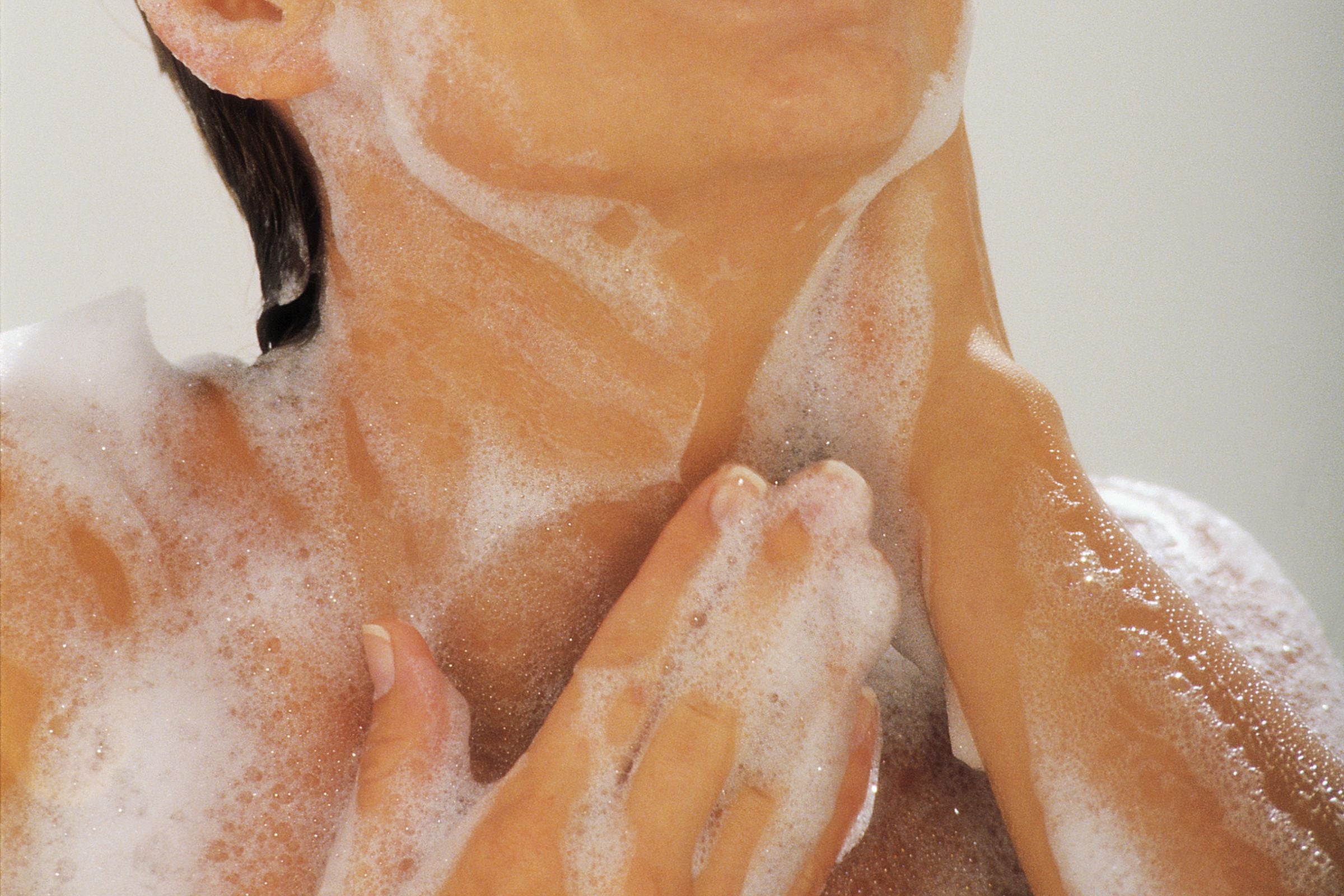 What Is Body Wash?
On the other hand, body wash is a broad term for liquid cleansers designed for body use during showers or baths. While body wash is often used interchangeably with shower gel, it has a slightly different formulation.
Typically, body wash has a creamy, lotion-like texture due to a higher concentration of moisturizers. The main components include water, detergents, and emollients, which help replenish the skin's natural oils.
The use of body wash is similar to that of shower gel – applied to a washcloth, sponge, or directly into the skin and worked into a lather before rinsing.
While body washes offer numerous benefits, such as diverse fragrances and formulations targeting specific skin concerns, they can sometimes have some downsides, depending on the formula. For instance, some body washes may contain more chemicals than traditional soaps, which can irritate sensitive skin.
Shower Gel vs Body Wash: The Key Differences
At first glance, shower gels and body washes might appear identical, since both are liquid cleansers for the body. However, let's delve a bit deeper into their properties and characteristics, and you'll notice several key differences.
Formulation and Consistency
The most significant difference between these two products lies in their formulation, which directly impacts their consistency. Shower gels are usually formulated to have a lightweight, gel-like consistency, resembling that of dish soap or shampoo. They generally contain a high concentration of surfactants, which are compounds that reduce surface tension between two liquids, aiding in the product's lathering and cleaning capabilities. This formulation gives shower gels a lighter, more refreshing feel on the skin, often making them a popular choice for warmer climates or oilier skin types.
On the other hand, body washes are usually creamier and more lotion-like in texture. This comes from the higher content of emollients and moisturizers in their formulation. Emollients are ingredients that help to smooth and soften the skin by filling in tiny crevices on the skin's surface. This gives body washes a richer, more nourishing feel, which can be beneficial for those living in colder climates or with dry skin.
Scent Variety
As for the scent, both shower gels and body washes come in a wide range of fragrances, from subtle and soothing to vibrant and energizing. This is largely a matter of personal preference and does not significantly contribute to the functional difference between the two products. However, it's worth noting that due to their richer formulation, body washes may carry a scent slightly longer post-shower compared to shower gels.
Ingredients and Skin Benefits
When it comes to ingredients and skin benefits, body washes often contain a higher concentration of moisturizing ingredients, such as oils and humectants, to combat skin dryness. These products can often double as a moisturizer, leaving the skin soft and hydrated after rinsing.
On the other hand, shower gels, with their gel-like formulation, often include ingredients to address other skin concerns. For instance, they may contain exfoliating agents, antibacterial properties, or components aimed at balancing oil production, making them a versatile option for various skin needs.
Newsletter
Subscribe
for more blog updates and exclusive discounts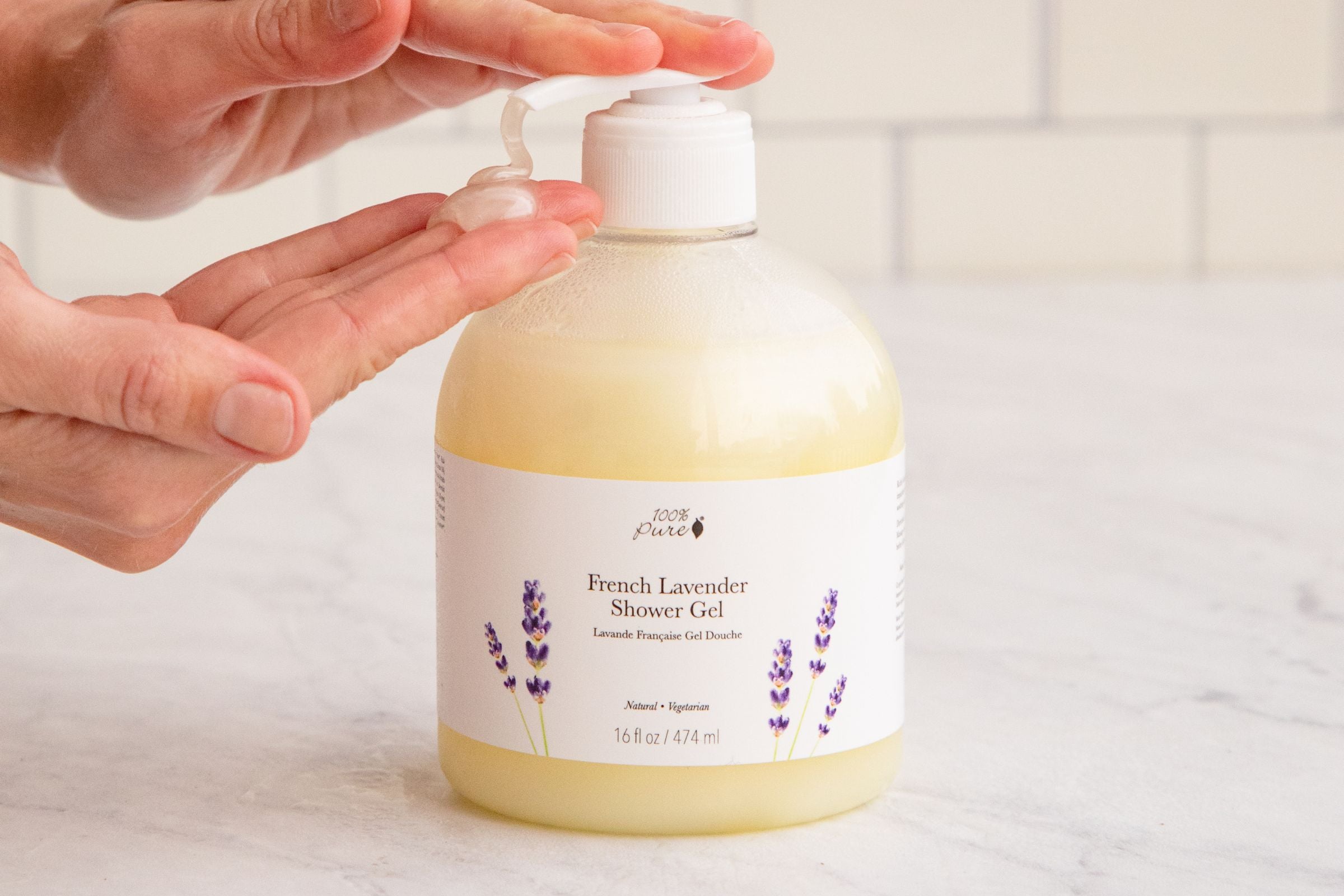 Top 100% PURE Shower Gels for Different Skin Types
Selecting the best product for your skin type can be daunting – that's why we're here to help!
Here are our favorite shower gels for each skin type.
For Dry Skin: Honey Almond Shower Gel
With its potent combination of natural honey and almond extracts, this shower gel is an excellent choice for those with dry skin. It effectively cleanses while providing ample hydration, all with a scent that's nutty and deliciously warm.
For Oily or Acne-Prone Skin: Eucalyptus Shower Gel
Ideal for oily or acne-prone skin, this shower gel harnesses the power of eucalyptus, known for its antiseptic properties, to cleanse and purify without stripping the skin of essential moisture.
For Sensitive Skin: French Lavender Shower Gel
If you have sensitive skin, consider our French Lavender Shower Gel. It's enriched with calming lavender, which soothes the skin while providing a relaxing aromatic experience.
For Normal Skin: Mangosteen Shower Gel
For normal skin, the Mangosteen Shower Gel is a great choice. This shower gel not only cleanses but also invigorates the senses with a fresh, fruity scent.
For Extremely Dry/Damaged Skin: Sweet Almond Gentle Shower Oil
Those with extremely dry, cracked skin might consider a shower oil like the Sweet Almond Gentle Shower Oil. This product provides extra hydration and leaves the skin feeling soft and smooth.
Frequently Asked Questions
What should I use: a shower gel or a body wash?
Your choice between shower gel and body wash should depend on your skin type and personal preference. If you have dry skin, a shower gel might offer more moisturizing benefits. For a more luxurious lather and potent fragrance, you might prefer a body wash.
Can shower gel and body wash be used interchangeably?
Yes, shower gels and body washes can be used interchangeably as they both serve to cleanse your skin. However, you might want to consider the different benefits and drawbacks each offer, particularly in terms of moisturizing and lathering benefits.
What impact does the fragrance in these products have on my skin?
Fragrances in shower gels and body washes can enhance your bathing experience. However, they can also irritate people with sensitive skin or allergies. Look for options with natural fragrance, or even fragrance-free products if you're concerned about experiencing irritation.
How do I choose the best product according to my skin type?
When it comes to choosing the best product for your skin type, consider your personal skin needs. If your skin is dry, look for a moisturizing shower gel, or even a shower oil. For oily or acne-prone skin, choose a product free from potential irritants like synthetic fragrances and dyes.
Conclusion
While shower gel and body wash might appear identical, they offer different benefits based on their unique formulations.
It's crucial to choose a product that aligns with your skin type and personal needs, rather than relying solely on marketing promises. Remember: the ultimate goal is to maintain a healthy skin barrier, so listen to your skin and choose a product that caters best to its needs.
We carefully hand-select products based on strict purity standards, and only recommend products we feel meet this criteria. 100% PURE™ may earn a small commission for products purchased through affiliate links.
The information in this article is for educational use, and not intended to substitute professional medical advice, diagnosis, or treatment and should not be used as such.
Sign up to our email newsletter for more blog updates and exclusive discounts.
< Older Post | Newer Post >