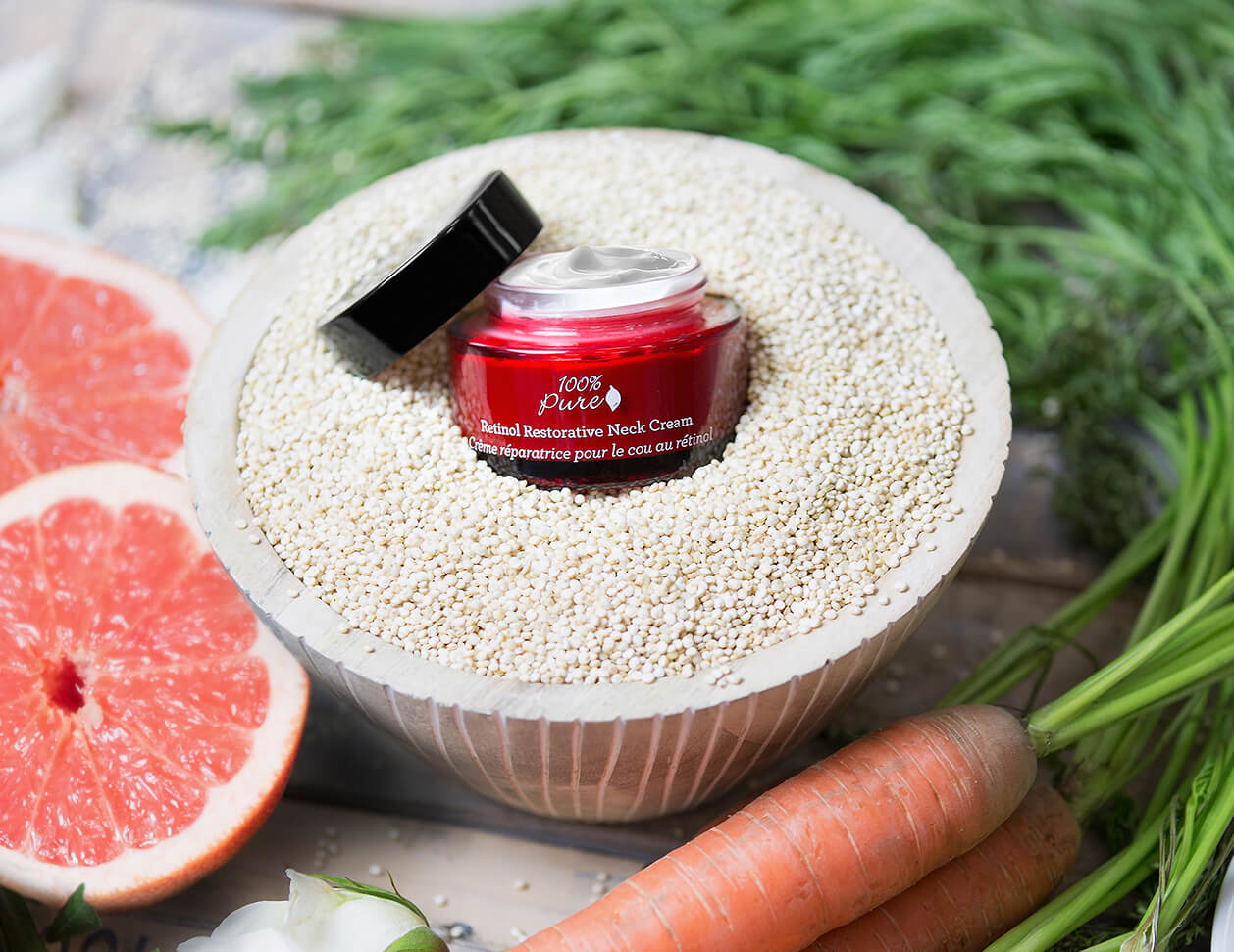 ---
Below the Chin: Why Your Neck and Décolletage Need Love, Too!
If you thought facial care stopped at your chin, then, erm, look down. Your neck and chest are some of the most sensitive areas on your body - which means they deserve a little extra TLC. Chances are, though, you probably haven't given them a second thought since the last time you rocked a LBD for date night or took a super-flattering selfie.
Here are five reasons to show your delicate décolletage some love - and the perfect ways to work your ladies into your skincare routine:
---
1. Sensitive Skin Needs a Cleanser, Too
If you thought facial care stopped at your chin, then, erm, look down. The sensitive skin right above your breasts may have fewer oil glands than your T-Zone, but that doesn't mean it cleans itself. "Always bathe with an amino acid-rich body wash to reduce inflammation and remove any toxins from your skin," writes Megan Cahn at Elle.
She suggests using a gentle cleanser with seaweed extract, which can help you to detox and remove impurities. Germs be gone!
From our catalog: Try our Eucalyptus Seafoam Facial Cleanser for sensitive skin. With a detoxifying blend of seaweeds, invigorating mint essential oils, skin-softening rosehip oil, this rich foam cleanser washes away makeup and other impurities.
---
2. Exfoliate for Healthier Skin
After a long day hoofing it to meetings or the gym, we don't think twice about picking up our loofa in the shower. But, says dermatologist Patricia Wexler, you should pay special attention to exfoliating your neck and chest in order to encourage cell turnover.
"Extend your daily exfoliant, whether it's with a cleansing brush or a glycolic acid, all the way down to the top of your chest," Wexler told Allure.
"Sloughing away the dead-skin layer allows active ingredients to absorb faster."
Active ingredients that work best for this sensitive area include retinol and plant extracts like rosehip oil, which help to lighten and firm skin. By exfoliating away dead skin, you can bask in the powerful antioxidant nutrients from your fave neck cream - because they'll be that much more effective. And if you haven't started exfoliating regularly - we'd like to make the case that you start, like, yesterday to reap major benefits.
"Dry brushing is very good for you as it stimulates the lymphatic system, increases circulation, and removes dead skin cells," beauty expert Cornelia Zicu told Into the Gloss.
"I recommend and prefer using a scrub once per week. A salt scrub is an excellent choice for exfoliation if you have skin issue that may need healing, as the properties in salt are detoxifying and are a natural and healthy way to heal injury to the skin," she added.
Once you've exfoliated, pat your body dry with a towel (toweling off can irritate newly sensitive skin), and consider adding a rich moisturizer or even a body oil for super-soft skin.
From our catalog: Looking for a strong treatment to soften exfoliated skin? Try our Vitamin A & Coq 10 Wrinkle Smoothing Night Cream. Moisturizing organic rosehip oil, the highest concentration of Vitamin A (retinyl), Vitamin C, Alpha Lipoic Acid, and Coenzyme Q10 work together to dramatically lessen the appearance of wrinkles, brighten age spots, and increase firmness. Apply only at night.
---
3. Sorry, boys. V-Necks = Sun Damage
Beach bunnies, beware. If you're not using extra-strong sunscreen on this oh-so-sensitive area, you could be in for serious wrinkles down the line.
"Your skin is exposed to a variety of environmental attackers on a daily basis, but UVA/UVB radiation from the sun is the biggest contributor to free radical damage," explains skin care expert Anita Sturnham to Prevention.
This adds up to major damage, and it could even lead to "brown spots, mottled pigmentation, broken capillaries, lines, and possibly skin cancer—especially if you are wearing v-necks or button down shirts that are exposing the skin to sun," warns dermatologist Jennifer Chwalek at Stylecaster. That's right - your mom and your dermatologist were super serious about slathering on that SPF every day!
If the damage is already done, it's possible to start the healing process by using a product with peptides, a kind of amino acid that can help you restore vitality to your skin.
"One of my favorite ingredients for treating damage below the jawline is tetrapeptides," suggests Patricia Wexler at Allure.
"There's plenty of science to show they help make new collagen and elastic tissue, which is what the neck and chest need to look firmer and younger."
While treatments like this can certainly help minimize sun damage, it's better to avoid damage in the first place. So lather up, ladies!
---
4. More Moisture, Please
Because the delicate skin on your skin and neck has fewer sebaceous glands than other areas of your body, it needs a little bit of help when it comes to moisturizing.
"The lack of oil glands on your neck can cause dryness, which may accelerate the aging process and make your neck appear more weathered," dermatologist Fredric Brandt explained to Real Simple.
The solution? A nutrient-rich moisturizer that's a little bit heavier than your normal, day-to-day stuff.
Fair warning: these thick creams will be hard to apply when cold, says Elle beauty writer Megan Cahn, "so it is important to warm the product in between your fingertips before application."
"Once it is ready to be absorbed, apply it in fluid, upward strokes from your chest toward the chin, jawline, and back of the ears," Cahn writes.
"This is a European massage technique that will sooth the skin and encourage lifting."
A massage and perfect décolletage? Yes, please.
From our catalog: Try our Intensive Healing Moisture Balm to restore softness and elasticity to your neck. Made with healing avocado, shea, and almond butters, the anti-aging vitamins and antioxidants in this ultra-rich moisturizer will protect and repair skin.
---
5. Skin Ages Here First
You might be able to lie convincingly enough about your age, but the skin on your neck and chest will almost always give you away. (Thanks for nothing, collarbones!) That's because the skin in this area loses collagen first, which means it's more prone to wrinkles as you get older.
"The loss of collagen leads to sagging and visible horizontal rings around the neck, crepey texture, and creases in the décolleté area, along with visible discoloration of the skin," skincare expert Liev Declerq told Cosmopolitan UK.
But don't give up on that plunging neckline just yet. If you use antioxidant treatments like retinol, says skincare expert Anita Sturnham, you can generate younger-looking skin.
"[Retinol] helps unclog pores, boost collagen, reduce fine lines and wrinkles, speed up cell turnover, and reduce uneven pigmentation," Sturnham told Prevention.
Just don't go overboard, cautions dermatologist Fredric Brandt. "Neck creams tend to have gentler active ingredients and be slightly richer than face creams," Brandt told Real Simple.
Remember: the skin on your upper chest is super sensitive - so it needs a lighter touch and a heavier moisturizer to stay soft, supple, and young.
We carefully hand-select products based on strict purity standards, and only recommend products we feel meet this criteria. 100% PURE™ may earn a small commission for products purchased through affiliate links.
The information in this article is for educational use, and not intended to substitute professional medical advice, diagnosis, or treatment and should not be used as such.
Sign up to our email newsletter for more blog updates and exclusive discounts.
< Older Post | Newer Post >