6 Storage Ideas for Your Makeup Blender
These economical (and Earth-friendly) storage tips can help extend the life of your precious makeup blender
Posted on April 16, 2019
Written by: 100% PURE®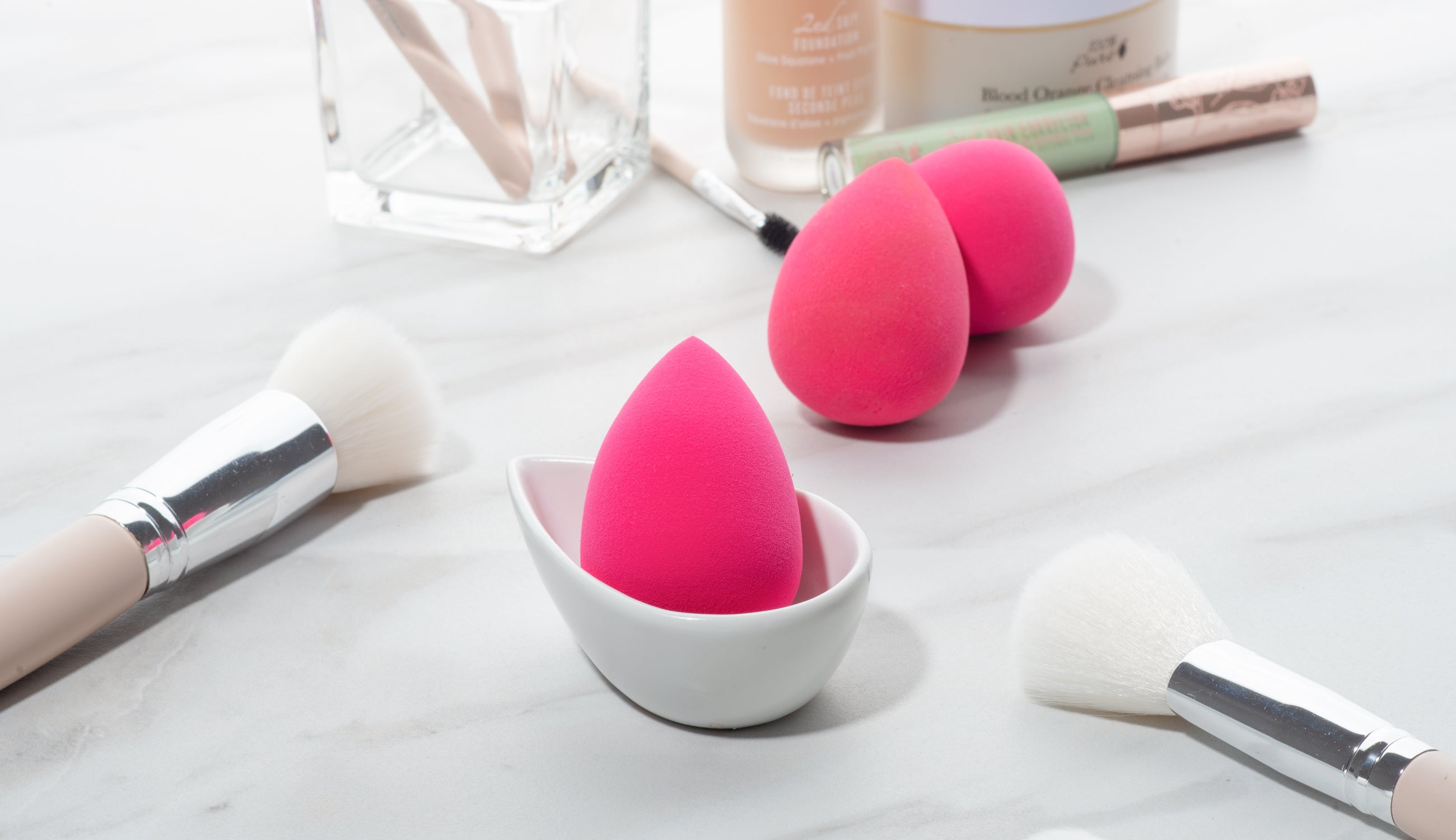 Makeup blenders are a key staple in any beauty routine and it's hard (and scary) to think back to a time before these little foam beauties graced our lives. They allow us to look like flawless lit-from-within goddesses – but in return, we need to make sure they stay safe and clean to work properly.
Essentially, makeup blenders (also called beauty sponges) are the perfect foundation and concealer application tool, thanks to their slightly porous texture. The material is designed to pick up product and redistribute it in a way that recreates the look and feel of natural skin texture. The trick is to use a 'stippling' motion (as opposed to a rubbing motion), effectively dabbing tiny micro-dots of makeup onto areas of your face that need coverage. This literally creates an airbrushed look, depositing not too much makeup for more coverage with less product
Makeup blenders are super versatile and functional. These multi-purpose beauty sponges can cover you for a concealer fix, working to remove excess makeup when you've overdone it. They can also function as the perfect serum applicator, and even come in clutch for finicky eye shadow looks.
With that said: these little foam tools are the next best invention since sliced bread, but only if you're using them properly.
Keeping Makeup Blenders Clean
The issue with makeup blenders comes down to their storage. If they're not stored properly, they become microbe breeding grounds, producing perfect conditions for the growth of acne causing bacteria – which you then dab onto your face when you apply makeup with your blender.
To avoid skin irritation and inflammation, it's essential that you don't just store your makeup blender on the counter, in your makeup bag, or tossed loose into the medicine cabinet. Poor storage of your makeup applicators often results in a type of acne known as acne cosmetica: often, this bacteria takes the form of small pustules and papules in areas you're applying most of your foundation, and can leave you in a vicious cycle where your blemishes cause you to apply more makeup (which then means more contamination from your bacteria filled applicators). The takeaway? Proper storage is key (and you can get creative with it!).
6 Storage Ideas for Your Makeup Blender
With these bacterial blunders in mind, here we've rounded up 6 economical (and earth-friendly) storage ideas for your makeup blender: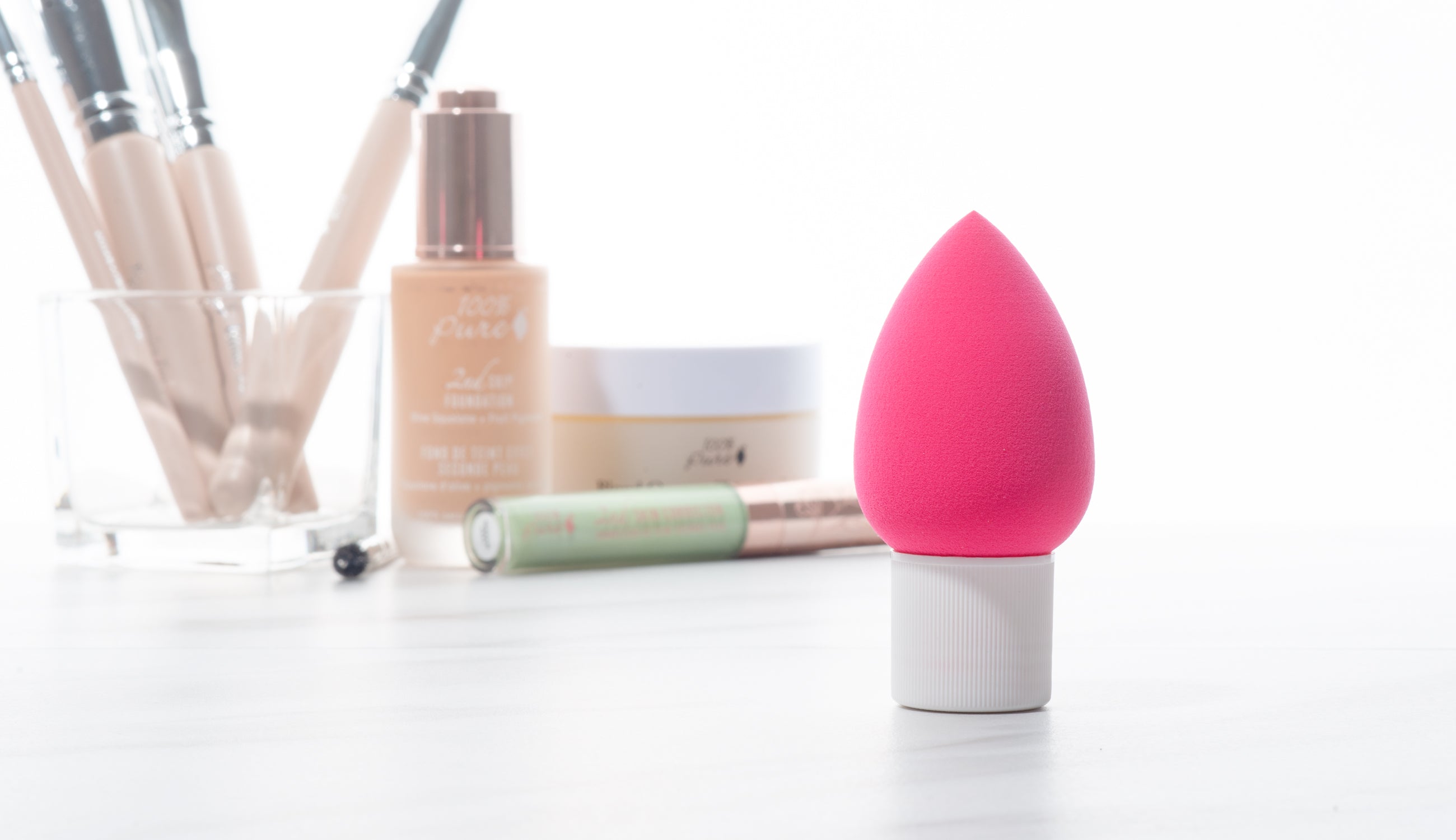 Reuse old household items

Recycle old household items to store and air-dry your blender when it's not in use. Keeping it sealed in an airtight container invites moisture and mold to flourish – and bacteria, too. Toothpaste and foundation bottle caps work well for air-drying, as do (surprise!) the containers that most beauty blenders are sold in. The idea is to avoid cross-contamination, keeping your beauty blender out of contact with other surfaces.

Give it a blast with a hair dryer

Never store your beauty blender wet (see above). Doing so will increase the chances of bacterial growth, which will then leave you with blemishes and comedones. What this means: if you don't have the option of properly air drying your blender, give it a blast with your hair dryer before taking it on the go.

Find a cute egg cup

An egg cup can be an absolutely perfect (and decorative) way to display your prized makeup application accessory. Find an antique one with a sweet floral pattern for a cute and functional makeup table hack. Marble ones are also great and long-lasting, or a rustic carved-wood one (the world of egg cups is vast).

Use a drain-friendly soap dish

Find a soap dish with holes in it! The trick is to find a surface with maximum airflow and minimal contact – plenty of soap dishes have 'slats' or 'holes' for water to drain through. This is perfect for those of you who keep your makeup stored on the counter in the bathroom.

Opt for mesh

If you need to bring your blender on the go, opt for a mesh bag (after you've made sure that your blender is completely dry). Storing anything with even micro amounts of moisture in a sealed plastic bag will potentially cause mold and encourage bacterial growth. Air flow is good (and mesh is more eco-friendly than plastic).

Store glam

Find a piece of far-out costume jewelry that you might not want to rock on your digits, and repurpose it as a super retro-glam makeup brush stand. Or find something sleeker (think a cheap silver thumb ring). Hit pause on your spring cleaning before you donate this sort of thing!
With these hacks, you'll be battling fewer cosmetic induced comedones, and might just have a super cute new storage set-up on your vanity as an added bonus. Keep us with us here for more eco-friendly beauty guides and lifestyle hacks!
We carefully hand-select products based on strict purity standards, and only recommend products we feel meet this criteria. 100% PURE™ may earn a small commission for products purchased through affiliate links.
The information in this article is for educational use, and not intended to substitute professional medical advice, diagnosis, or treatment and should not be used as such.
Sign up to our email newsletter for more blog updates and exclusive discounts.
< Older Post | Newer Post >