Vitamin C Serum for Sensitive Skin: Gentle Care for Delicate Beauty
Harness the Power of Vitamin C!
Posted on June 19, 2023
Written by: 100% PURE®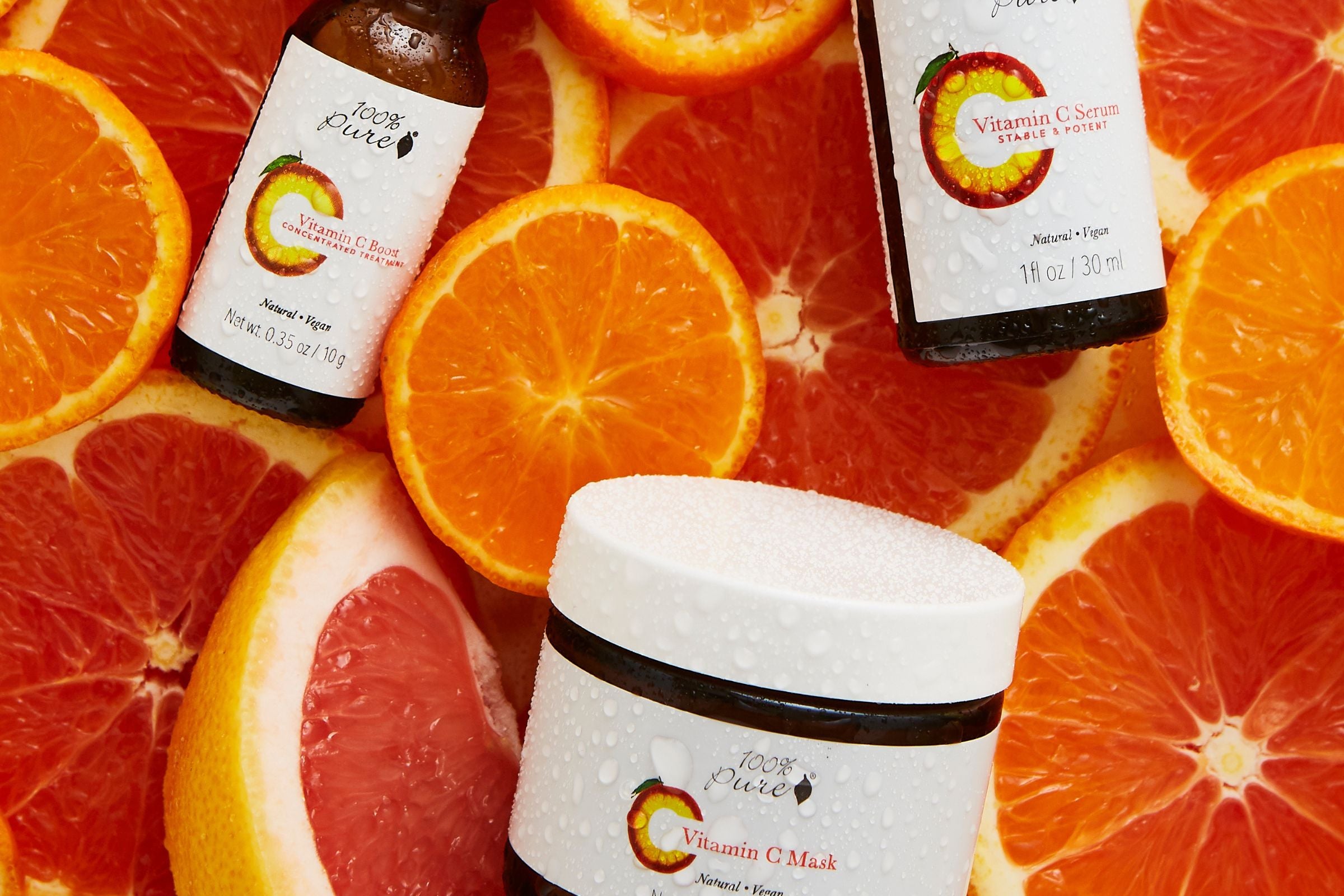 When you've got sensitive skin, shopping for skincare can feel a bit like walking through a minefield. Any vast number of ingredients can ignite an explosion of burning, redness, and inflamed skin. With its reputation as a very potent antioxidant meant for certain skin types, wouldn't vitamin C just be another skin hazard for sensitive skin? Nope - thanks to the pH scale!
Luckily, there are different forms of vitamin C that are higher on the pH scale that have the skin-efit of being less irritating than their more acidic – or lower pH – counterparts. Let's take a closer look at vitamin C and uncover which derivatives are compatible with sensitive skin – plus the best products to keep your complexion happy and healthy.
The Mystery of Vitamin C: Demystified
You may have heard vitamin C as being touted as a unique anti-aging, skin multi-tasking miracle, while on the other side of the peel it being vilified as a skin misfortune. The juicy drama around this citrus superstar boils down to a few seeds of truth; skin type, vitamin C type, and proper usage. If you can tick those boxes with answers, then your skin will reap all its skin fortunes.
The perhaps sour truth is most people know the importance of vitamin C, but they don't know how it really works for skin or how it could backfire like that minefield depending on your skin type. So, let's peel away at the drama and clear up some of that vitamin C-onfusion!
There are free radicals in our everyday environment from UV rays to environmental factors that continuously bombard our bodies and cause oxidative stress and damage to our skin. Vitamin C's excellent antioxidant properties help prevent cellular damage caused by oxidants. This potent vitamin acts as a skin 'shield' that can block and neutralize free radicals and, thus, hinder skin damage.
Vitamin C's antioxidant powers encourage collagen production for firmer skin, and it increases cell turnover, which means brighter skin and a more even skin tone. It also protects against UV assailants, and can even scavenge free radicals to prevent the onset of fine lines and wrinkles. This anti-aging all-star can reduce hyperpigmentation, helping to keep your skin spot-free.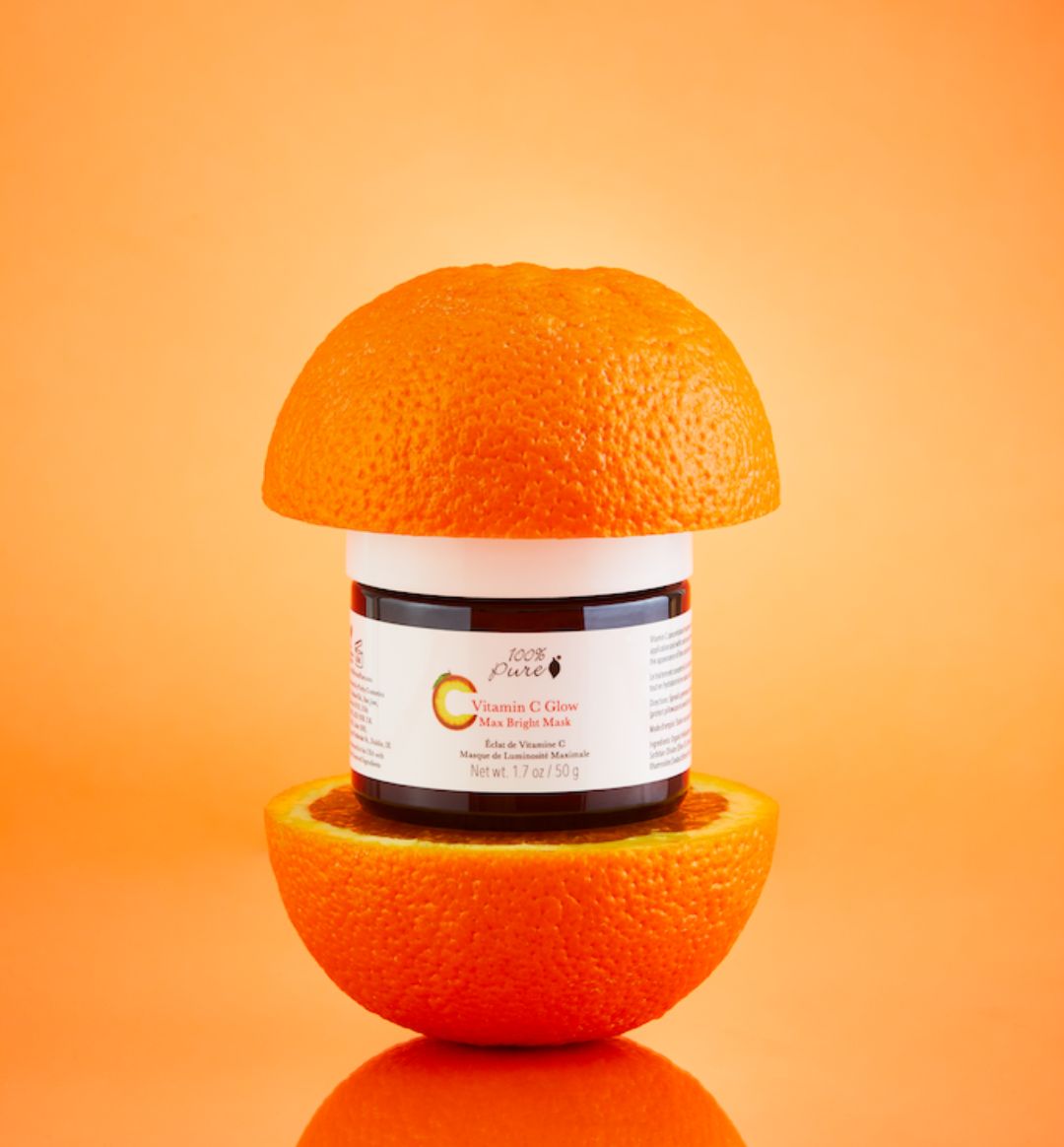 Sensitive Skin: Understanding Your Unique Needs
Of all the skin types, sensitive skin warriors experience complexion tantrums they must try to overcome. It's no fault of their own that this skin type goes through the wax and wane of a skincare conundrum. Just as the unique status that vitamin C holds for its broad spectrum of skin benefits, those with sensitive skin understand their skin type has unique needs and characteristics, too.
If your skin frequently reacts to different products, that could be a big indicator that you have sensitive skin. For example, your senses may be saying yes to that exfoliating cocoa bean cleanser that takes you to a tropical paradise, but your skin could be saying it's a stay-cation for me. If you have sensitive skin, you probably notice that exfoliants, fragrances, detergents, and dyes cause your skin to react, especially if they are not natural ingredients.
You may notice that many products can cause itchiness, dryness, or redness. This can also take the form of red bumps, blushing and flushing, or red dilated blood vessels. For example, if you grab the first moisturizer off the shelf, your skin may suddenly feel irritated, itchy, tingly, or start burning. Some sensitive skin types also experience dry patches and tightness of the skin. Another indicator of skin sensitivities is if redness appears shortly after applying gentle pressure to the skin.
Sensitive skin can be triggered by environmental factors. For instance, stepping outside can seem like a minefield when you have skin sensitivity. Varying elements such as heat, cold, and wind can aggravate your skin. In addition, cold weather or excessive dry heat can leave skin parched and prone to skin woes. These less-than-desirable concerns are all the reason for gentle, yet effective skincare products.
Why Vitamin C Serum is the Answer for Sensitive Skin
First things first: not all vitamin C's are created equal. The key to this citrus skin gem doesn't come down to the product – it's the particular form of vitamin C that's being applied. Let's check out why some vitamin C types work better in certain formulations - like a natural serum - for sensitive skin. Don't worry – we'll make it as easy as 1, 2, C!
Our Vitamin C Serum contains a concentrated, stabilized, and easily absorbable form of plant-derived vitamin C called magnesium ascorbyl phosphate. This more stable, higher-quality form of vitamin C is water-soluble, which makes it great for sinking into the skin easily. It's one of the most hydrating in its class, and can effectively soothe sensitive skin with its anti-inflammatory properties.
As a matter of fact, our vitamin C collection boosts the potential for better collagen production and potent antioxidant defense. When you build the best natural skincare routine around effective, natural vitamin C products, you can better ensure you're getting the absolute best from this skin superhero and keeping skin sensitivities at bay.
Ready for your nighttime backup to our vitamin C serum? Our Multi-Vitamin + Antioxidants PM Serum works with the same potent yet stable base as our signature C serum. This anti-aging superstar uses 10% Magnesium Ascorbyl Phosphate (vitamin C), and niacinamide to help minimize dark spots and encourage a healthy glow.
Our Vitamin C Boost is an ultra-concentrated treatment with just two ingredients: vitamin C and hyaluronic acid. In this blend, you'll find Sodium Ascorbate, Ascorbic Acid, and Calcium Ascorbate for a triple punch of our favorite vitamin. It's buffered by hyaluronic acid to deliver a silky, hydrating texture and is perfect for dark spots or overall brightness.
If you find your skin parched from the summer dry heat, try our revitalizing Vitamin C Mask, which works at the cellular level, to address skin healing and moisture depletion for more supple skin. This customizable mask can be as thick and concentrated or as thin and gentle as you want it, making it especially suitable for sensitive skin.
Our 18.3% Active Ingredients Vitamin C Glow Max Bright Mask will turn a dull complexion into a refreshed, luminous, and hydrated glow with this enriching vitamin C concentrated treatment that will leave your skin utterly radiant. Featuring age-correcting Bakuchiol, CoQ10, and vitamin E, this mask will brighten, boost collagen, increase elasticity, and firmness, and lessen skin sensitivities, all while deeply moisturizing and softening skin.
Newsletter
Subscribe
for more blog updates and exclusive discounts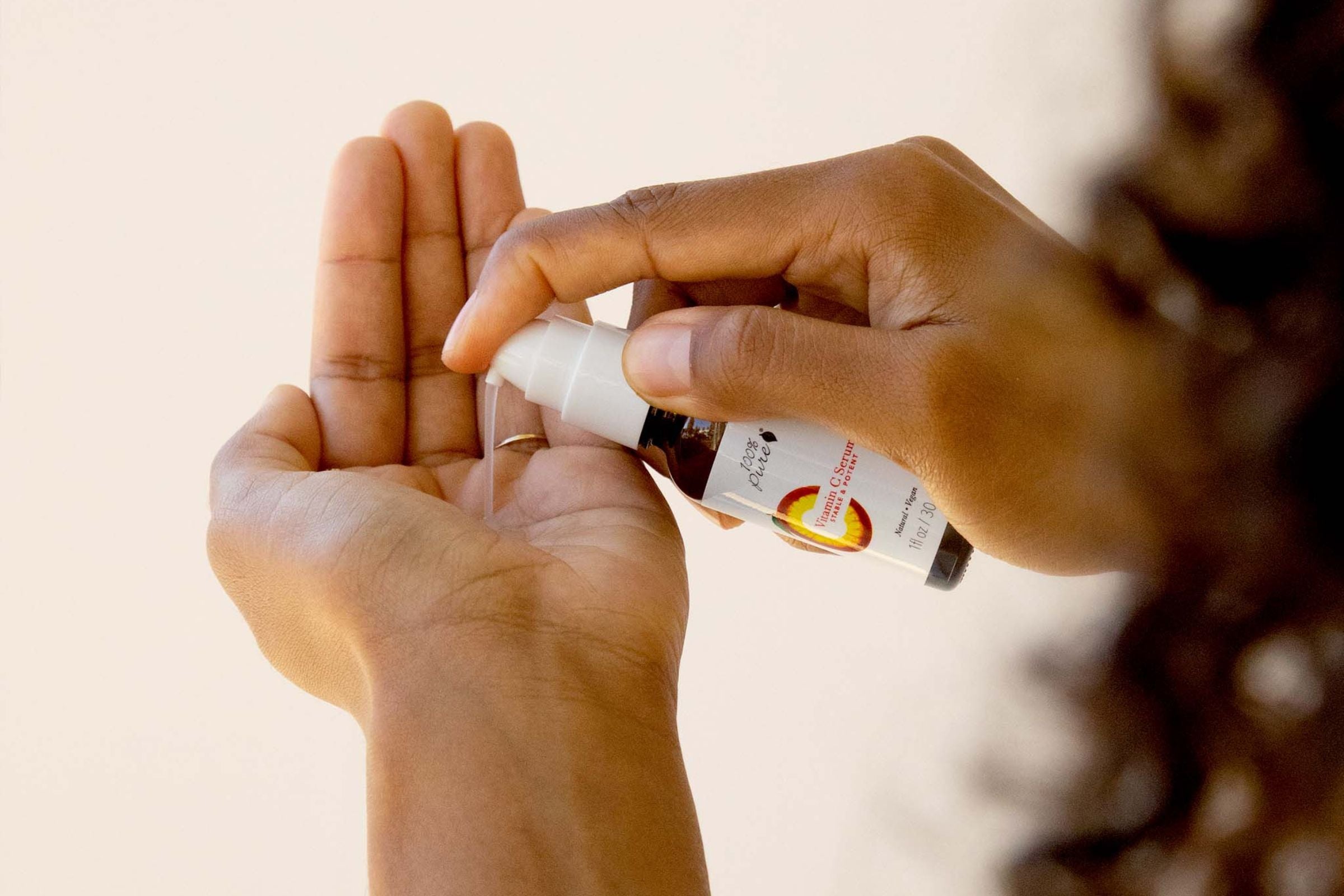 Proper Application of Vitamin C Serum for Optimum Benefits
Proper use and application of vitamin C will help you better ensure you're getting the most from this skin all-star. Generally, vitamin C is safe for daily use for all skin types. When using a vitamin C serum, day and nighttime use both have their benefits!
It's most commonly applied in the morning to prevent damage from free radicals that can occur throughout the day. If you do choose to use your serum in the morning, you'll need to follow up with a layer of broad spectrum sunscreen, with an SPF of 30 or higher.
Regarding nighttime use, since our bodies undergo its natural repair process while we're asleep, the vitamin C serum will make its strongest impact on your skin during this time. It'll also absorb into your skin most effectively after you're normal nightly cleansing routine.
We recommend that beauty lovers use our Vitamin C Serum after cleansing, exfoliating, masking, and/or toning — but always before moisturizing. All you should do is apply a couple pumps of serum to clean fingers, and gently press the product evenly over damp skin. Always allow your serum to absorb for 60-90 seconds, to ensure it has time to penetrate the skin.
FAQs About Vitamin C Serum and Sensitive Skin
Ready for some juicy facts about vitamin C in skincare? Yes, we've heard your questions – and we're grateful to offer you answers. Let's call this a 'Q and A' about vitamin C-elebrity and its proper usage in your skincare routine.
Is Vitamin C serum safe for sensitive skin?
Answer: Yes, if you're using the proper form of vitamin C for your skin type. For example, those with sensitive or easily irritated skin should choose magnesium ascorbyl phosphate, sodium ascorbyl phosphate, or calcium ascorbate.
How can I tell if Vitamin C serum is of good quality?
Answer: If your product takes on a brown or dark orange hue, it's time to toss it because it has oxidized and has gone bad. If your serum starts out clear and turns yellow, that's also a sign it's oxidizing and will be less effective.
Can I use Vitamin C serum with other skincare products?
Answer: While you may have seen this popular anti-aging superstar used separately, there has been a rise in popularity using it together with other ingredients, such as the power pair retinol and vitamin C. You can also use vitamin C serum with other natural skincare products, such as toners, moisturizers, sunscreens, and nighttime products.
How long will it take to see results from using Vitamin C serum?
Answer: While every situation is different, most people see results from using vitamin C serum within two weeks. Whether you're noticing a brighter complexion, plumper skin, or improvements in hyperpigmentation, vitamin C can work wonders quite quickly!
Can I use vitamin C serum every day?
Answer: Yes! First off: Always wear sunscreen no matter what products you're using, time of day, weather or season. Sunscreen also helps prevent the vitamin C serum from oxidizing on the skin; therefore, improving its efficacy while also preventing sun damage, like hyperpigmentation.
If you love vitamin C, you couldn't have come to a better place! Our vitamin C collection contains a concentrated, stabilized, and easily absorbable form of plant-derived vitamin C. This boosts the potential for safer absorption, better collagen production, and potent antioxidant defense. These spells winners for sensitive skin!
Knowing what type of vitamin C to use for your sensitive skin is the best way to boost your anti-aging and brightening benefits, while reducing any skin sensitivities. After all, knowledge is what takes your skincare to the next level. Your complexion will still land in the limelight for calmer, healthier, and more youthful skin – and not a minefield!
We carefully hand-select products based on strict purity standards, and only recommend products we feel meet this criteria. 100% PURE™ may earn a small commission for products purchased through affiliate links.
The information in this article is for educational use, and not intended to substitute professional medical advice, diagnosis, or treatment and should not be used as such.
Sign up to our email newsletter for more blog updates and exclusive discounts.
< Older Post | Newer Post >