Treat Your Skin Like Royalty: Indulge in the Best Natural Body Lotion for Soft, Smooth Skin
Why it's best to use natural ingredients in body lotions, how they differ from traditional formulas, and the best body lotion for healthy, radiant skin
Posted on May 8, 2023
Written by: 100% PURE®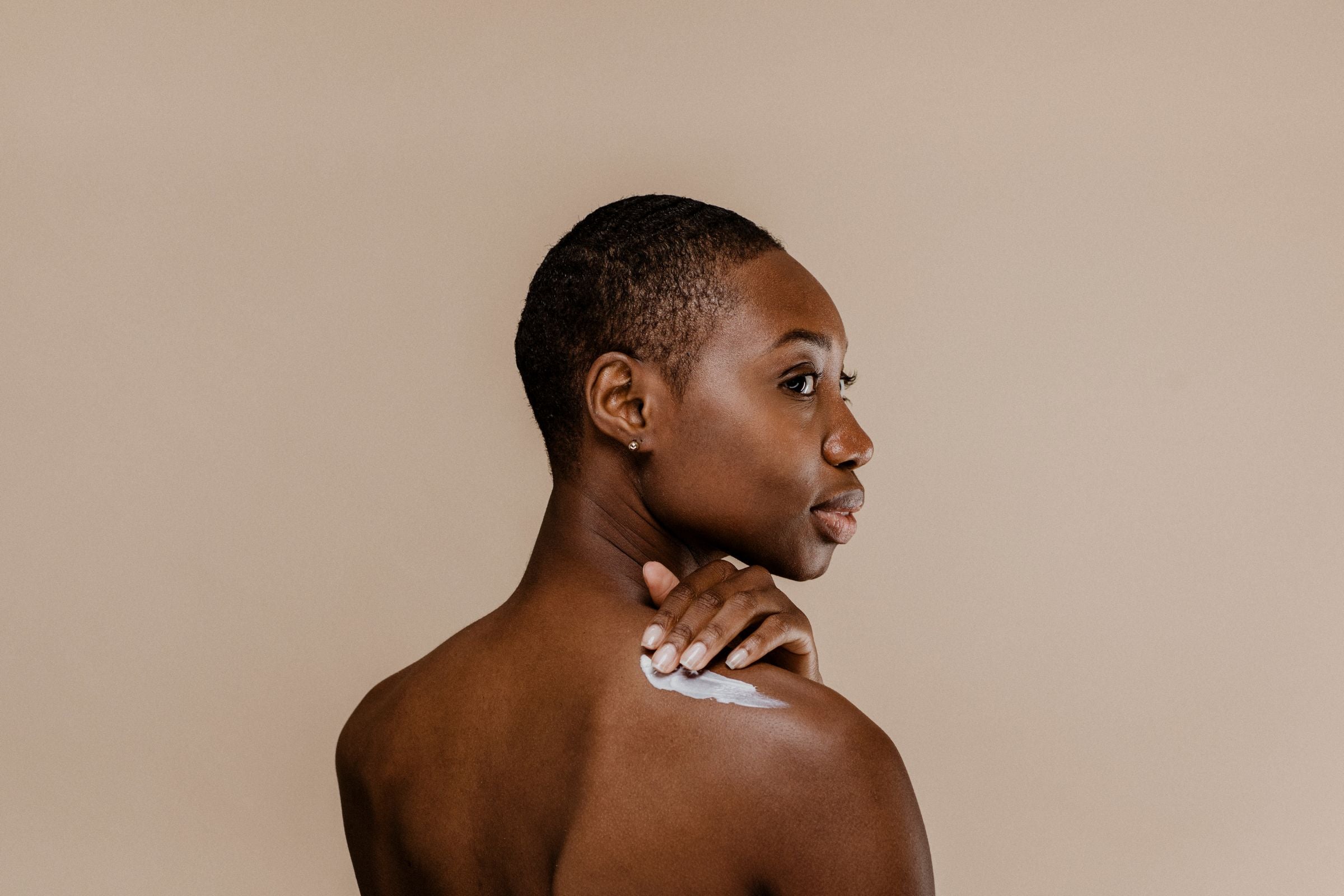 Moisturizers are to balanced skin the way primers are to creaseless foundation. They rely on one another for a healthy complexion and flawless makeup. There's a reason moisturizers are considered to be the most-bought skincare product. All skin types need a moisturizer no matter the time of year.
It doesn't matter if it's the dead of winter or a full summer meltdown – our delicate skin NEEDS a little tender love and care. And when we say "care", we mean giving your dermis the royal treatment with a moisturizer for your skin type.
Follow along as we slather on all the benefits of natural body lotions, how they differ from traditional harsh potions on the market – plus the most supreme, natural body cream for the skin of your dreams.
What Are Natural Body Lotions?
If you think any old body lotion will cure your dry skin woes or perfectly balance your combo dermis, we have some great 'lotions' about the roles of body creams. Natural body lotions are the crème de la crème of natural skincare products – and the most loyal.
Our notions about these moisture-rific skin saviors are that they are on-call for the times when your skin is yearning for hydration. Natural body lotions are specifically designed to replenish much-needed moisture back into anything from parched, desert-esque skin to maintaining skin-Zen with more normal or combination skin types.
The magic and key to properly moisturizing and softening your complexion is to help retain water in the skin. With a natural body lotion, your skin gets to deep-dive into supportive vitamins and nutrients without bringing the harsh ingredient 'storm' to the calmness. Natural body lotions have hydrating and moisturizing ingredients that can treat and prevent water loss, which will help reinforce your skin barrier. And, the skin-efits of magical moisturizers don't stop there!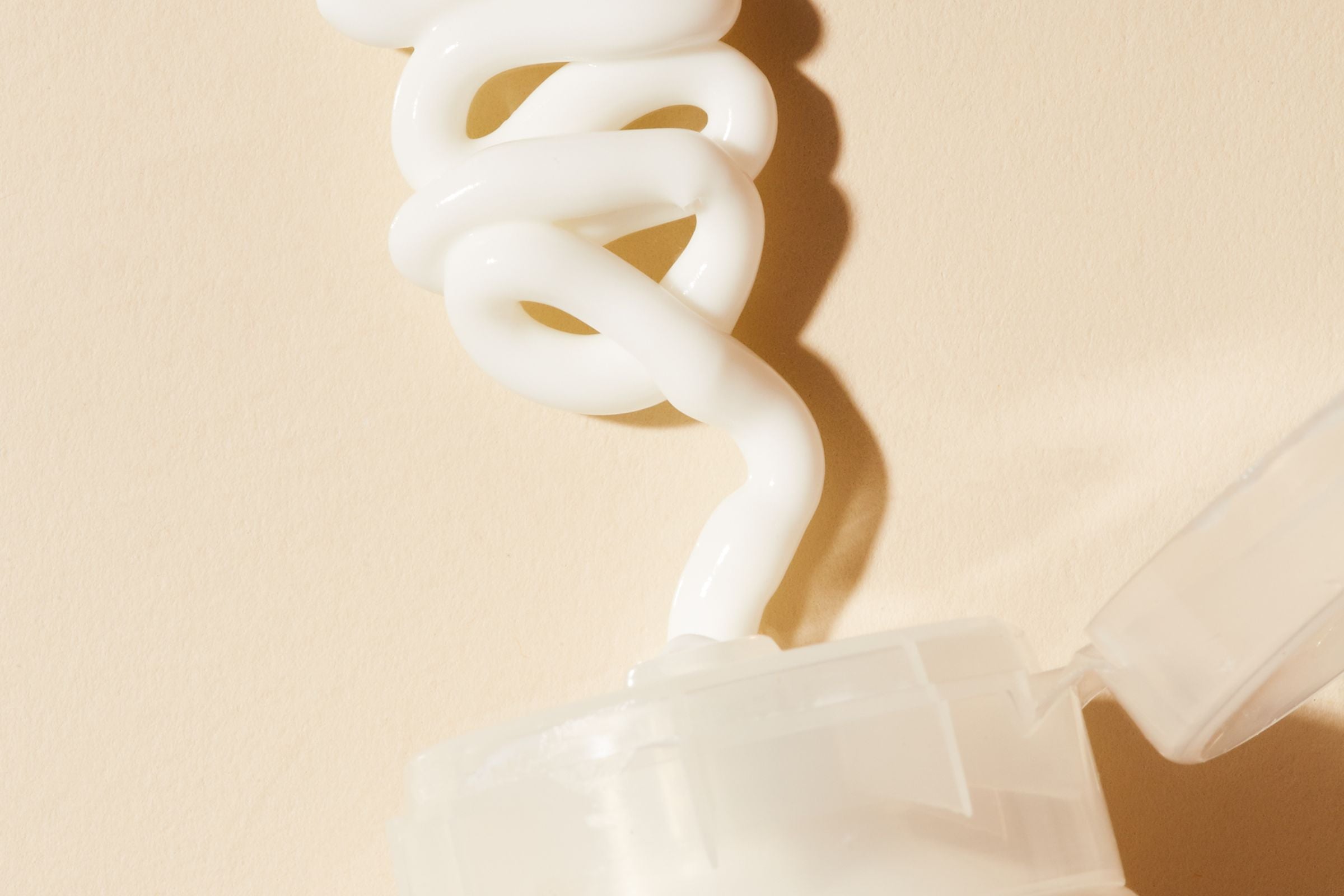 Benefits of Using Natural Body Lotion
Suppose you're looking to smear and slather away the truth behind harsh ingredients in traditional body lotions and kick your skin woes to the store curb. In that case, a natural body lotion might be the creamy-dreamy solution you've been searching for. They're loaded with safe, wholesome ingredients that can treat and nourish your body – and that's just the tip of the sustainable tube!
Mega Moisturizers
All skin needs a healthy moisture balance so it doesn't knock our skin-Zen off kilter. A natural body lotion has moisturizing ingredients like rich butters and essential oils. These nourishing ingredients contain important vitamins like A and E and help to repair the lipid barrier of the skin. These mega-moisturizers also help to seal in hydration, slowing the process of transdermal water loss (TEWL).
Safe, Skin Soothers
Since our skin is a living and breathing piece of tissue that absorbs oxygen and water, it's also going to naturally absorb what you put on it. Body lotions are no exception. Toxic ingredients in traditional lotion formulas can end up infiltrating your skin and into your bloodstream.
A natural body lotion is null and void of harmful ingredients that can anger our skin and health. Rather, safe, soothing ingredients are infused into natural body lotions like skin-reparative vitamins, like vitamin E; an assortment of anti-aging and antioxidants; skin-healing ingredients; essential oils and butters like cocoa butter, that will help heal, soften, and replenish skin.
Hydration Heroes
Toxic mainstream body washes are a zero when faced with the hydrating heroes of natural body lotions. A natural body lotion features effective, hydrating ingredients, like hyaluronic acid and aloe that provide hydration to the skin. This is beneficial for all skin types because if the lipid barrier is compromised, it is much easier for TEWL to occur. This means that the skin will lose some of its much-needed hydration, and, therefore, should be replenished with hydrating ingredients, including the prized, cellular skin renewers, ceramides!
How Natural Body Lotions Differ from Traditional Body Lotions
We'd hate to break royal bonds, but your dignified, market Love Lotion No.9 is more of a loveless skin culprit than it is a noble bodyguard. Many traditional body lotions contain harmful ingredients, harsh toxins, synthetic colors and fragrances, and fillers galore. Using the wrong body cream can strip your body's precious dermis of its natural protective oils, causing dehydration, irritation, and dryness.
Traditional body lotions also contain complicated mumbo-jumbo ingredient lists and most of it, the average person can't even identify. From what we can decipher, nothing on the formula label looks healthy for us - or our skin. Rarely do we see natural, real-fruit, and vegetable pigments and ingredients from our great Mother Earth in traditional body lotions.
Natural body lotions are safe and effective with anti-inflammatory ingredients like aloe to relieve any skin irritation while being infused with more hydrating all-stars like hyaluronic acid to help plump and seal in moisture levels. To create a physical barrier to lock in moisture, a natural body lotion has ceramides to increase the skin's hydration and barrier function.
To top off the best natural body lotion, it will be infused with the likes of skin-soothing oils, such as coconut oil, which acts as a humectant to retain hydration in the skin with the other natural ingredients in the formula, resulting in a more moisturized complexion. Antioxidant all-star vitamins like E and C boost skin's softness and radiance, while blissful, natural scents like vanilla or lavender fulfill the royal skin treatment for balanced, happy skin.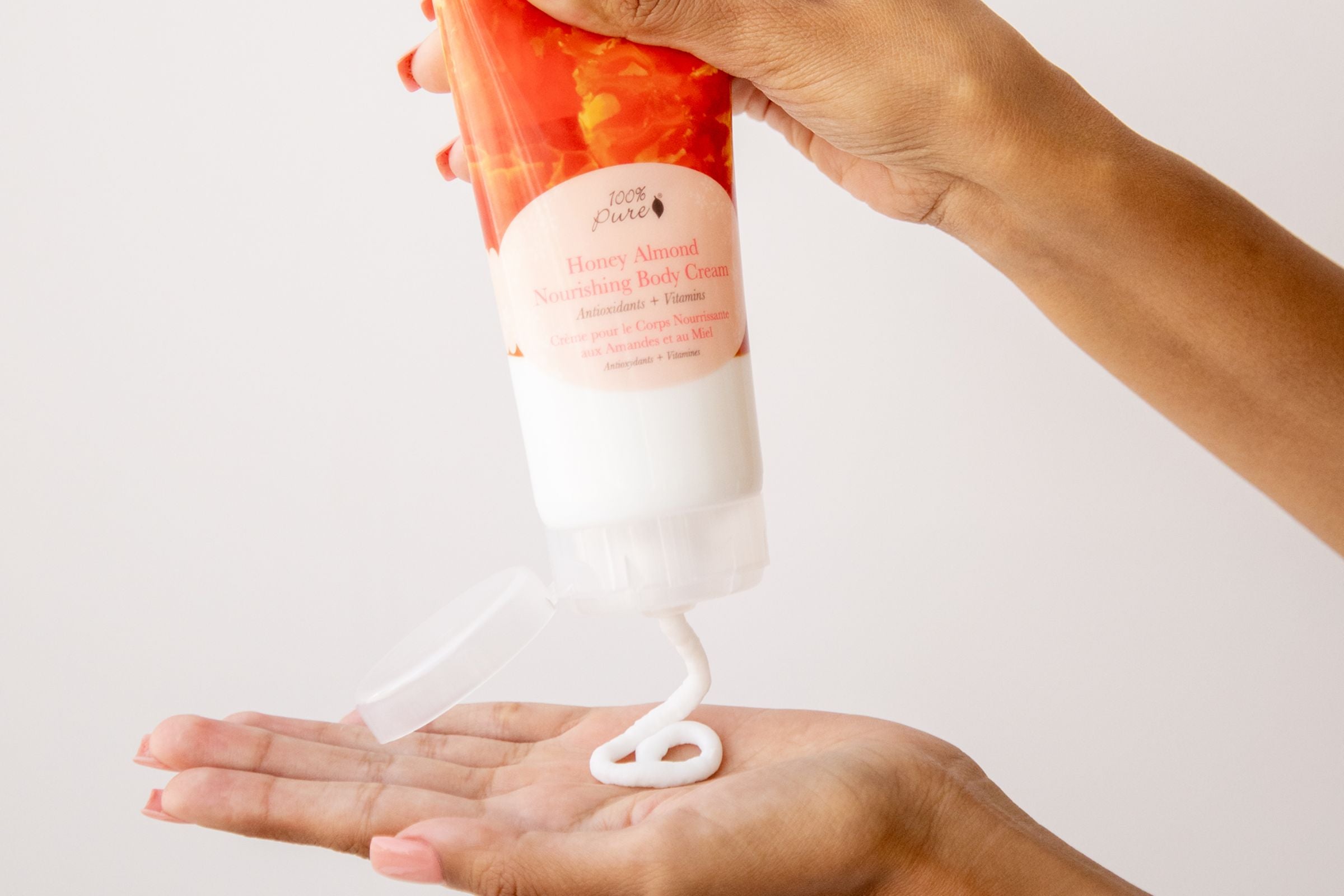 Top 5 Natural Body Lotions for Soft, Smooth Skin
Less is more for those looking for a natural body lotion that doesn't skip a beat on effectiveness and safety. Look for simple ingredient labels you can understand without a secret decoder. Sure, you'll need to exercise some caution to choose your best natural body lotion wisely.
That's why at 100% PURE we always use natural ingredients that are gentle on the skin and crucial for skin health. We all know that harsh ingredients in traditional skincare products have the potential to infiltrate our temple of a body. However, at 100% PURE, we can attain this level of natural and formula excellence, and we create our natural body lotions, as well as ALL our products with the same level of excellence and trust.
We're not ones to gate-keep on skin goodness! So, without further ado, here are our best natural body lotions for soft, smooth skin:
#1. Coconut Nourishing Body Cream
By now, you've probably figured out that coconut oil is a skin gem for soft, smooth skin. If you haven't fallen in love with coconut for your skin, you must not have tried this body cream. Our saponified coconut oil base means all the richness of coconut oil with a lightweight non-greasy feel and the moisture component our skin needs to thrive. It features real fruits, blackberry, pomegranate, and cherry in the blend.
#2. Vanilla Bean Nourishing Body Cream
Nothing sounds better than sinking into a fluffy, warm bed after a hot shower enveloped in the comforting scent of vanilla. This luxurious body lotion has the creamy texture you want with loads of natural fragrance thanks to vanilla fruit, vanilla absolute, and natural honey. On top of that, humectant vanilla fights inflammation and works alongside other dynamic ingredients to keep you super soft and silky.
#3. Honey Almond Nourishing Body Cream
We can't think of anything better than smelling like sweet, fruity honey and creamy, nutty almonds after a long-refreshing bath. Almond comes complete with vitamin E, enriching the skin, and the honey inside is naturally antibacterial. Shea, argan, and cocoa butters create a moisturizing trifecta that seriously makes skin sparkle while nutrients from included fruits like goji and acai feed skin with softening and anti-aging vitamins to condition and repair.
#4. French Lavender Nourishing Body Cream
Probably the most classic, classy scent of all for a soothing skin experience: French Lavender. Therapeutic and calming on the skin, this nourishing body lotion treats dry, itchy skin and calms eczema and dryness for calmed, balanced skin. This highly nourishing body cream is concentrated with potent anti-aging antioxidants, vitamins, and much-needed skin-softening fruit oils to help the dreaded peeling phase of dry skin. Cocoa and avocado butters will hydrate, while French lavender will soothe inflamed and irritated skin.
#5. Pink Grapefruit Nourishing Body Cream
This hydrating, smoothing body lotion contains potent anti-aging antioxidants and vitamins to rejuvenate and brighten your skin. Applying this product helps protect your skin from TEWL (transepidermal water loss), which your skin can be more prone to in the winter. Take care to pay extra attention to areas that are commonly rougher, such as elbows, knees, and bottoms of the feet.
It doesn't get better than this vegan body cream, complete with the sweet-tart scent of real lemon peel and pink grapefruit. Super brightening and cleansing for the skin, this natural body lotion perfectly pairs with any skin type for a scent experience that lasts all day.
Can Natural Body Lotions Really Make a Difference?
Are you slathering on with skin-happy ingredients, or just using the same old body lotion that leaves your skin feeling stripped, dehydrated, and reactive? Furthermore, what does it mean to use a natural body lotion?
At 100% PURE, it means caring for our bodies the best we can, inside and out. We think so much about what goes on in our bodies that we sometimes forget what goes on the outside. Our brand upholds the philosophy that our skin functions as our biggest organ. To properly care for it, healthy body lotion is the best option to layer and luxuriate the skin with supportive vitamins and nutrients.
The lotion-lathering sensations don't stop there; the creams and oils in our natural body lotions treat the skin with nutrients and vitamins supporting supple skin, skin health, and a deeply moisturized glow. Maintaining the skin's moisture barrier is important for any skin type. To leave your skin feeling nourished and moisturized after cleansing, be sure to skip those synthetic ingredients and opt for something a little more luxurious. For all the hard work it does, your skin deserves it!
Regular body lotions with skin-happy ingredients are important for maintaining a balanced, healthy-looking complexion. Shopping for traditional body lotions can be scary if you want happy, balanced skin. We hope with these tips and knowing what ingredients to look for and avoid in the best natural body lotions, you can step out of the shower and into your comfy robe – natural body lotion in tote - and be well on your way to calmer, happier, and harmonious healthy skin.
Newsletter
Subscribe
for more blog updates and exclusive discounts
We carefully hand-select products based on strict purity standards, and only recommend products we feel meet this criteria. 100% PURE™ may earn a small commission for products purchased through affiliate links.
The information in this article is for educational use, and not intended to substitute professional medical advice, diagnosis, or treatment and should not be used as such.
Sign up to our email newsletter for more blog updates and exclusive discounts.
< Older Post | Newer Post >