Top 10 Cinema-Inspired Character Looks
New looks come flooding out of Hollywood all the time, as stylists dress their stars to the nines in the season's latest "it" color.
It's fun to sift through all the latest fads, but some looks are iconic - and have a grip on our cultural imagination. Maybe you noticed more kohl-smudged eyeliner after Wes Anderson's The Royal Tenenbaum - in homage to the movie's bad girl-in-residence, Margot - or felt an urge to dip into the men's section after watching Annie Hall for the first time.
Here's how to lift looks from some of our favorite characters - and major trend-setters - gracing the silver screen:
---
1. Audrey Hepburn as Sabrina Charles in Sabrina (1954)
Hepburn gave us the little black dress in her most enduring flick, Breakfast at Tiffany's, and wore gamine, tailored costumes from designer Edith Head like a pro in Roman Holiday. But if you've ever gravitated toward a bateau neckline on a dress that nips in at the waist, you have Hepburn's turn in Sabrina to thank. Designer Givenchy later told Vanity Fair that Hepburn preferred the neckline "because it hid her 'skinny collarbone but emphasized her very good shoulders.'" Check out this great feature from Refinery29 on how to capture Hepburn's classic style.
From our catalogue: Hepburn's look emphasized her dark eyebrows, which framed a pair of lovely, deep brown eyes with long lashes. Pairing our Eye Brow Powder Gel with our Ultra Lengthening Mascara can help you achieve Hepburn's statement eyes.
---
2. Diane Keaton as Annie Hall in Annie Hall (1977)
Long before "geek chic" became a trend you could actually find in shops, Diane Keaton gave life to her character Annie Hall with high-waisted trousers, over-sized button-ups, tiny vests, and floppy ties. According to the Boston Globe, Annie Hall's costume designer Ruth Morley was so appalled, she almost tanked the look instead of proceeding to film.
From our catalogue: Pair your androgynous tweeds and men's wear-inspired staples with a fresh, clean palette that highlights the corner of your eyes with minimal liner. Add a neutral lip with the barest hint of color, and you've nailed it. Try our Black Tea Long Last Liquid Liner with our Lip Creamstick in Perfect Naked Berry.
---
3. Jean Seberg as Patricia in Breathless (1960)
Seberg and Hepburn went neck-in-neck for the gamine look that dominated the 1960s. "French chic" is such an iconic style that it never really went away - just think of all the skinny jeans and pointy flats you've seen the past few falls. With her short, short hair, playful t-shirts, and gorgeous sheath and A-line dresses, Seberg playfully mixed elements of 1960s masculin et feminine in Breathless. You can, too!
From our catalogue: Even though her close-cropped hair looks a little boyish, Seberg's makeup in Breathless is almost glam. She opts for full liner, with a tiny nod to the cat-eye, luscious lashes, and a bold lip. Try our Pomegranate Oil Anti-Aging Lipstick in Primrose for New Wave inspiration.
---
4. Elizabeth Taylor as Maggie Pollitt in Cat on a Hot Tin Roof (1958)
The heavy eye makeup and golden ankhs of Cleopatra - along with that revealing slip dress in Butterfield 8 - are some of Taylor's most memorable looks. But they're super difficult to replicate, unless you're headed to a Halloween party. Or the bedroom. Opt for a sweet, curvy wrap dress like her costume in Cat on a Hot Tin Roof, though, and you have instantaneous - and easily accessible - va va voom.
From our catalogue: With Taylor almost everything was bold - heavy, shaped brows, full eye makeup, and a stand-out reddish-orange lip. Our Pomegranate Oil Anti-Aging Lipstick in Hibiscus will hit the mark.
---
5. Gwyneth Paltrow as Margot Tenenbaum in The Royal Tenenbaums (2001)
Paltrow's turn as the rebellious adopted daughter in Wes Anderson's The Royal Tenenbaums has inspired many a Halloween costume. But what is it about Margot's style - part prepster, part grandma's closet - that actually stuck? "I think those contradictions—the fact that she was wearing what looked like her mother's clothes, or something kind of country-club conservative—made her edgy," costume designer Karen Patch told Elle.
From our catalogue: Margot's look is all about the eyes. If you don't have access to a kohl stick, try smudging our Black Tea Eyeliner with a smudge stick to achieve Margot's intentional, just-rolled-out-of-bed look.
---
6. Molly Ringwald as Andie in Pretty in Pink (1986)
Andie's iconic '80s style borrowed a little bit from every available drawer - from vintage, Annie Hall-inspired vests to Madonna's glam jewelry explosions to little hints of punk footwear. The film's costume designer, Marilyn Vance, sums up Andie's style as out-of-necessity DIY mixed with an eye for flouting trends. "They really didn't have a lot of money, but they had a lot of style," Vance told the Huffington Post.
From our catalogue: Stage your own "pretty in pink" moment with a very fresh and soft face - then add a hint of coral-pink lipstick, like our Lip Creamstick in Perfect Naked Mauve.
---
7. Winona Ryder as Lydia Deetz in Beetlejuice (1988)
As everyone's favorite Goth girl - aside from Wednesday Addams - Winona rocked more than a few crazy outfits in Beetlejuice. But her look - high school prep mixed with undertaker black - still spawned a ton of copycats. You can tone down Lydia's approach to fashion with your own statement bangs, a penchant for lace applique, and dark, understated plaids or black sheaths.
From our catalogue: Not that you want to go all-out Night of the Living Dead - Lydia's look is hilariously corpse-like - but you could opt for a stunning smoky eye with our Eye Shadow in Fig and our Blackest Creamy Long Last Liner. Now you'll be drawing them in instead of scaring them off.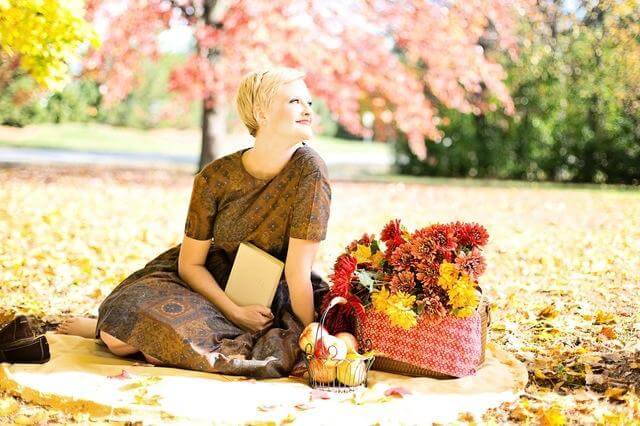 ---
8. Audrey Tautou as Amélie Poulain in Amélie (2001)
Tautou's gorgeous turn as dreamy Amélie - on the hunt for true love in Paris - is matched only by her incredible wardrobe for the film. Get her retro chic with brilliant head scarves, polka dot blouses, chunky Mary Janes, and floor-length skirts.
From our catalogue: Amélie's makeup looks simple, but it's a few notches up from rolling out of bed and being on your way. (A Frenchwoman would never dare to do such a thing!) You'll need a bold brow, a taupe eye, and a soft, coral red lipstick to bring the whimsy. Round out your look with a few coats of Ultra Lengthening Mascara in Dark Chocolate.
---
9. Kerry Washington as Olivia Pope in Scandal (2012-present)
Who hasn't lusted over Olivia Pope's incredible wardrobe of stunning outerwear? As Washington D.C.'s favorite fixer, Kerry Washington always looks like she could take control of a small army at a moment's notice (and she often does). Want to dress like a warrior? Opt for coats with a pop of color, sharp blazers, and full skirts. Just because you're about to take the business world by storm doesn't mean you can't look amazing doing it.
From our catalogue: Olivia's makeup is designed to play up Washington's large eyes and lips without distracting from her killer instinct. Try a neutral palette like our Pretty Naked Palette to keep your day-look on point.
---
10. Christina Hendricks as Joan in Mad Men (2007-2015)
With flawless sheath dresses that show off each and every curve, Hendricks and her Mad Men mavens even inspired a limited-edition line at Banana Republic. While you don't have to put up with cigarettes or sexism in the modern-day office, you can nab Joan's style with bold pops of color, inventive necklines, and a signature pendant. Check out Marie Claire for updated versions of Joan's office wear.
From our catalogue: For Joan, it's all about the bold lip. According to makeup artist Lana Horochowski, the character's signature red lip isn't actually red, though. "More than anything, I get asked about Joan's red lipstick," Horochowski told Allure. "But the thing is, she almost never wears red! She normally wears a pale pink." Try our Lip Glaze in Coquette for your own Mad Men-inspired throwback. Whether you decide to embrace Old Hollywood chic, 80s nostalgia, or high-powered business wear, we can help you find the right finishing touches for a look that's perfect for a headshot - or a night out on the town.
Do you have a favorite look inspired by the big - or little - screen? Tell us which characters inspire your style in the comments below:
We carefully hand-select products based on strict purity standards, and only recommend products we feel meet this criteria. 100% PURE™ may earn a small commission for products purchased through affiliate links.
The information in this article is for educational use, and not intended to substitute professional medical advice, diagnosis, or treatment and should not be used as such.
Sign up to our email newsletter for more blog updates and exclusive discounts.
| Newer Post >