The Ultimate Dark Circle Destroyer: Discover the Best Caffeine Eye Creams to Say Goodbye to Tired Eyes
Say goodbye to looking sleep-deprived!
Posted on May 23, 2023
Written by: 100% PURE®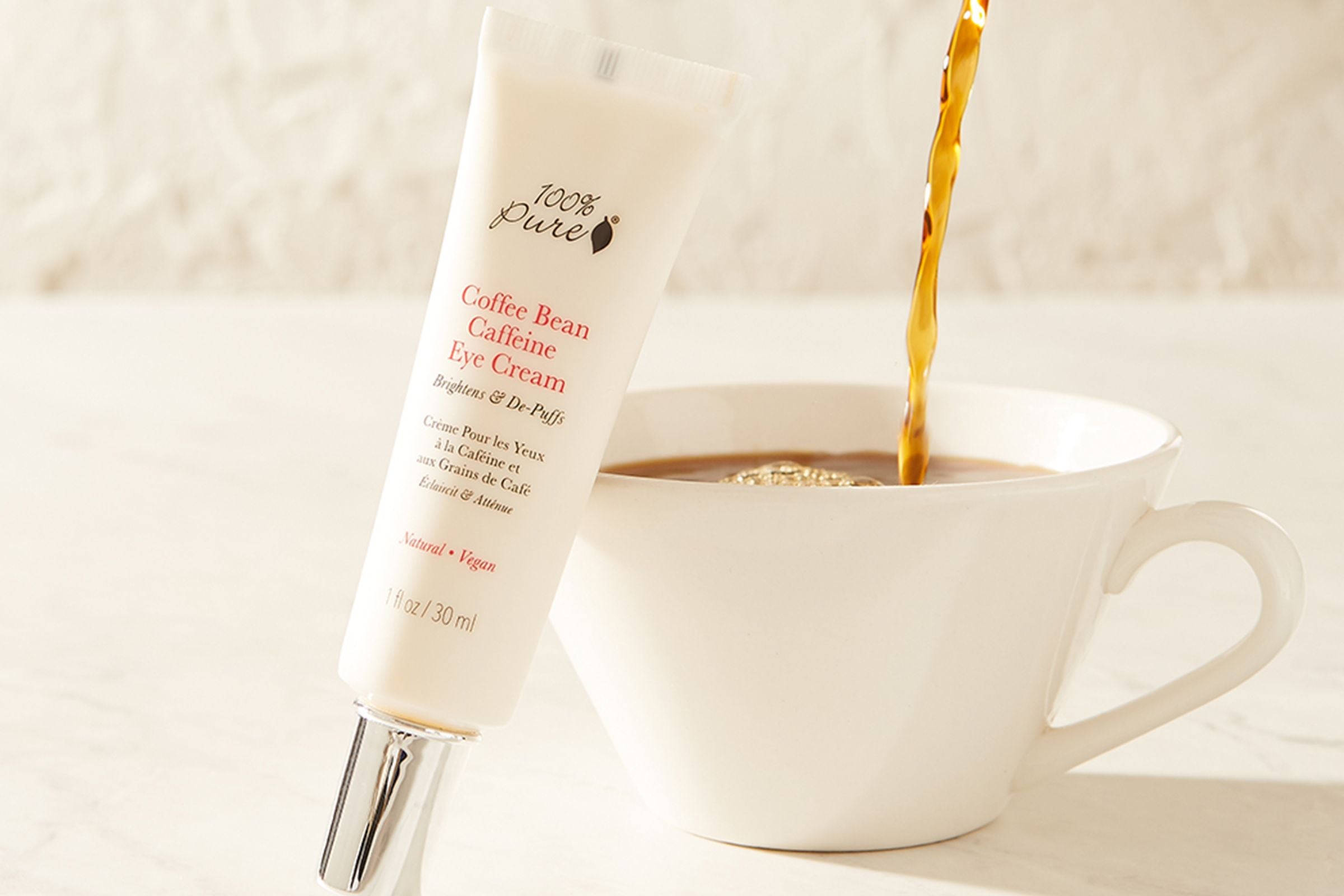 Ah, caffeine eye cream, the superhero for your peepers! It's like coffee but for your eyes, giving them the boost they need to tackle those dark circles and puffiness. Just like how a steaming cup of black coffee is necessary to jumpstart your day, the magical eye cream infused with caffeine perks up your tired under-eye area. While coffee fuels your body, caffeine eye cream works its magic on those stubborn dark circles, bringing them to submission. So, let's give a round of applause to caffeine—keeping both our bodies and our eyes wide awake!
How Do Caffeine Eye Creams Work to Reduce Dark Circles and Puffiness?
Alright, let's dive deeply into the caffeine-powered world of eye cream. Picture this: your under-eye area is like a tired little panda, with dark circles that make you look like you haven't slept in ages. But fear not, because here comes good old caffeine to the rescue!
When you apply a caffeine eye cream, the caffeine, that wonderful stimulant found in coffee gets to work. It has this nifty ability to constrict blood vessels, kind of like how you squish a straw to slow down the flow. By doing so, caffeine helps reduce the appearance of those pesky dark circles caused by dilated blood vessels.
But wait, there's more! Caffeine eye creams also have a secret weapon against puffiness. You see, caffeine is a diuretic, which means it can help flush out excess fluid from the tissues. So, if you're rocking some under-eye bags that could rival Santa's sack, caffeine can come to the rescue and deflate them like a tire losing air. It's like a magic trick but for your face!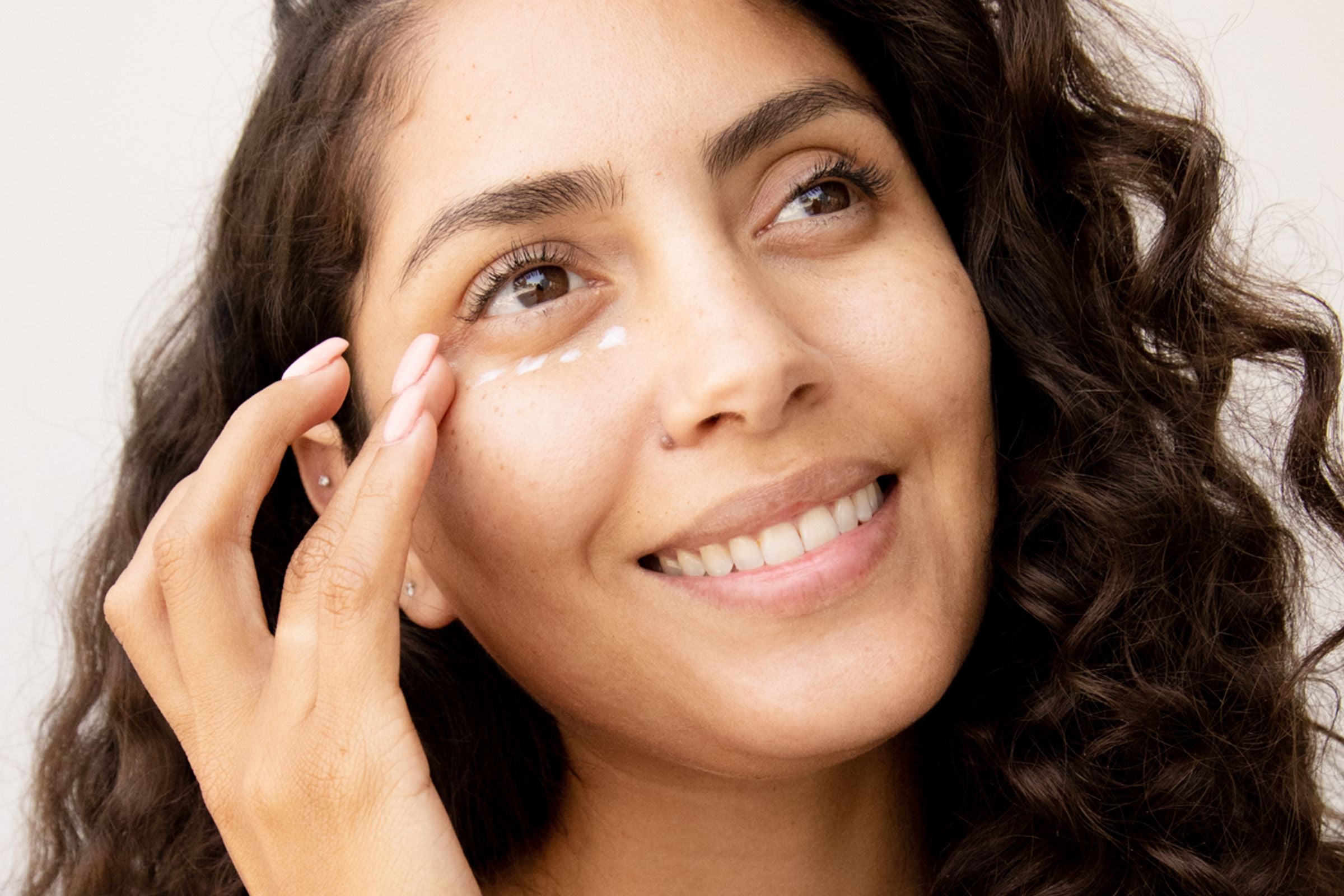 Benefits of Using Caffeine Eye Creams
Caffeine eye creams are one of those beauty products that have innumerable benefits for your skin. Since the area around the eyes is the most delicate, out of all the ingredients caffeine is the safest one to regularly use on it. Here are the three main benefits of using caffeine eye creams.
Enhances Circulation

Caffeine can stimulate blood flow when applied topically. By increasing circulation around the eyes, caffeine eye creams can help alleviate stagnant blood and promote a healthier, more radiant complexion.
Firms and Tightens

Caffeine eye creams may have a tightening effect on the skin due to their ability to increase collagen production. This can result in improved skin elasticity and a reduction in the appearance of fine lines and wrinkles.
Antioxidant Protection

Caffeine possesses antioxidant properties that help combat free radicals, which contribute to premature aging and skin damage. By protecting the delicate skin around the eyes from oxidative stress, caffeine eye creams can help maintain a youthful and healthier-looking appearance.
The top Caffeine Eye Cream for Refreshed, Youthful-Looking Eyes
Now let's talk about the remarkable 100% PURE Coffee Bean Caffeine Eye Cream that everyone seems to be obsessed with. Byrdie has called it a must-do beauty step in the popular 10-step Skincare Routine. The beauty magazine was particularly impressed with our eye cream's remarkable ability to diminish puffiness and reduce swelling, achieved through the synergistic blend of invigorating green tea and coffee extracts.
But that's not all—Marie Claire, another renowned authority in the beauty world, has bestowed upon our Coffee Bean Caffeine Eye Cream the illustrious title of #1 miracle eye cream. The esteemed editors at Marie Claire, known for their discerning taste, have become true devotees of this extraordinary formula, expressing their addiction to the potent caffeine infusion present in our eye cream.
With such resounding praise and acclaim from industry experts, it's clear that 100% PURE's Coffee Bean Caffeine Eye Cream stands head and shoulders above the rest. We have created a powerful formula that too with equally gentle ingredients. This way the delicate skin tissues around your eyes stay nourished while the caffeine does its job. If you want to learn more in detail about how our best-selling Coffee Bean Caffeine Eye Cream is made, check out this article.
Newsletter
Subscribe
for more blog updates and exclusive discounts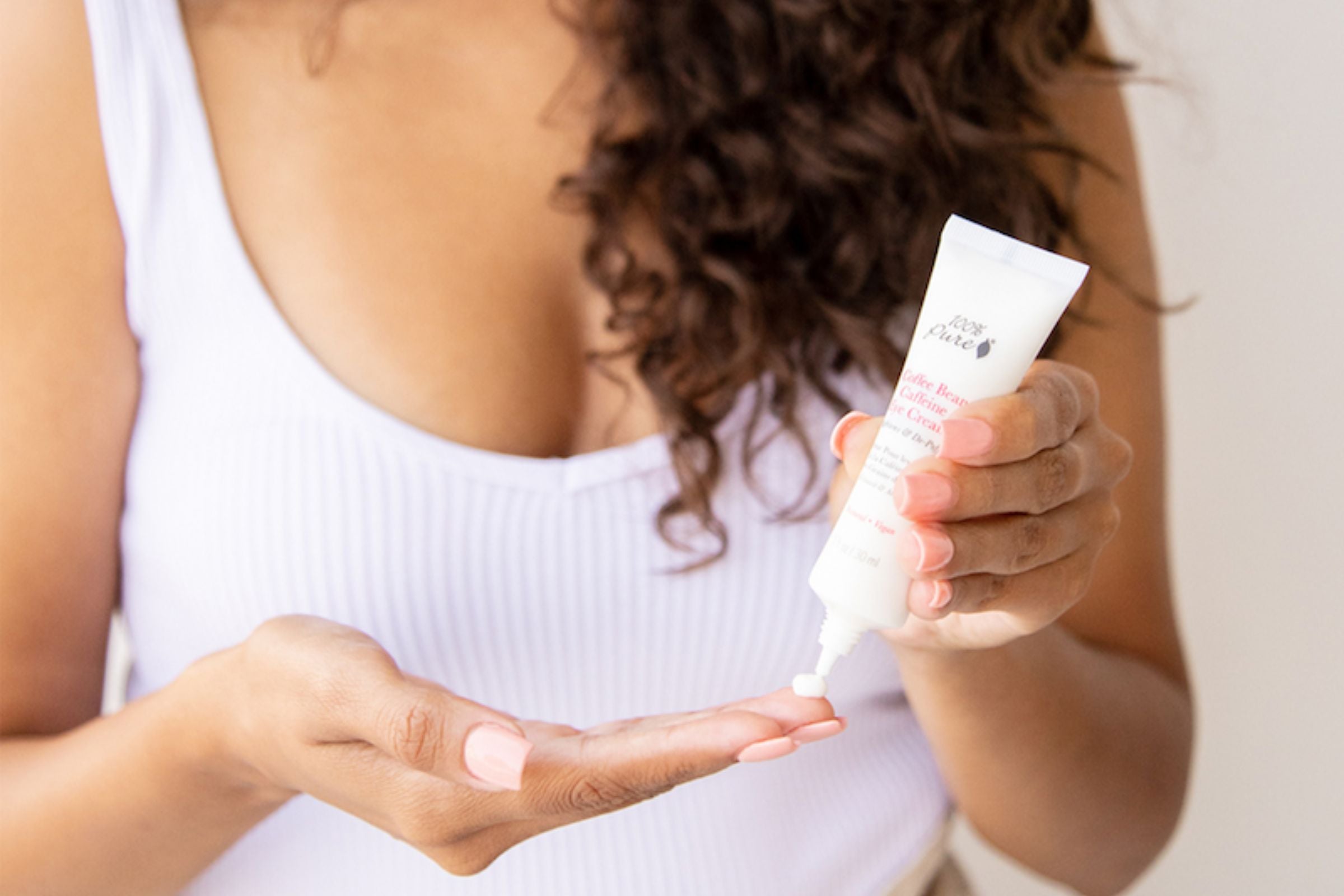 How to Use Caffeine Eye Creams for Best Results
Eye creams are fairly easy to use especially ours. To get the best results from caffeine eye creams, follow these simple steps:
Start with clean skin: Gently cleanse your face and eye area using a mild cleanser and pat dry with a soft towel. Ensure your skin is free from dirt, oil, and makeup residue.
Dispense a small amount: Squeeze a pea-sized amount of the caffeine eye cream onto your fingertip or the back of your hand. A little goes a long way, so avoid using too much product.
Apply to the under-eye area: Using your ring finger or a gentle tapping motion, apply the cream to the under-eye area. Start from the inner corner of the eye and work your way outward. Be careful not to tug or pull on the delicate skin.
Gently massage: With clean hands, lightly massage the cream into the skin using circular motions. This can help with better absorption and stimulate blood circulation.
Allow absorption: Let the eye cream fully absorb into the skin for a few minutes before applying any other products or makeup to avoid interference.
For best results, incorporate the caffeine eye cream into your daily skincare routine. Apply it in the morning and evening consistently to experience the potential benefits over time.
How Often Should You Use Caffeine Eye Creams?
The recommended frequency of using caffeine eye creams depends on the specific product and individual preferences. For 100% Pure Coffee Bean Caffeine Eye Cream, it is advisable to apply the cream once or twice daily for optimal results. Consistency is key, so adding an eye cream to your daily skincare routine can yield better outcomes. If you have any concerns about your skin type or specific issue, consult with our beauty advisors. They can help determine the ideal frequency for your needs.
Frequently Asked Questions
How do caffeine eye creams work to reduce dark circles and puffiness?
Caffeine eye creams are popular for their potential to reduce dark circles and puffiness around the eyes. The main mechanism behind their effectiveness lies in caffeine's ability to constrict blood vessels. When applied topically, caffeine works by penetrating the skin and stimulating blood flow, which can help reduce the appearance of dark circles caused by dilated blood vessels.
What are the benefits of using caffeine eye creams?
Firstly, caffeine's vasoconstrictive properties can help reduce the appearance of dark circles by constricting blood vessels and reducing discoloration. Secondly, caffeine acts as a diuretic, reducing fluid retention and decreasing puffiness. Additionally, caffeine possesses antioxidant properties that can help protect delicate skin from free radical damage and premature aging. Finally, caffeine's anti-inflammatory effects can potentially soothe and calm irritated skin.
Can caffeine eye creams be used on all skin types?
Caffeine eye creams are generally suitable for all skin types, but individual experiences may vary. Caffeine is non-irritating and non-comedogenic, making it unlikely to cause adverse reactions. However, those with sensitive skin should exercise caution and perform a patch test before regular use.
What should I look for when shopping for a caffeine eye cream?
When shopping for a caffeine eye cream, there are a few key factors to consider. First, look for a product that contains a significant amount of caffeine to ensure its effectiveness. Additionally, consider the presence of other beneficial ingredients like antioxidants, peptides, or hyaluronic acid that can enhance the overall performance of the eye cream. Lastly, opt for a reputable brand with positive customer reviews and check for any potential allergens or irritants in the ingredients list.
How often should I use a caffeine eye cream?
The frequency of using a caffeine eye cream depends on the individual's needs and the specific product instructions. Generally, it is recommended to use a caffeine eye cream once or twice daily. It's important to note that daily use is key for desired results.
We carefully hand-select products based on strict purity standards, and only recommend products we feel meet this criteria. 100% PURE™ may earn a small commission for products purchased through affiliate links.
The information in this article is for educational use, and not intended to substitute professional medical advice, diagnosis, or treatment and should not be used as such.
Sign up to our email newsletter for more blog updates and exclusive discounts.
< Older Post | Newer Post >