The Best Liquid Eyeliners Made with Natural Ingredients
Ingredients to avoid, and your guide to the best liquid eyeliners
Posted on September 16, 2021
Written by: 100% PURE ®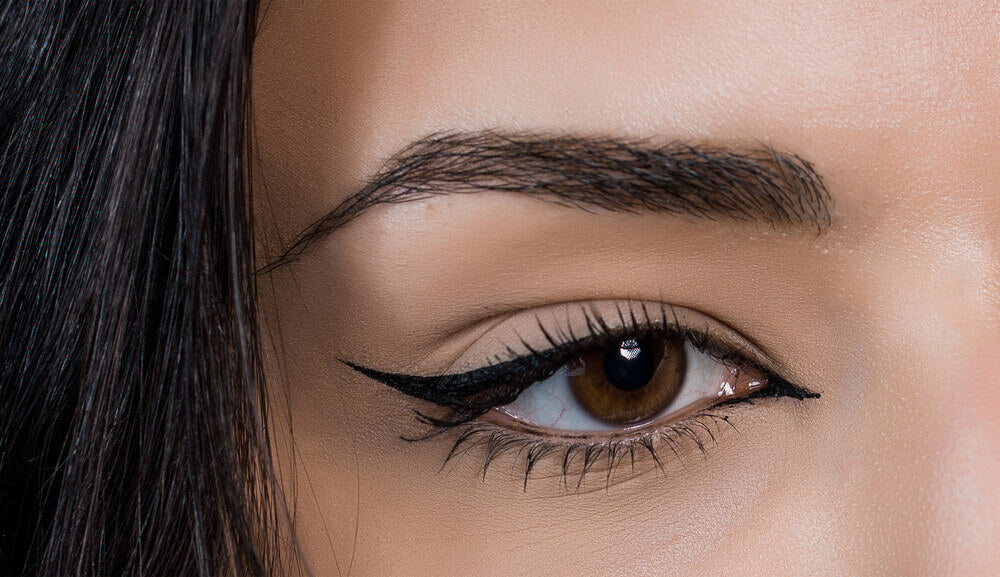 For many of us, a good liquid eyeliner is a staple in our beauty routines. Especially when we're looking to make a dramatic statement that's bold, but not "blue eyeshadow and fuschia lipstick" bold.
But of course, liquid eyeliner is a bit infamous for its learning curve. It can take a lot of smudging, wonky lines, makeup wipes, and frustrated grumbling to master the iconic cat-eye flick.
Those who love the classic winged look know all too well that a bad formula is all it takes to mess up and subsequently restart your entire eye makeup routine. So, what exactly makes a good natural eyeliner formula?
In short, the best natural liquid eyeliner is going to be free of harsh or harmful ingredients but will still glide right onto the eyelid with beautiful, bold pigment that lasts all day without smudging.
So let's take an in-depth look at ingredients in the best natural liquid eyeliner formulas, and share some of our favorite formulas with you!
What Makes a "Natural" Liquid Eyeliner?
For those with a passion for clean and natural beauty, natural liquid eyeliners are a must for your makeup routine. But what makes a natural liquid eyeliner...natural? Of course, it all comes down to ingredients — the ones you'll see in the best liquid eyeliner, and the ones you won't.
The ingredients you want in your liquid eyeliner are essentially going to come from the earth. They only undergo a little bit of processing to be made into a formula. These include fruits, minerals, and natural waxes like beeswax, or, for a vegan option, carnauba wax.
Unfortunately, the list of ingredients you don't want in the best natural liquid eyeliner is going to be lengthy in comparison to what you do want. We could easily do an entire article on ingredients you may want to avoid in makeup (in fact, we have). But for now, we're going to break down a few of the major groups.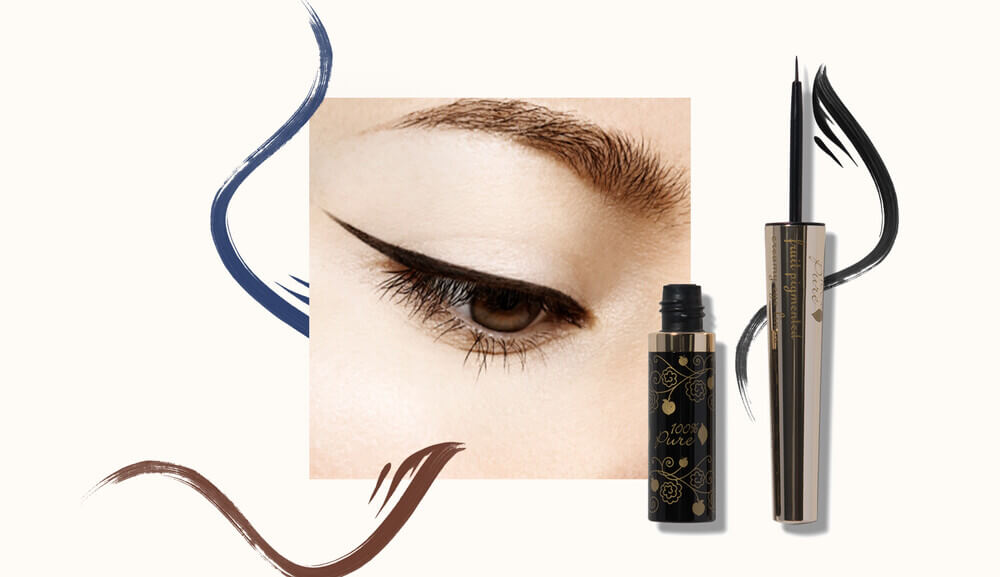 3 Ingredients to Avoid in Liquid Eyeliner
#1: Petrochemicals
Petrochemicals refer to compounds chemically made from petroleum, coal, oil, sugar cane, or corn. They're often employed to improve the texture and wear of liquid liners.
In recent years, petrochemicals have been found to have a connection with inflammation in the body. They may even contribute heavily to free radical damage. That can lead to several different health-related issues, the least of all being irritated skin.
#2: Fragrance
Typically, we consider fragrances in products to be fine as long as they're natural. It's also important that the brand selling them is transparent about what the fragrance is made of.
But when it comes to synthetic fragrances, all we can say is "steer clear". Synthetic fragrances are not only irritating to the skin, but they can potentially contain a plethora of dangerous components. Those can include carcinogens, allergens, neurotoxic chemicals, and hormonal disruptors.
When it comes to finding the best liquid eyeliner formula, we strongly recommend sticking with the ones that are fragrance-free. Why would you want your eyelids to be fragranced, anyway?
#3: Parabens
Parabens have been a hot topic in beauty for many years now. Essentially, they function to preserve cosmetics and improve shelf life while preventing the growth of bacteria.
It's been observed in some studies that parabens may disrupt hormone functions. That can potentially lead to diseases like breast cancer, as infamously noted in one 2004 study. That led the European Union to ban its use in cosmetic formulas in 2012.
While it's been noted that these effects occur in exceptionally high concentrations of parabens, it's generally agreed that you can live without them. Especially when there are much safer, natural alternatives like rosemary extract.
Our 5 Favorite Natural Liquid Eyeliners
Finding the best liquid eyeliner that's also natural is like finding the perfect pair of jeans or the perfect mattress. It takes a bit of effort and research to find the right one for you, but when you find that go-to formula, one more facet of your life becomes a little easier.
Still, we figured it could help to have a starting point. So, we're sharing our 5 favorite natural liquid eyeliners:
#1: Long Last Liquid Eye Liner, 100% PURE
Our Long Last Liquid Eye Liner places a strong emphasis on good-for-you ingredients. Those include hydrating aloe and nourishing cocoa butter, along with black tea leaves to create a naturally bold, long-lasting pigment. And in addition to classic black, our liners also come in the shades "Dark Chocolate" (a rich brown) and "Blackberry" (a deep, seductive purple).
#2: PHYTO-PIGMENTS Liquid Line & Define, Juice Beauty
If you're looking for a natural eyeliner with long-lasting, smudge-proof wear, check out Liquid Line & Define from Juice Beauty. It's the best liquid eyeliner for long workdays, with comfortable wear that lasts into the late hours. With organic, plant-derived ingredients and phyto-pigments, this liner creates a rich, true black coloration. Smoky eye aficionados with sensitive eyes, rejoice!
#3: Clean Line Liquid Liner, Ilia
For those who seek a liner that'll help emphasize their artistry, the Clean Line Liquid Liner from Ilia is the perfect candidate. With a super fine, flexible felt tip and a non-runny, quick-drying formula, this liner is great for basic winged liner and modern graphic liner looks alike.
#4: Wingman Liquid Liner, PYT Beauty
For the best liquid eyeliner with a high-shine, satin finish, the Wingman Liquid Eyeliner from PYT Beauty makes liquid eyeliner a snap for everyone — even if you're a liner newbie. Bonus: with an easy-gliding felt tip, streaking is practically non-existent. This quick-drying formula nourishes the delicate eye area with vitamin E, aloe vera, and jojoba.
#5: Expressionist Liquid Liner, W3ll PEOPLE
Finding the best natural liquid eyeliner is one thing. But finding the best waterproof liquid liner is a whole other matter. Good thing there's the Expressionist Liquid Liner from W3ll PEOPLE! This water-resistant formula stands strong against flaking and smudging. It also helps soothe the eye area with ingredients like rosemary, vitamin E, and aloe vera.
We carefully hand-select products based on strict purity standards, and only recommend products we feel meet this criteria. 100% PURE™ may earn a small commission for products purchased through affiliate links.
The information in this article is for educational use, and not intended to substitute professional medical advice, diagnosis, or treatment and should not be used as such.
Sign up to our email newsletter for more blog updates and exclusive discounts.
< Older Post | Newer Post >